A while ago (okay, quite a while ago) I wrote a perfect Christmas-themed weekend itinerary for London, while I was living in London and enjoying seeking out all the festive things to see. It's been a long time coming but after conducting research over the course of literal years, I have finally created one for Amsterdam! While the Dutch capital city isn't always thought of as a Christmassy destination, there are plenty of fun festive things to see and do during the lead-up to Christmas, and even afterwards. If you're going to be in Amsterdam at Christmas, or if you're thinking about whether you should, this guide covers all the best things to see and do with that little bit of festive flair.
Note: While I've organised this as a weekend Christmas itinerary in Amsterdam you can also rearrange things however you'd like so that you can have the most enchanting Dutch Christmas experience any time of the week! There are also alternative activities included at the end of the guide.
This post contains affiliate links. This means that if you follow a link and then purchase or book something, I will earn a small commission at no extra charge to you. This helps me with the costs incurred from running this site and means I can keep bringing you travel content like this. You can read more about this on my privacy page. Thanks for your support!
A Note on Christmas and Sinterklaas in the Netherlands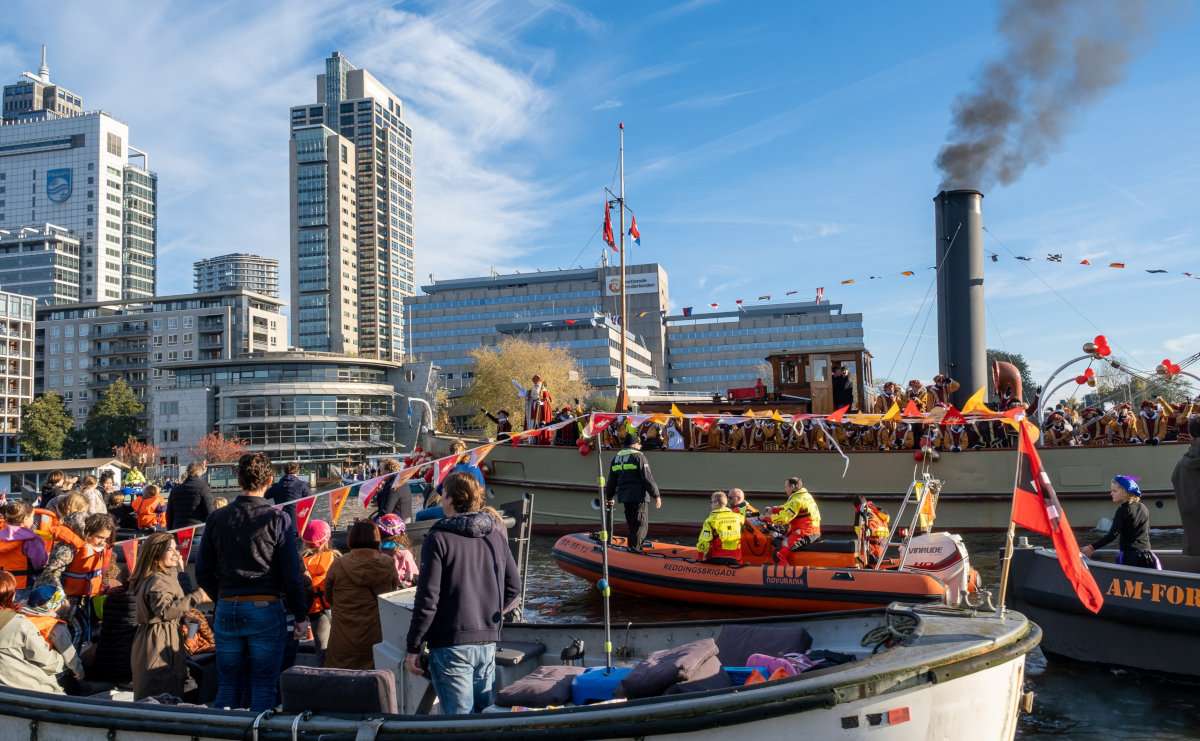 One of the reasons that Christmas isn't quite as big a deal in the Netherlands as it is in the UK, America or Australia is that the Dutch tend to be more into Sinterklaas than Santa Claus. Sinterklaas resembles Santa Claus in a lot of ways but actually predates him (many people believe the Dutch migrants in America are mostly responsible for the popular modern version of Santa) and is based on Saint Nicolas (Sint Nicolaas), who was a real person.
Sinterklaasavond on the 5th of December is the main celebration for Dutch children, with festive activities leading up to it from November, including Sinterklaas arriving in the country by steamship (as pictured above) which is a big deal. Dutch children leave their shoes out for Sinterklaas to put in sweets and toys on the evening of the 5th. Because of this, most Dutch families tend to celebrate Christmas as a nice holiday to eat yummy food with their families but don't always put a big emphasis on presents or other Christmas traditions, unless they're religious. Read more about Sinterklaas traditions here.
Luckily Amsterdam is very multicultural and popular with tourists, so there are still lots of fun things to see and do in the city in December, just not quite as many as there are in many German cities, London or New York City.
Friday Night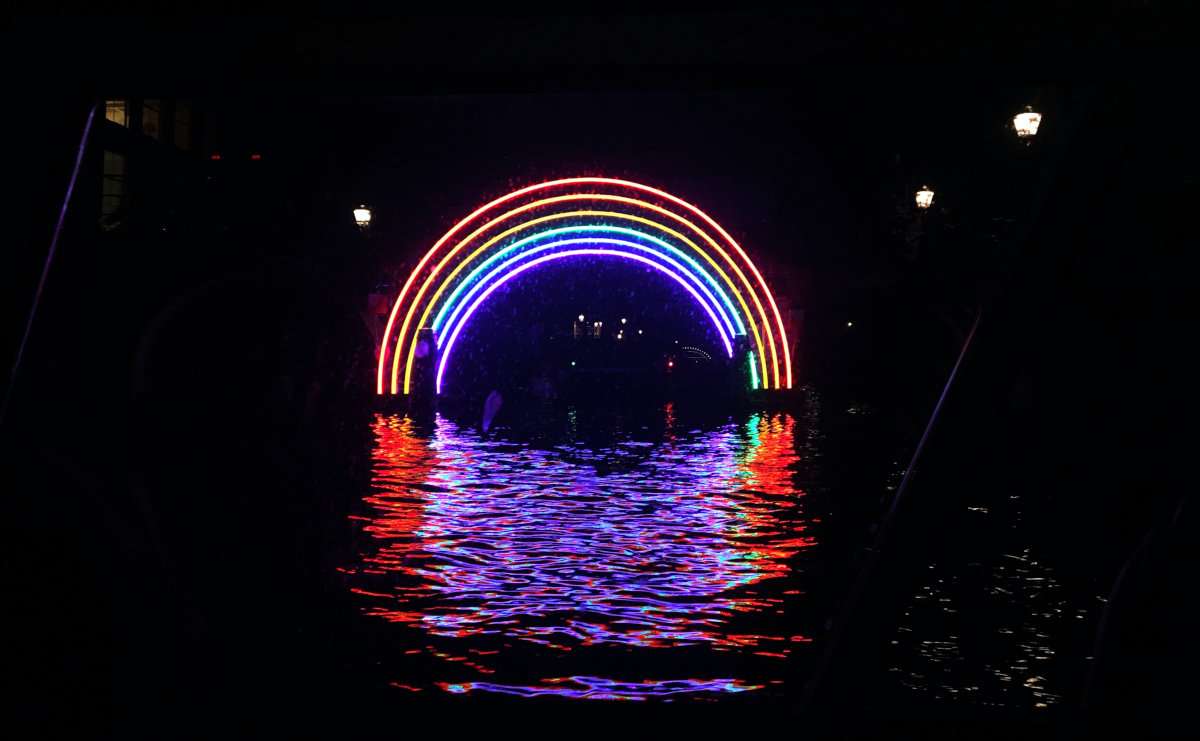 Stay: You're going to want to stay somewhere with a nice Christmas vibe! Some of the best hotels in Amsterdam with stunning Christmas displays include The Dylan, Sofitel Legend the Grand, Pulitzer, InterContinental Amstel, Conservatorium and Hotel Okura. If you're looking for some great budget options then the Conscious Hotel Westerpark also has some lovely festive things going on (including pop-up igloos!) or there's the Botel in NDSM-Werf (my favourite pick for a budget-friendly stay in Amsterdam) or the Volkshotel which is also really cool – you can read my review about staying at the Volkshotel here.
Eat: Have dinner in an igloo at the Conscious Hotel Westerpark. Bar Kantoor, which is attached to the hotel, usually has pop-up igloos during the festive season where you can have a special dinner with a Christmassy twist! Check out their website to see when the igloos will be back.
Do: A canal cruise at night to see the Amsterdam Light Festival. The Amsterdam Light Festival runs from the beginning of December until almost the end of January, with intriguing art installations popping up throughout the city's famous canals. A night-time canal tour is the most enchanting way to see the displays, just make sure you rug up! Luckily, many of the nighttime canal cruises provide mulled wine or hot chocolate and blankets to help keep you cosy.
Saturday Morning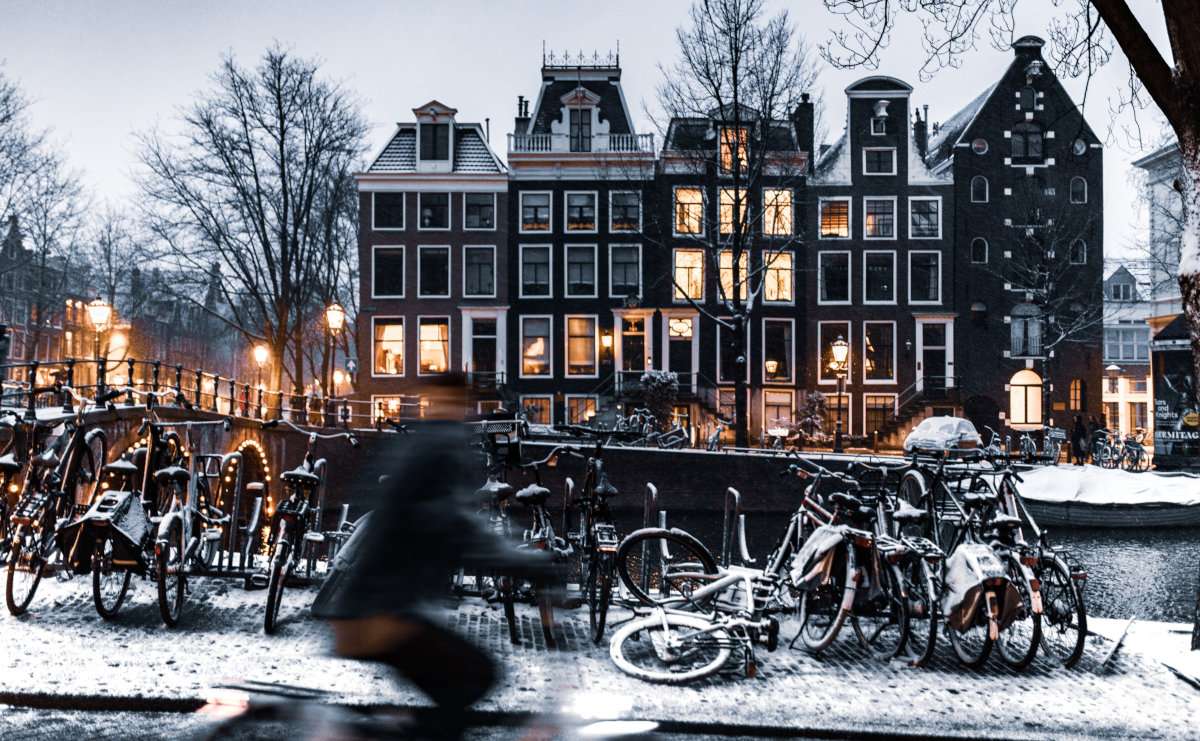 Eat: Grab a quick coffee at your hotel or nearby as you will be eating a lot soon!
Do: Visit some Christmas markets or do a foodie tour of the Jordaan. The Jordaan is one of the prettiest neighbourhoods in Amsterdam and is also home to many excellent restaurants and cafés (and shops!). Joining a walking food tour is a great way to get an overview of this traditional area while also tasting some of the yummiest Dutch delicacies on offer. Of course, if you happen to join this tour near Christmas, most of the places you visit will also be decorated for Christmas.
If you want to visit some Christmas markets in Amsterdam then unfortunately, you're going to be a bit underwhelmed. There are a few Christmas markets which pop up in December, but usually only for one weekend. If you're really itching to see some Christmas markets (aside from the one you'll visit tomorrow), see my alternative activities section after the itinerary!
Saturday Afternoon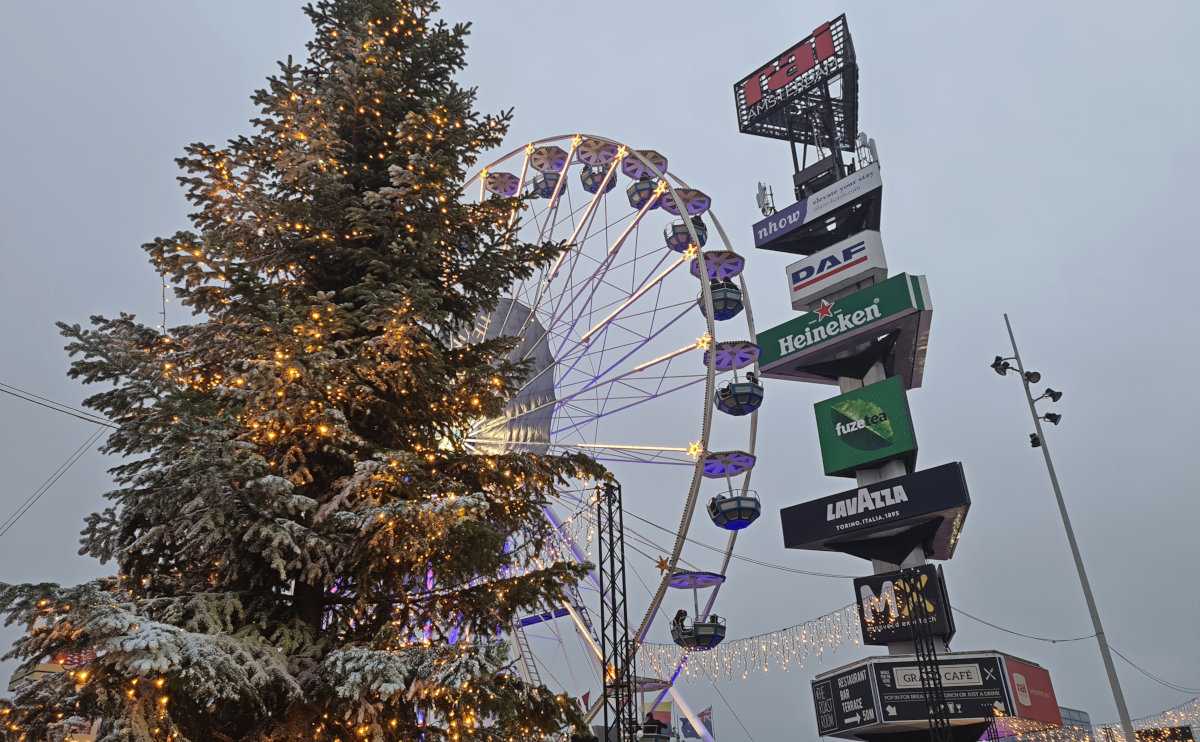 Eat: You'll probably be full enough from your food tour, but otherwise, there are food stalls at your next stop.
Do: Visit the Winter Paradise at the RAI. What Amsterdam doesn't have when it comes to Christmas markets, it makes up for with the Amsterdam Winter Paradise. This is a huge event that's slightly similar to the Hyde Park Winter Wonderland in London, taking place both indoors and outside at the RAI Convention Centre. I wrote a whole post about visiting this last year, but basically, it's a huge Christmassy funfair type event, with activities like ice-skating, ice-curling and live music to enjoy, as well as lots of fun rides, a Christmas movie theatre and lots of other attractions! It's a ticketed event, so you do have to pay to attend, but once there you could easily spend hours exploring and enjoying.
Saturday Night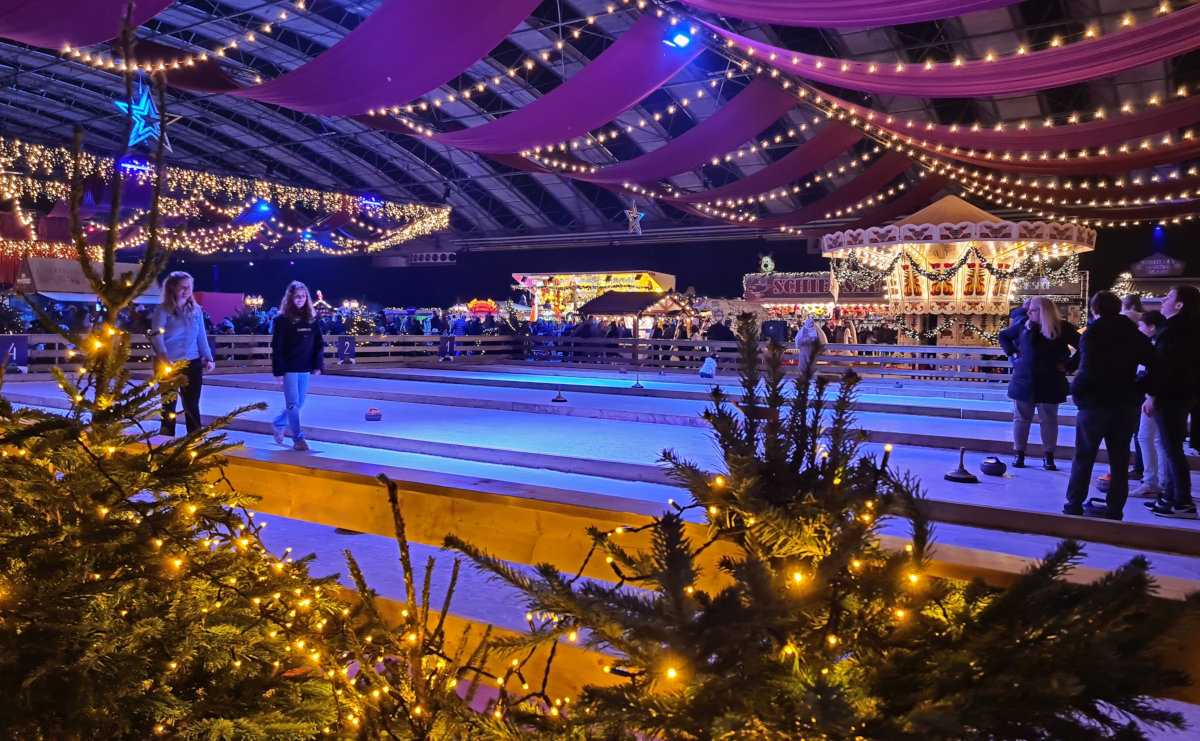 Eat: At Winter Paradise at one of the many different food stalls. There are lots of different food stalls at the Winter Paradise, including some much more "up-market" ones than what you'd usually expect at this kind of event. There are even some fancy little chalets you can sit in and a while indoor 'beer garden' section in front of the main stage.
Do: Winter Paradise activities! When we visited we didn't stay too late but while there are lots of fun rides and activities for kids during the day, there are just as many cool things for adults to do at night. Make sure you explore the whole space before you leave.
Drink: Go to the Miracle Christmas pop-up bar at Boom Chicago. If you aren't too tired (or have had enough of the Winter Paradise), then Boom Chicago usually has a very cool Christmassy pop-up bar with delightfully themed drinks like the Christmapolitan, Bad Santa and Jingle Balls Nog. Boom Chicago is an English-language improv and comedy club, where some big names actually started their careers, including Seth Meyers, Jason Sudeikis and Brendan Hunt, so you might also want to check out some shows while you're in Amsterdam.
Sunday Morning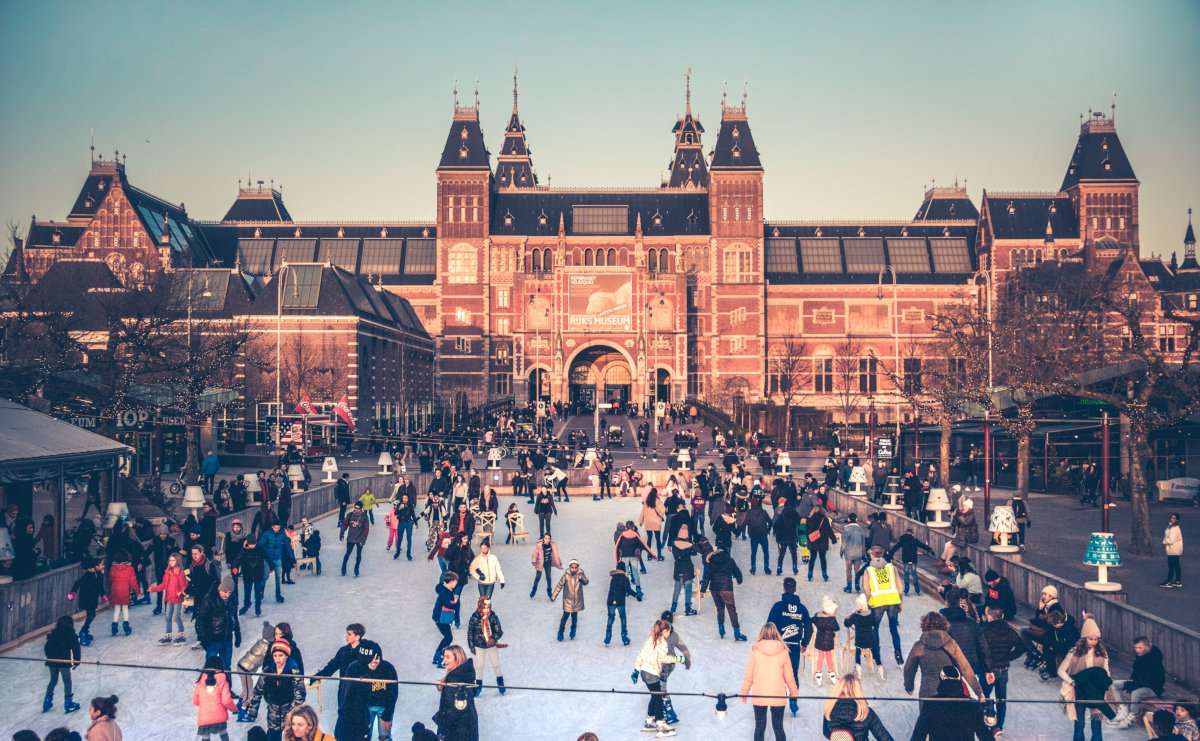 Eat: Have breakfast at Pluk in the Jordaan. This is one of my favourite Amsterdam cafés where I take any friends who are visiting (my last friend I took there ended up going back twice!) and they also make some gorgeous (and delicious) special Christmas cakes and cupcakes.
Do: Head to Dam Square to see the giant Christmas tree, then walk over to the Christmas Palace shop next to the floating flower market. Either hop on a tram or continue walking to Museumplein to see the Ice*Village and perhaps go ice skating (although the ice rink is apparently NOT being installed this year!). You might like to visit Pieter Cornelisz Hoofstraat nearby to see the fancy Christmas window displays at the Dior, Prada, Chanel and Louis Vuitton boutiques, or get out of the cold by exploring the Rijksmuseum.
Sunday Afternoon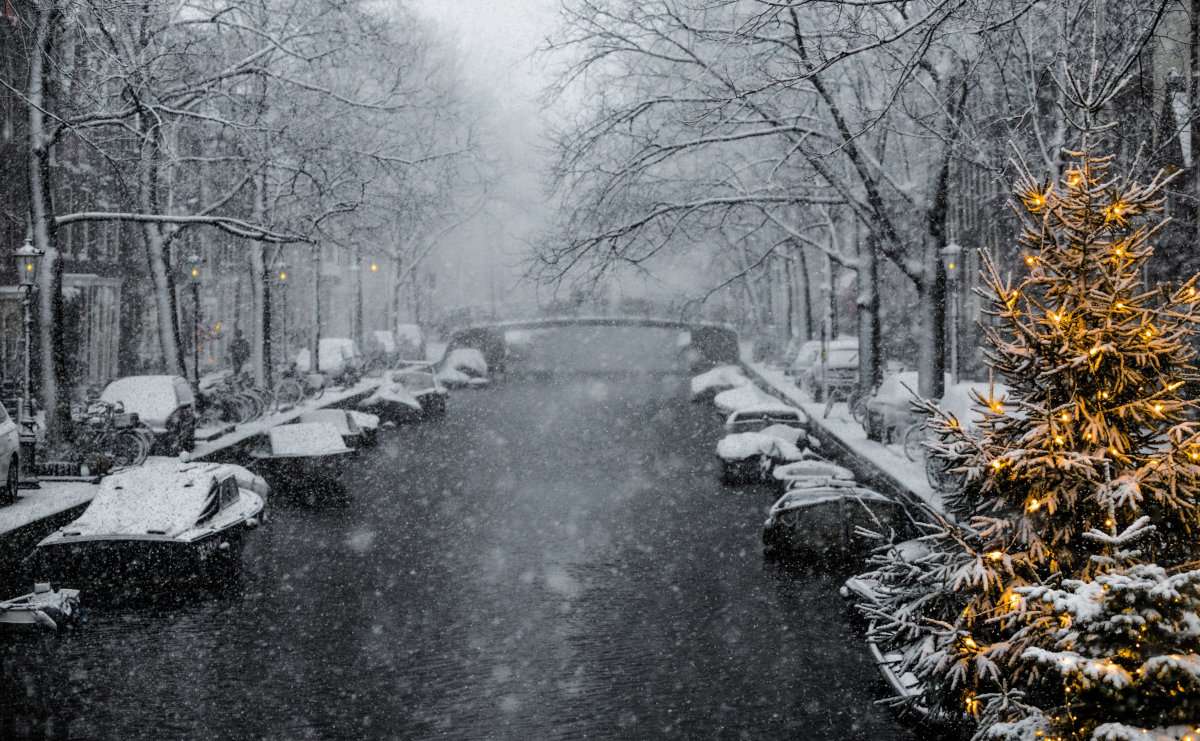 Eat: Have an Alice in The Grand Winter Wonderland Afternoon Tea at Sofitel Legend the Grand! Sofitel Legend the Grand is one of the most expensive (and luxurious) hotels in Amsterdam, but even if you can't afford to stay there you can still experience a bit of the magic with a special afternoon tea! At any time of year, you can partake in an Alice in Wonderland-themed high tea but during the festive period, even this is transformed into a magical Christmassy event! I haven't experienced this myself yet… but I'm hoping to this year. Watch this space!
Do: See an afternoon showing of the World Christmas Circus. For your final activity in Amsterdam, check out one of the more unusual Christmas events – a special Christmas circus festival. This is a very popular outing for families in Amsterdam which features clowns, trapeze artists and even horses, running from December 20th until January 7th.
Restaurants Open on Christmas Day in Amsterdam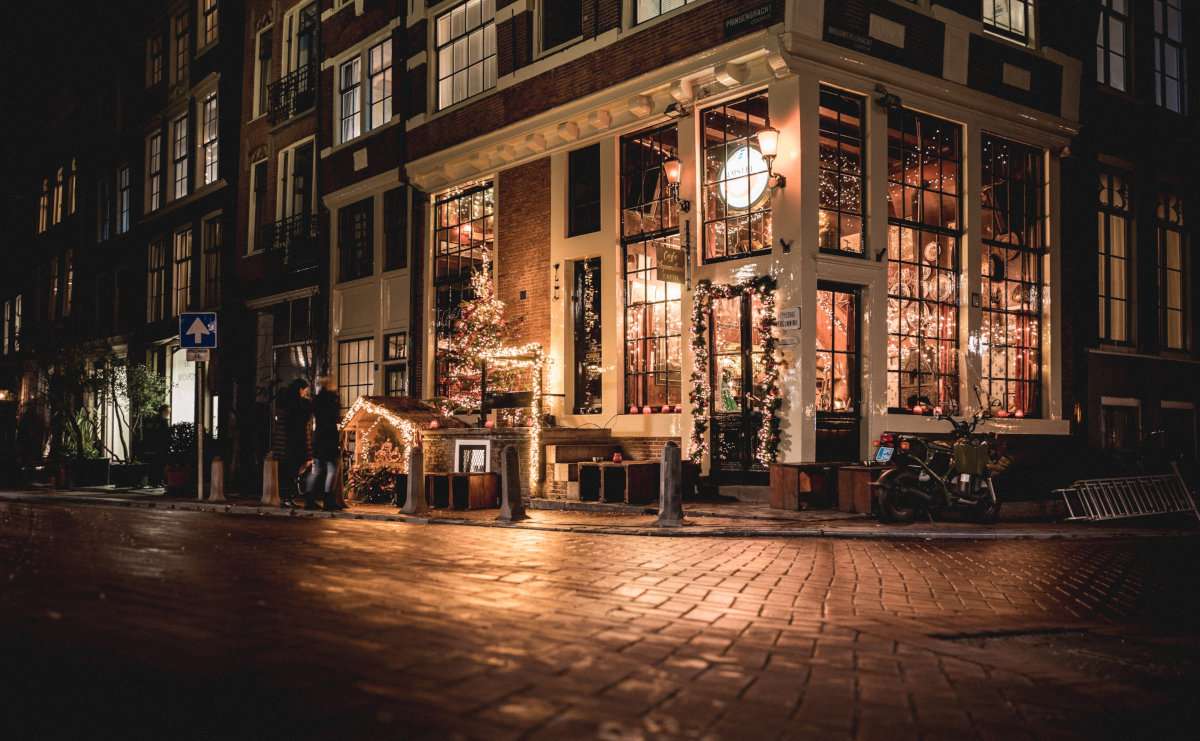 If you are actually going to be in Amsterdam on Christmas Day, you will probably find many places are closed. The Dutch celebrate what they call First Christmas Day on the 25th and then Second Christmas Day on the 26th usually with family, but it is still possible to find nice places for a festive meal on Christmas Day, including the following:
Alternative Christmas Activities for Your Trip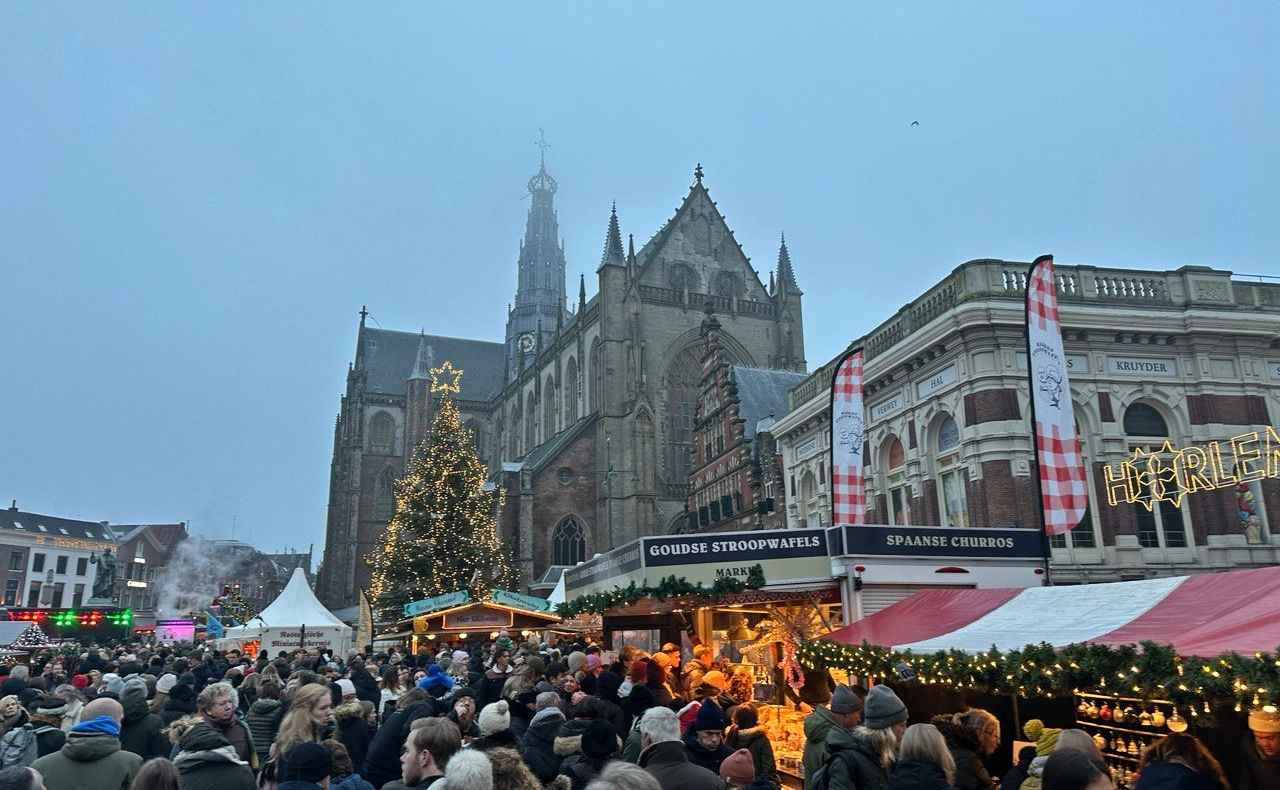 If you can't get tickets for something, or just aren't interested in a particular item, then feel free to switch out any of the activities I've talked about with some of the options below.
Winter walking tour: This two-hour walking tour is similar to the Jordaan food tour except it's obviously much more focused on Christmas in Amsterdam and only includes a snack instead of tastings at multiple establishments. But if you'd rather do a historic walking tour and see some beautiful Christmas decorations then you might prefer this option!
Funky Christmas Market: This is one of the few Christmas markets actually held in Amsterdam, but it's only on for one day so you need to be in the city at the right time if you want to see it! Every Sunday there's a "Funky Market" held at the Westergasfabriek and in December they have a special Christmas edition. It's a great spot to shop for more unusual (and funky!) Christmas gifts, plus there's some entertainment and music along with some very cool food stalls/trucks. For 2023 the Funky Christmas Market will be held on the 17th of December.
Haarlem Christmas Market: If you want to experience a more traditional feeling Christmas market then you could take the short train ride from Amsterdam to Haarlem – it only takes between 15-20 minutes! Haarlem's city centre still looks very traditional and the market is much more how you probably picture an "Amsterdam Christmas market" to be. There are plenty of stalls, performances and things to see spread out throughout Haarlem. We visited last year and one of my favourite parts was the old-fashioned street which is done up to look like a Victorian-era Christmas, much like the Dickens Festival in Deventer, which is also worth checking out if you're in the Netherlands around Christmas! The photo at the top of this section also shows how the main square of Haarlem looked during the market. If the crowds turn you off don't worry, the side streets are far less packed.
Winter Castle Muiderslot: Muiderslot is a very cool castle located in the town of Muiden, about a 25-minute drive out of Amsterdam. The castle and town are fun to visit at any time, but during the festive period, it's also decorated for Christmas making it even more cosy.
Free lunchtime concerts on Wednesdays at the Westerkerk: There are free organ concerts held at the Westerkerk every Wednesday at lunchtime throughout the year, and from the end of November the music focuses on advent tunes. This would be a lovely way to have a rest and enjoy some Christmas music inside one of the most beautiful of Amsterdam's churches, if you happen to be in town midweek.
Christmas concerts at the Concertgebouw: The Concertgebouw is the Concert Hall of Amsterdam, located across the road from Museumplein. They have a number of different Christmas-themed concerts scheduled throughout December (including Christmas Eve and Christmas Day), with carols sung by choirs or Christmas music performed by orchestras. There's even a "Christmas Classics at the Movies" concert with music from well-known Christmas movies performed by an orchestra! Check out the website to see if you might want to attend one and if there are tickets left!
Pin Me!
Have you ever visited Amsterdam at Christmas? Let me know about it in the comments or pin one of these if you'd like to plan your own festive trip!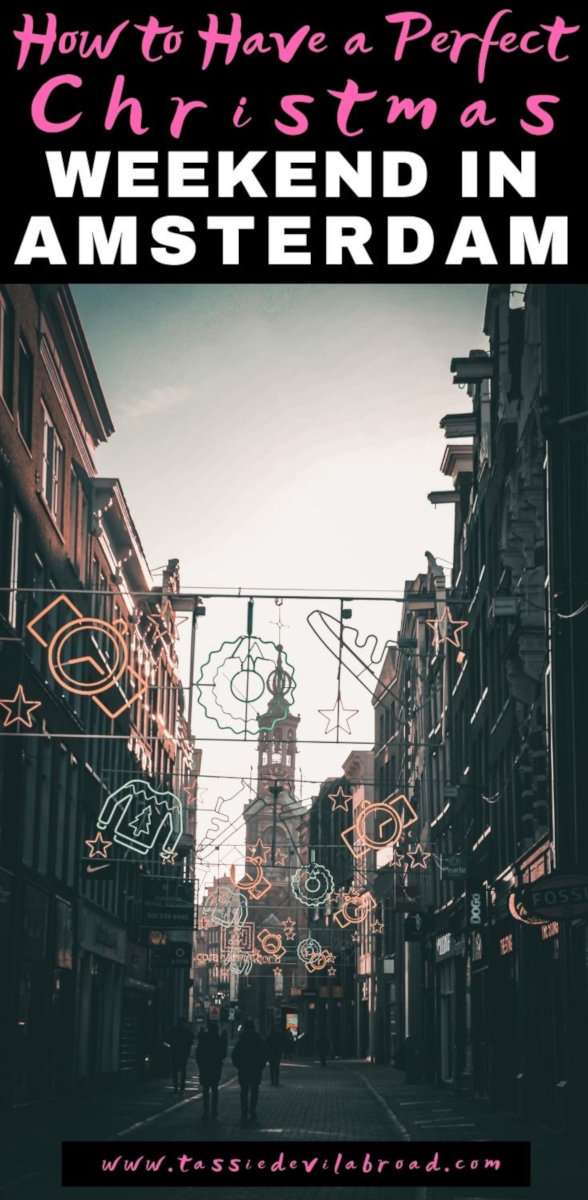 All information is true and correct at the time of publishing but I cannot be held responsible for changes in opening times and prices or businesses closing in the meantime. I always endeavour to keep my posts up to date but also encourage you to double-check the official website of an attraction for information on when it is open, how much it costs etc.