One of the best things about living overseas is getting to show friends from home around your new city! While I don't actually live in Amsterdam, I visit often enough that I feel I have a basic grip on the must-do attractions and I love doing more research then taking my friends to all the best spots. Today I'm sharing my personal favourite places to eat in Amsterdam, whether it's for a sweet snack or a sit-down meal. These are my personal choices for 'coolest' places to eat in Amsterdam because they have a fun mix of delicious food, great atmosphere, location and decor. I will also be updating this post whenever I find a new cool place, so check back often!
This post contains affiliate links. This means that if you follow a link and then purchase or book something, I will earn a small commission at no extra charge to you. This helps me with the costs incurred from running this site and means I can keep bringing you travel content like this. You can read more about this on my privacy page. Thanks for your support!
Grand Cafe Restaurant 1e Klas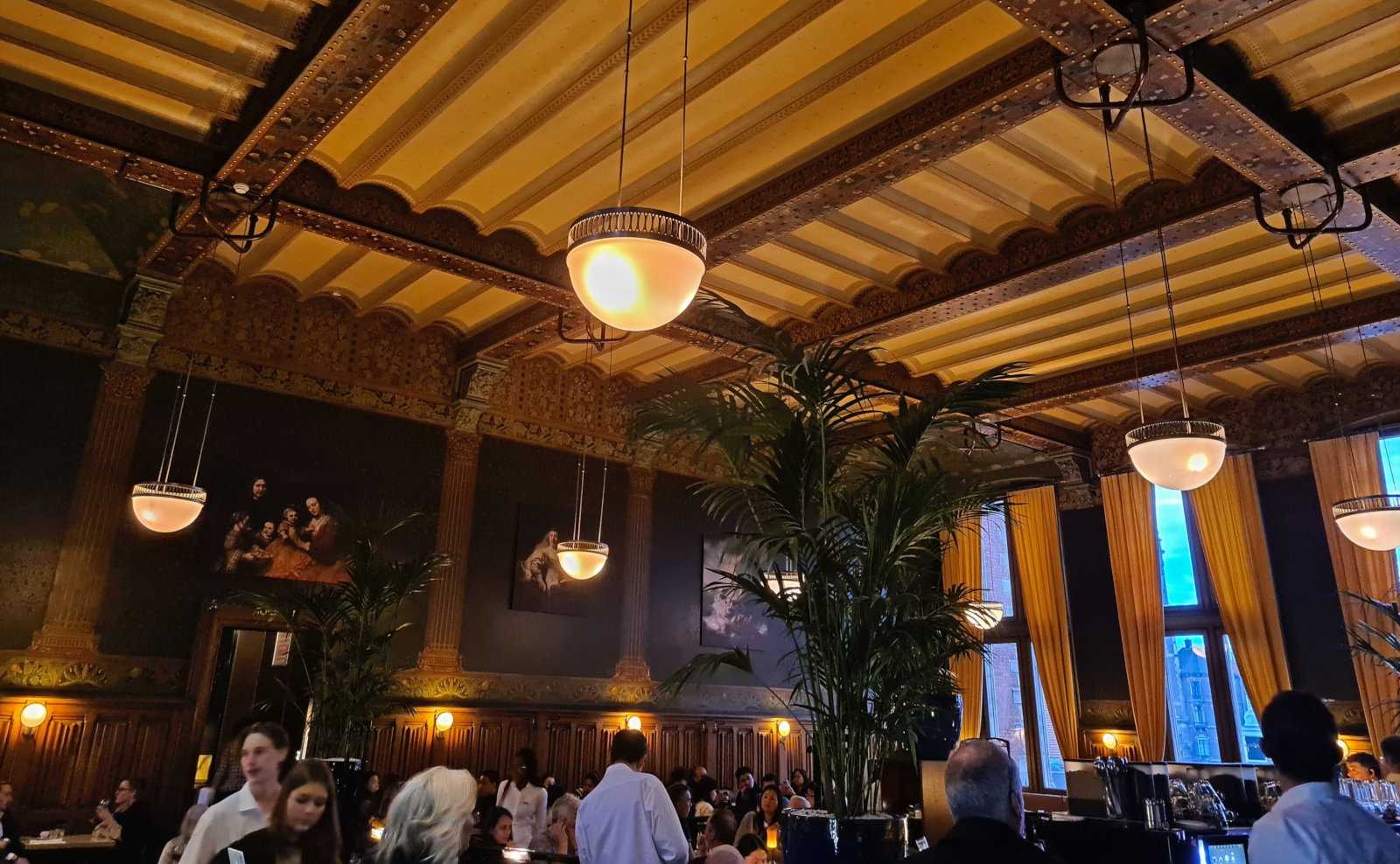 If you're looking for somewhere nice to eat before hopping on a train then the Grand Cafe Restaurant 1e Klas is perfect as it's located right inside Amsterdam Centraal! The restaurant is located inside what used to be the first-class waiting rooms, hence the name, and the interiors are stunning. There are two entrances, one is actually on platform one, but they can both be accessed without going through the ticket barriers, so you don't need to be a passenger to eat here. We came here for dinner and found the food to be delicious, as well as quite affordable. For a three-course meal of dinner or lunch (including a glass of Prosecco), you can take advantage of this deal as well! Of course, you could also come for breakfast or even high tea. For our dinner Dennis had carpaccio and I had a prawn cocktail which came in a fancy tall glass, then we both had steak with salad and fries, followed by an iced frappe with Bailey's for dessert. It was all delicious and the icing on the cake is the live sulphur-crested cockatoo called Elvis who lives on the bar! He was mostly snoozing since it was after dark, but I'm hoping to come back to see him again another time during the day and you can also follow him on Instagram.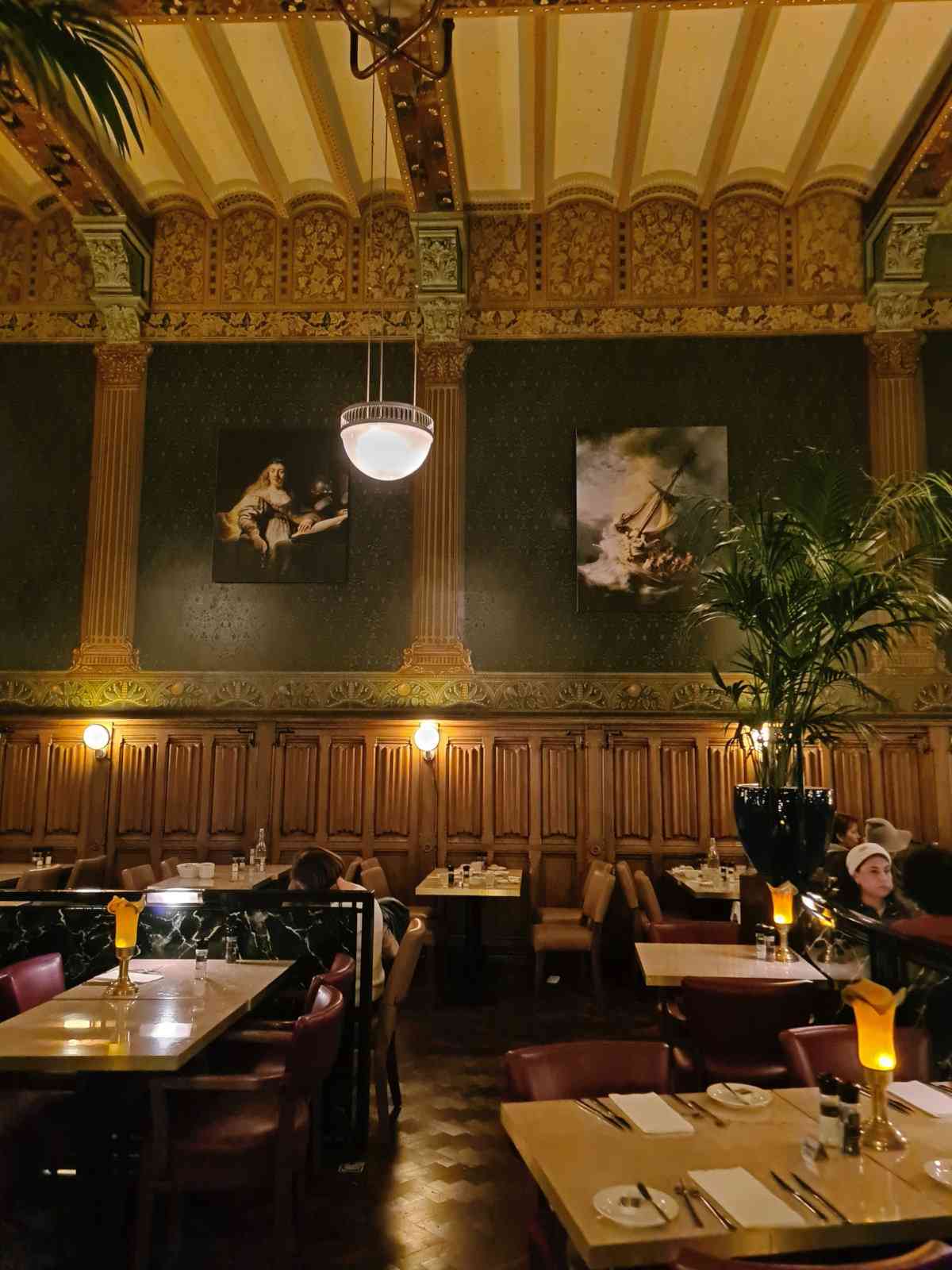 The Food Department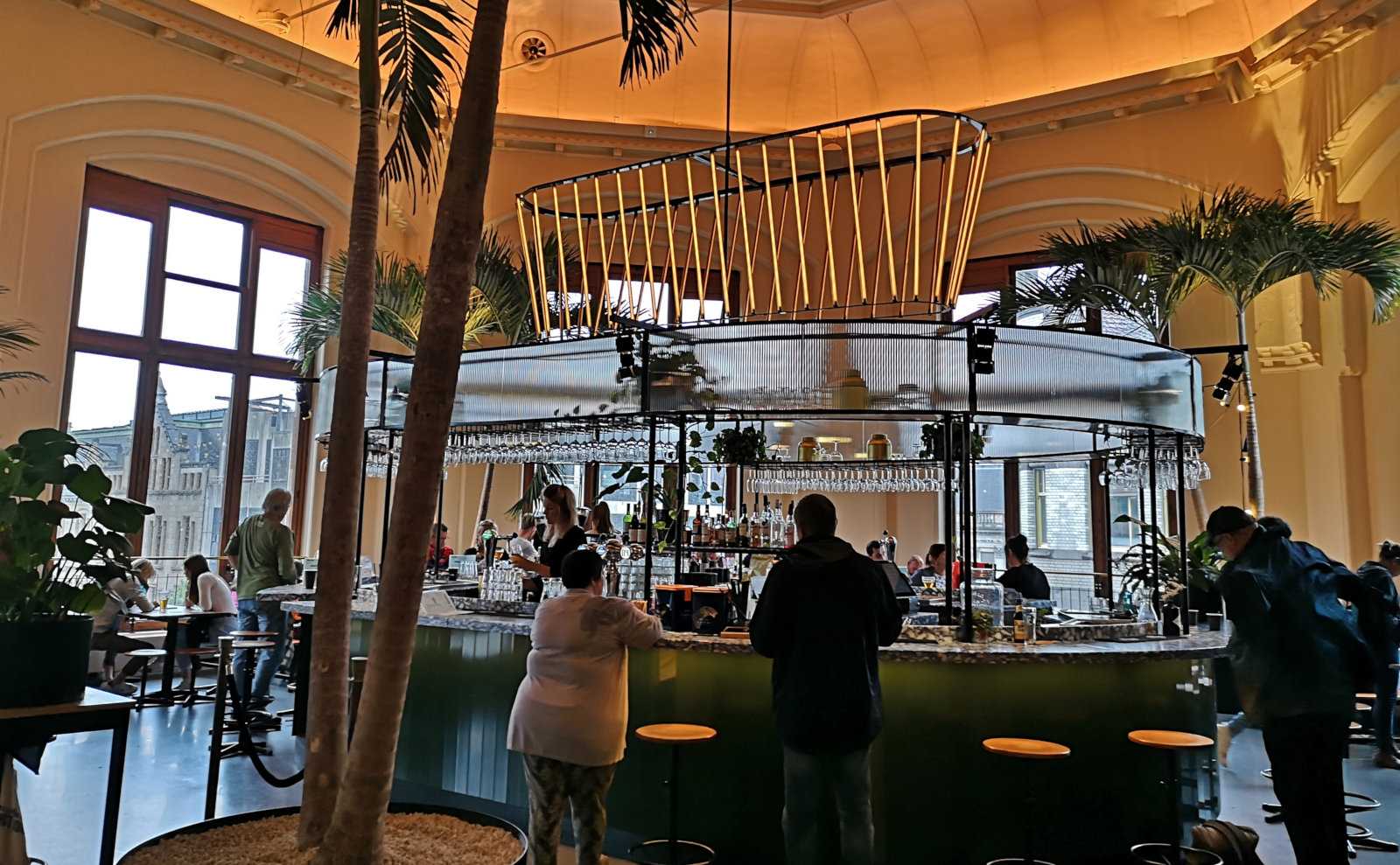 Perfect for re-fortifying yourself after some retail therapy, The Food Department is located on the top floor of Magna Plaza; a shopping mall in a beautiful building just by Dam Square. There are a bunch of restaurants ringing the edge of the building, so you can look down over the railings over the shops on the lower floors while you eat. You can choose dishes from a variety of stands, as well as drinks from the two main bars. One of the coolest parts of the Food Department is that you can sit anywhere once you've bought something, you don't have to just sit at the place you've gotten food from. Some of the corner areas also have lovely big windows where you can look out over the busy streets. Dine on things like sushi, ribs, burgers, French pastries or American classics with a cheeky cocktail. This is a fun spot to try a lot of different dishes right in the city.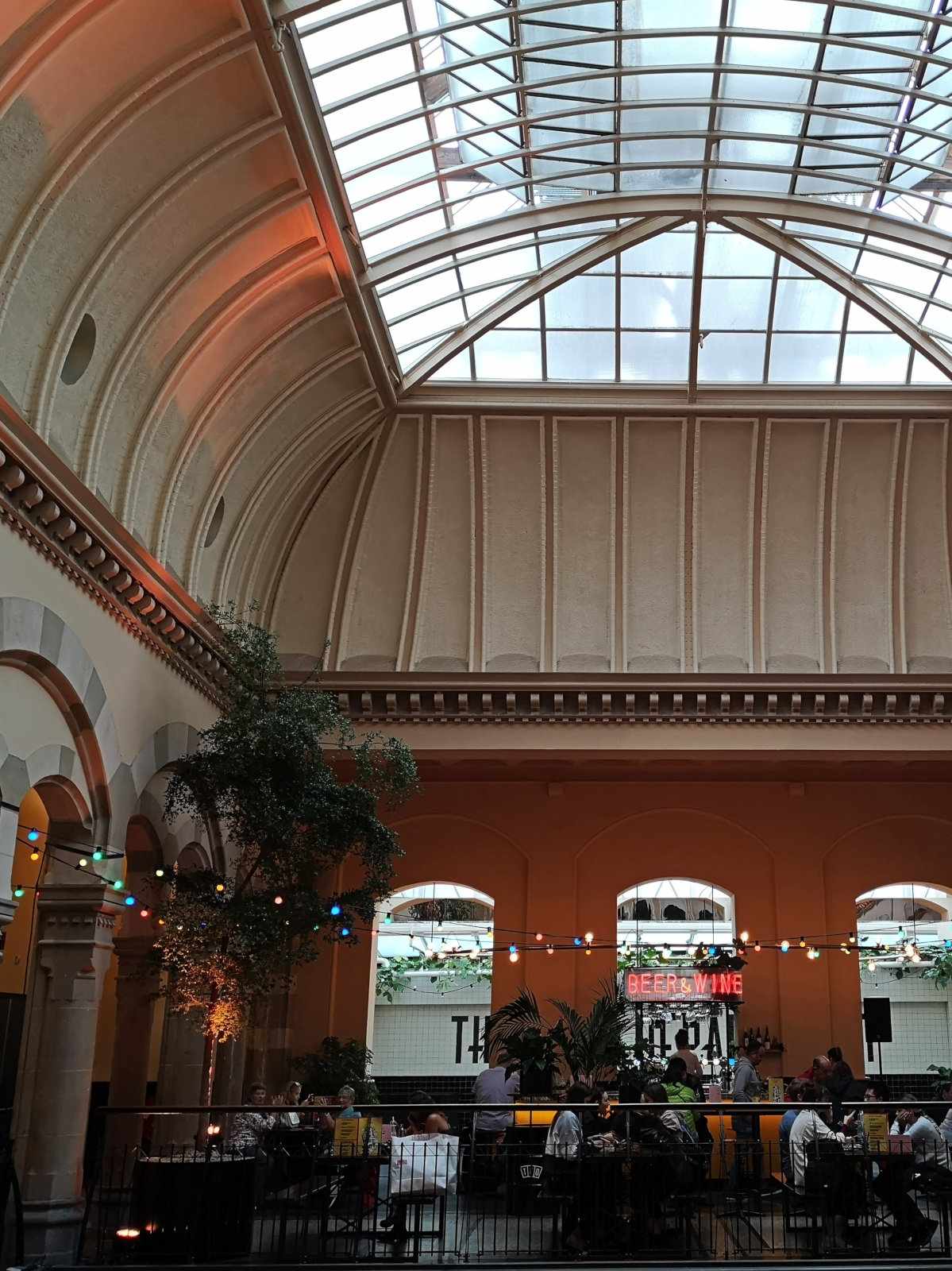 Polaberry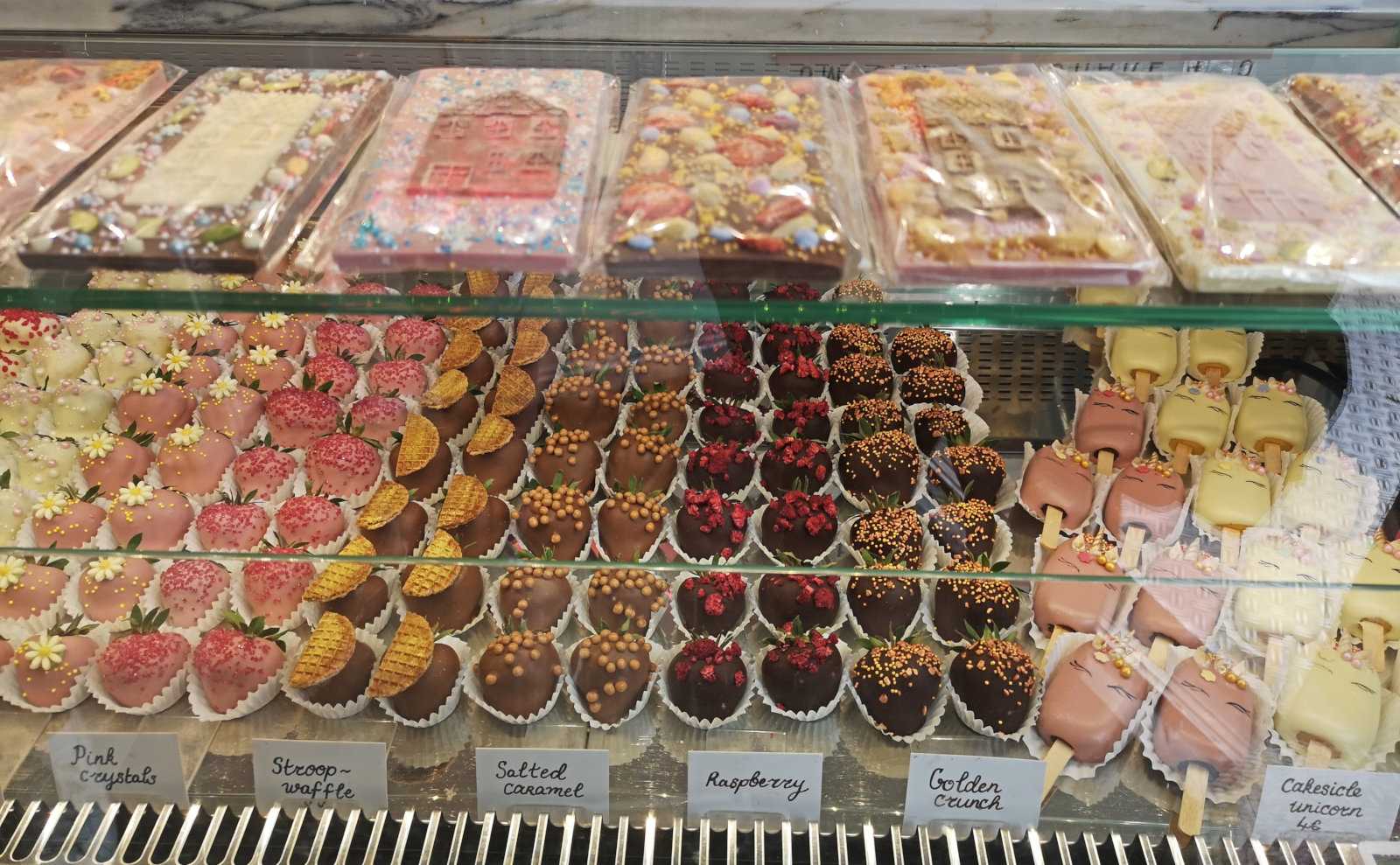 Polaberry is an Instagrammer's dream! This cute little shop is located on one of Amsterdam's prettiest canals, not far from the Anne Frank Huis. Their speciality is chocolate coated strawberries, but they also sell fancy chocolate bars and unicorn cake-pops. You can purchase the strawberries separately, in pretty gift boxes or even as stunning chocolate bouquets. The entire shop is very pretty, with a flower coloured wall set up just so you can get that perfect shot of your treat for Instagram. It's not just a gimmick either, while the strawberries are rather pricey they're covered in Belgian chocolate and are always so big, ripe, juicy and delicious! The pretty store also sells whimsical stationery and postcards.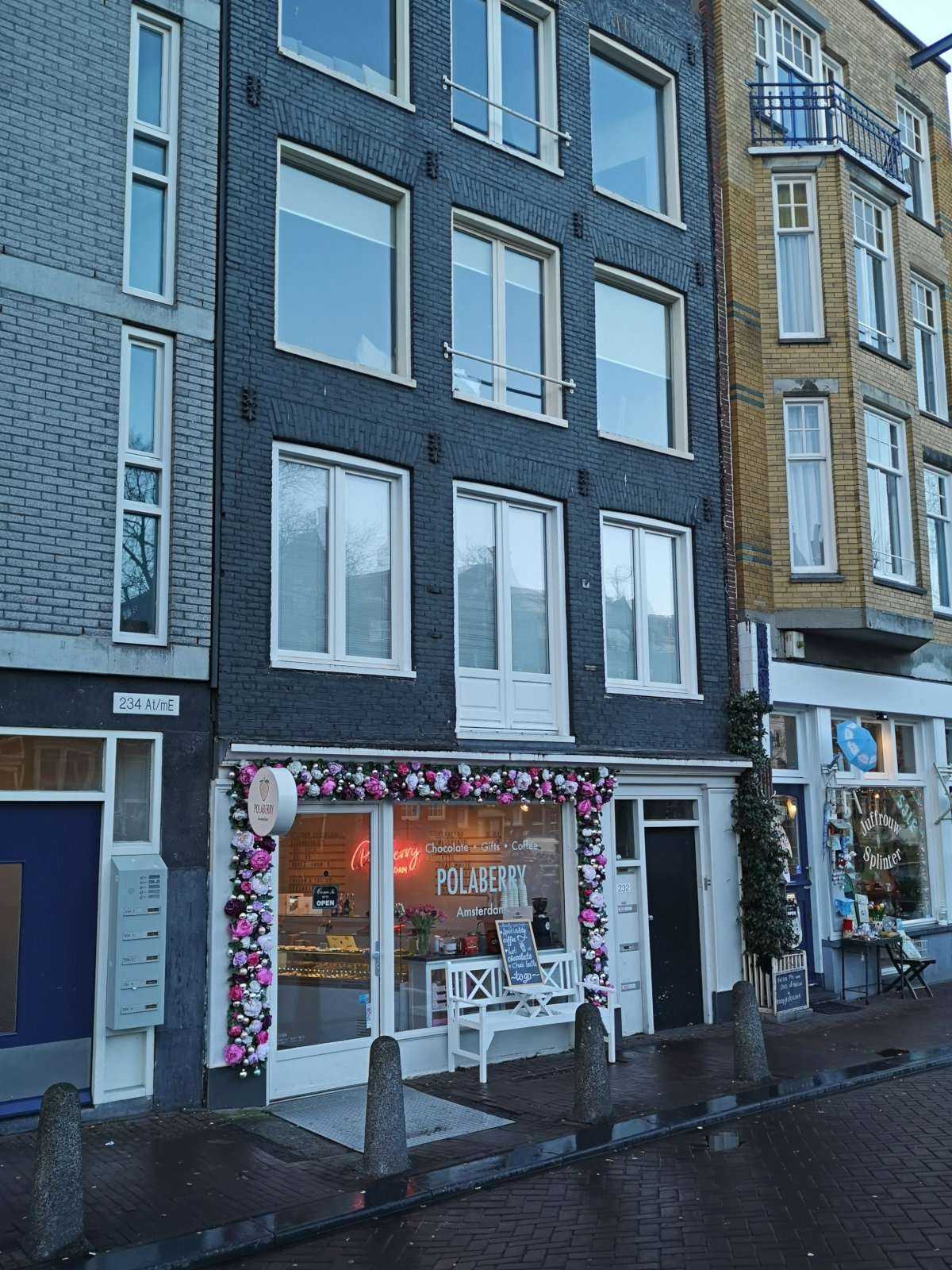 Pluk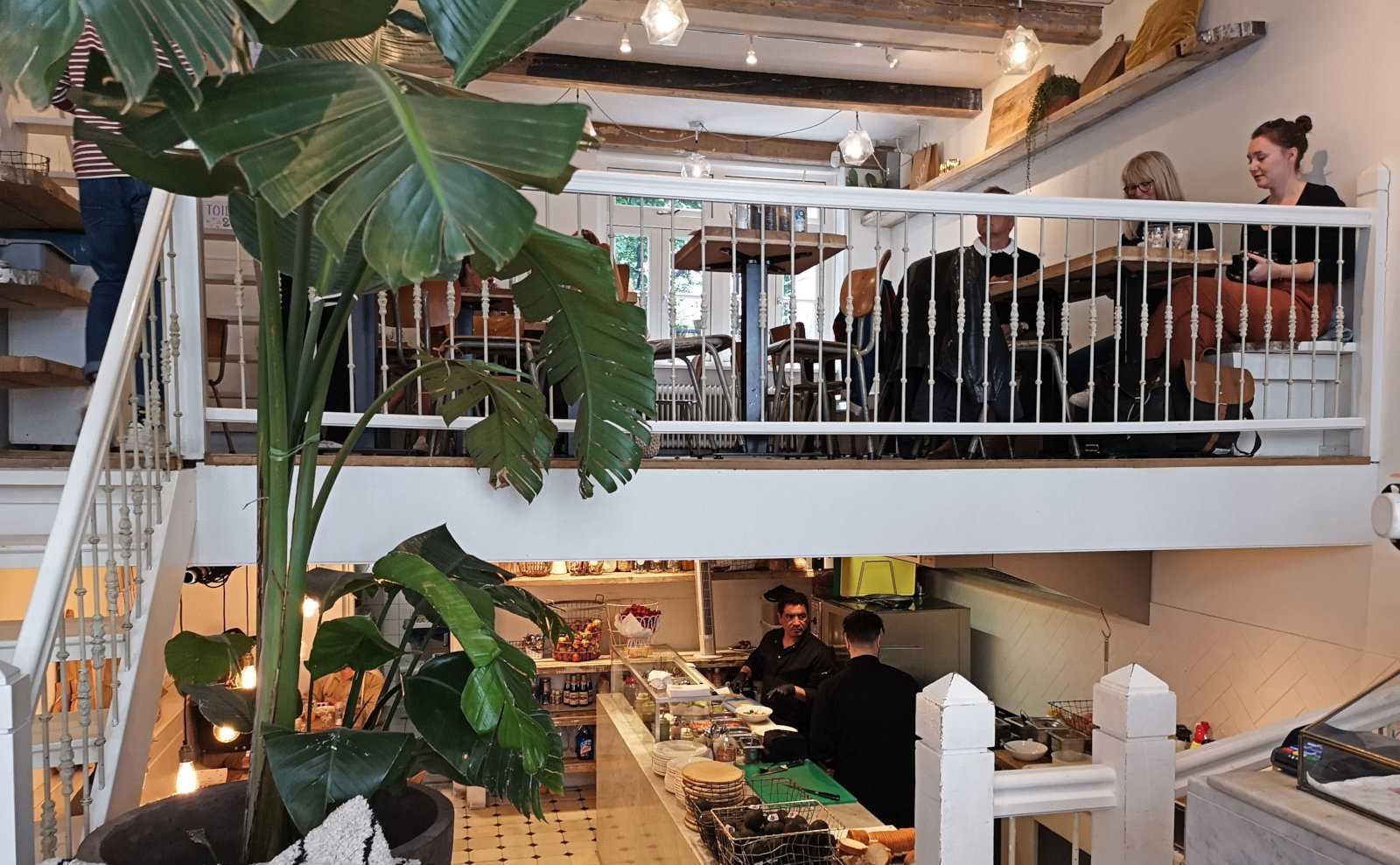 I was searching for somewhere cool on the way to the Anne Frank Huis to take my friends when I stumbled onto a website mentioning Pluk. There are actually two locations to choose from (both in the Jordaan), which is good because it's very popular and gets very busy. Pluk is a shop and a restaurant, so it looks very pretty while also serving delicious food. I tried my first ever smoothie bowl here which was soooo good, not to mention all the baked delights on offer. I also got a unicorn cupcake, because how could I not? – and it was a decadent delight! You can't see from the photo but the cupcake was red velvet with a whole oreo on the bottom. Stop by Pluk for brunch or lunch and maybe take home some cute homewares with you.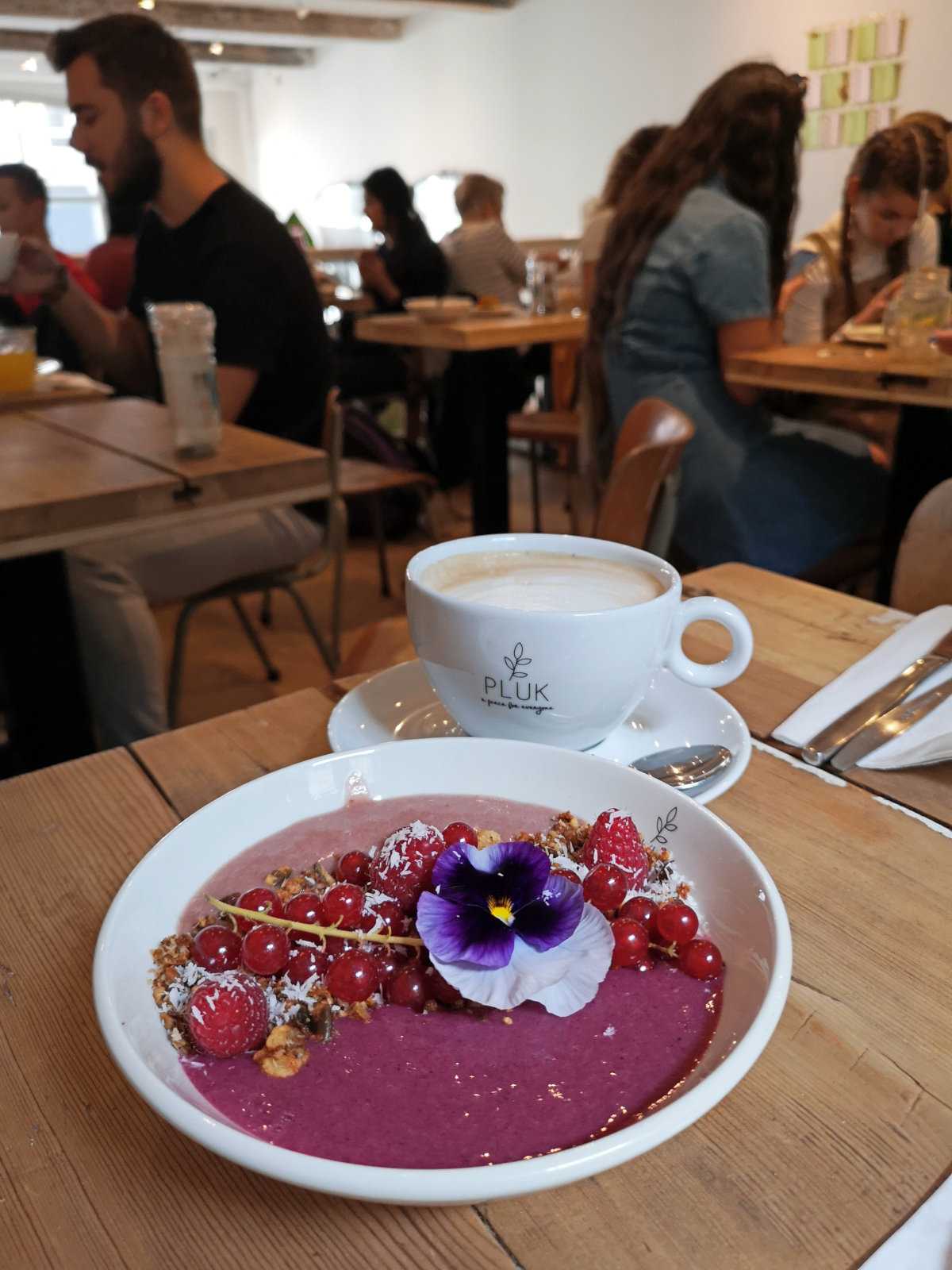 Kattencafe Kopjes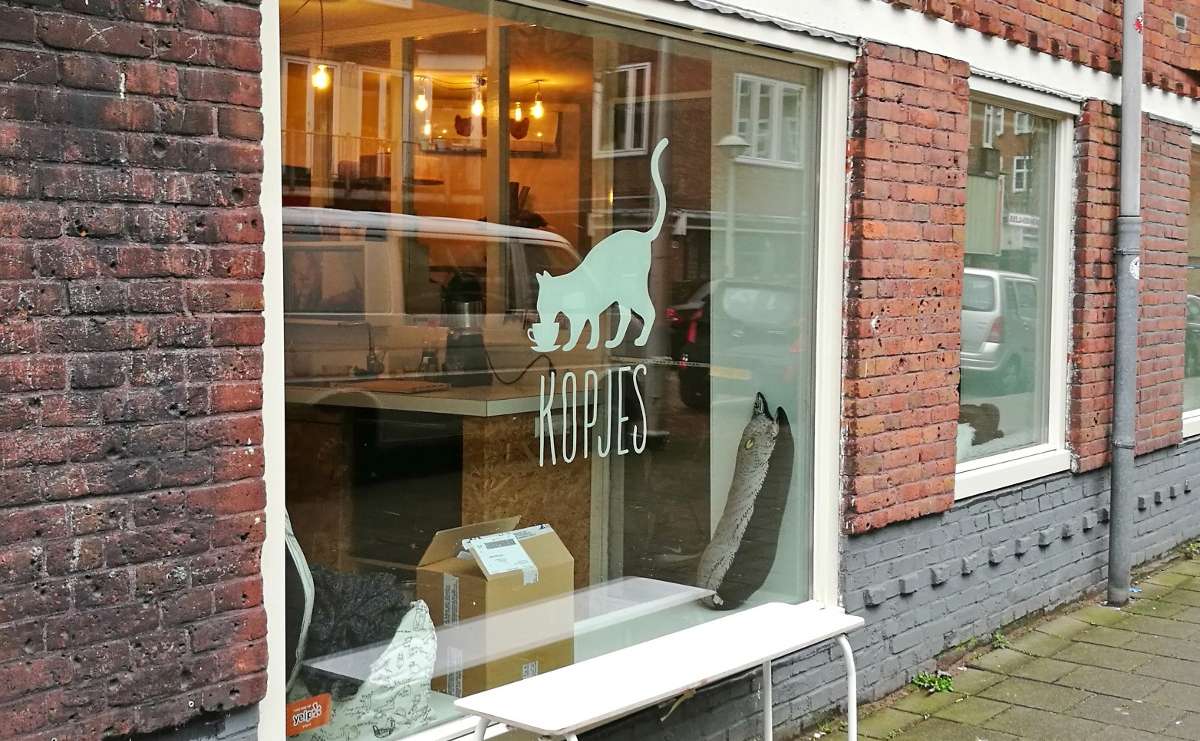 If you like cats then you'll love Amsterdam's cat cafe. Kopjes is a Dutch word for little cups, and also the head bumps that cats give you, so it's fitting that the first cat cafe in the Netherlands is called Kattencafe Kopjes. Kopjes is open Wednesday – Sunday from 10am until 7pm. You pay a €4 entry fee to hang out with the cats and you can also purchase drinks, snacks, breakfast and lunch dishes. Just be aware that you definitely need to make a reservation and can only pay via card (debit, credit, maestro). For more info, check out my post about visiting Kopjes!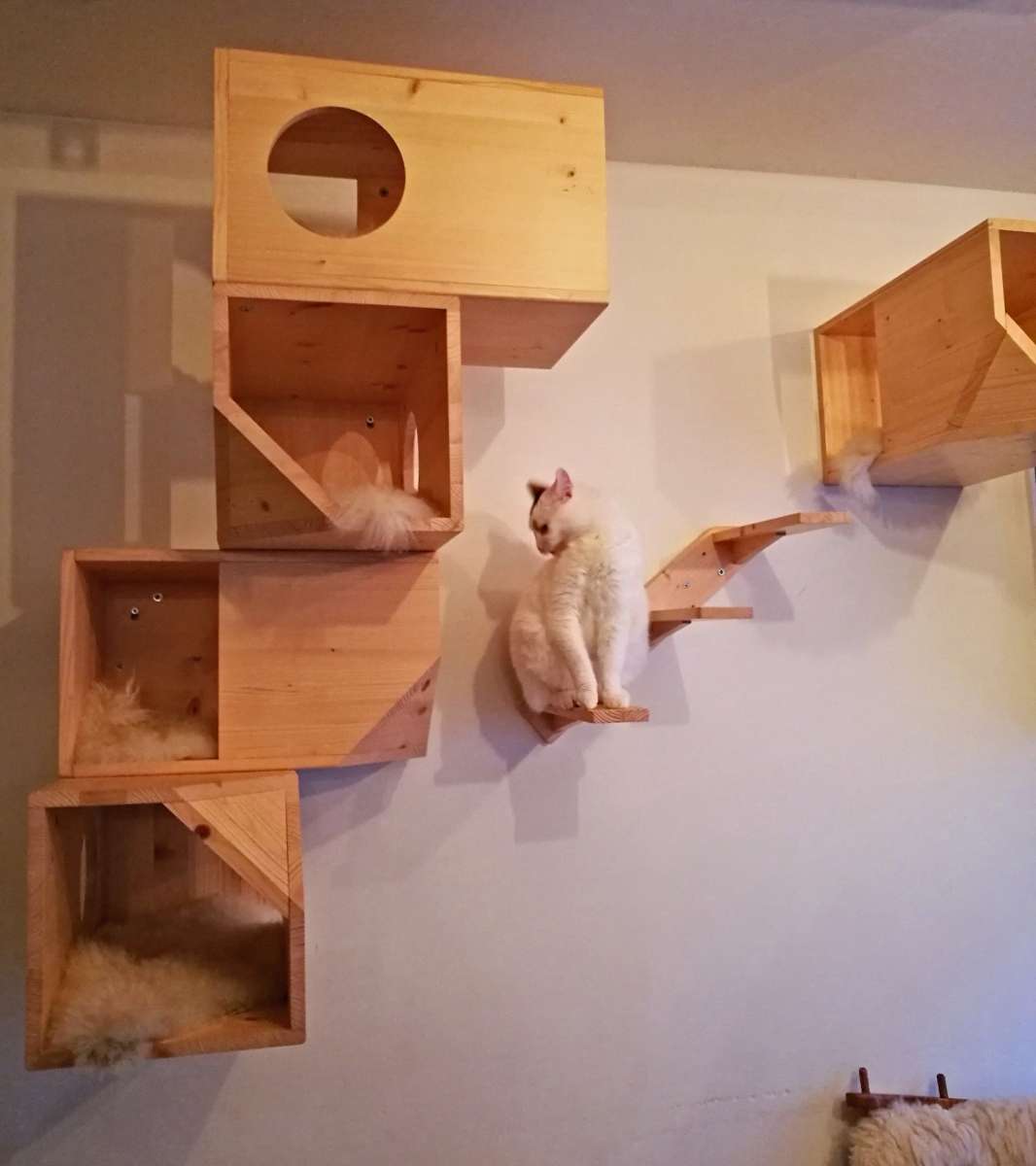 The Foodhallen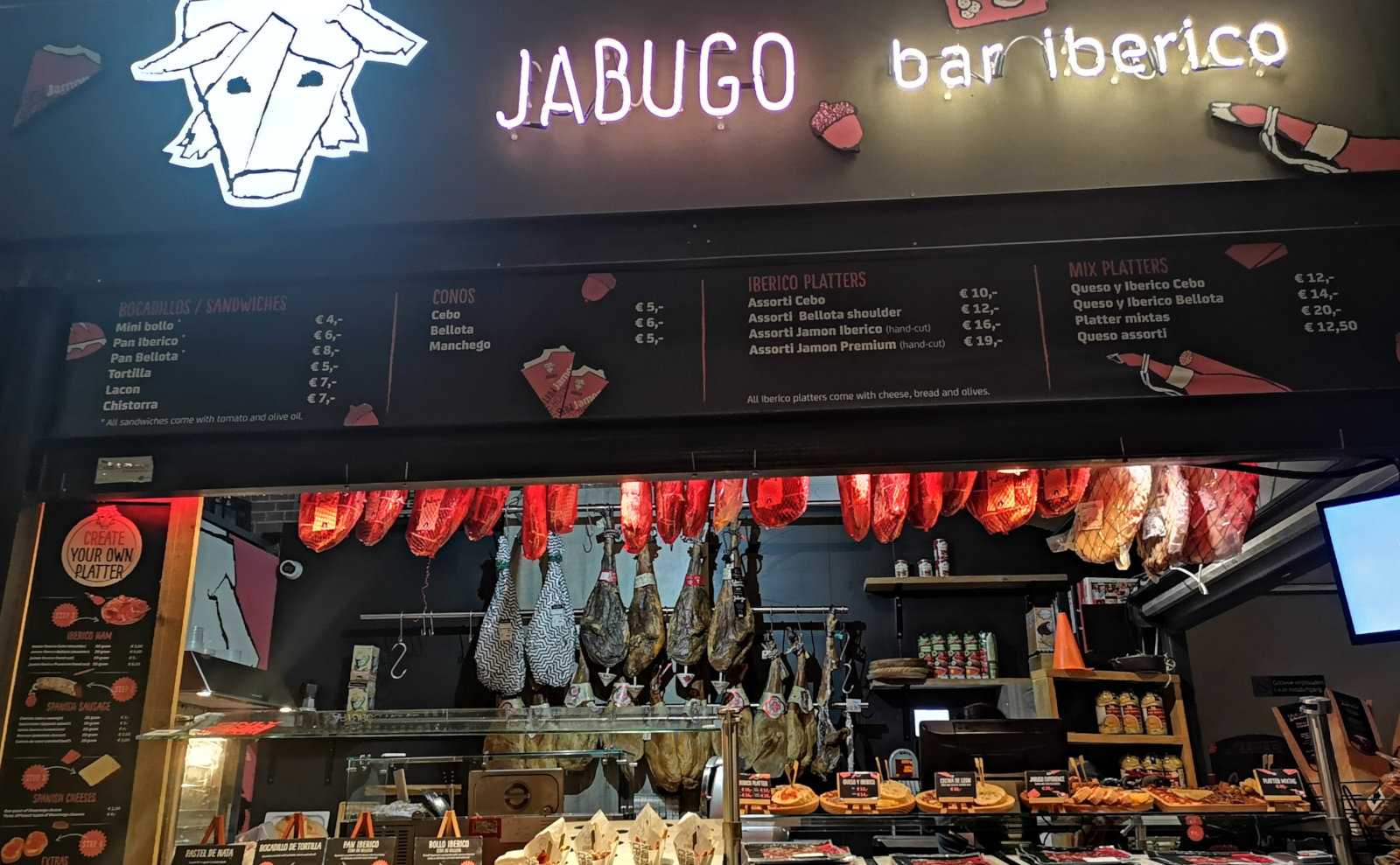 The Foodhallen is a bit of an institution in Amsterdam and gets very busy because it's so popular! Basically, it's a huge space filled with food stalls and a bar, with tables in the middle. You can dine on a huge variety of different flavours, from all around the world. I've been twice now and only tried a fraction of what's on offer. I can imagine it's less busy during the day, so my next mission is to visit for lunch, and then write a full post about it. I can definitely recommend sushi from Mr Temaki, the hot dogs from Bulls & Dogs, the loaded sweet potato fries from Padron and the strawberry mojito from the main bar!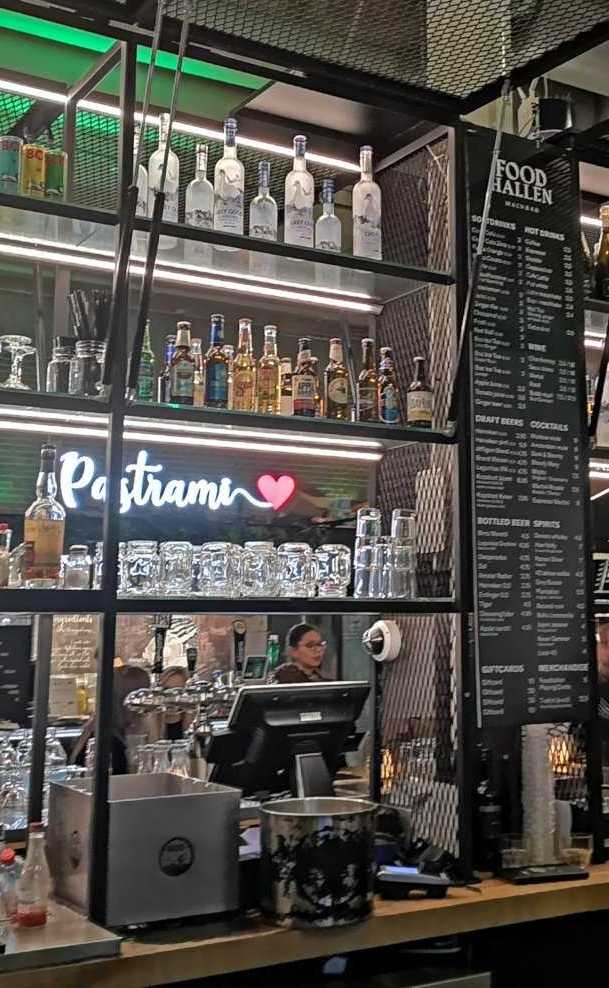 van Wonderen Stroopwafels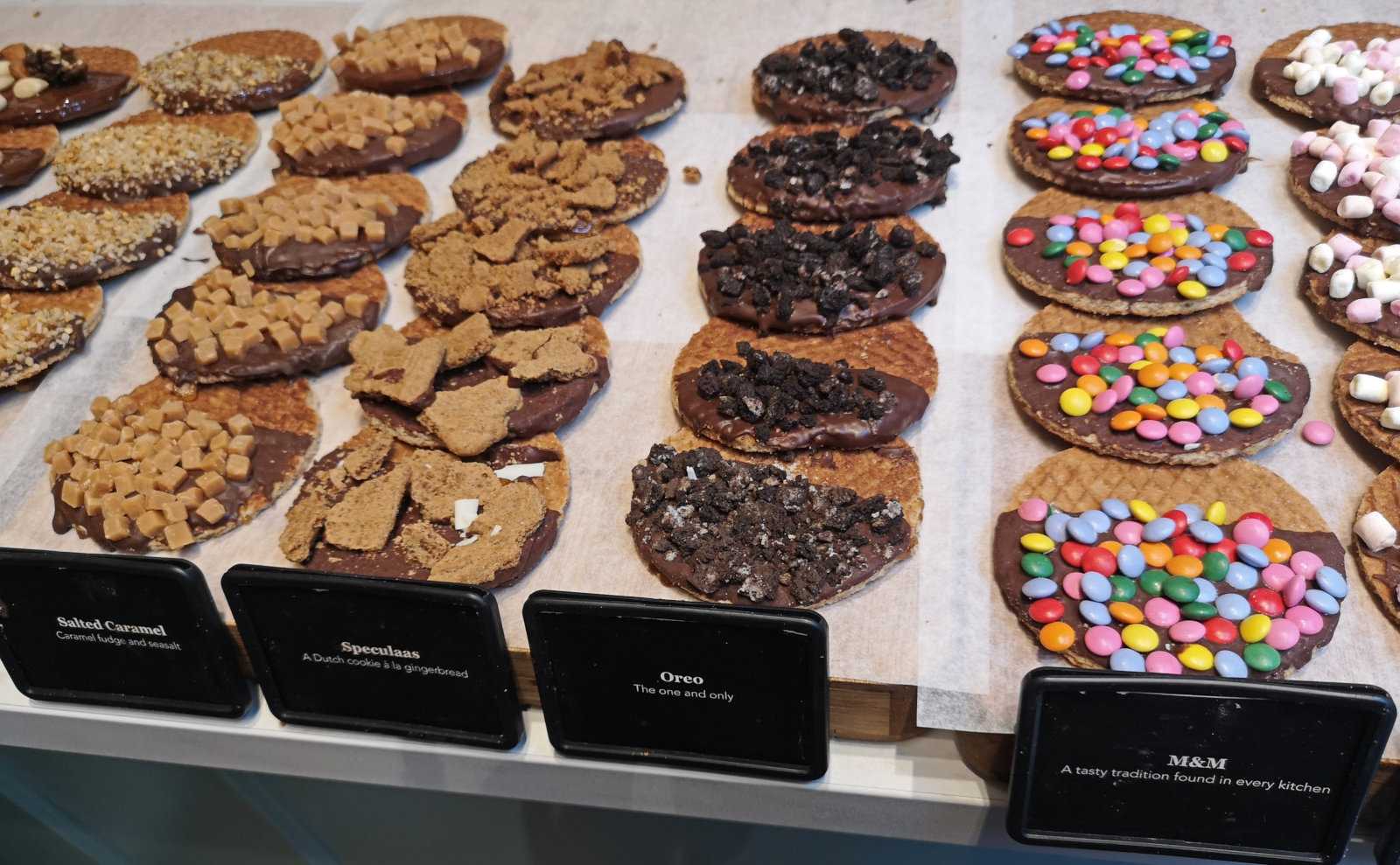 One Dutch food you have to try is Stroopwafels, which basically translates to 'syrup waffle'. They are made by pressing two very thin waffles together with a layer of caramel syrup and they are so good. You can buy stroopwafels all over Amsterdam, Albert Cuyp Market in De Pijp is supposed to have the best fresh ones and you can also get them at any supermarket or gift shop, but my personal favourites are from van Wonderen Stroopwafels. At van Wonderen the humble stroopwafel is elevated with a variety of extra toppings, perfect for that Instagram shot! The stroopwafels are made fresh when you order, so they're still all warm and gooey, plus you get to enjoy them with extra deliciousness like mini M&Ms, crushed oreos, mini marshmallows or crushed speculaas biscuits – another Dutch delicacy. There are four van Wonderen stores in Amsterdam, so I've marked them all on the map at the bottom of this post!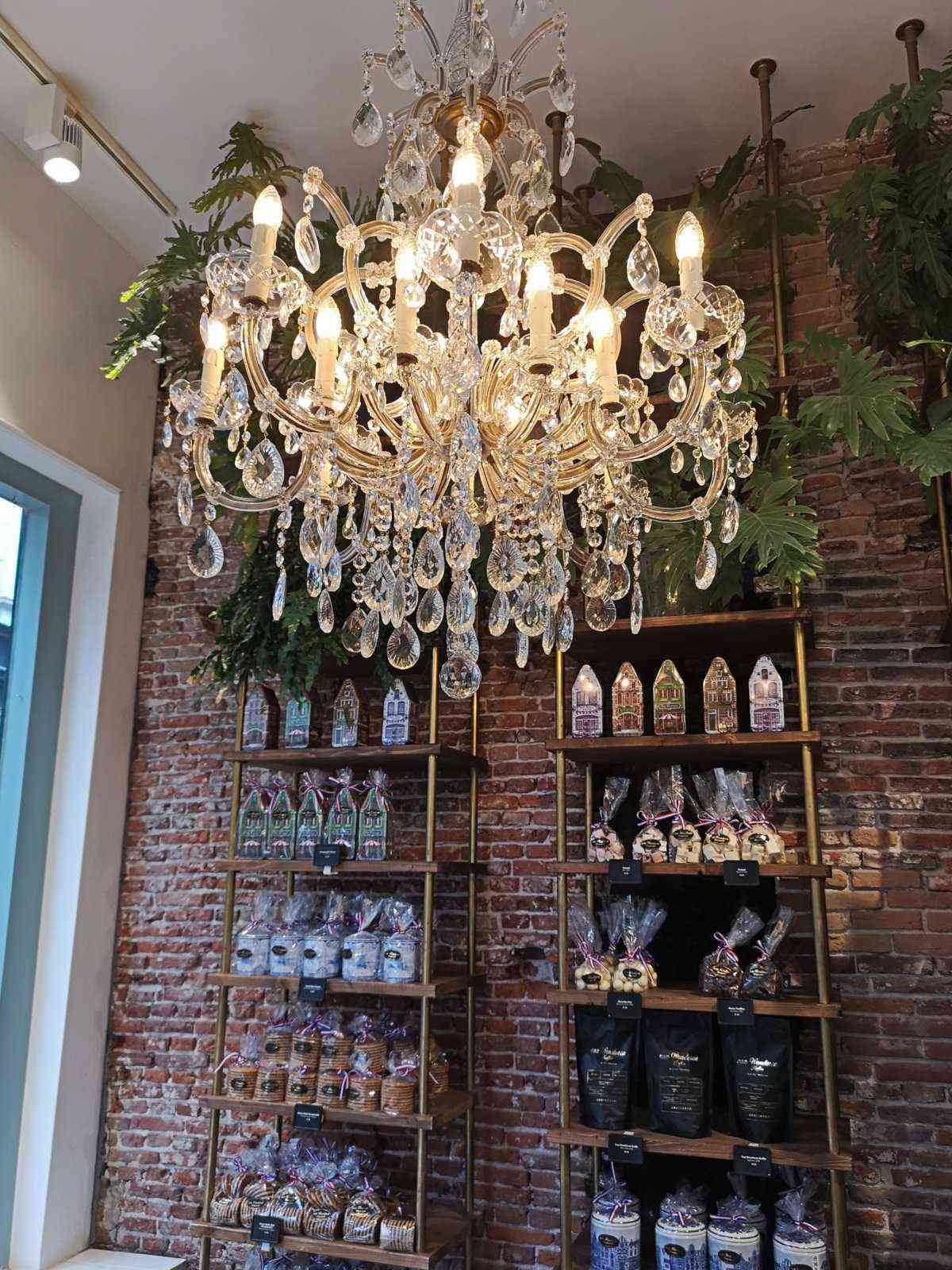 Droog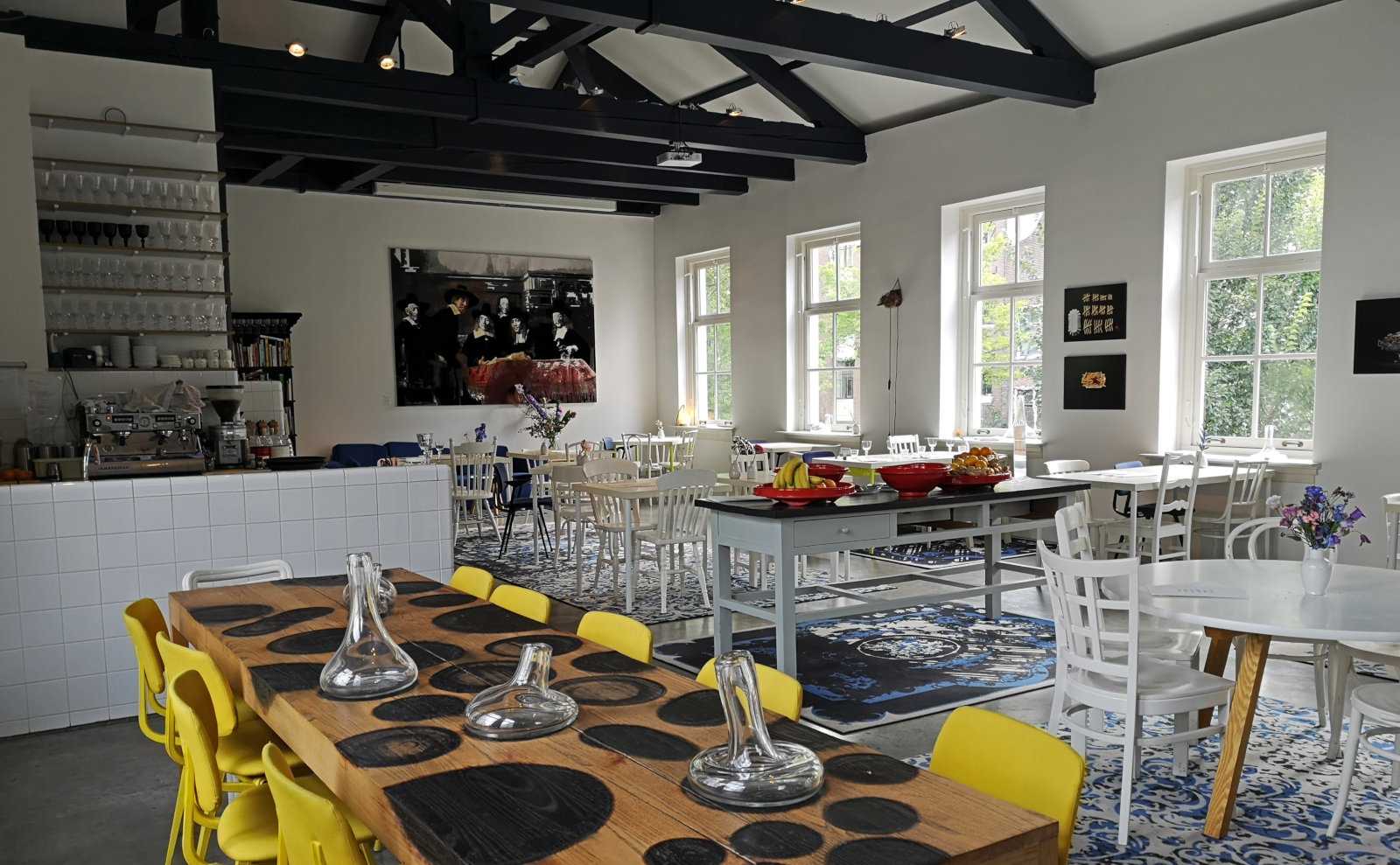 I recently read about Droog on As the Bird Flies' blog and immediately added it to the list of where to take my friends! Droog is a really cool 'conceptual design company' with a variety of different spaces spread out in five historic canal-side buildings. We enjoyed wandering around the showroom to see lots of groovy furniture and other artistic items which are for sale, then headed to Cafe Droog for brunch. It was very quiet, only a few other patrons, the staff were friendly and the food was really good! I ordered the 'healthy breakfast' (the middle photo below) which includes a hot drink, orange juice, fruit salad, yoghurt and homemade granola. Dennis had the full breakfast (left photo below) which included the same things as mine plus eggs, bacon, a croissant, bread and jam. I was also very tempted by the french toast with cinnamon clotted cream, maple syrup and fruit, so will definitely need to go back again! They also serve cocktails, as well as lunch, sweet treats like cakes and a high tea. Don't miss out on the pretty courtyard 'fairy-tale garden' as well.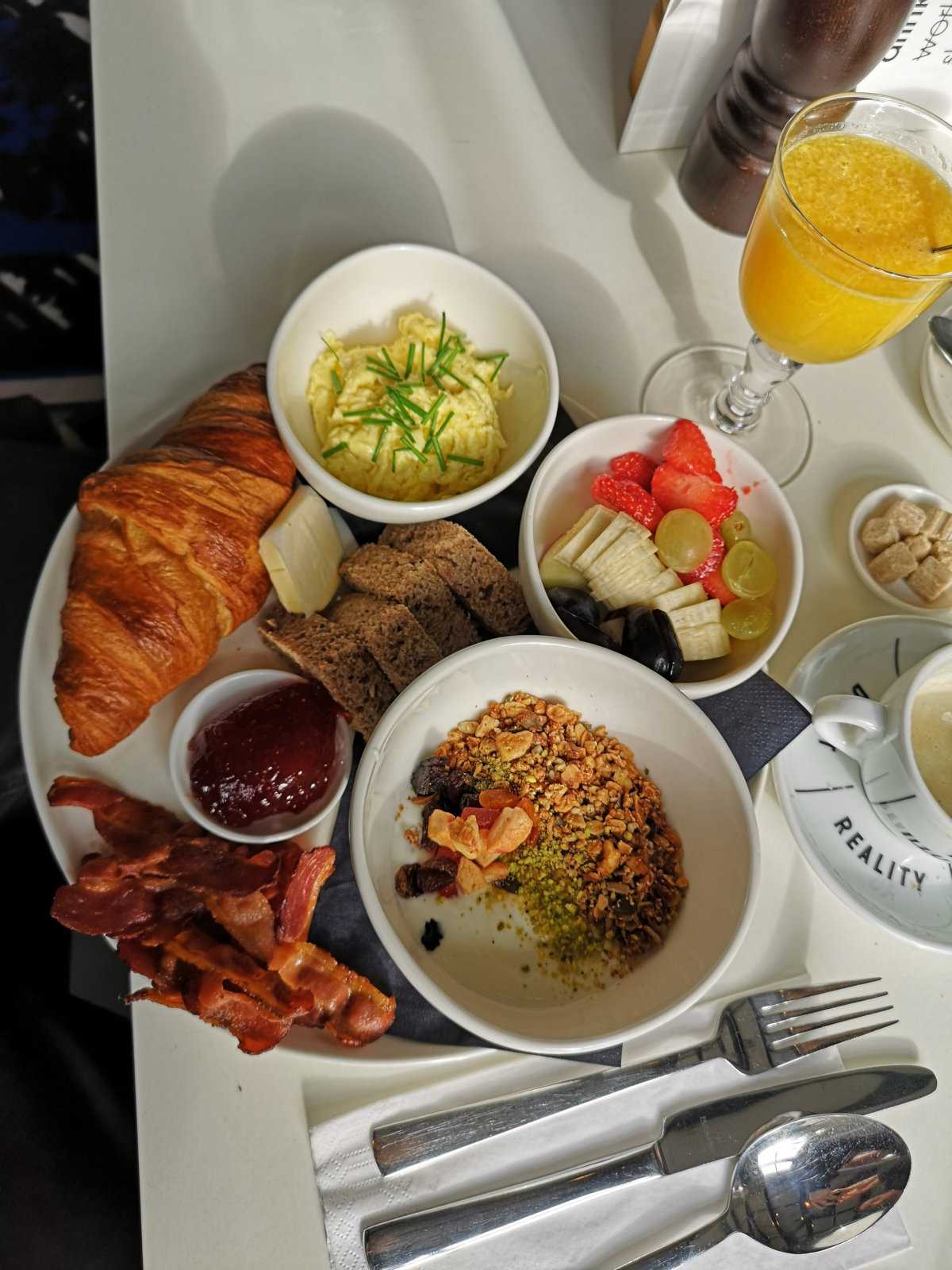 Pllek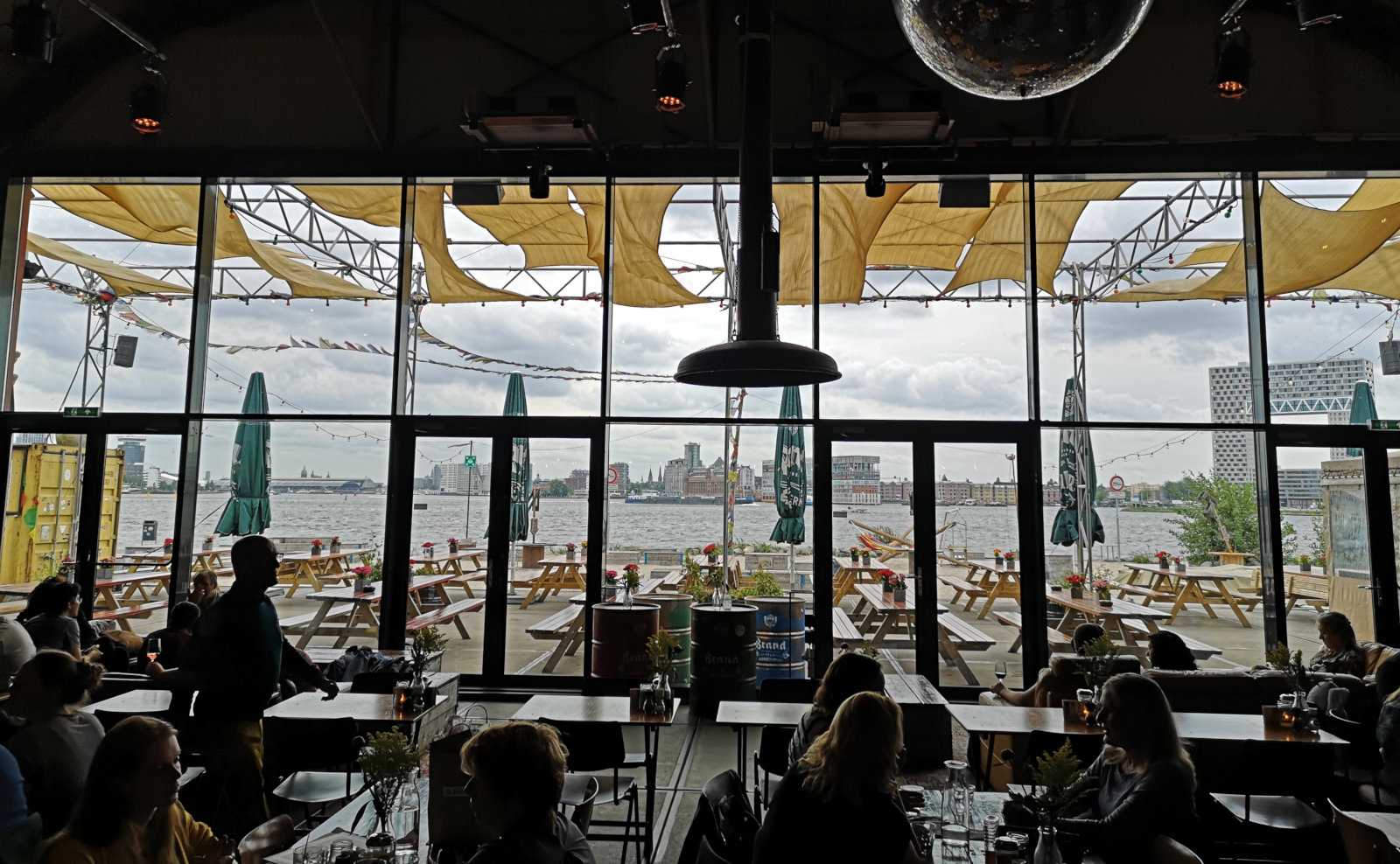 One of the worst-kept 'secret places to eat in Amsterdam' is Pllek in NDSM-Werf. To get there you need to catch one of the free ferries from Amsterdam Centraal to NDSM-Werf; what used to be a shipyard but is now a very hip area with lots of street art and some groovy restaurants, cafes, shops and accommodation. You can read more about exploring NDSM-Werf here. Pllek is kind of hidden between a bunch of shipping containers and is actually situated inside a couple of converted shipping containers beside the river. The river-side location and vibe is a big drawcard, as this is a seriously hip spot that gets especially busy on weekends and when it's sunny! Pllek's menu is 75% vegetarian and 25% vegan, plus they work hard to ensure they use mostly organic products. I've been twice to have lunch, the menu isn't huge but the two meals I've had: a wild swine burger and a falafel plate (pictured below) – were both delicious. Everything about Pllek is very cool, cosy and quirky so it's probably my favourite place to take visitors to Amsterdam. They also hold regular live music events, as well as yoga and kid's programmes, so check the website to see what's coming up.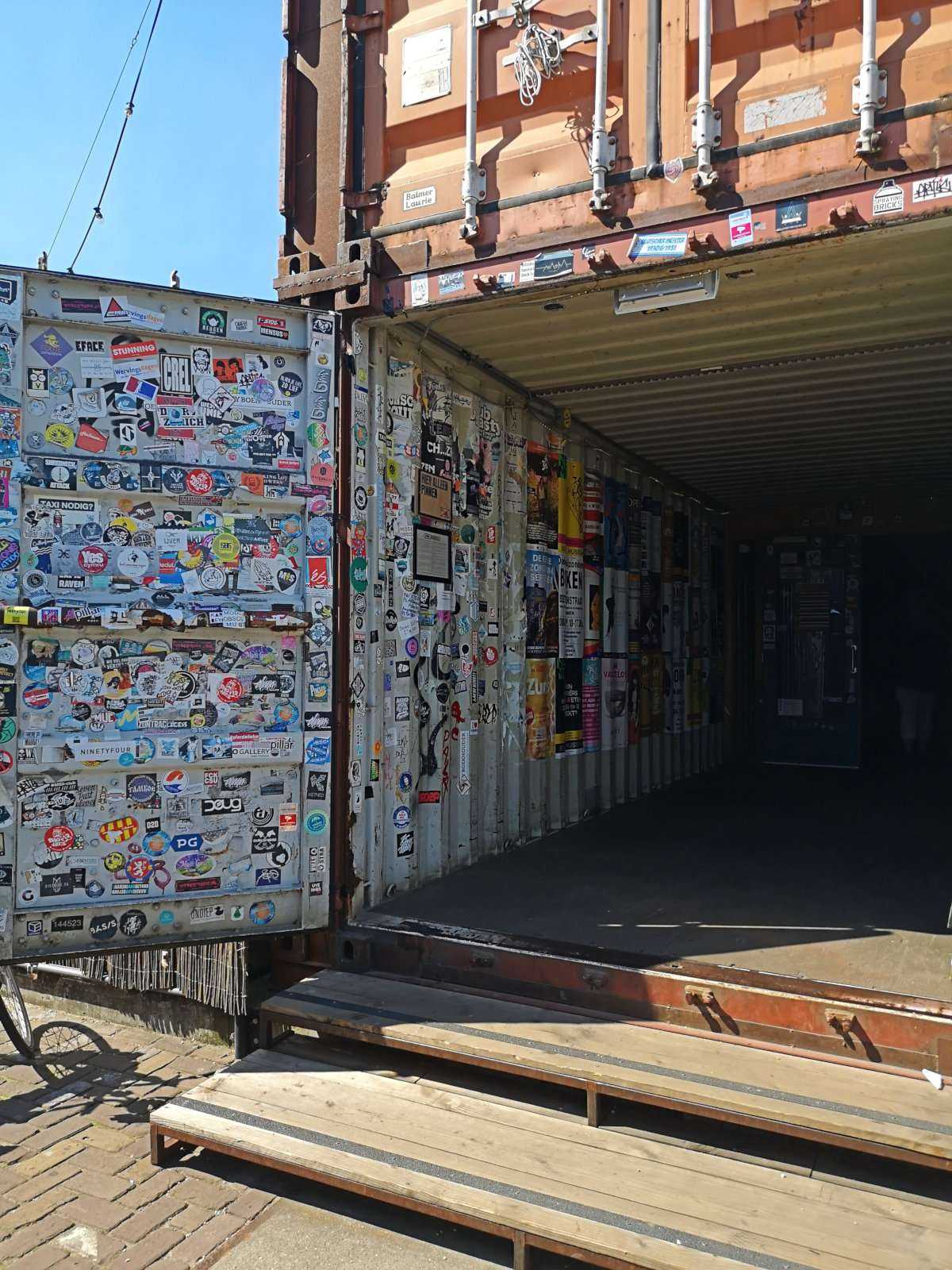 Noorderlicht Cafe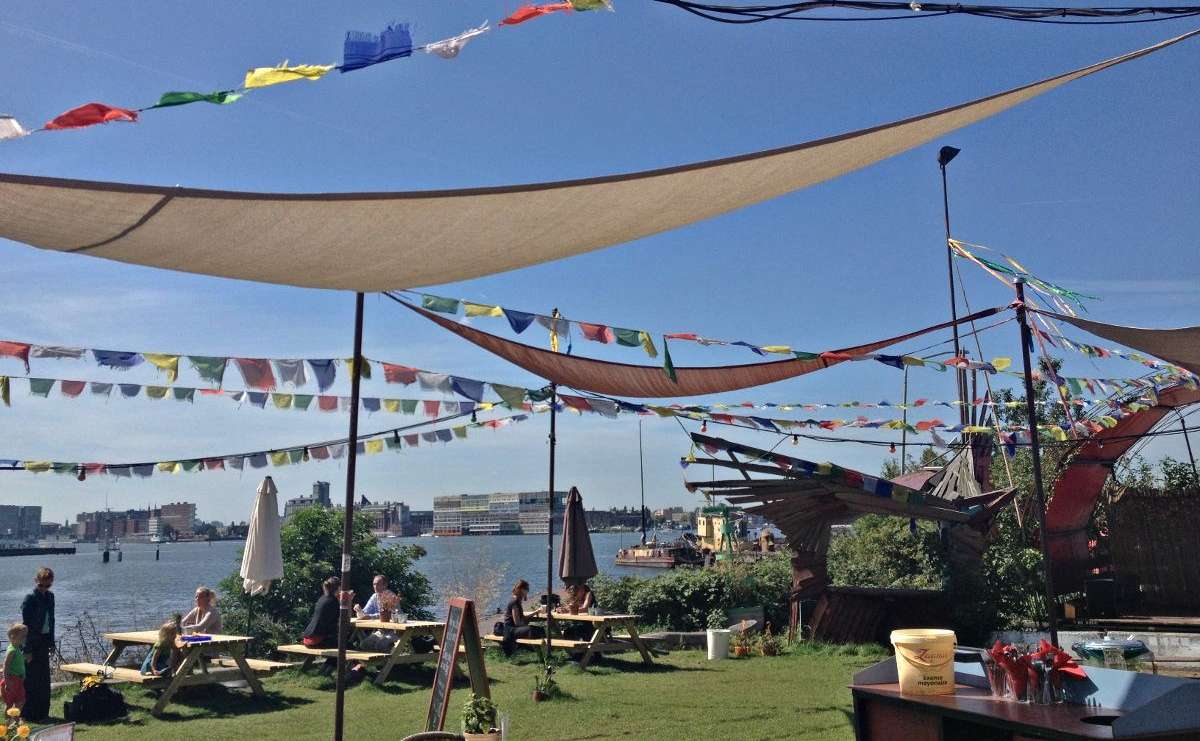 While I haven't actually eaten at Noorderlicht Cafe, I've been there and seen how cool it is, plus I know others who rave about the food as well. It's on my list so I will update this after I've been! Noorderlicht (which means Northern Light) is not far from Pllek in NDSM-Werf, and also focuses on food that is organic, sustainable and mostly vegan/vegetarian. Plus, the whole place is built from recycled materials, the main building is like a big greenhouse and the riverside location is also beautiful. Every Sunday they have live music and they often host other fun events (usually musical) at other times so check the agenda to see what's on.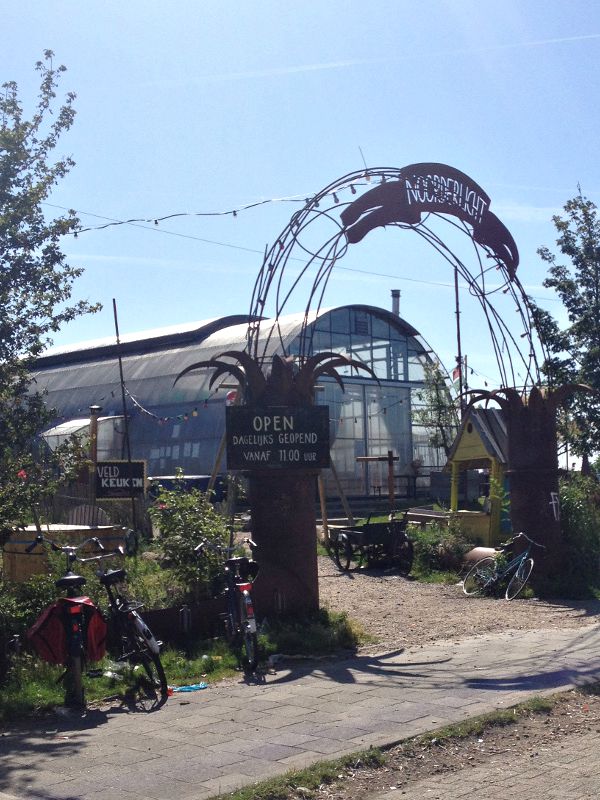 The Butcher Social Club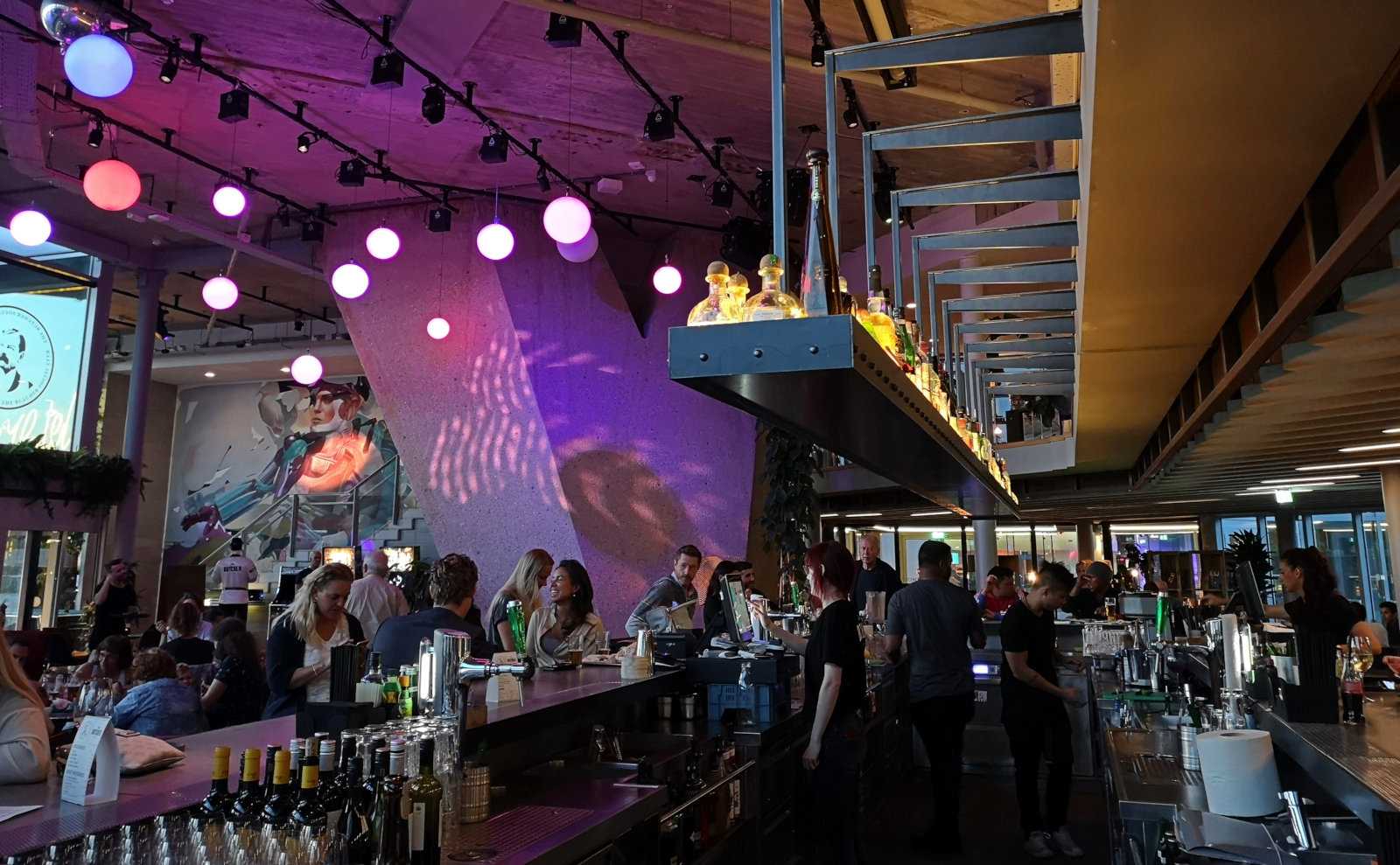 One of my favourite places to take visitors to Amsterdam is A'Dam Toren AKA Amsterdam Tower. Just across the river IJ from Centraal Station, there's an awesome viewing platform on top of the tower, a classy cocktail bar just under the viewing platform, and on the ground floor, The Butcher Social Club. I always take friends here because I love the vibe, decor, food, drinks and fun factor! There are other Butcher locations in Amsterdam, but this one has the gorgeous river view plus a foosball table, pool table, ping pong table, arcade games and board games. I'm a big fan of their boozy milkshakes (pictured), the mouthwatering burgers (that's their speciality) and the HUGE portions of fish and chips. You don't get a lot of good beer-battered fish and chips (with tartar sauce) in the Netherlands, so I was very happy to get some here. Unfortunately, the piece of fish is huge, so maybe you should share it between two people. We spent a hilarious evening with some friends not long ago playing foosball and ping pong after dinner, but it's also a lovely spot to sit, talk and relax.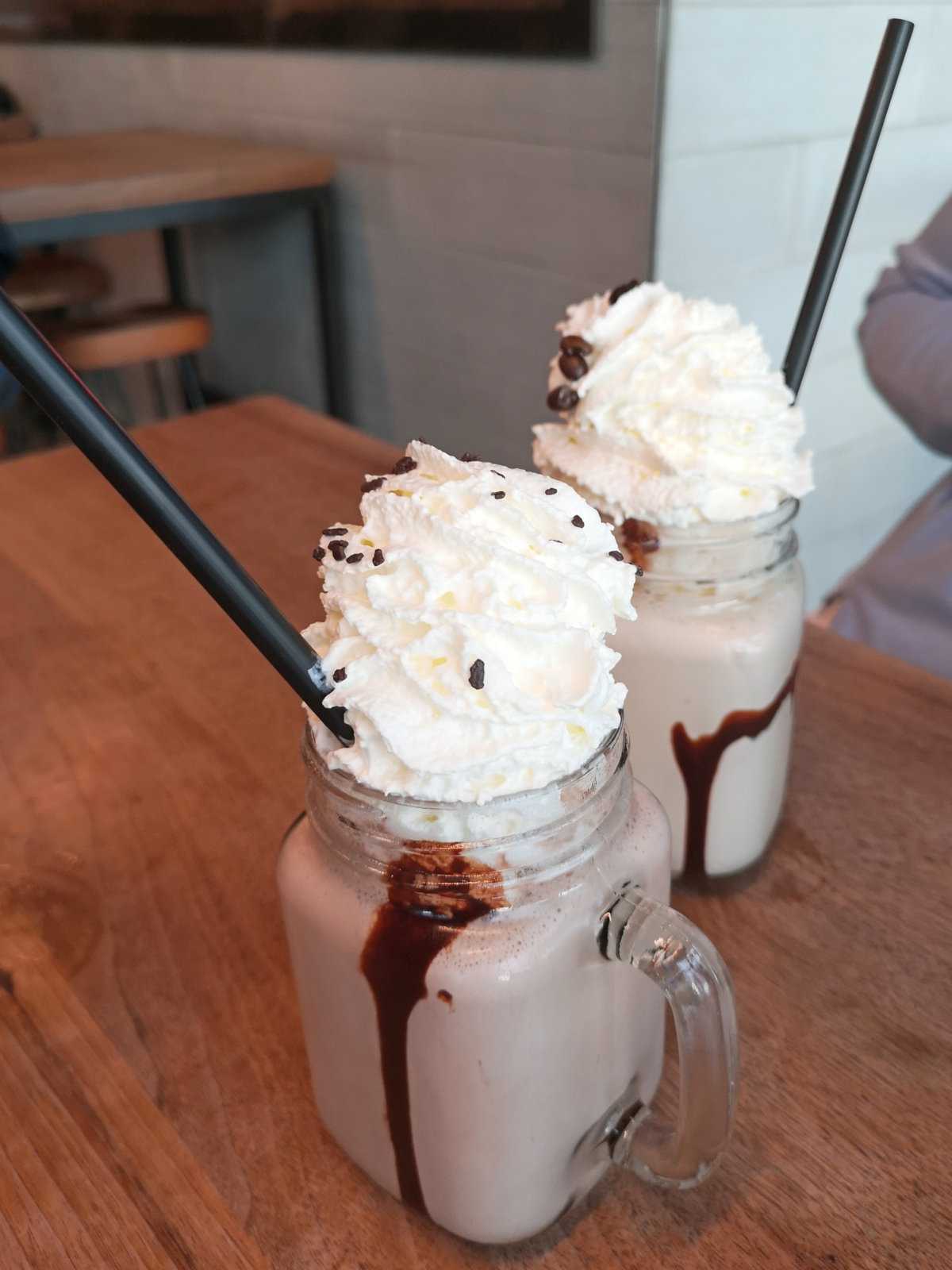 Cereal & Chill (closed)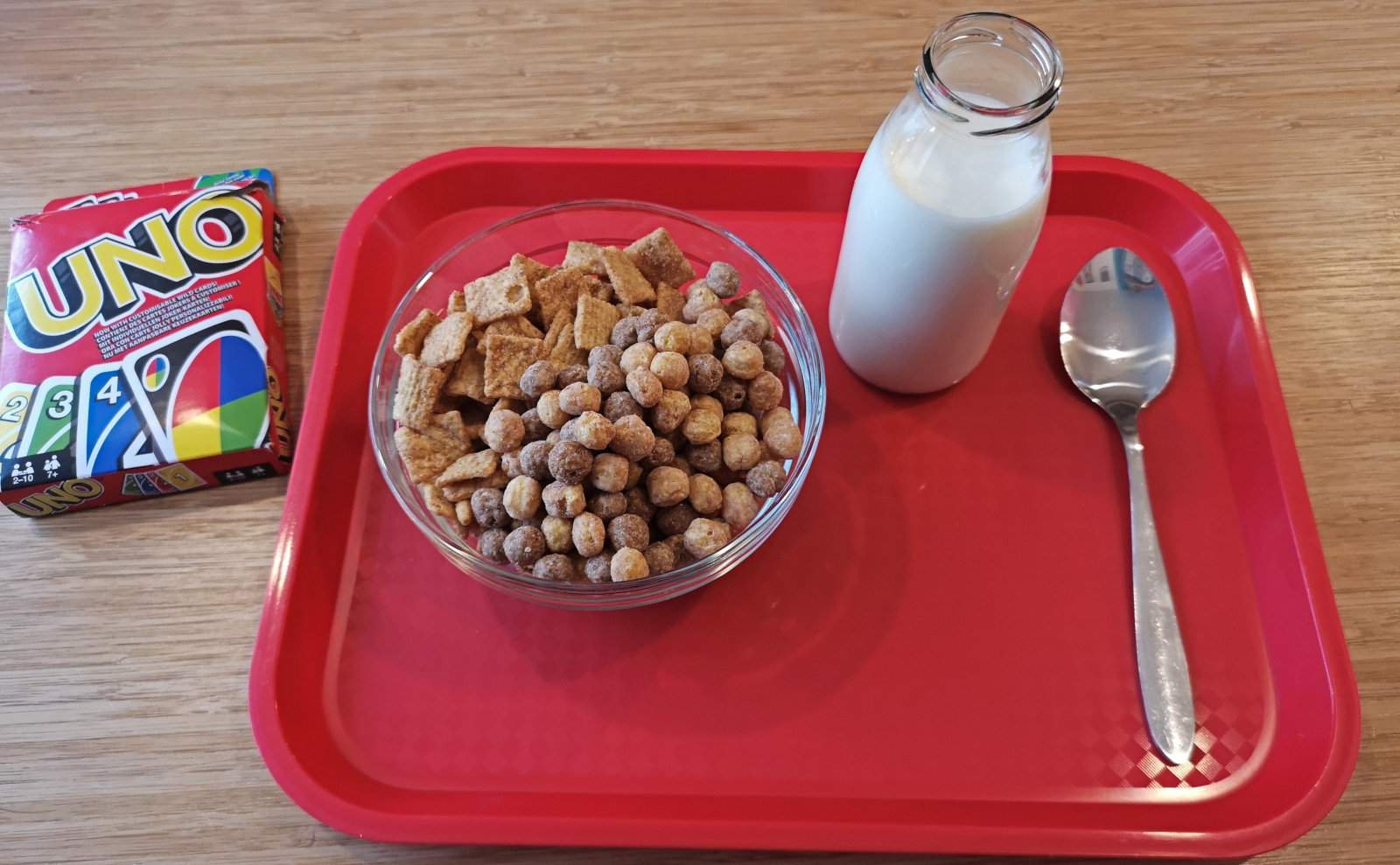 *Unfortunately, Cereal & Chill didn't survive the pandemic and is no longer open, but I'm leaving this here so you can see how cool it used to be. Maybe one day they will re-open at a different location – fingers crossed!
Cereal & Chill is a very cool cafe in De Pijp, that's also apparently the first 'cereal cafe' in the Netherlands. They import LOTS of different varieties of cereal, mainly from the United States, so you can have a bowl of nostalgia complete with the cafe's 90s inspired decor. I had heard of many of the American cereals on offer but never tried them for myself (since most aren't available in Australia) so on my first visit to Cereal & Chill, I had a bowl combining Lucky Charms, Cinnamon Toast Crunch and Reese's Pieces cereal. In hindsight, the cinnamon would probably have been better without the chocolate ones, but it was still a fun experience! I love how your milk is served in a little glass bottle and the cafeteria-style trays are used. You can also chill out (it's right there in the name) by playing some 90s era video games or card games like Uno. As well as cereal they serve pretty epic milkshakes, freakshakes and hot drinks, cereal waffles, toasties, nachos and hot dogs. Don't miss out on taking a peek at the 90s memorabilia on the walls as well.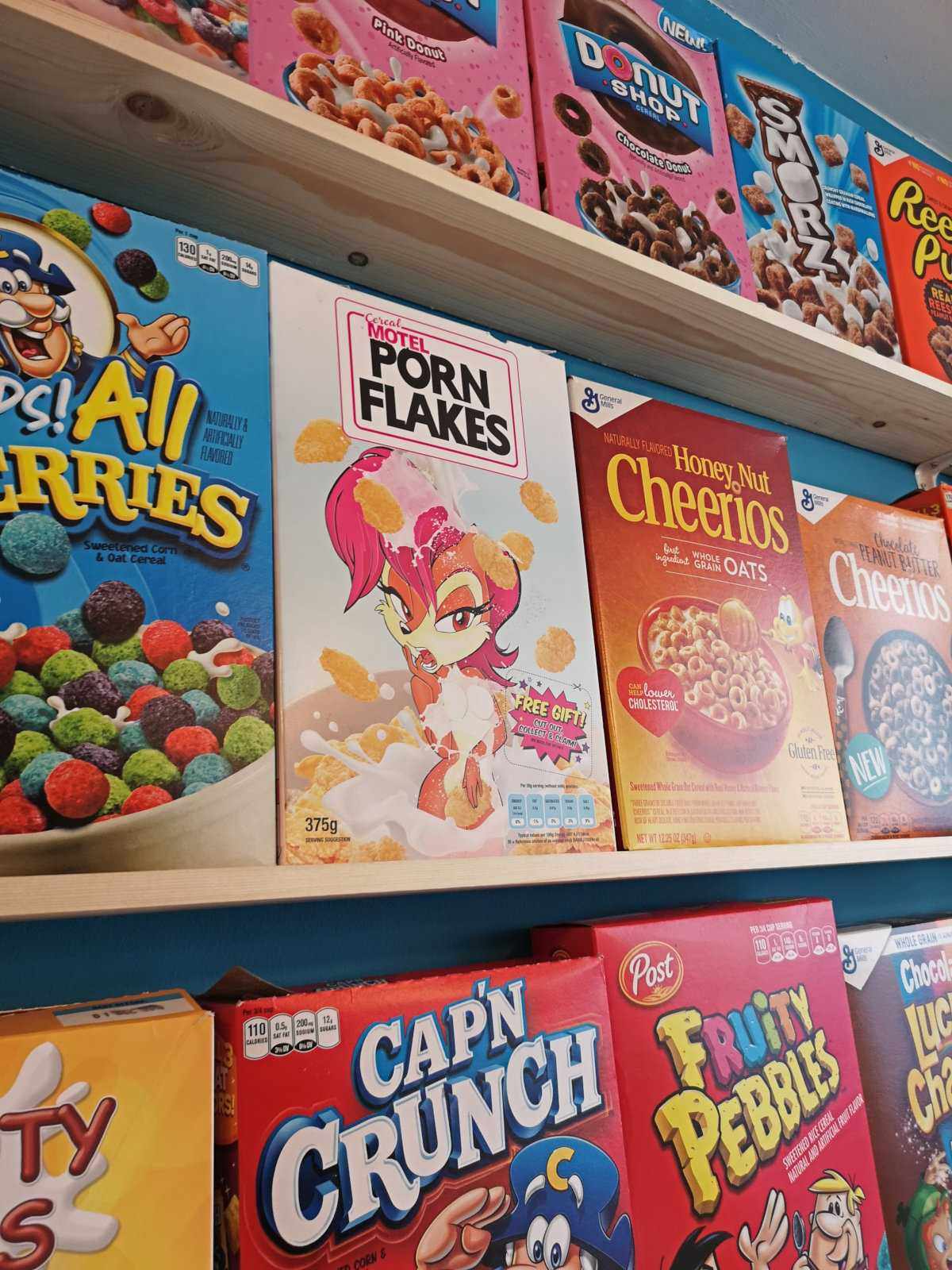 Map of the Coolest Places to Eat in Amsterdam
I've put all these locations onto a map for you so it's easier to figure out where they are and how to get to them. Hope it helps!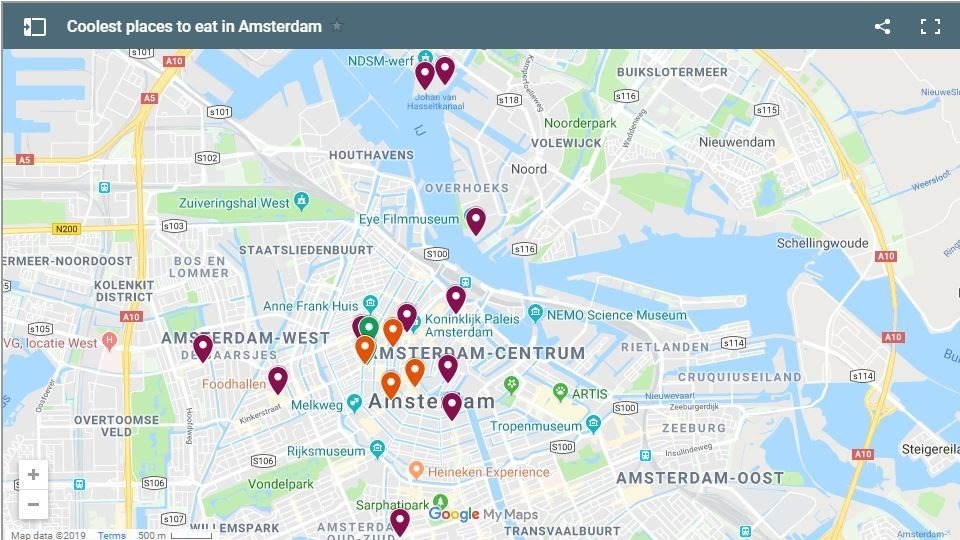 Food Tours in Amsterdam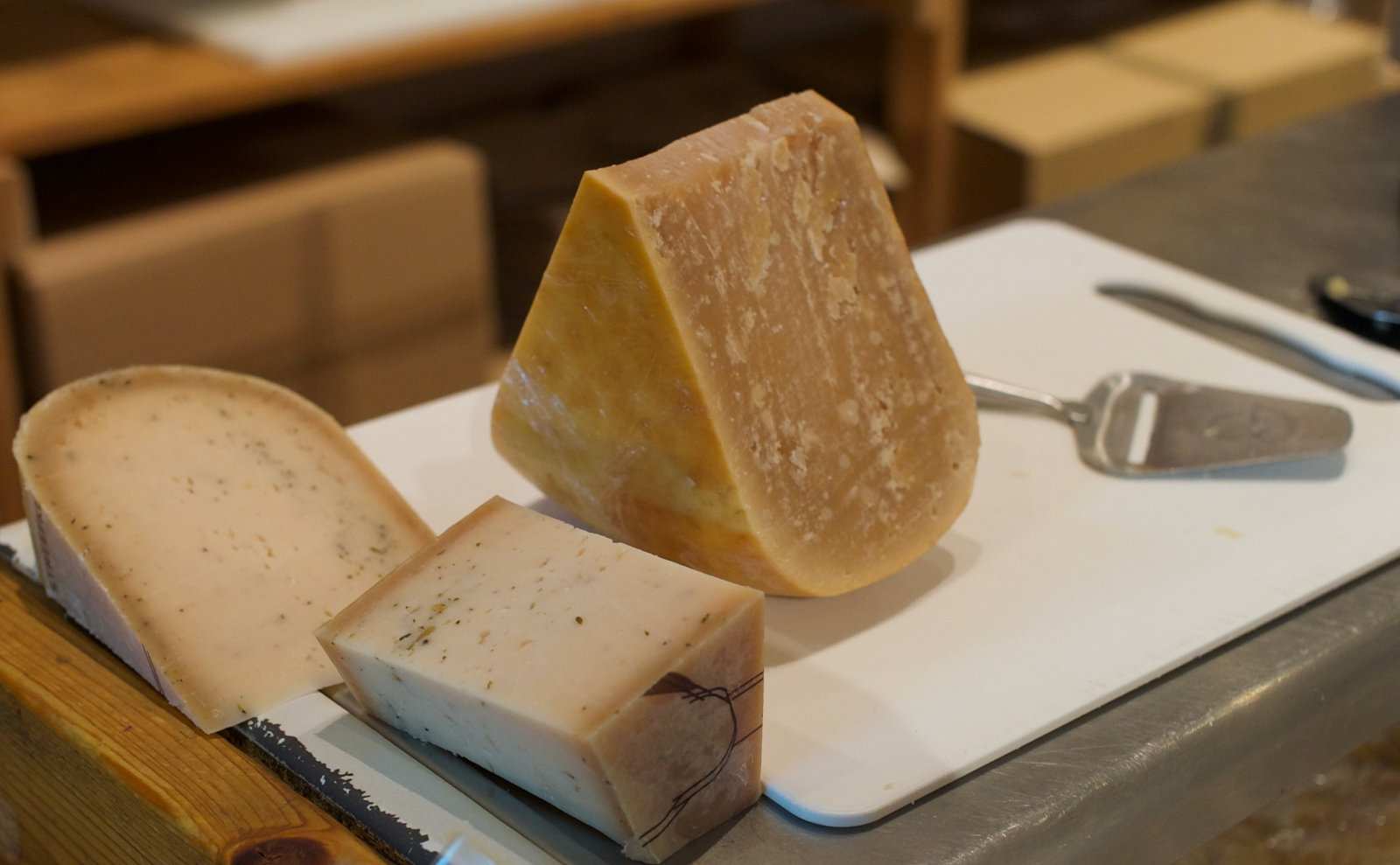 If it's your first time in Amsterdam and you don't feel confident finding yummy places by yourself, or you want some company, or just to experience something a little bit different… then you could also join a food tour of Amsterdam.
I haven't personally been on any, mostly because I have my own Dutch tour guide in the form of my husband (and usually I am showing my friends where to go) but I did spend a lot of time reading through the ones available on GetYourGuide and narrowed them down to three that I would probably do if I was to do one. Obviously, I haven't been on any of them (not yet at least) but based on reviews and the way they combine sightseeing with eating, these are the three I would suggest if you're feeling a little overwhelmed!
This Amsterdam Walking Food Tour: This one is a combination of sightseeing some of the famous spots in central Amsterdam with a local guide who will take you to photo spots, food stalls and also explain some of Amsterdam's history and culture. Highlights include visiting the hip district of De Pijp and having a beer on a terrace. This is also the most affordable of the three tours.
This Food Tour of the Jordaan: The Jordaan is a very historic and picturesque neighbourhood of Amsterdam that many first-time visitors miss out on. This tour focuses on eateries in the beautiful Jordaan neighbourhood, along with explaining the history of the area. This is the priciest of the four tours but since you also get to try 13 different food samples at 7 locations, you're probably going to get your money's worth!
This Food Tour of the Albert Cuyp Market: The Albert Cuyp Market is the biggest market that's held every day in Amsterdam, and has lots of yummy food to try! This tour focuses on showing you around the market, with a guide to answer any questions you may have while showing you which stalls are the best.
Pin Me!
Where's your favourite place to eat in Amsterdam? Let me know about it in the comments or pin one of these if you're planning a trip to Amsterdam and want to eat some good food in a groovy location!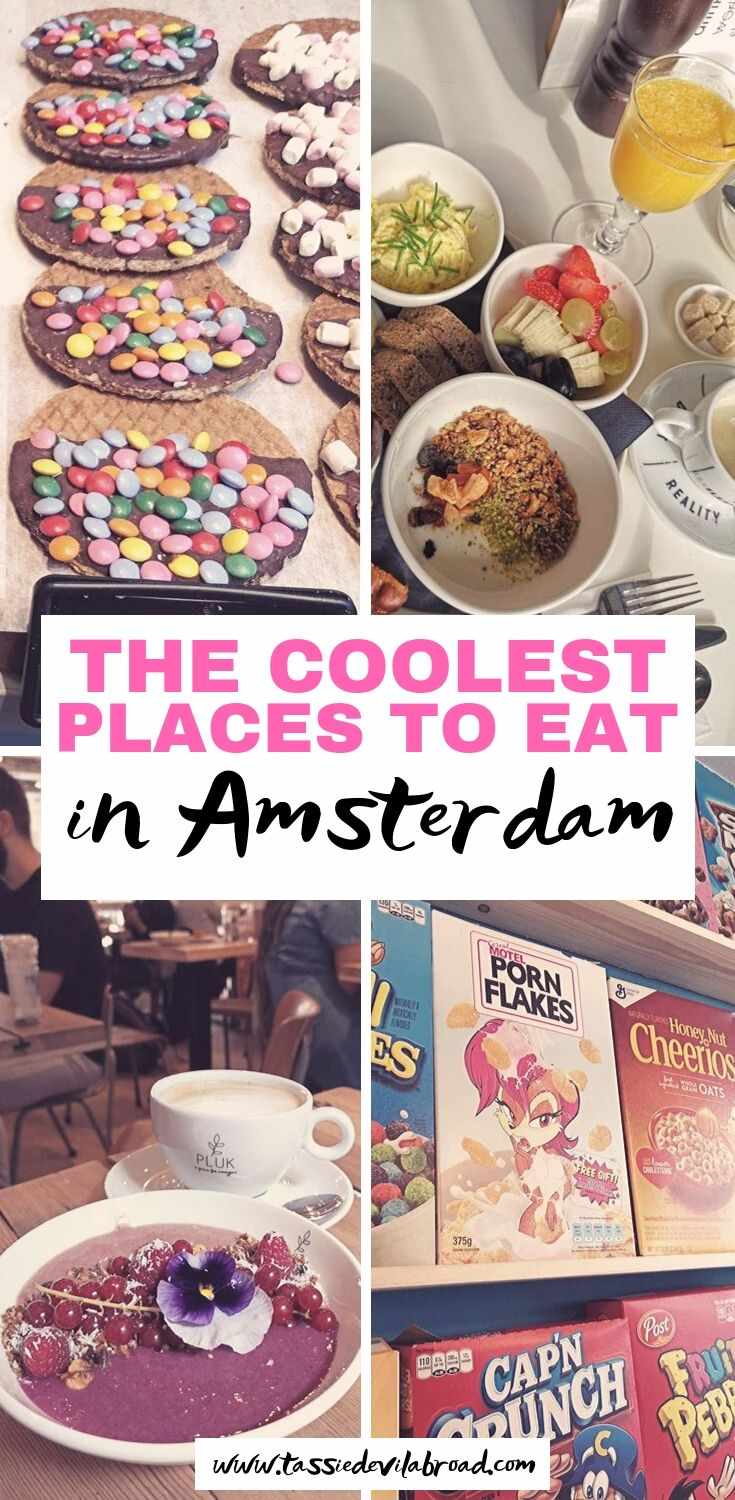 All information is true and correct at the time of publishing but I cannot be held responsible for changes in opening times and prices or businesses closing in the meantime. I always endeavour to keep my posts up to date but also encourage you to double-check the official website of an attraction for information on when it is open, how much it costs etc.