There's nothing better than a STAYcation am I right?! Not long ago, some friends from Australia came to Amsterdam to visit us, so Dennis and I took the opportunity to spend two nights in the city at a hotel so we could hang out with them without having to drive home each day. We stayed at the really groovy Volkshotel and absolutely loved it, so today I'm going to tell you all about this cool hotel and why you might like to stay there too!
This post contains affiliate links. This means that if you follow a link and then purchase or book something, I will earn a small commission at no extra charge to you. This helps me with the costs incurred from running this site and means I can keep bringing you travel content like this. You can read more about this on my privacy page. Thanks for your support!
About the Volkshotel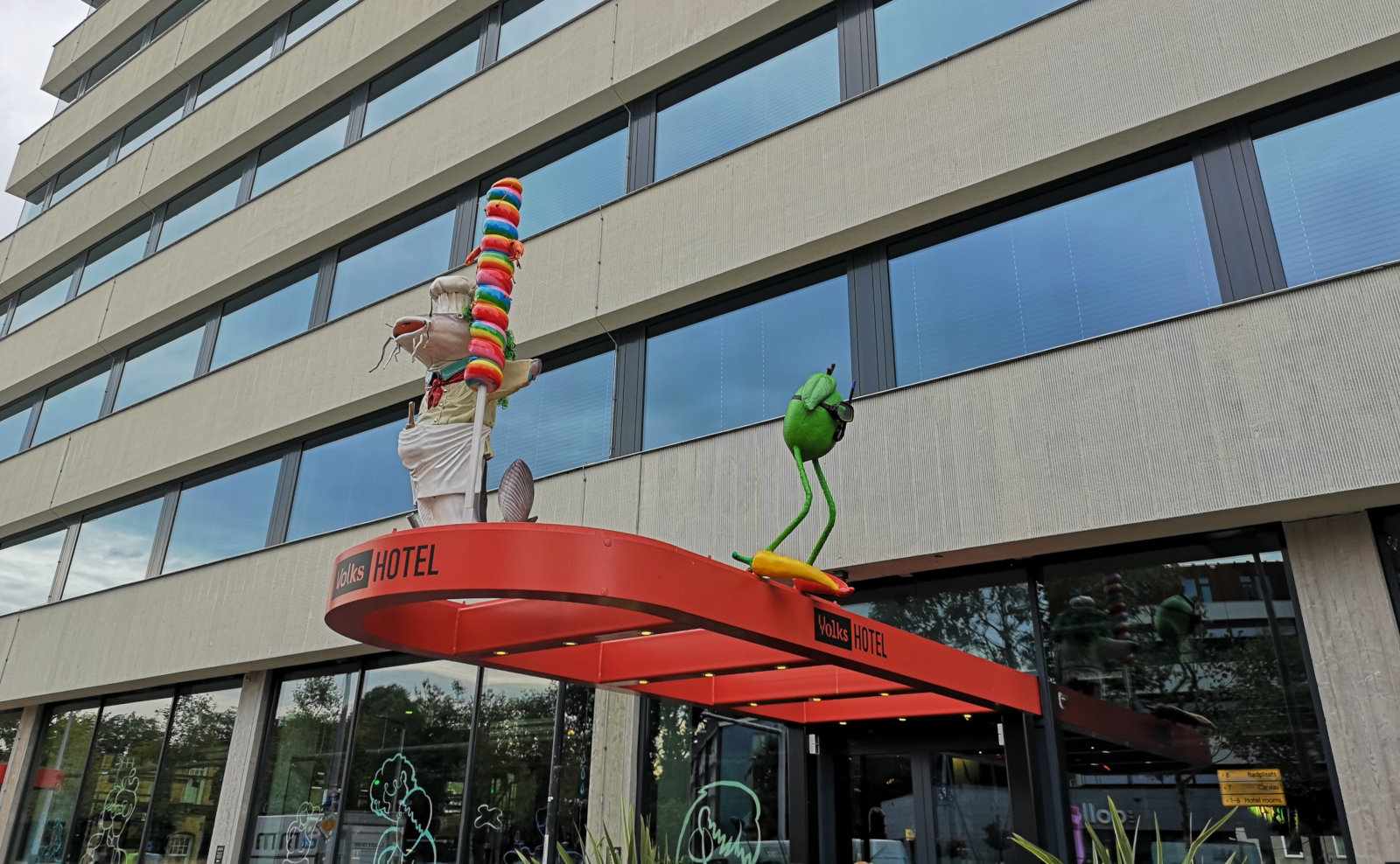 The Volkshotel (which basically translate to 'folks hotel') is located on the edge of Amsterdam-Oost (east), just across the Amstel River from De Pijp. The building was once the headquarters of the Dutch newspaper de Volkskrant (folks newspaper) and Wibaustreet (where it's located) was once known as the newspaper street in Amsterdam since many had their offices there. There's now only one newspaper based on Wibaustreet, and the area is becoming much more hip, as evidenced by the Volkshotel!
Rooms at the Volkshotel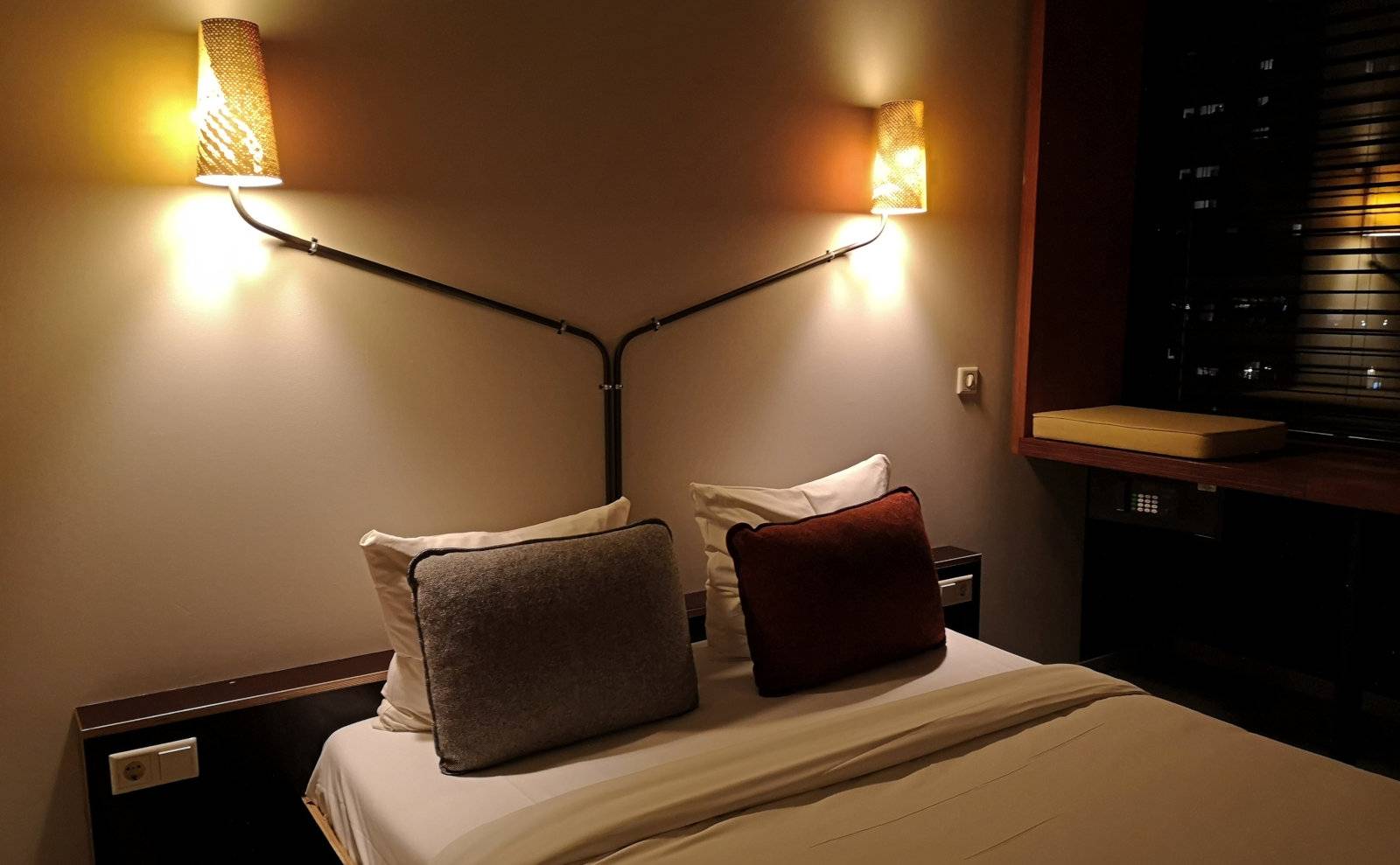 There are now 172 hotel rooms in the Volkshotel building, ranging from very compact to incredible uniquely designed special rooms with big bathtubs and quirky features. We weren't planning to spend much time in our room apart from sleeping, so we just opted for one of the medium rooms which has a small ensuite with toilet and shower while the sink is in the bedroom.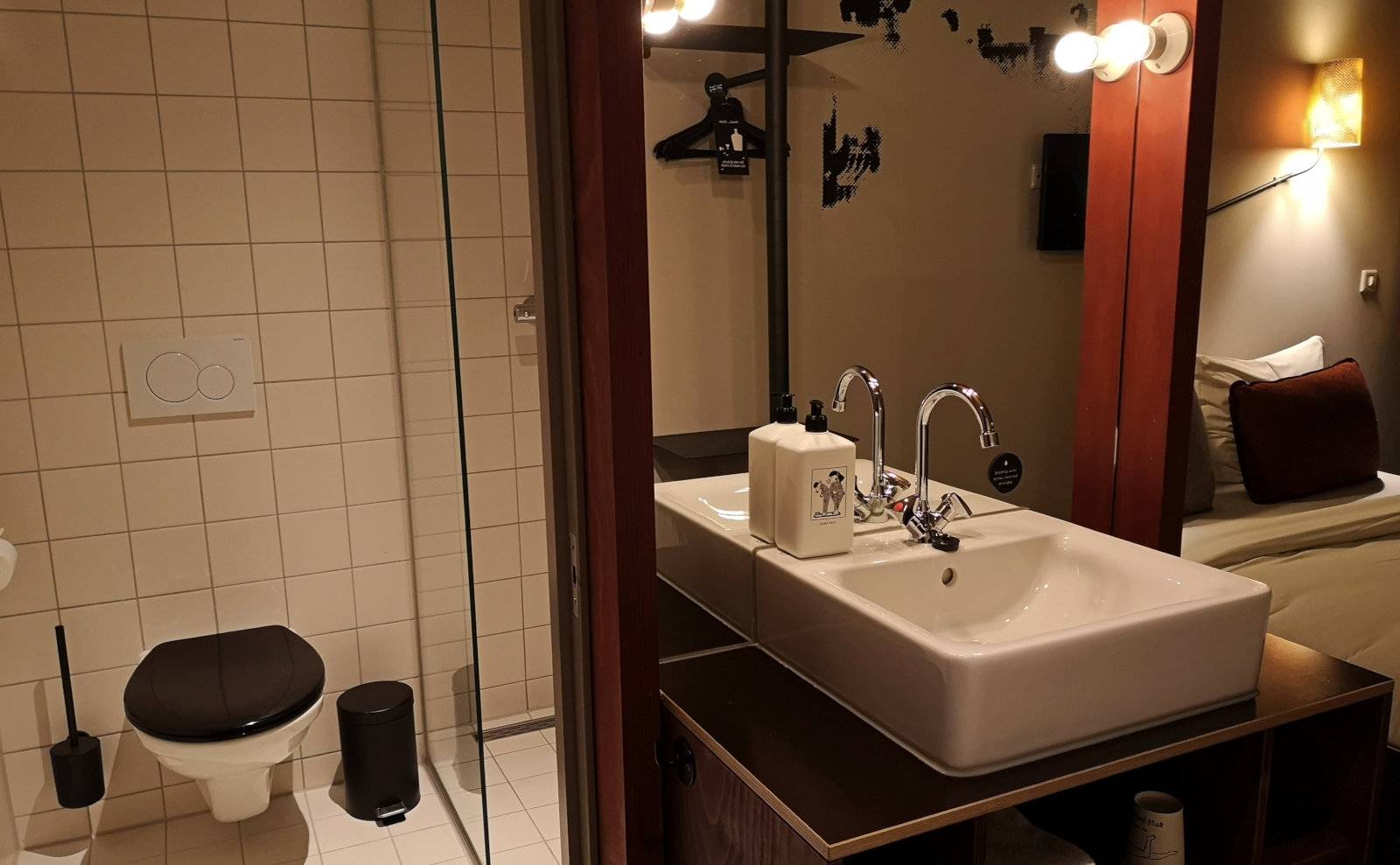 I found the bed to be really comfortable although Dennis thought it was too hard. We both found the pillows a bit too soft but we're also both used to having very firm pillows at home. I'm actually dying to go back again to stay in one of the special design rooms, although I don't know how I could choose between at least four of them because they're soooo awesome! They're also only about €30 more than the standard rooms, so I might need to put it on the list for my birthday next year. Watch this space…
Activities and Public Spaces at the Volkshotel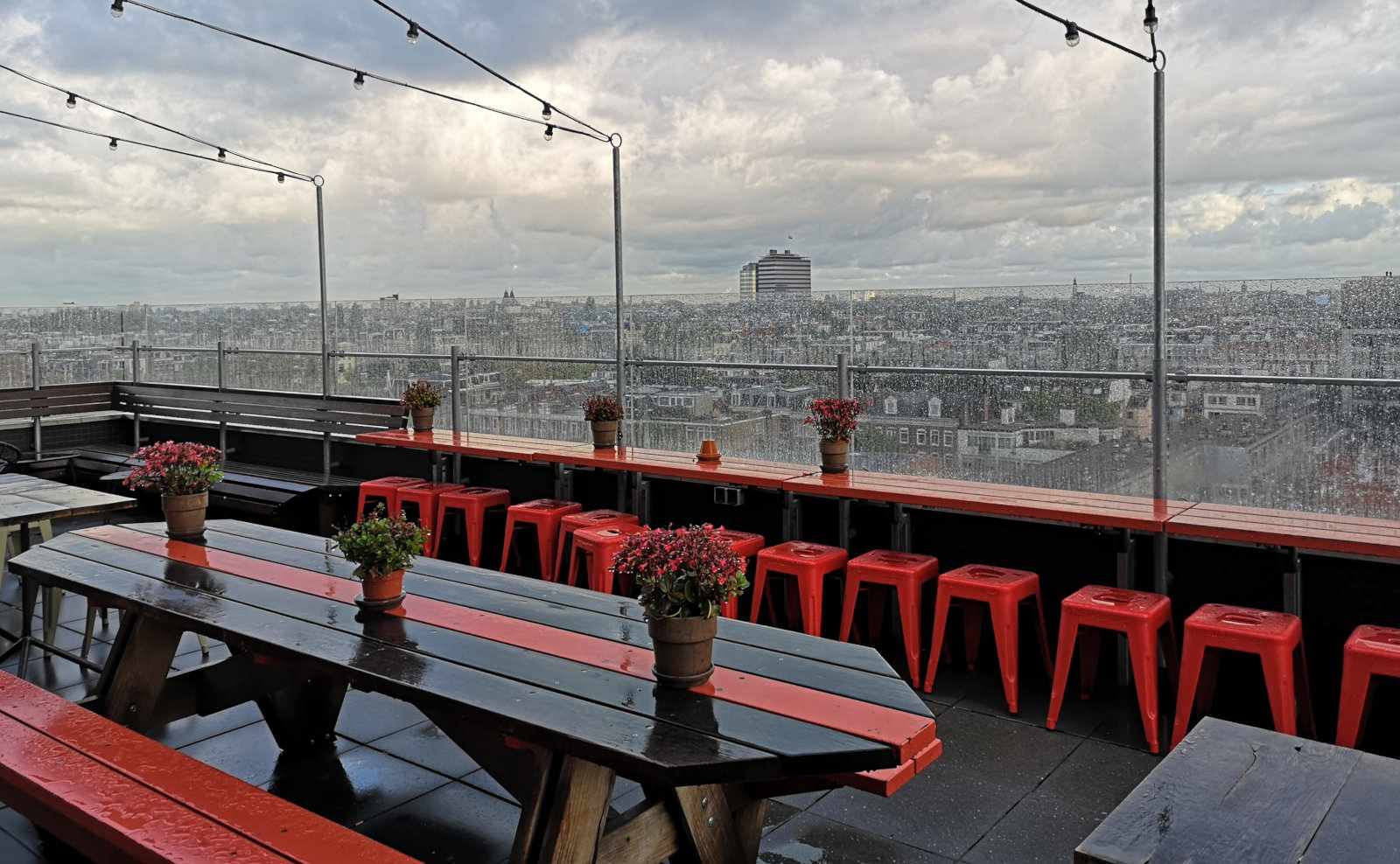 Canvas: Before even becoming a hotel, the Volkshotel building was home to Canvas – a restaurant and bar on the seventh floor with an outdoor terrace offering gorgeous views of Amsterdam-Oost. You can come here for breakfast, lunch or dinner (even if you're not staying in the hotel) plus there are music or movie nights on Fridays and Saturdays. We didn't go there during the evening but on our way to the badplaats we could hear that it was very busy, so it's obviously a popular spot for drinks. There's also an underground club called Doka which has events on Wednesday, Thursday and Friday nights, but we didn't venture down there this time.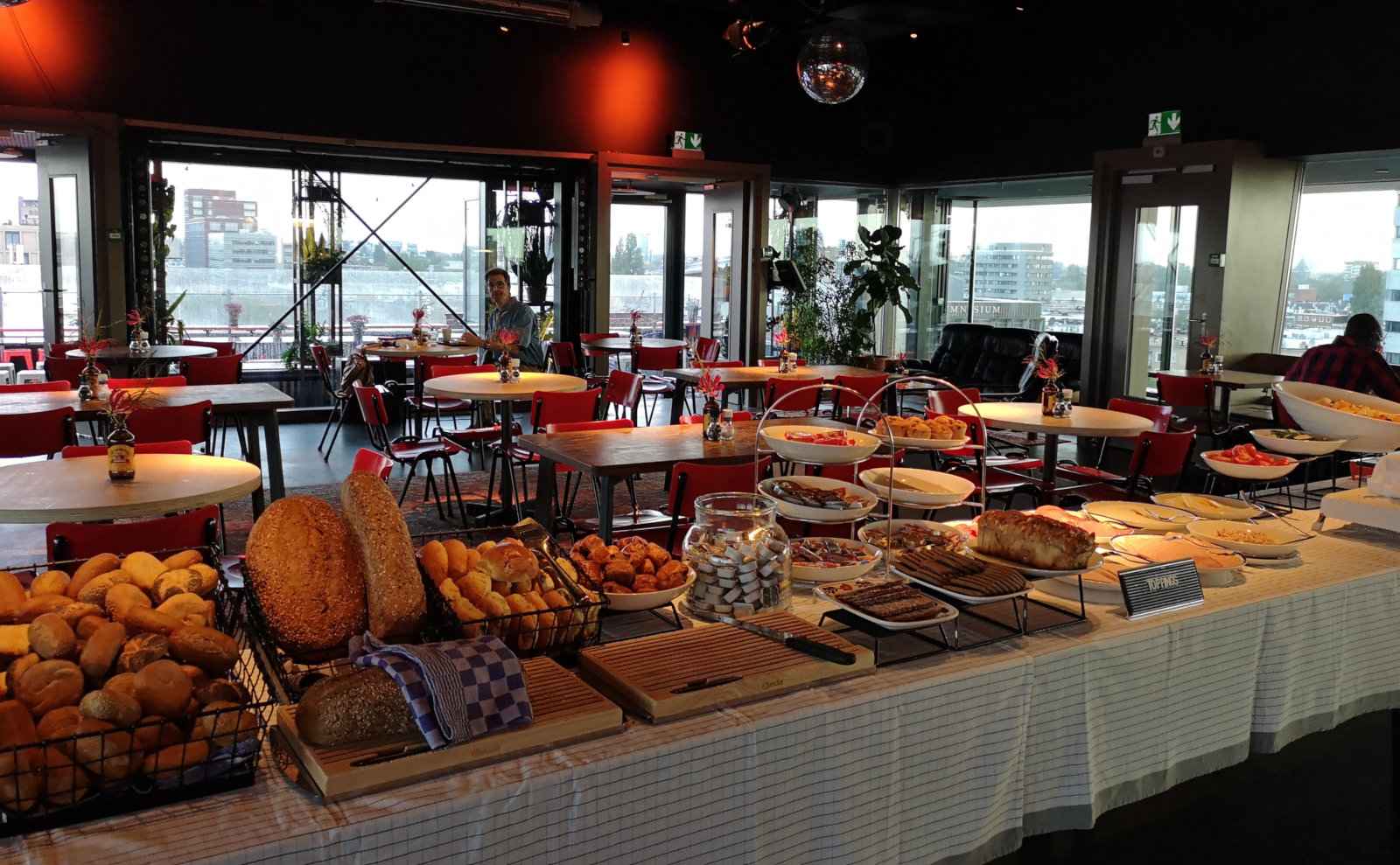 Badplaats: I'll be honest, one of the major reasons I booked our stay at the Volkshotel (apart from the price, good location and available parking) was for the rooftop badplaats or bathing-place! On the hotel's rooftop, there are multiple big hot tubs that look like giant wine-barrels, as well as the cutest little sauna I've ever seen.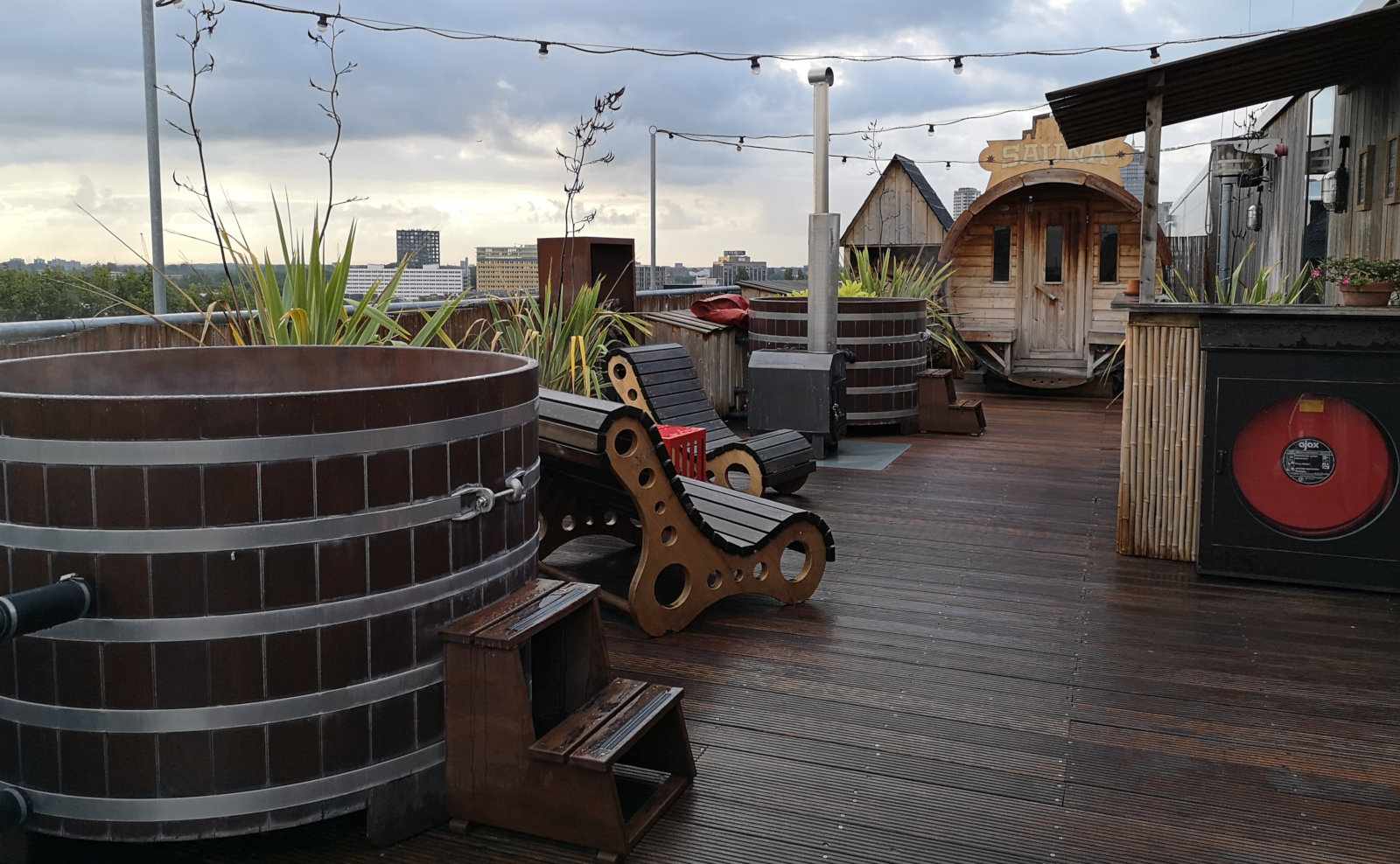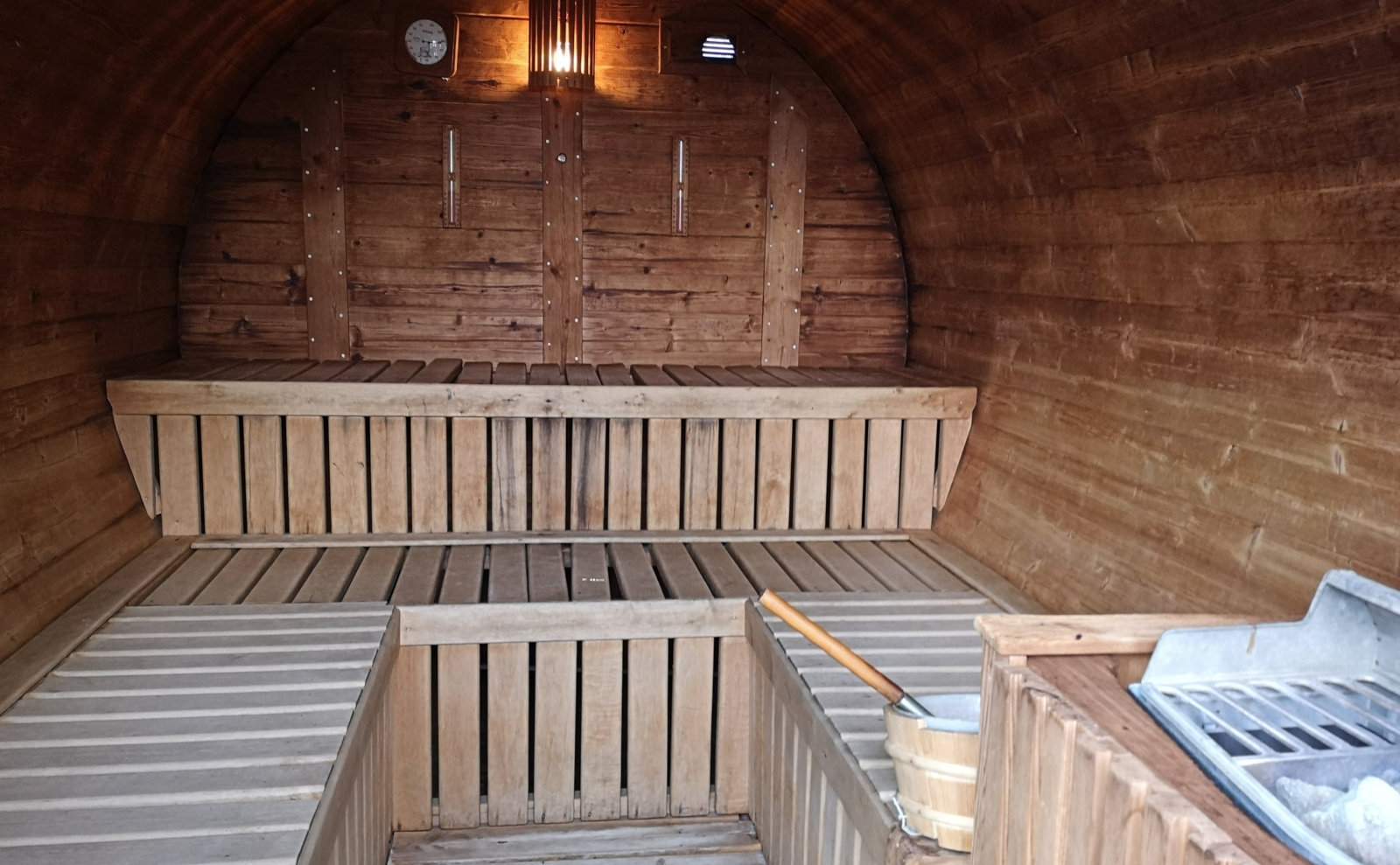 We came up here one night and it was absolutely heavenly to soak in the hot water under the stars while looking out over the Amsterdam skyline. There are chairs and a small bar here as well, although it wasn't open when we visited (on a Thursday night) I gather that sometimes you can have drinks in the tubs! There are toilets and showers in the room just before you go outside, and I noticed a small massage room as well. The only downside was that because we arrived late at night (the badplaats is open until 11pm) there weren't any extra towels. We'd brought the ones from our rooms but would have liked another as we had to go back to our room dripping all over the place and getting some side-eye in the elevator from people who'd been at Canvas! The badplaats is only for hotel guests, apart from on Sundays when anyone can enjoy them from midday until 6pm. Apparently, this is also when there are drinks and tunes to enjoy while you soak or steam.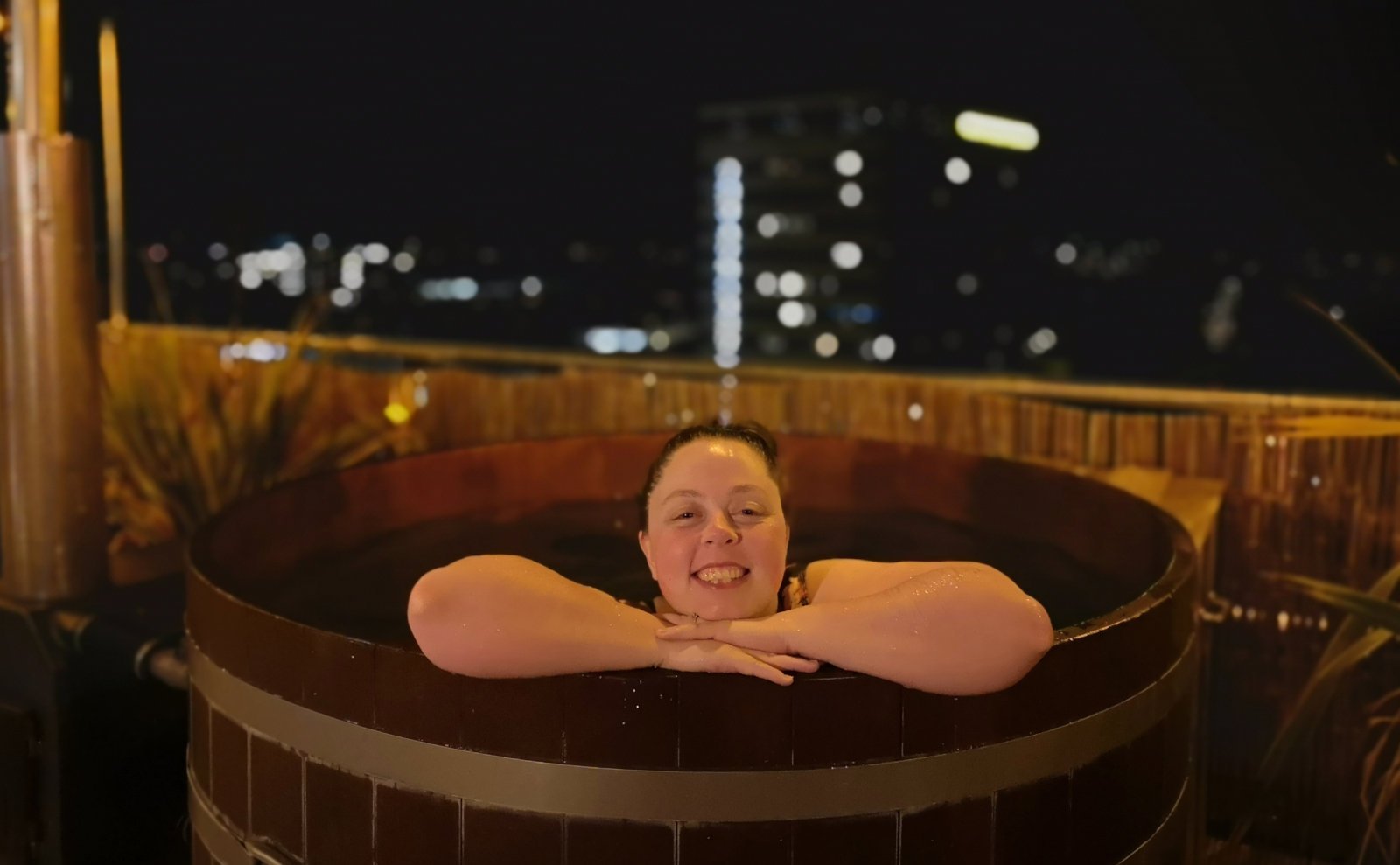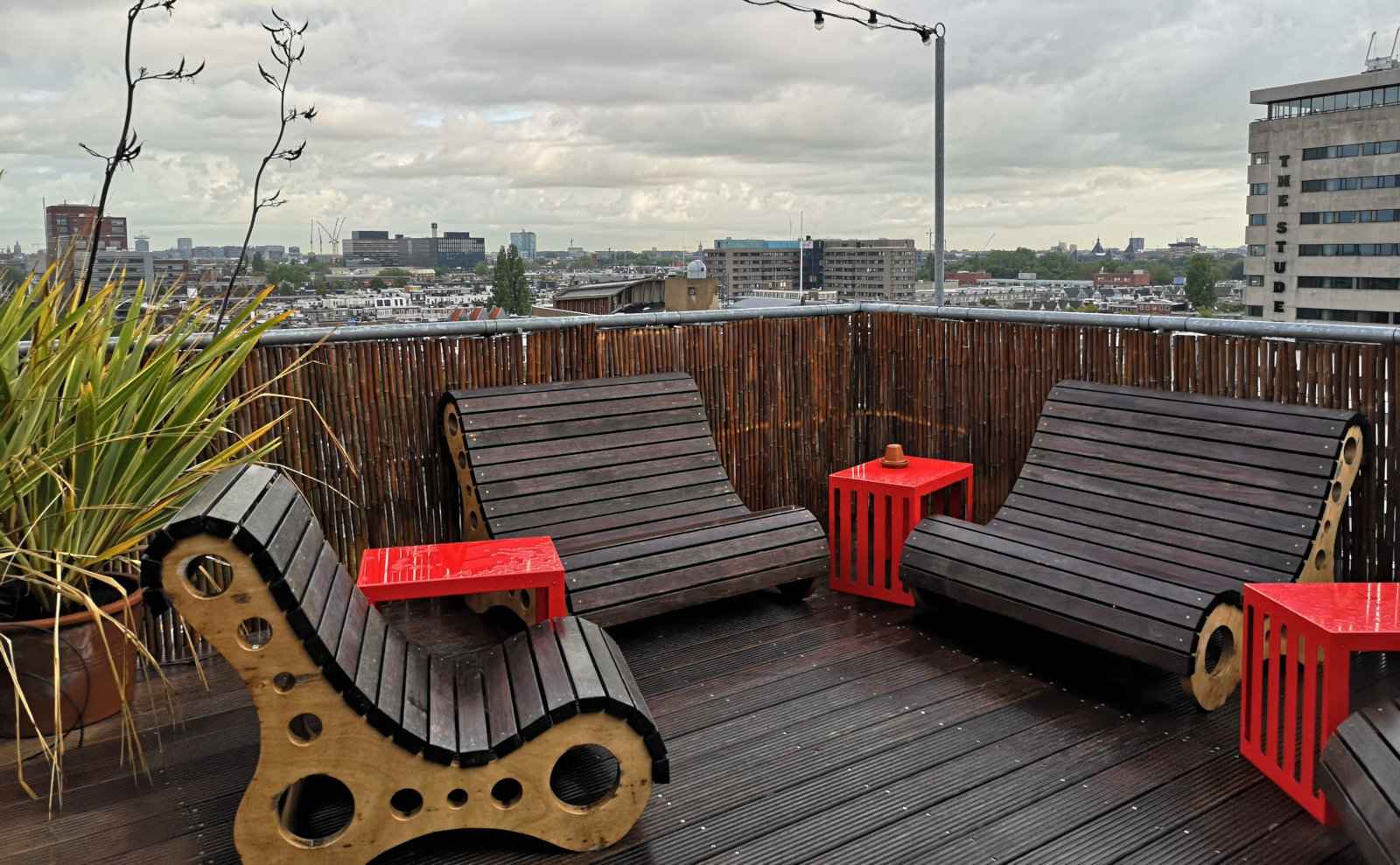 Werkplaats: The lobby/reception area of the Volkshotel is huge; with a cafe, flex-working spaces, meeting rooms and lots of quirky details. It has an industrial feel with cement and metals as well as bright colours, groovy art and lots of plants. There are two cool little caravans where you can see items for sale that have been created by people who work in the Broedplaats creative hub.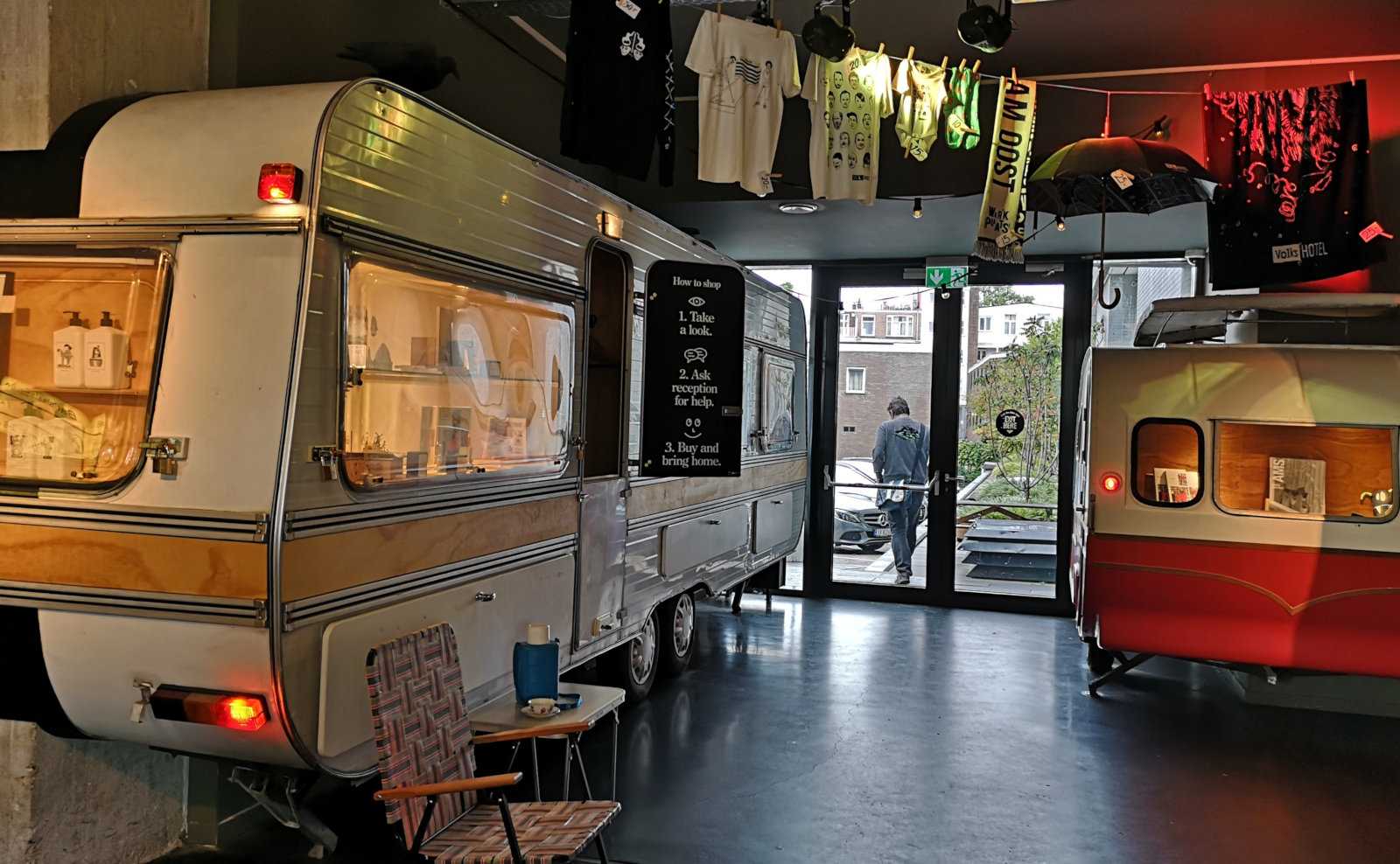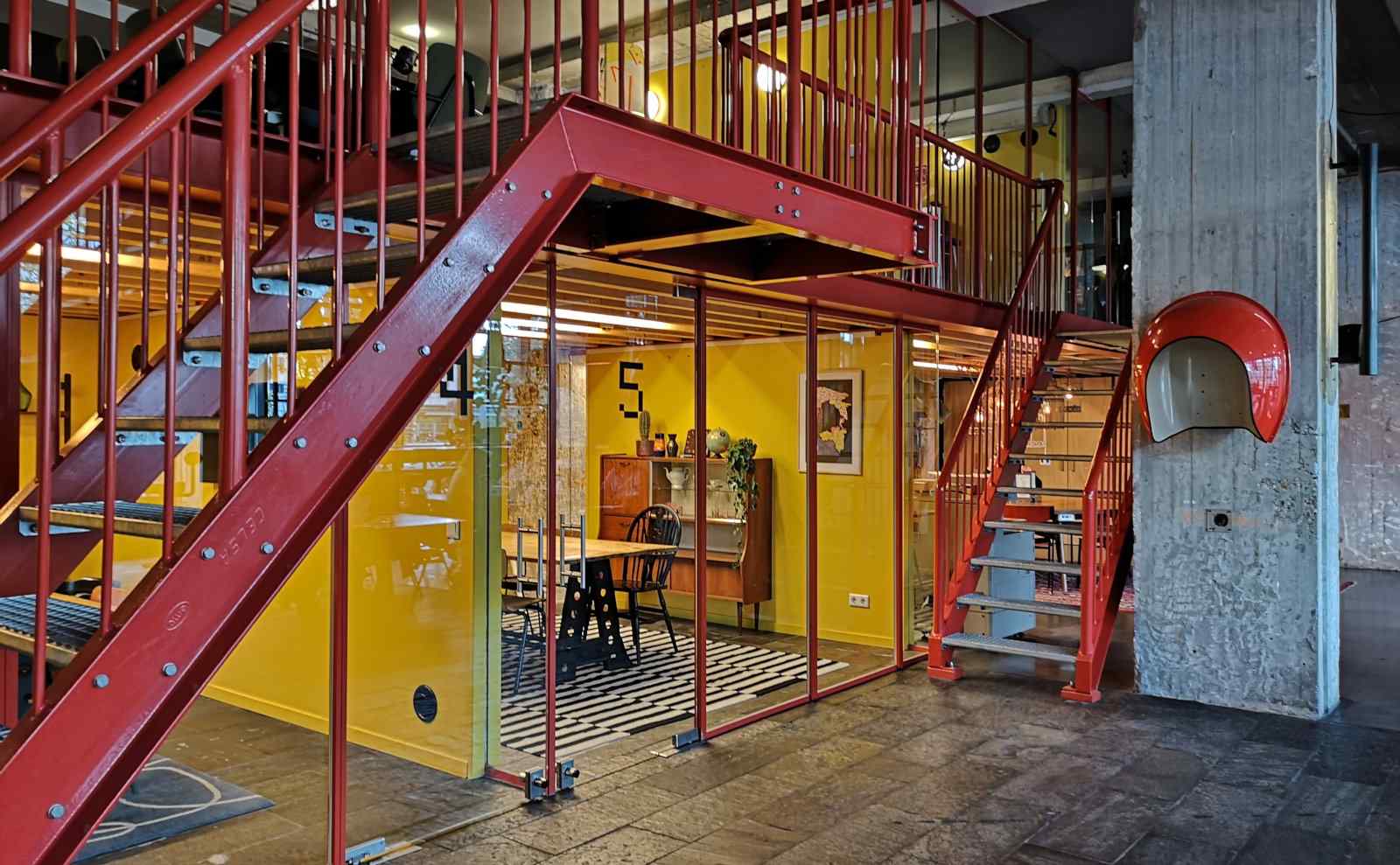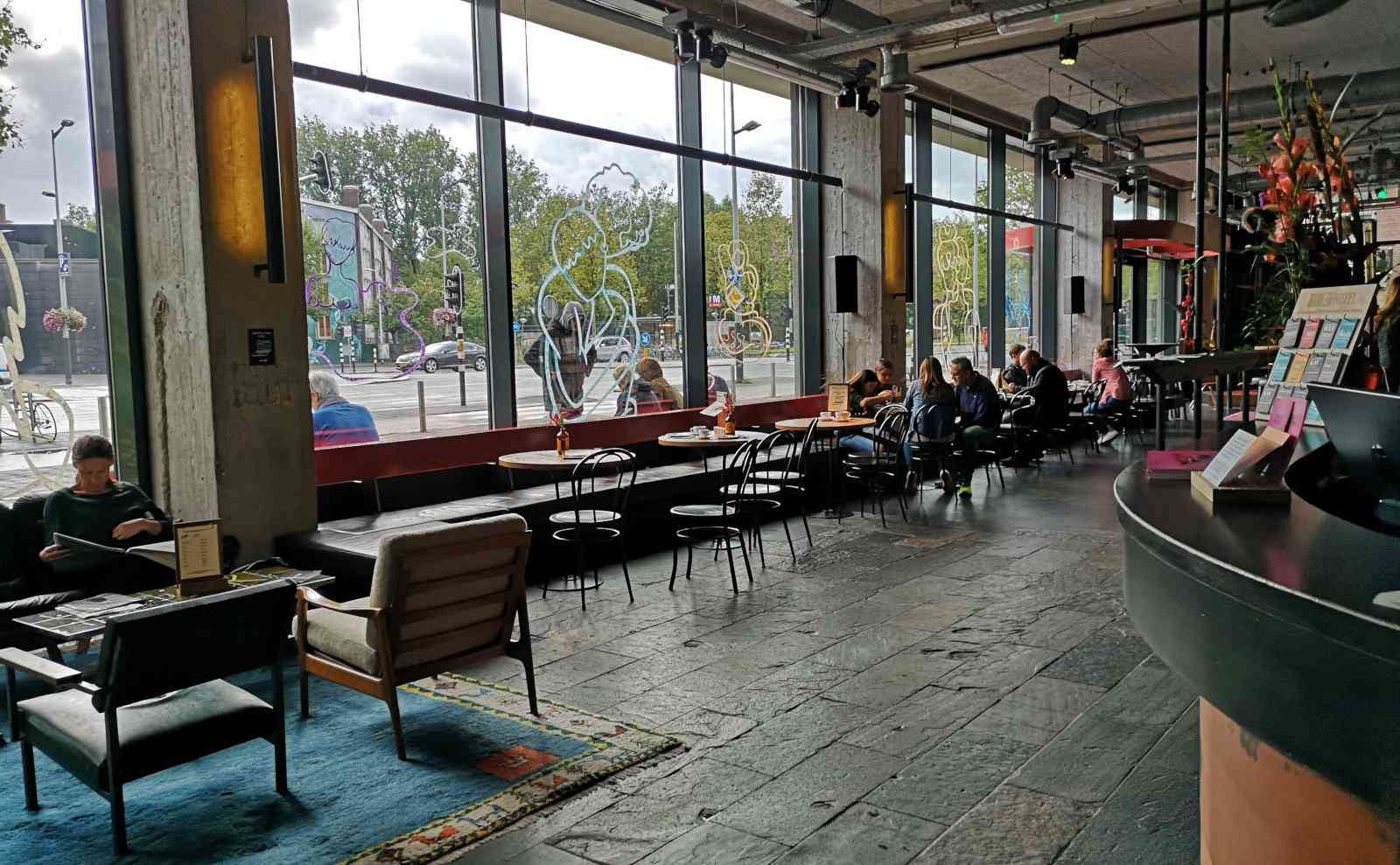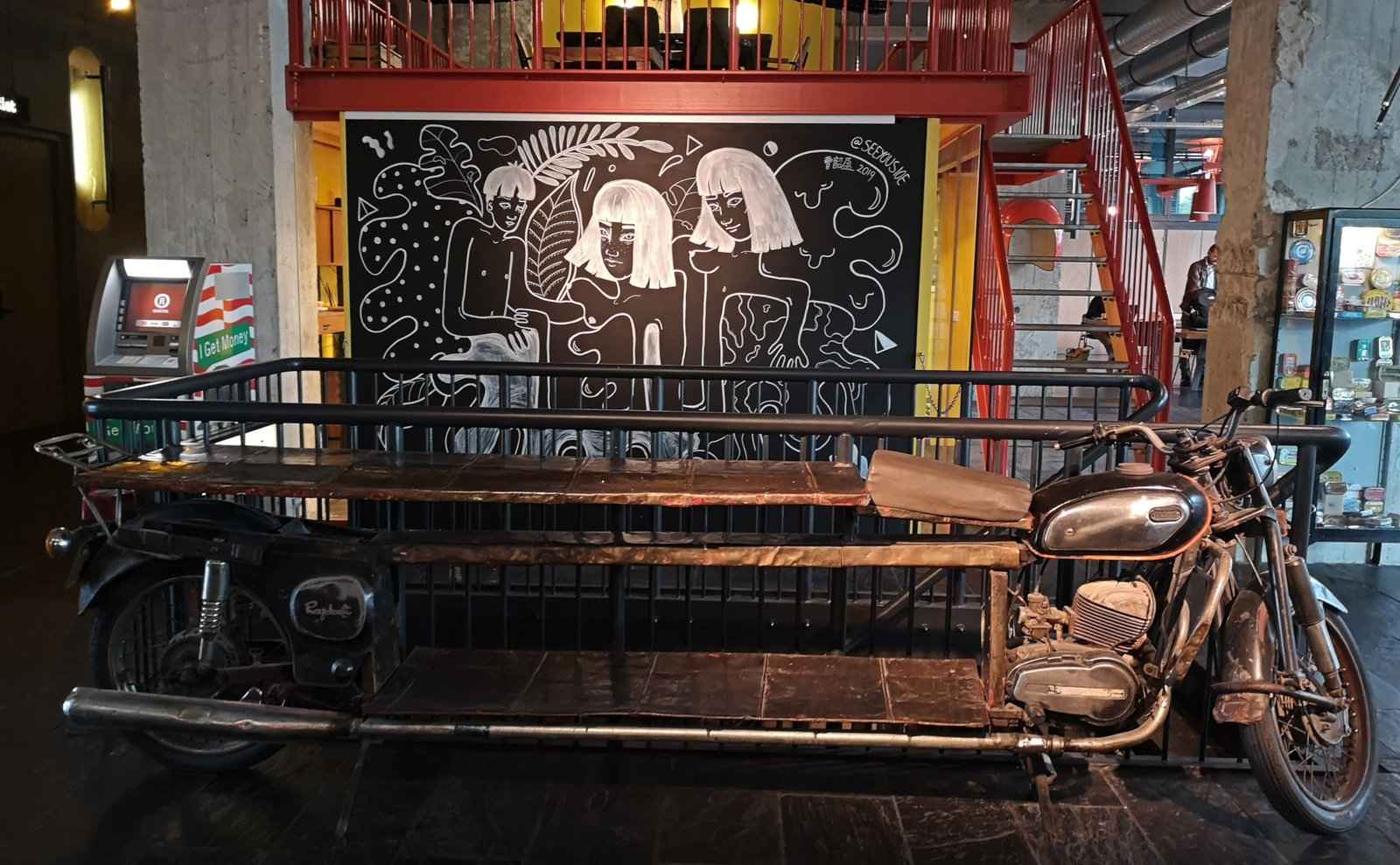 As well as all the cool areas to hang out in, the Volkshotel hosts numerous fun activities and workshops that you can attend, even if you're not staying in the hotel. From yoga classes to life drawing sessions, photography exhibitions, a vinyl market and even a resident hairdresser on Fridays, there's always something going on! And that's not even mentioning the musical acts that are hosted in Canvas and Doka. If you're in Amsterdam, make sure you check out the Volkshotel agenda to see what's on.
What to do in Amsterdam-Oost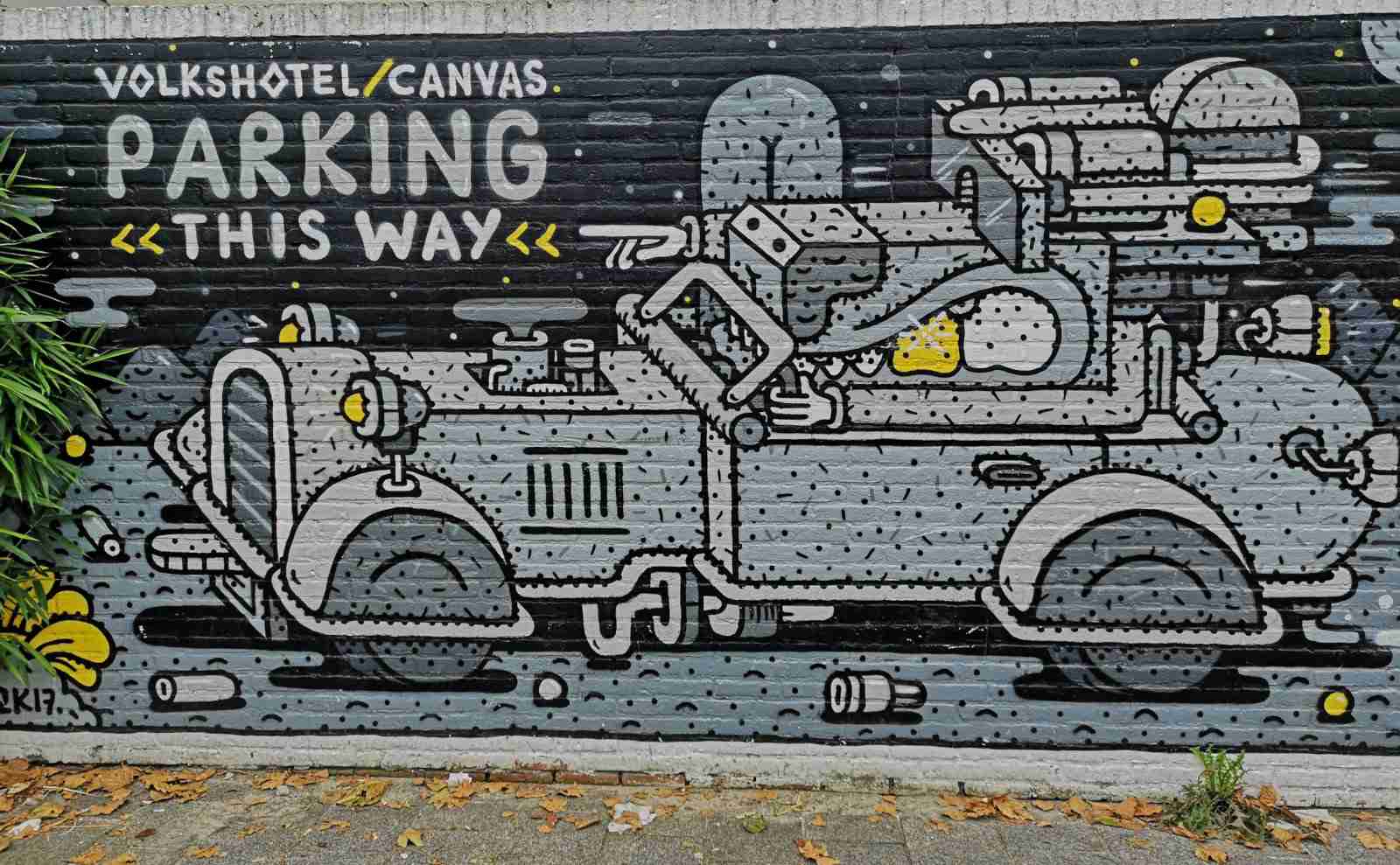 Since the Volkshotel is just on the fringes of Amsterdam's city centre, it's very easy to use it as a base for exploring. There's a metro station less than 100 metres away from the hotel entrance and you're also close enough to walk to De Pijp neighbourhood across the river. We didn't spend much time at the hotel or area because we only had a couple of days to show our friends around, but there are a few spots in Amsterdam-Oost that I'm looking forward to checking out next time we stay.
Drover's Dog Wibaustraat: Drover's Dog is an Australian cafe that has a couple of locations in Amsterdam. I'm yet to visit one but have been really excited to (hopefully soon) because, obviously, it's all Aussie! Calling themselves the "flavour of Australia" they serve Australian-style lunch, brunch and dinners, with plenty of Aussie beers on tap, along with regular events for things like Australia Day or the AFL grand final. If you've ever wanted to try kangaroo meat and pavlova, or you're just an Aussie missing a good pie, parmie or slice of pav – then you'll love Drover's Dog!
Oosterpark: A couple of streets away from the Volkshotel is the Oosterpark, which is a pretty place for a walk as well as being home to some interesting sculptures. There's a lake with a big fountain, a pavilion where music events sometimes take place and a children's play area as well.
Tropenmuseum: Another place I haven't been but want to (seriously, so many reasons to go back to the Volkshotel!) is the Tropenmuseum, which is just next to the Oosterpark. The Tropenmuseum is a museum of world cultures, with ethnographic artifacts on display and regular exhibitions about multiculturalism, immigration and international topics.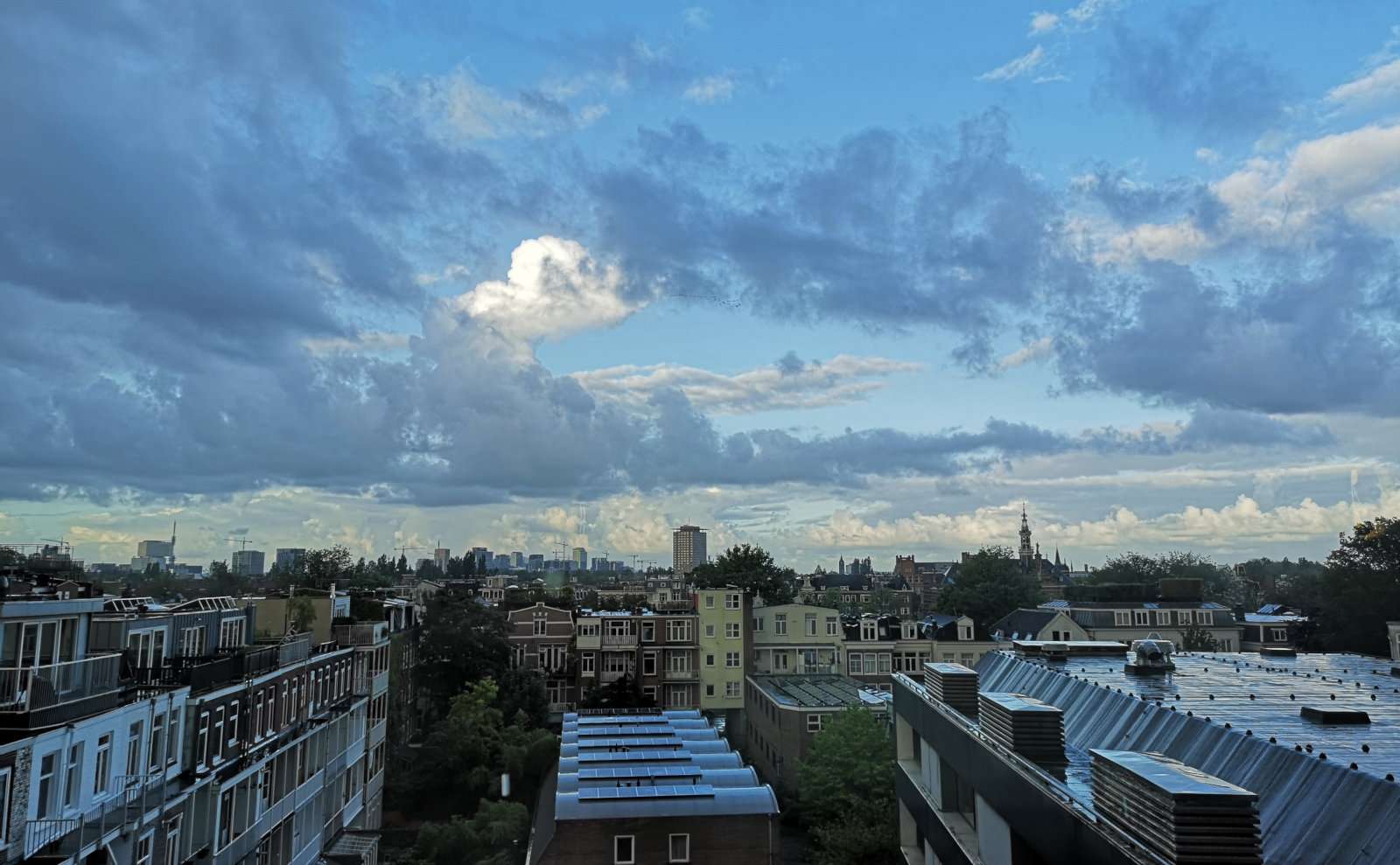 Overall, I think the Volkshotel is an extremely cool hotel in an underrated part of Amsterdam and I will definitely be back. You can have a look at the latest rates for the Volkshotel if you want to stay there too, let me know if you do!
Pin Me!
Have you ever stayed at the Volkshotel? What's your favourite choice of accommodation in Amsterdam? Let me know about it in the comments or pin one of these if you'd like to stay at the Volkshotel yourself one day!