While I have previously written about visiting NDSM-Werf, a very hip neighbourhood of Amsterdam before, a recent trip to show some visitors around got me thinking that this is really one of the best (if not THE best) parts of the city to base yourself in while exploring. Because it's not in the city centre it's a much more affordable area to stay, plus the transport links to get into central Amsterdam are quick and FREE! Plus, there are some great accommodation options (for all budgets), plenty of places to eat and some very unique attractions worth visiting in their own right. All of this is to say, next time you visit Amsterdam you should definitely spend some time at NDSM-Werf and maybe even stay here if you want to save money and see a very unique side of the city.
This post contains affiliate links. This means that if you follow a link and then purchase or book something, I will earn a small commission at no extra charge to you. This helps me with the costs incurred from running this site and means I can keep bringing you travel content like this. You can read more about this on my privacy page. Thanks for your support!
About NDSM-Werf
NDSM-Werf used to be the main ship-building area of Amsterdam, and there are still a number of huge warehouses here where ships were constructed. After the shipyard closed these warehouses were used by squatters, but were converted into very cool artsy spaces during the early 2000s. A number of creative businesses have grown up around the area in the years since, making it a popular destination for entertainment and dining.
It's located across the River IJ from Amsterdam Centraal, but a bit further up the river from the main Noord neighbourhood. But since you can reach it within ten minutes via a free ferry, it's definitely worth a visit and if I was visiting Amsterdam I would probably choose to base myself here in order to save money on accommodation and transport.
Things To See and Do in NDSM-Werf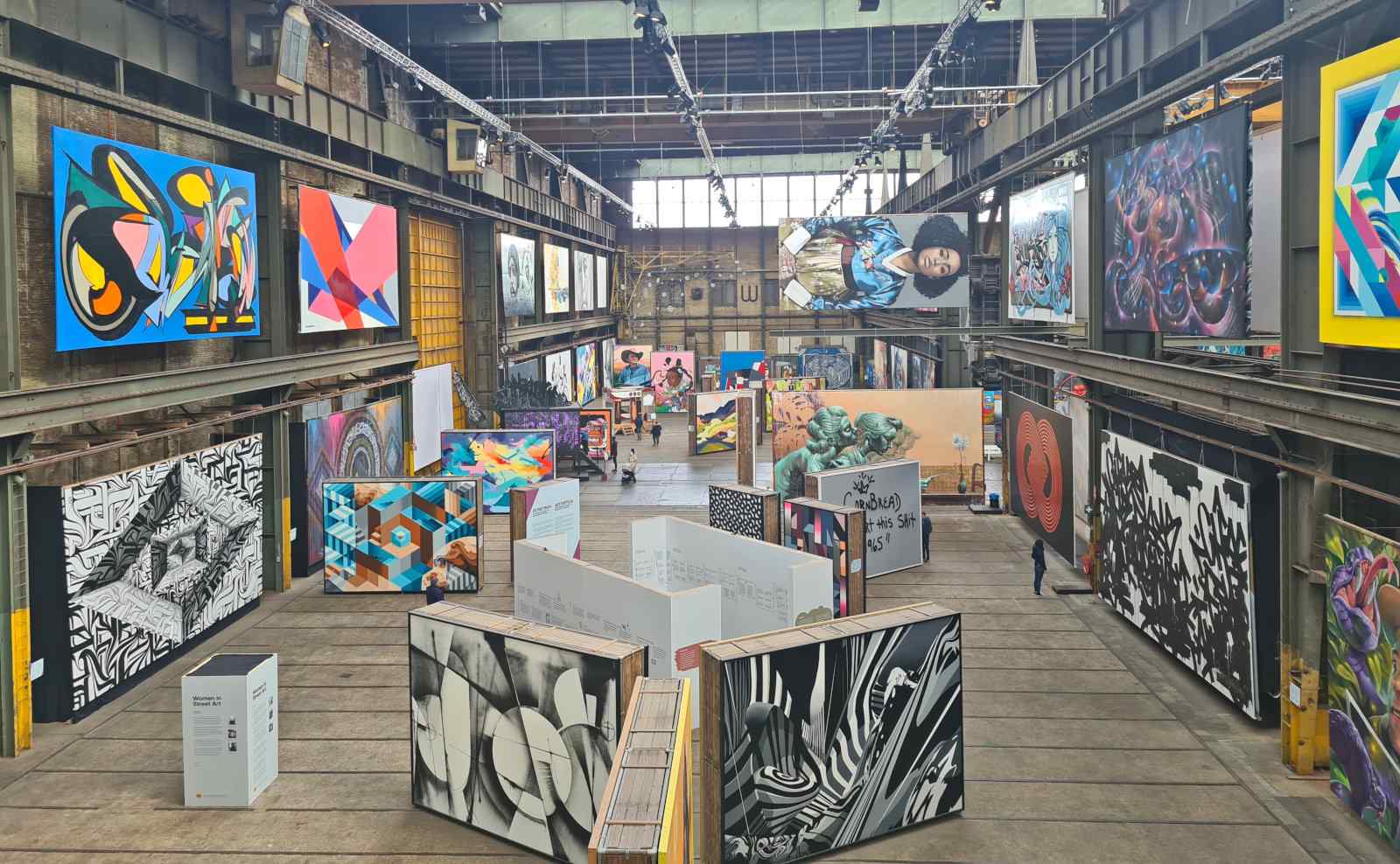 Since the area was abandoned it became known for graffiti art, which has been expanded on by the number of very cool artsy sights. The pinnacle of this is the street art museum which opened in 2020 but there are quite a few fun things to see and do here, whether you are staying in the area or not.
STRAAT Museum: NDSM-Werf was known for street art for quite some time, artists were drawn to the big warehouse walls to make art and one of the warehouses has even been converted into a huge street art museum. Since the space is so big, you can really enjoy the massive pieces on display, which include more than 160 artworks by over 150 artists from around the world! I have a full blog post about this amazing place in the works but just trust me, you need to visit if you like art, and especially if you like street art!
NDSM Loods: In the other remaining warehouse building there's almost a city-within-a-building since there are heaps of really cool little studio spaces here. In fact, this part of the interior is called the 'art city' and is a fun place for a little wander to see lots of quirky details. The other parts of the warehouse can be rented out and often host interesting performances or exhibitions. There's also a restaurant/cafe/bar here if you need a break after exploring.
The Ships: While it's no longer a shipbuilding yard, NDSM-Werf is still a wharf, so there are many interesting boats and ships to see, including some you can go on/in for a visit. NDSM-Werf is home to the Greenpeace headquarters, so you will often spot a Greenpeace ship moored here, although not always. Some of the permanent ships include Kapitein Anna, an old paddle steamer which can be booked for private dining, and has basic rooms available if you want to stay on it. There's also the Hr. Ms. Mahu, a former shallow-water minesweeper which is open to the public on Tuesdays and Thursdays. The Veronica is another ship here that's often used for events, keep an eye out for the red lighthouse ship and see what other boats or ships you might find on your visit!
Blast Galaxy: This is a really cool arcade/bar where you can relive your childhood while playing old arcade and video games, but since it's for adults there are also cocktails and other alcoholic drinks to enjoy at the same time! It's open till late on Thursdays and Fridays, so that's the best time to visit if you don't want to fight over games with kids. Even the website is cool, so make sure you check it out! I could have included this with the places to eat and drink below as they also serve snacks, but it's more a thing to do that would be particularly fun for a night out with themed cocktails like the Space Ginvader.
IJ-Hallen Flea Market: Along with the things that are always there to explore, NDSM-Werf is also the location of Europe's biggest flea market! This is a two-day event which sees all the free space turned into stalls for an entire weekend and lots of extra people come to shop for bargains. You do need to pay an entrance fee of €6 but once inside you can find all sorts of unique products including clothing, home furnishings, designer goods, artwork and more.
Festivals: Don't be surprised if you turn up at NDSM-Werf and find it taken over by festival-goers as the wide-open spaces are often used to host dance music events and other festivals throughout the year. Check out this website if you'd like to see if there's something you want to time your visit to experience.
Places To Eat and Drink in NDSM-Werf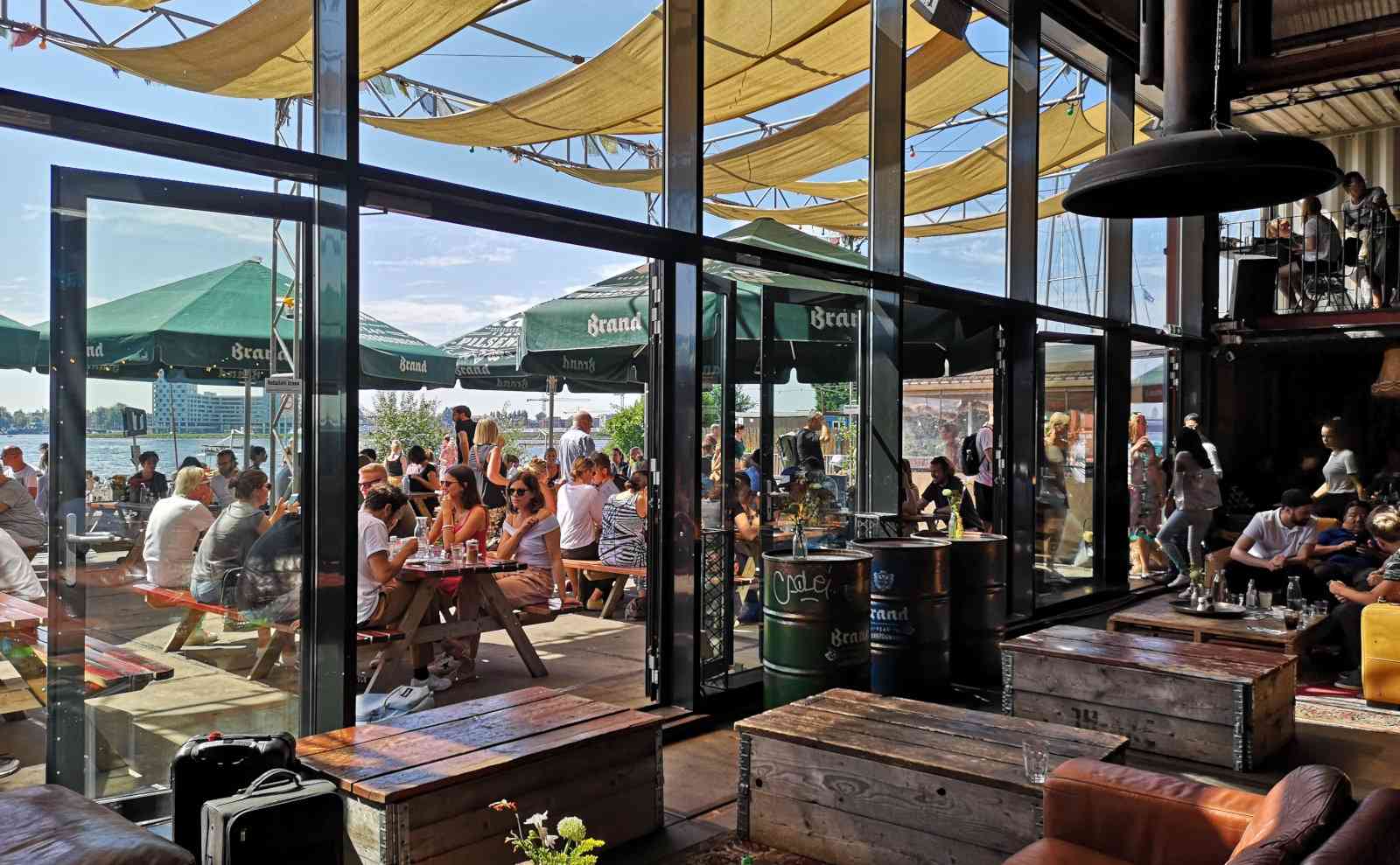 There are LOTS of great places to eat and drink in NDSM-Werf, whether you're on a tight budget or looking to splurge. This is another reason I think NDSM-Werf is a good place to stay while visiting Amsterdam, as you can experience a few different places for breakfast or dinner before and after heading into the city centre to explore.
Pllek: I've written about Pllek multiple times and also visited many times as I usually take friends visiting Amsterdam here as it's just so cool! The menu is mostly vegetarian and vegan as well, with only a couple of meat dishes so it's very popular with those who wish to avoid meat.
Noorderlicht: Not far from Pllek is another cool café, Noorderlicht which means northern light in Dutch. The outdoor seating area is lovely here, so it's a wonderful spot in summer sitting by the river and enjoying the sun. The menu is quite varied, with everything from currywurst to Tom Yam soup as well as plenty of sweet treats and savoury bites.
Cannibale Royale du Nord: Cannibale Royale is a chain with a couple of restaurants in Amsterdam, including this one at NDSM-Werf. As you can probably guess, meat is the name of the game here, with steak, ribs and burgers the main menu items for lunch and dinner, although they do have a few vegetarian options as well.
IJver Amsterdam: IJver is the bar/restaurant that's located in NDSM-Loods, with seating areas outside looking over the street art as well. This is quite a hip and popular spot for a drink in the evening with 34 beers on tap but they also do lunch and dinner.
Loetje Amsterdam aan 't IJ: Loetje is another Dutch restaurant chain and while I haven't eaten at this specific one, we have eaten at Loetje quite a few times as Dennis thinks their steaks are the best! Steak is the speciality but they also do excellent burgers, salads, sandwiches and offer a few vegetarian options. This one is right on the water as well, so the views are stunning.
Restaurant BROOKLYN: Located within the Double-Tree by Hilton hotel, BROOKLYN is a cosy spot with a menu featuring plenty of fancy sandwiches, pizza, pasta and meat dishes, all made from fresh, local ingredients.
De IJ-Kantine: Located right on the water, last time we tried to eat here it was fully booked so make a reservation if you think you might want to come here on a sunny weekend! If you sit outside you'll also have a lovely view over the water, boats and ferries. They're open for breakfast, lunch and dinner.
Bagels & Beans: If you want some coffee and bagels for breakfast, head to Bagels & Beans! This chain does plenty of excellent coffee, hot drinks, and traditional bagels with any kind of topping/filling you might want.
Fred's Kitchen: Not far from Bagels & Beans is this option, which looks much nicer than you might expect with a humble name like Fred's Kitchen. You could head here for lunch or dinner, plus they have a dedicated sushi menu which looks very yummy.
Pannenkoekenboot Amsterdam: I could have included this when I talked about the ships but it's called a boat and it's a place to eat! This would be a fun way to have a cruise on the River IJ plus you can enjoy all-you-can-eat pancakes with lots of delicious toppings. It's cheaper to book online so make sure you do that if you are planning to partake!
BBROOD, Carroll's and Next: When you first get off the ferry at NDSM-Werf there are three cafés in the building directly opposite you, all of which are great for a nice sandwich and coffee simple meal. They also have yummy pastries and juices etc.
Albert Heijn: There's also an Albert Heijn supermarket here, which does meal deals for lunch and other pre-packaged options.
Where To Stay in NDSM-Werf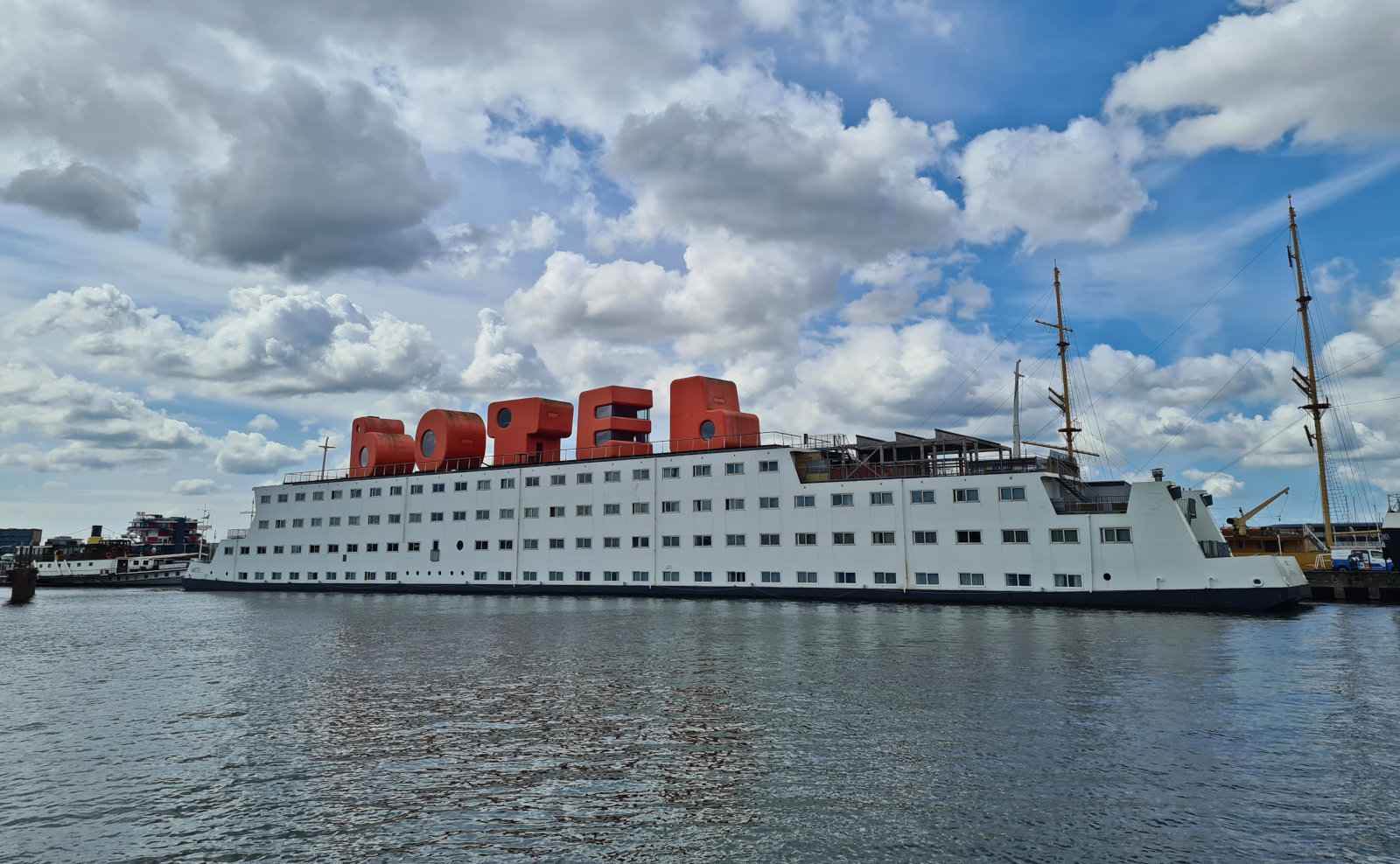 There are three hotels located in NDSM-Werf, which very neatly fit into three main budget choices so you can choose whether you really want to splurge, save as much money as possible or have something in the middle that's comfy and nice but not too expensive!
Budget: I have been dying to experience the Botel, because not only does it have very affordable and comfortable rooms, but you can even choose to splurge a little and stay in one of the letters on top of the boat! The regular rooms are basic but have everything you need if you just want a comfy bed and a private bathroom. Each of the rooms in the letters on top has a different theme and they are pricier, but they look like lots of fun, especially letter E which features a movie screen you can watch from bed or in the spa bath!
Mid-Range: There's a DoubleTree by Hilton Hotel here as well, which is much more affordable than the one that's right by Amsterdam Centraal Station but should be just as comfortable for those who like the Hilton brand. Some of the rooms feature street art on the walls and if you're facing the river the views would also be lovely.
Splurge: If you've got the cash, the Faralda Crane Hotel is one of the most unique (and expensive) places to stay in Amsterdam! As you might have guessed from the name, this hotel consists of three suites that are literally in the giant crane that towers over NDSM-Werf. They look amazing and the views would be incredible too.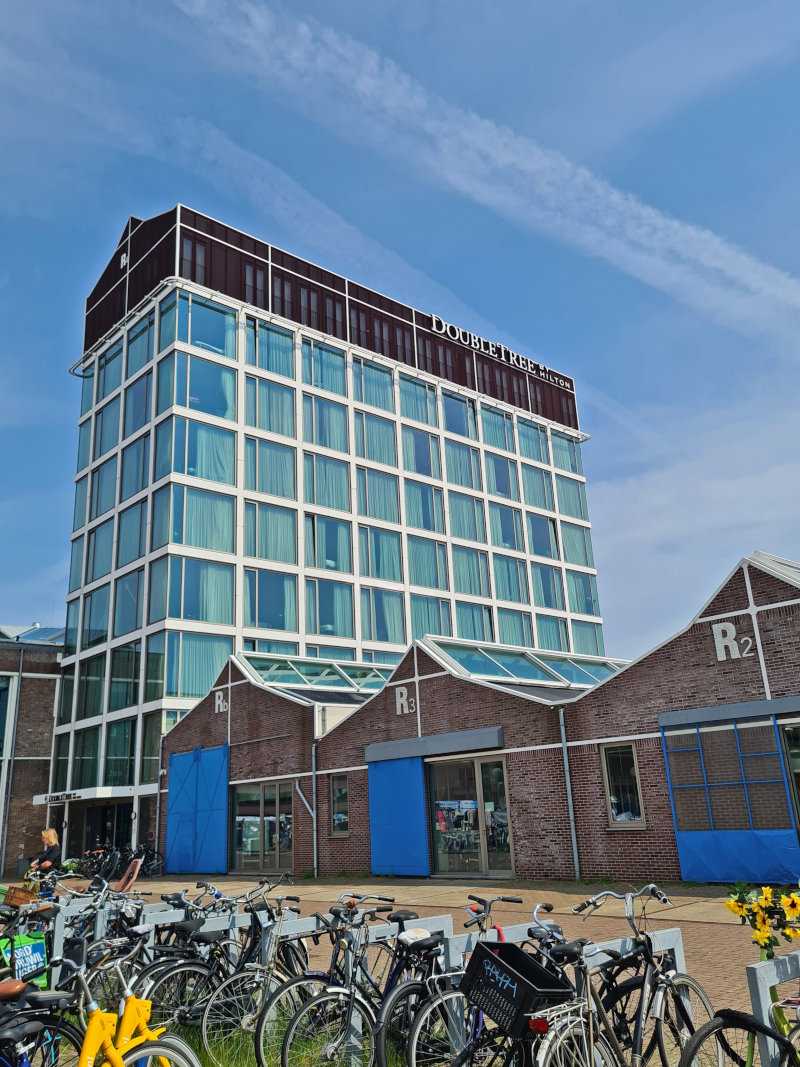 Getting to NDSM-Werf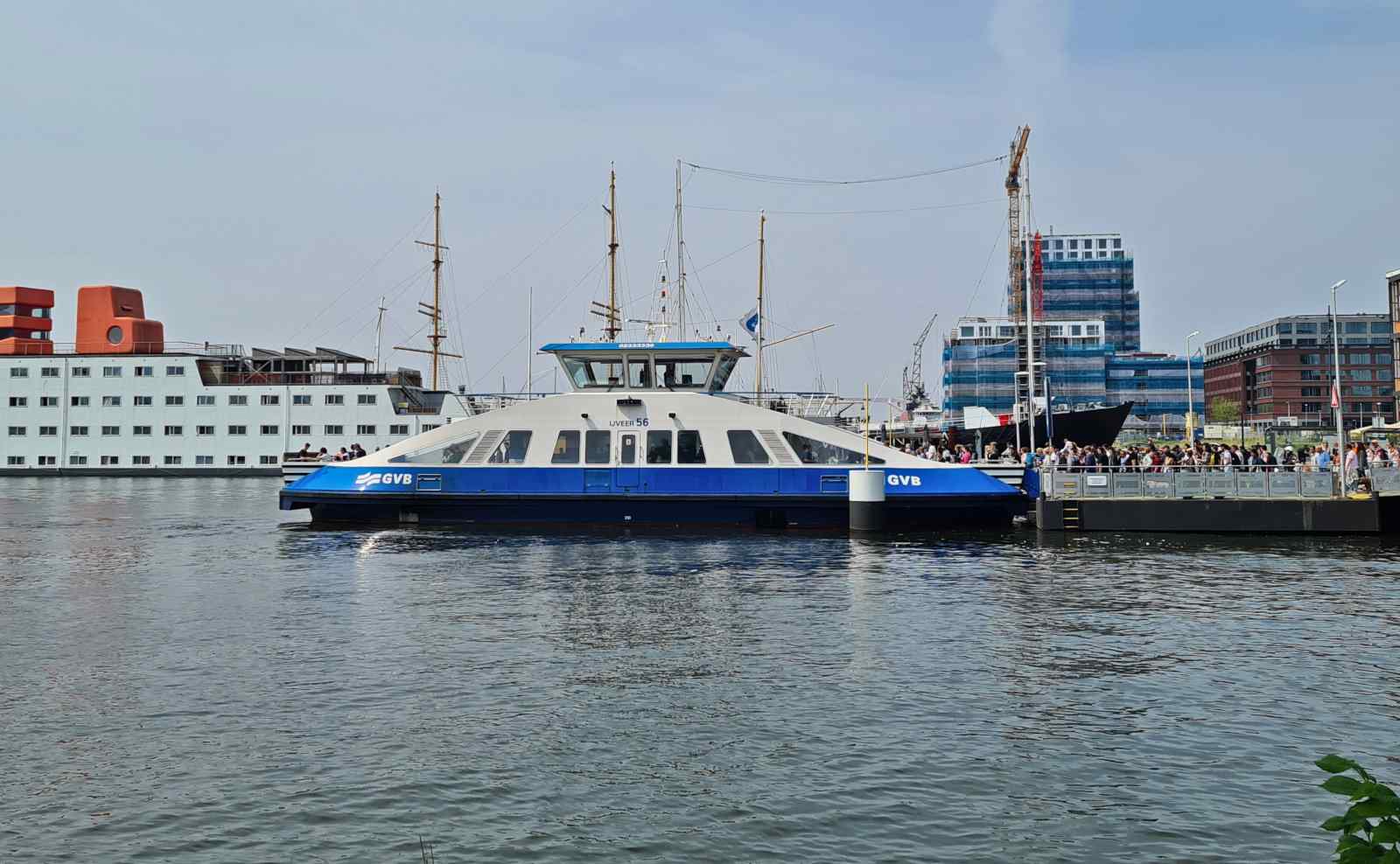 The easiest and best way to reach NDSM-Werf is via the free ferry service. These leave from behind Amsterdam Centraal Station and take about ten minutes each way. There are two ferry wharves next to each other, make sure you catch the one on the left-hand side (the sign says NDSM-Werf) rather than the one on the right. There's space for pedestrians, bicycles and scooters in the ferries, plus it's a very pleasant trip in warm weather, looking out over the river.
It's also possible to get the metro from Amsterdam Centraal to Noorderpark and then get a bus to the Atatürk bus station, which is a couple of streets behind NDSM-Werf. If you're travelling by car, there is free parking in the streets here as well, last time we visited we parked in Ponserstraat.
Map of NDSM-Werf
I've added all the places I've mentioned into this handy map so you can easily find all these places for yourself. I hope it helps you have a great time in NDSM-Werf!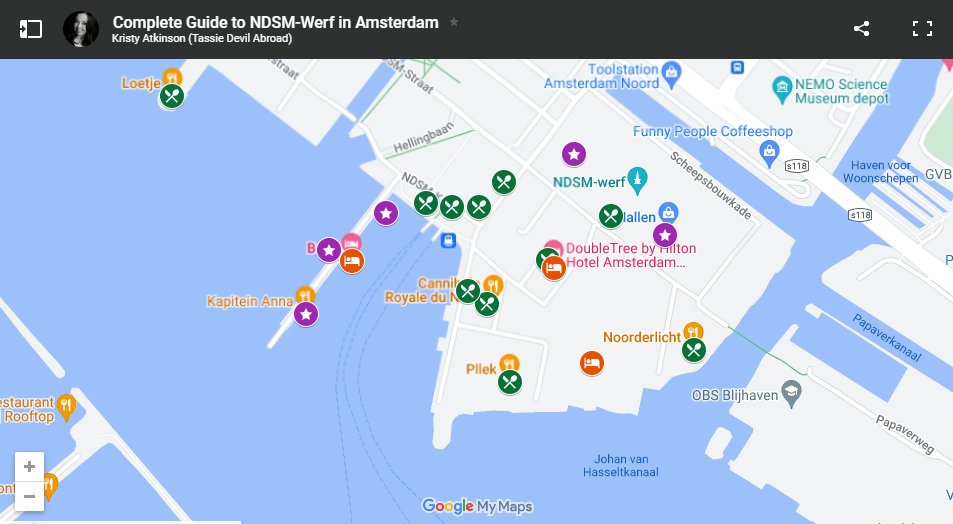 Pin Me!
Have you ever visited or stayed in NDSM-Werf? Tell me if I've missed anything in the comments or pin this if you're planning to visit yourself. Also, read my post on five reasons why you should visit NDSM-Werf if you need more convincing!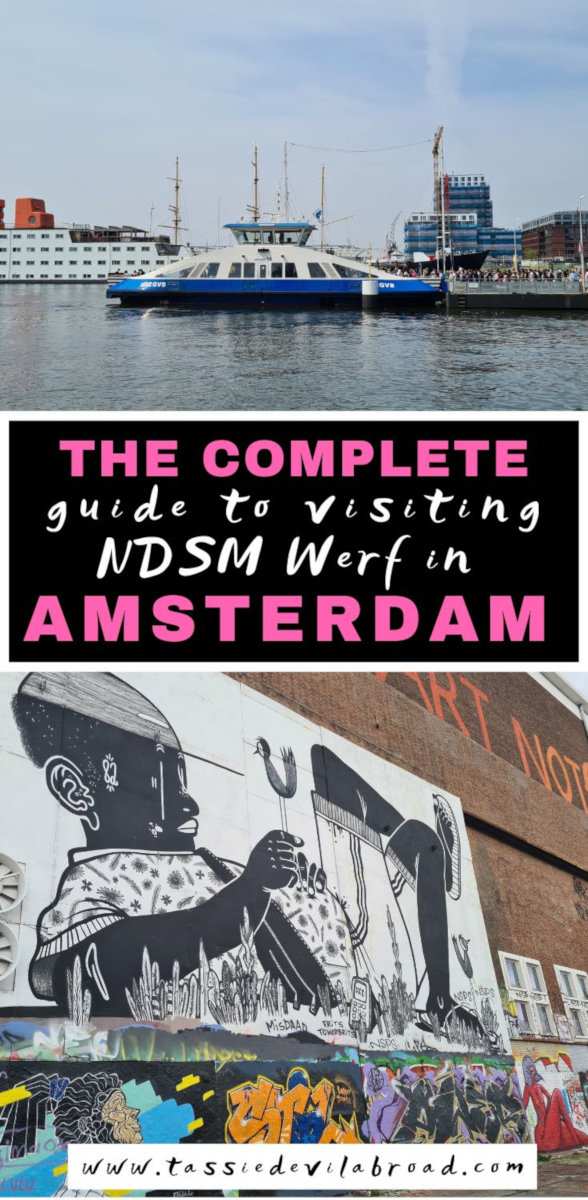 All information is true and correct at the time of publishing but I cannot be held responsible for changes in opening times and prices or businesses closing in the meantime. I always endeavour to keep my posts up to date but also encourage you to double-check the official website of an attraction for information on when it is open, how much it costs etc.