Cat Cafes have become something of a fad lately. Originally starting in Taiwan, cat-lovers can now visit cafes with feline residents in many major cities such as London, Tokyo, Paris, Berlin and Amsterdam. I'd never been to one before this visit to Kopjes in Amsterdam but I'd always been interested in the idea! Unlike some of the animal fad cafes, cats are fully domesticated and shouldn't be uncomfortable in a situation like this. When Dennis and I were meeting up with some friends in Amsterdam we decided to take them to the cat cafe, so that we could visit it too!
Our Visit to the Cat Cafe
The cat cafe in Amsterdam is called Kopjes, which literally translates to 'cups' but is also the Dutch way of describing when a cat bumps it's head against you – "kopjes geven" – and is home to 8 cats. These permanent residents were adopted from two different cat rescue shelters in Amsterdam and socialised together before the cafe opened. These cats are not available for adoption like in some cat cafes and the cafe is also not open seven days a week, so the cats can have some days without lots of people around. Even so, if the cats don't feel like socialising when the cafe is open for business then there are plenty of spots for them to sit and hide away from the people in the main cafe room, and there's also a completely separate room where guests can't go if the cats want to get away completely; this is also where the litter boxes and feeding areas are located. During our visit, there were two cats that were in beds right up high that didn't stir or come down to socialise the entire time we were there, but all of the cats stayed in the main area so the noise of people talking and the kitchen obviously doesn't bother them. One cat was sleeping in a platform bed directly above our table, at one point I could just see her foot sticking out which was quite amusing!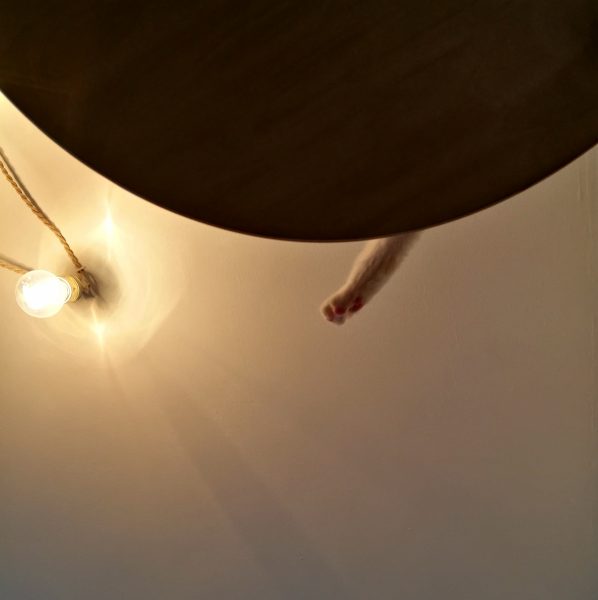 I had to get Dennis to reach up and get her photo from above. I think this is Rosie. She's sleeping with a little green mouse!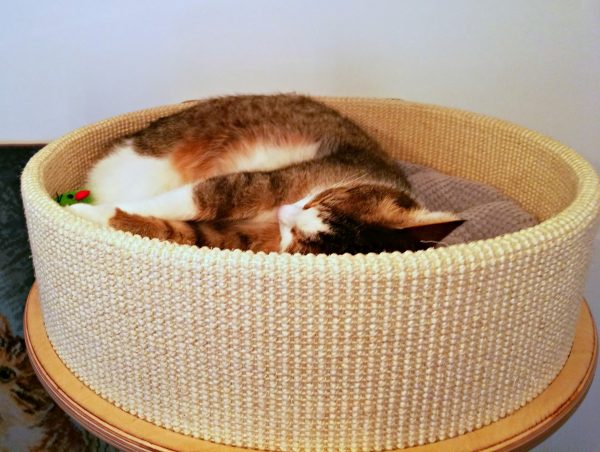 When you first arrive at the cafe you enter a little room where the food is prepared, where you can pay and buy some cat toys or treats and where you sanitise your hands before going through to the main seating area. The area that is open for guests is surprisingly small but quite cosy, and they have made use of all available space to give the cats plenty of places to climb, play and sleep. You can order hot and cold drinks, cake, sweets and light meals but you can't feed the cats. I loved the cat-themed decorations everywhere, and all the cool climbing platforms and shelves that turned all the walls into extra cat space.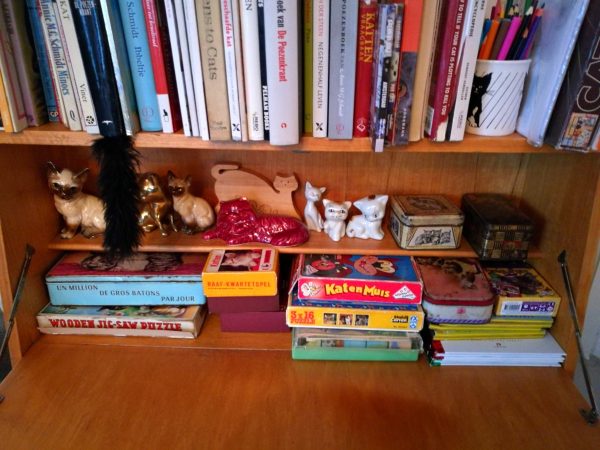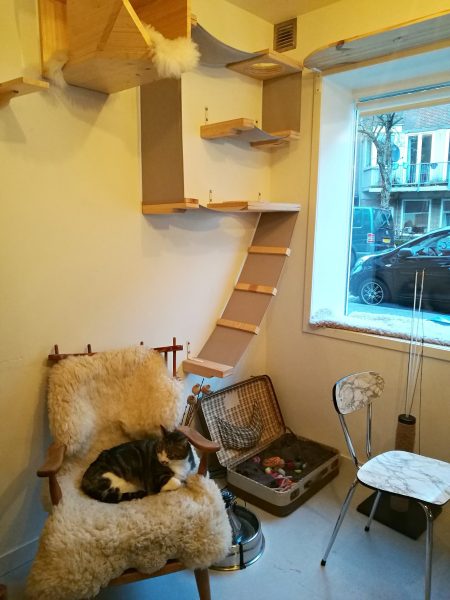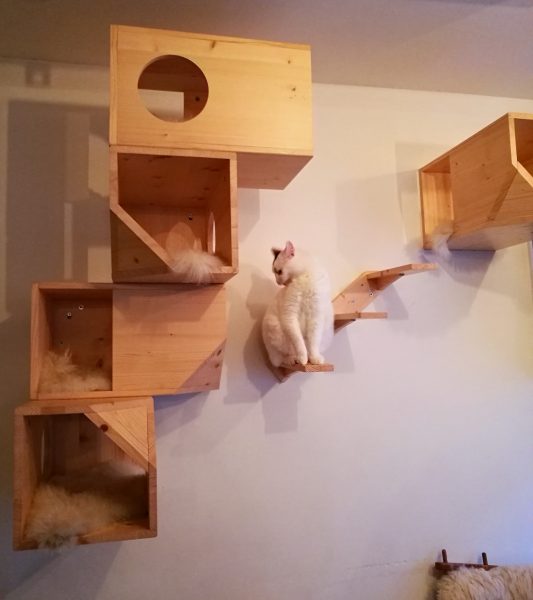 Of course, the main attraction is the cats, but as anyone who's ever interacted with a cat knows, you have to wait for them to deign to notice you. I can imagine it might be a bit annoying to visit a cat cafe and have all the cats ignore you, but there were a couple that were friendly and moving among the guests for pats, to look for crumbs and one even jumped onto a girl's lap.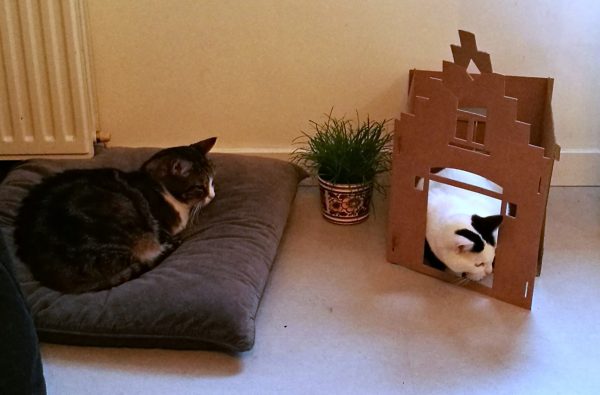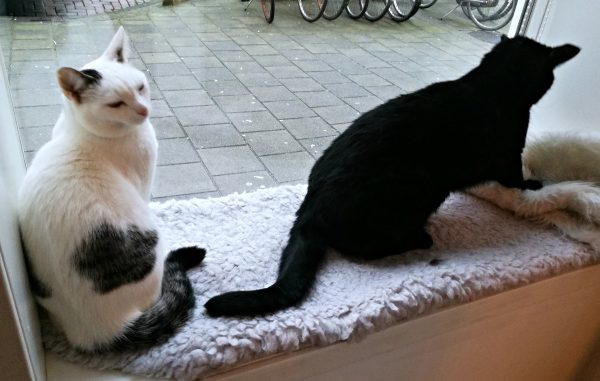 We discovered that the later in the day you go (we had booked I think one of the last slots for the day) the more active the cats become as it gets closer to their feeding time. Also, when nearly all the other guests had left we had more of a chance to wander around and play with the more playful cats and chat with some of the people working there. One girl we chatted with had been working there since it opened and explained how two of the cats have health issues which require them to be fed separately from the rest so they can have medication. Horus, who had been asleep until most of the guests left, was trying to get into the kitchen and we finally got to see what a large cat he is!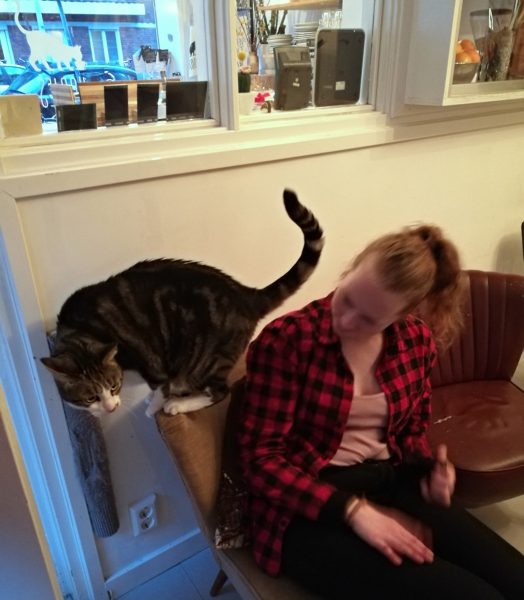 Tiny, the little kitty missing an eye, was also very playful and dashed about the whole cafe chasing after a cat-toy. We also saw the other two white and black cats climbing around on the walls and Midori jumped around after the teaser as well.
We had a lovely time on our visit and I was even inspired by the cafe's use of shelves and boxes on the walls to give the cats more space to climb and lie down, so a few weeks ago Dennis and I went to Ikea and then installed some cat shelves at home for our own cats, which they love! All in all, a cat cafe can be a great place to go for a visit if you are feeling in need of some feline company along with your cake or coffee.
Tips for Visiting the Cat Cafe in Amsterdam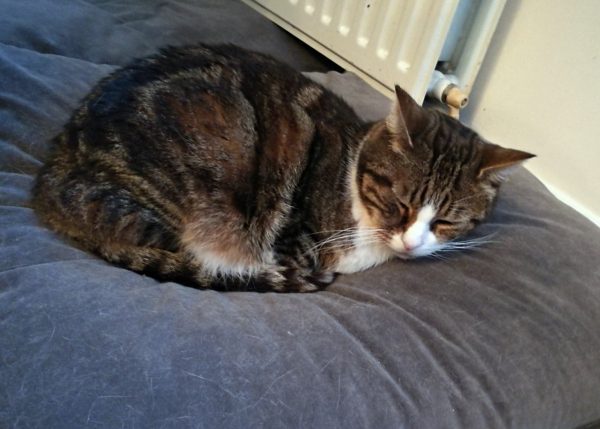 Kopjes is located in West Amsterdam, and tram line 13 has a stop almost right outside.
It's also only a few blocks away from the Foodhallen, so you could do what we did and coincide your trip to the cafe with dinner at the Foodhallen afterwards.
The last slot in the day (you have to book in two-hour slots so the place doesn't get too full) is when you are more likely to see the cats being active and playful, and have them to yourself!
They are open from Wednesday to Sunday between 10am and 7pm but the last reservation time is 4.45pm. You do need to reserve online through their website, but you don't need to pay anything until you get there, it's just to make sure there's somewhere for you to sit.
There are a few rules; you must sanitise your hands before you go in, you can't feed the cats, you aren't allowed to pick them up and you shouldn't disturb them if they are sleeping. But if a cat jumps onto your lap, then consider yourself highly privileged!
It costs 3 euros to enter if you don't buy anything extra. You can check out the food and drink available on their website, it's not a huge menu but you're mostly there just to see the cats and maybe have a coffee, although the red velvet cake looked amazing!
You can't pay with cash so make sure you have a debit card, Mastercard or Visa when it comes time to pay.
For more information and pictures, make sure you check out the Kopjes website here – it's in Dutch but you can translate it by right-clicking and it still mostly makes sense.
Enjoy your visit!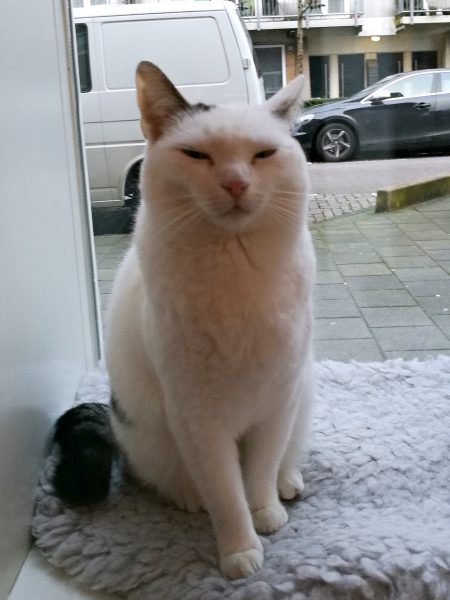 Have you ever been to a cat cafe? Which one did you visit and what was it like?! Let me know in the comments and pin this for later if you're planning your own trip to Kopjes.