Across the river by ferry from Amsterdam's Centraal station is another world; one full of graffiti, ships, sculptures and other exciting sights in what used to be an old shipyard. Welcome to NDSM-Werf, a thriving arts community and one of the coolest creative places to visit in the city of Amsterdam. Here are more than seven reasons why you should definitely take the (free) ferry over to see it.
1. The Graffiti Art
There is graffiti everywhere in this area, but not the ugly name-tag kind, the kind that makes you stop and gasp then want to get up closer to see all the details and colours. Make sure you have a wander around the shipyard to see the work of many different artists on the walls, shipping containers and rocks. Be prepared to be amazed!
2. The Sculptures and Installation Art
As well as amazing graffiti art, this area features really cool and offbeat sculptures and installation art. Sometimes you might need to keep your eyes peeled to spot everything, although the giant spider you probably won't miss!
The giant binocular-looking thing below is actually for listening to; notice the tiny ear-trumpets on the end? If you listen through these huge spheres different sounds from around the warehouse and wharf area will be magnified for you to focus on. It was pretty cool. Please don't ride the unicorn!
3. The Northern Lights Cafe
Noorderlicht in Dutch is a very groovy cafe that looks like it is nearly all constructed from recycled materials. The building itself looks like a giant greenhouse and there are cool space-ship themed play areas for kids as well as lots of indoor and outdoor seating, a bar and a mini-amphitheatre where they regularly have live music. Sitting in the sun next to the water with brightly coloured flags flying above you while you chill out with a snack and some quiet music sounds like my kind of bliss. The menu is reasonably priced featuring toasted sandwiches, soups, bruschetta and cakes at lunch as well as set menus for dinner. Have a look at the website for more information and to see which artists will be performing and when.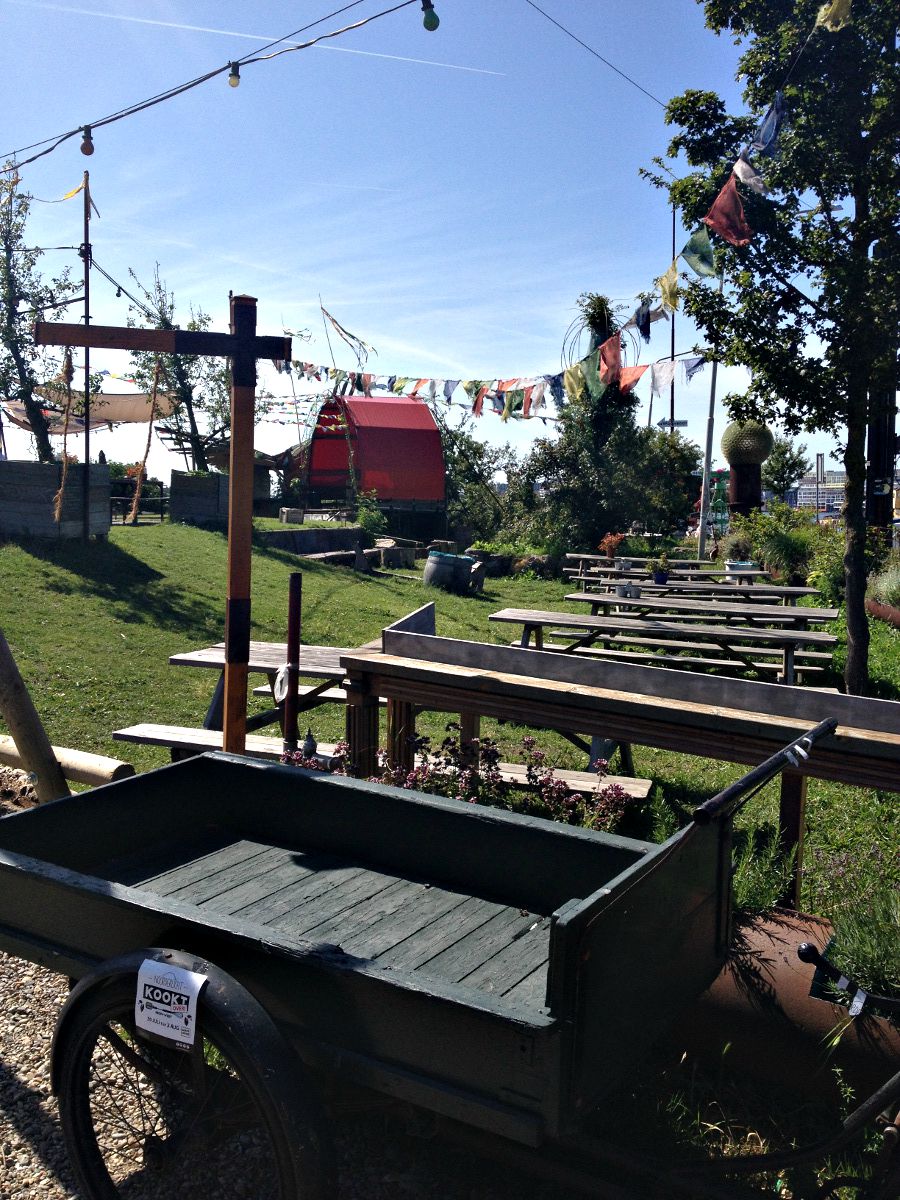 This sculpture thing is made from lots of plastic cups attached to a big sphere!
4. The Start-Ups and Creative Businesses in the Warehouse 'City'
Inside the warehouse proper are over a hundred studios, theatres and start-up businesses, all within their own little buildings inside the big one. This is also worth a wander around, to look at the cool 'inside' rooms stacked like children's building blocks as well as seeing what sorts of things might be on offer, such as a company that creates futuristic looking bicycles and costumes for theatre, or another business selling phone and ipod cases made from wood.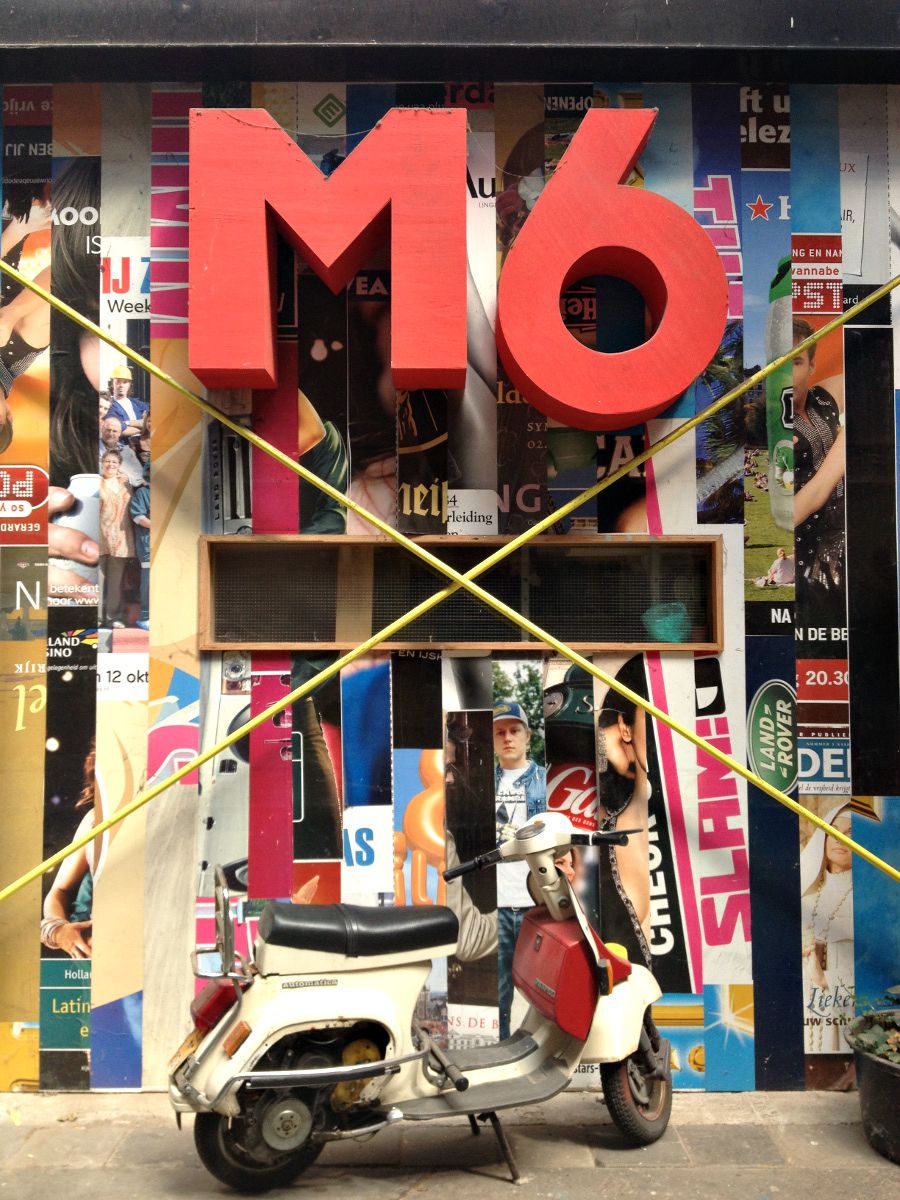 5. The Ships
While it may no longer be a shipyard this area is still a wharf and it holds lots of fascinating ships that are definitely worth a visit on a nice day. Listen to the gentle clinking of chains as you walk past an old paddle-steamer, a boat-lighthouse and even an old military landing boat. There is even a boat motel (Botel), a boat that is also a pancake restaurant and the Veronica; an ex-radio ship that can now be hired for parties, film location or debates. If you feel like cruising through Amsterdam and eating as many pancakes as you can then have a look at their website; and don't miss the graffiti-ed submarine as you head out onto the river!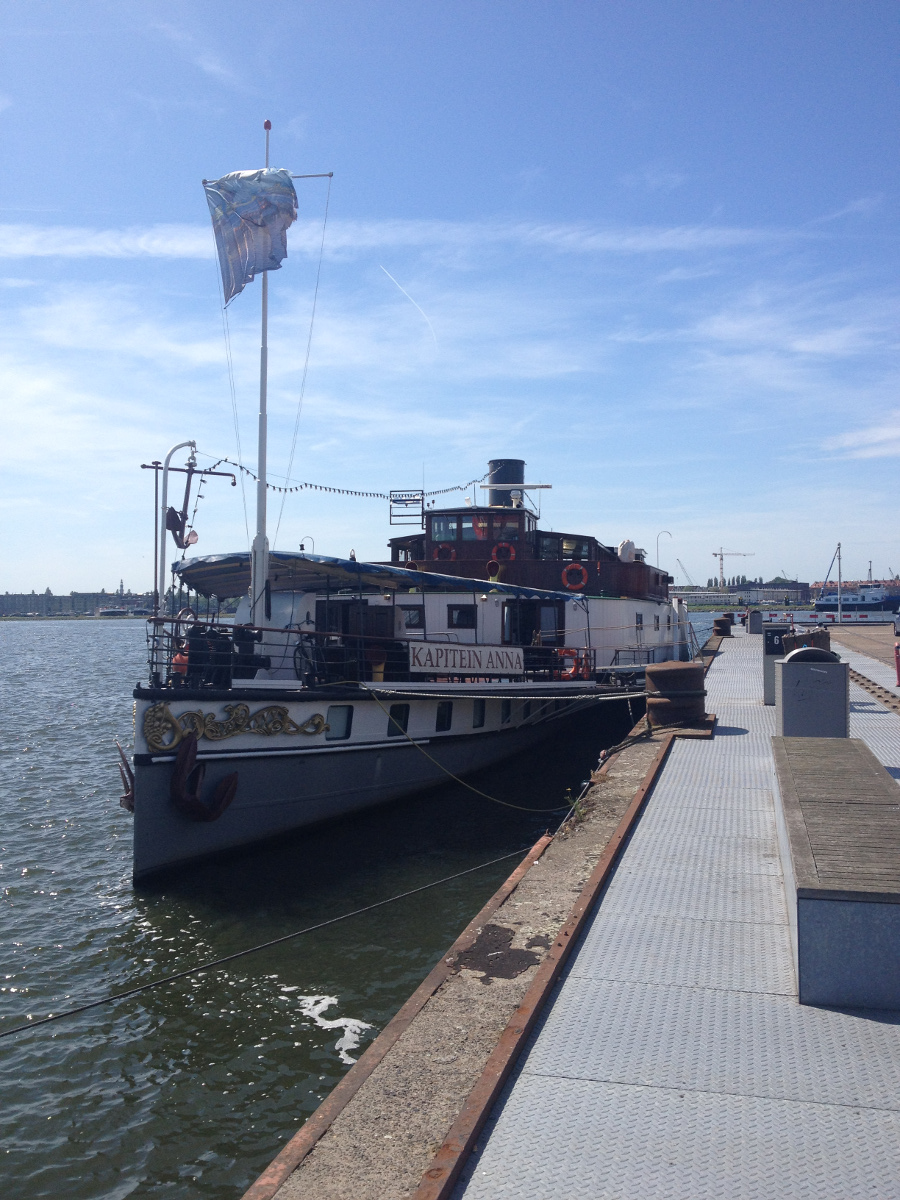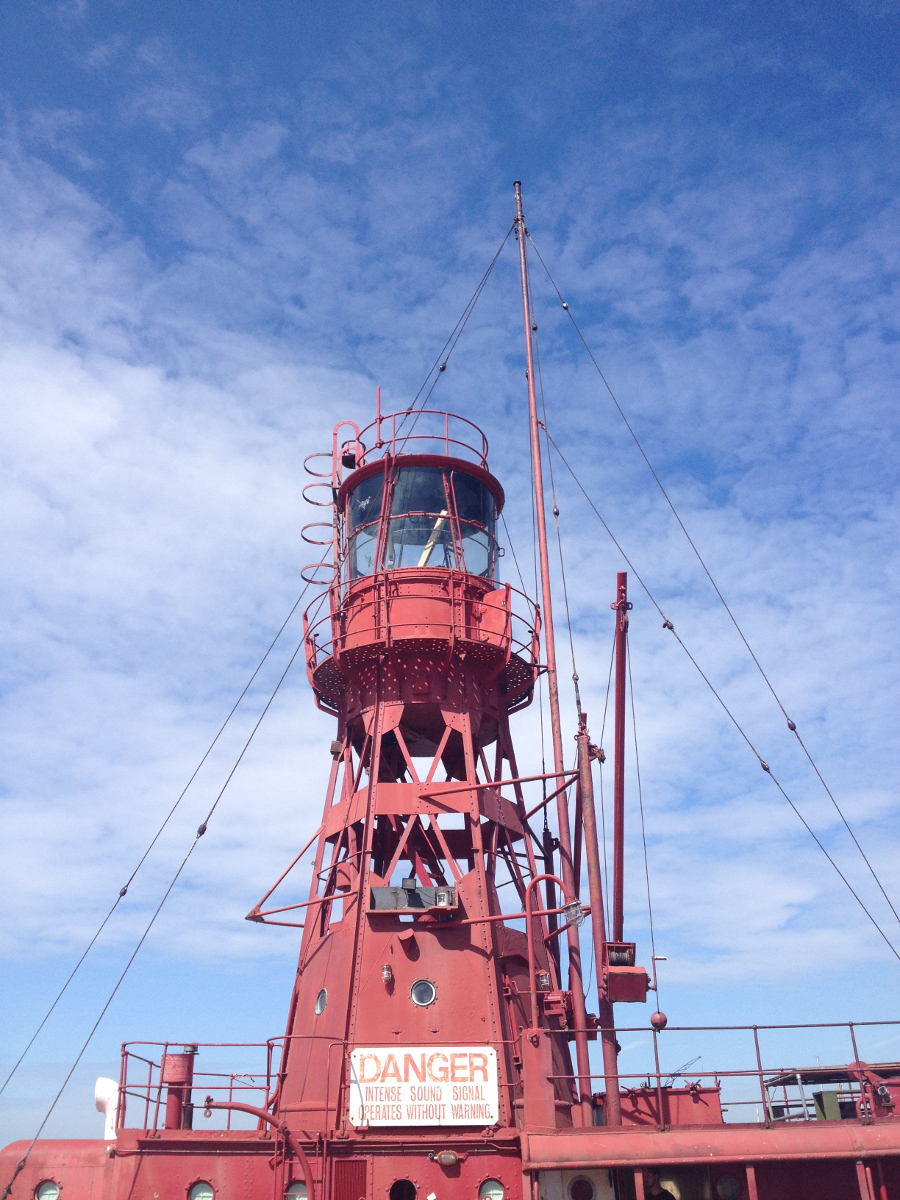 6. Trammeland and Other Unique Accommodation
If you don't feel like staying on a "Botel" there are other accommodation options available here as well. There's the Double Tree by Hilton if you want something a bit upmarket, or for something really unique why not stay inside the crane used for bungee jumping? The Faralda Crane Hotel features three design suites (that look amazing, one even has a stuffed peacock in it!) all 50 metres up the crane with stunning views over the IJ River and Amsterdam. Have a look at their website here and try not to wish you were sitting in the crane-top spa! You'll also have a nice view of 'Trammeland', old trams on the site that are managed by the Trammeland Foundation and often organise creative events such as theatre workshops for children.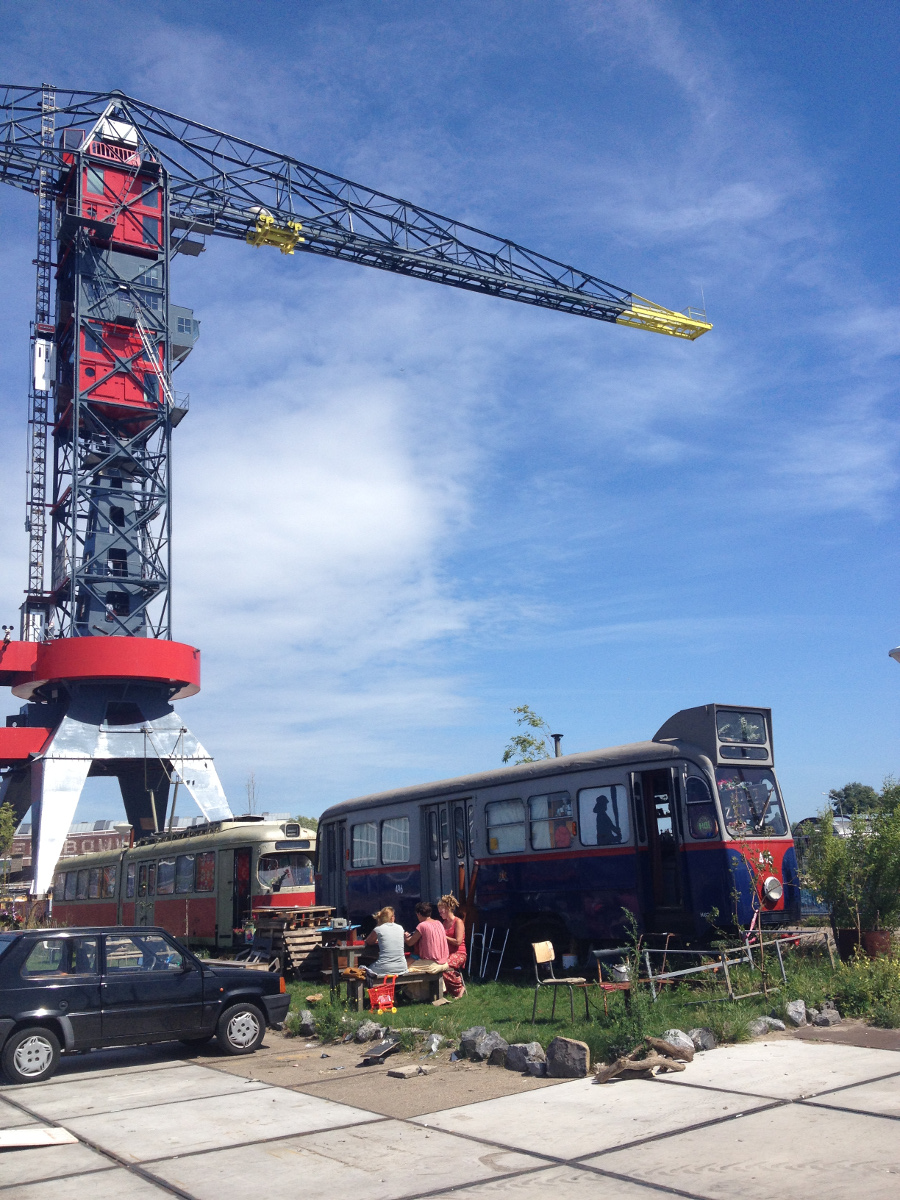 NDSM is also the home of Greenpeace!
7. Other Groovy Things
There are lots of other interesting and quirky sights to explore at the NDSM-Werf and the place is always changing. Make sure you also keep an eye out for the florist 'vending machine' (proving that the Dutch really can create a vending machine for anything!) or the restaurant and bar that features a sand pit for children and an awesome floating deck equipped with chairs and beanbags for patrons to sit in while they sip their wine and watch the boats go by. What will you discover when you visit NDSM-Werf?!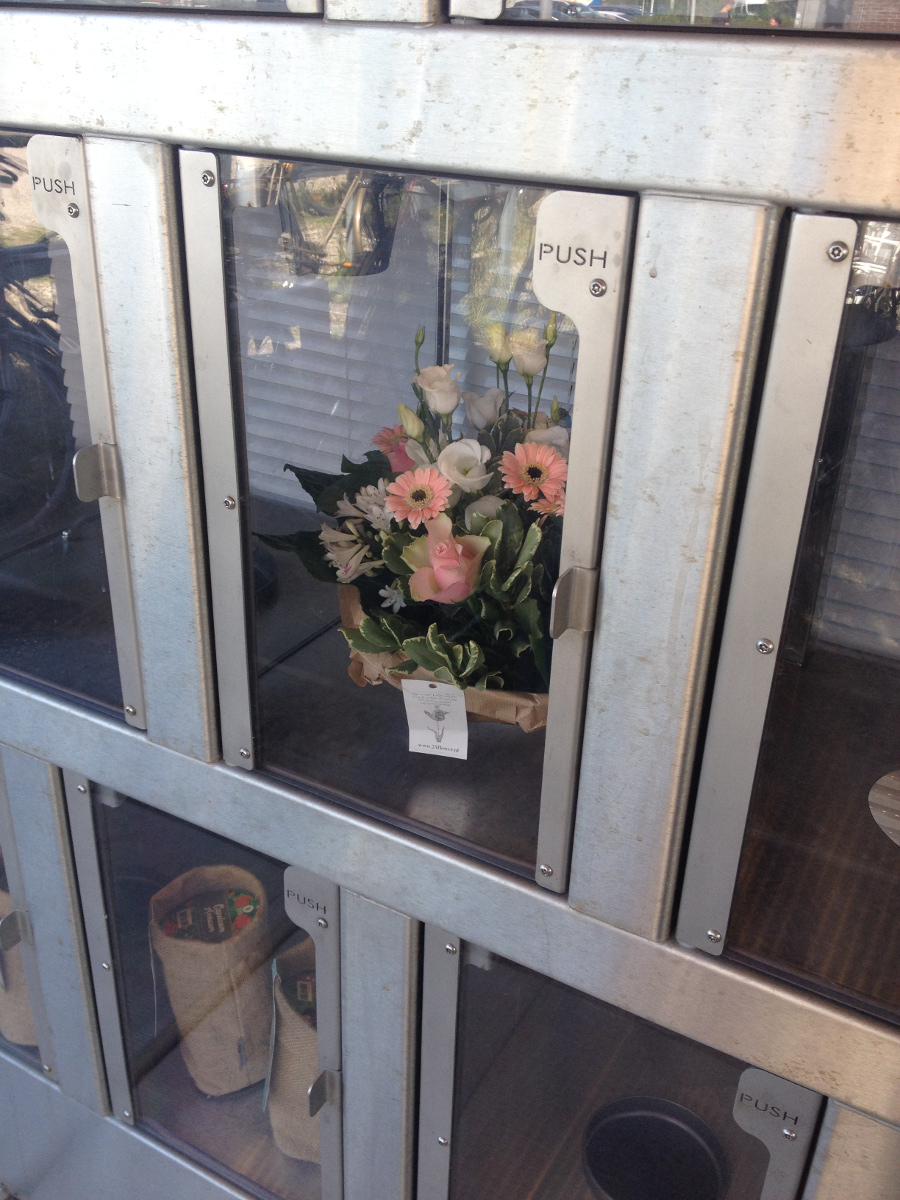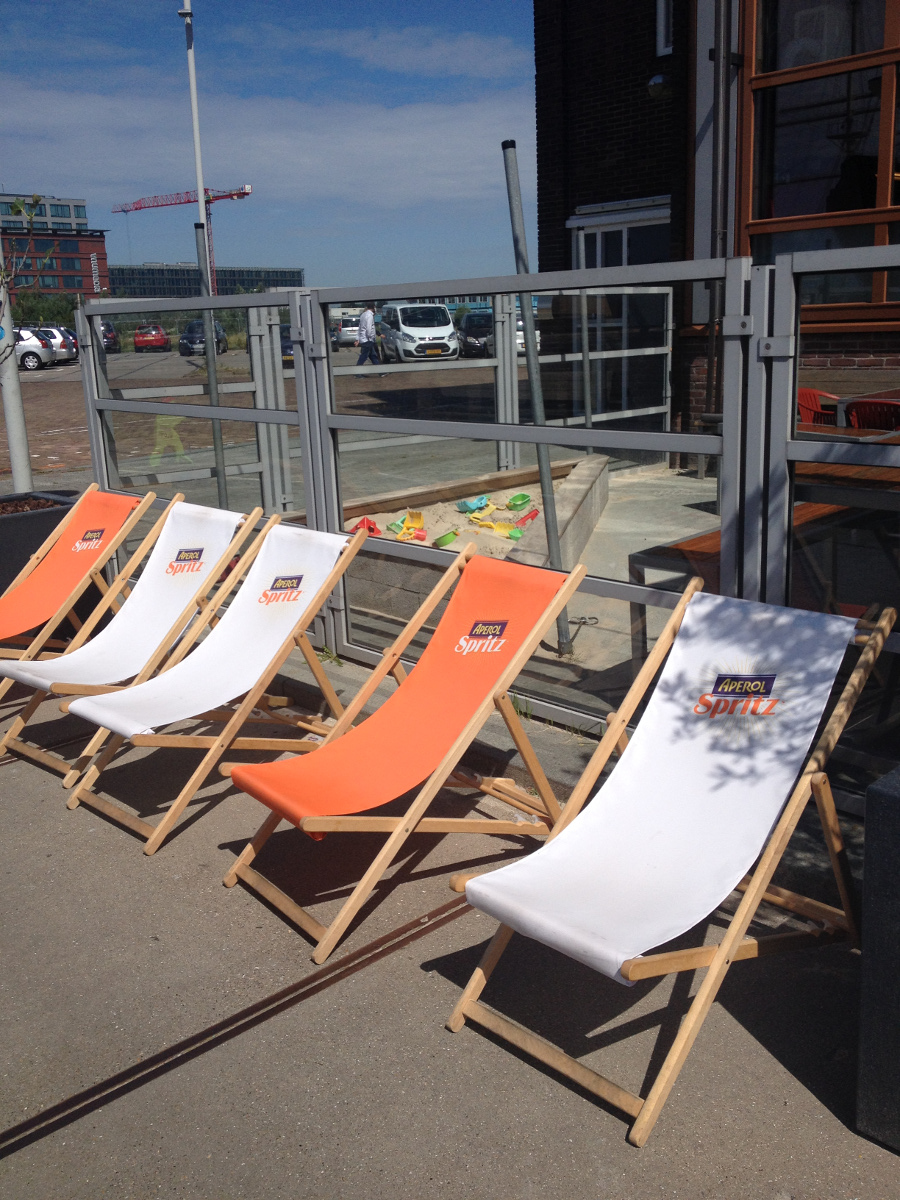 Have you ever been to NDSM-Werf? What was your favourite part? Let me know in the comments! For more cool things to do in Amsterdam also check out this post on the Katten Kabinet (a museum devoted to artwork featuring cats) or this post about a man-made beach!