Pretty much any time I am showing visitors around Amsterdam, I take them to (or tell them to visit), A'DAM Toren. If you've stood on the river side of Amsterdam Centraal then you've seen A'DAM Toren, aka Amsterdam Tower across the water, next to the white spaceship-looking building which is the EYE Film Museum. If you've never visited A'DAM Toren you are missing out on some of the best views of Amsterdam, as well as lots of other fun stuff. But don't worry, because I've got all the details here today about how to visit and if it's worth it (spoiler alert: it is).
This post contains affiliate links. This means that if you follow a link and then purchase or book something, I will earn a small commission at no extra charge to you. This helps me with the costs incurred from running this site and means I can keep bringing you travel content like this. You can read more about this on my privacy page. Thanks for your support!
About A'dam Toren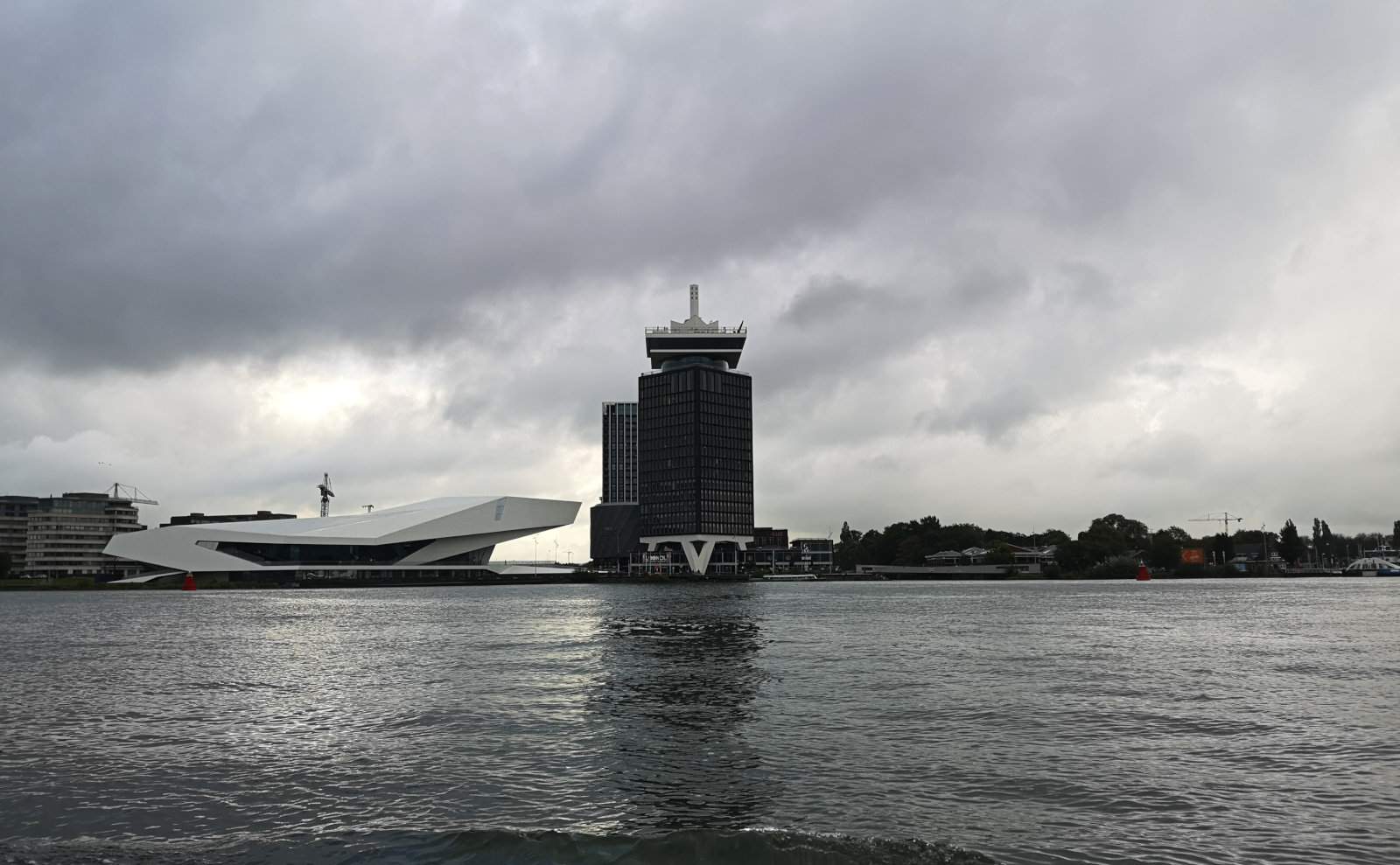 The building now known as A'DAM Toren was originally built in 1971 by the Shell corporation. In fact, the first time I ever visited Amsterdam with Dennis back in 2013, it was still known as the Shell Tower, and looked quite different from today: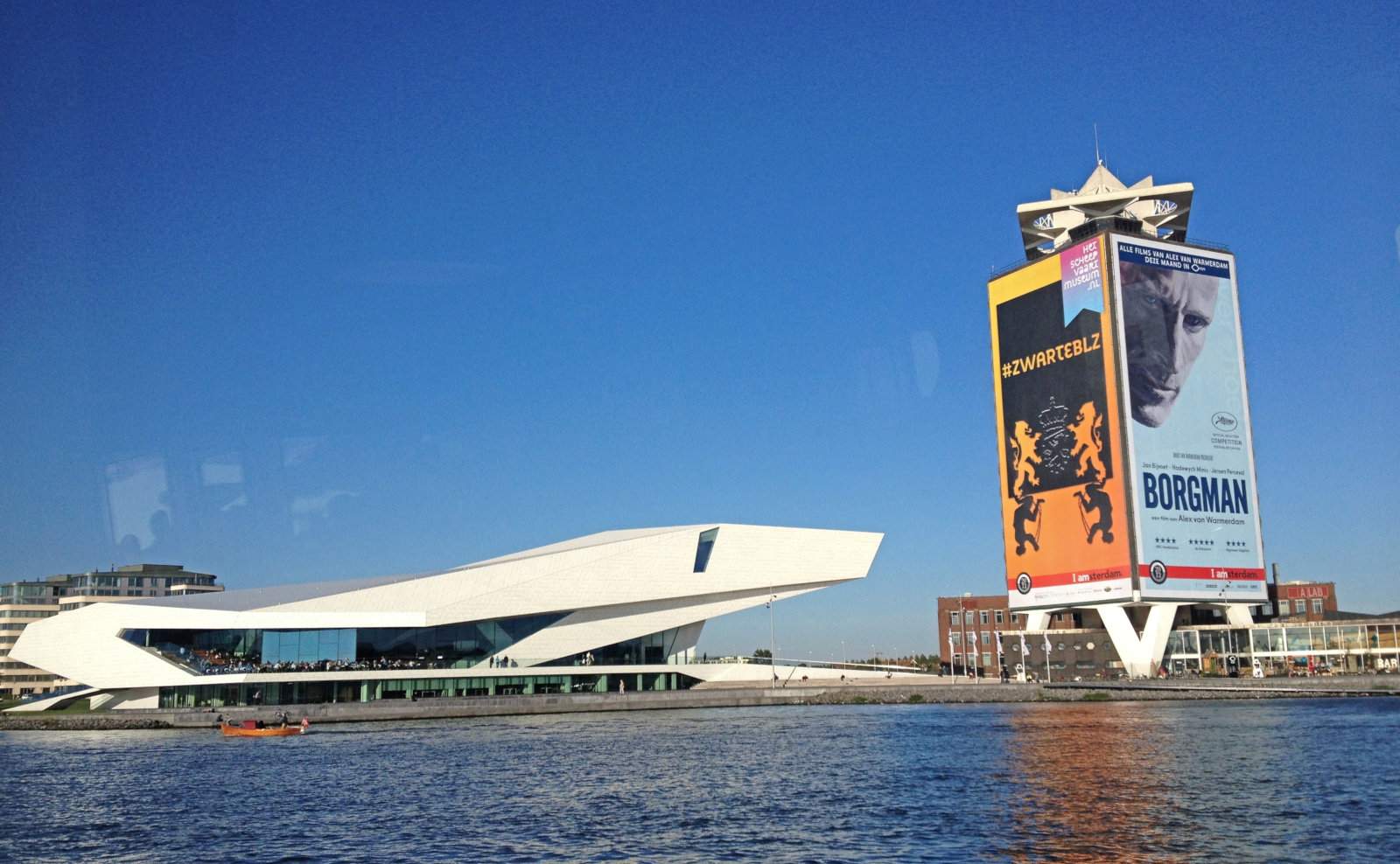 After being bought from Shell by the municipality of Amsterdam, the tower was renovated and reopened in 2016 as a combination of offices, places to go out and an observation point with a revolving restaurant. With an extra part added on top the tower also went from 80 to 100 metres high. It's not the tallest building in Amsterdam but is (in my opinion) one of the best for views over the city centre and with plenty of fun things to do.
What to do at A'dam Toren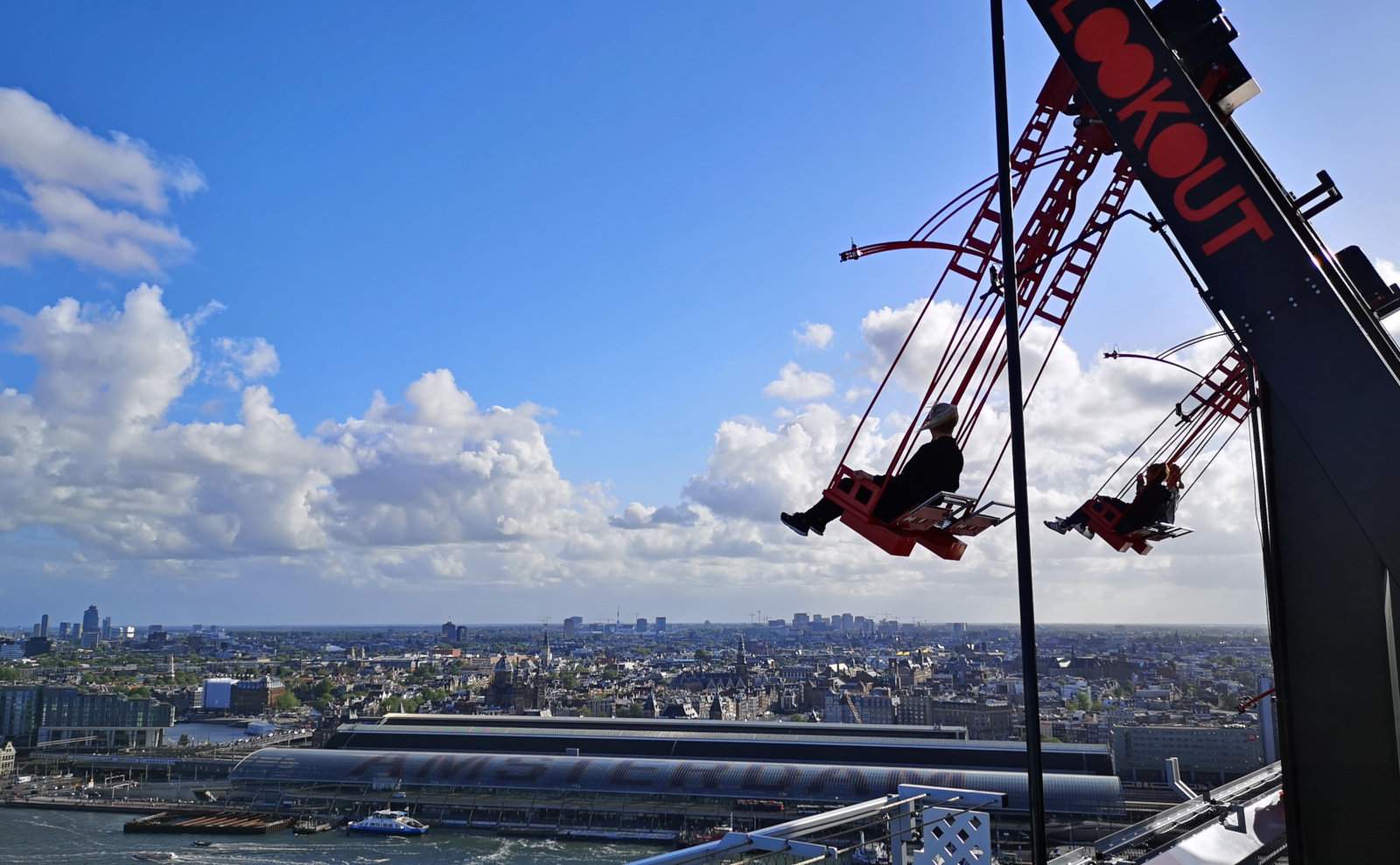 Since reopening in 2016, the tower is now home to multiple private office spaces as well as attractions and businesses for the general public to enjoy. Here's what you can do and see at A'DAM Toren.
A'DAM Lookout: The major drawcard has got to be the observation deck on top of the tower. When entering you have the choice to get a photo (taken on a green screen) that makes you look like you're hanging in the sky from the tower. Then you ascend in a lift with a groovy light and sound show, before arriving at the entrance to MA'DAM (more on that in a bit) and an exhibition about Amsterdam's history. A flight of stairs then takes you out onto the fenced viewing platform where you can see panoramic views over Amsterdam, with signboards explaining what you're looking at and plenty of photo opportunities!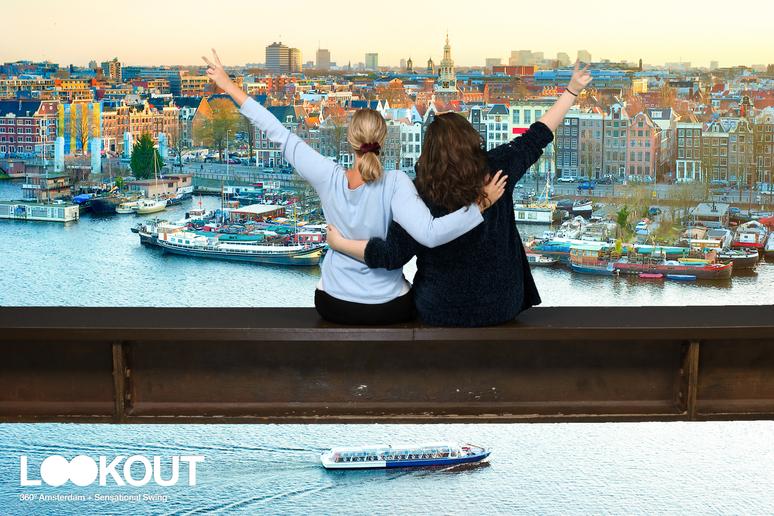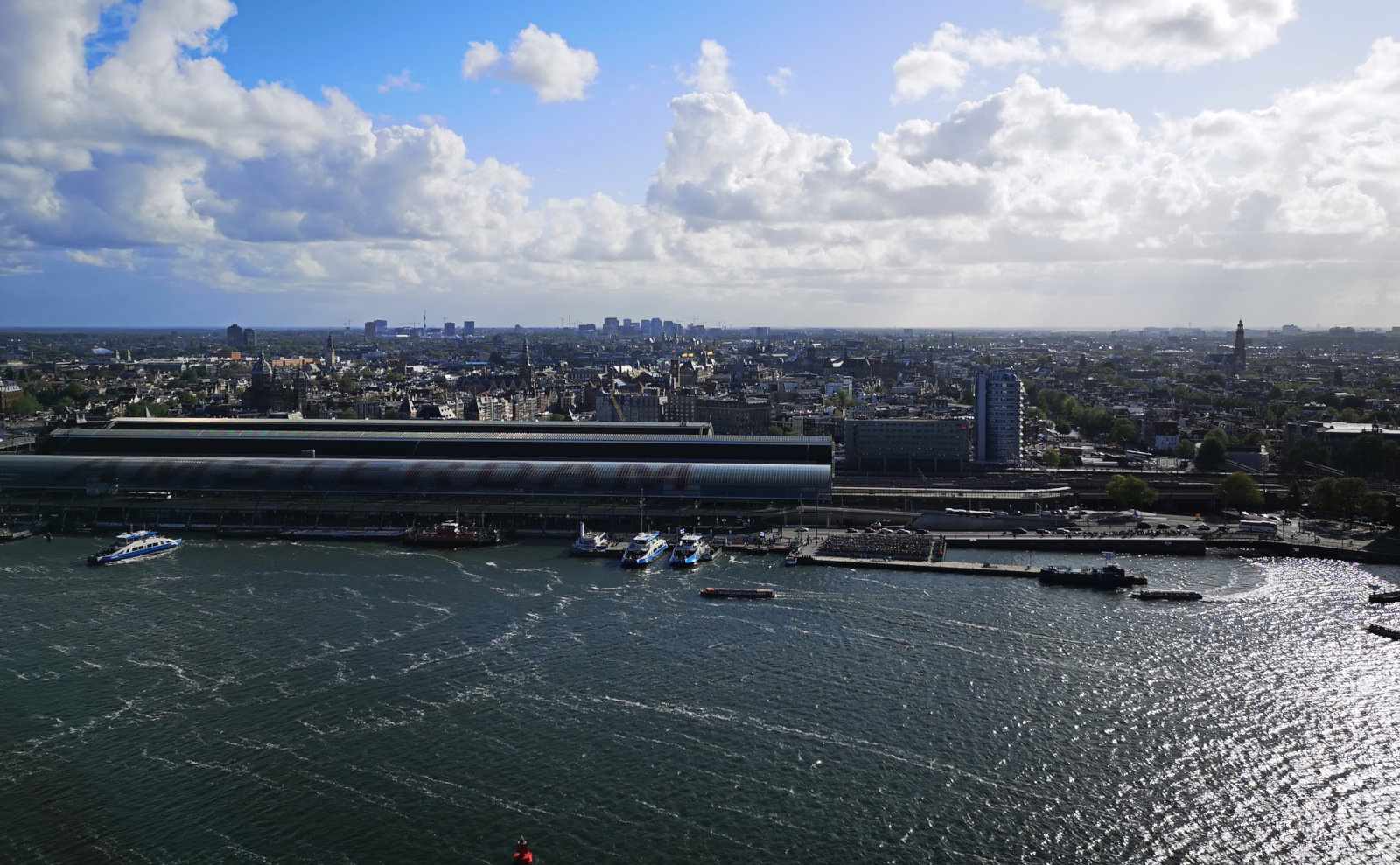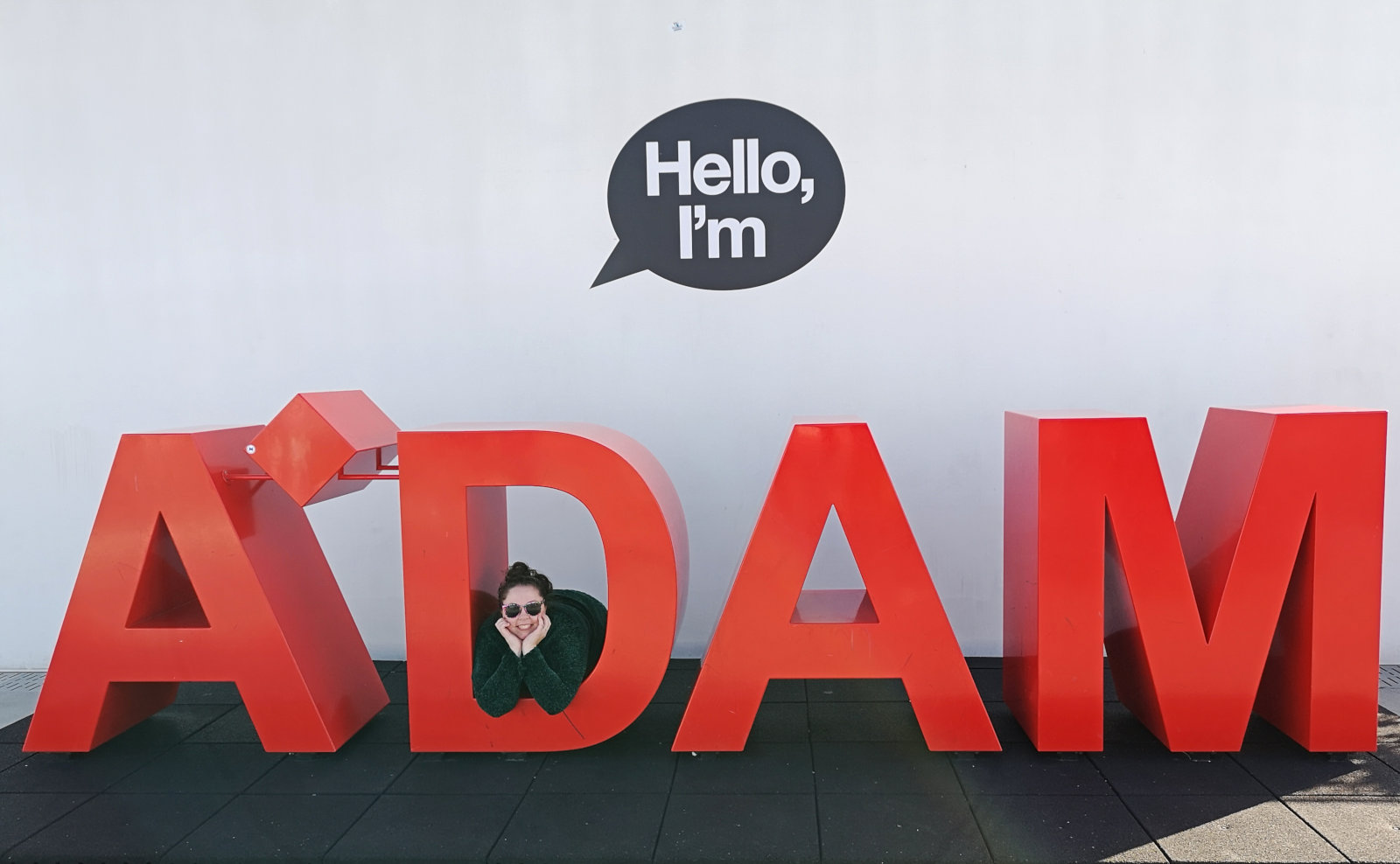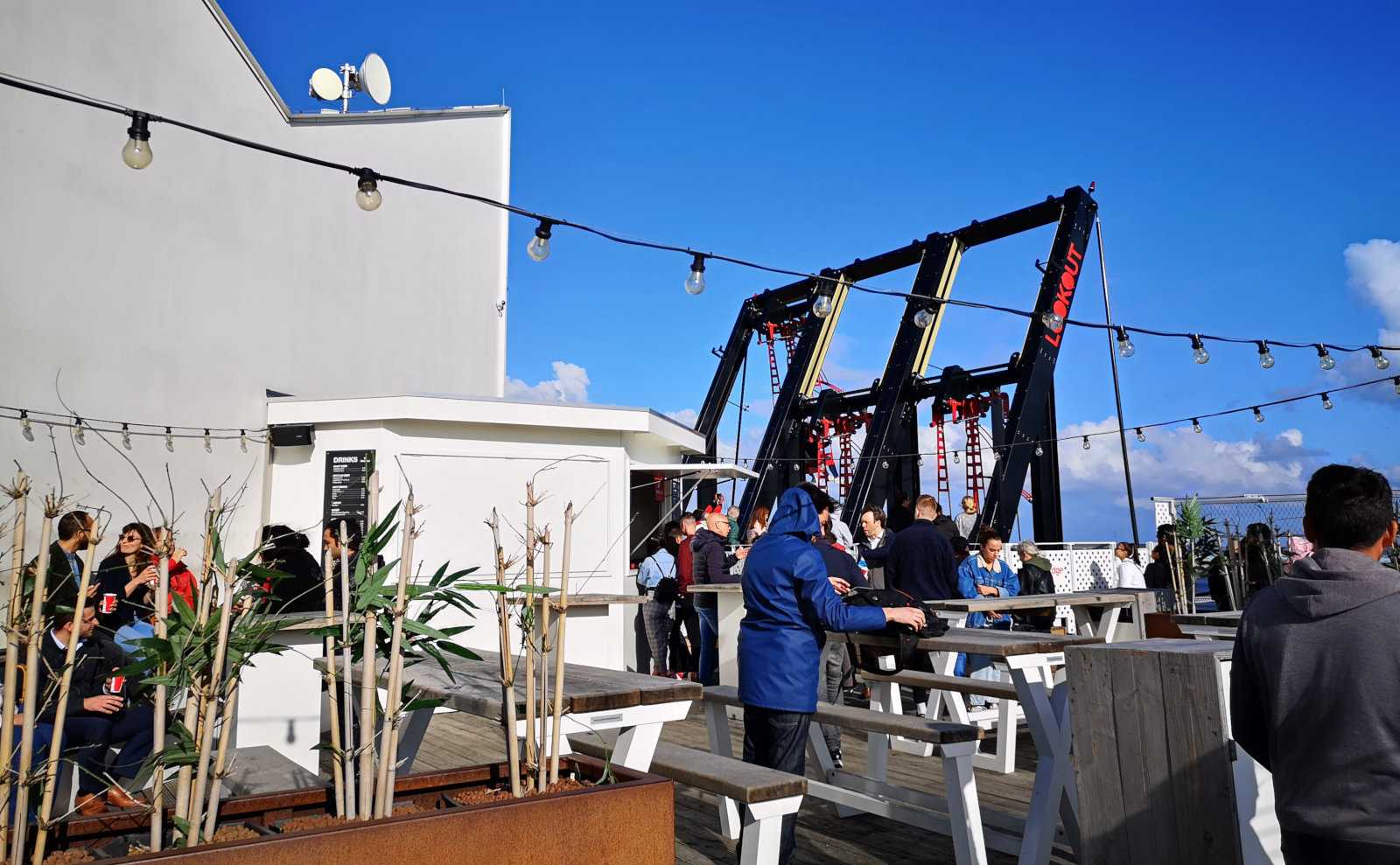 Over the Edge Swing: On the observation deck you can also find the Over the Edge Swing, apparently the highest swing in Europe! I am actually really not a fan of heights, I even feel nervous standing near the fenced edges of the observation deck so I will never ever go on the swing. But for an extra €5, you can swing out over the edge of the tower, which my friend Kirby did last time I visited.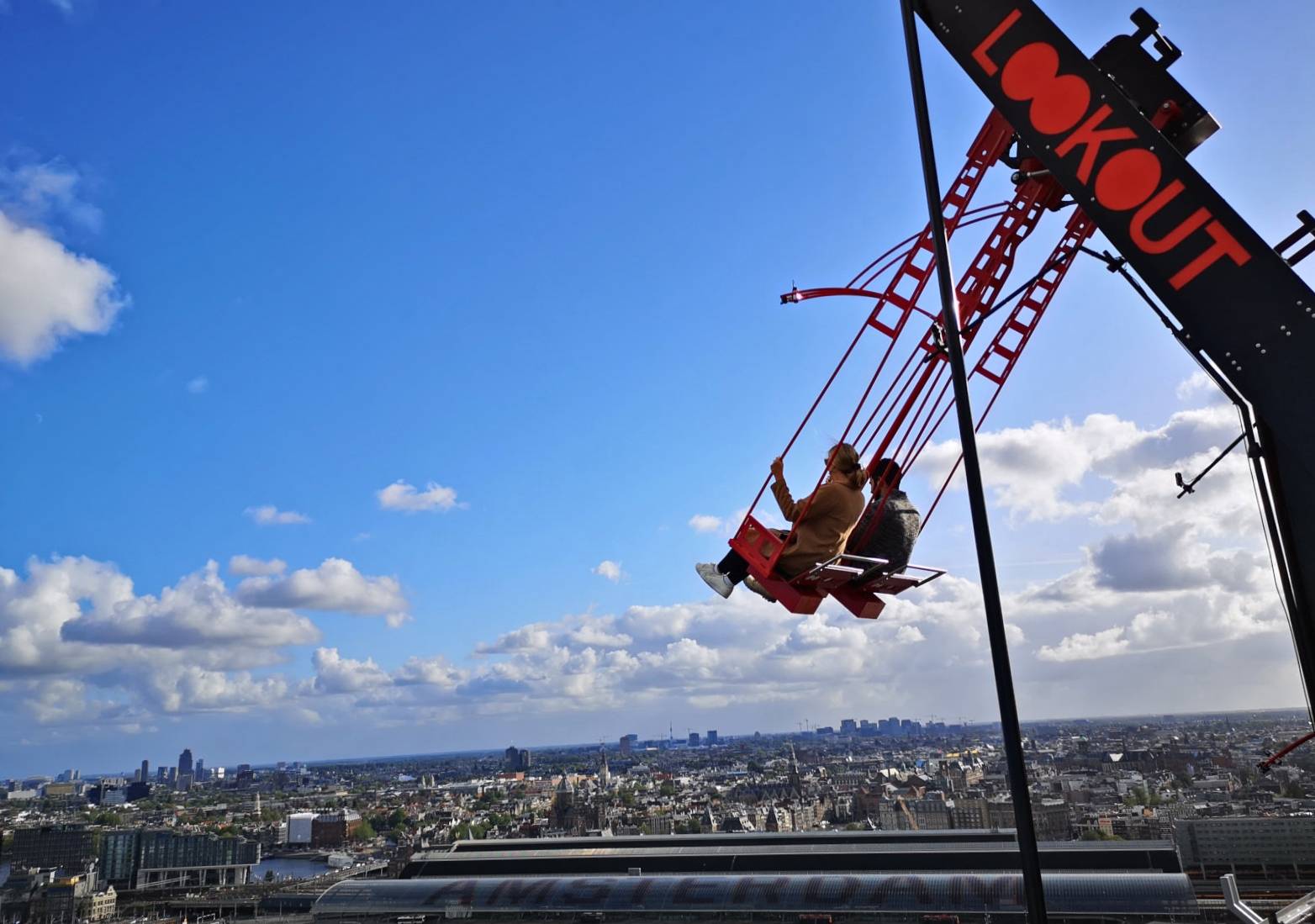 MA'DAM: Buying a ticket to the observation deck also gets you entry to MA'DAM, the bar and restaurant located on the 20th floor. After dark, it also becomes a nightclub and they serve some pretty delicious cocktails here as well. The views are also stunning, and can be enjoyed without worrying about the wind, rain or cold that can often be encountered on the observation deck!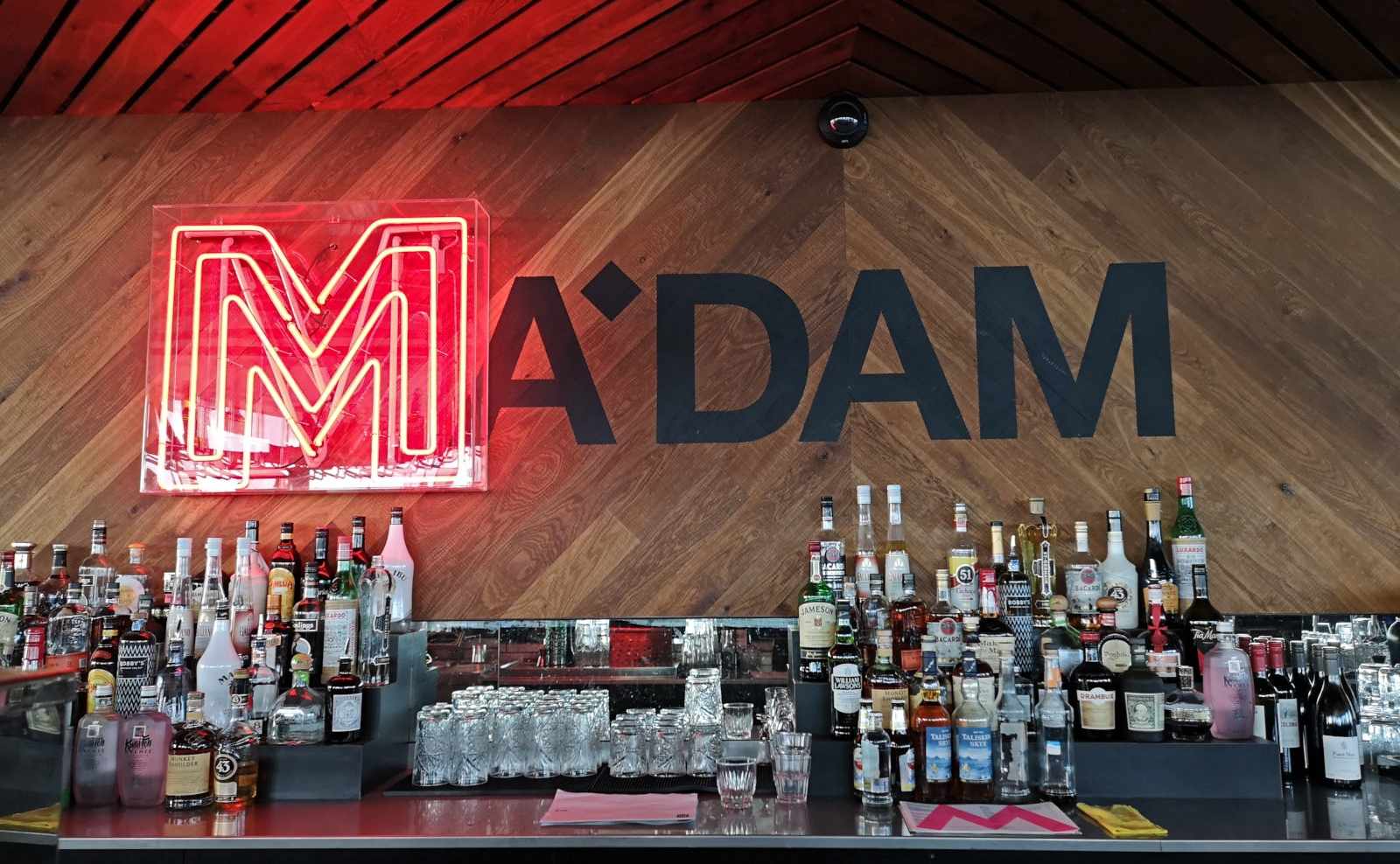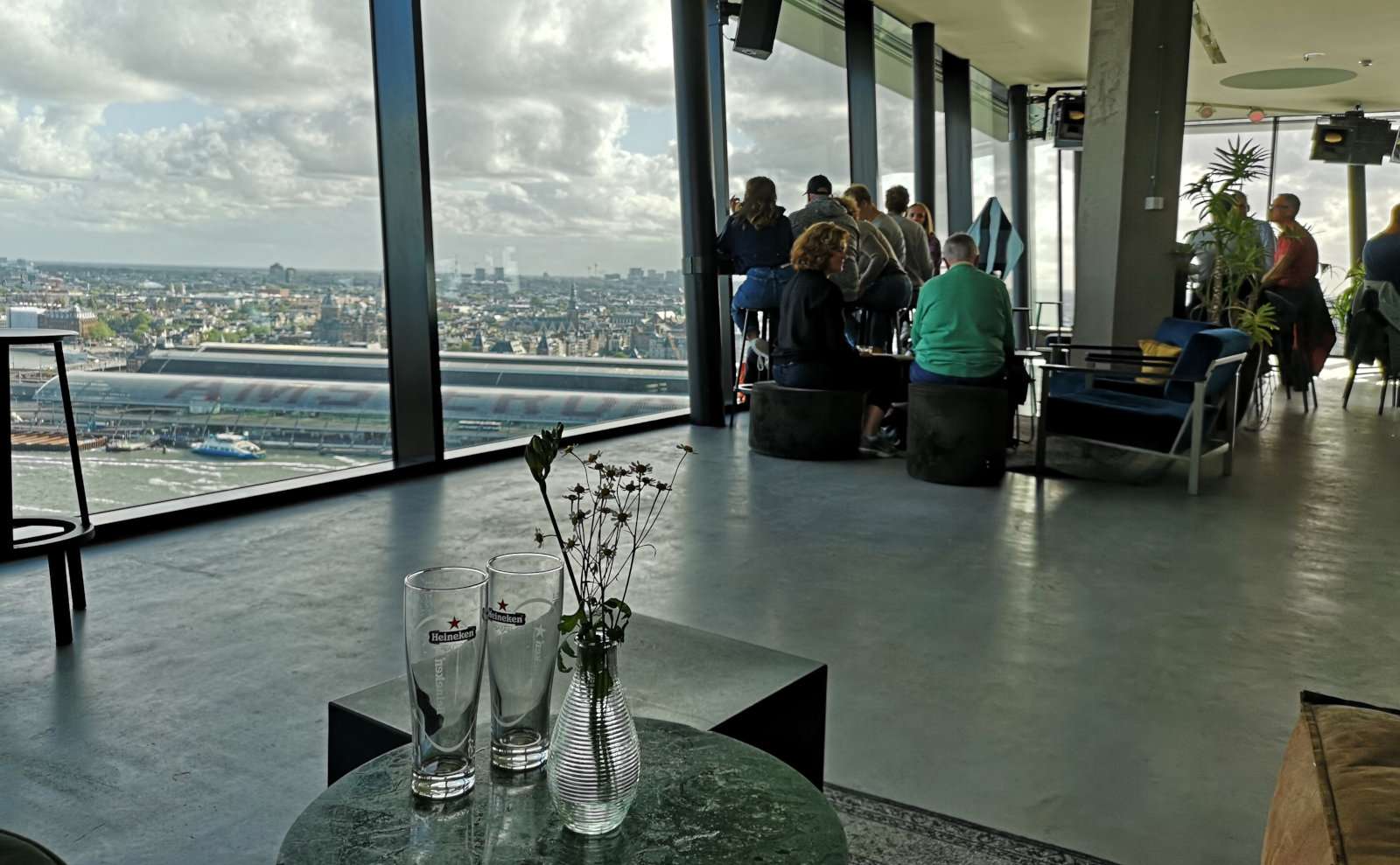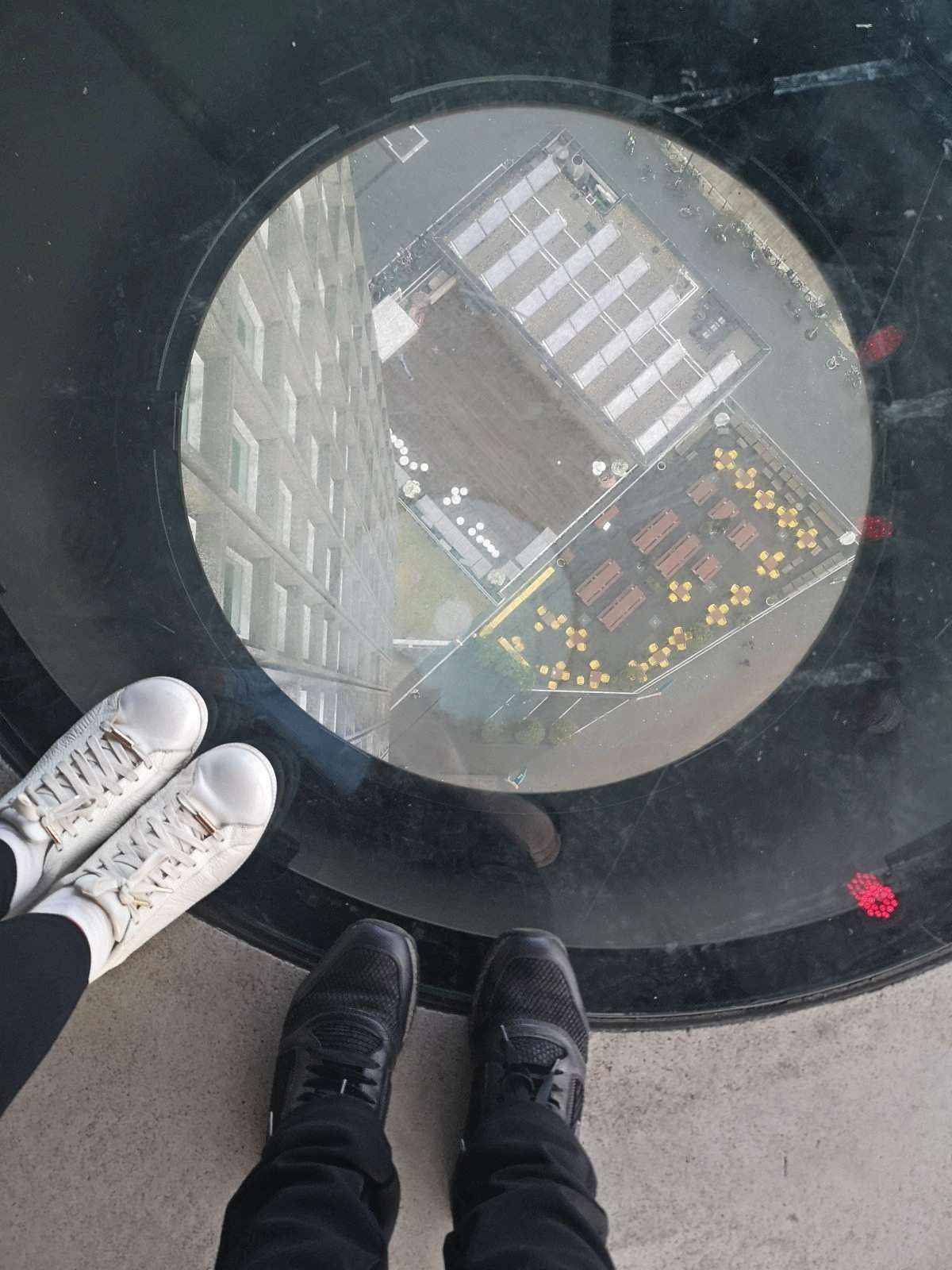 Moon: Underneath MA'DAM is the very swanky revolving restaurant Moon. I haven't eaten here because it looks to be both very expensive (although lunch seems more affordable than dinner) and not really to my taste, but I'm sure it would be romantic for a special occasion.
Sir Adam: On the first eight floors of the tower is an "urban luxury boutique hotel" known as Sir Adam. I haven't stayed here but I would definitely like to one day as the rooms look incredibly cool, as well as having beautiful views. Many of the businesses in A'DAM Toren focus on music (Gibson Guitars, Sony Music Entertainment and MassiveMusic all have offices) and the hotel has also been decorated with lots of groovy musical touches like records and guitars in the rooms.
The Butcher Social Club: On the ground floor of the tower is the Butcher Social Club, one of the locations of The Butcher burger franchise that started in Amsterdam and has now spread to Berlin and Ibiza. The one in A'DAM Toren is my favourite because of the views, decor and fun activities you can do! The food is also really good, as well as burgers they serve salads, nachos, steaks, chicken wings and (my fave) boozy milkshakes! I have also brought more than one set of visiting friends here, especially since there are arcade games, a pool table, foosball table, ping pong table and board games to entertain yourselves after a meal. I wrote about the Butcher Social Club and the other coolest places to eat in Amsterdam here.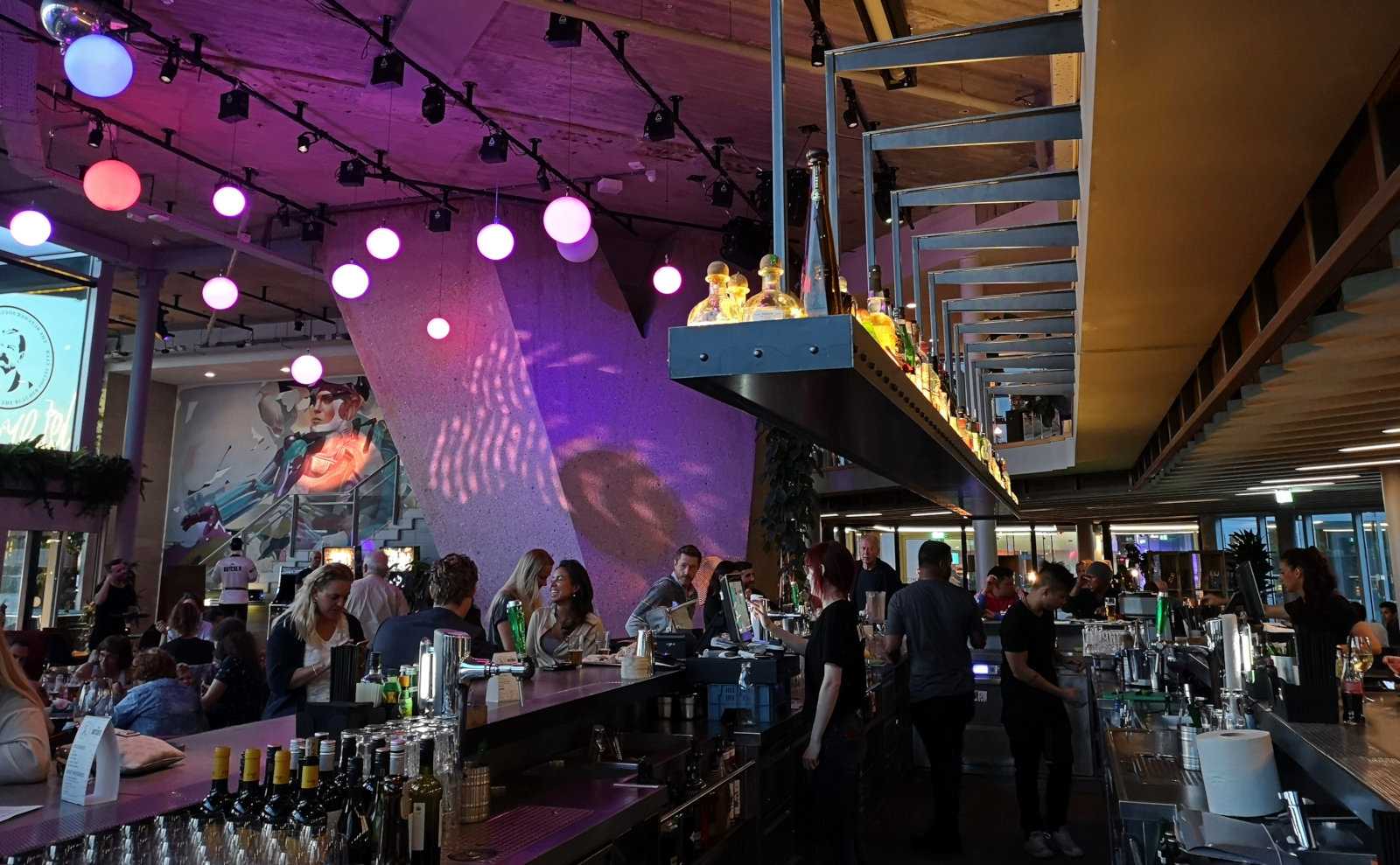 Shelter: There's also a literal underground nightclub at A'DAM Toren, called Shelter. I also haven't been here, but apparently it's a cavernous space with industrial-chic decor and hosts DJs every weekend.
What to do near A'dam Toren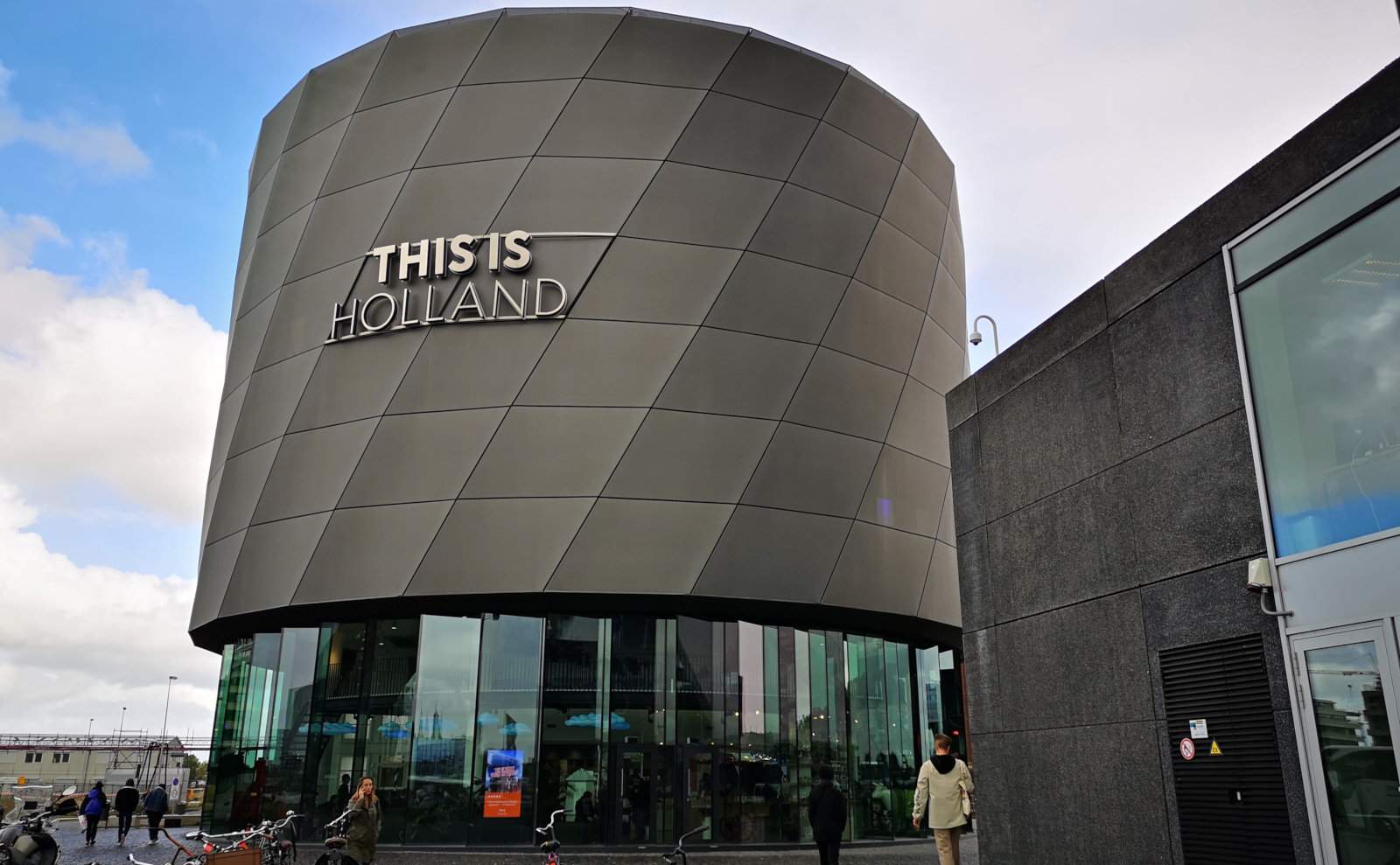 If you've headed across the river to A'DAM Toren anyway, and you have the time, I also recommend checking out the two other main attractions that are right next door.
Eye Film Museum: The big white building that looks kind of like a spaceship is the Eye Film Museum. It's quite a clever name since the river you cross is the River IJ (which sounds like eye) and you know, we use our eyes to view films! Not only is the building cool but it houses a permanent collection about the history of film (in the Netherlands and worldwide), which is free to enter. There's also a nice restaurant with views directly onto the river.
This is Holland: I'd been wanting to visit this for a while, and finally had the chance when showing my friends Kirby and Anthony around on the day that we visited the tower. This is Holland is a really fun 5D flight experience that lets you explore the whole of the Netherlands in about an hour! The main part is the flight or ride, where you're strapped into seats which move over a huge 3D video screen that makes you feel like you are literally flying through the sky. With added sounds, smells and even misting water at times, this is an excellent way to learn about the country of the Netherlands if you don't have time to explore much outside of Amsterdam. You can't take photos during the ride, but take my word for it, it's sooo much fun!
How to get there and other details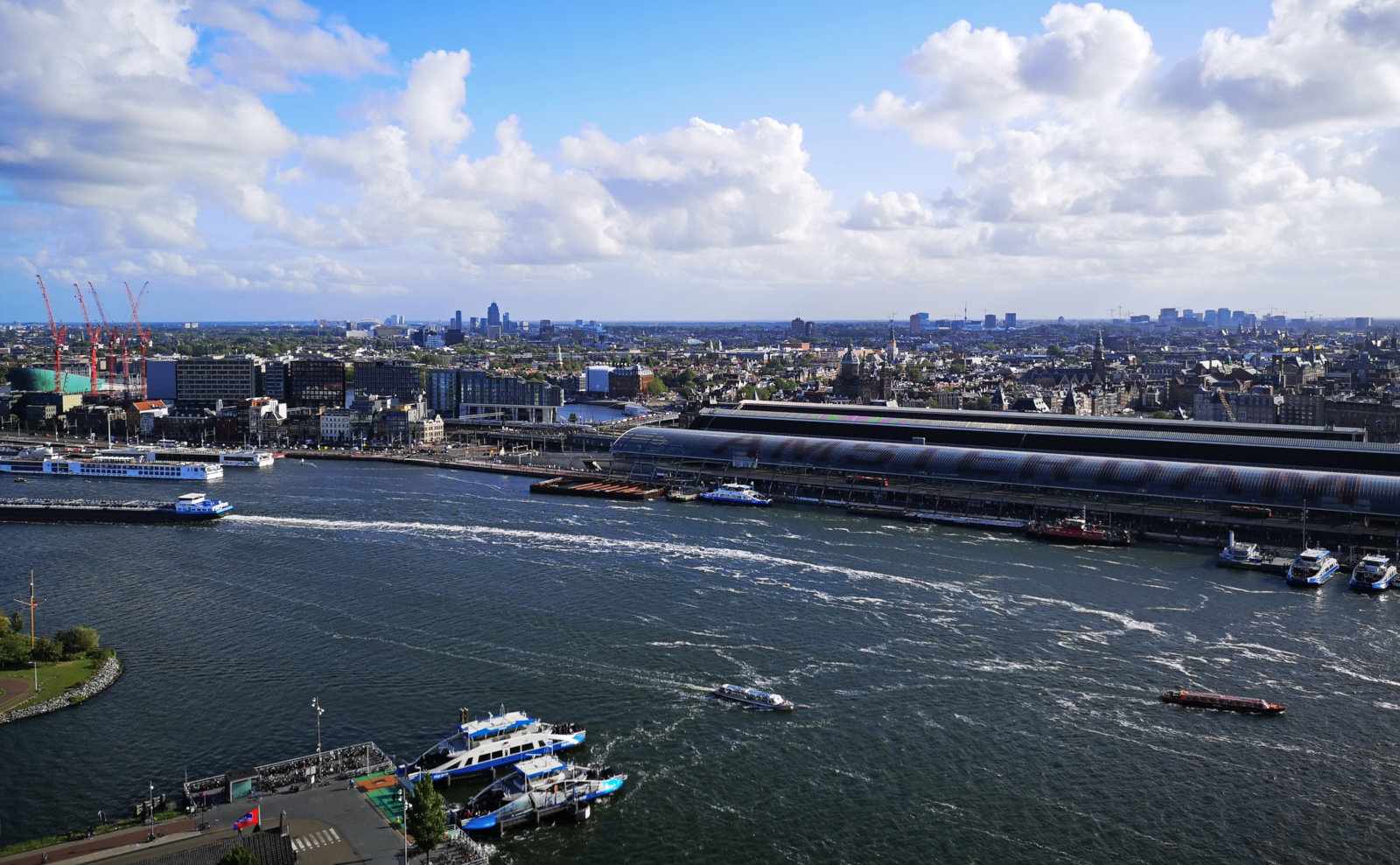 Getting to A'DAM Toren is actually really simple. When you walk outside of Centraal Station on the side facing the river, you can catch a ferry across the river for free! These ferries run from about 6.30am until 12.30am every day and depart every five minutes or so. Just make sure you get on the 901 ferry which also says Buiksloterweg or you might find yourself heading all the way to NDSM-Werf instead. You can also keep track of the ferries (and other transport in Amsterdam) via the 9292 app.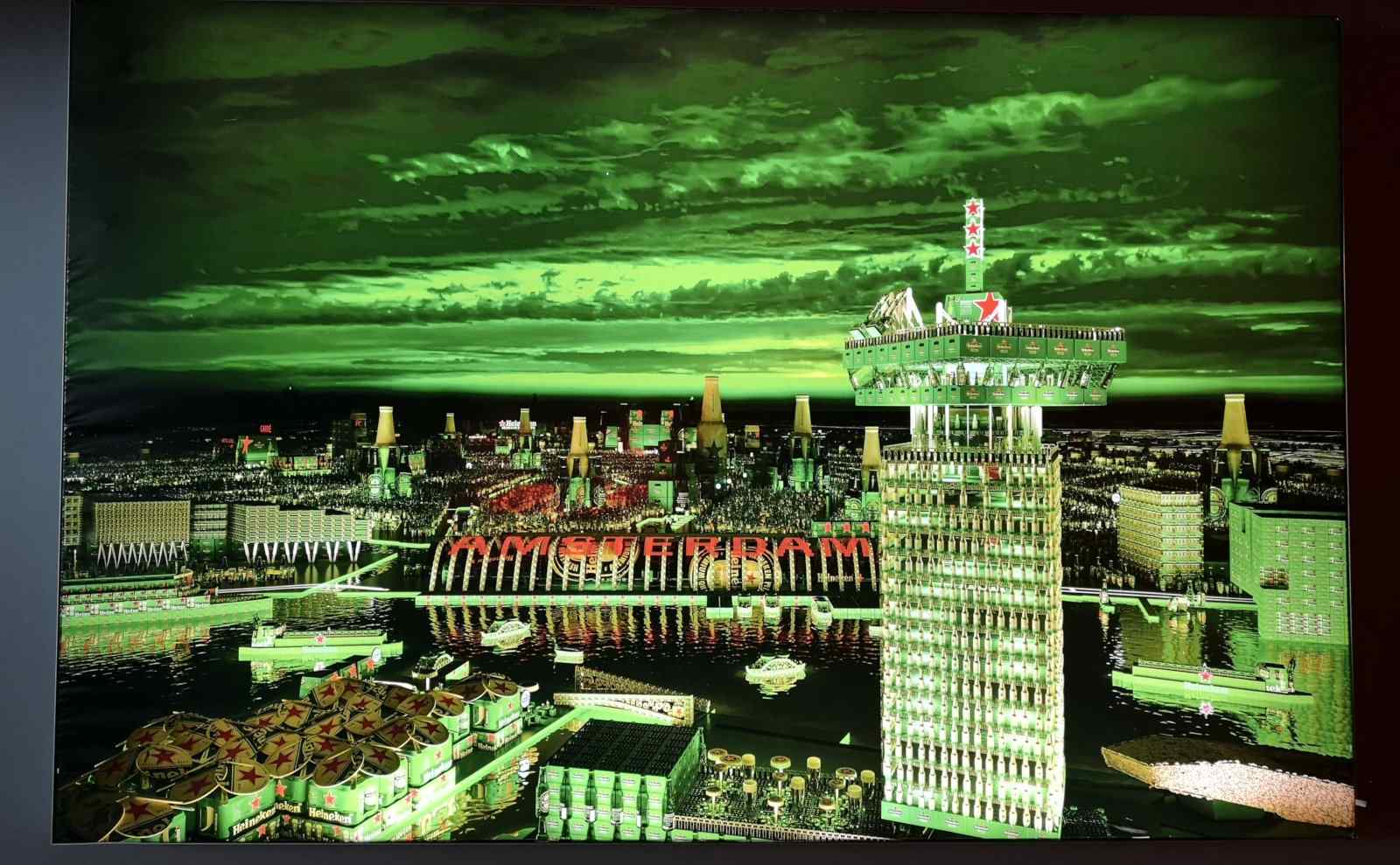 I hope you've found this guide helpful, but if you want more info about all the things to do in A'DAM Toren, check out the official website here.
Pin Me!
Have you visited A'DAM Toren or do you want to go? Let me know about it in the comments or pin one of these if you'd like to visit in the future!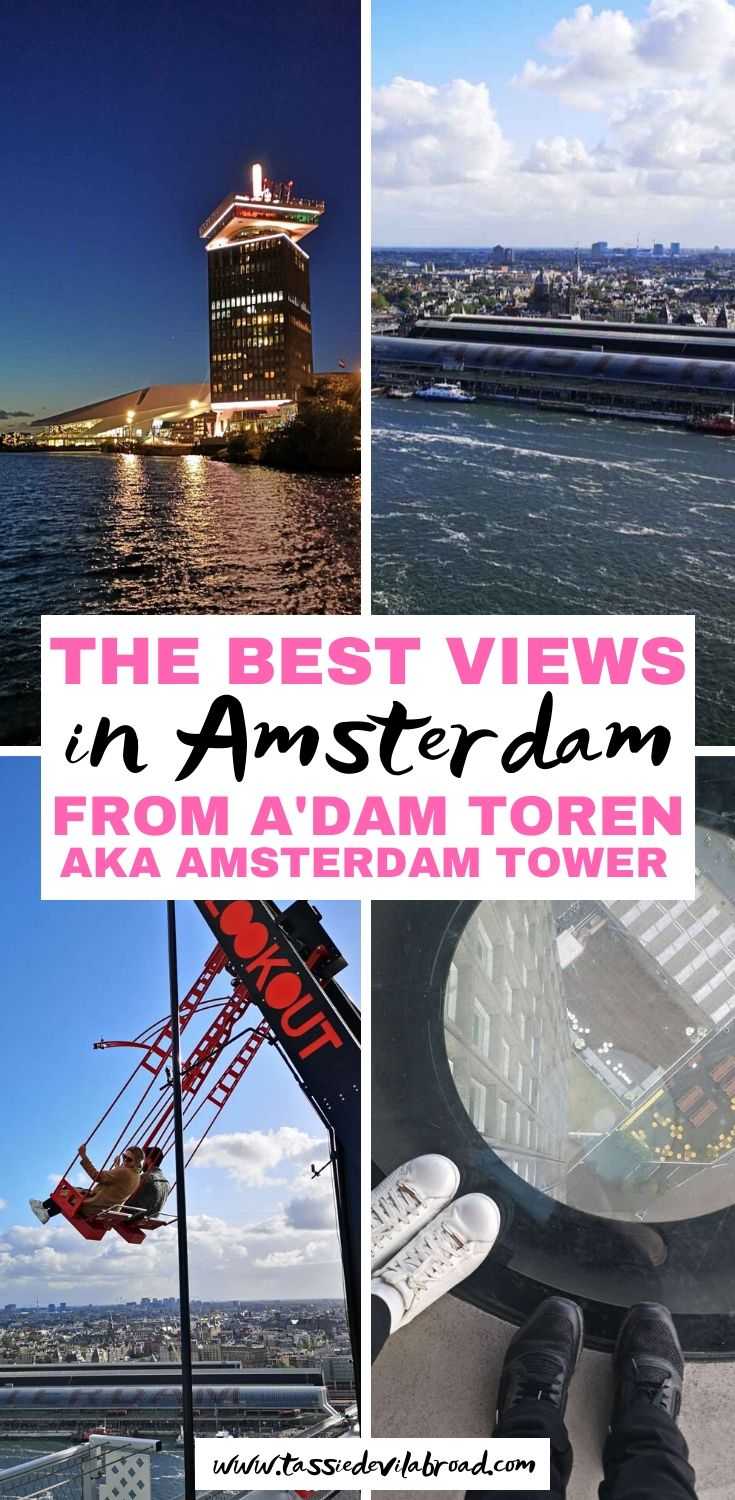 All information is true and correct at the time of publishing but I cannot be held responsible for changes in opening times and prices or businesses closing in the meantime. I always endeavour to keep my posts up to date but also encourage you to double-check the official website of an attraction for information on when it is open, how much it costs etc.