So I've already written a couple of times about our trip to Luxembourg (here if you're interested in where we stayed and here for an intriguing mystery about donkeys!) and this week it's time for a tour of the coolest castle we saw during our visit: Vianden Castle!
Located less than an hour from Luxembourg City, this castle nestles on a hill overlooking the picturesque town of Vianden. Like all the places we visited in Luxembourg, this town is absolutely gorgeous, with winding cobbled streets, pretty buildings, a lovely river and of course the impressive castle watching over it all. We walked a little bit around the town before we went up to the castle, and it is definitely the type of place that would be lovely to come back to if we had more time. It would be nice to visit again in winter and see the castle blanketed in snow! As it was, the day we visited was very hot and even though it's a small place it is a big draw-card for tourists and was quite busy.
There were lots of cafes with tables by the river, which would be lovely to sit and relax at. French author Victor Hugo (of Les Misérables and The Hunchback of Notre-Dame fame) lived in the castle for three whole months in 1871, so there are statues of him around, as well as streets and hotels named after him!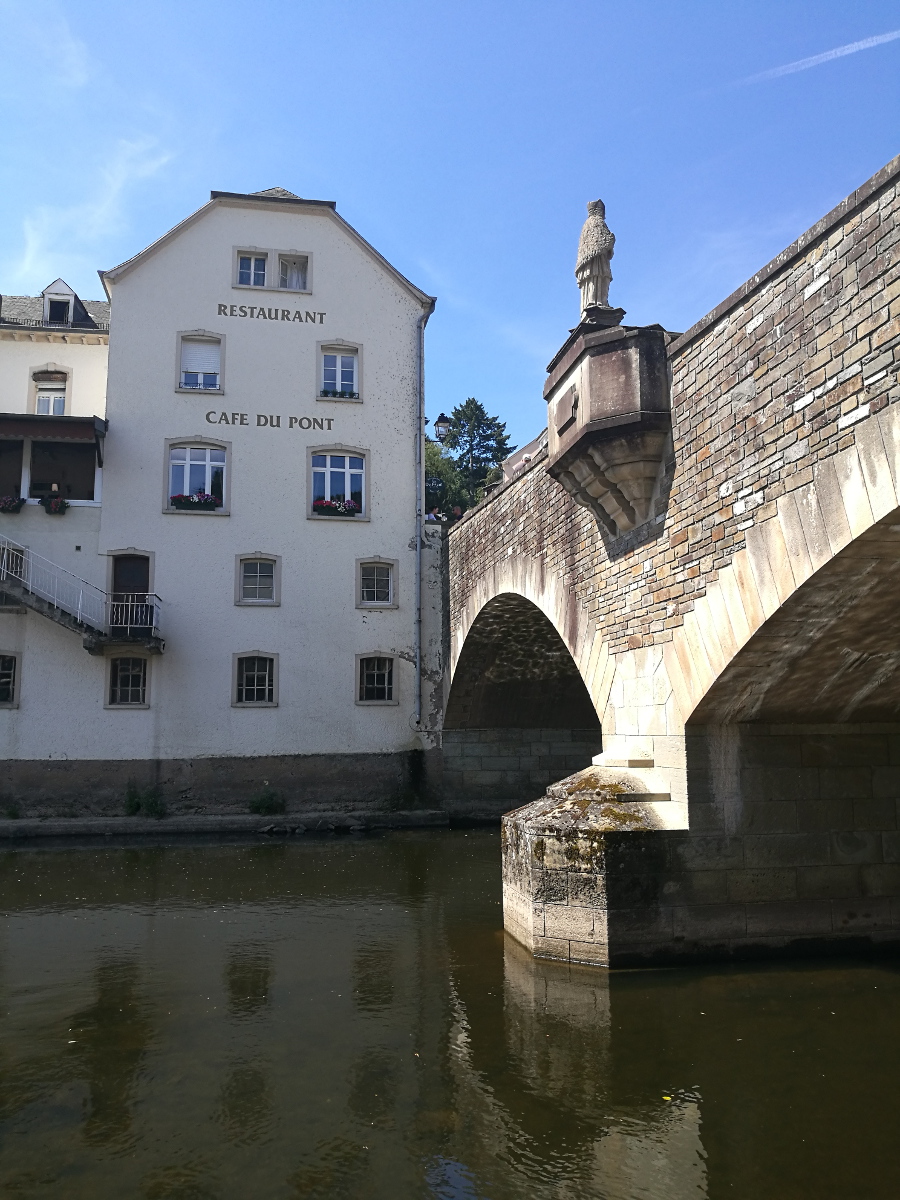 As you can see, the town itself is gorgeous. But as I said, it was very hot, so we were quite pleased to be able to go into the cooler walls of the stone castle to escape the heat – after hiking up a big hill to get there!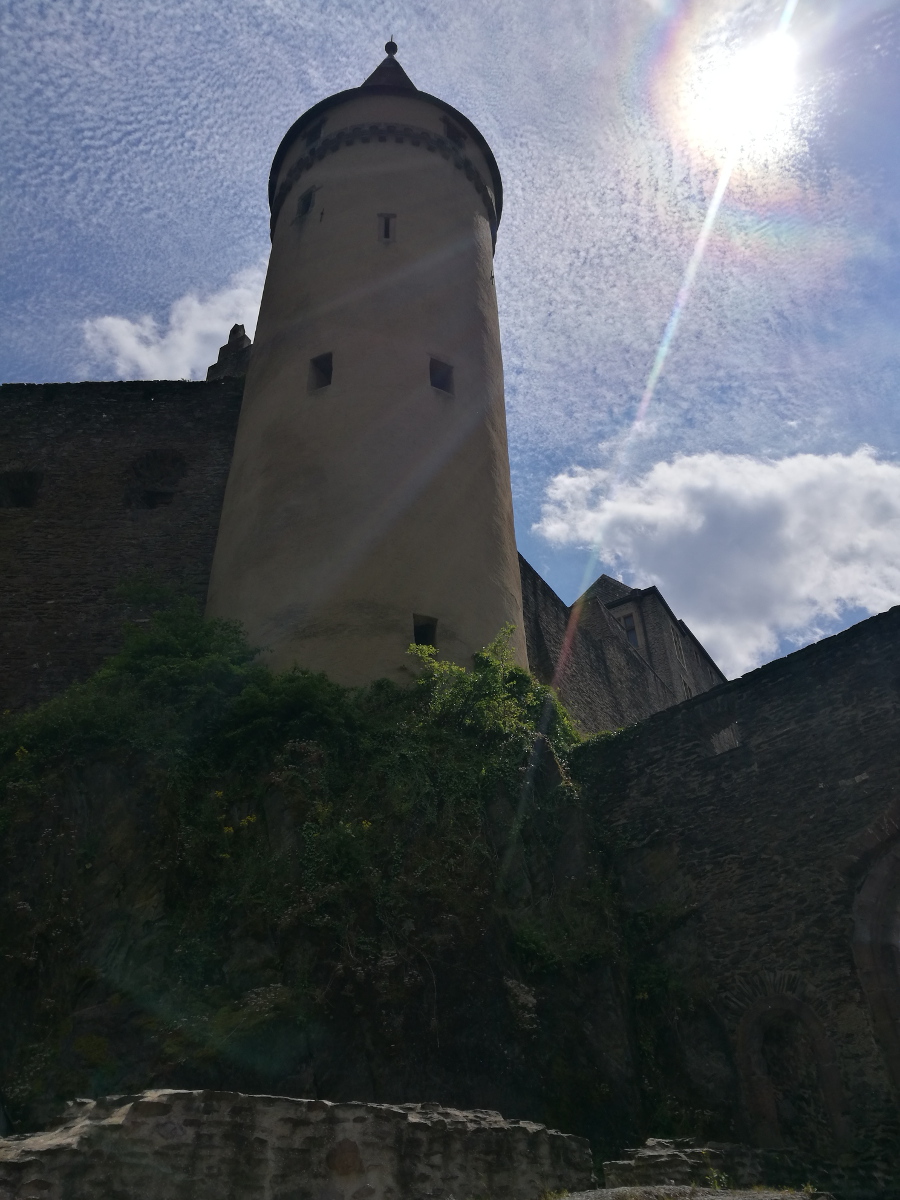 It's definitely one of the more impressive castles I've visited and we were so lucky to have such a stunning day to visit!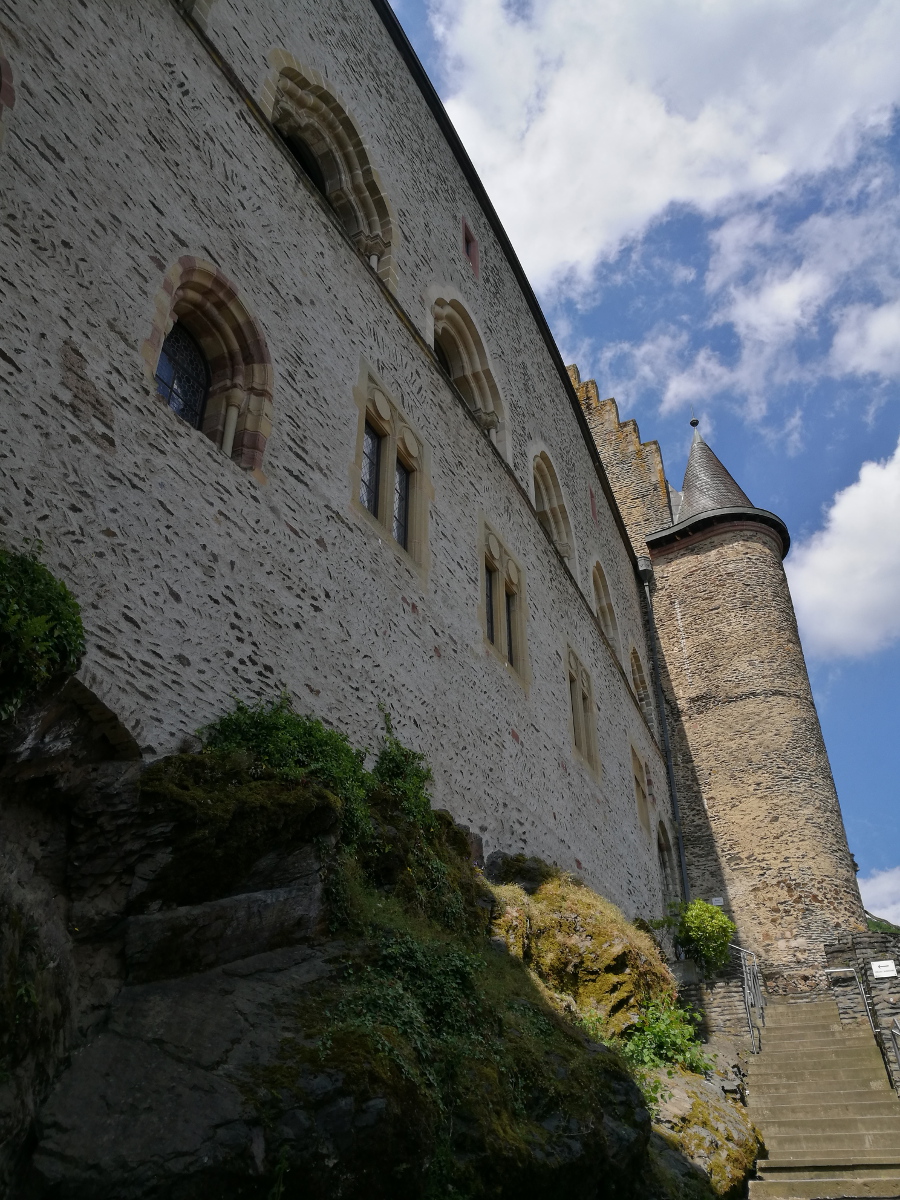 One of the things I really liked about Vianden Castle is the way the self-guided tour is set up. It all flows from one part of the castle to another and they have set up much of the interior to look like it would have hundreds of years ago. Originally constructed between the 11th and 14th centuries on the foundations of a Roman fort, it was the seat of the counts of Vianden until the 15th century. It fell into a state of ruin after being sold piece by piece in 1820 and wasn't restored until it was transferred to the State's ownership in 1977. There are displays of armour and weapons inside, as well as tapestries, models of the way the castle looked over the years and, of course, pretty breathtaking views down over the town of Vianden in the valley below.
There were even actors/volunteers dressed up in traditional costumes demonstrating the foods and food preparation of the time as well as some who gave a demonstration using old muskets, which were very loud!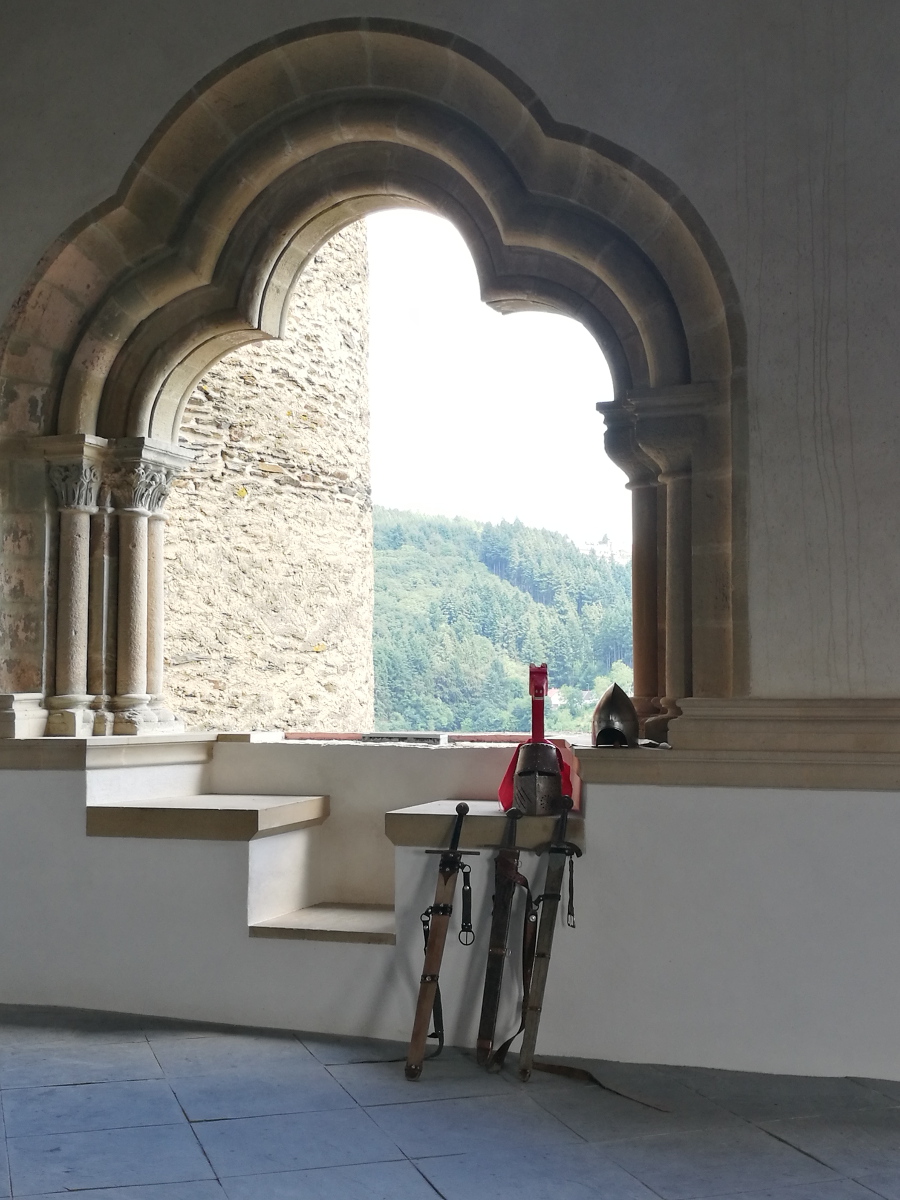 I am always fascinated by beautiful old tapestries and stained glass windows, and Vianden Castle has both in abundance!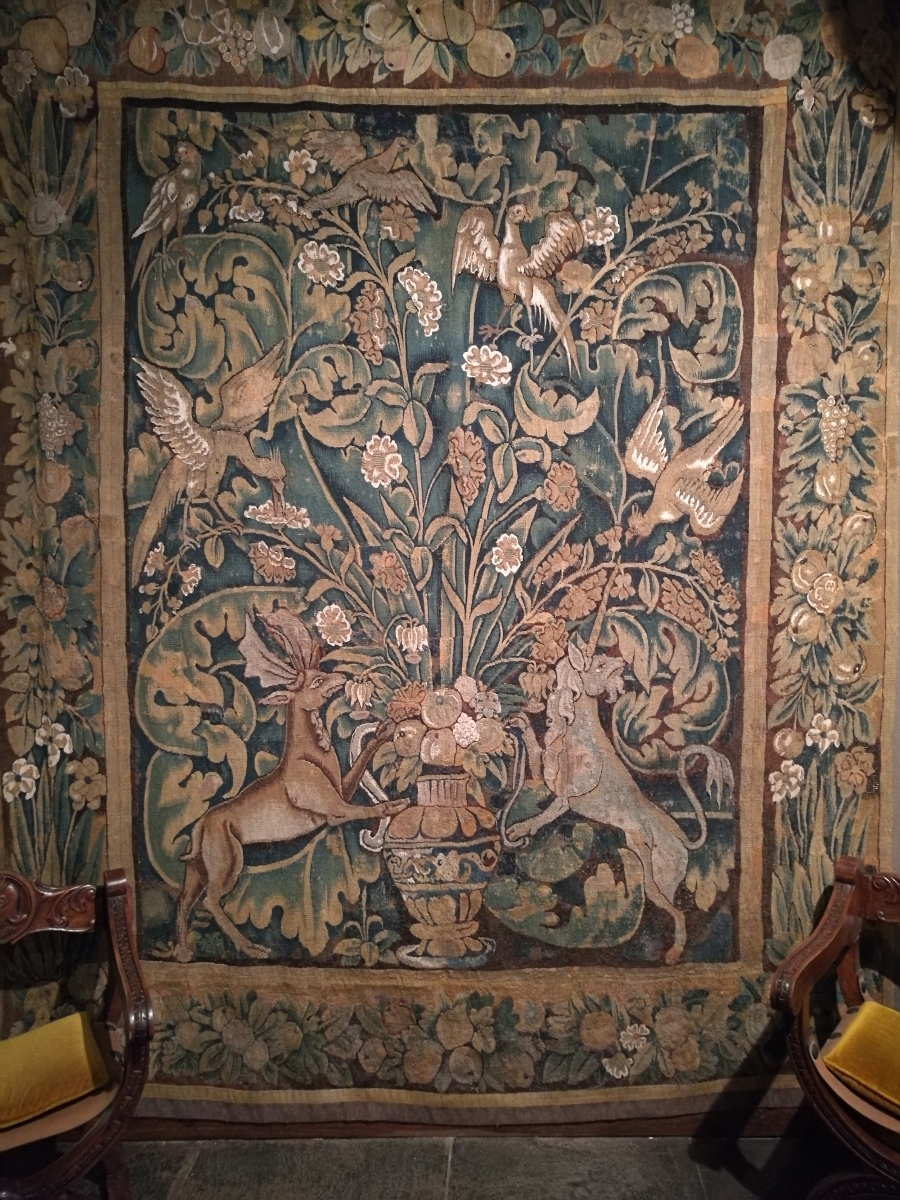 You could also walk out onto the battlements, as well as peer through windows to take in the views over the valley. You can see parts of the original castle walls as well as the picturesque town of Vianden below. It was so beautiful!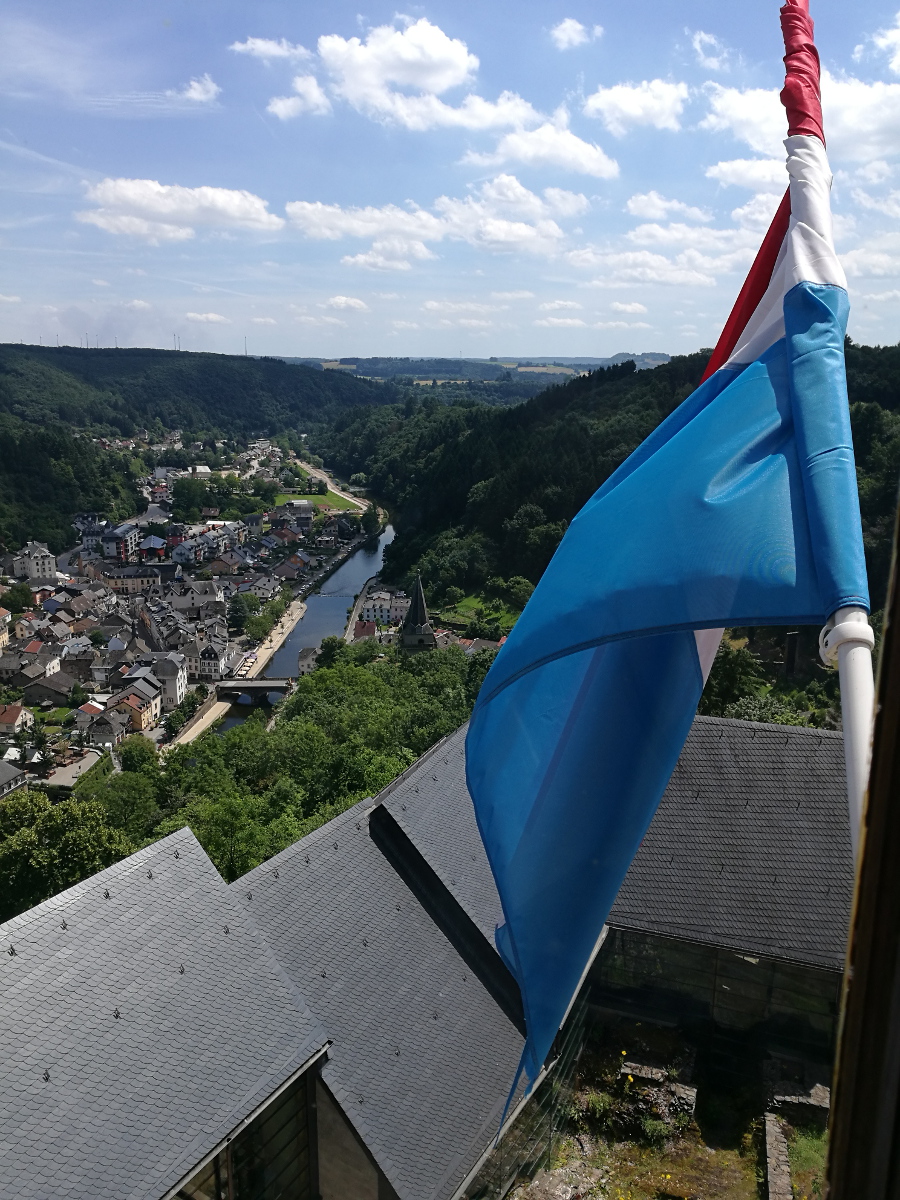 The castle has also been used as a location in several movies, including "Sherlock Holmes and the Leading Lady" (1991) with Christopher Lee as Sherlock, "Shadow of the Vampire" (2000) starring John Malkovich and Willem Dafoe, and "George and the Dragon" (2004) with James Purefoy, Piper Perabo, Michael Clarke Duncan and Patrick Swayze! The castle has had quite a distinguished past and is considered to be one of the largest and most beautiful 'feudal residences of the Romanesque and Gothic periods in Europe'. It is easy to see why as it is gorgeous and, in my opinion, well worth visiting if you are in Luxembourg!
The castle is open every day from 10am but has different closing times based on the time of year and only costs 6 euros for adults. For more information about opening times, ticket prices and anything else you might still want to know, check out the website here.
If you love castles as much as me then you might also like to check out my posts on visiting Burg Eltz (a magical castle in Germany), Reichsburg Cochem (also in Germany), Windsor Castle (England) or Dover Castle (as well as the White Cliffs and Canterbury Cathedral, also in England). Do you like visiting castles? Let me know the best castle you've ever been to or one you're dying to see, in the comments. And don't forget to pin this so you can plan your own trip to Vianden Castle!