While Amsterdam's STRAAT Graffiti and Street Art Museum has been open since the pandemic, it's taken me a little while to visit. Located in the very cool neighbourhood of NDSM-Werf, this museum is housed inside a former warehouse that was used to build ships, so there's a huge amount of space for displaying equally massive artworks. I'm a big fan of street art so I've been wanting to visit this museum ever since I heard about it, and I finally did a few weeks ago! It was particularly interesting since I've been to the area before the museum was even thought of, so I could see how much the area has changed. Read on to find out everything you need to know about visiting this unique and fascinating art museum for yourself.
This post contains affiliate links. This means that if you follow a link and then purchase or book something, I will earn a small commission at no extra charge to you. This helps me with the costs incurred from running this site and means I can keep bringing you travel content like this. You can read more about this on my privacy page. Thanks for your support!
Before STRAAT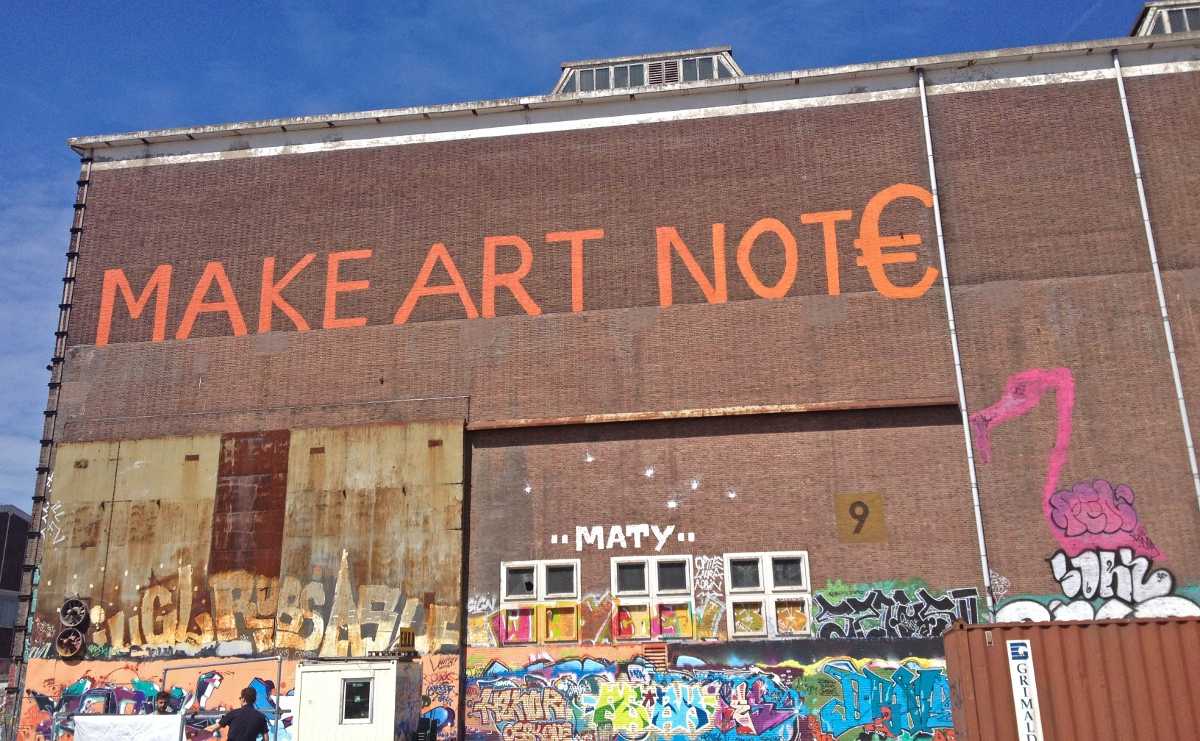 The NDSM-Werf neighbourhood is located on the north side of the River IJ, a bit further up the river from Amsterdam Centraal. This was once the home of the Nederlandsche Dok en Scheepsbouw Maatschappij shipbuilding company (where the NDSM part comes from) but after the company left in 1984 the area became derelict until it was rejuvenated in the early 2000s. I have visited NDSM-Werf many times, it's one of my favourite places to take visitors to Amsterdam, and I also think it's a great spot to base yourself for exploring the city!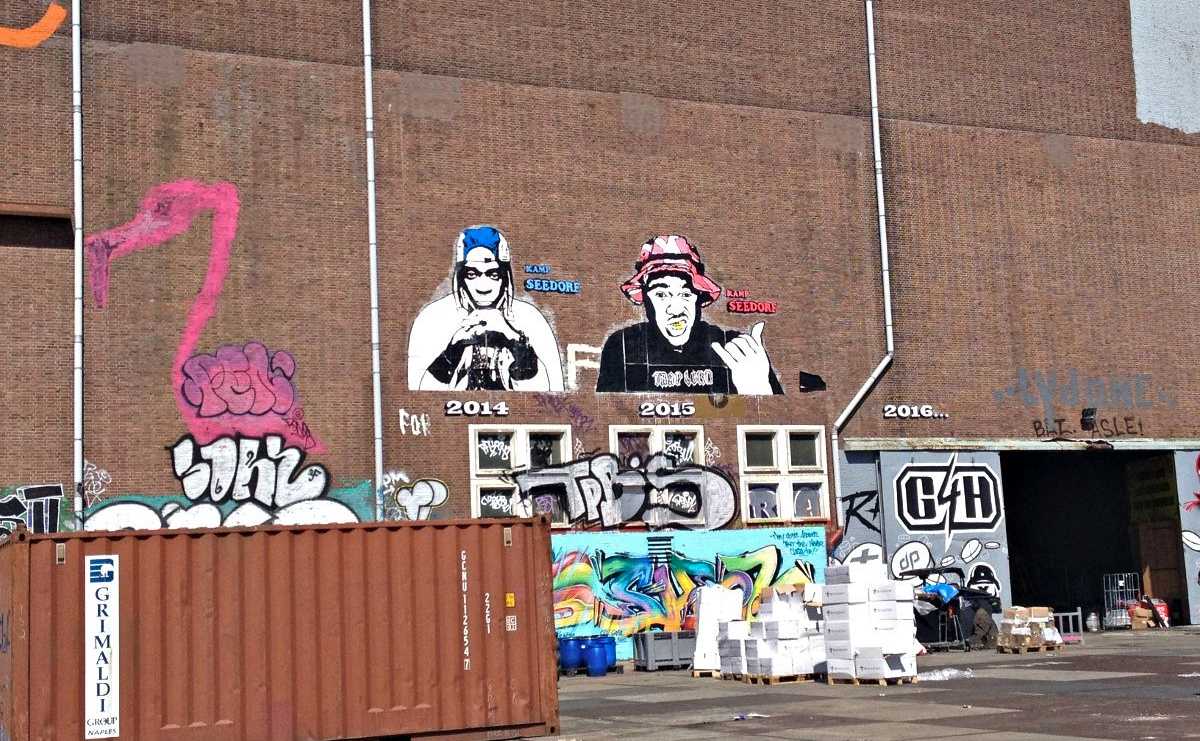 When I first visited NDSM-Werf, the NDSM-Loods warehouse had already been turned into a vibrant space housing studios and offices for creative businesses, but the warehouse to the left of it wasn't open to the public. However, the entire area was a hotspot for graffiti and street art, with many very cool murals to spot, which often changed as other artists came and painted over things. In 2016, internationally renowned Brazilian street artist Eduardo Kobra painted a 240-square mural of Anne Frank on this wall, titled "Let Me Be Myself" which became a very popular spot for photos. Now the STRAAT Museum has built on the hip, artsy draw of the area, and is probably the number one thing you must do when visiting NDSM-Werf!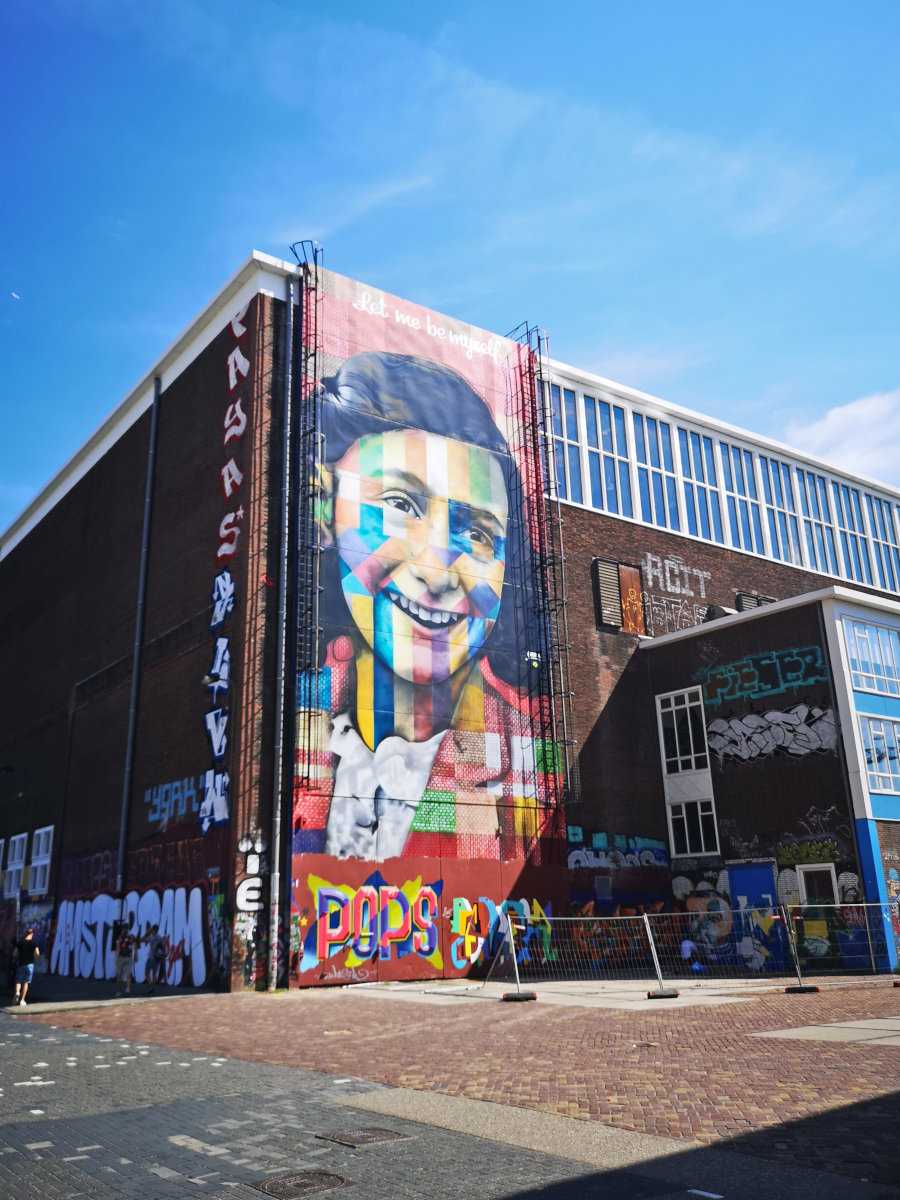 About STRAAT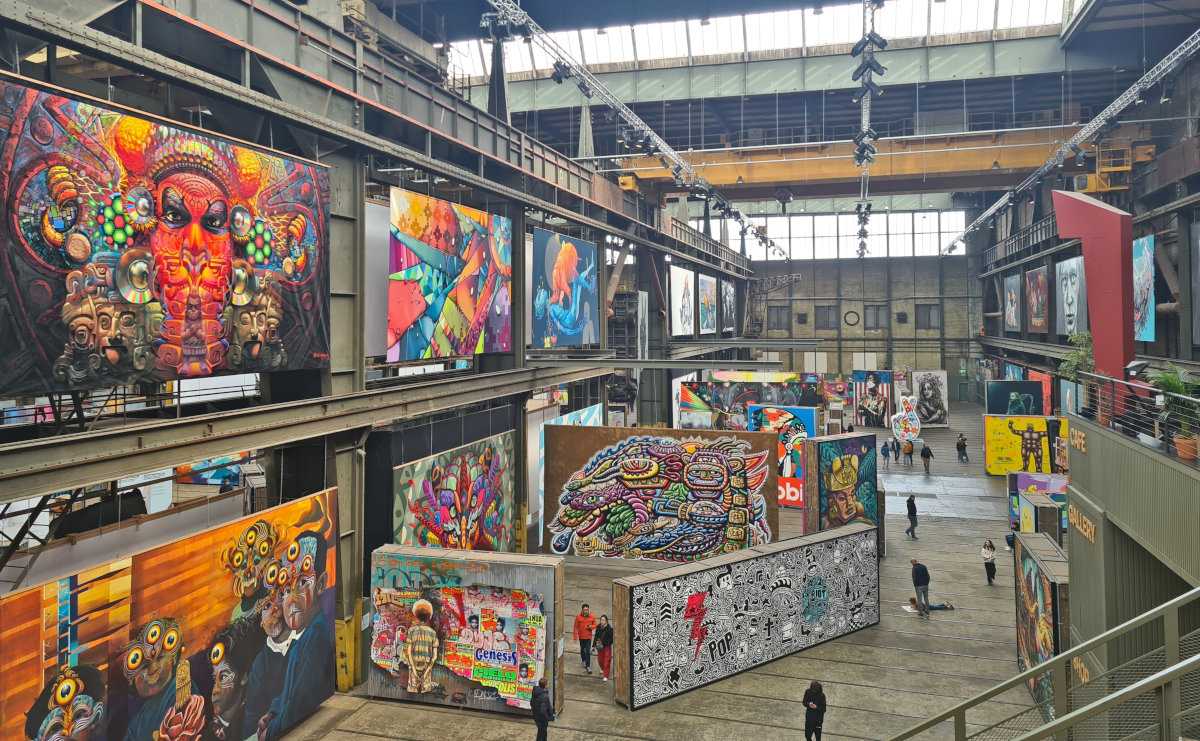 STRAAT officially opened in 2020, although artists from around the world had been coming in to fill the warehouse with paintings for five years in the lead-up to the museum's opening. Some of the biggest names in street art are displayed here, with many huge paintings as well as installation art and sculptures. Today there are more than 160 artworks on display, most of which were created on-site. Each piece has a corresponding panel telling you about the artist and the piece, including a little about their inspiration or why they painted that image. It's now the largest street art museum in the world, so it's a must-see for fans of huge pieces!
Visiting STRAAT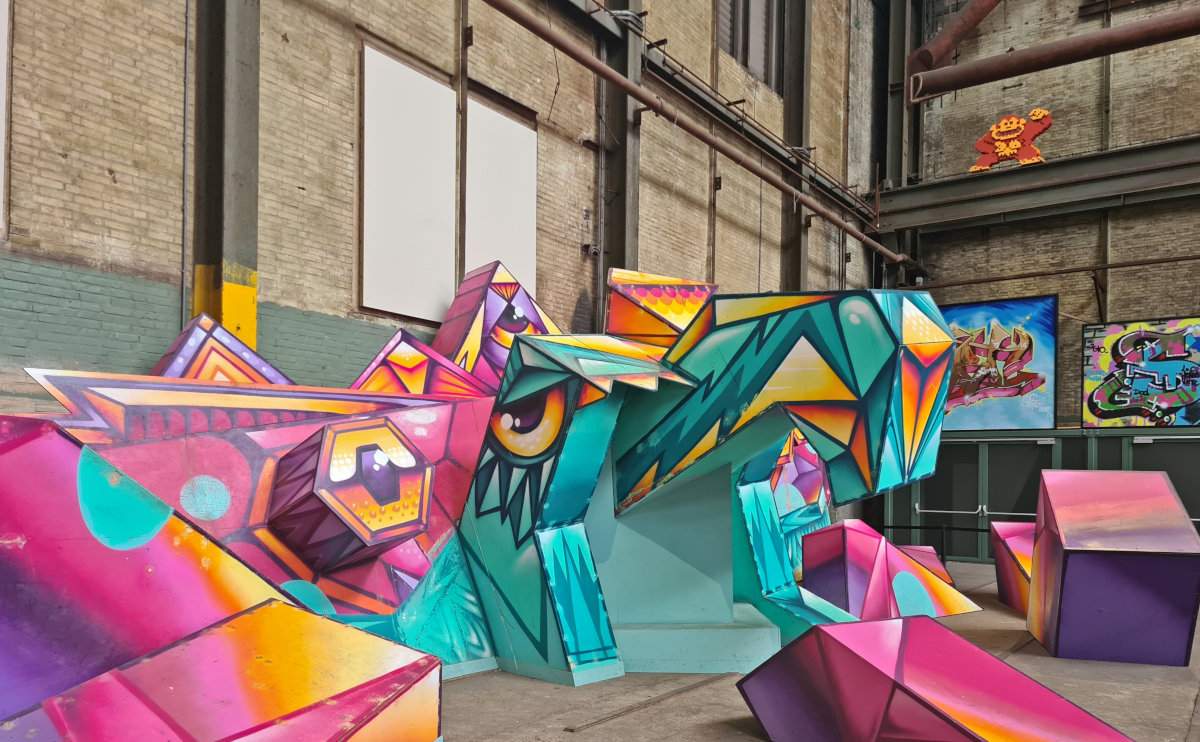 Visiting STRAAT is very cool, not least because you're wandering through a huge warehouse awed by massive paintings, some of which have even been done on a van hanging from the ceiling! When I visited there was also a piece that you could actually go inside of, as well as a side room that holds an interactive piece – when you touch the wall at certain times you can dictate the colours that then fill in the outlines.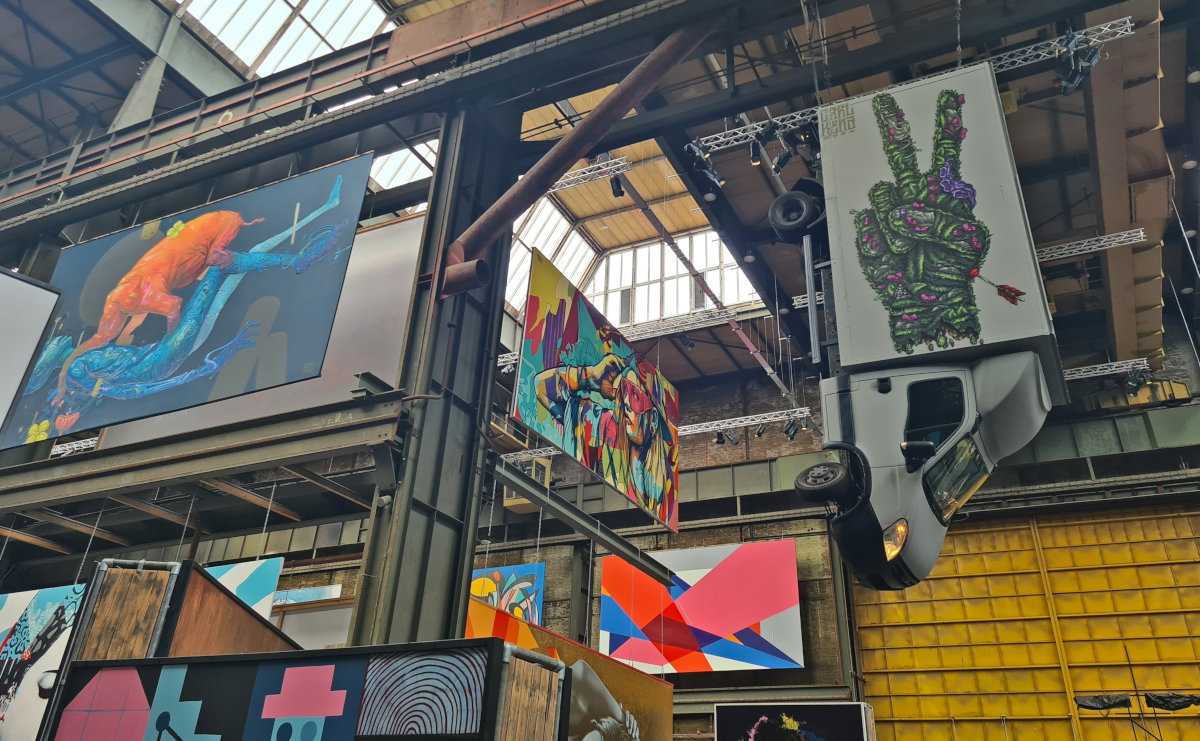 While it's easy to feel dwarfed by many of the pieces (have I mentioned how big they are yet?!) there's also a second-story panorama platform you can walk up to and see the paintings from up high, which also helps some of the details become more clear on the ones that are higher up on the walls. There's also a very cool little café here which looks like a nice spot to have some refreshments surrounded by art.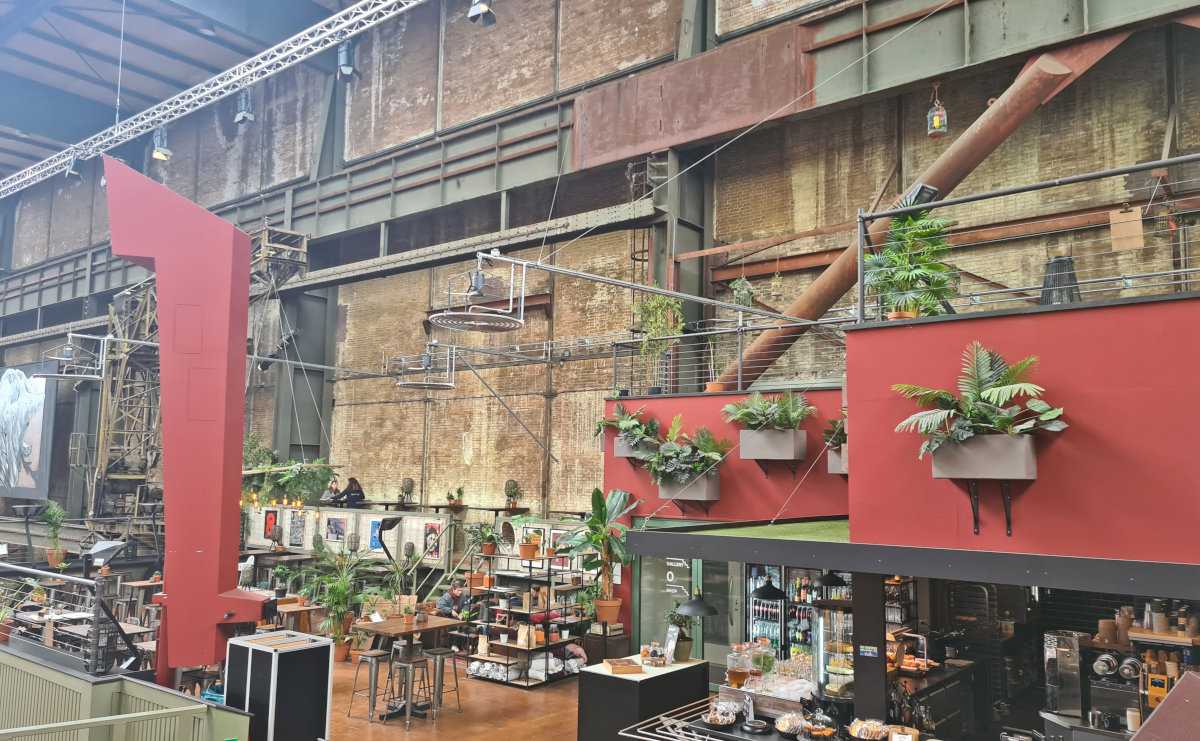 My Favourite Pieces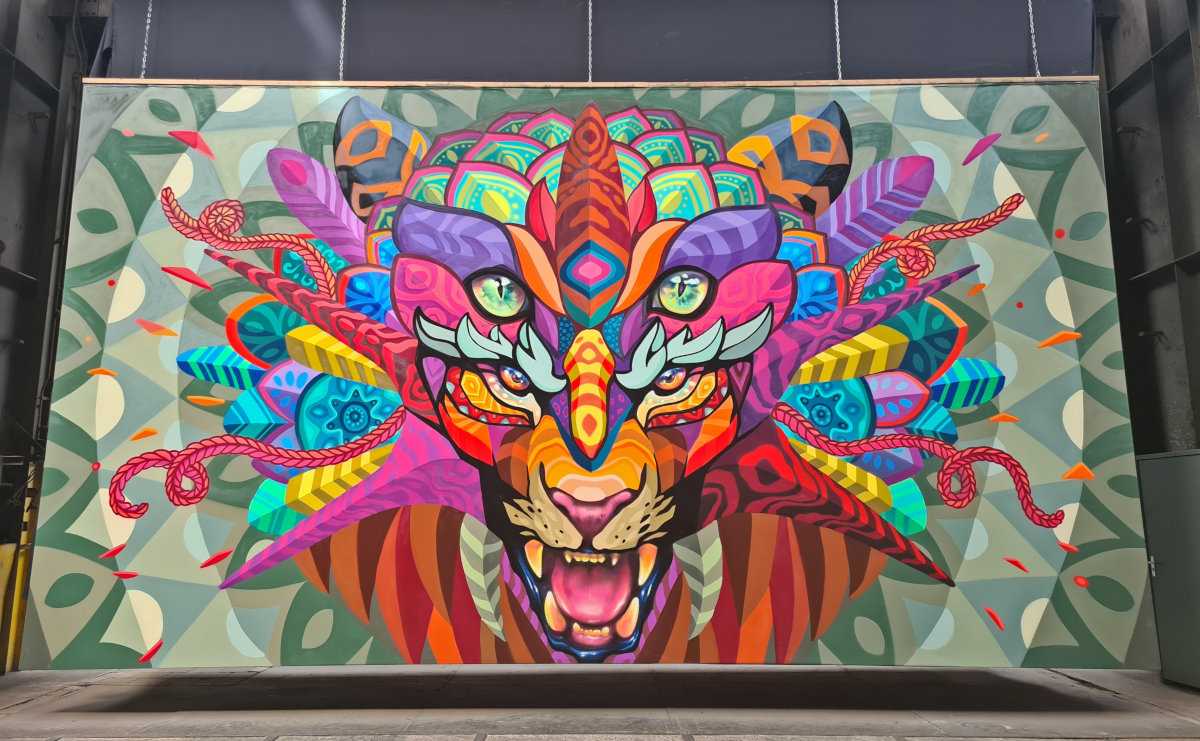 I don't want to just make this post a photo essay of all the pieces on display because that kind of defeats the purpose of telling you to go visit – there should be some surprises left for you! But there were also so many amazing paintings that I loved, so I thought I'd at least share my favourites, as difficult as it is to narrow that list down…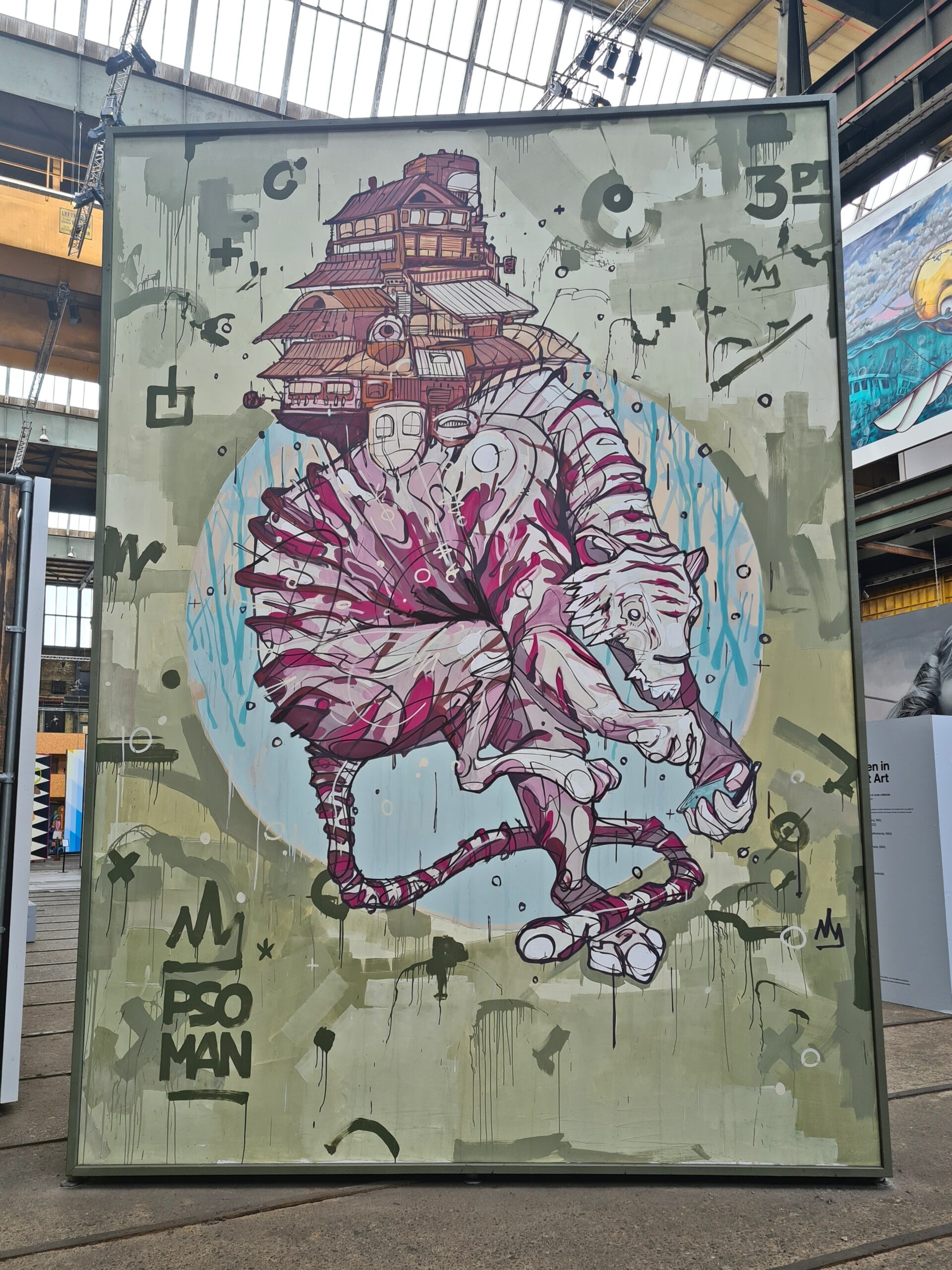 I've always been obsessed with animals, especially mammals and even more especially predators like wolves, bears and big cats (oh my!) so I thought the picture at the top of this section and the one above were both very cool with their quite different depictions of tigers. The very colourful tiger, lion and eagle that have been fused together is called "Theft and Love" by Mexican street artist Farid Rueda. The tiger with a city on his back is called "Fallin' Apart" and was created by Belgian artist Pso Man. He's also painted a number of very cool murals of different animals with structures on them, which I would love to see in real life!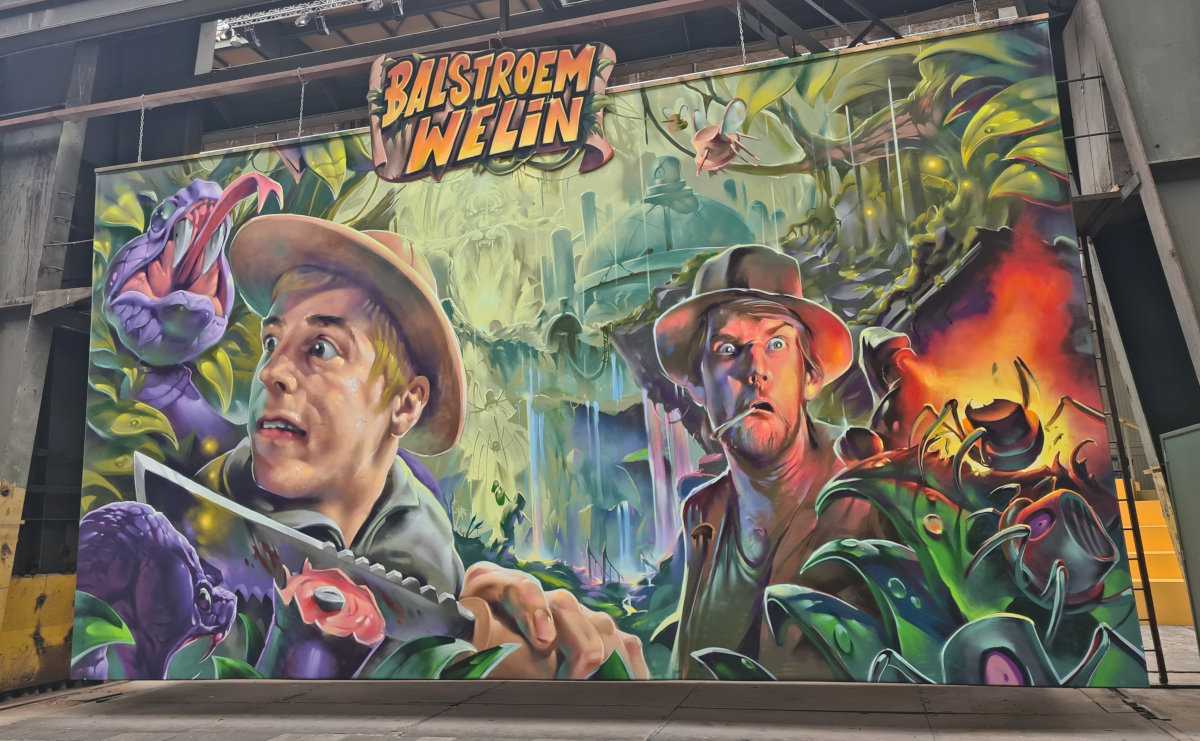 The above homage to Indiana Jones is called "Writers of the Lost Art" and was painted by two Danish artists who often collaborate, Andreas Welin and Rasmus Balstrøm. This piece is a metaphor for two artists "moving through the street art jungle, competing for walls and art projects" and I really loved the two character faces, in particular.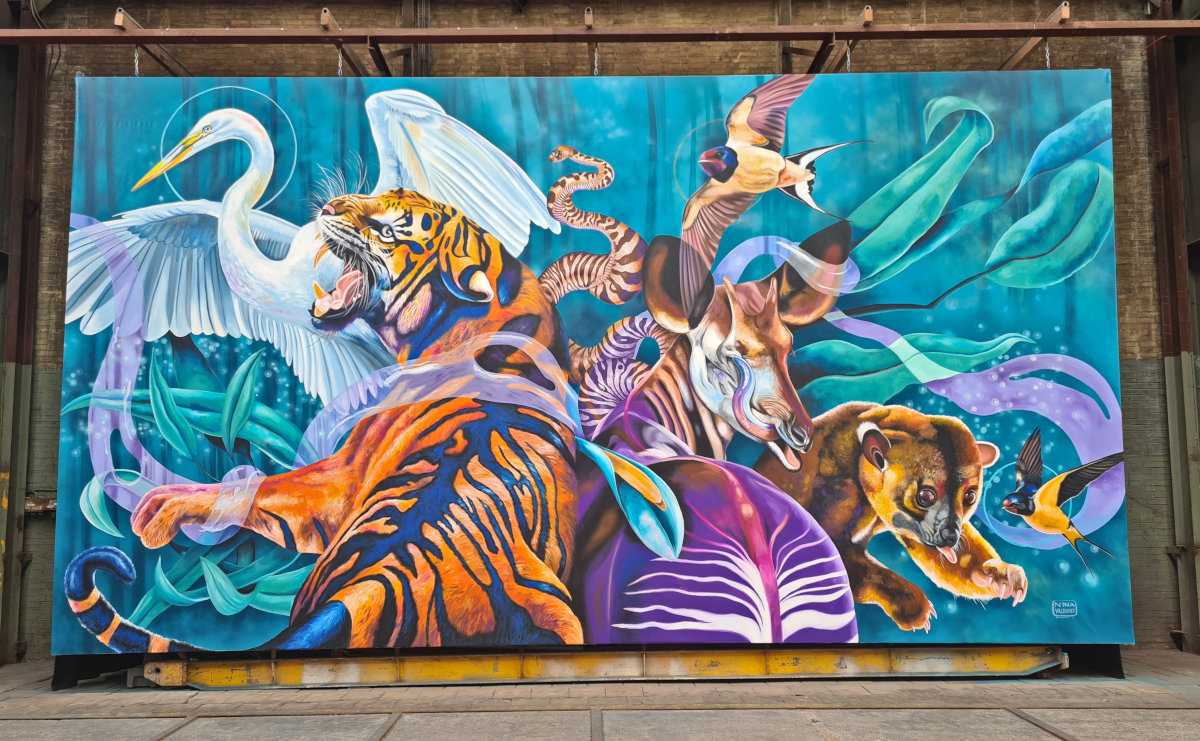 Another tiger, of course! This gorgeous piece was painted by Nina Valkhoff, a Dutch artist who has done a number of beautiful animal murals throughout the Netherlands and some other countries. I am hoping to track down some more of her work in the future. This painting is called "Lamento en la Selva' and is meant as a cry for attention to endangered species.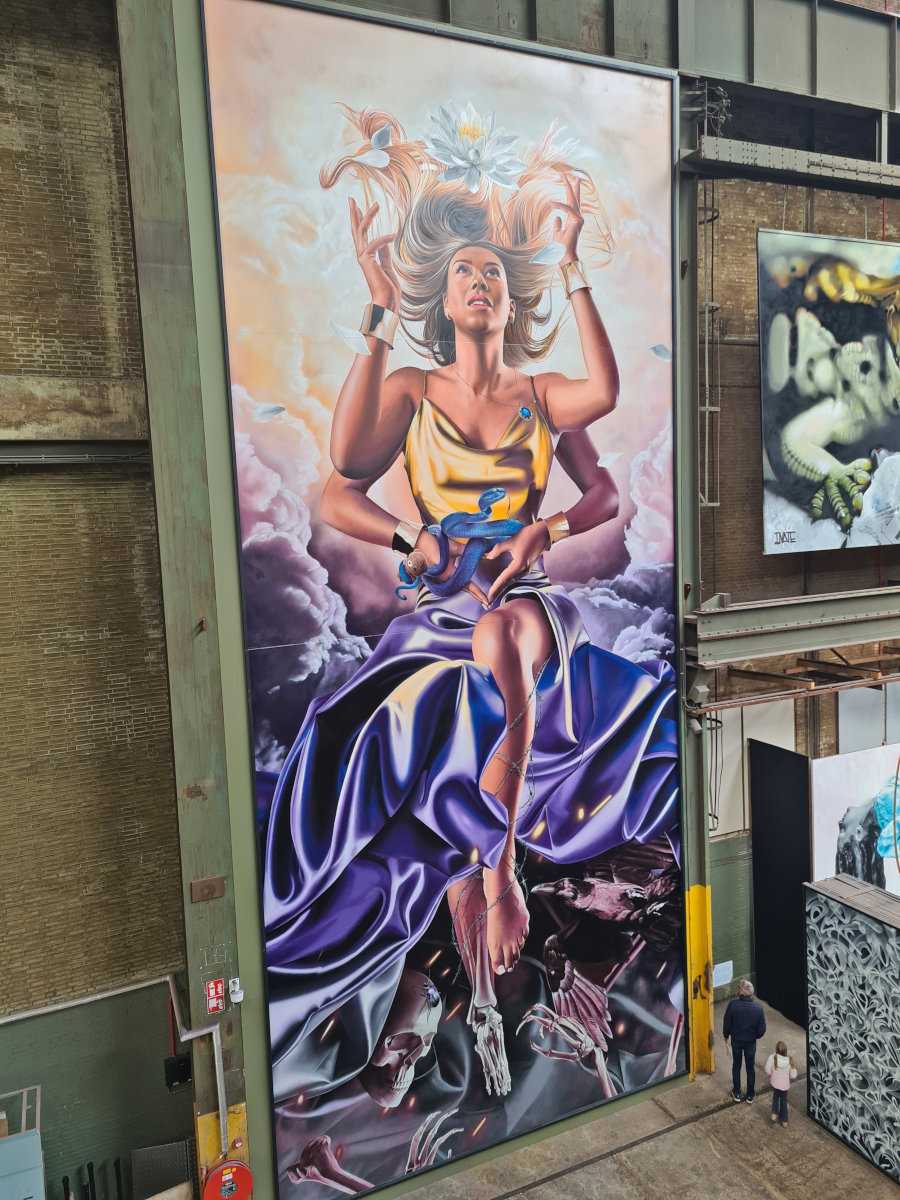 One of the things that I most admire about street artists is how they can create such amazing paintings on such a huge scale. The above piece "Close to You" by Studio Giftig (Dutch artists Niels van Swaemen and Kaspar van Leek) was the largest painting inside STRAAT, standing 15 metres high and dwarfing the people beside it. Of course, it's also a beautiful piece inspired by the Dutch singer Eva Simons.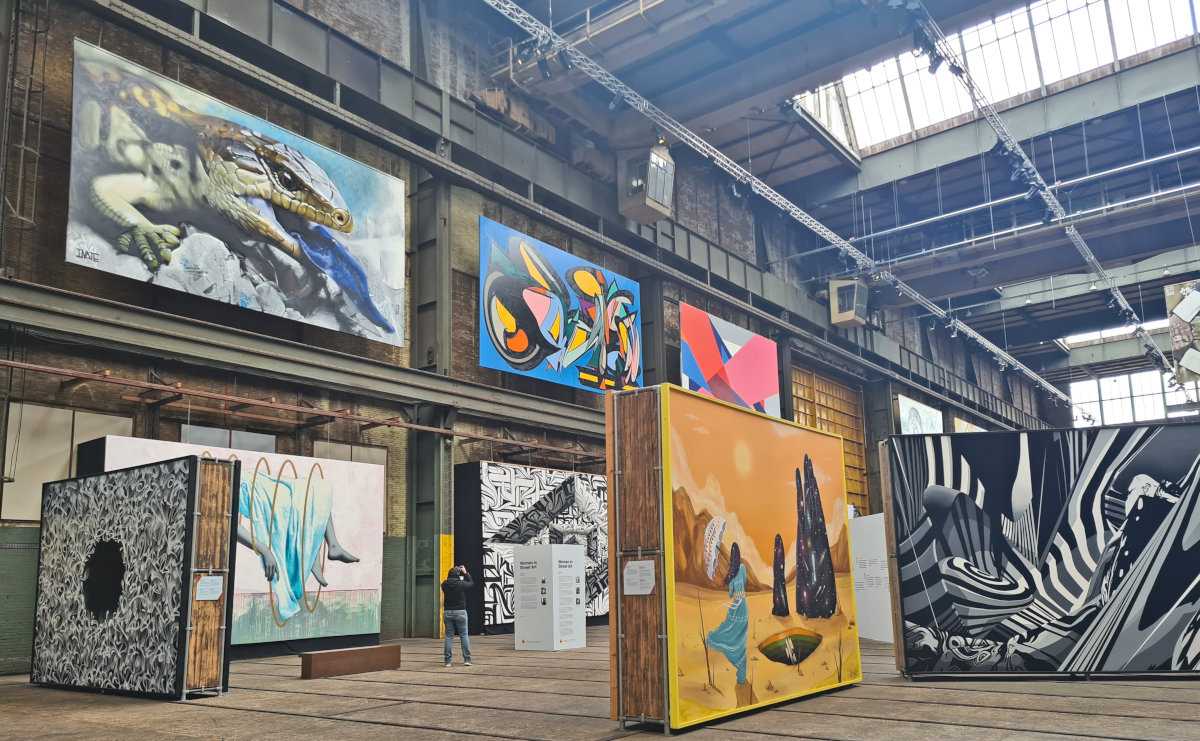 I also really loved the one in the top left of this pic because it's a Blue-Tongued Lizard! The artist is Australian and Blue-Tongued Lizards are native to Australia, we used to get lots of them in our backyard in Orford, so this was very cool for me to see in Amsterdam. The artist is Dvate, who often paints native Australian wildlife, and this piece is titled Bluey.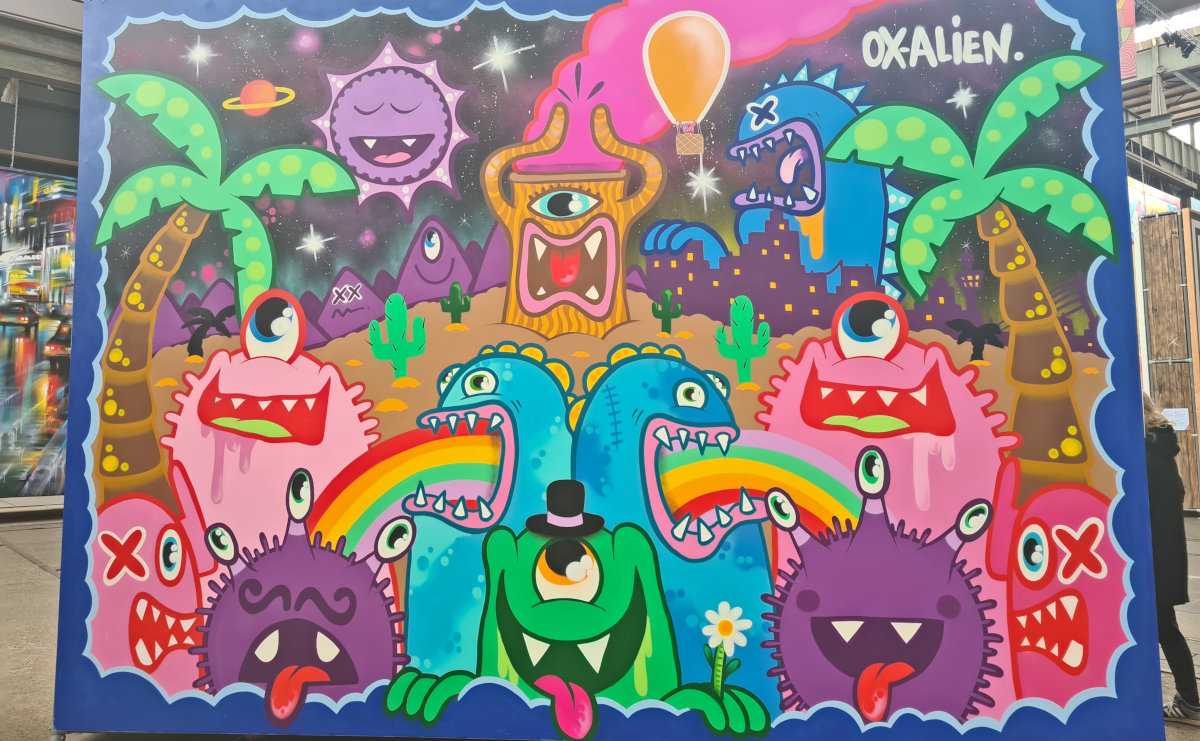 Last but not least, I instantly recognised this piece by the Dutch graffiti artist Ox-Alien since I have seen their work in a few different places, most notably the city of Utrecht. Ox-Alien hails from Rotterdam and was one of the first artists to paint for STRAAT, this signature, colourful design called "Ox-Land." Of course, there were so many amazing pieces at STRAAT, I could easily talk about them all day but I definitely recommend you see it for yourself instead! And even if you can't make it, you can still see all the pieces online on the website.
Getting There and Other Info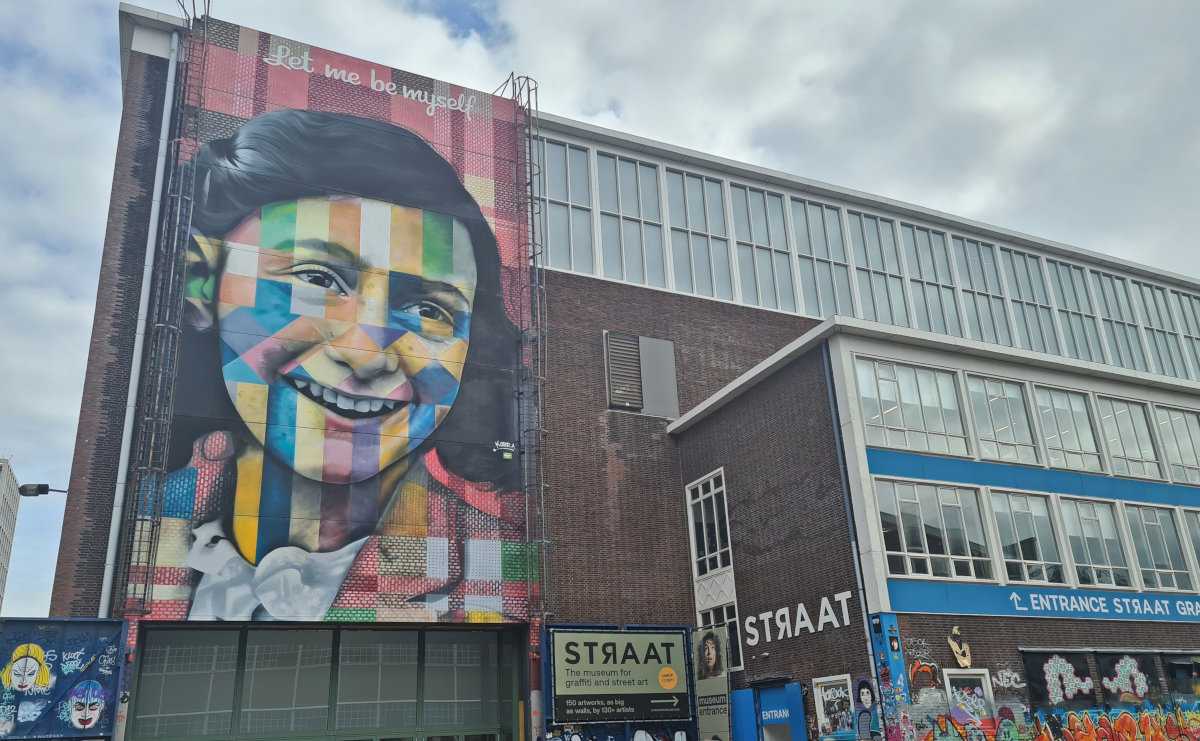 It's very easy to get to STRAAT, just hop on the free ferry from Amsterdam Centraal to NDSM-Werf, turn to the right as you get off the ferry and then walk up the main road towards Anne Frank! If you are coming by car then it can be hard to find parking, although there are free parking spaces in the residential neighbourhood directly behind the wharf area. Tickets for STRAAT cost €18.50 for adults, and while they're not included in the Dutch Museumkaart, I do personally think the price is worth it. Also, if you were wondering, straat is just the Dutch word for street!
PIN ME!
Have you ever visited a museum dedicated to street art before? Tell me about it in the comments or pin one of these if you're planning to visit STRAAT yourself some time!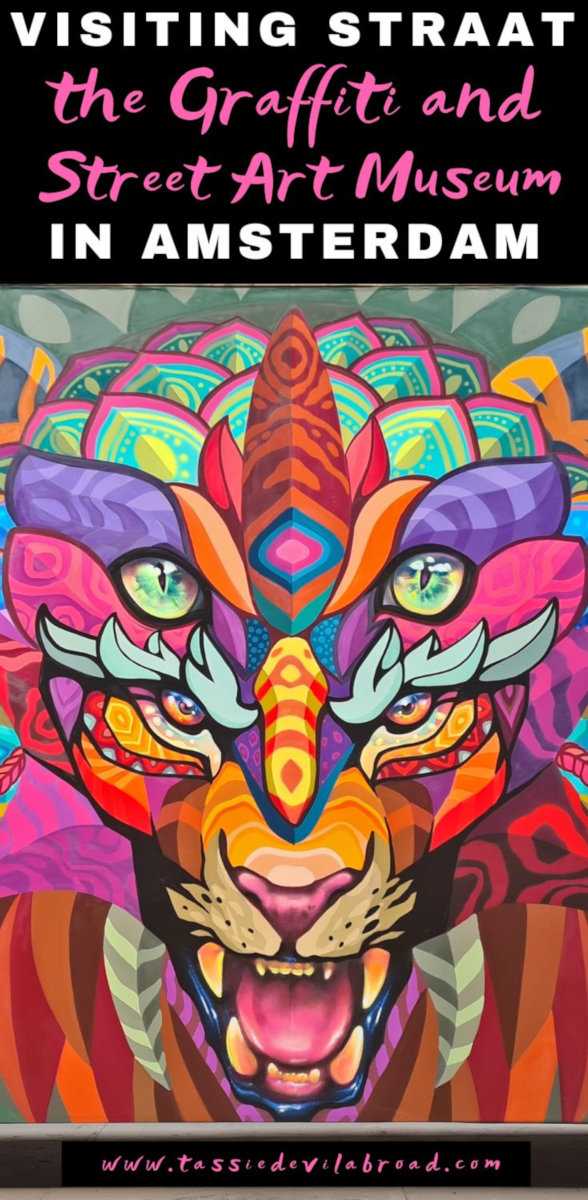 All information is true and correct at the time of publishing but I cannot be held responsible for changes in opening times and prices or businesses closing in the meantime. I always endeavour to keep my posts up to date but also encourage you to double-check the official website of an attraction for information on when it is open, how much it costs etc.