So I recently wrote an article all about the amazing Harry Potter themed activities and places in London for all the Potter-heads out there (you can check it out here) but since London is also home to SO MANY other amazing literary characters and authors I am back again with this guide. For all the other book-lovers out there; the fans of Dickens, Shakespeare, Woolf, Conan Doyle, Barrie, Shelley and so many more; this guide is for you! If you hardcore relate to Belle (from Beauty and the Beast) and want to spend a magical weekend exploring the best bookshops, literary sites and literary museums that London has to offer, then read on and get inspired!
This post contains affiliate links. This means that if you follow a link and then purchase or book something, I will earn a small commission at no extra charge to you. This helps me with the costs incurred from running this site and means I can keep bringing you travel content like this. You can read more about this on my privacy page. Thanks for your support!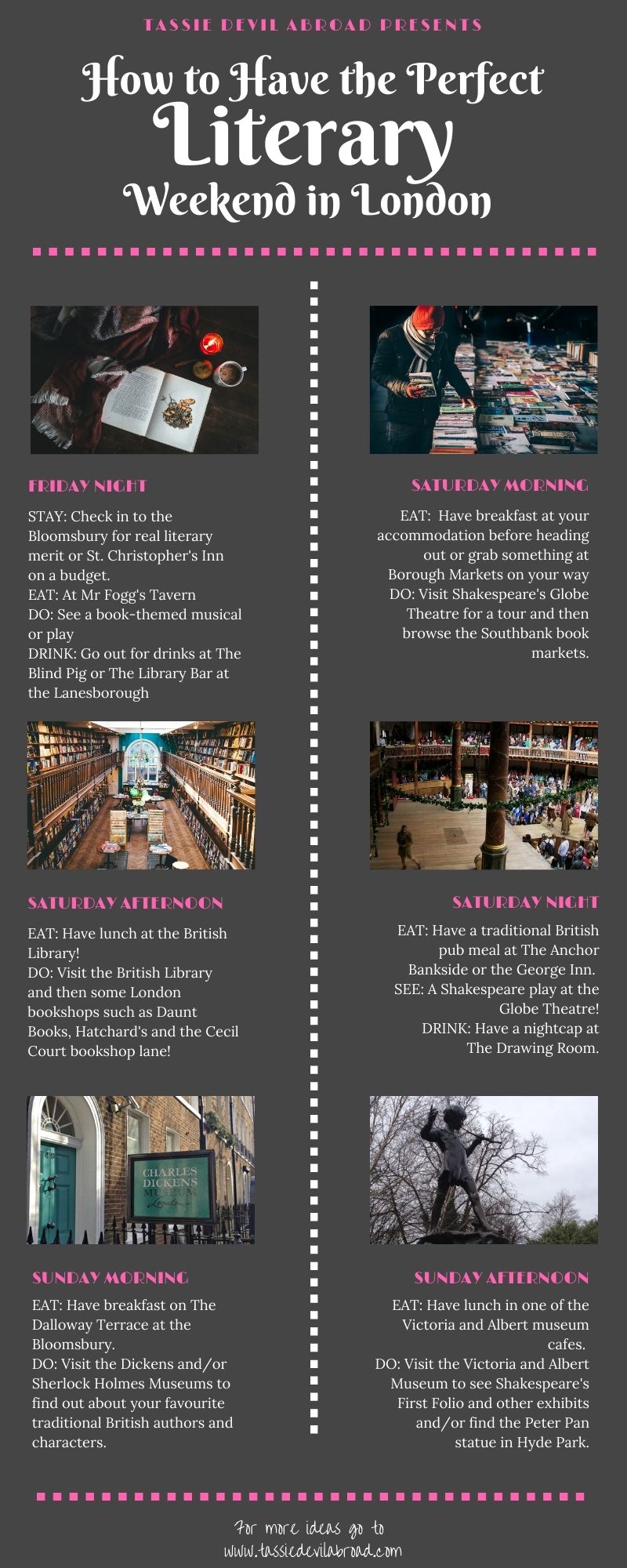 Friday Night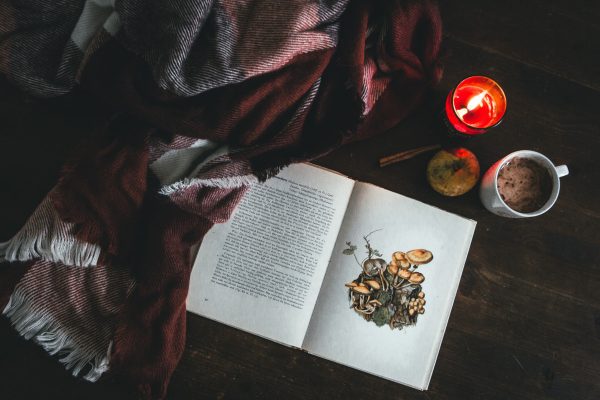 Stay: If you really want to get in the literary mood for your weekend, you could stay at the Bloomsbury Hotel. The hotel is located in the neighbourhood of the same name that was coined for the "Bloomsbury Set"; a group of English writers, intellectuals, artists and philosophers who lived, worked and socialised in the area of Bloomsbury. Some members of this group included Leonard and Virginia Woolf, E. M. Forster, Lytton Strachey and Desmond MacCarthy. Now the Bloomsbury Hotel seeks to capture the ambience and style of this bohemian and artistic group. The hotel features the quintessentially British Dalloway Terrace named after Virginia Woolf's character; and the Bloomsbury Club Bar, influenced by 1920s and 30s decor and featuring delicious cocktails named and inspired by the members of the Bloomsbury Set. If your budget doesn't stretch this far (rooms at the Bloomsbury start from £199 per night) it is still definitely worth a visit for a drink or meal. There are plenty of mid-range accommodation options available in London as well as cosy AirBnBs if that is more your thing. You could also stay at the original St. Christopher's Inn at its London Bridge location for a bargain. Dorm rooms or privates are available, including free breakfast, a traditional British pub on the premises and located very conveniently near Borough Market, Shakespeare's Globe Theatre and the Southbank book markets! But more on those later 😉
Eat: Head to Covent Garden for dinner at Mr Fogg's Tavern! Named after the main character in Around the World in 80 Days by Jules Verne, this eclectic pub is packed full of antique travelling paraphernalia that will make you feel like you are within the pages of the classic novel.
Do: Go and see a book-themed musical such as Matilda or the Book of Mormon or one based on a book like Wicked or Les Misérables! I personally loved Wicked.
Drink: If you're not too tired afterwards go for a drink at The Library Bar in the Lanesborough Hotel. You can cosy up with a cocktail among the book-lined nooks or head to the Blind Pig, a bar in Soho which I mentioned in my Harry Potter weekend guide. The Blind Pig serves a few cocktails based on beloved British books such as Harry Potter, Winnie-the-Pooh and more! Definitely a great spot for book-lovers to have a whimsical cocktail.
Saturday Morning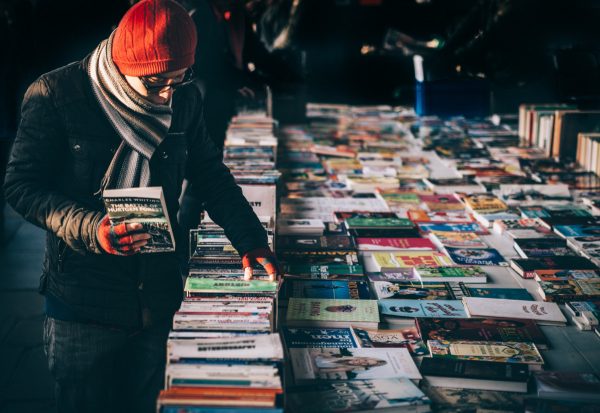 Eat: Have breakfast either at your accommodation or nearby and fuel up for a busy day of book-browsing and literary site-exploring!
Do: Head to Shakespeare's Globe Theatre first of all and make sure you go on one of their tours of the theatre. The exhibition inside is really interesting, looking at the history of the theatre itself, showing you set pieces and costumes, and, of course, information about William Shakespeare himself! Book your tickets online for a discount and to make sure the tours won't be cancelled due to performances on the day.
Afterwards, you can wander a bit further down Southbank to the famous Southbank Book Market underneath Waterloo Bridge. It's open every day of the year except Christmas Day and Boxing Day, and is a wonderful spot to spend some time browsing for secondhand and antique books on every topic imaginable.
Saturday Afternoon
Eat: Head up to the British Library next and have something to eat at the King's Library Cafe or the Terrace Restaurant before exploring the library itself.
Do: The library always has interesting exhibitions on (which you usually will need to pay to see) and you can also explore the beautiful atrium, take a tour of the library or visit the free permanent exhibition in the John Ritblatt Gallery. This exhibition features some of the library's most rare and beautiful items, such as one of the four surviving copies of the Magna Carta of 1215, the original handwritten copy of "Alice's Adventures in Wonderland" by Lewis Carroll, and notes written by Leonardo da Vinci.
Psst! Are you a major Harry Potter fan? Don't miss my guide on How to Have the Perfect Harry Potter Weekend in London as well, you could even combine your favourite parts from both guides!
After browsing the library to your heart's content, it's time to visit some of London's most famous book-shops, to browse or to shop! Daunt Books' Marylebone location (photo above) is widely regarded as the most beautiful of their locations, but don't forget to also check out Hatchard's (in Piccadilly), Stanford's (in Covent Garden) and the whole street full of speciality book stores (and antique stores) in Cecil Court (by Covent Garden) including "Alice Through the Looking Glass", a shop dedicated to all things Alice.
Saturday Night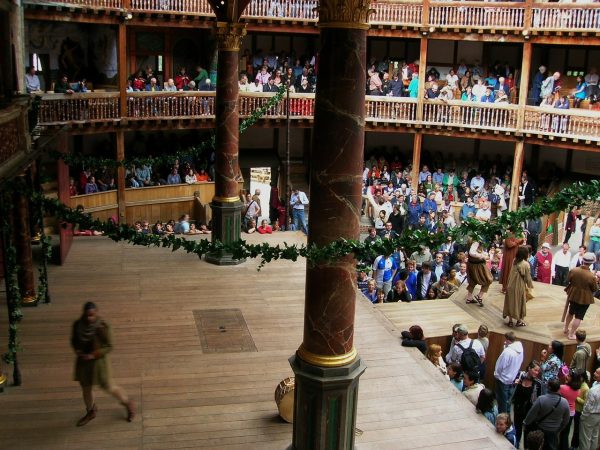 Eat: For dinner tonight head back to Southbank and have a traditional British pub meal either at the Anchor Bankside (where Samuel Pepys saw the Great Fire of London in 1666) or The George Inn nearby; the only surviving London coaching inn – which Charles Dickens visited and even mentioned in "Little Dorrit".
See: Head back to Shakespeare's Globe Theatre and see a Shakespearean play live as it was originally performed! You can stand in the yard (and get rained on if it rains, just like the old days!) or splurge on a seat in the gallery. You'll need to check the website to see what's on ahead of your trip.
Drink: After being roused by the Bard's words why not have a nightcap in the BFI Bar and Kitchen's 'secret' library lounge? The Drawing Room bar is accessed through a secret bookcase and is the perfect spot for book-lover's to relax with a drink before turning in for the night. They even have a Romeo and Juliet cocktail!
Sunday Morning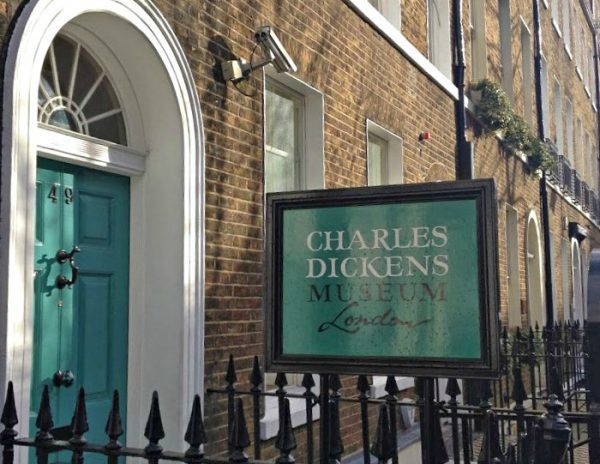 Eat: If you weren't staying at The Bloomsbury Hotel then you should definitely splurge on your last morning and have breakfast in the Dalloway Terrace (it looks delicious) since you'll be heading that way afterwards anyway.
Do: If you're a Dickens fan then a visit to the Charles Dickens Museum is a must-do. The guide is fascinating and the little details throughout the rooms are lovely. If you have time and are also a Sherlock Holmes fan then you should also visit the Sherlock Holmes Museum in Baker Street. If the entrance price is a bit steep for you (£15 for adults as opposed to the £9 you'll fork out at the Dickens Museum) then just visiting the gift-shop is also worth the trip! The decor and interesting books and items on offer are fascinating. For more on these museums, you can read about my own visits to the Dickens museum here and the Sherlock Holmes museum here.
Psst! Are you a major Sherlock Holmes/BBC Sherlock fan? Don't miss my guide on Sherlock Holmes and Doctor Who in London (AKA How to Have the Perfect Geeky Weekend) as well, you could even combine your favourite parts from both guides!
Sunday Afternoon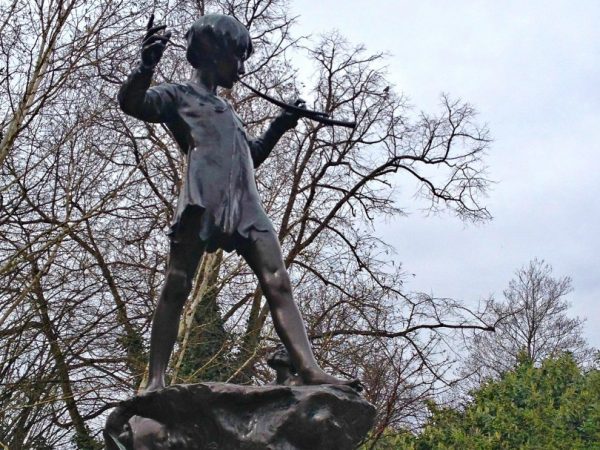 Eat: Head over to the Victoria and Albert Museum and have lunch in the oldest museum restaurant or one of the cafes before having a look at some of the exhibitions.
Do: The Victoria and Albert Museum is a fascinating place that could easily take you an entire day to explore. If you're just looking for the bookish best bits then you can find Shakespeare's First Folio on display here as well as regular special exhibitions that might be of interest to you. If you have time you might also like to take a walk in Hyde Park afterwards and find the Peter Pan statue (pictured above).
Alternative Literary London Activities for Your Trip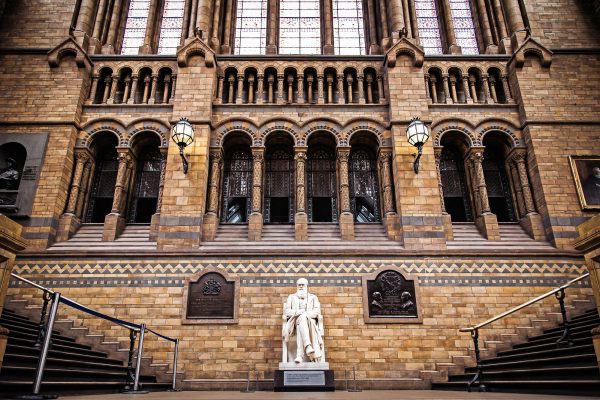 If for whatever reason you weren't able to do all the things in this itinerary (or some of the things I've included don't tickle your fancy) then don't worry, I have plenty of other literary London activities for you to choose from!
Explore the Poets Corner in Westminster Abbey to see the resting places of writers such as Chaucer, Robert Browning, Charles Dickens, Thomas Hardy, Rudyard Kipling and many more.
If you want to see the resting places of other renowned British writers then the Highgate Cemetery is a fascinating place to go and explore the history and architecture as well as seeing the graves of Douglas Adams, Christina Rosetti, Karl Marx, George Eliot, and many others.
Have a conversation with the Oscar Wilde statue in Adelaide Street.
Go on the

London Literary Pub Crawl and combine drinks with lots of fun facts about writers in London. This isn't a big drinking thing though, there are a few stops for drinks but mostly it's all about entertainment with a literary bent!
Visit the statue of Charles Darwin in the Natural History Museum or his one-time home Down House if you're up for a trip further afield.
Fans of Sigmund Freud's writing can also visit the Freud Museum; the house where he and his family lived after escaping Nazi-occupied Austria.
For die-hard Shakespeare fans, you can see the famous Chandos portrait of him in the National Gallery for free!
Can you think of any other must-sees in London for book-lovers? Let me know in the comments and don't forget to pin one of these for your own planning later!