If you've spent any time on this blog you will probably already know that whenever I go somewhere I'm looking for cool bookshops and libraries to explore. I've always joked with friends and family that if you don't know what to get me for a present, give me a bookshop voucher and I will be happy. Since living in the Netherlands I've been able to explore some great bookshops and libraries which I've put together in this guide for any other bibliophiles who might be visiting. Most of the places are in Amsterdam but there are a few really special bookish places outside of Amsterdam that I couldn't leave off, so I've included them as well!
The Coolest Bookshops and Libraries in Amsterdam
First, we'll start with the best libraries and bookshops in Amsterdam, since that's probably what landed you on this post in the first place and, let's be honest, most visitors to the Netherlands head to Amsterdam. Since Amsterdam is so multicultural there are many bookshops that cater primarily to English speakers, although I've also included some that only have English sections (and the libraries also usually only have English sections) because they are still so darn cool!
OBA Oosterdok
The OBA Oosterdok is one of the main public library locations in Amsterdam. OBA stands for openbare bibliotheek Amsterdam (public library Amsterdam) and there are a number of different locations where you can go to the library in the city. The one that I'm talking about here is the one at Oosterdok, which is just a short walk from Centraal Station. The library is sort of in-between Centraal Station and the Nemo Science Museum.
There are a number of reasons why the Oosterdok library is so cool. One of them is that there's a cafe on the top floor where you can enjoy really lovely views out over the water and Amsterdam while having something to eat or drink. There are multiple levels of books to explore and on the ground floor is the children's book area, which is particularly cool! The way it's set up has big bookshelf things that kids can climb up on and big stuffed animals to hug. Then there's Het Muizenhuis (or the Mouse Mansion), which is a huge model house for mice with all these amazing rooms that tower over you. There's been a series of books written about it as well, which you can see in the library. It's just so cool even if you're not a kid! If you liked that part you should also definitely visit the Muizenhuis shop as well, which is located in the Jordaan, but more on that later.
Bonus Tip: OBA Oosterdok is one of the few places in Amsterdam where you can use the bathroom for free!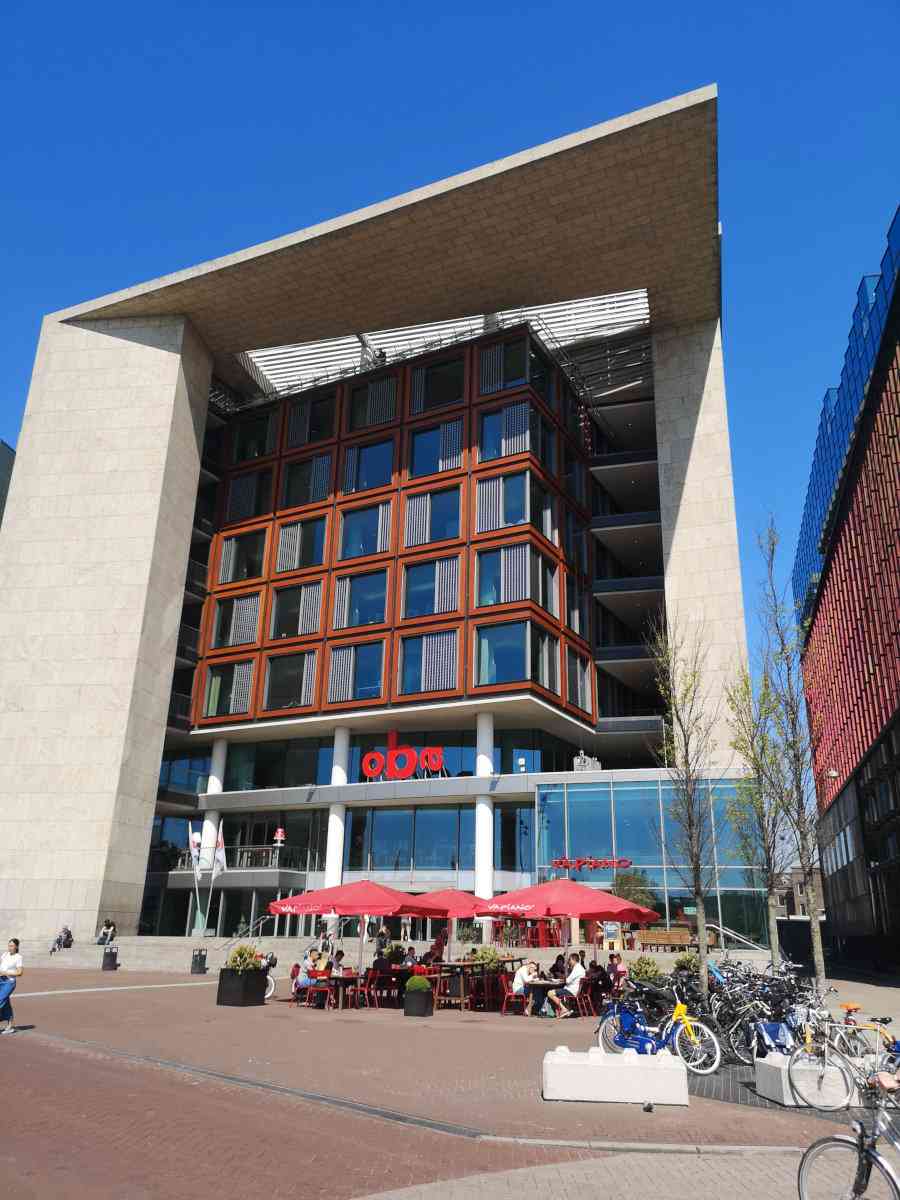 Henk Comics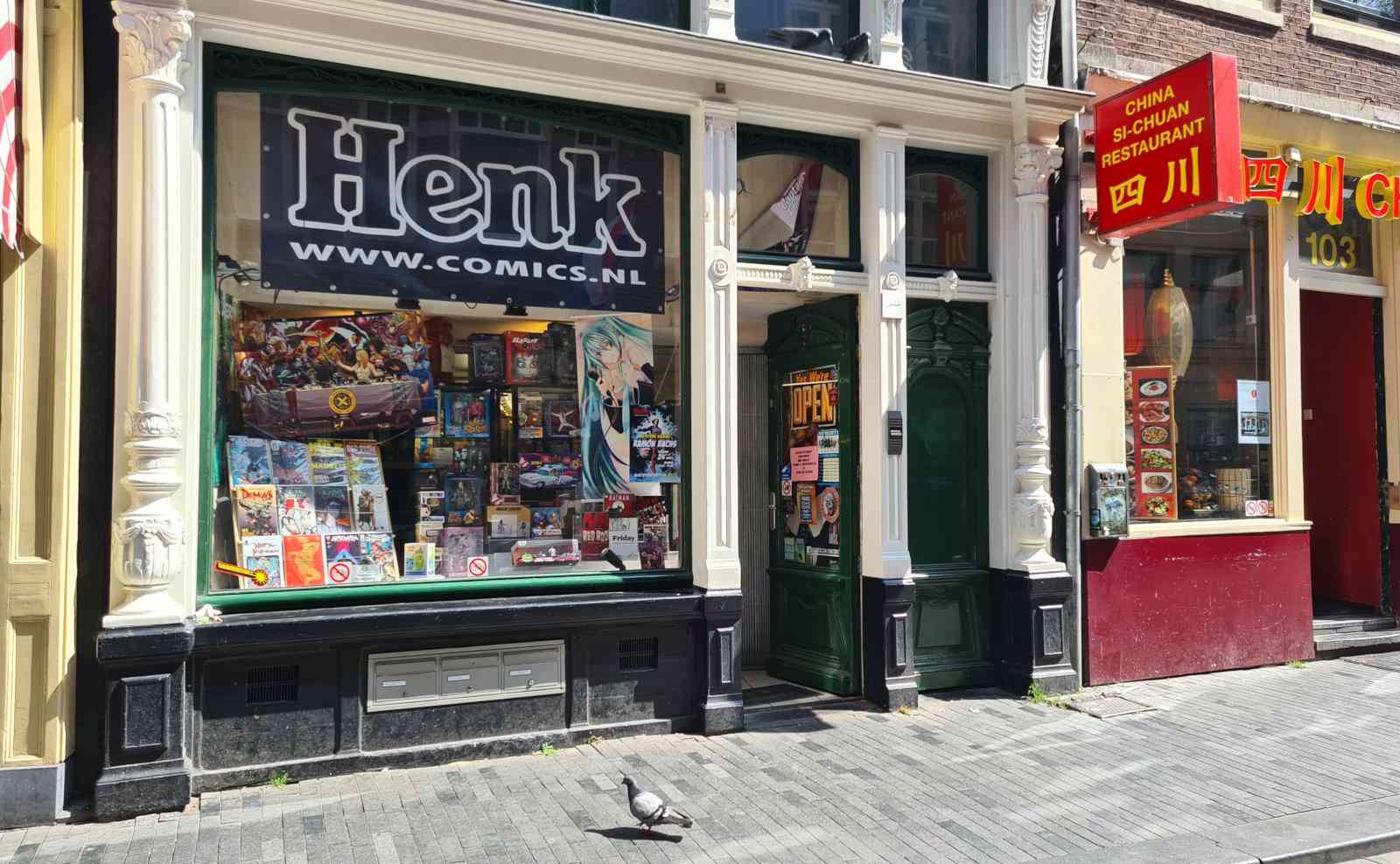 There are a number of comic book shops in Amsterdam that are pretty cool, but I personally think that Henk comics is the coolest one! It's located in Chinatown, right on the border with the red light district which is quite interesting.
It's a really massive comic book shop that spreads out from both sides of a building. There are two different entrances you could go in and there are a couple of stairs to two different levels. There are so many comics on every possible subject. I'm not a comic book aficionado, but there are so many to choose from. There are also plenty of Funko Pops, posters, figurines and T-shirts. Basically it's just the best place to start if you're looking specifically for comics in Amsterdam.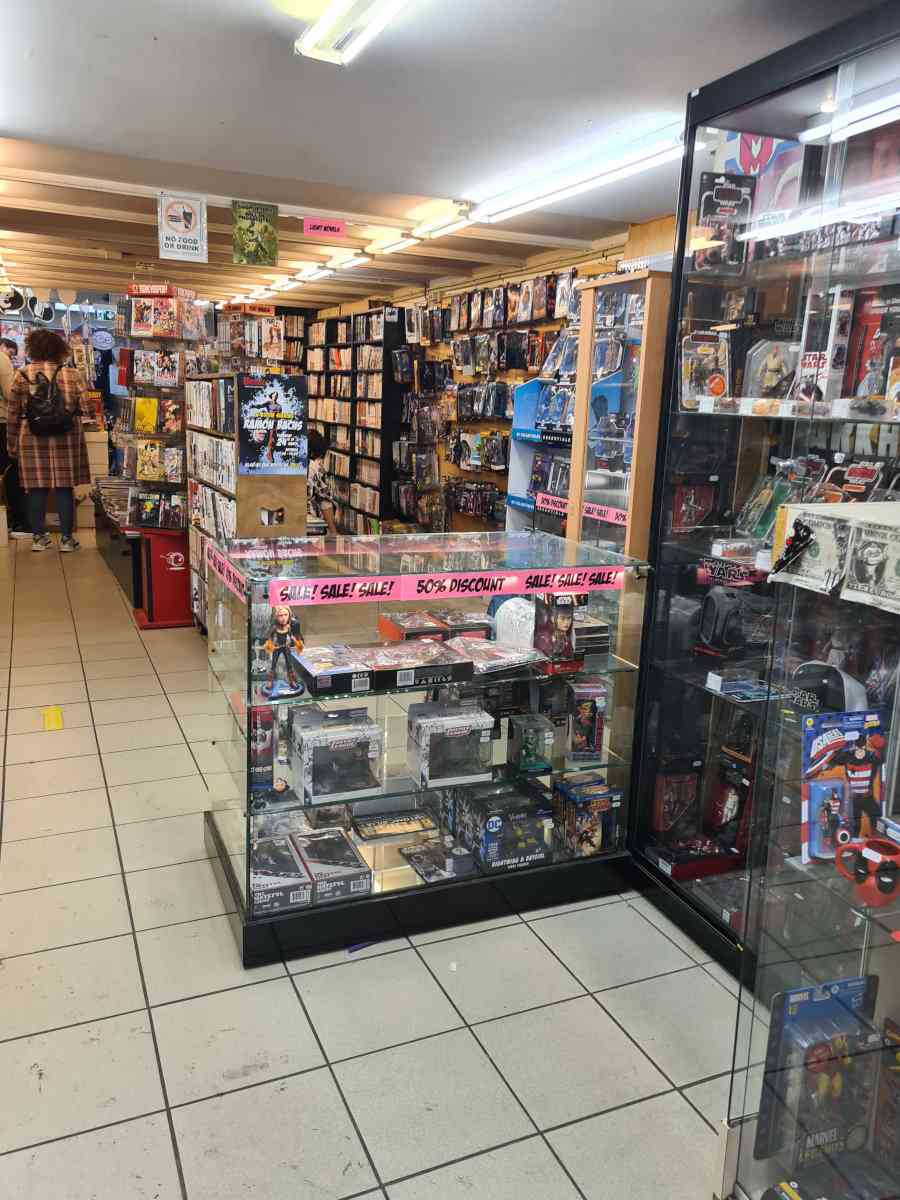 Scheltema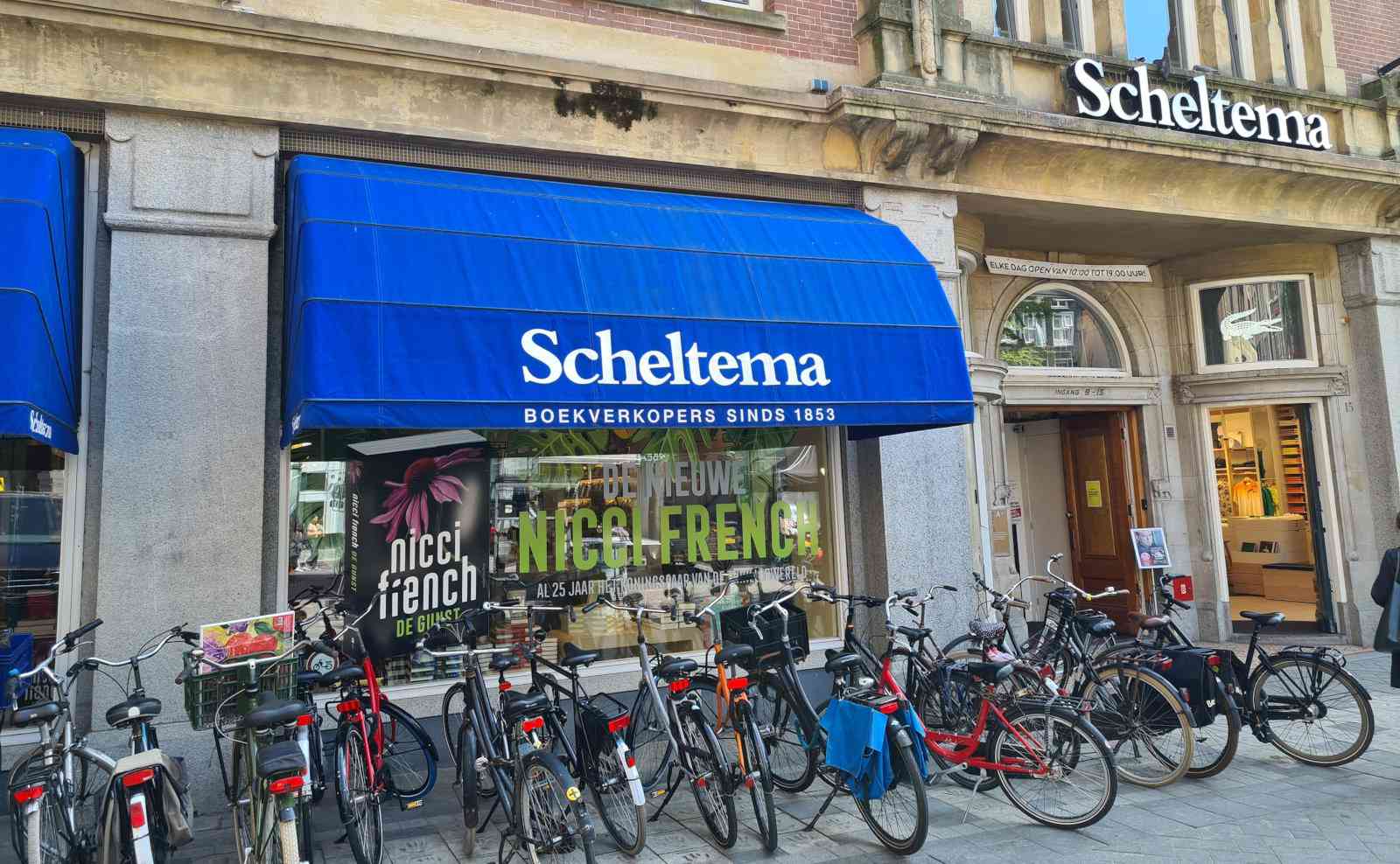 Scheltema is a huge Dutch bookselling shop. It's located right in the city centre, around the corner from Dam Square on Rokin.
This is a massive bookshop. It's got six stories with escalators, an elevator and stairs (so it's very accessible) with every type of book imaginable. They have an especially good English book section with the top 10 books in English, and there's a lot of English books to be found amongst Dutch books in every book category from cooking, to children's to comic books, art, photography, and probably any subject you can imagine.
There's also a really good magazine section on the ground floor and a cute little café. There are free to use toilets on the second from the top floor and the views from the top floor are pretty incredible over the Amsterdam rooftops.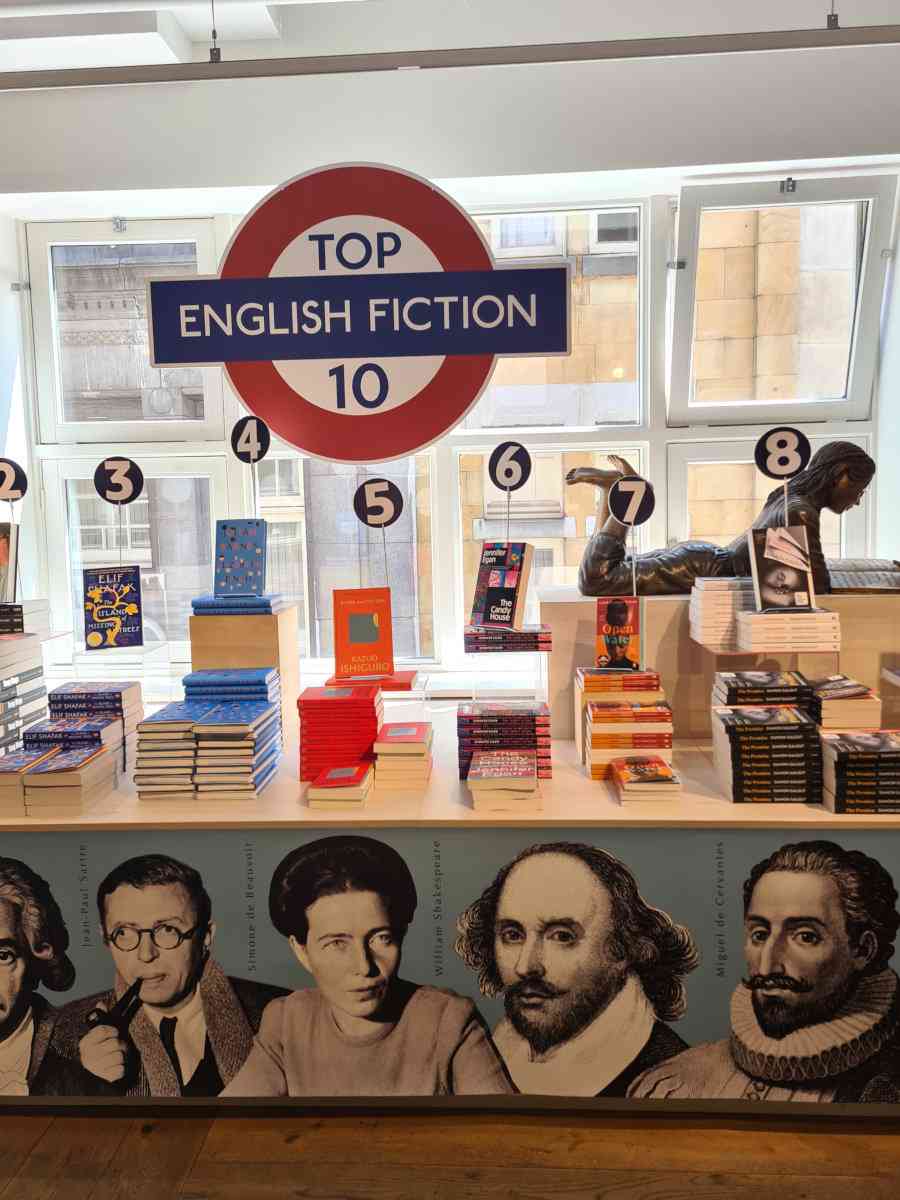 Kok Antiquariaat A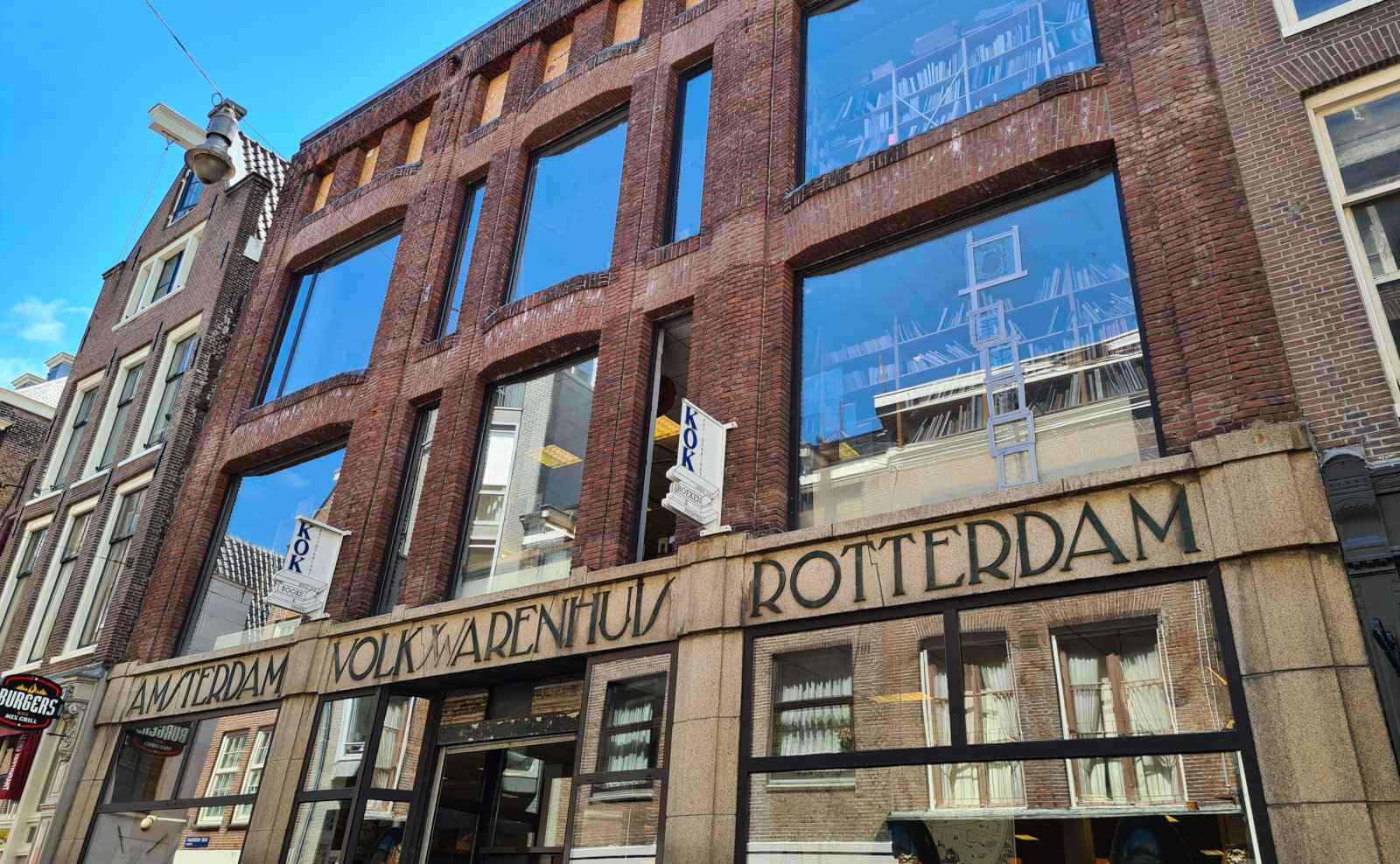 I only recently discovered Kok Antiquariaat A but I could have spent hours in there looking not just at all the antique and second-hand books, but also at the really cool objects on display as well! They have a wide selection of books in both English and Dutch, from fiction to beautiful display books as well as prints and maps for sale.
There are also quite a few vintage typewriters on display, along with rare old manuscripts and other items, like in the photo below right where there are letters used on a printing press along with an animal skull! Apparently, the shop has been open since 1946 and it's also located right in the middle of the red light district, with sex shops and coffee shops surrounding it, which is quite unique.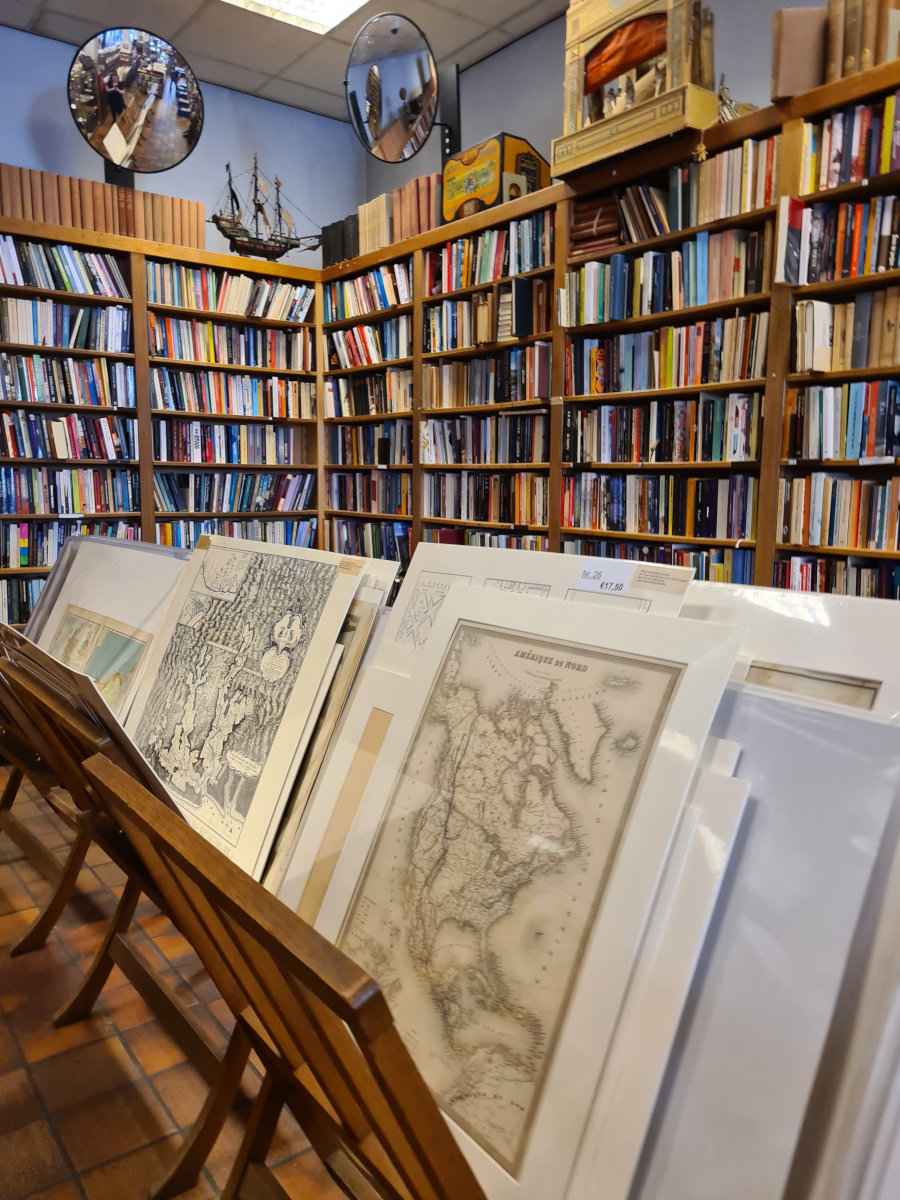 The Book Exchange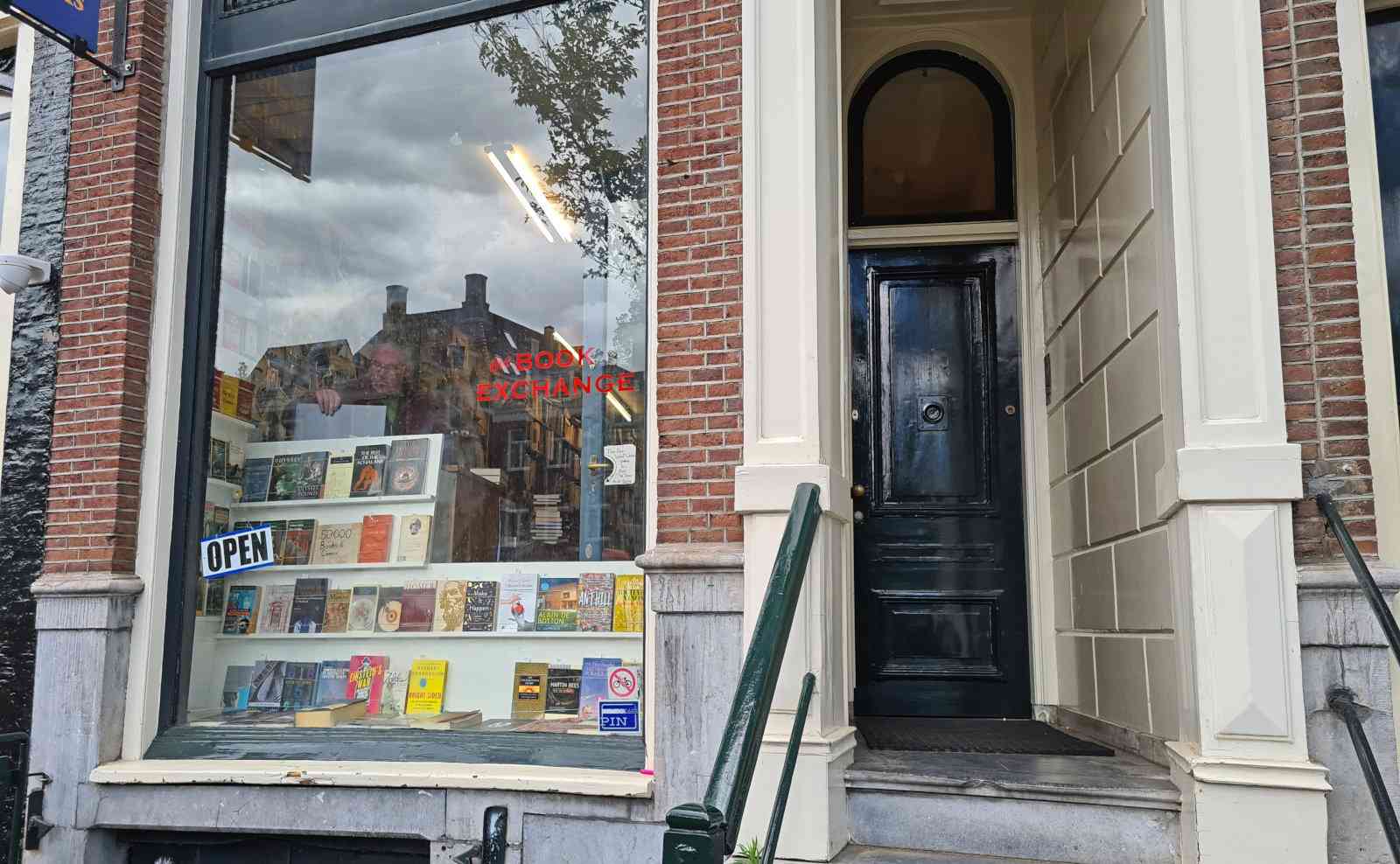 Located right by Amsterdam University in De Wallen, the Book Exchange is an absolute treasure trove of books in English, packed right to the ceilings all over this old canal house! There are multiple floors to explore, going up and down stairs, some of which are quite steep and worn, so this isn't really an accessible location for anyone who struggles with stairs.
But if you can manage a few (steep) flights you will be rewarded with thousands of books in English, on every conceivable topic and for affordable prices. I'm not sure why science fiction and fantasy have been relegated to the basement, although maybe it's just for the ambience? There's even a small children's book section and plenty of travel books. I often return to browse and see what I might find here.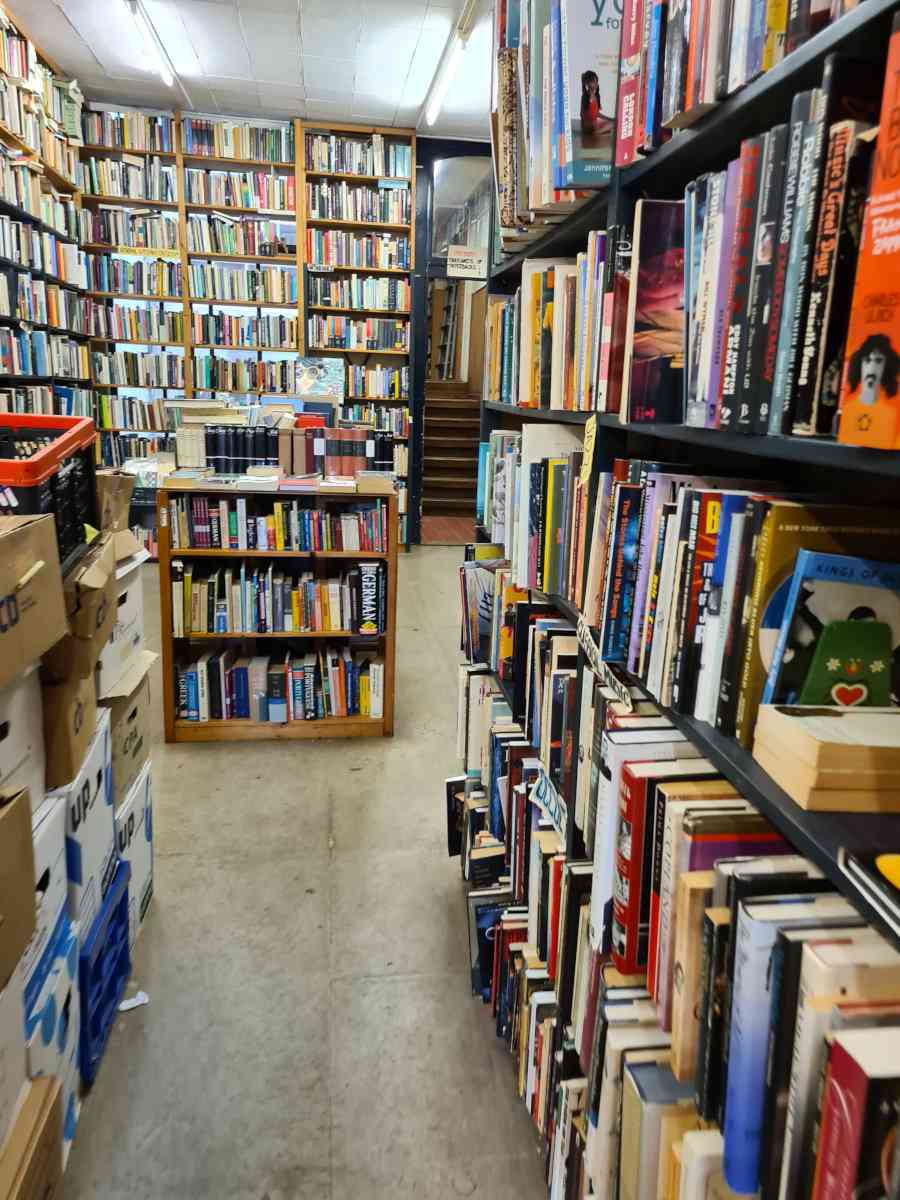 Mendo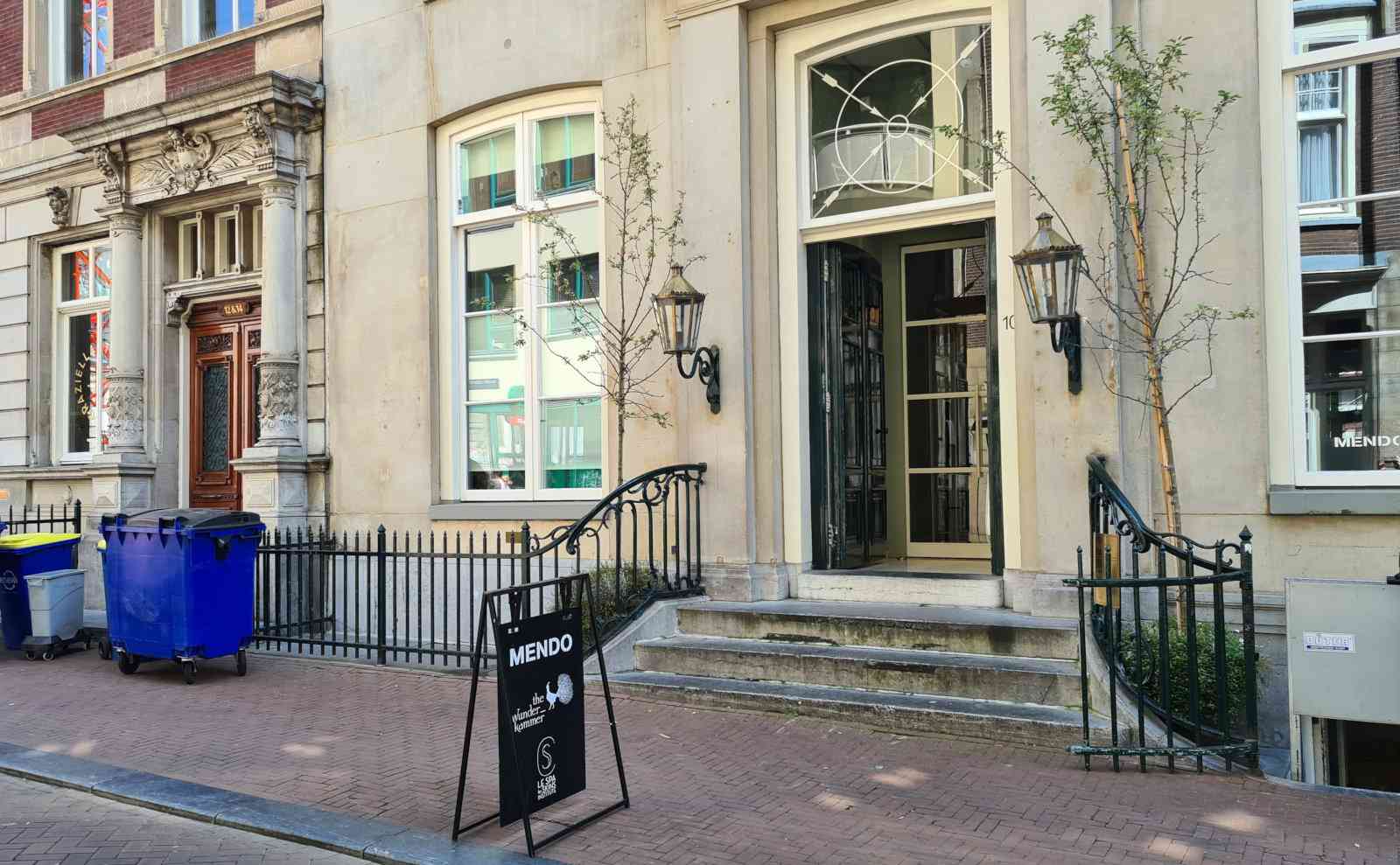 Mendo is a very sophisticated bookshop, that's easy to miss as it kind of looks like a nice hotel and there's only a small sign outside. But stepping inside is like stepping into a fancy art gallery, which makes sense as they specialise in art, fashion, graphic design and photography books.
The shop is just one main room, but it's very spacious and even features some cosy seating for you to sit and have a browse before you buy. This is a great spot to buy the kind of beautiful coffee table books that need to be displayed, and I also found a massive cookbook entirely focused on breakfast which looked amazing!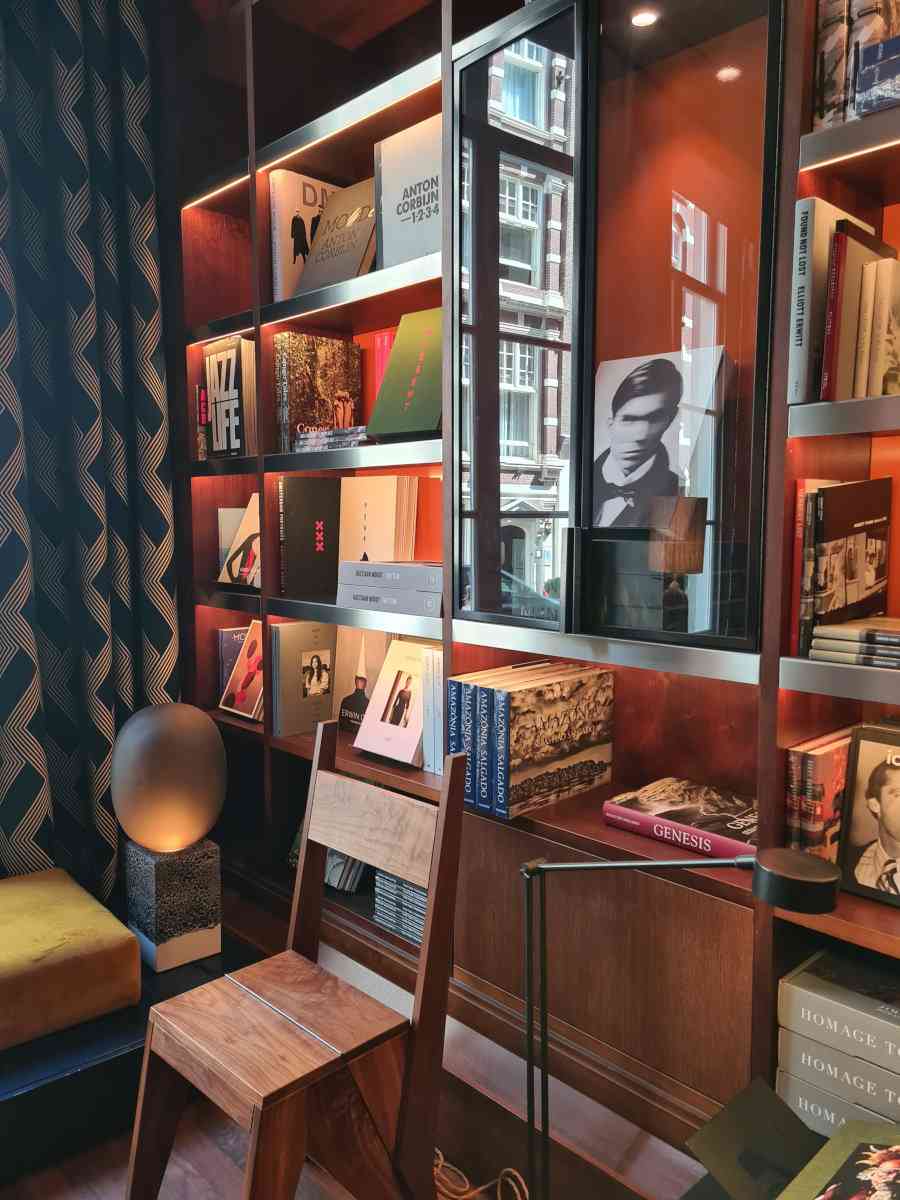 Waterstones Amsterdam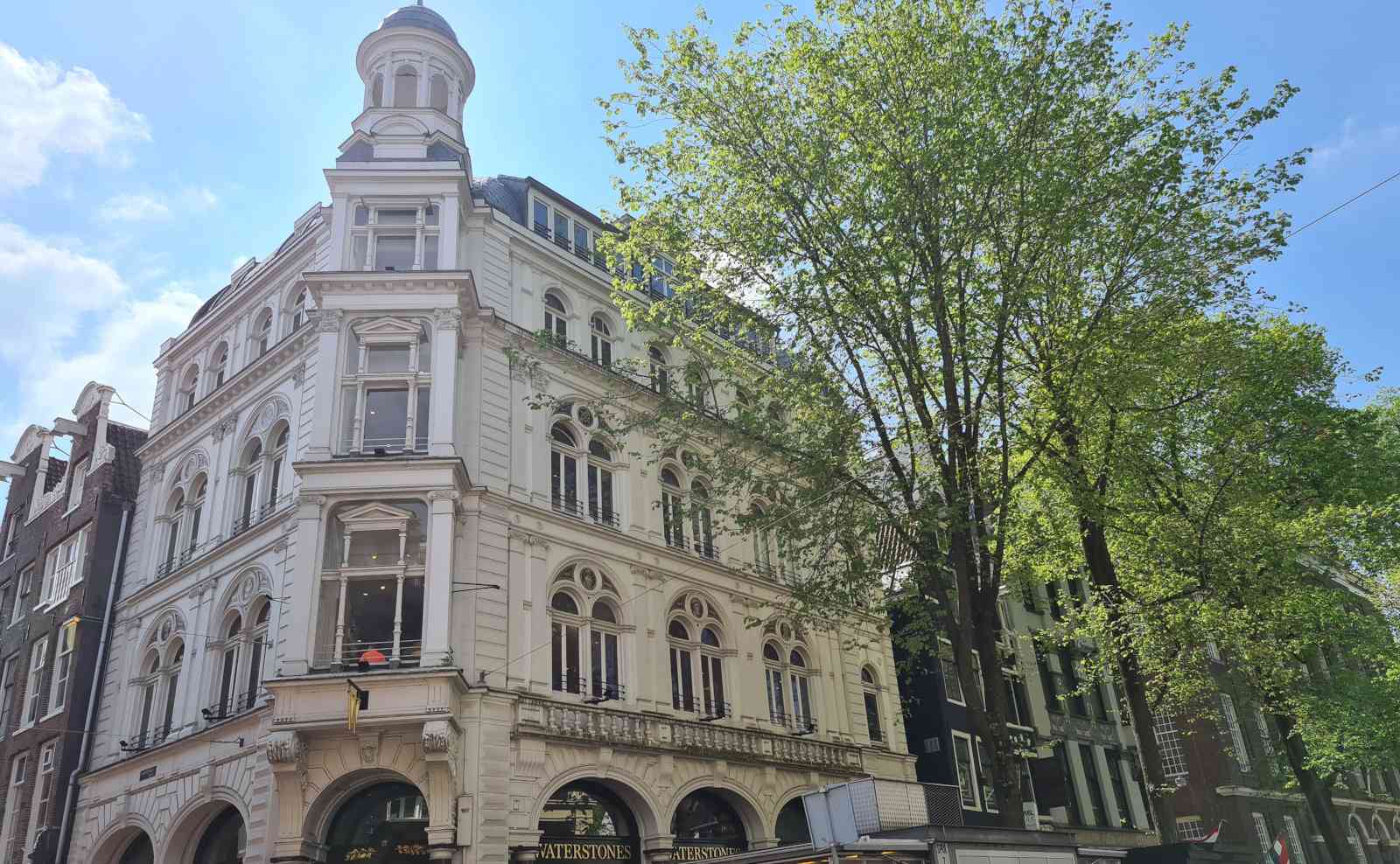 Waterstones in Amsterdam is a beautiful bookshop located on the Spui, which is sort of a street and sort of a square. Waterstones Amsterdam is especially good for English speakers because nearly all the books are in English unless it's a section on learning Dutch or other languages.
Like Scheltema, it's spread up over five floors, but this one is only really accessible by stairs, so you do need a bit of fitness if you want to get all the way to the top floor. The stairs are very creaky and steep but there are some little book displays on them to help you rest as you climb!
Again, there are so many amazing books here, along with some lovely book-themed gifts. There's lots of Harry Potter merch, as well as the books and an excellent travel section. I also really liked that there's a section where people who work at Waterstones have recommended their favourite books.
Also, if you manage to make it all the way to the top floor there's this really pretty window seat looking out over the main shopping street (Kalverstraat) in Amsterdam. So you can sit up there and have a little bit of a read as well!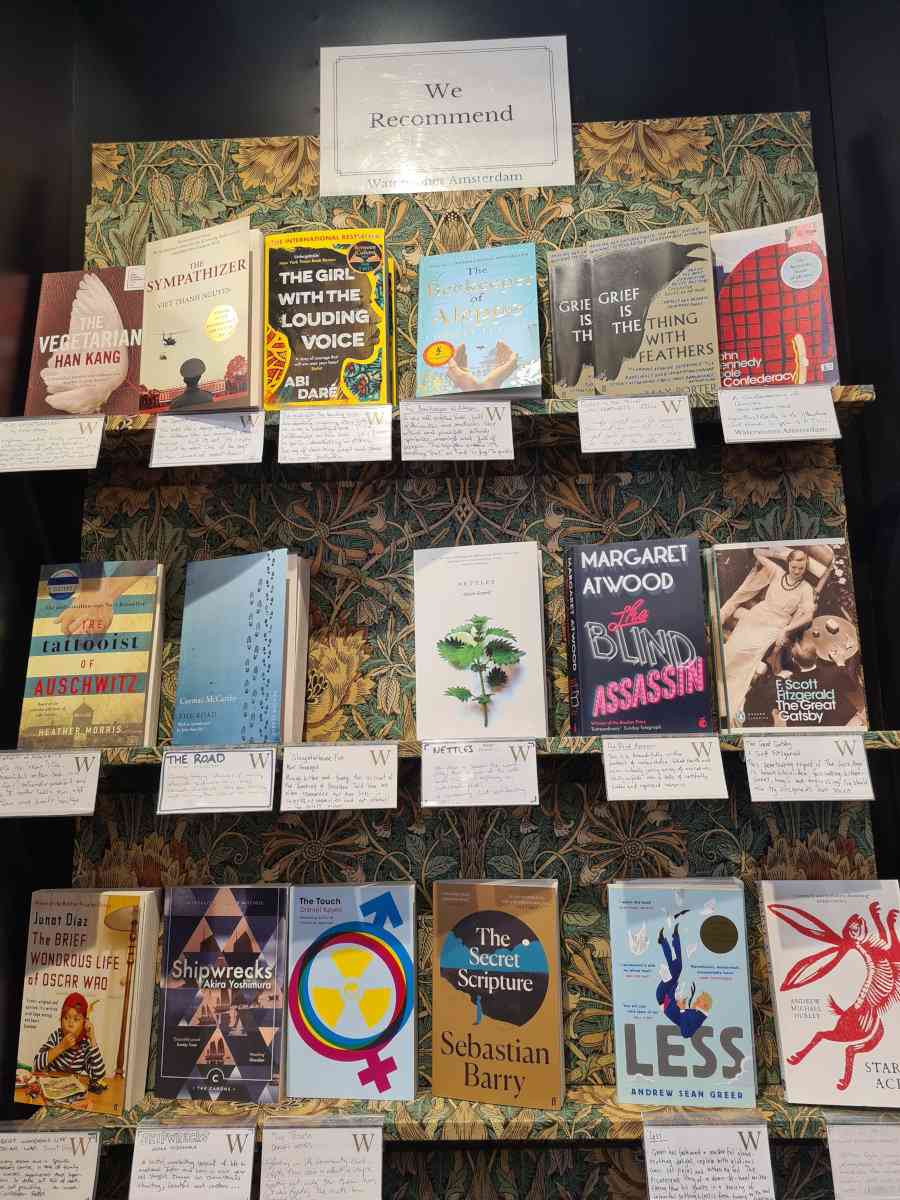 American Book Center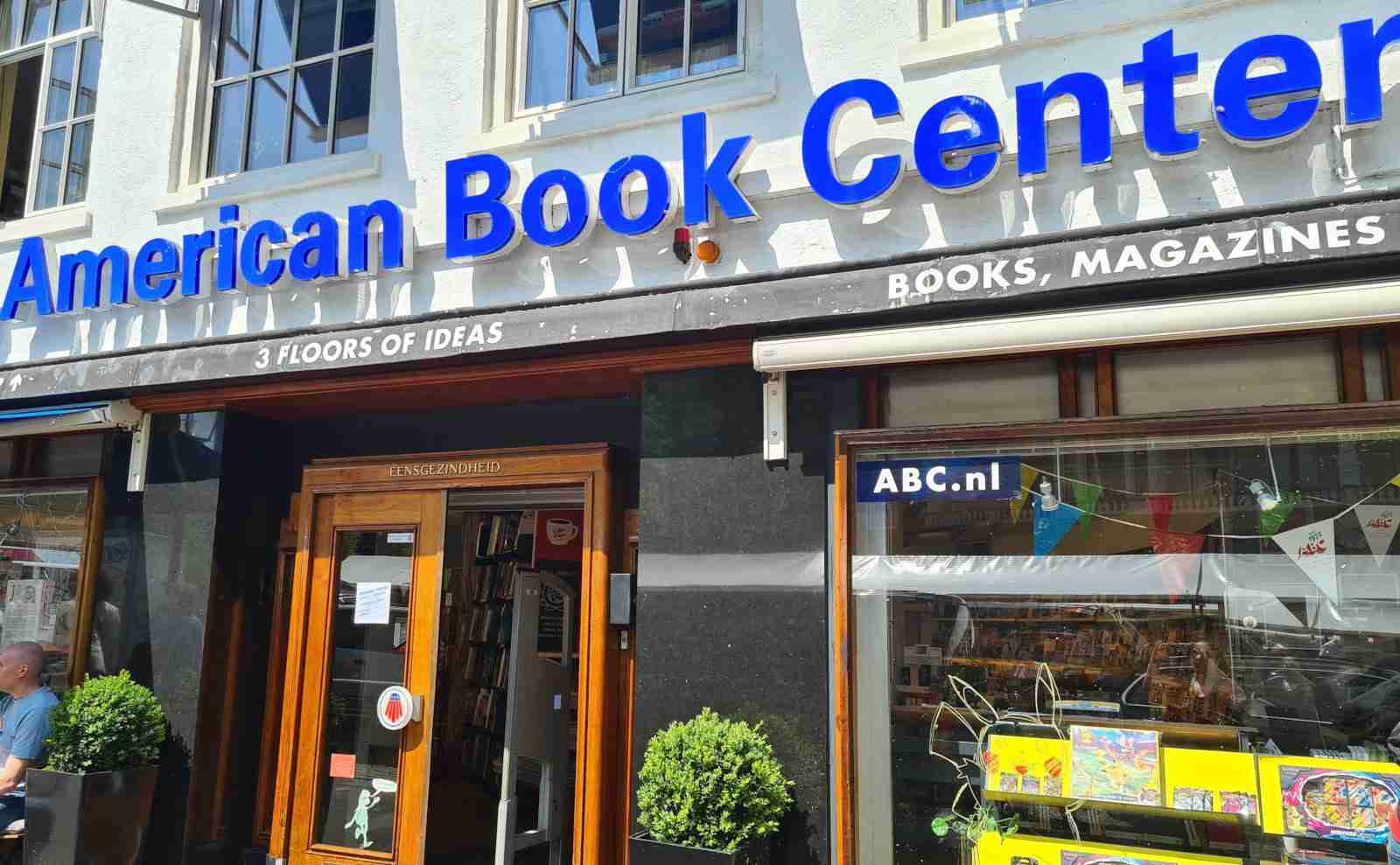 One of the most famous English book shops in Amsterdam is the American Book Center which is often just written as ABC. It's also located on Spui and one of the most unique parts of the ABC is that looks like it's got a massive tree trunk growing up through the middle of it. There are about three or four floors and as you go up the staircase you're also kind of going around this massive big tree trunk.
The American Book Center has got one of the best collections of magazines in English in Amsterdam, as well as a really great graphic novel section. Of course, there's lots of excellent fiction, many beautiful art books and photography books, but everything is focusing on English books because it's an American Book Center. There's also a little cafe so you can get a coffee and there's some seating out the front if you want to sit in the sun, drinking coffee while you read a new book.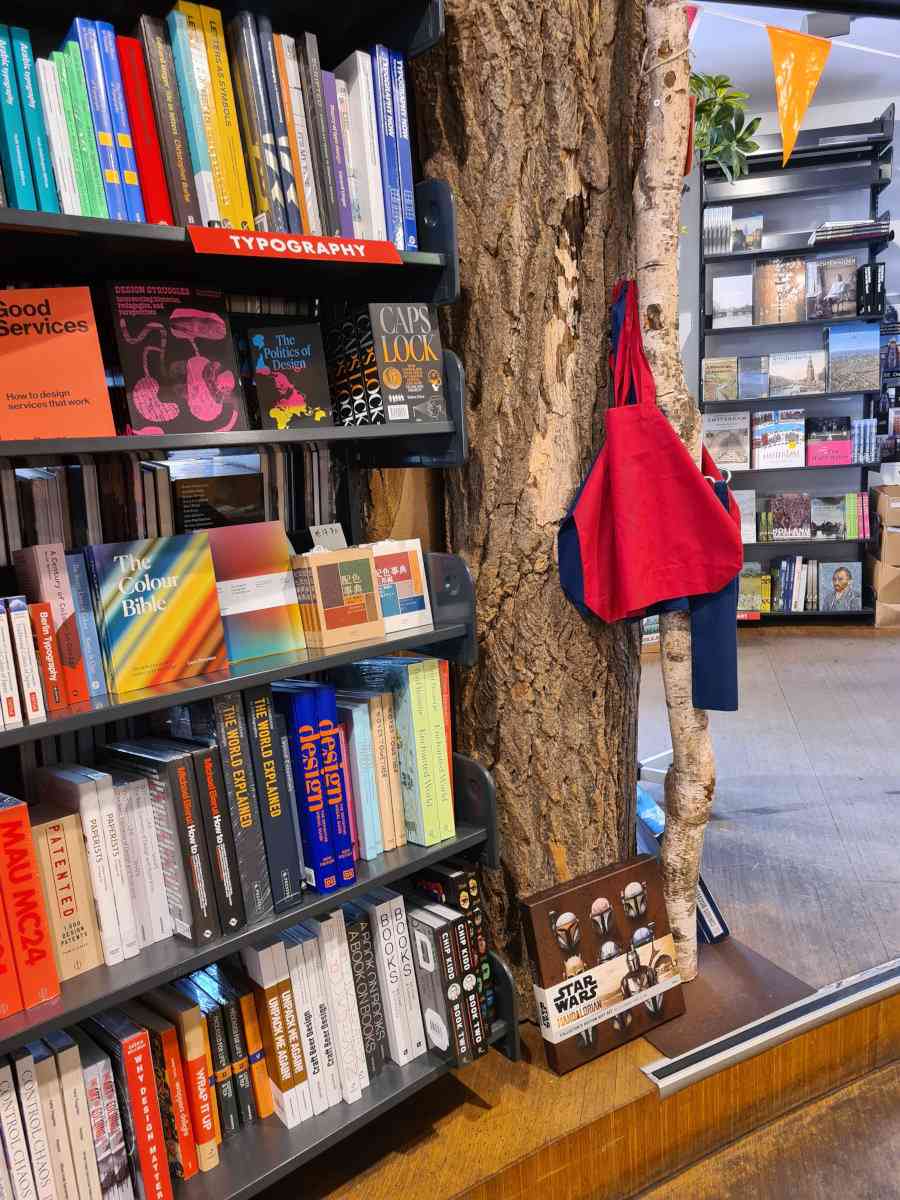 Athenaeum Boekhandel Spui en Nieuwscentrum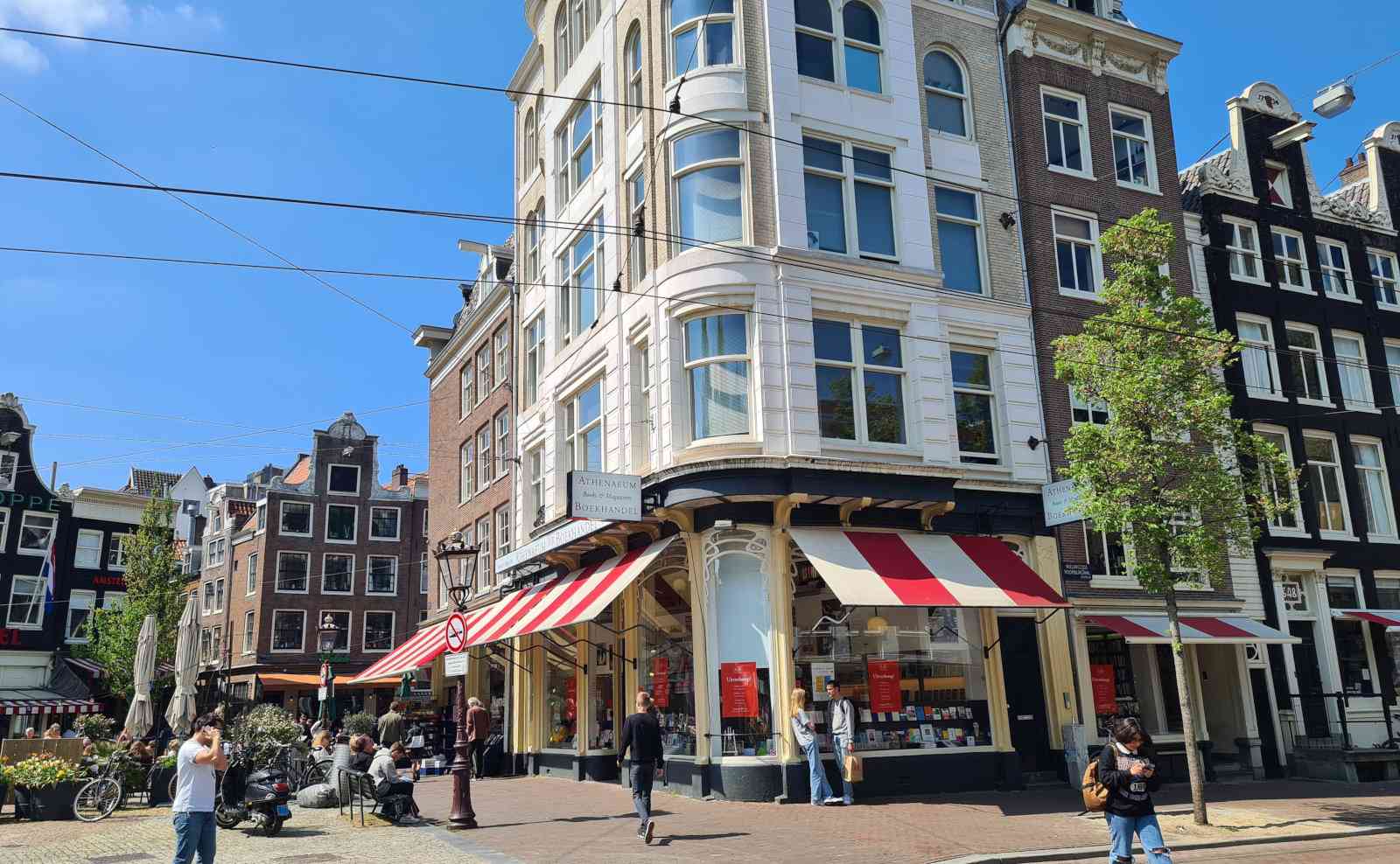 Just across the road from the American Book Center is Athenaeum, (although the full name is a very difficult to pronounce mouthful) another really cool bookshop in Amsterdam.
This one is kind of a rabbit warren on the inside, with all these little bits where you go upstairs and downstairs again to different sections, not just going up each floor in a straightforward manner. It's really kind of like being in a little Alice in Wonderland adventure!
It's very easy to get lost in all the little sections, browsing the many books. A couple of parts have very steep stairs, so again, it's not the most accessible bookshop but it makes a great little trio with Waterstones and the ABC for finding some English books in Amsterdam. It's also got a really massive magazine section.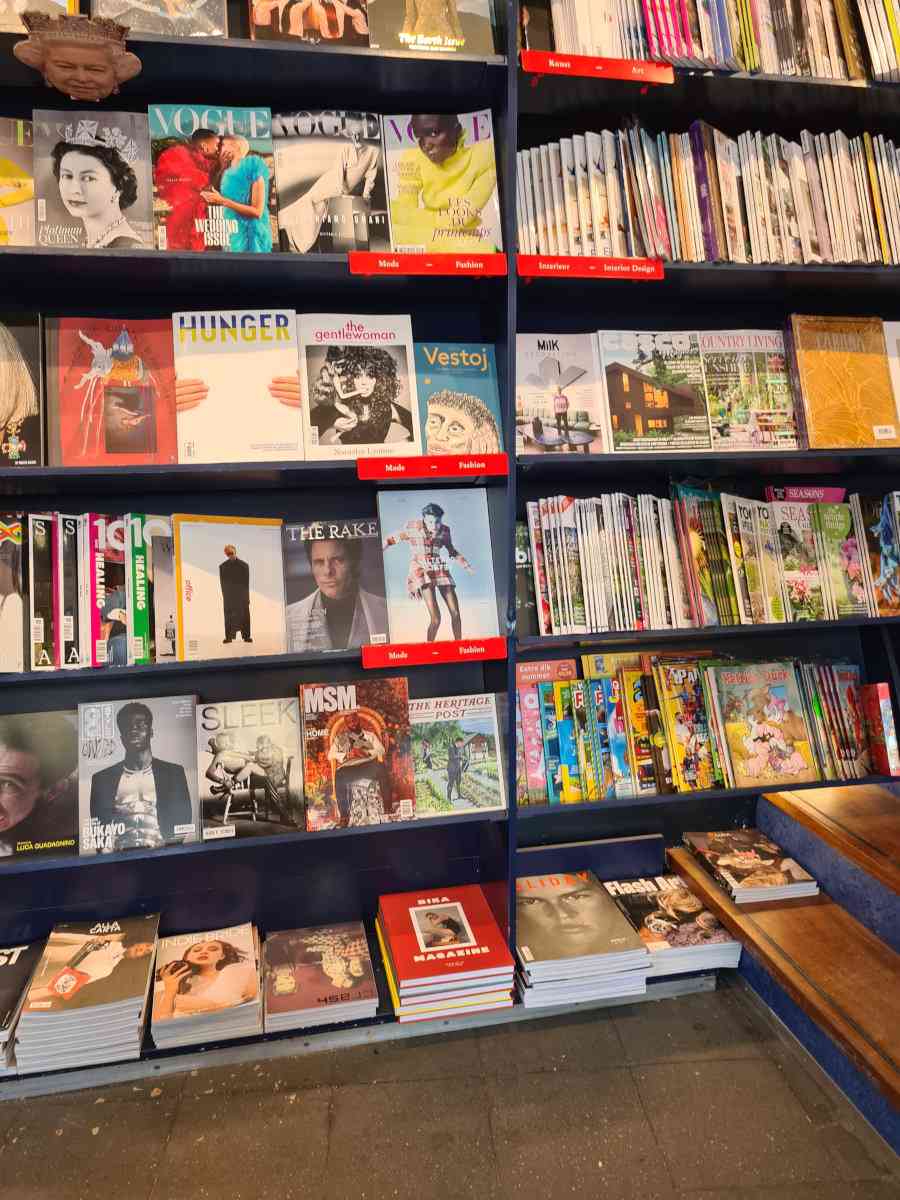 Cuypers Library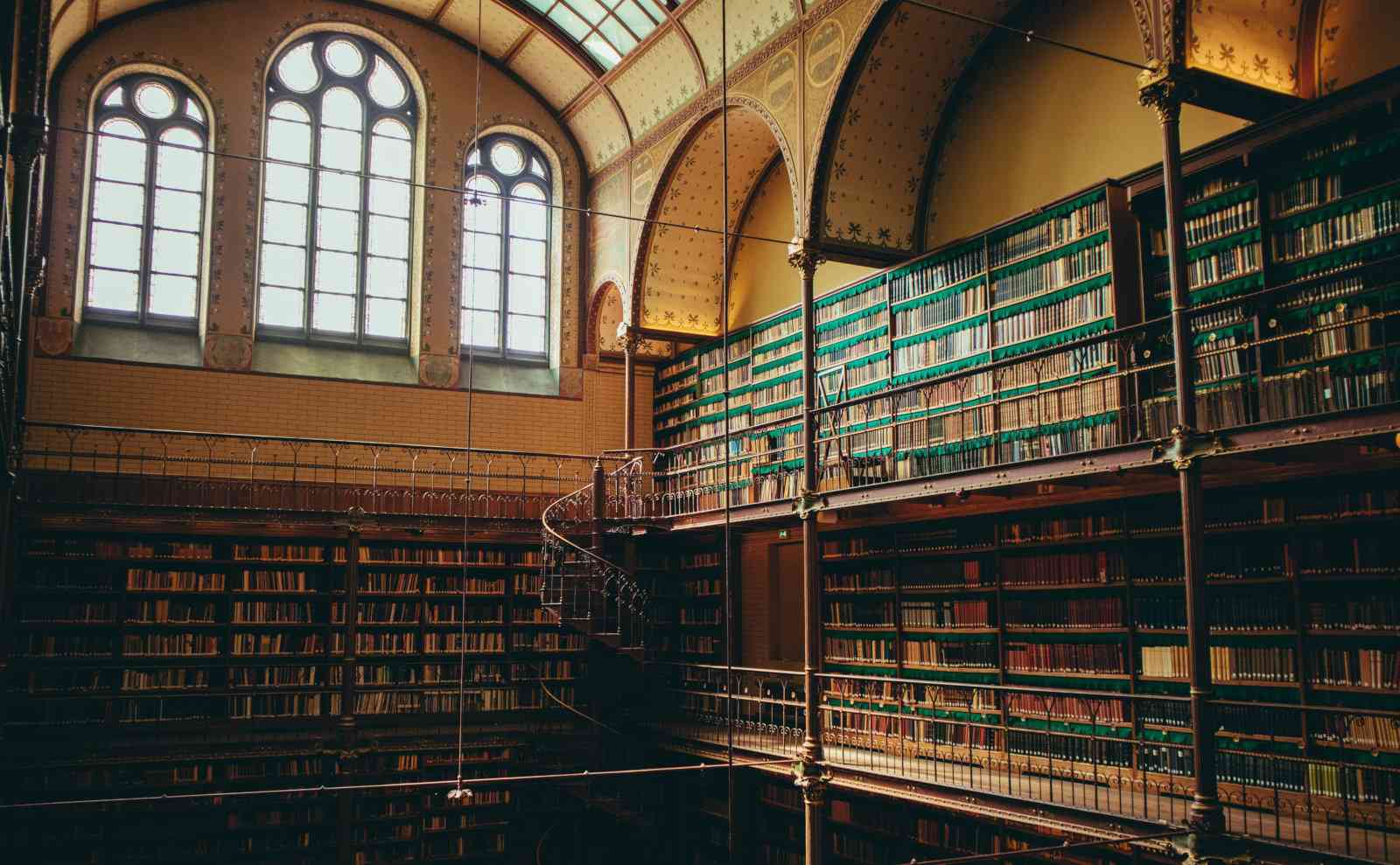 You've probably already seen photos of the reading room/library within the Rijksmuseum, which is officially called the Cuypers Library after Pierre Cuypers, the Dutch architect who designed both the Rijksmuseum and Amsterdam Centraal Station. The Cuypers Library is both the largest and the oldest art history library in the Netherlands, not to mention one of the most beautiful!
Visitors to the Rijksmuseum are free to explore the library, with thousands of books, journals, periodicals and art catalogues included in the collection. The design of the room itself is also gorgeous, particularly the spiral wrought-iron staircase, arched windows and glass ceiling. Just be aware that it does cost money to visit the Rijksmuseum, although I personally think if you're only going to visit one museum in Amsterdam, that's the one you should pick! Of course, there are many other fantastic museums as well…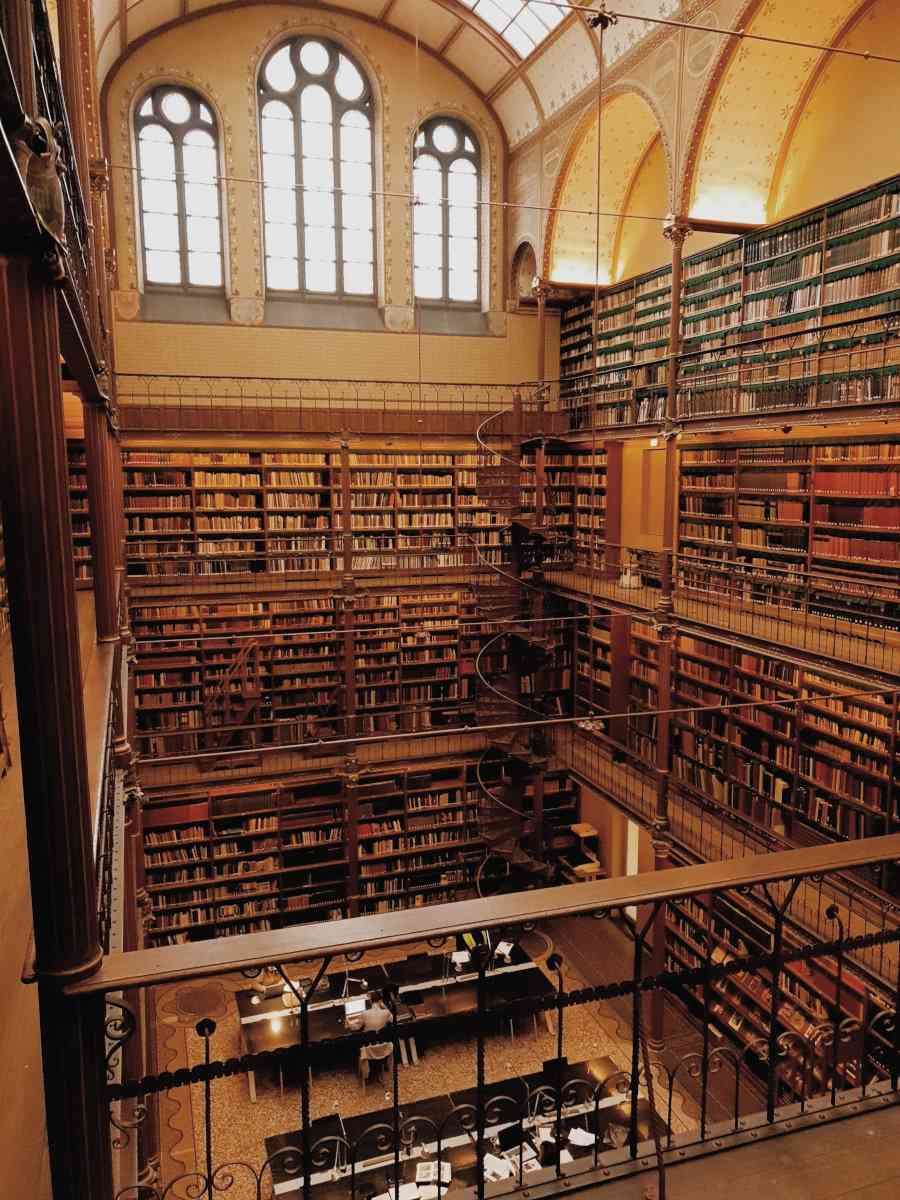 Other Cool Book-ish Places in Amsterdam
Along with bookshops and libraries, there are some more very interesting 'book-ish' places in Amsterdam that I love, so I've included them in this guide as well.
Het Muizenhuis Mini Museum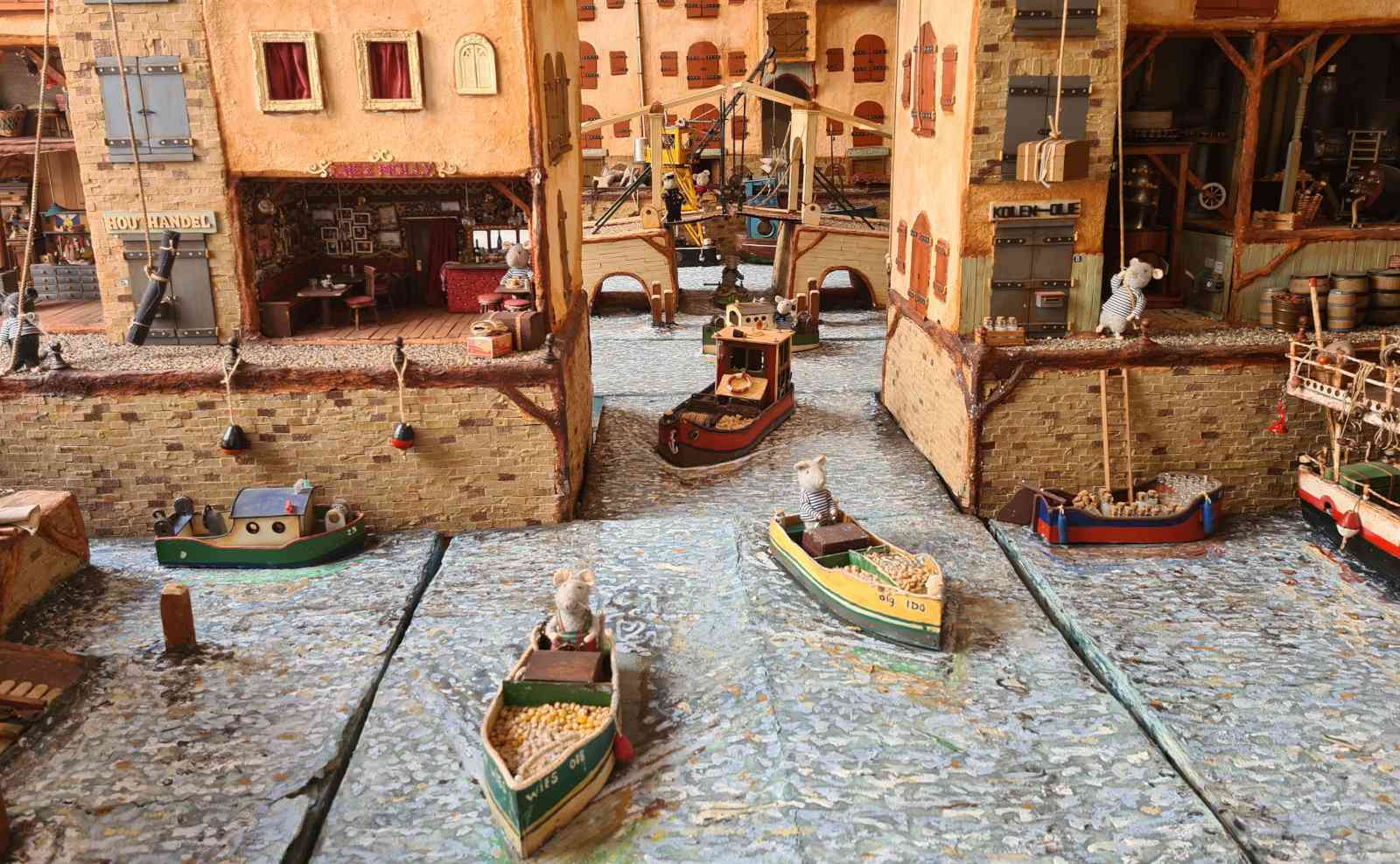 If you saw the Mouse House at the library in Oosterdok and you want to see more then head to the Jordaan district, where there's a tiny little museum/bookshop with even more of these amazing little dioramas of mice living fabulous lives!
There's also a whole collection of the different picture books in many different languages, not just English, which make great gifts. There are even packs that you can buy to make your own mouse house at home as well as more amazing displays to marvel at.
The displays include a little circus tent, a smaller version of the original mouse house and a whole room at the back where there's a huge diorama of Amsterdam with canals and mice going about their business. The whole thing is just such an enchanting little place that kids would especially love, as well as anyone who likes cute miniatures.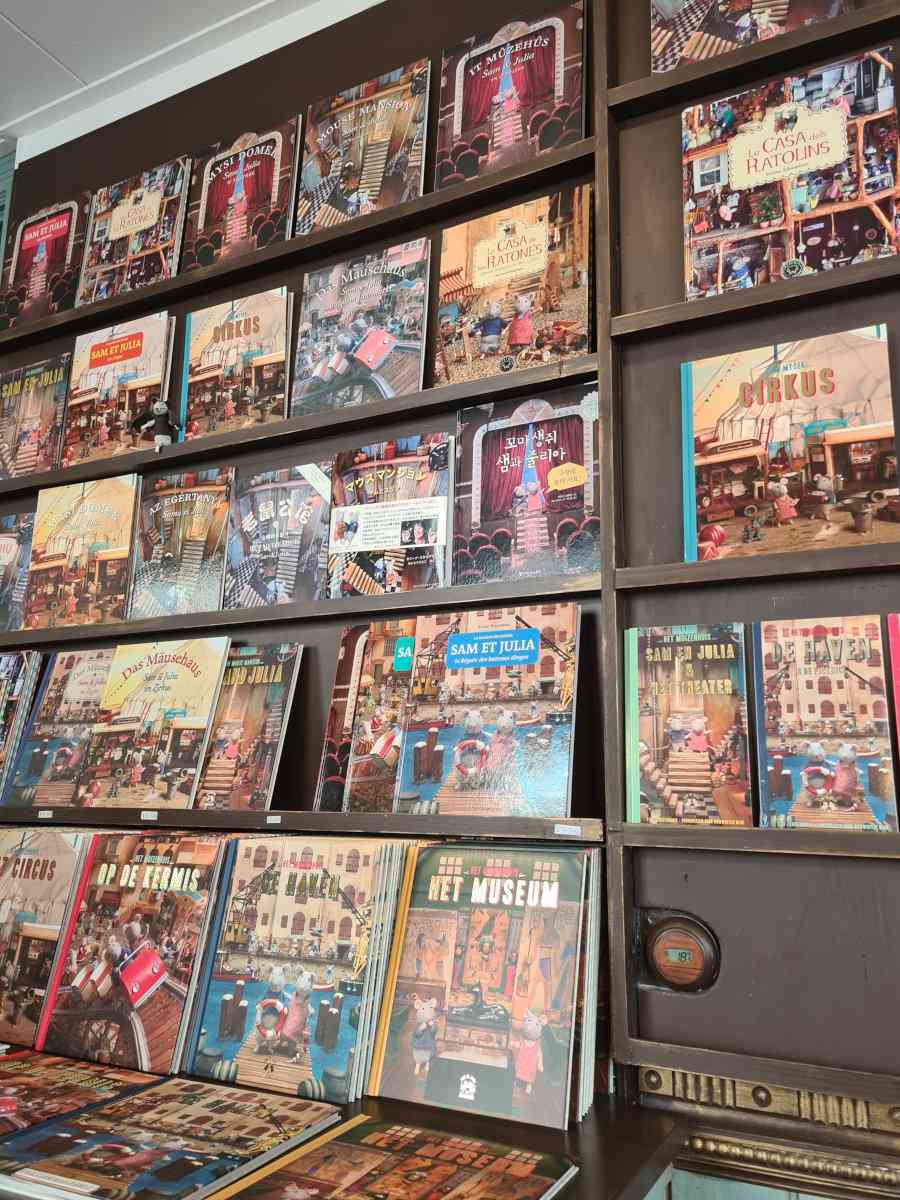 Spui Book Market (Fridays)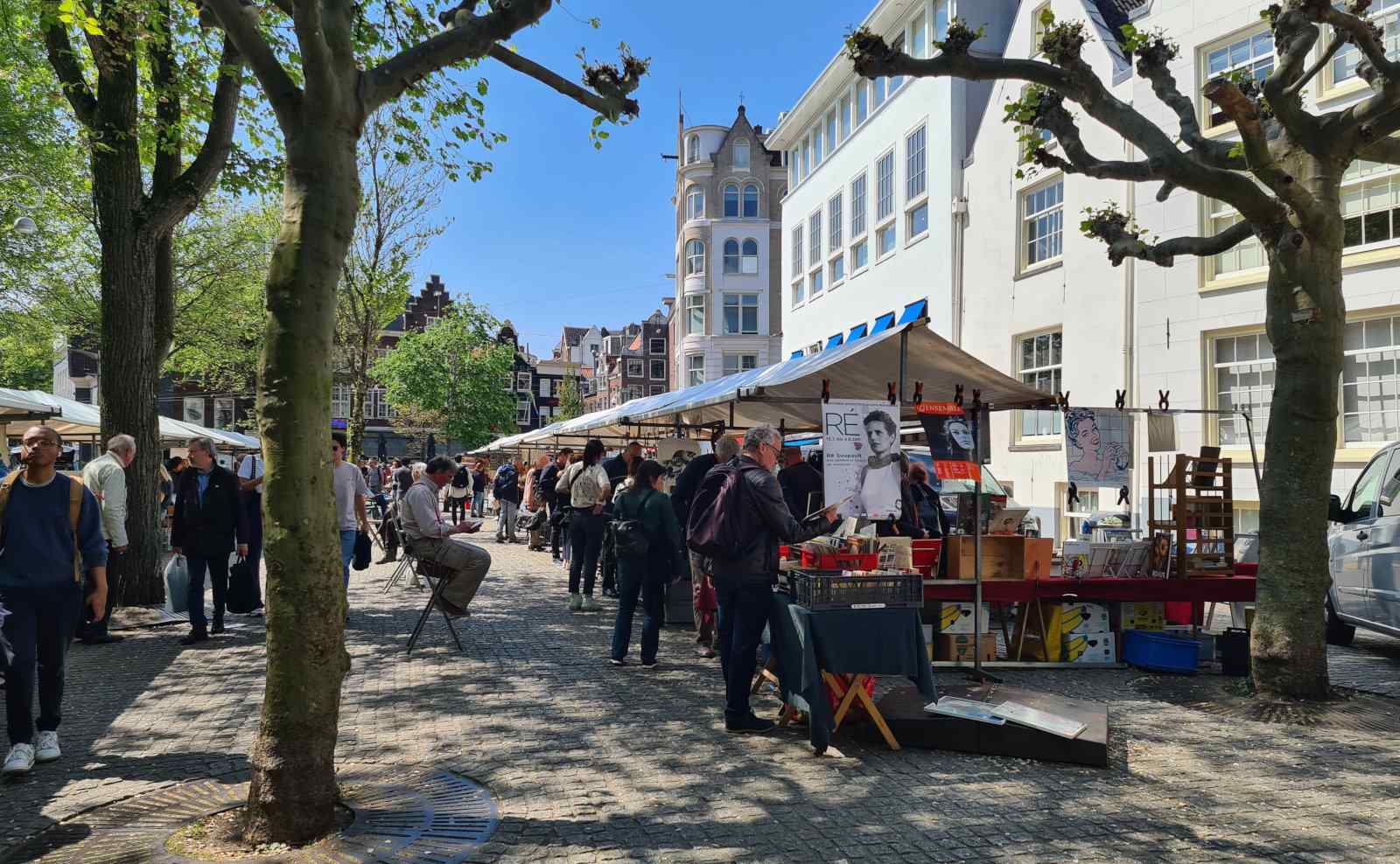 On Fridays, there is a little market called the Spui book market located on Spui street, which is the same street that Waterstones, the American Book Center and Athenaeum are all located on. Each Friday between 10am and 6pm, a bunch of people have little stalls out on the street, mostly selling beautiful secondhand antique books, but there are also stalls selling old records, beautiful prints, paintings and even jewellery that you might like to get your eyes (or hands!) on.
Oudemanhuispoort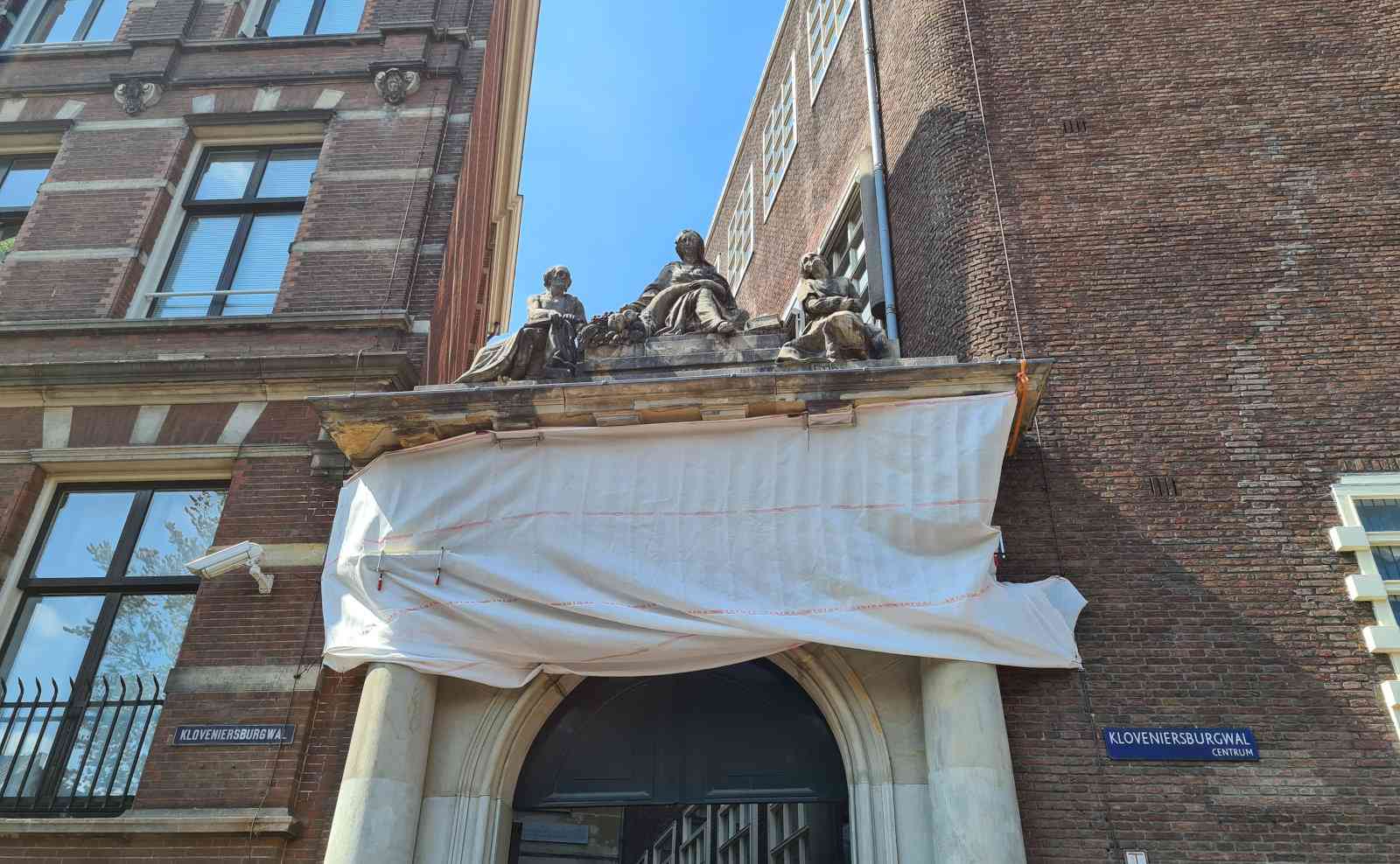 As well as being a cool but difficult-to-say word, Oudemanhuispoort is an alleyway that runs between Kloveniersburgwal and Oudezijds Achtersburgwal, which has cute little secondhand bookstalls in it! Oudemanhuispoort roughly translates to "old man's house gate/arch" which makes sense, because the building complex used to be a retirement home. It also dates back to 1601, so it's pretty old.
Today the buildings are part of the University of Amsterdam, there's even a pretty little interior courtyard garden about halfway through. But the main reason I love walking down this covered alley is because of the cute little 'book-nook' cabinets built into the walls, as well as the folding bookshelf things which you can see in the bottom right photo.
There's been a daily book market held here since at least 1879. Many of the secondhand books for sale are in Dutch, but there are usually plenty in English as well, on all sorts of topics. You can also expect to find art prints or posters, maps, old records and even sheet music. This is also one part of Amsterdam which is cash only, so make sure to bring some with you if you think you might buy something.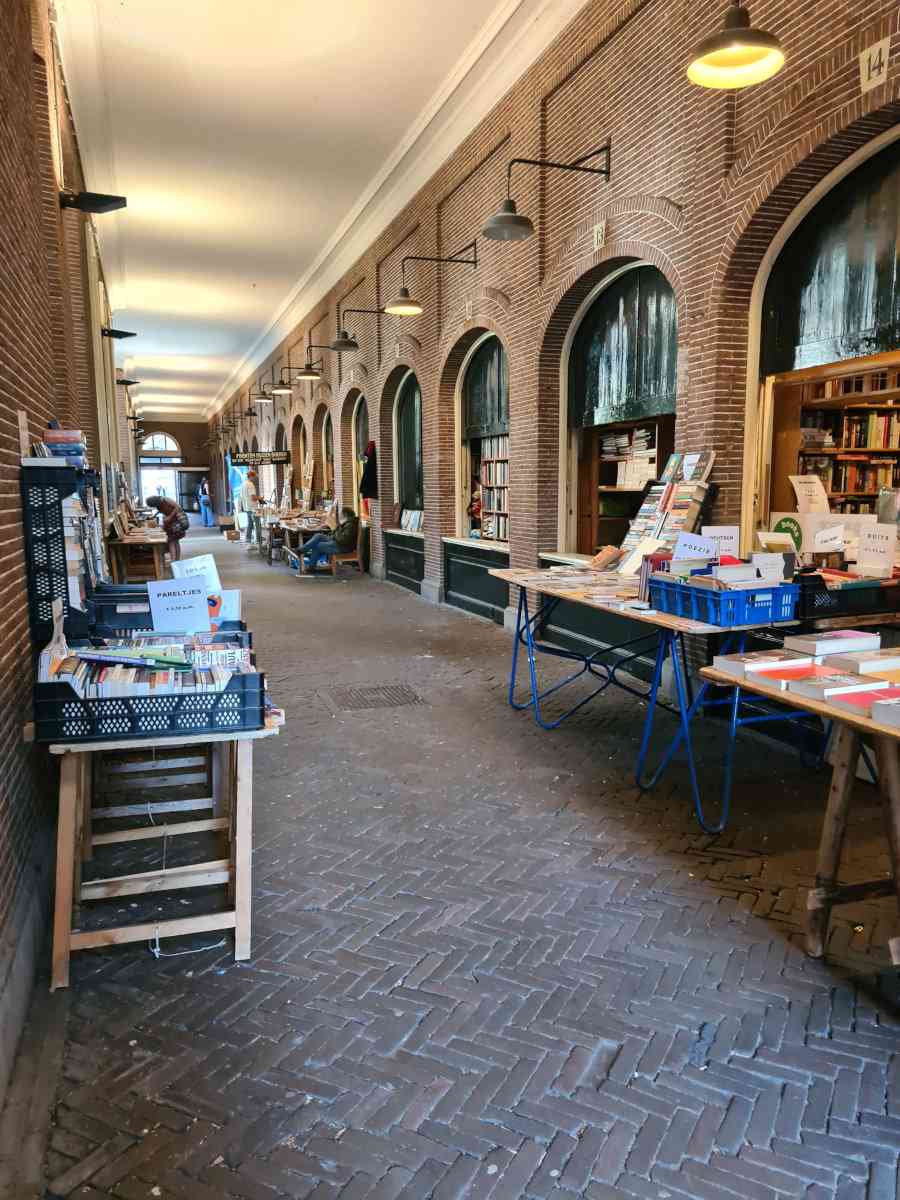 Embassy of the Free Mind
The Embassy of the Free Mind is a very unique museum and library in Amsterdam, with a focus on philosophical Hermetic texts, along with books on alchemy, mysticism and religious studies (such as freemasonry, kabbalah and grail). Even if you're not particularly interested in these topics, the collection includes many very old manuscripts along with fascinating exhibits on history, science, art and spirituality.
Officially opened by the author Dan Brown (author of The Da Vinci Code), the Embassy of the Free Mind also often hosts lectures, themed tours or even concerts. There are regular special exhibits on as well, so check out the website to see what's on as well as prices (it isn't free unless you have one of the museum cards you can get in the Netherlands) and opening times.
Book-ish Places to Stay in Amsterdam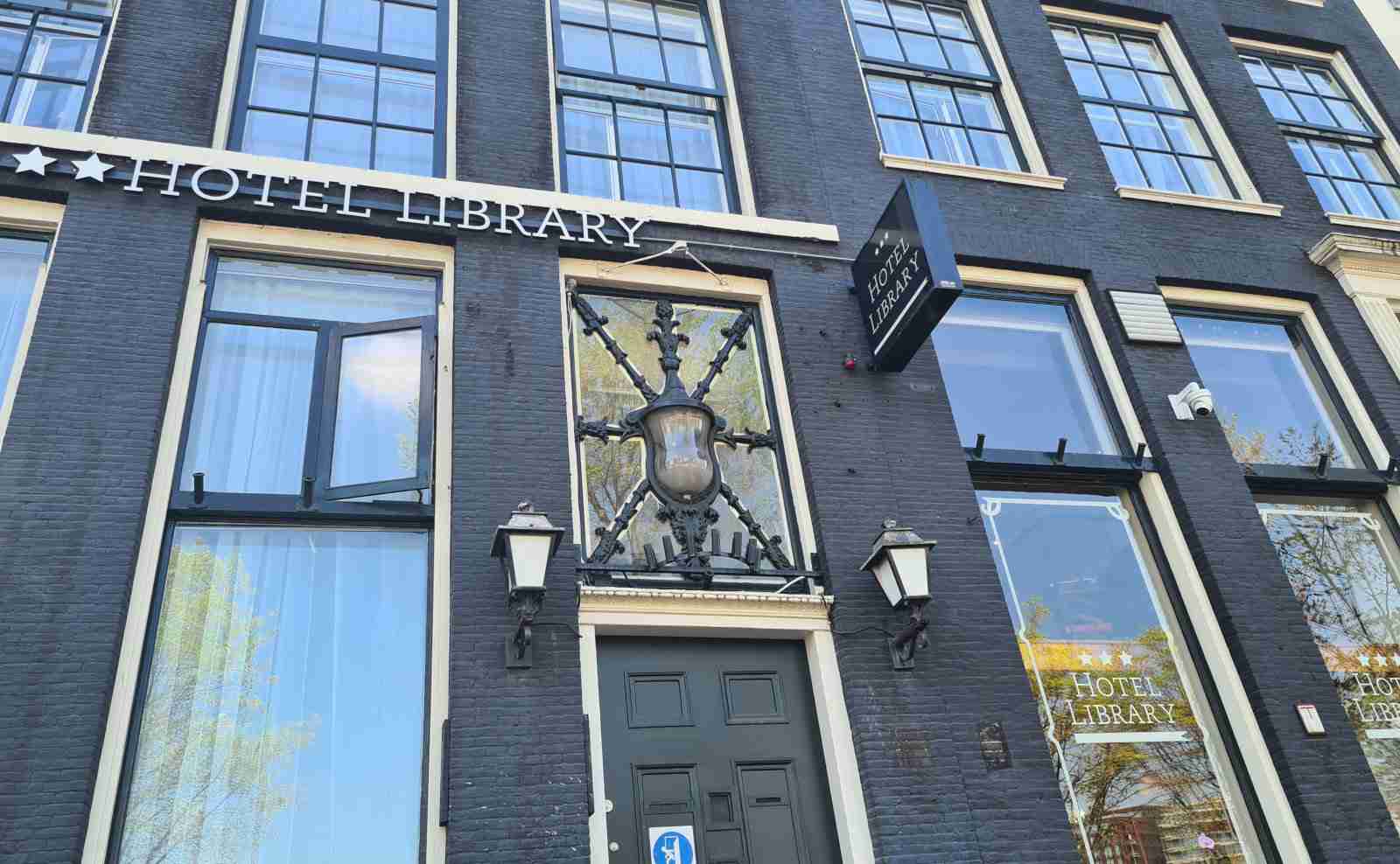 I haven't personally stayed at any of these hotels, as we rarely spend the night in Amsterdam since we live so close. But, in the name of research, I looked up the coolest book-themed hotels, or ones with awesome libraries that I would definitely want to stay in, just in case you want to have an entirely book-themed trip! Here are the best-looking book-ish places to stay in Amsterdam so you can be totally surrounded by books.
Hotel Library Amsterdam: If you're looking for a book-themed hotel then you can't go past one that's literally called a library! The Library Amsterdam is named 'the library' because it's located directly across the Oosterdok from the OBA and it also has a cute little library inside, complete with a ladder to reach the high shelves. It's also reasonably affordable (for Amsterdam) and quite close to Amsterdam Centraal.
INK Hotel Amsterdam – MGallery: INK Hotel Amsterdam is located in what used to be the headquarters of Dutch newspaper "De Tijd", so it's more text-themed than book-themed, but I still think it looks fascinating and I'm sure anyone who's interested in words will agree! Text and letters feature throughout the building, the bar is located in what was the press room plus there's also a gorgeous library lounge lined with old issues of De Tijd. It's also nice and central, located a short walk from Amsterdam Centraal.
Ambassade Hotel: The Ambassade Hotel is housed in a lovely old canal house and also features a very cosy library/bar area which looks perfect for curling up in with a good book! The rooms are quite luxurious and it's located in the Jordaan, which is one of the prettiest old neighbourhoods within the canal belt.
Sir Albert Hotel: The Sir Albert Hotel is the furthest out of these picks, as it's located within De Pijp on Albert Cuypstraat but it is also an incredibly stylish and luxurious hotel, not far from the Rijksmuseum. The neighbourhood of De Pijp is also very hip, if you can manage to drag yourself out of the gorgeous hotel! The study/library is a highlight, with a modern wood fire, leather chairs and beautiful books to peruse, perhaps with a glass of whiskey? This hotel also has a restaurant and private terrace to enjoy.
Map of the Coolest Book-ish Places in Amsterdam
I've put all the Amsterdam locations from this post into a map so you can get an idea of where they all are in relation to each other. I also structured the first section of the post in the order that would make the most sense if you are coming from Amsterdam Centraal and heading to the Rijksmuseum, but obviously, you can explore in your own order! I hope it helps you enjoy these fabulous book-ish places in Amsterdam.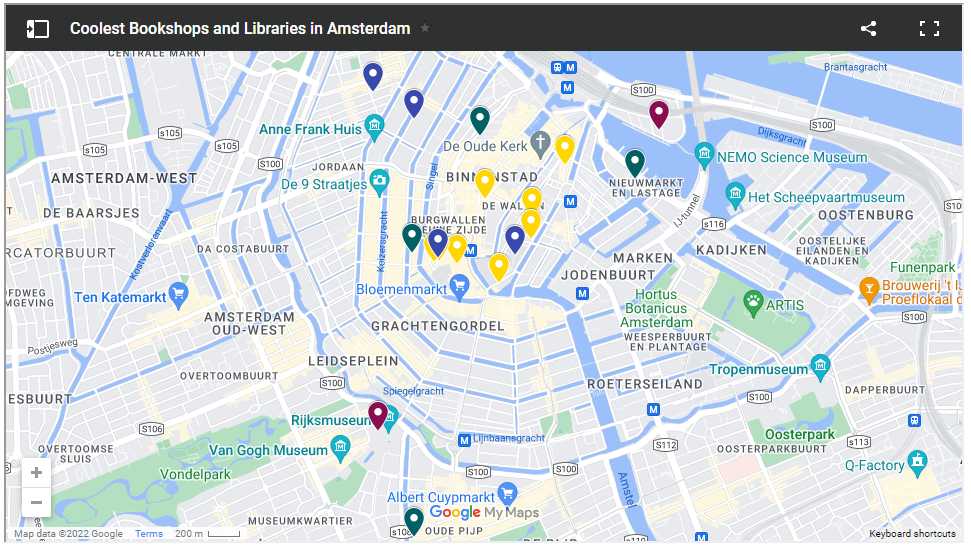 The Coolest Dutch Libraries and Bookshops Outside of Amsterdam
When I started this post it was only going to be bookshops and libraries in Amsterdam, until I remembered some other really cool ones I had already seen outside of the capital! I've also got a little list of some others that I am planning to visit as soon as possible, so make sure to check back again later as I will definitely be updating this section.
Waanders In de Broeren (Zwolle)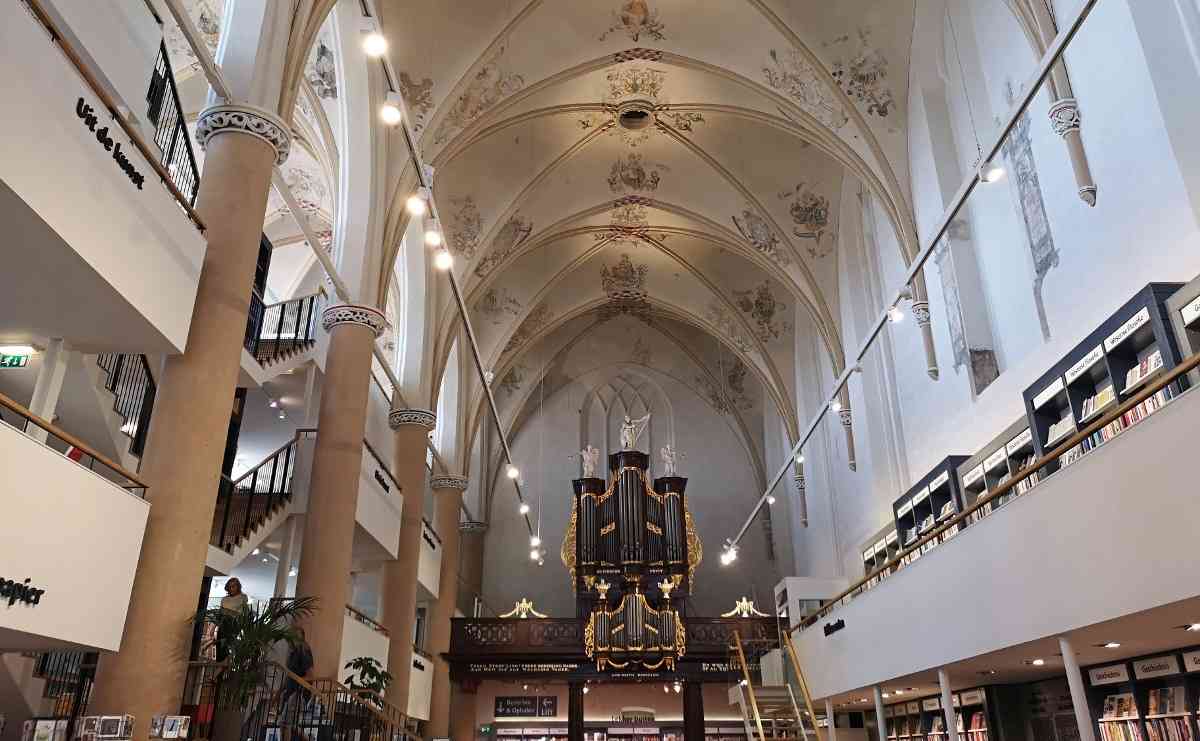 Waanders in de Broeren is a very cool bookshop in the city of Zwolle, housed within a converted 15th-century church! You can enjoy browsing plenty of Dutch and English books while also admiring the old organ, stained glass windows and pretty ceiling, plus there's a café on the premises as well. Zwolle is a city located in the province of Overijssel, which can be reached by train from Amsterdam in a bit over an hour. There are plenty of fun things to see and do in Zwolle as well as Waanders in de Broeren, check out my guide here for more!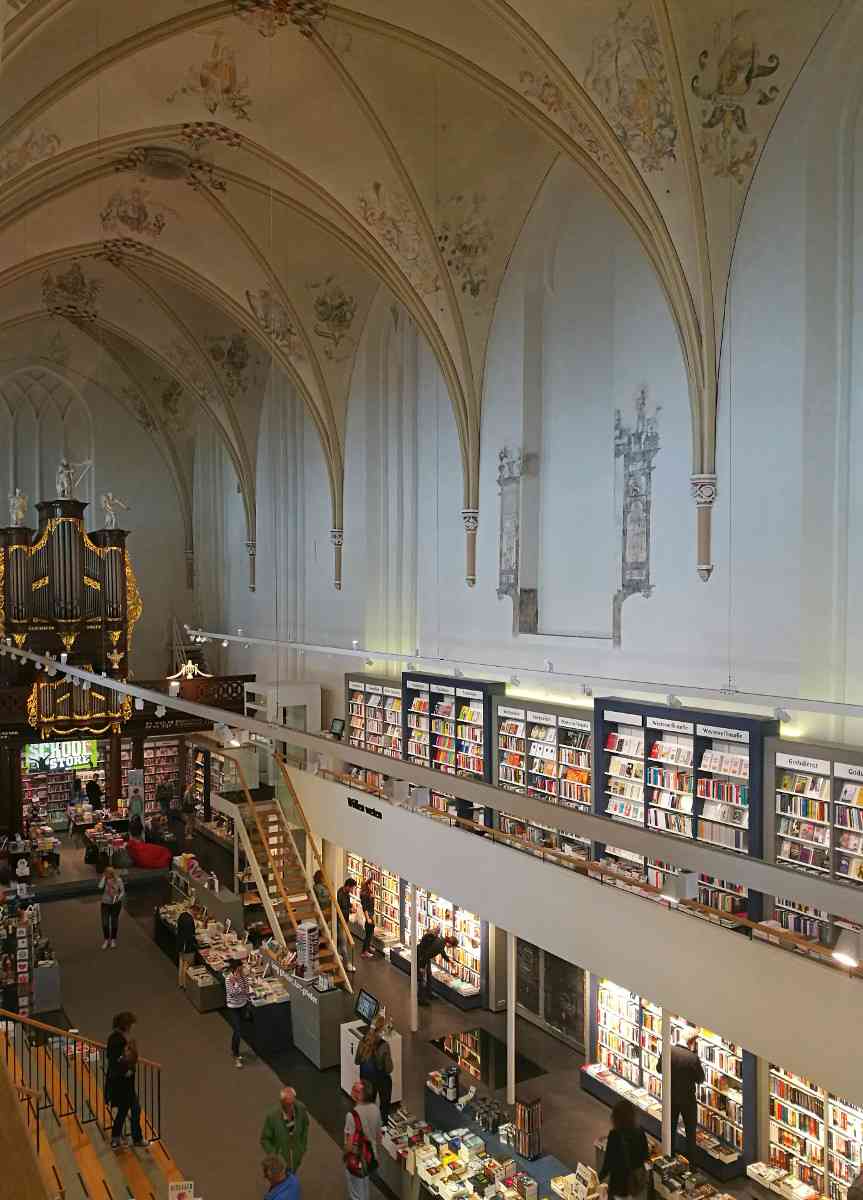 Boekhandel Dominicanen (Maastricht)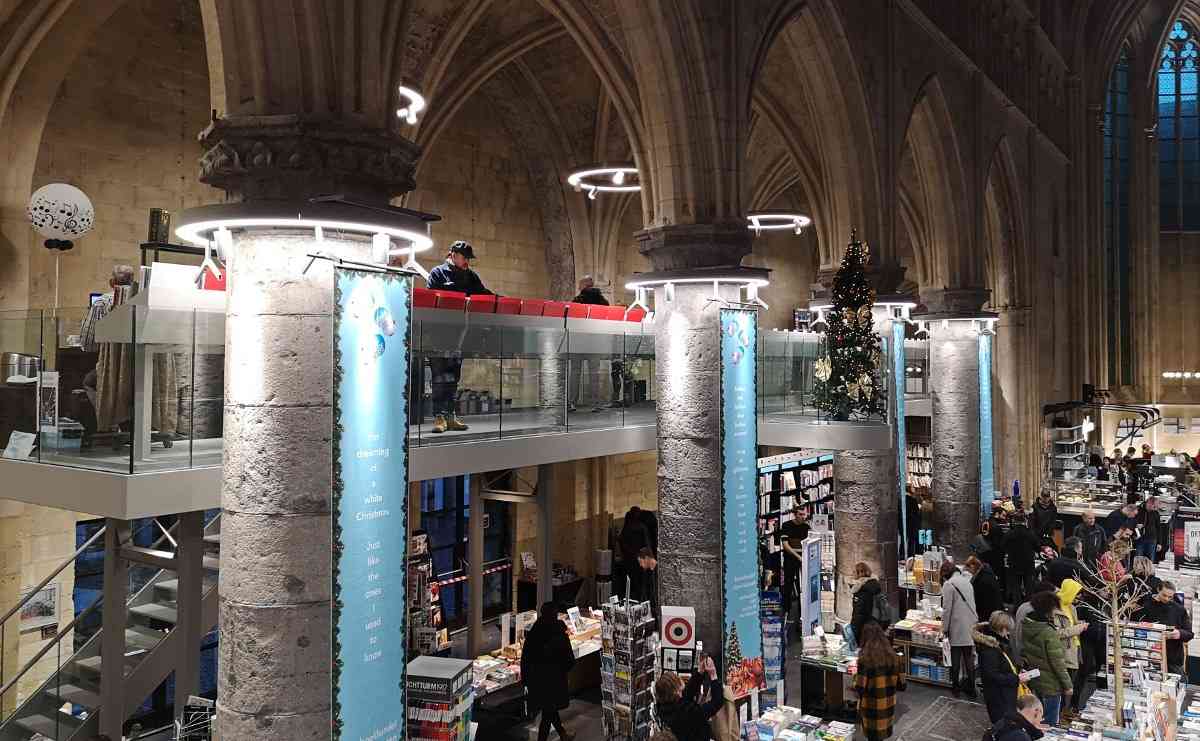 Continuing in the same theme as Waanders in de Broeren is Boekhandel Dominicanen, another Dutch bookshop located in a former church, although this one is in Maastricht, a city way down the bottom of the country. As you might be able to tell from these photos, we visited right around Christmas, so there were pretty decorations and Christmas trees adding to the ambience of the medieval Dominican church's vaulted ceiling and windows.
It takes about two and a half hours to get to Maastricht from Amsterdam by train, so it's probably better as an overnight or weekend destination rather than a day trip. We last visited Maastricht while we were in Valkenburg for their epic multiple Christmas markets (some in caves) which you can read about here.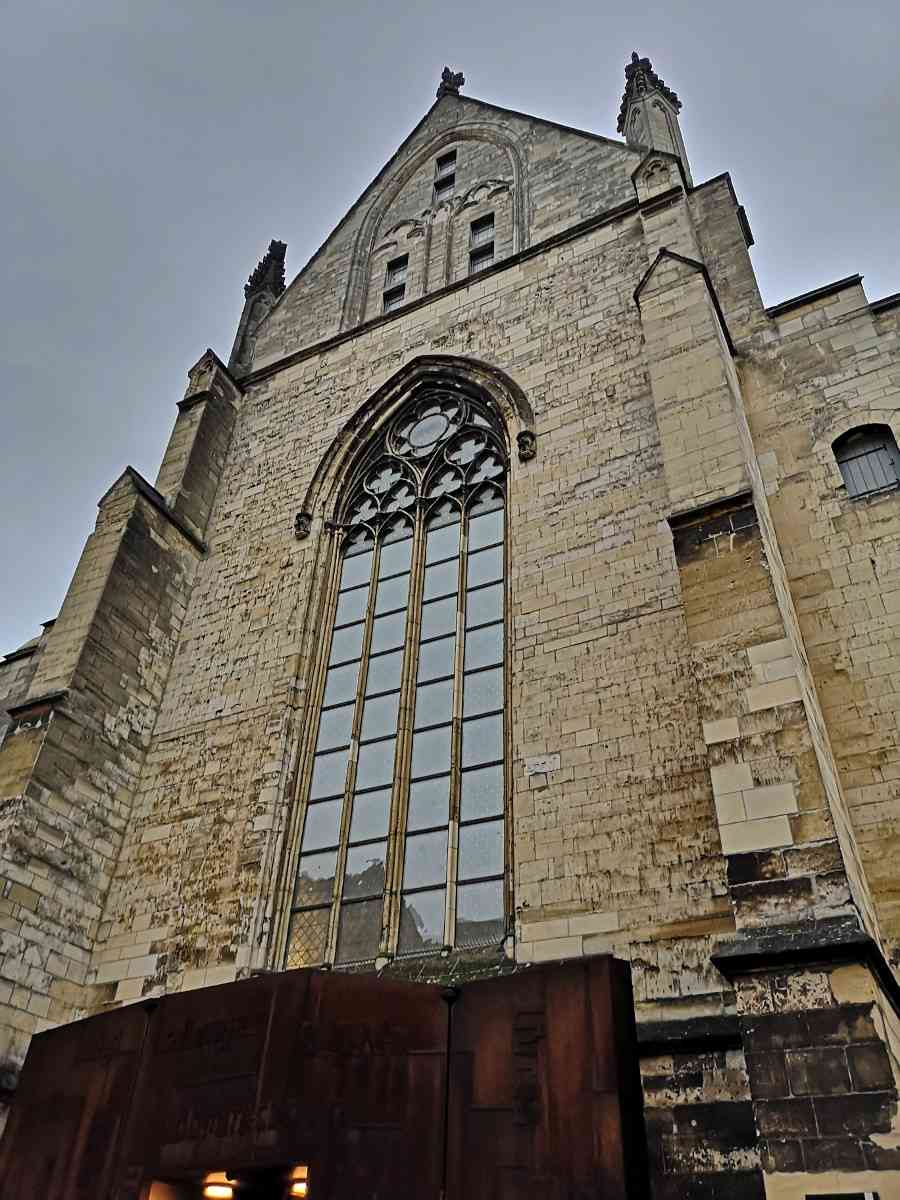 Pin Me!
Do you have a favourite Dutch bookshop or library I haven't mentioned here? Let me know about it in the comments or pin one of these if you're planning your own bookish trip!