For many visitors to the Netherlands, the city of Zwolle probably isn't really on the radar. If travellers do get outside of Amsterdam it's usually to one of the other big cities like Rotterdam, Utrecht and the Hague. But if you're looking to explore more of the Netherlands then this charming city in the province of Overijssel might be just the ticket. I've had a few trips to Zwolle while organising my visa for staying in the Netherlands so I've taken the time to explore this cute city so that I can share it with you. There are a surprising amount of fun things to see and do in Zwolle!
About Zwolle
Zwolle is the capital of the Dutch province of Overijssel. Overijssel is the province in which you will also find Giethoorn (a very popular Dutch destination), and you should definitely spend some time in the city if you are travelling to Giethoorn as well. It (Zwolle) has a beautiful medieval centre and lots of interesting architecture. If you look at it on a map from above you will also see it has a vaguely star-shaped moat around the city centre. During WWII a Canadian soldier called Léo Major apparently single-handedly liberated Zwolle from German occupation and there is now a street named after him.
Things to Do in Zwolle
Here are ten things to do and see in Zwolle (plus some bonuses)! You could easily do nearly all of these in one day as a day trip from Amsterdam or perhaps stay overnight and also explore nearby places like Giethoorn.
1- Explore the Sculpture Route from the Station
If you arrive via train then you will be perfectly positioned to start your day in Zwolle by exploring the Portal Art Route. Starting at the station and leading you into the city are a series of sculptures and odd little elements made by artists Ram Katzir and duo Hertog Nadler. It definitely makes for a fun walk from the station to the historic centre as you keep an eye out for each of the elements!
2 – Admire the Old Fortifications and Sassenpoort Gate
One of the best parts of Zwolle is exploring the leftover parts of the medieval walls around the city centre. You will notice partially ruined (and sometimes repurposed) pieces all around the main historic area but the most famous is the Sassenpoort Gate (top right). This was the main gate when the entire city was walled and was restored in the 1890s. Now it's one of the top 100 Dutch Heritage Sites and a must-see when visiting Zwolle.
3 – Visit the Grote Kerk
Sint Michaelskerk, or simply the Grote Kerk, is located right in the middle of the historic city centre and surrounded by cafés and shops. It's a gorgeous church with a famous Baroque organ and is worth a little visit inside just to marvel at its beauty. It also often hosts events and exhibitions, the day I went inside there was a local photography exhibition on display.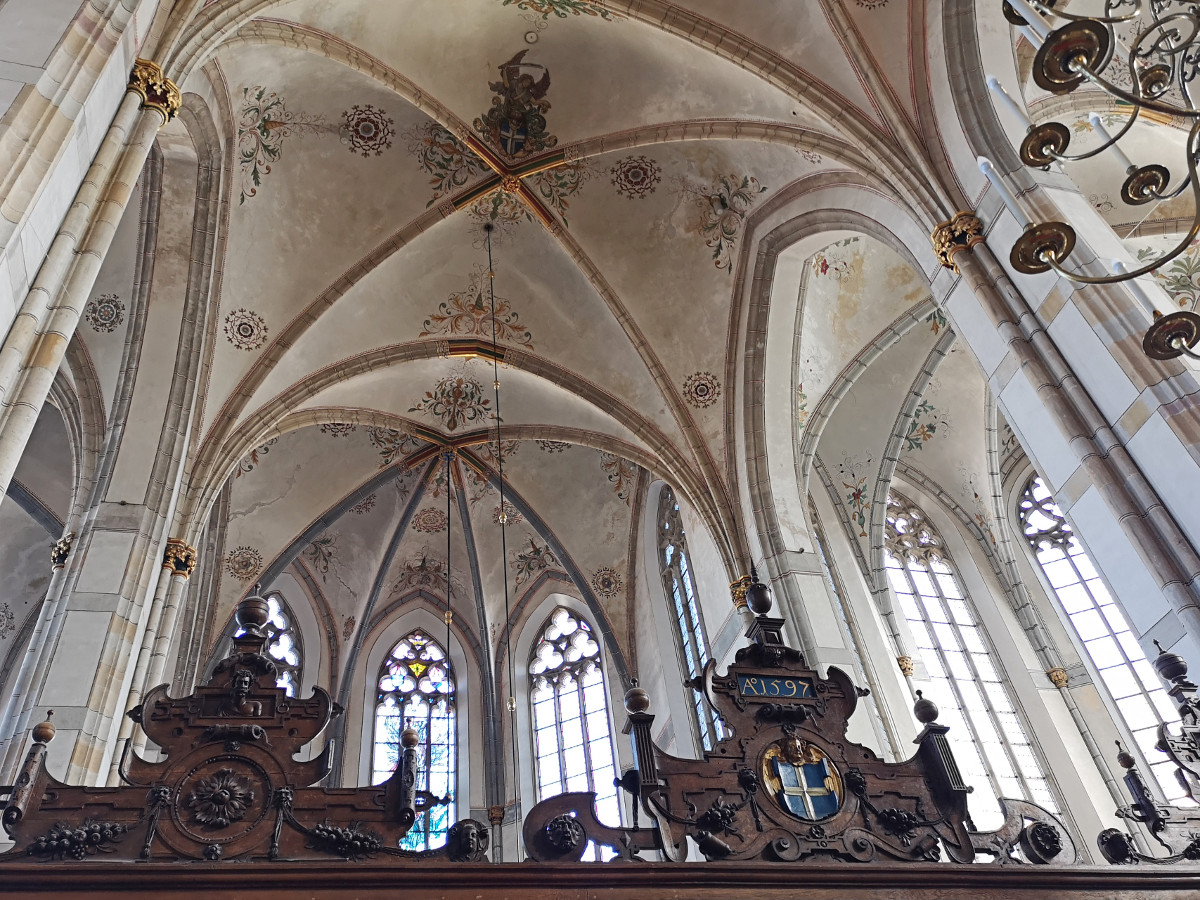 4 – Visit the Museum de Fundatie
Ever since I saw a photo of this museum I wanted to visit since it looks so weird! This strange mix of traditional and futuristic architecture is the home of the Museum de Fundatie, a museum for visual arts. There are actually two locations for the museum (more on the second one later); the building in Zwolle was originally the courthouse, and the egg-shaped structure on top was added in 2012-2013. Unfortunately on the day we visited there was work being done so we couldn't go inside the egg part and look out over the city, so I'll have to go back another time just for that!
5 – Visit the Herman Brood Experience
Herman Brood was a famous Dutch musician and painter who was born and raised in Zwolle. Directly opposite the Museum de Fundatie is the Herman Brood Experience, a small shop/café/art gallery where you can have a look at and even buy some of his artwork. I quite like his art style and enjoyed looking at the prints, sculptures and merchandise available. It also seems like a nice spot to sit with a coffee and watch the world go by.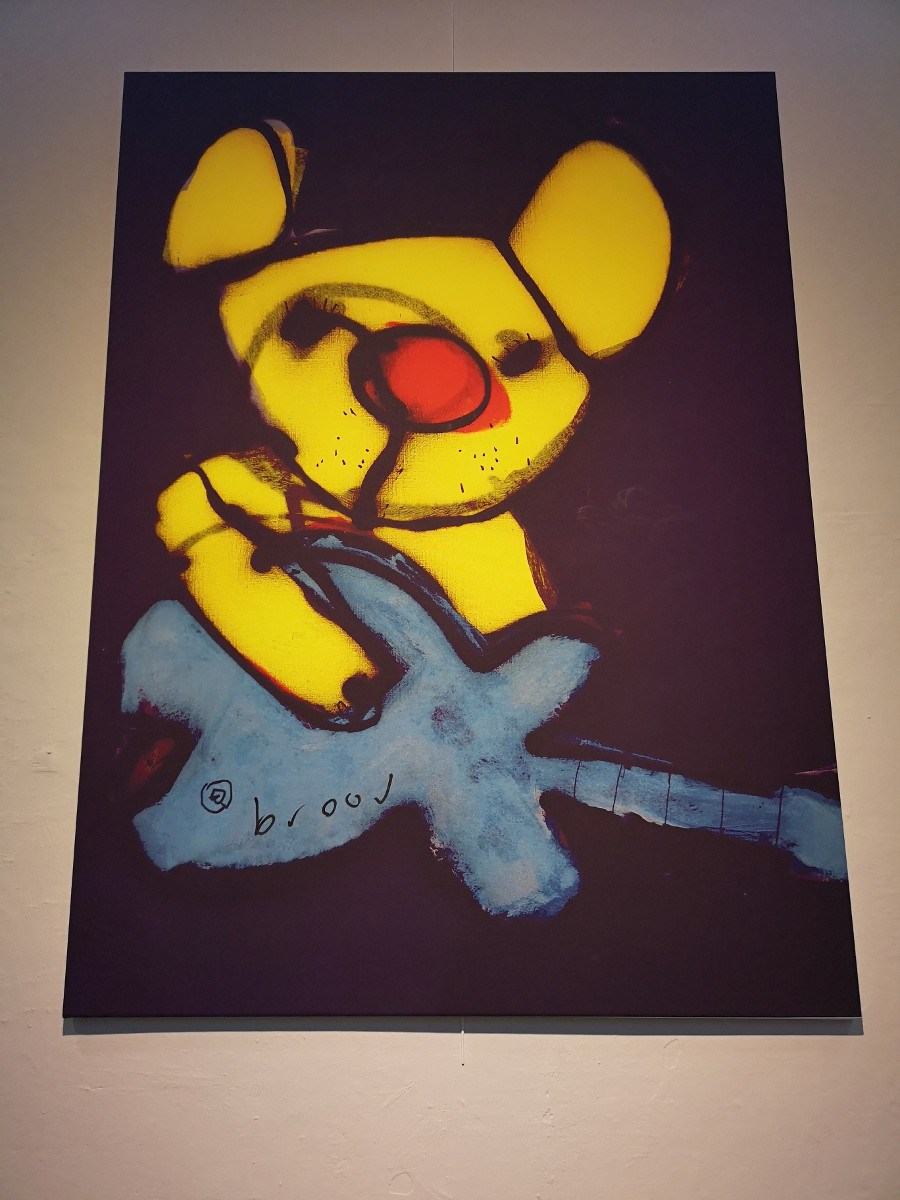 6 – Explore Waanders in de Broeren
One of the most well-known, and my favourite, places to visit in Zwolle is Waanders in de Broeren: a bookstore in a 15th-century church! There's another well-known and beautiful church-turned-bookstore in Maastricht, but this one in Zwolle is certainly much closer to Amsterdam. The entire church has been transformed into a huge bookstore, as well as a café in one end. While most books are in Dutch, of course, there are a fair amount of English ones for sale as well as some lovely gift ideas that aren't books. For fellow bibliophiles, this is the number one thing to see in Zwolle! You can do a guided tour of the church for €15 or just wander around for free.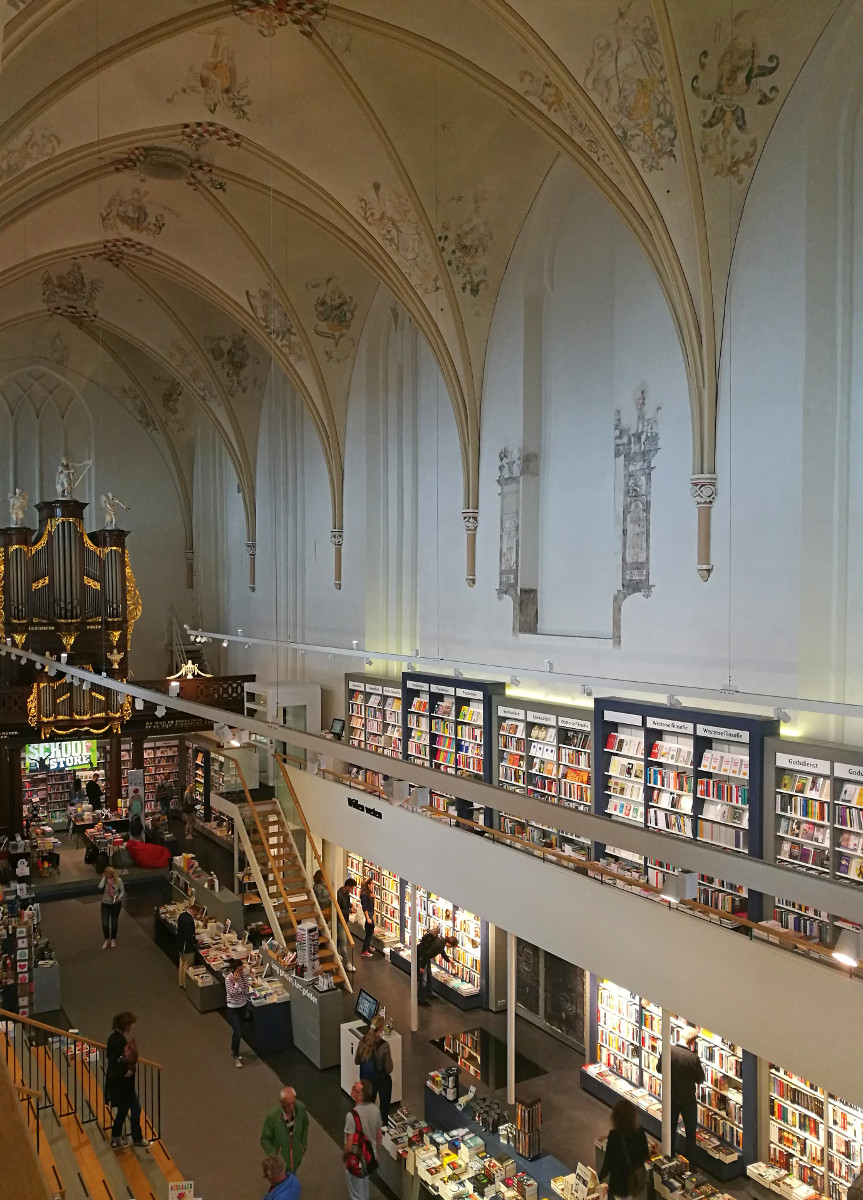 7 – Climb the Peperbus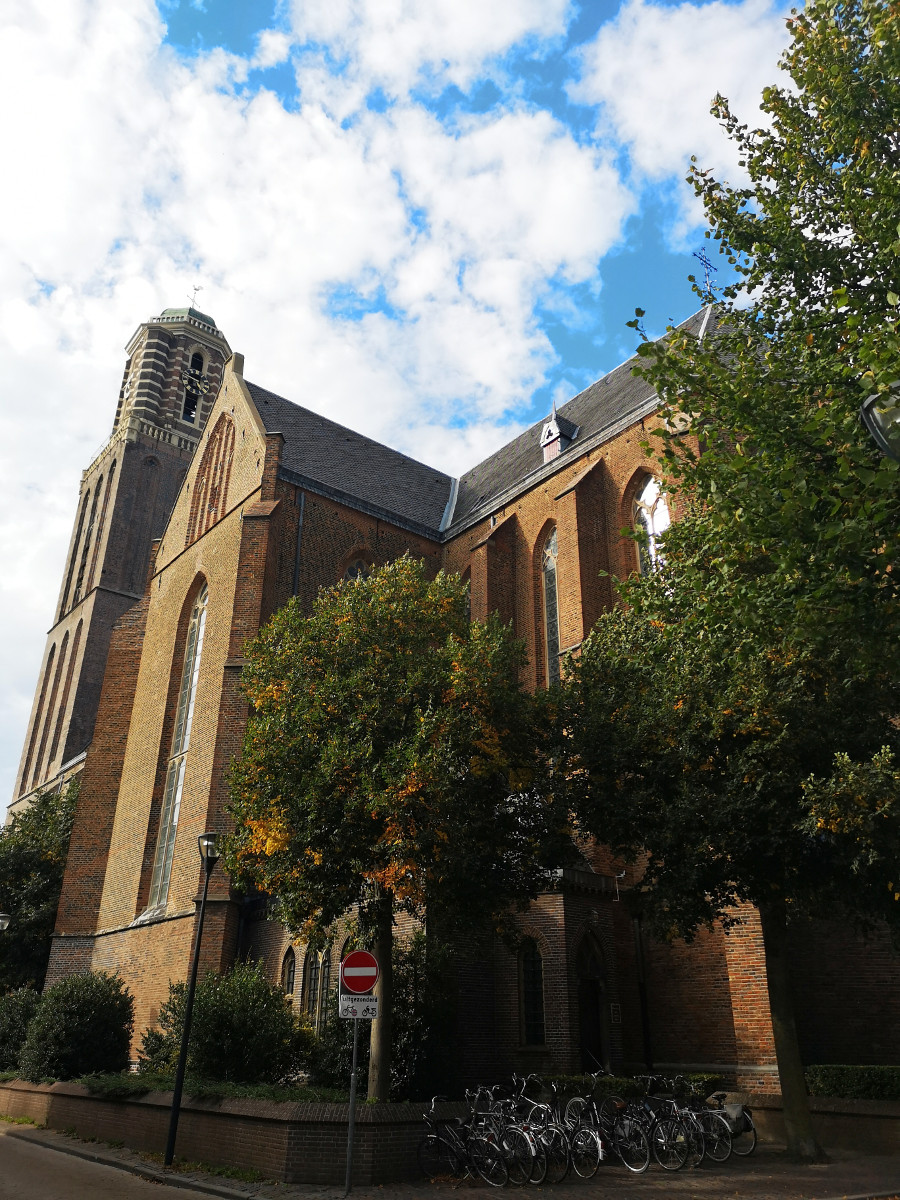 Another iconic sight in Zwolle is de Peperbus (or pepperbox) which is actually the tower of another church; Onze Lieve Vrouwe ten Hemelopneming (Our Lady of the Ascension). The 75 metre tower is one of the most famous in the Netherlands and is open to visitors when the church is open. You can climb the tower for views over Zwolle for €3.50 for adults, check the website for opening times and dates. I haven't climbed it yet, but it's on my list for when I go back to see the rest of the Museum de Fundatie!
8 – Explore the Bonami Gaming Museum
One rather unexpected attraction in Zwolle is the Bonami Games and Computers Museum. This is an interactive computer game museum so you will be able to play on some classic consoles. There's also a virtual roller-coaster with 3D glasses, a working 3D printer and as many arcade games and computer items for any nerd to be happy! The entrance fee isn't cheap, but once you have paid all the consoles, arcade games etc. are free to play, so you can spend hours reliving your childhood.
9 – Shop and Eat!
As well as the places I have already mentioned, Zwolle is also home to lots of shops, restaurants, bars and cafés which are just begging to be explored. If you walk from the Grote Markt along the Diezerstraat (a pedestrian-only street) you will see all the major shops and by ducking down side streets you will also discover many small boutique stores and a craft fair on weekends. The main square by the Grote Kerk (Grote Markt) has lots of busy cafés and we also saw many cool ones by venturing a few streets away, including a 'beach' café with sand on the ground! If you want to shop and enjoy a nice meal or drinks then Zwolle is a great place to do so. Foodies might be especially interested to know that Zwolle is home to a 3 Michelin Starred restaurant: De Librije.
10 – Go Further Afield to Kasteel Het Nijenhuis
If you have a car and are a fan of castles and/or sculpture art then you should definitely drive the 25 minutes out of the city to explore Kasteel het Nijenhuis. This is the second location of the Museum de Fundatie I mentioned above, and is home to one of the coolest sculpture gardens I have ever seen! I have a whole blog post on all the amazing art but here is a sneak peek if you need convincing. If you don't have a car you could also get the train from Zwolle to Heino and from there the castle is about a 20-minute walk.
Other Things to Do in Zwolle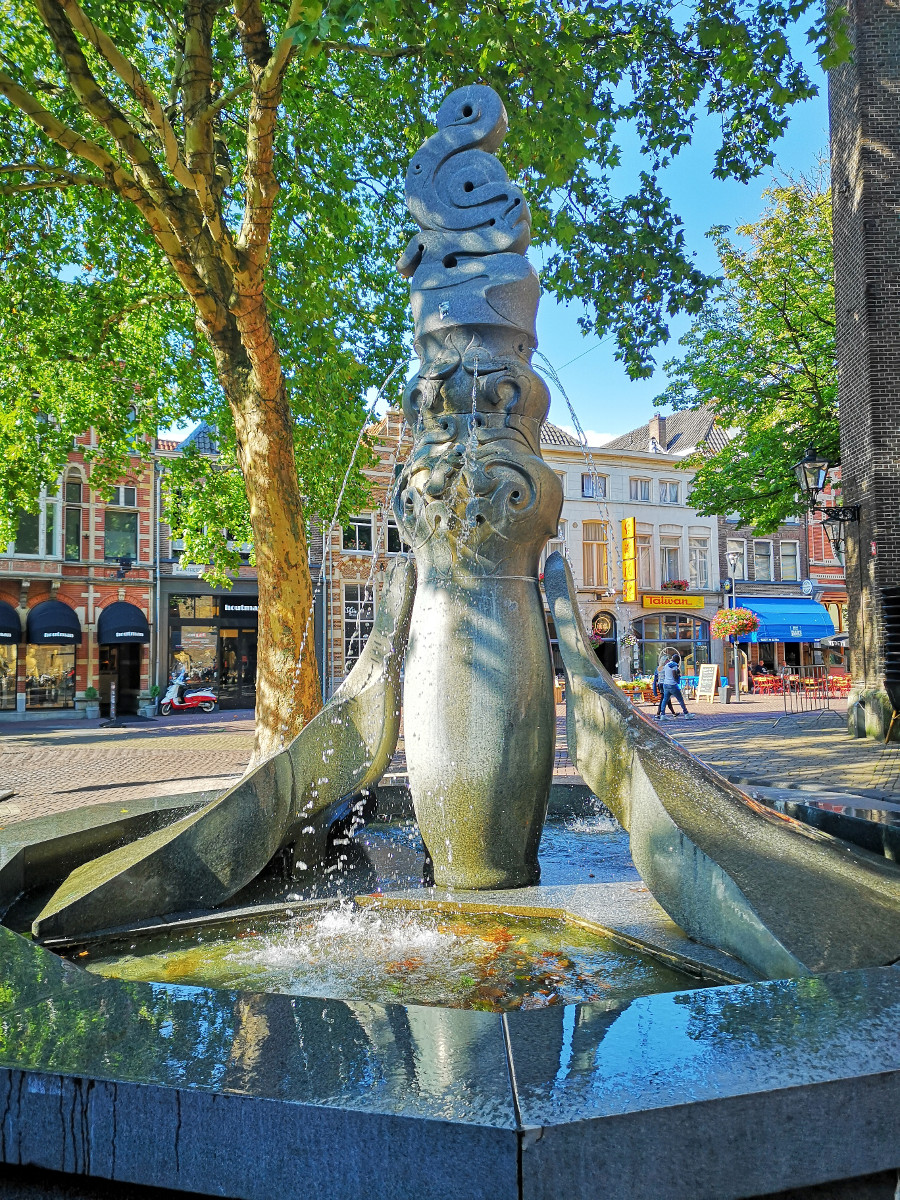 There's more to do in Zwolle than just these ten things, here are some other cool ideas that I haven't completely explored for myself (yet)!
Dinoland Zwolle = A theme park full of dinosaurs, what could possibly go wrong?! Well, luckily the dinosaurs aren't real but I'll be honest, I really want to visit this attraction even though it's mostly for kids. Apparently, there are dinosaur models throughout the park, as well as things like laser tag and mini-golf along with educational activities for any aspiring palaeontologists out there.
Street art and sculptures = I have noticed on my trips around the city that there is quite a lot of cool graffiti art as well as 'official' art and sculptures throughout Zwolle. Simply wander around and keep an eye out!
Boat hire = I mentioned the star shape of Zwolle's city centre, well you can hire boats to sail around in the moat as well! It looks like a lovely way to spend a sunny day and see Zwolle from a different angle. There's a boat rental place just near the Museum de Fundatie which has those weird round boats that look like lots of fun.
IJsselhallen events = The IJsselhallen is a big convention centre in Zwolle which hosts many interesting events and exhibitions throughout the year. One of the most famous is the Dutch Ice Sculpture Festival which runs from mid-December until the beginning of March but it's definitely worth looking at the website to see what else is going to be on that you might want to see. Some of the items coming up include a dog show, a darts tournament, regular flea markets and even a Dutch version of Oktoberfest!
Visiting Giethoorn from Zwolle
Zwolle is also in a great spot if you'd like to perhaps stay overnight and visit the picture-perfect town of Giethoorn! You can read all about visiting Giethoorn here. While you can stay the night in Giethoorn itself, it would also be quite convenient to combine a trip to both places in one, and then choose if you'd rather stay in Giethoorn or Zwolle. Giethoorn has some decent hotels, a really nice backpacker's hostel and some Airbnb listings.
If you're looking for a bit more luxury then Zwolle is home to the pretty incredible five-star Librije's Hotel, which has amazingly beautiful (and colourful) rooms, some with freestanding bathtubs, and a gorgeous dining room. Alternatively, Pillows Grand Hotel Ter Borch is a bit more affordable, but also gorgeous, plus it's right by the train station. You can also search for more accommodation options in Zwolle here.
Getting to Zwolle
It's very simple to get to Zwolle by public transport as it's one of the major rail hubs in the country. You can get a direct train from Amsterdam to Zwolle, which takes about an hour and a half and costs around €12 each way (if you buy the tickets online and travel during off-peak times). Zwolle is also a great place to stay if you are looking to also visit Giethoorn since that takes quite a lot of travel time from Amsterdam. You could stay in Zwolle for a couple of nights, explore the city and then easily get the bus from Zwolle to Giethoorn for a day trip.
Have you ever visited Zwolle? Let me know in the comments if there are any other must-visit places I've missed! Or pin one of these if you want to visit this cool town for yourself someday.