I think I first heard about Valkenburg last year when it was too late to organise a visit for Christmas. So this year, I was on the ball and made sure I booked us a weekend away in the south of the Netherlands so we could visit the Dutch 'Kerststad' or Christmas City. If you want to find out more about the Dutch Christmas city of Valkenburg, keep reading!
This post contains affiliate links. This means that if you follow a link and then purchase or book something, I will earn a small commission at no extra charge to you. This helps me with the costs incurred from running this site and means I can keep bringing you travel content like this. You can read more about this on my privacy page. Thanks for your support!
About Valkenburg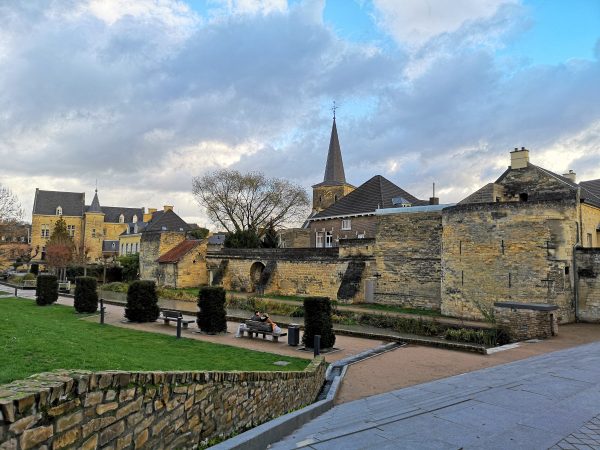 Valkenburg (full name; Valkenburg aan de Geul) is a city located in the province of Limburg, in the south of the Netherlands. It is actually quite a popular tourist destination in the Netherlands, playing host to more than a million overnight stays per year. The town apparently suffered heavily from mass tourism during the 1960s, 70s and 80s; and is, therefore, trying to emphasize more natural and 'quality' tourism nowadays. The area is interesting partly because it's much more hilly than the rest of the mostly flat country! Valkenburg is also home to the ruins of the only Dutch castle to have been built on a hill. We didn't actually explore the castle ruins themselves, but you definitely notice them peeping out over the city from many different spots. We also found it interesting to see different models during our visit to the caves, of the castle ruins now as well as what it would have looked like during its prime.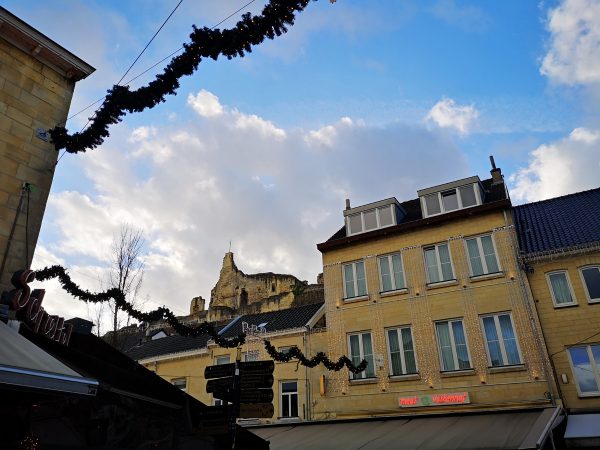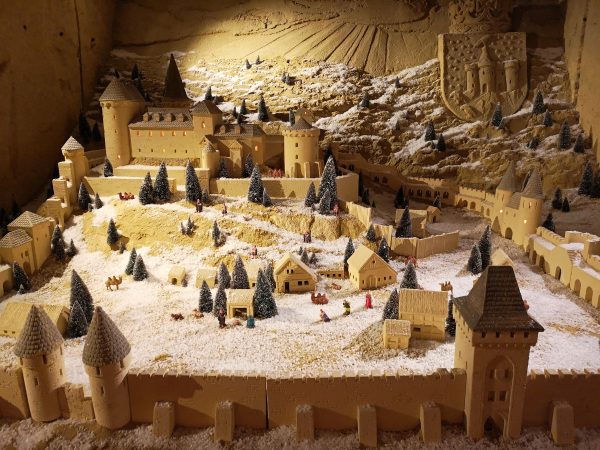 The history of Valkenburg is very interesting, and it would definitely be worth visiting the city at any time in the year to explore the sights including the oldest train station in the Netherlands, the Roman-made marl quarries, the reconstructed city gates and defensive moat. There are also some beautiful churches, a small fairytale amusement park and buildings designed by famous Dutch architect Pierre Cuypers (who also designed the Rijksmuseum in Amsterdam and Amsterdam Central Station)! The marl quarries (often called caves although they're mostly man-made) have guided tours where you can view charcoal drawings, marl sculptures and learn about the history of their use.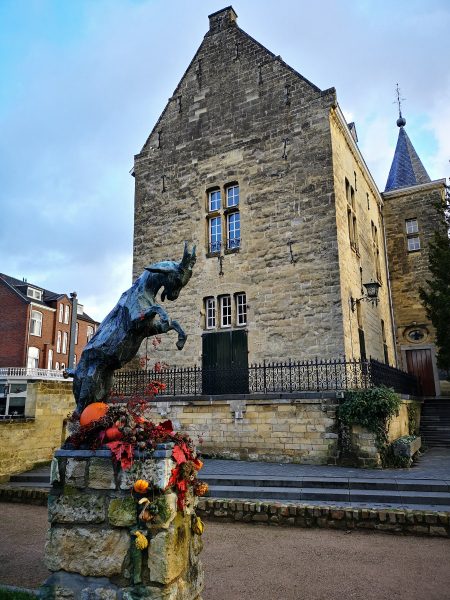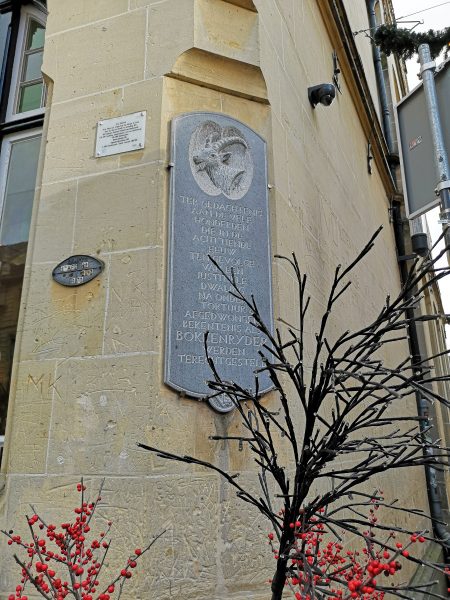 I was a bit puzzled about the goat statues I saw around the city at first, until we came across the plaque in the photo above right. We had actually learned a story about Bokkenrijders while we were at Efteling; a gang of violent thieves that rode goats and terrorised people in the area around Limburg. The entire history of this bit of folklore is quite fascinating, you can read more about it here (once you translate it to English). Valkenburg in general is very pretty, with lots of lovely old buildings and canals. Here are some more photos of the city itself:
Valkenburg: The City of Christmas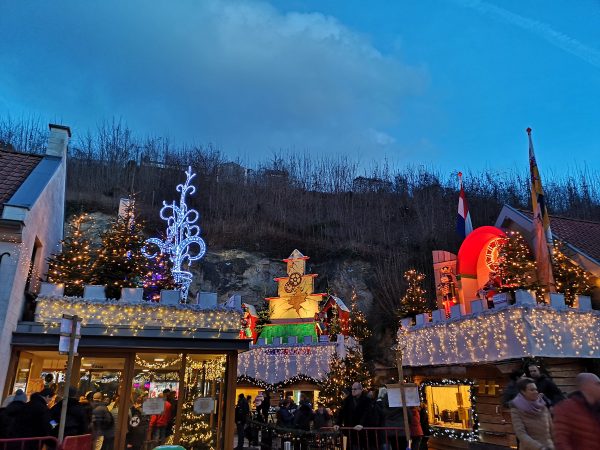 While it would be interesting to visit Valkenburg at any time of year, during the Christmas period is when it really brings the excitement level up! Valkenburg is known as the Dutch city of Christmas and holds festive events, markets and other activities from the middle of November until early January. So you could even visit after Christmas when it is probably less busy. We visited on the last weekend before Christmas and it was very busy but still enjoyable. Be prepared for quite a bit of walking and some queuing!
The Christmas Markets (in caves!)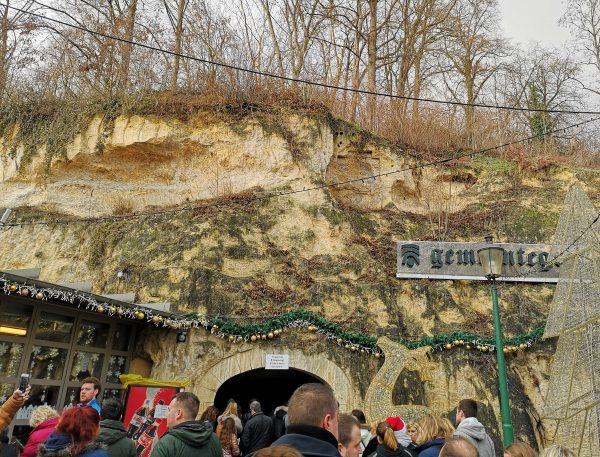 Two of the marl-quarries, or caves, host Christmas markets during the festive season. One is in the Gemeentegrot (or Municipal Cave) and the other is in the Fluweelengrot (or Velvet Cave). The Gemeentegrot cave market is apparently the oldest, largest and most visited underground Christmas market in Europe. We had bought all our tickets online beforehand so we were able to join the much shorter entrance queues for everything. Definitely, do this – the queues to buy tickets on the day were much longer, although they all seemed to move fairly quickly. It was very interesting to see stalls selling Christmas gifts in a big cave, and there were also lots of lovely little decorations (and photo spots) in the cave grottoes as we walked along. There were even food stalls and little mini bars in both caves – and toilets! Here are some of my favourite photos from the Gemeentegrot:
The Fluweelengrot cave and market was slightly smaller and less busy, but also seemed to have more interesting drawings and sculptures within. All the caves we visited are accessible for people in wheelchairs, but we did find the uneven floors to be awkward to walk on. Both Dennis and I ended up with very sore feet/back after walking through the caves all day so make sure you wear comfortable shoes if you visit! There were some lovely things for sale, so it would be a good place to do your Christmas shopping and be able to also say that you got it at a unique place. Here are some more photos from the Fluweelengrot cave:
Winter Wonderland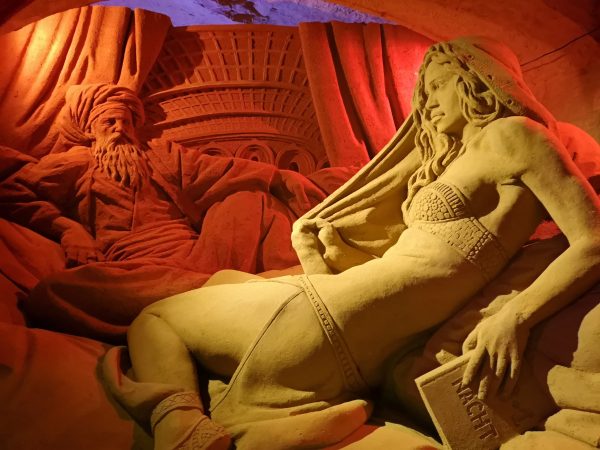 There are multiple caves in Valkenburg, apart from the two with Christmas markets; such as the Wilhelminagrot which hosts a display of sand sculptures created by artists from around the world. When we visited the theme was the 1001 Nights and the sculptures were pretty amazing, especially considering they were made from sand! The cave/quarry where they are located is also quite impressive; you can ride a chairlift over it if you want, and you can also see the chairlifts going over from a hole in the ceiling. I also thought the huge main room in the cave was pretty spectacular, the size and the beautiful lights were incredible to see. There was even a little café in here where you could stop for a snack.
Christmas Miniatures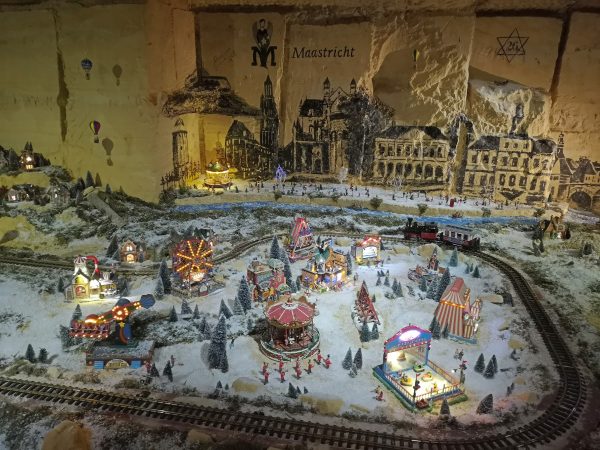 The fourth cave we visited is called Megelrijk and it hosts permanent museum displays about the coal mine and fossils. During the Christmas period miniature Christmas scenes and decorations also take over! There were also lots of interesting charcoal drawings and marl sculptures here too. I always enjoy looking at little miniature Christmas town decorations, this one even had some miniatures from Efteling, which we had visited the previous weekend! Once again, here is a little slideshow of the photos I took in the Megelrijk cave:
Santa's Village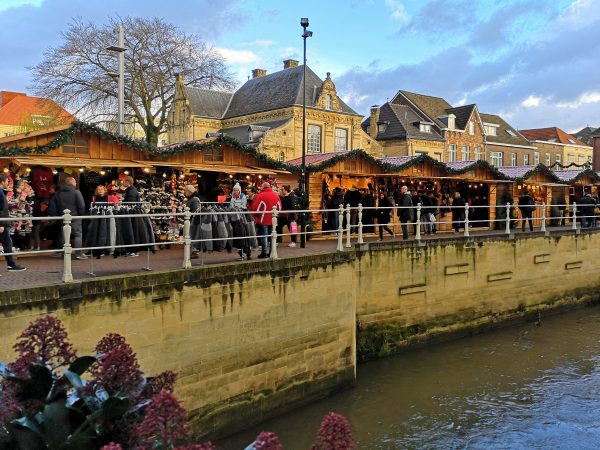 As well as all the attractions in caves there is a 'Santa's Village' traditional Christmas market in the middle of the town with a lovely old carousel, market stalls and places to get yummy Christmas food. I also really liked being able to see some of the old canals and bridges in this area. Children could also get photos with Santa here, and the whole of Valkenburg is full of lovely restaurants that go all out with their Christmas decorations!
Other Christmas Attractions/Events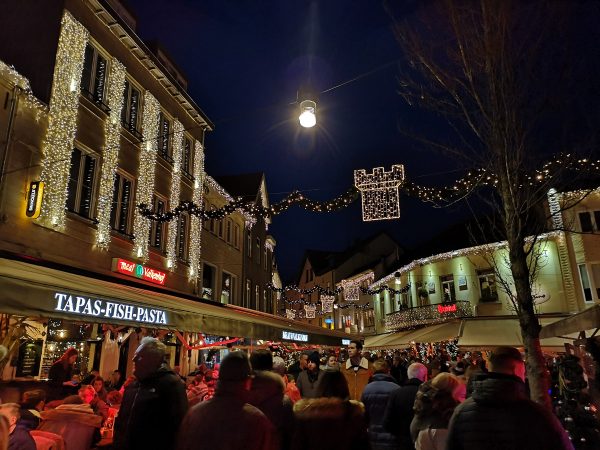 We packed a LOT into one day in Valkenburg and were pretty tired at the end of it! However, there were other things to do that we didn't get around to. If you want to try and see everything you would probably need to stay overnight nearby and spread it out over two days. The other Christmas events/attractions we didn't see included:
A Christmas Parade

= held on Wednesday and Saturday evenings from the 21st November until the 29th December. The photos of the parade we saw looked amazing, and we had originally planned to stay for it but after an entire day of walking in uneven caves we were pretty tired and chose to return to our accommodation instead!

Route d'Amuse

= a culinary walk takes place throughout Valkenburg during the Christmas period. You can walk between different restaurants and have small bites of different foods at each location. It looks quite affordable too!
Winter Sprookjesbos = Sprookjesbos is a fairytale forest amusement park designed for children. It seems to be a bit like a miniature version of the Fairytale Forest at Efteling and has special deals and (I think) decorations during the Christmas period.
Santa's Gift Factory = We walked past signs for this but didn't visit. It only costs €1 for entrance and I think is a display of Santa's workshop, but I don't know much about it!
Santa's Post Office = the old post office in Valkenburg becomes Santa's post office, where children can mail their letters to Santa and on Wednesday afternoons listen to stories about Santa.
Getting There and Other Important Info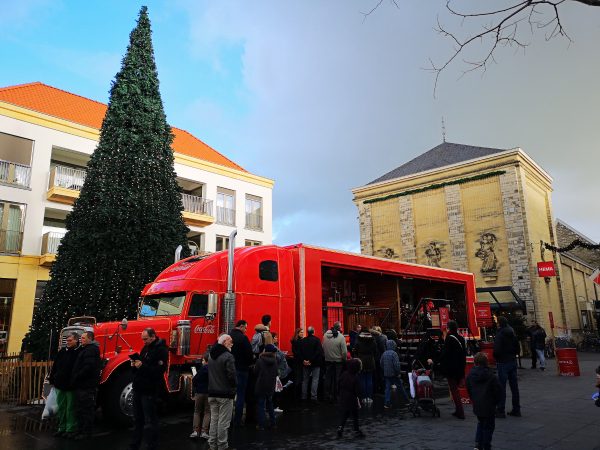 Valkenburg is way down the bottom of the Netherlands, about two and a half hours drive from Amsterdam and closer to three hours by train. You could visit as a day trip but I would recommend staying at least overnight in the area to see it all and to maybe visit some nearby towns and attractions like Maastricht. Bear in mind that it can be quite expensive to get the train all the way so if you have a car it is probably more affordable, even though free parking is non-existent during the Christmas season! We actually ended up staying at a very affordable Airbnb in the town of Sittard, which is only about a half-hour drive from Valkenburg, as well as Maastricht since we wanted to visit there as well. The Airbnb we stayed at you can look at here (and read our review). We paid €8 for a full day of parking about a 10-15 minute walk from the centre of Valkenburg. There are multiple official parking areas and also ones that were taking advantage of the season. If you drive around you will probably find somewhere to park, but it will cost between €8-€10.
Have you ever visited an entire town dedicated to Christmas or Christmas markets in caves? Tell me about it if you have, and pin one of these if you ever plan to visit Valkenburg at Christmas for yourself!