One of the things I like most about Maria Island is explaining where it is. It's an island off the coast of the island of Tasmania, which in turn, is off the coast of the island continent of Australia! For the last 20 years my grandparents have had a spectacular view of Maria Island from their living room window and I even went there for a high school camp. Exploring the island is a must-do if you're spending time visiting Spring Beach and exploring the area around Orford. On my most recent trip back to Tassie Dennis and I joined a couple of my friends for a day trip to Maria Island which means now I can tell you all about it too!
About Maria Island National Park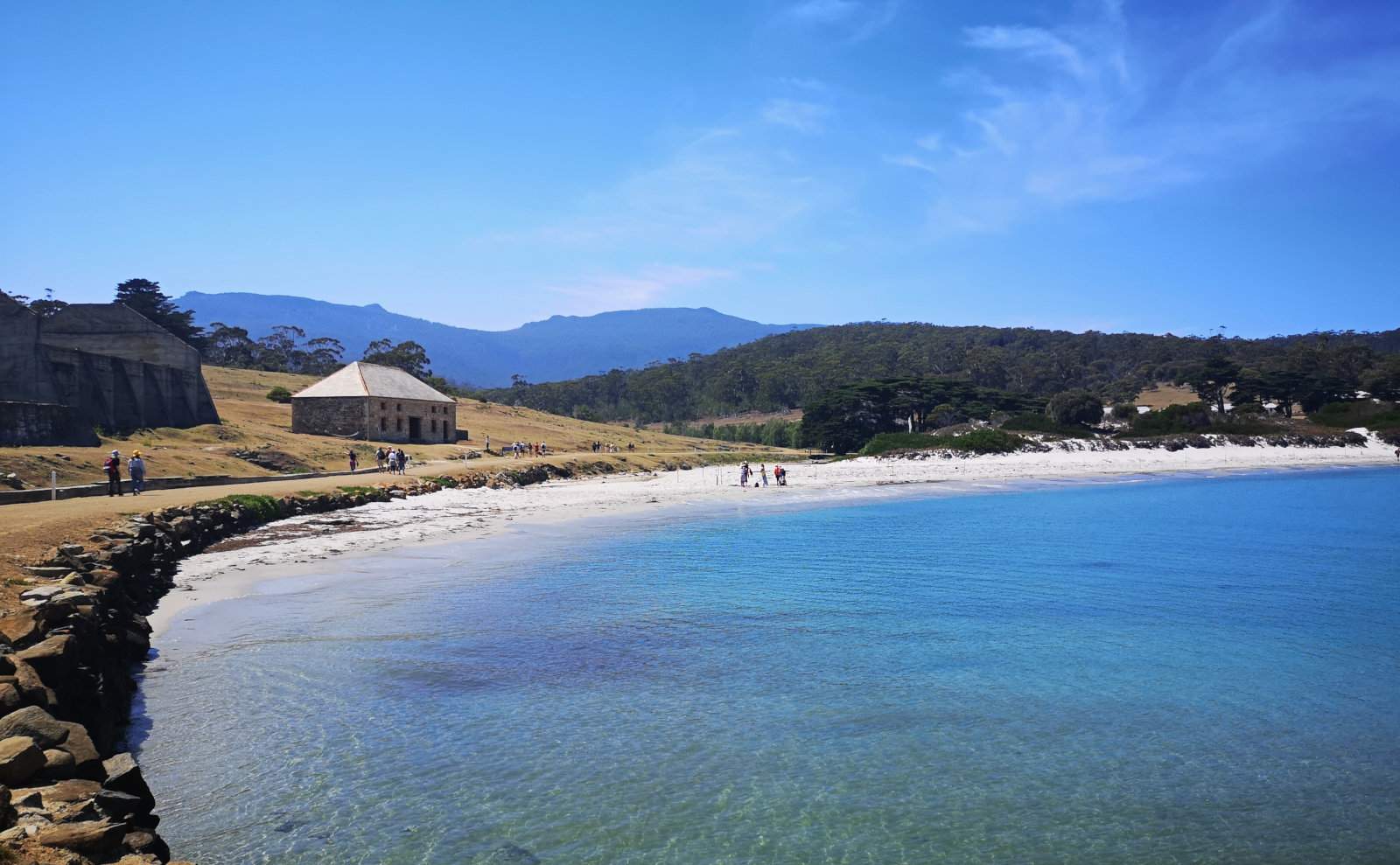 The first thing you should know is that Maria Island is pronounced Mariah, like Mariah Carey even though it's not spelt with an h. This is because it was named by Dutch explorer Abel Tasman for Maria van Diemen who was the wife of then Governor-General of the Dutch East Indies, Anthony van Diemen and the Dutch name Maria is pronounced Mariah. Sidebar, before Tasmania was named Tasmania it used to be called Van Diemen's Land also after Anthony Van Diemen. Apparently Abel Tasman loved the guy!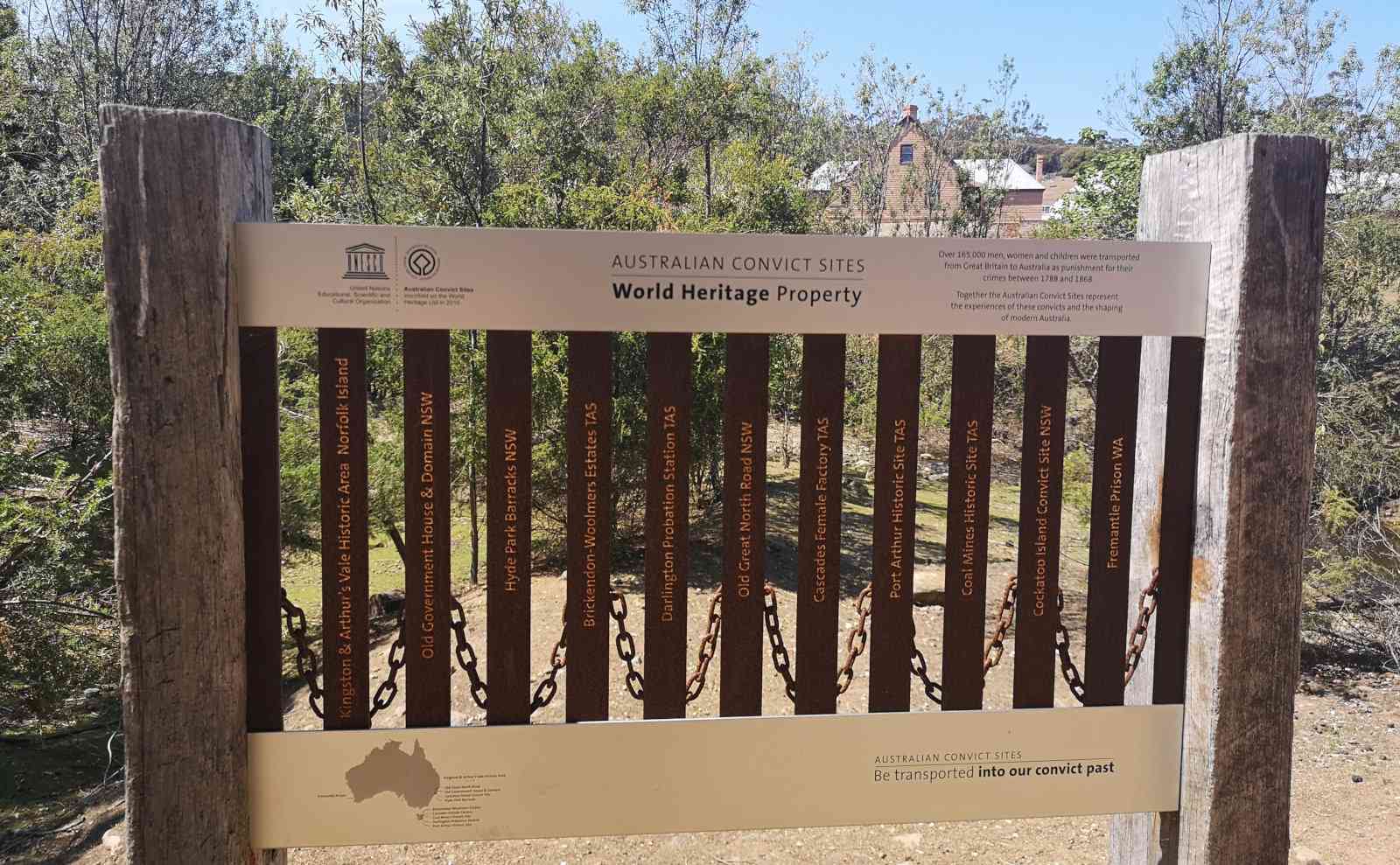 However, the original aboriginal inhabitants called it Toarra-Marra-Monah or Tiarra-Marra-Monah. The Puthikwilayti people lived in the Oyster Bay area of Tasmania (and were part of the Oyster Bay Tribe) for more than 40,000 years. After the British started sending all their convicts to Australia, Maria Island became Tasmania's first convict settlement, before even the much more famous Port Arthur on the Tasman Peninsula. After Port Arthur was established Maria Island was used as a base for sealing and whaling, then limestone was quarried there before it was used mainly for farming. Since 1972 the island has been a National Park, with only one or two park rangers ever staying on the island permanently.
What to do on Maria Island on a Day Trip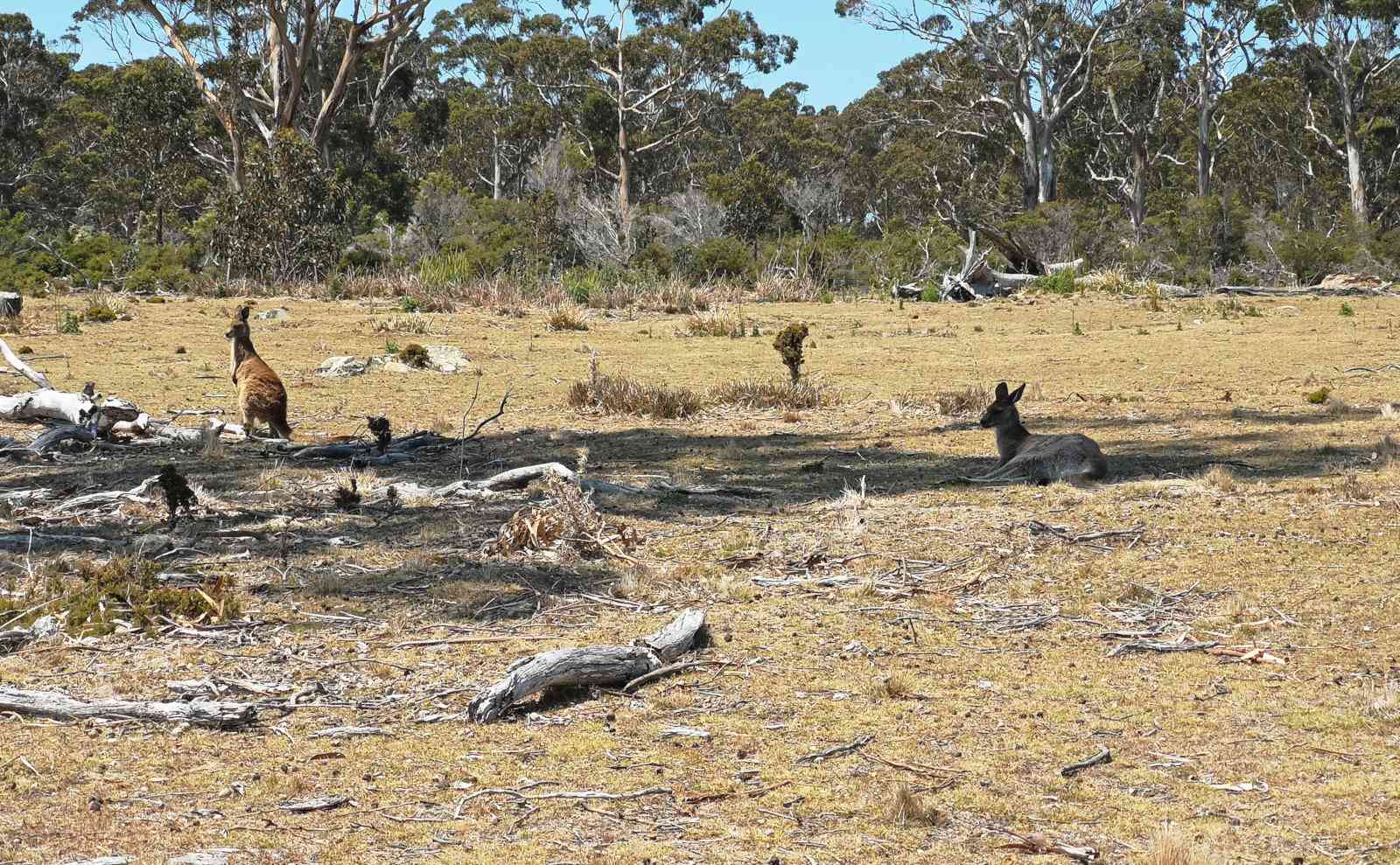 Nowadays Maria Island is popular with visitors who enjoy nature, history and hiking. You can only get there via the Maria Island ferry from nearby Triabunna or if you have your own boat. It's a lovely spot for a day trip when the weather is nice so that you can explore while keeping an eye out for the local wildlife! Here are the things I personally think you should do if you're visiting for a day:
Get acquainted with Maria Island: When you first get off the ferry at Maria Island you will see four big concrete silos and a couple of building/building remains to the right of these. Make sure you go into the second one which is the visitor's centre where you can read up about Maria Island's history, look at maps and even a big diorama of the whole island.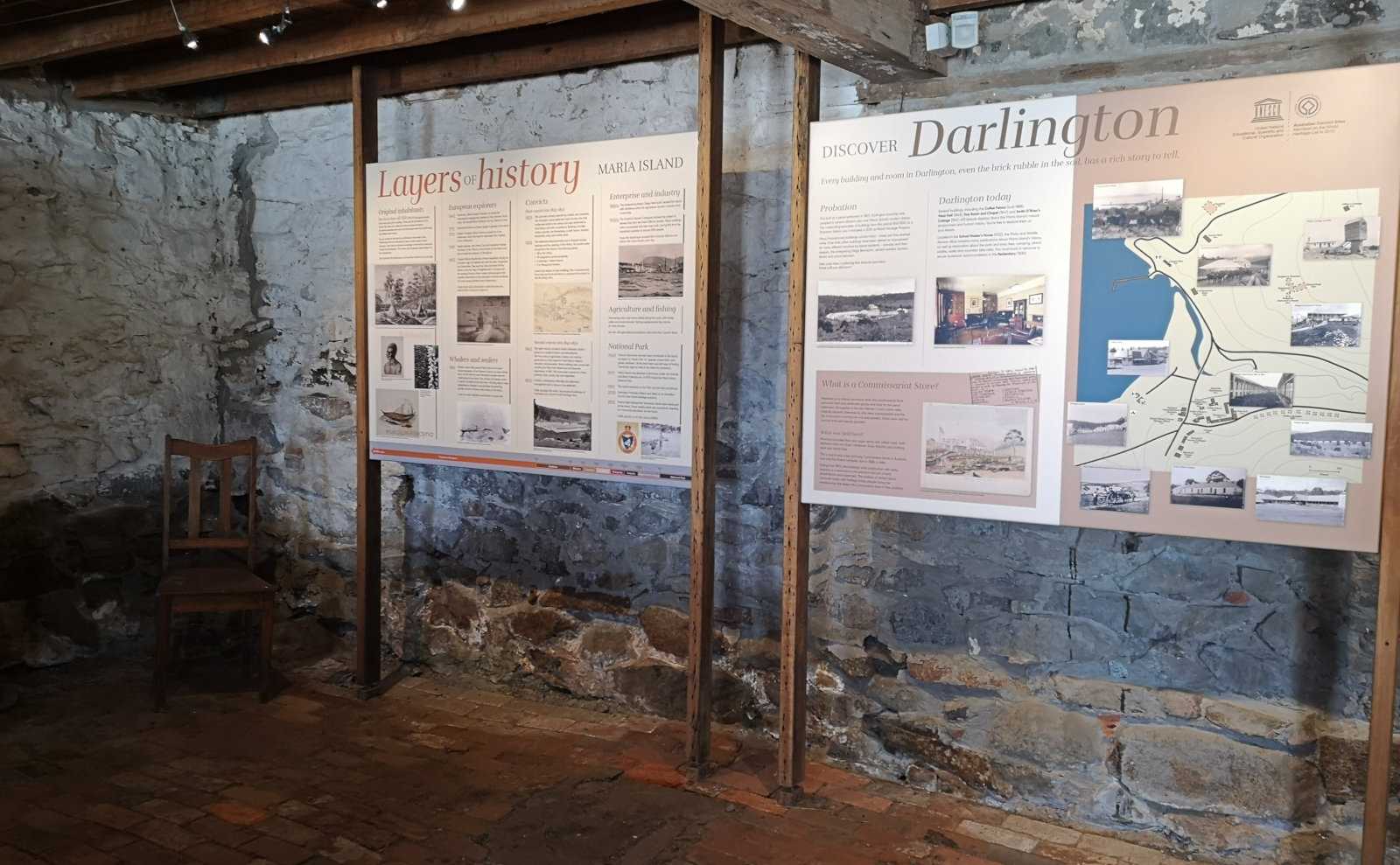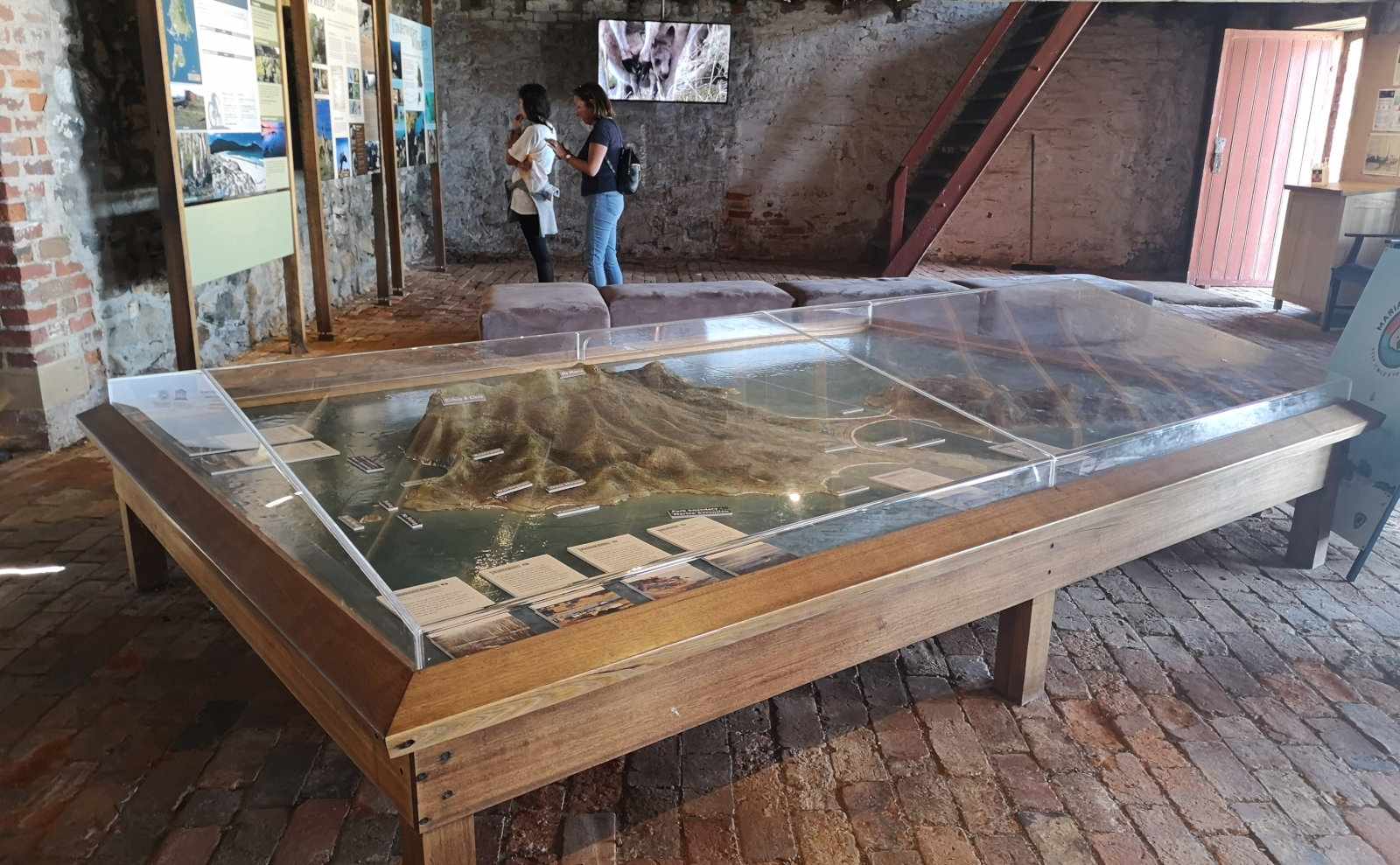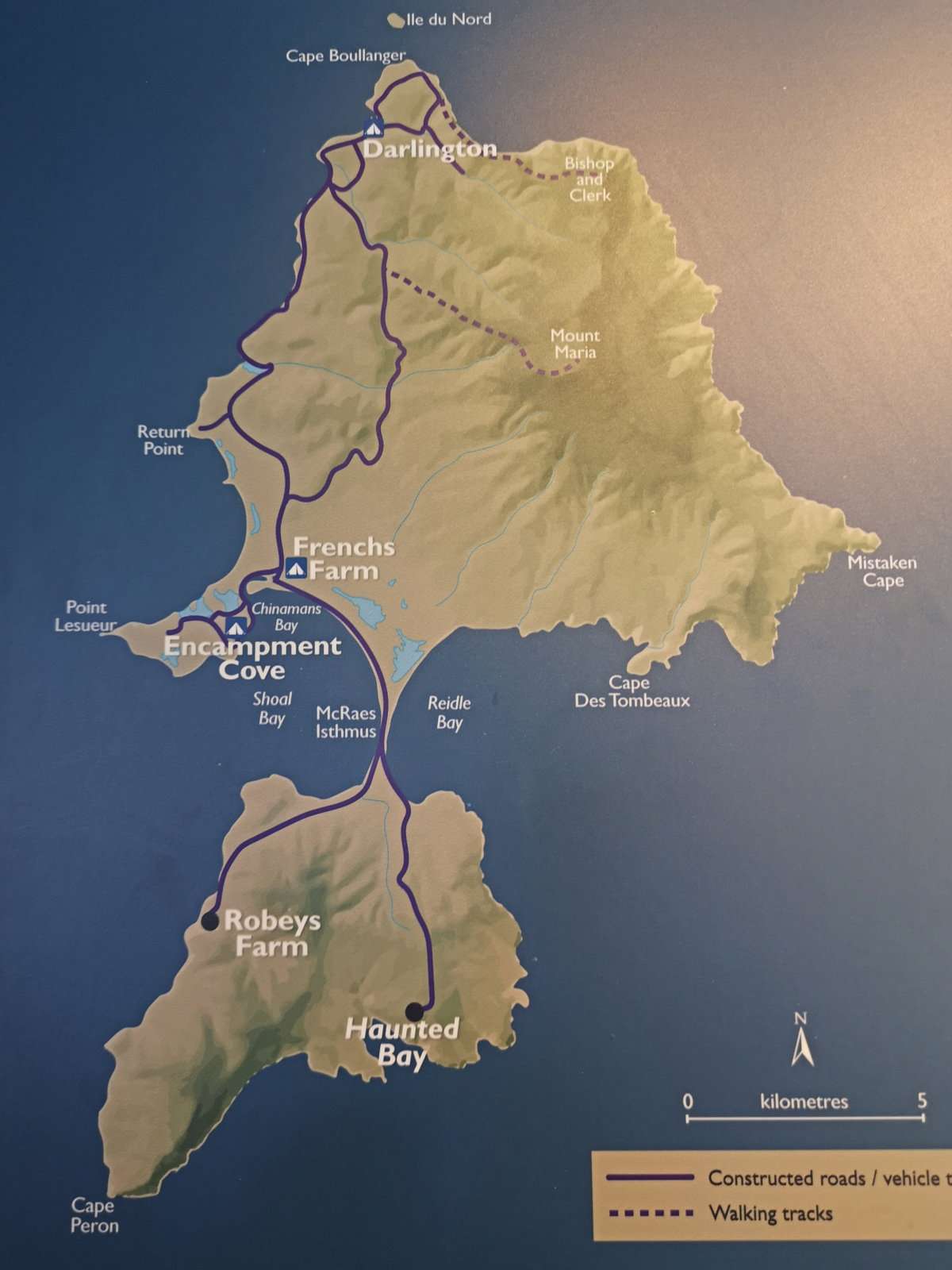 Explore Darlington: The Darlington Probation Station on Maria Island is actually one of only 11 convict sites recognised by UNESCO as a World Heritage Site. There are quite a few buildings remaining from the original settlement, as well as some that are only partially intact. You can stay overnight in the old penitentiary building and there's also a small museum in what was the Coffee Palace cafe showing how the building would have looked when the station was in use as a convict settlement.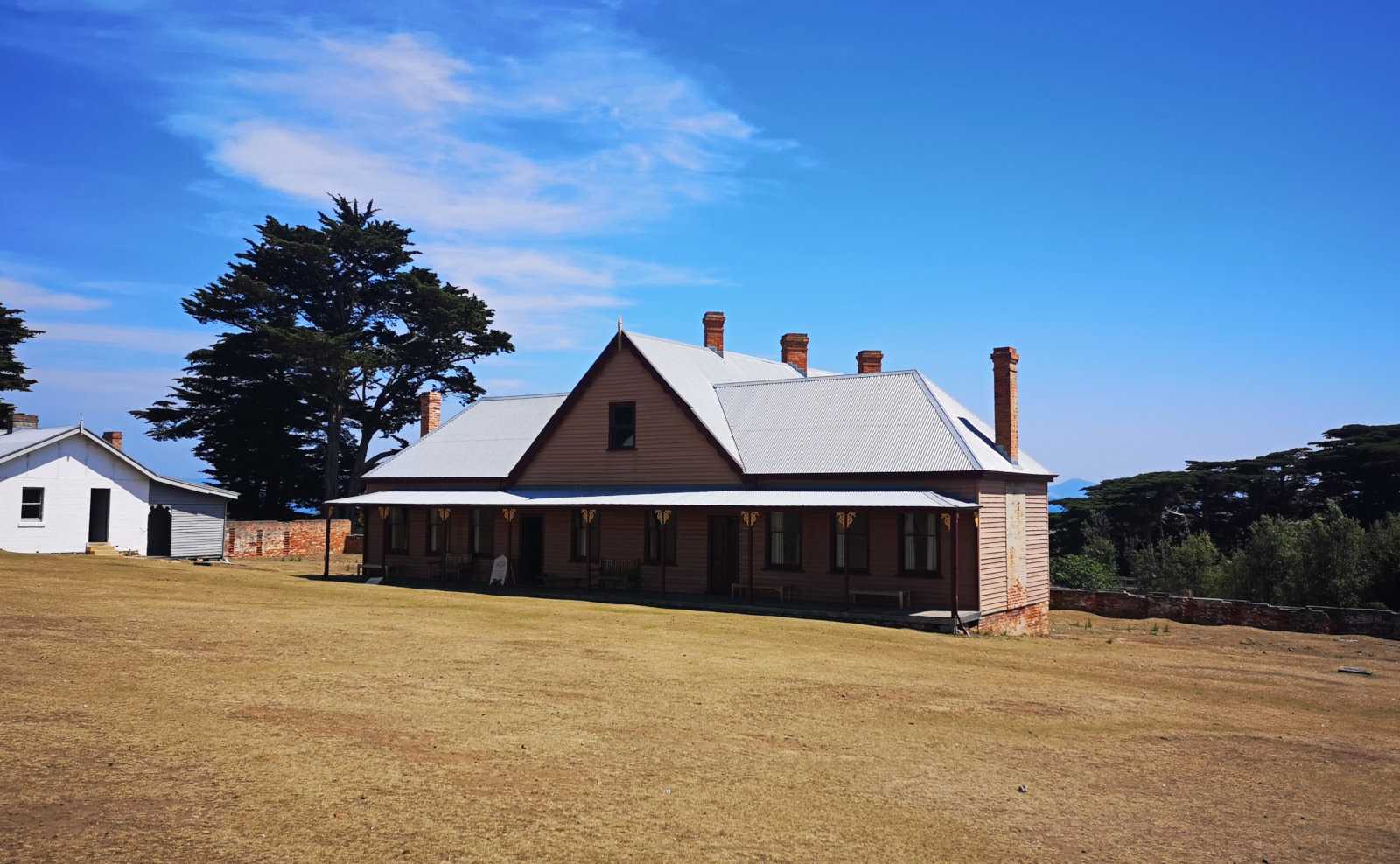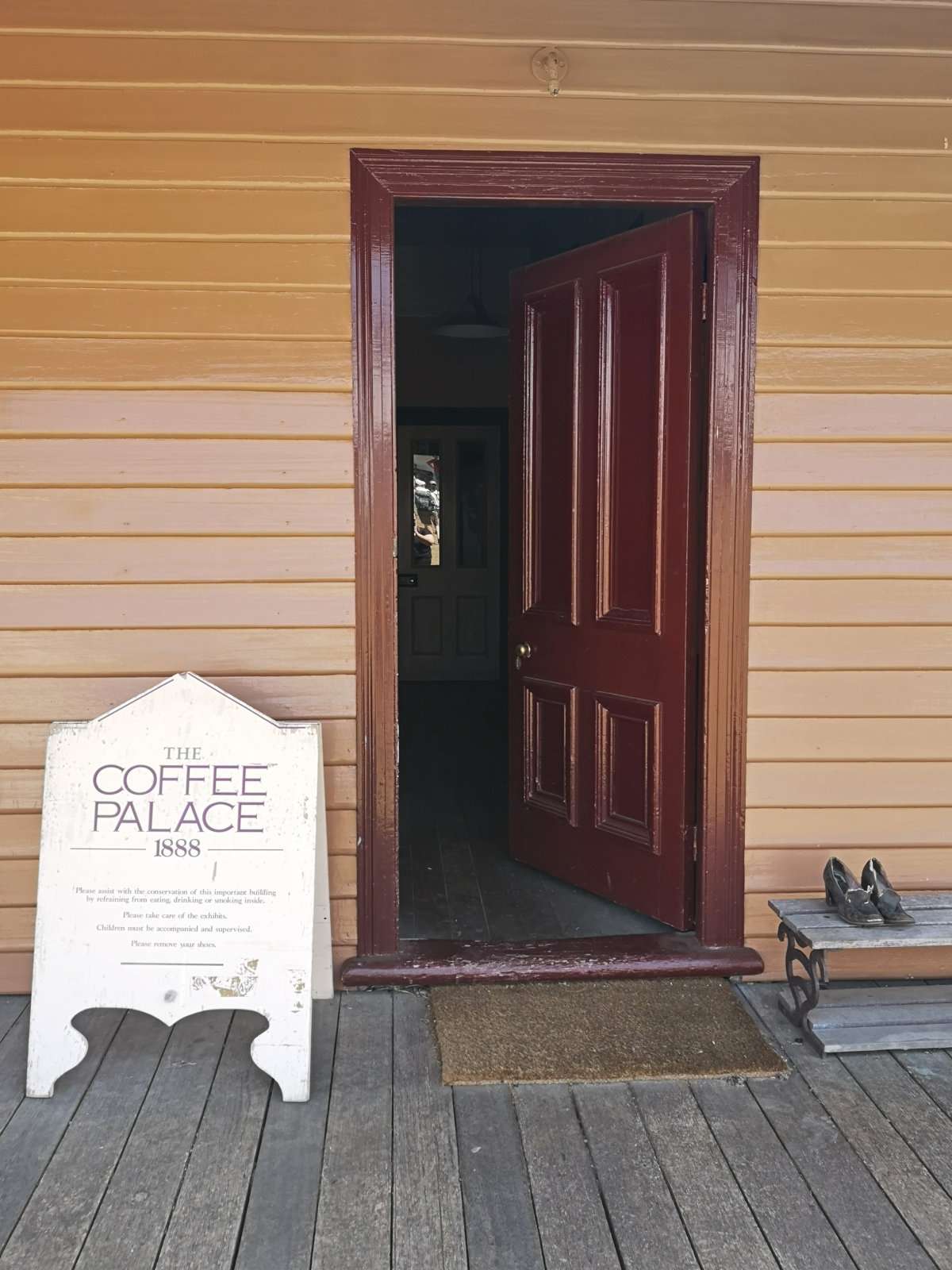 Go walking or bike-riding: The main thing you're going to do on Maria Island is walk, or cycle, around and see what you can see! There are a number of dirt/gravel walking trails to points on the island which you can also ride on if you bring your own bicycle or hire one when you arrive on the island. Depending on how long you are spending on the island you can do more than one circuit to multiple points of interest. You'll spot all sorts of interesting building remains, lots of Aussie bush and, if you're really lucky, some local animals! There's also a small landing strip where sea-planes land and take-off from.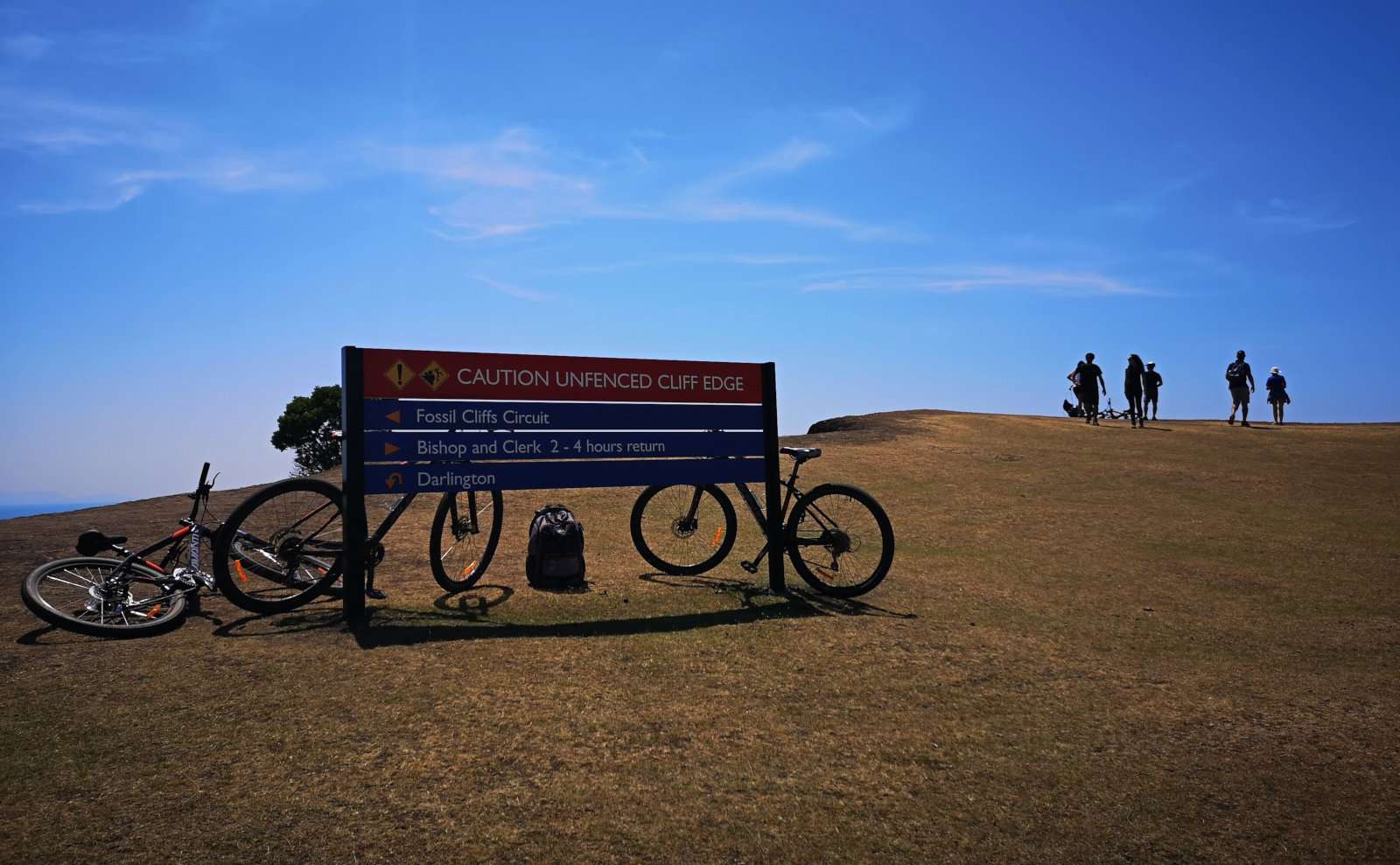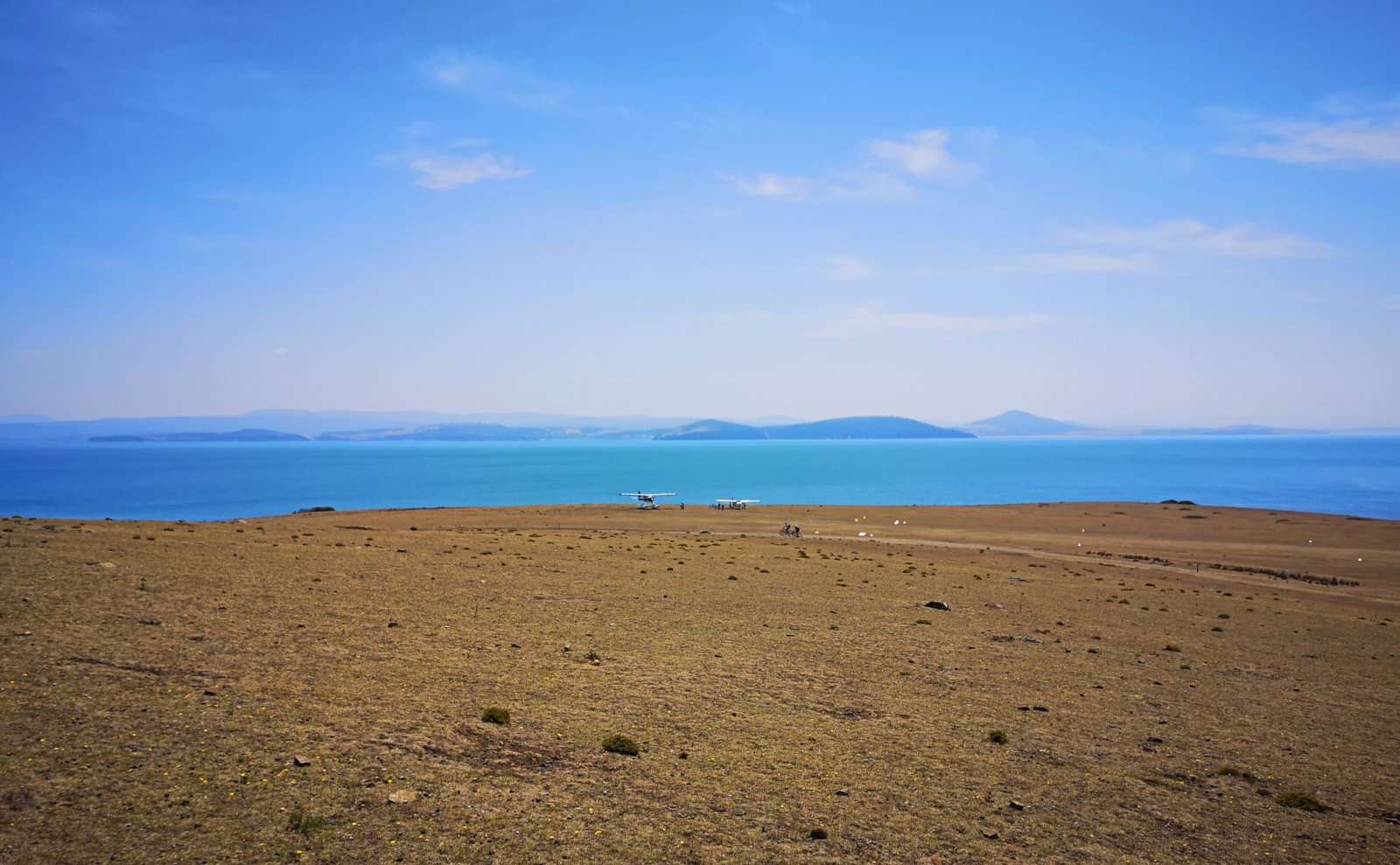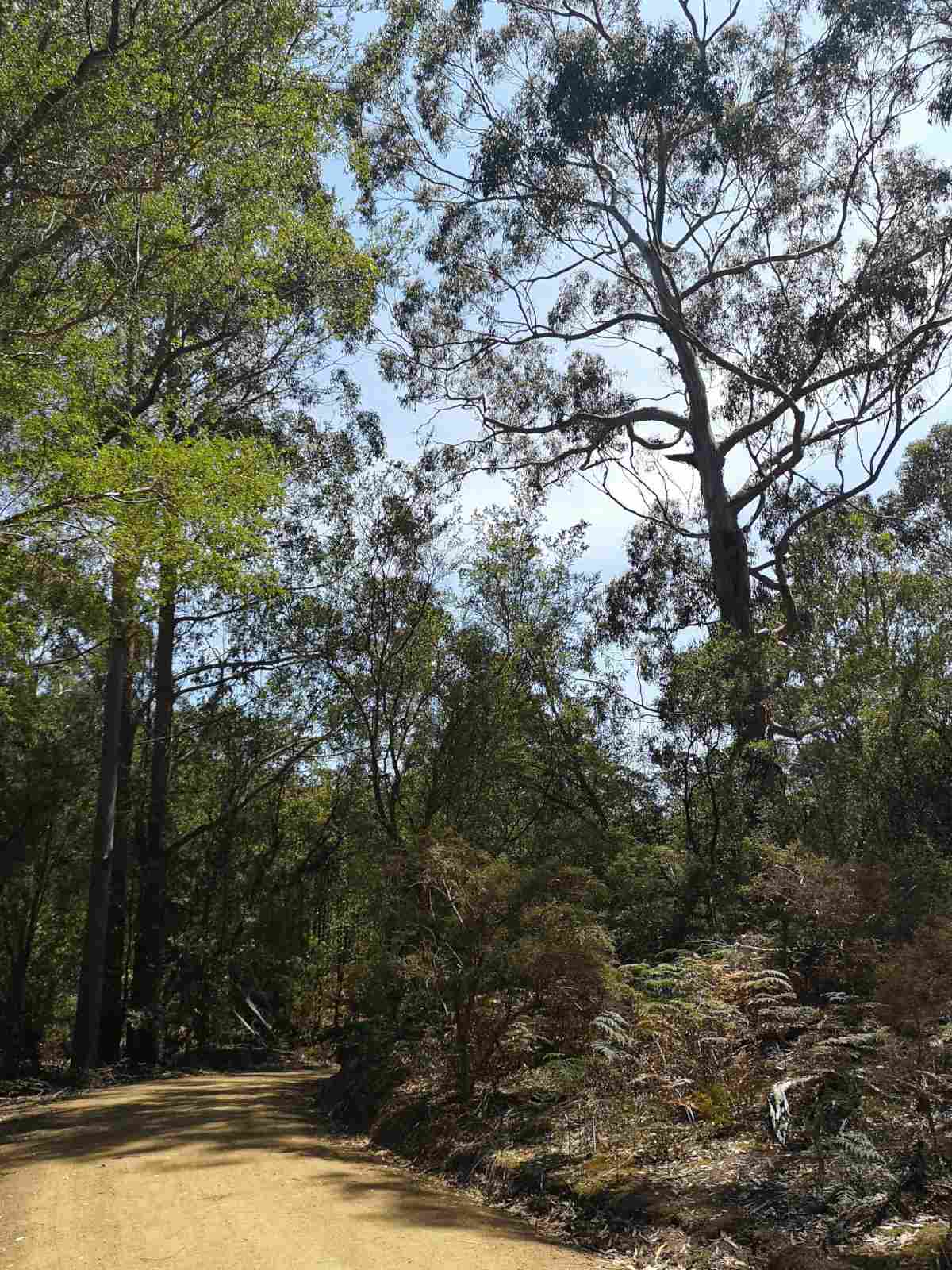 Visit the Fossil Cliffs: We chose to do two main walks on our day-trip, so after wandering around Darlington we headed off into the bush to the Fossil Cliffs. The Fossil Cliffs are located in what was a limestone quarry, the limestone was mined to make cement. Turns out the limestone here contains a LOT of fossils, including clams, sea fans, corals, scallop shells and sea lilies, that were deposited in the sea around 300 million years ago. There's even a little game on the info board where it challenges you to find all the different types of fossils. Pro-tip: if you're doing this walk, start from behind the penitentiary rather than walking up behind the silos, as there's less uphill walking in that direction!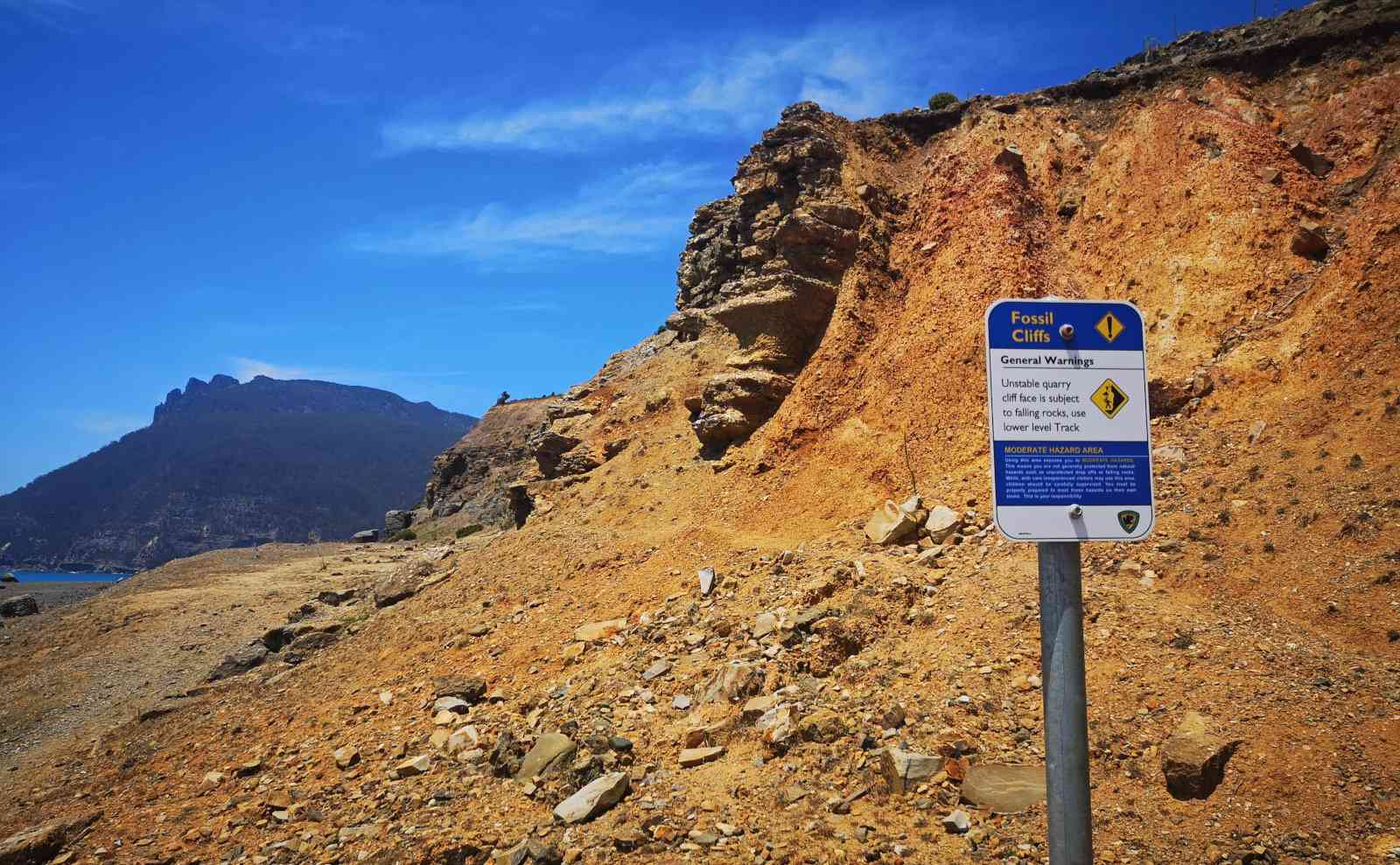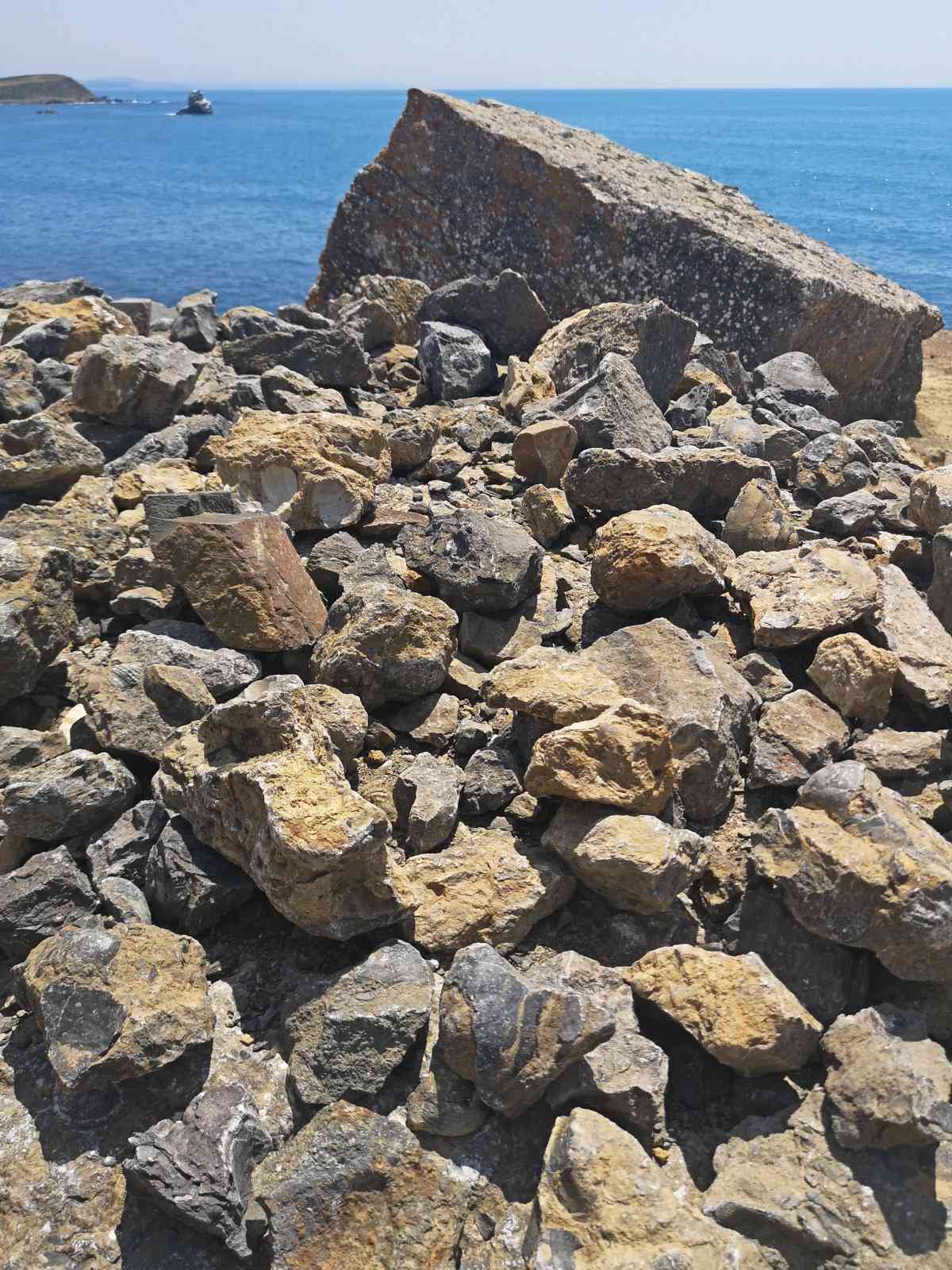 Visit the Painted Cliffs: It's kind of funny that two of the main 'attractions' on Maria Island are different cliffs! But the Painted Cliffs are possibly more famous than the Fossil Cliffs because they're prettier. The walk to the Painted Cliffs is quite leisurely, and it goes in the opposite direction from Darlington to the Fossil Cliffs walk. You'll come to a small beach and at the opposite end are a series of sandstone cliffs with colours and patterns created by ground water and the ocean. You do need to time your visit with low tide in order to get there, but when we picked up our ferry tickets at the Triabunna Visitor Centre in the morning (more on that later) the lady who served me told me when low tide would be, which was very helpful! Be careful if you're thinking of going in the water here though, as we saw a lot of jellyfish on the sand and in the water, including what looked like bluebottles, which you really don't want to sting you.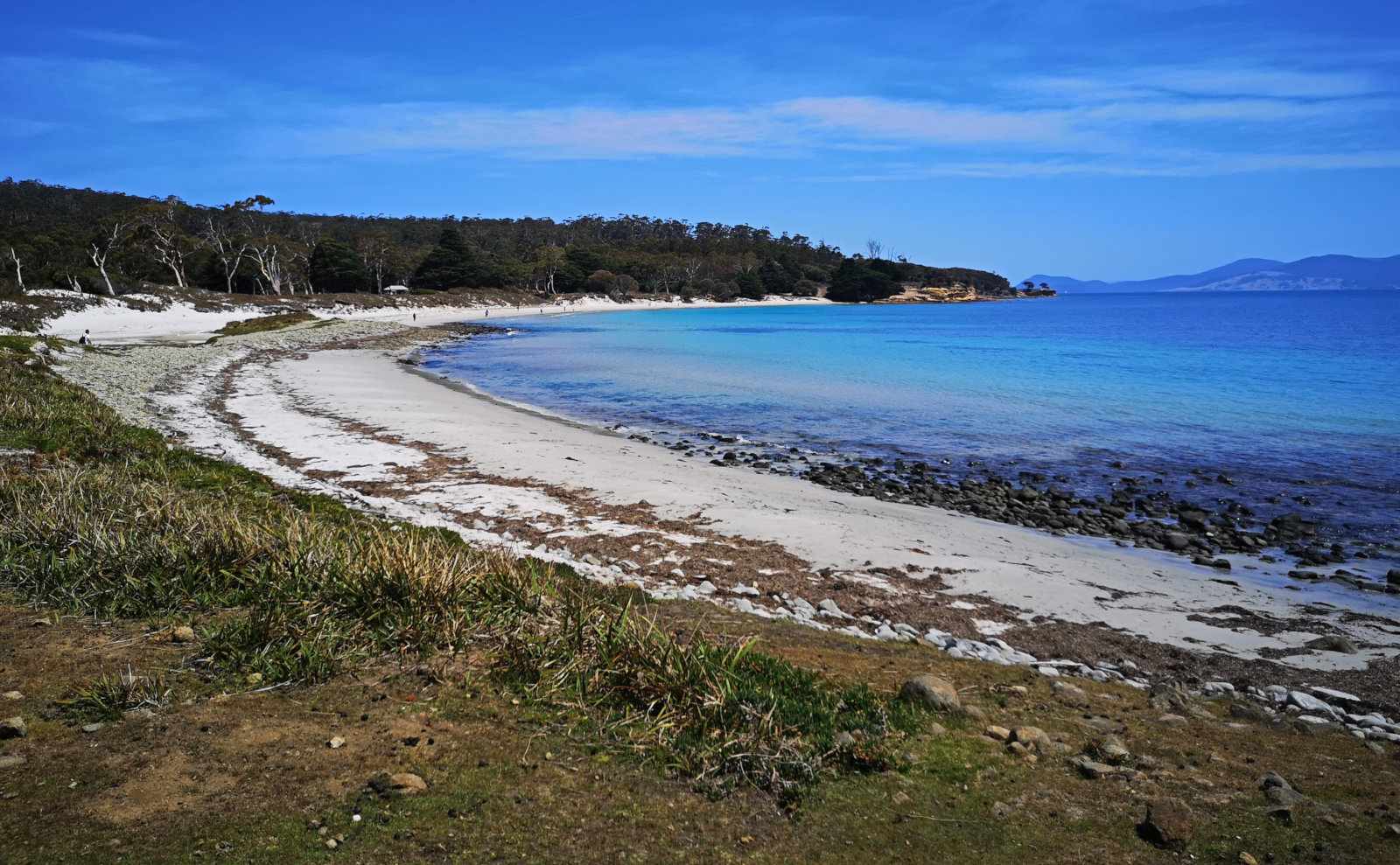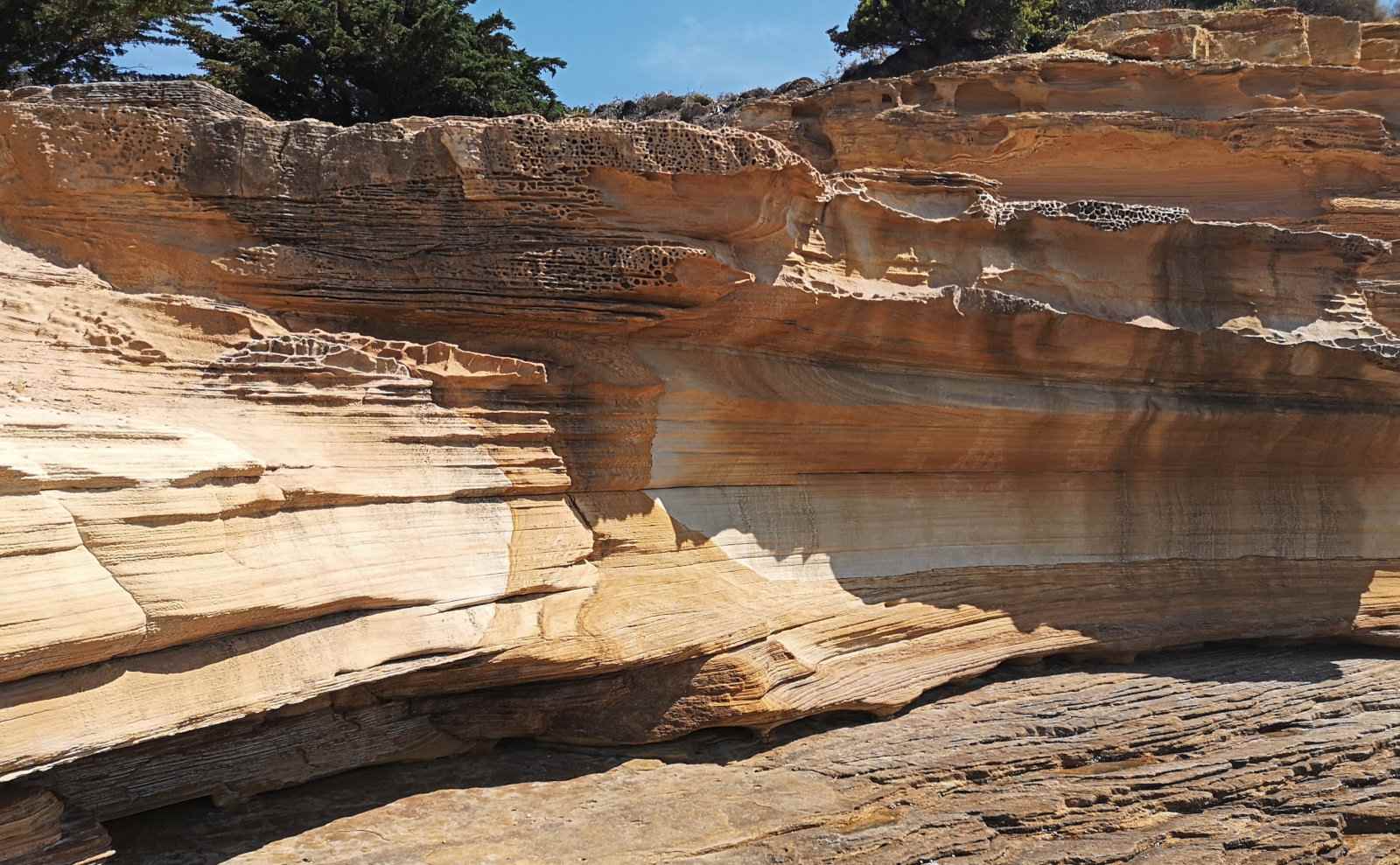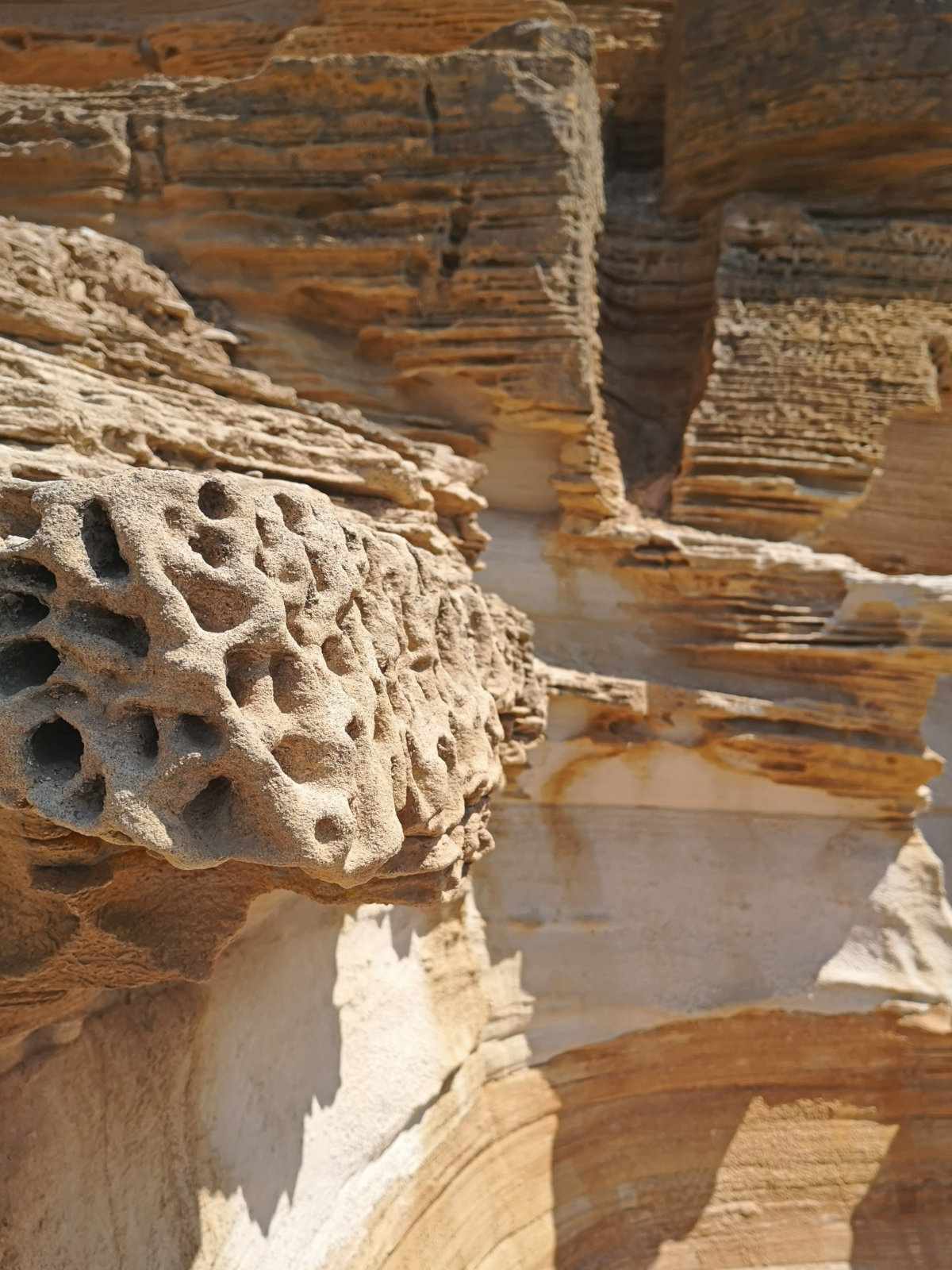 Spot little pieces of history: Almost everywhere you go on Maria Island you'll find the remains of buildings, tools and other remnants of its colonial past. Some of the more scenic ones include the Millers Cottage (above the airfield), the convict barn and cemetery (between the airfield and jetty). We also came across numerous old pieces of machinery rusting away and being overtaken by the bush, as well as the remnants of buildings, some with information about their original purpose. In particular, the lone house you can see on the opposite hill from the main jetty and beach can be entered, where you can see displays about its history as Mrs Hunt's Cottage.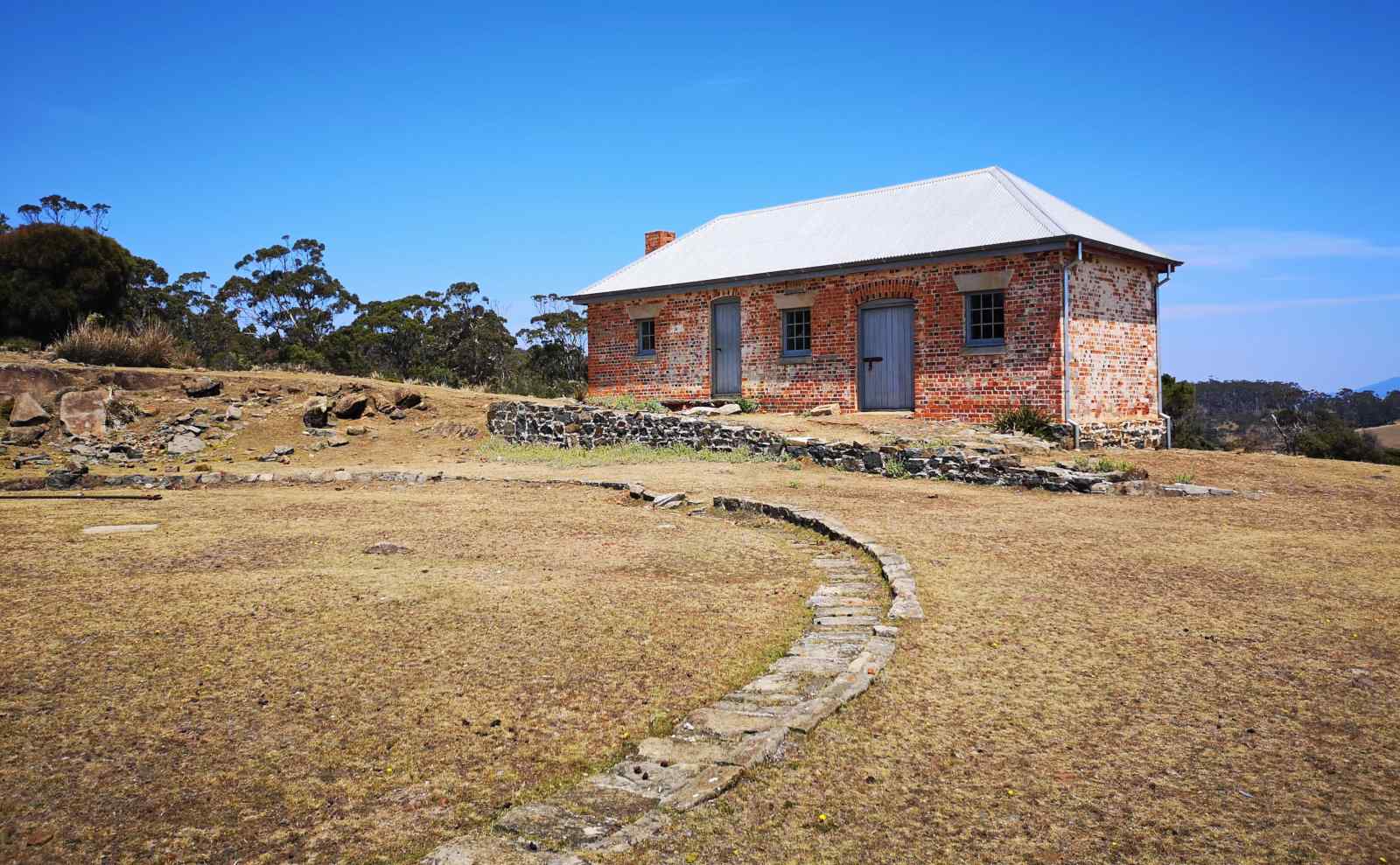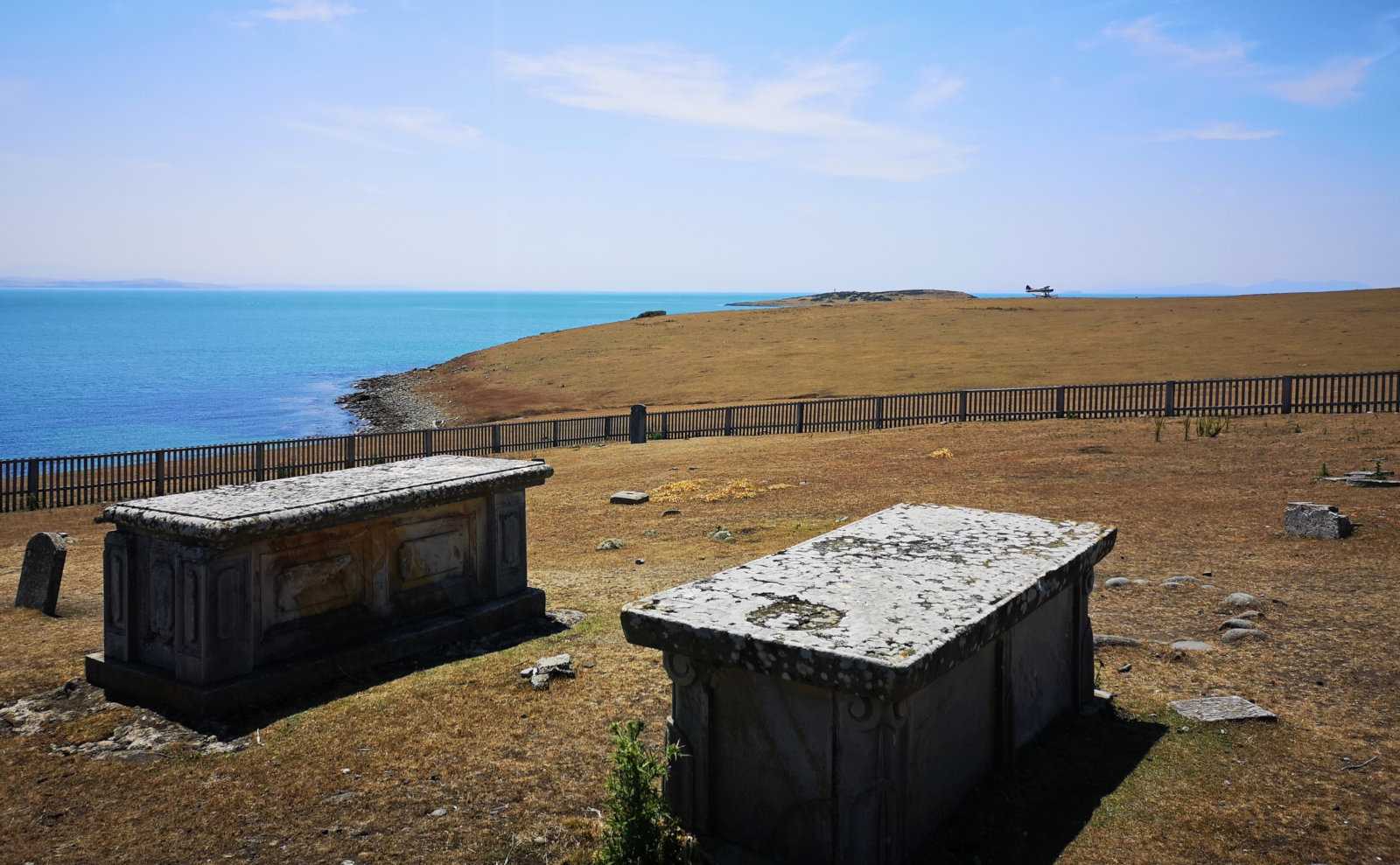 Hike up the mountains: If you arrive very early and leave very late you could squeeze into one day a hike to one of the two most uphill hikes, Mt Maria or Bishop and Clerk. We didn't have enough time (or the inclination really, it was a hot day!) to do either of these hikes, although I did climb Mt Maria during the school camp I mentioned earlier. It's a long and pretty walk with only a very steep/challenging bit at the end where you have to climb some big rocks, but the views at the end are pretty spectacular! If you climbed Bishop and Clerk you'd also be treated to incredible clifftop views from the two dolerite towers, although this is classed as a 'challenging' walk so I wouldn't suggest it unless you were confident in your own level of experience and physical fitness.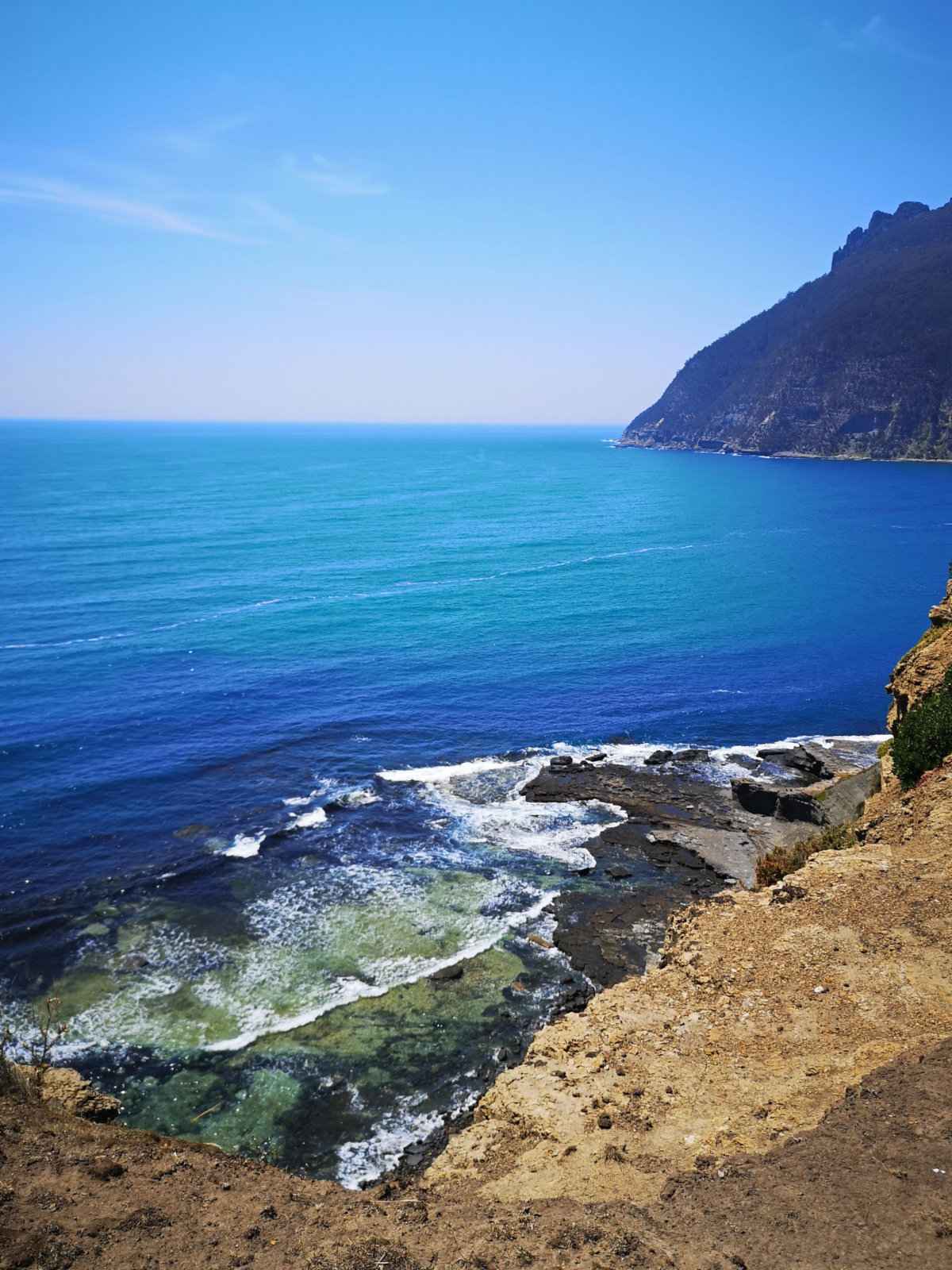 Enjoy the beaches: So long as you keep an eye out for jellyfish, you can go swimming and snorkelling, or just laze around on the sand at lots of beautiful beaches on Maria Island. After a long day of hiking we loved our last hour paddling our tired feet in the water and resting on the beach directly next to the jetty where the ferry arrives and departs. Just keep an eye out for signs or fenced-off areas (like the one in the picture below) as these are set up to protect wildlife, usually during breeding seasons.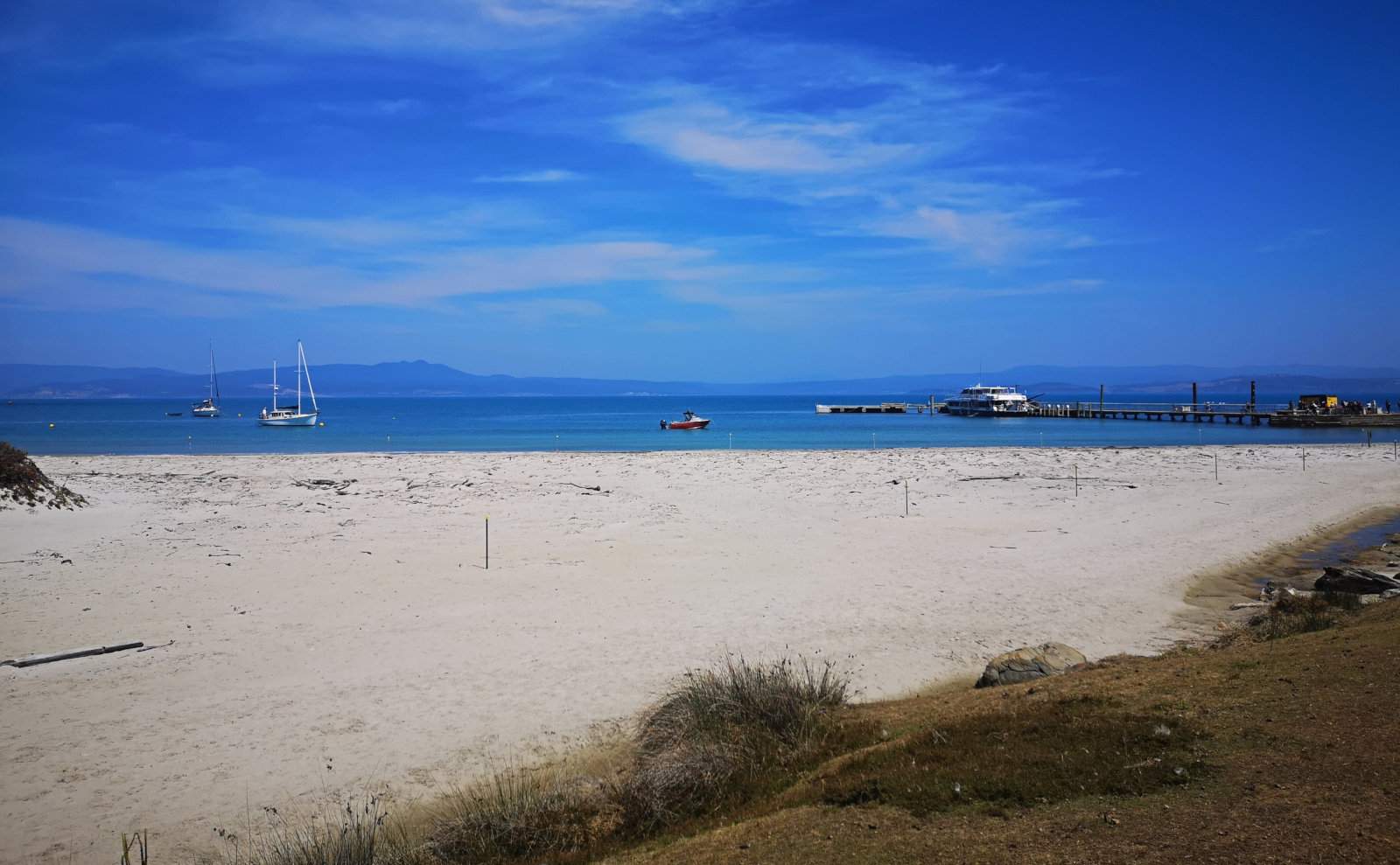 Spot local wildlife! There is a lot of native Australian wildlife living on Maria Island and roaming free that you might get to encounter during your visit. It's pretty much guaranteed that you'll see some Cape Barren Geese, these big grey geese with yellow bills are always wandering around. Most other wildlife you are more likely to encounter early in the morning or later in the evening/around dusk, but that being said we did see some kangaroos and wombats in the middle of a hot summer's day when we were there! I was really hoping to see some wombats because 1 – they're adorable and 2 – they are known for being quite nonchalant about people on Maria Island. We didn't get too close to the ones we saw so as not to stress them out, but they did seem very calm, just keeping an eye on us. If you were to stay overnight you might spot more kangaroos, wallabies, wombats, possums or even Tassie Devils. We also saw dolphins from the ferry on our way back to Triabunna, and occasionally whales are spotted as well!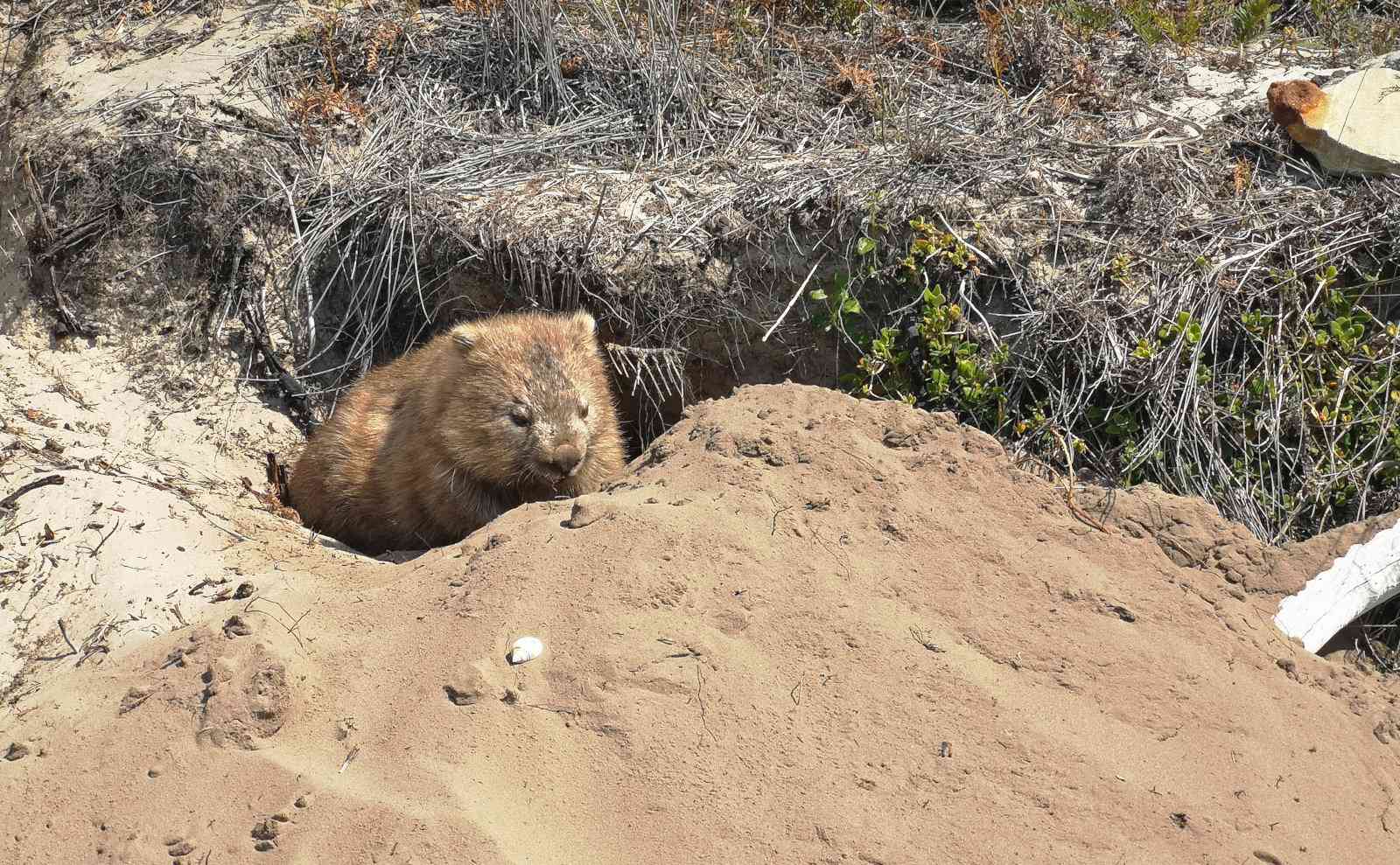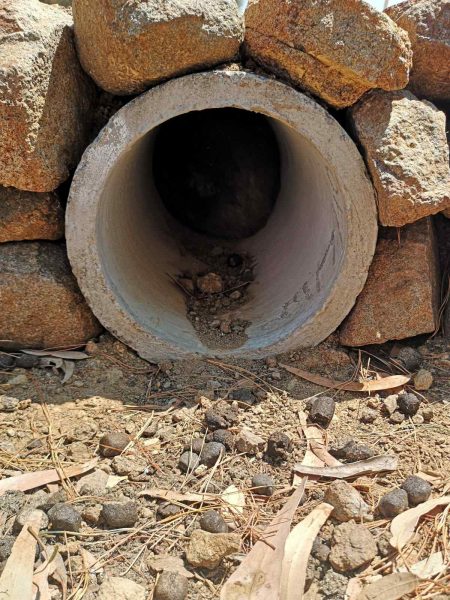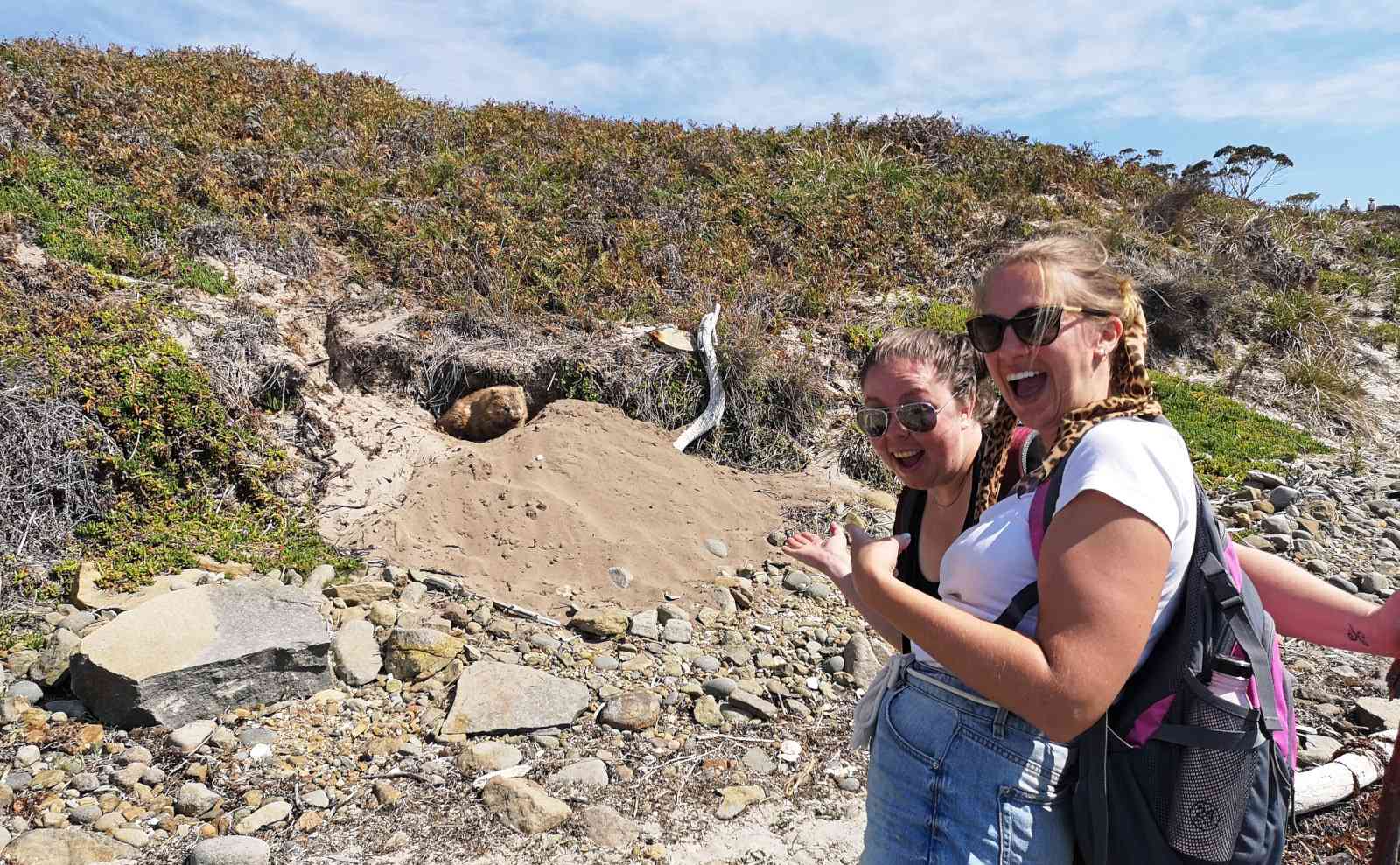 Staying Longer on Maria Island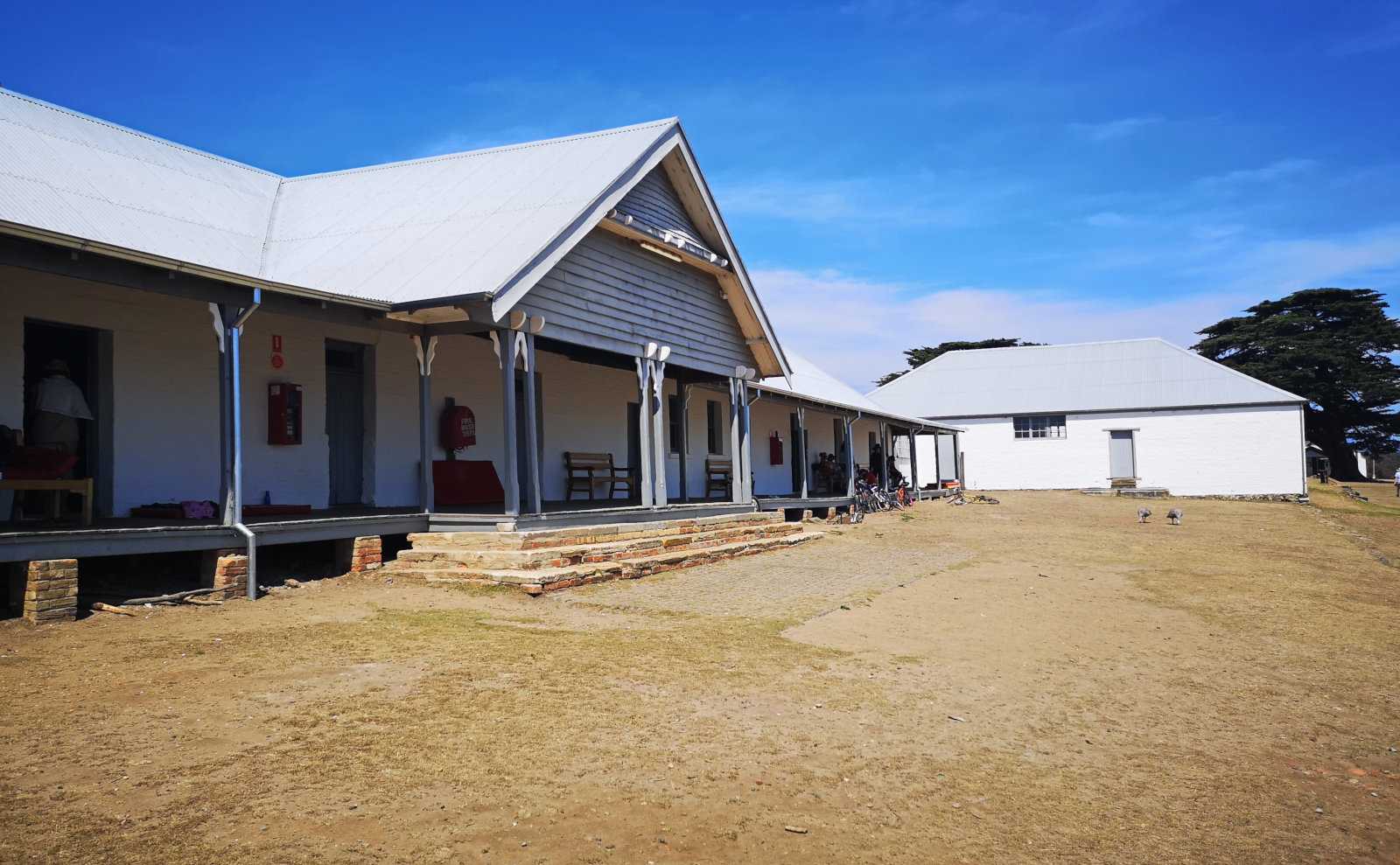 You can stay overnight or longer on Maria Island but only in the Penitentiary building or camping. The Penitentiary has bunk beds that sleep up to six people in a room or you can camp at a couple of designated camping sites on the island (Darlington, Frenchs Farm and Encampment Cove). Staying longer is ideal if you want to explore further or have time to visit many different sights, say like climbing Mt Maria as well as Bishop & Clerk or heading further down the island to Frenchs Farm. Staying overnight or for a couple of days would be ideal if you wanted to explore right down the bottom of the island which even I haven't done – yet! Go here to find out more information and book accommodation to stay on the island.
Getting to Maria Island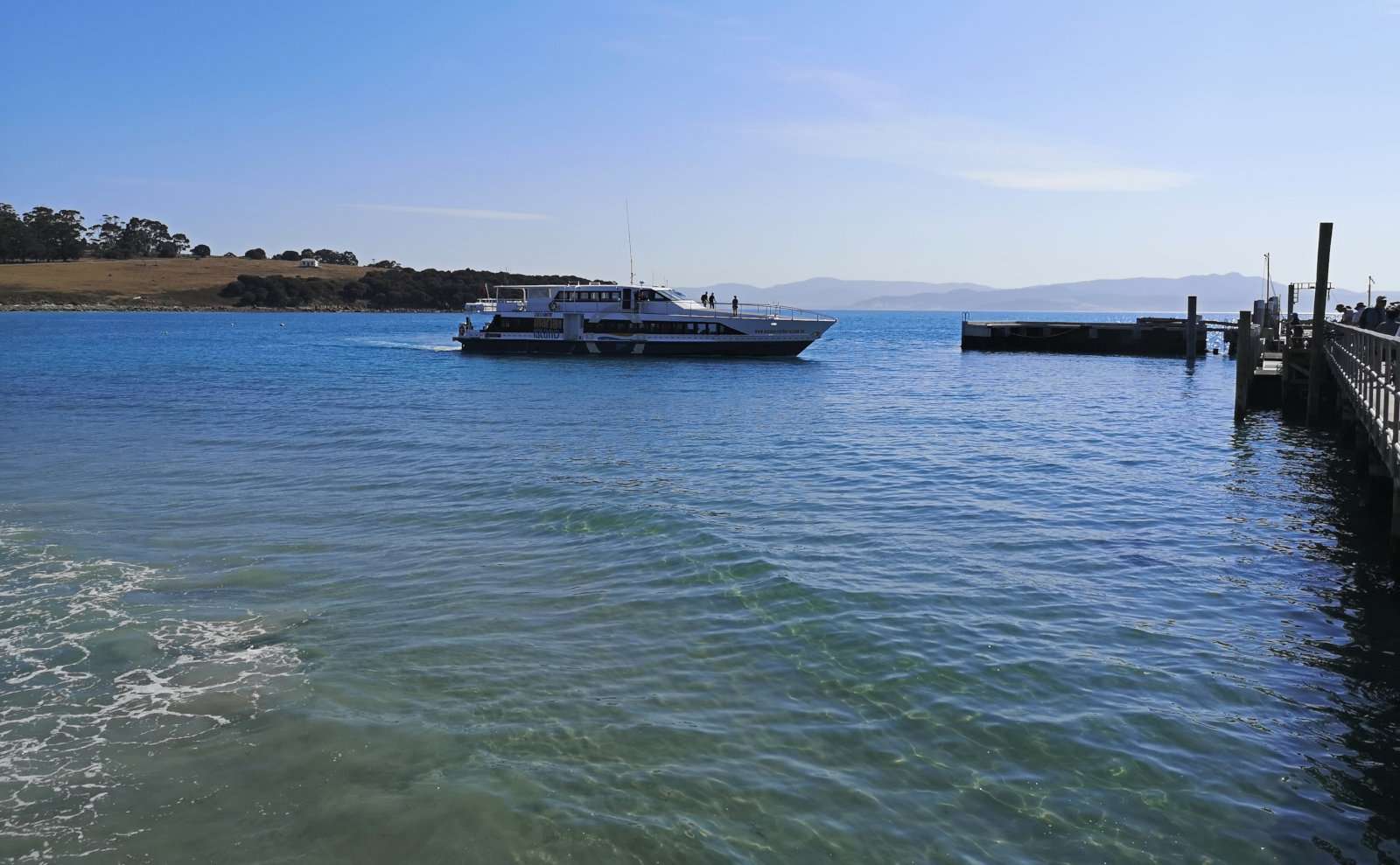 Unless you know someone with their own boat, the only way to reach Maria Island is by catching a ferry from the town of Triabunna. Triabunna is about an hour and 15-minute drive from Hobart while the ferry takes about 45 minutes to get from Triabunna to Maria Island (and vice versa). If you are driving yourself then there are signs directing you to the ferry location in Triabunna where there is also free parking, just make sure you look for parking signs as we almost parked in a 2-hour limit spot. The ferry departures timetable varies depending on the season, with fewer departures in winter than in summer. You can check the timetable and book your tickets online here. I definitely suggest booking online, especially if you're planning to visit during summer as it gets booked out fast!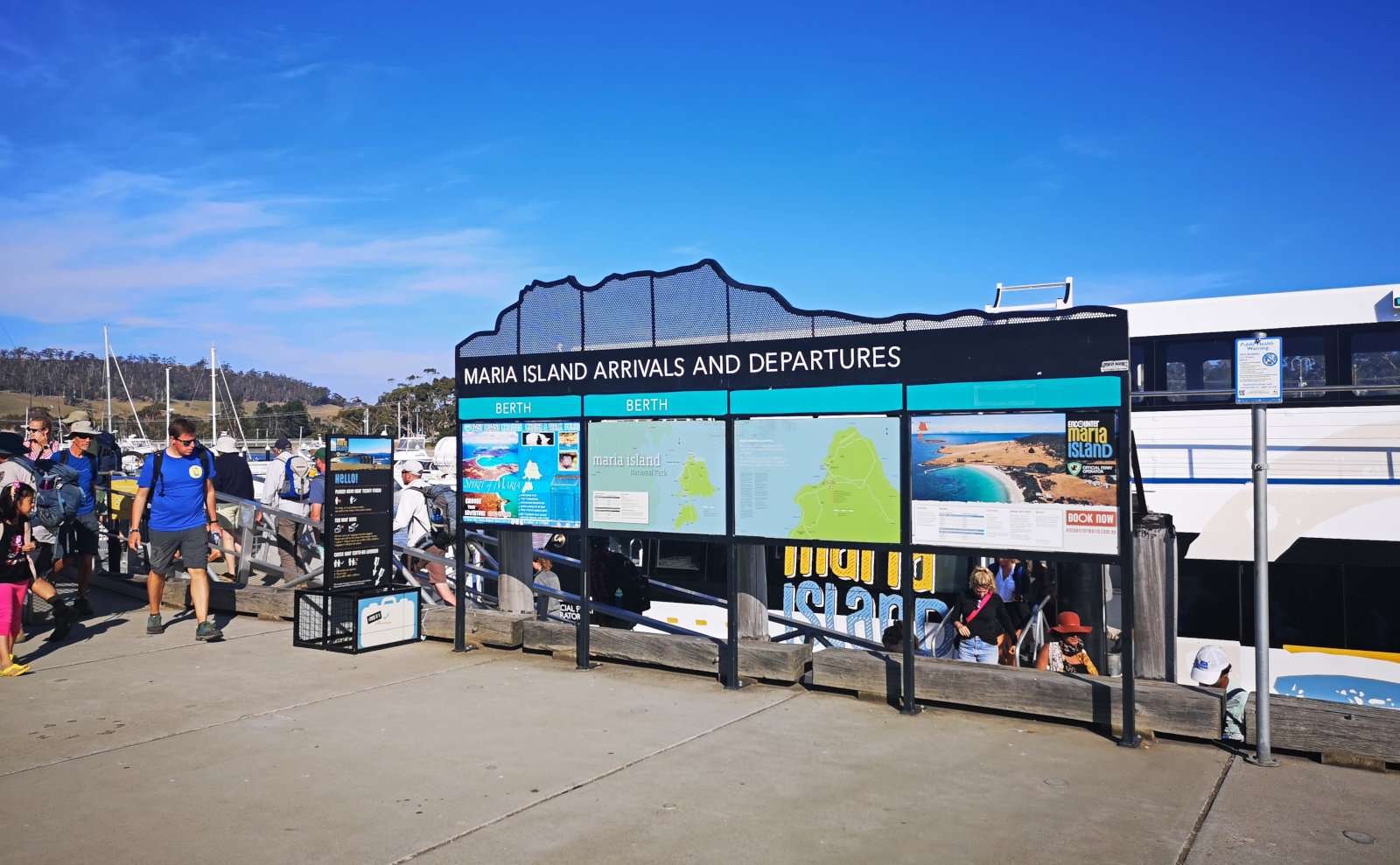 When you arrive at the ferry terminal you will need to pick up your tickets (or buy them if you didn't do that beforehand) at the Triabunna Visitor's Centre which is directly opposite. Make sure you arrive with plenty of time to get your tickets, maybe go to the toilet (there are public toilets here) and buy any last-minute snacks to take to the island with you. There are no shops on Maria Island so you need to bring all the food and drinks you will need for the entirety of your time. Just behind the visitor's centre is a local supermarket where you can stock up on a few things. There's also a "fish van" which does excellent seafood and is a very popular spot for people getting off the ferry and wanting a meal!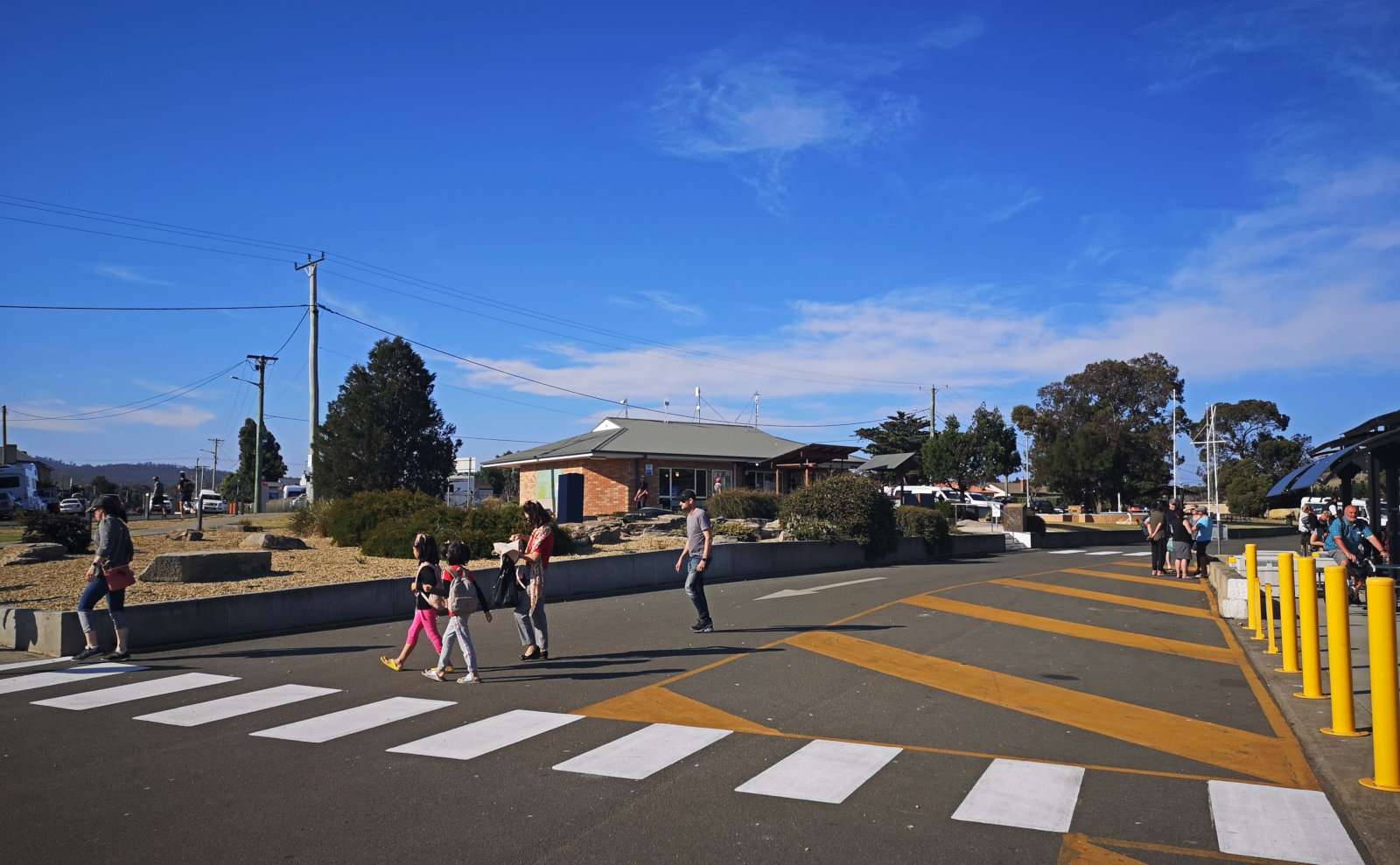 If you won't have access to a car while you're in Tasmania you can also book a day-trip visit to Maria Island from Hobart. There are a number of tour operators who organise day trips to Maria Island from Hobart, like this one and this one. Obviously, I haven't done either of these tours myself, but if you really want to see Maria Island and don't have your own transport then give them a try. And be sure to let me know how it was afterwards!
Other Things to Keep in Mind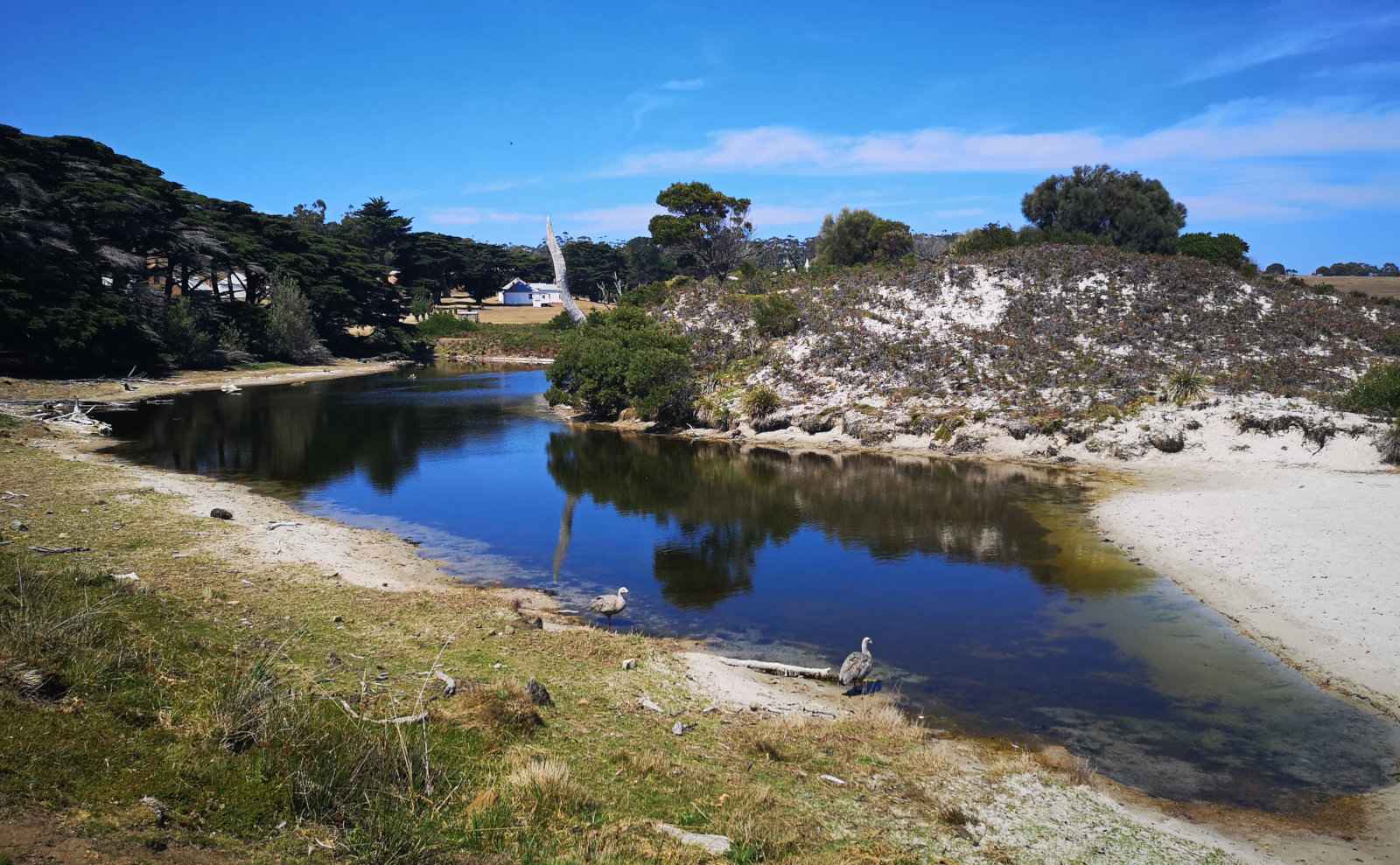 The most important thing to bear in mind while visiting Maria Island is that it's a National Park so you need to be both organised and careful with your actions. Keep these points in mind:
There are no shops on Maria Island or rubbish bins, therefore you need to bring with you everything you will need to eat and drink, plus take all rubbish away with you.
There are toilets in the Penitentiary, along with a limited amount of drinking water, but it's best to bring plenty of water with you.
Parts of Maria Island can be risky, with cliff edges not fenced off etc. There are signs warning you to be careful but in general, common sense is also needed and children should definitely be supervised at all times.
You can bring kayaks, bikes and camping gear with you on the ferry, but need to pay extra. You can also hire bikes once you get onto the island.
As well as ferry fees you also need a valid Parks Pass to enter Maria Island National Park. If you don't already have one you can purchase these at the same time as you book your ferry ticket.
Please don't chase, try to pick up or in other way stress out the native wildlife in order to get a cool photo. Better yet, take the Maria Island Pledge to ensure the island remains available for everyone to enjoy.
Pin Me!
Have you ever visited Maria Island or another of Tasmania's National Parks? Let me know about it in the comments or pin one of these if you'd like to visit Maria Island in the future!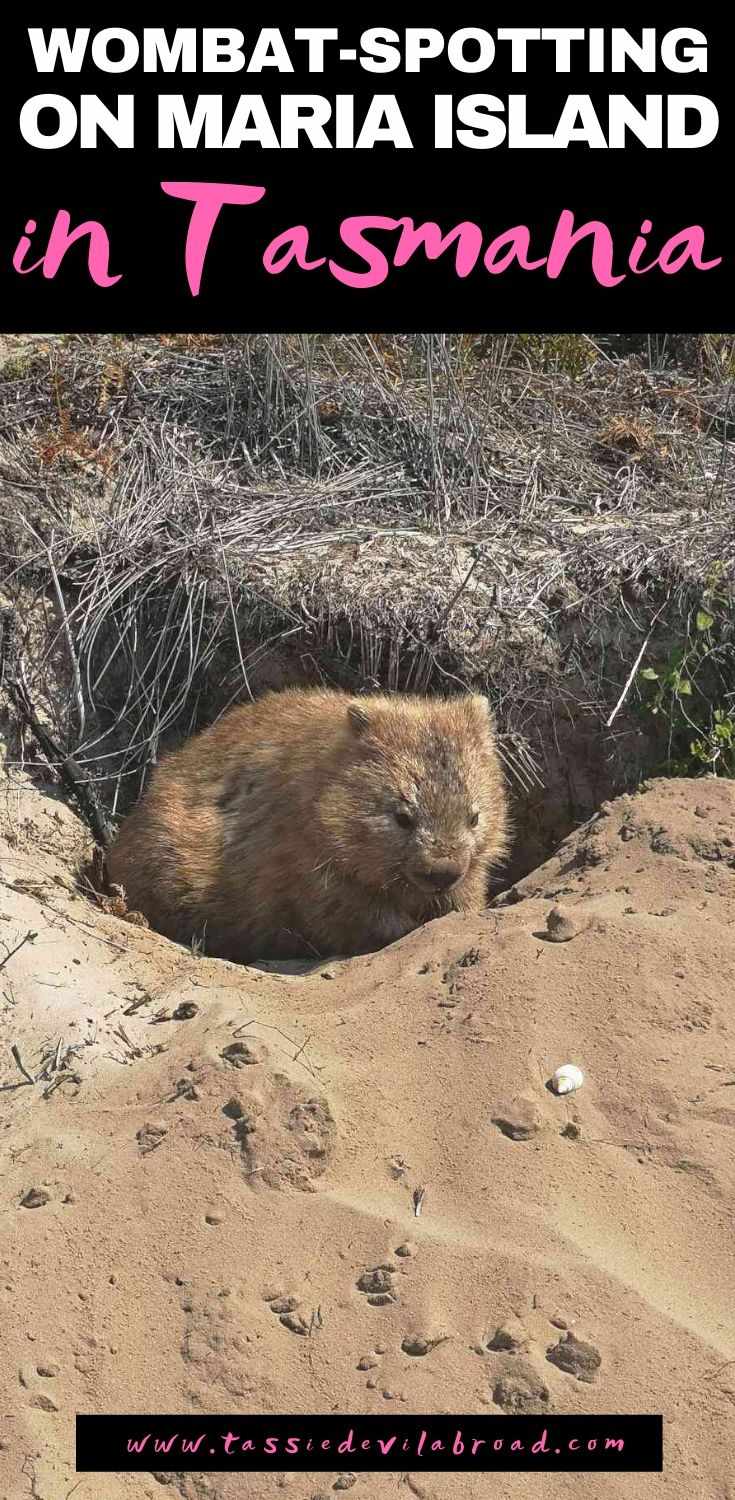 All information is true and correct at the time of publishing but I cannot be held responsible for changes in opening times and prices or businesses closing in the meantime. I always endeavour to keep my posts up to date but also encourage you to double-check the official website of an attraction for information on when it is open, how much it costs etc.