I'm feeling nostalgic today about growing up in Tassie (probably because I'm planning a trip back at the end of the year) so I thought I'd write a post about one of my favourite beaches in the state. I actually spent a few years living directly across the road from this beach and spent nearly every waking hour either swimming in summer or scrambling around the rocks and cliffs with my dog the rest of the year. The local primary school and high school I went to in the area used to hold end-of-year beach days here, and I have lots of memories of spending summer holidays on the beach with my friends. Spring Beach is the name of this spot, and it's not really as well known as other, more 'famous' Tasmanian beaches. But I'm here to tell you how and why you should visit Spring Beach if you are ever travelling in Tasmania!
This post contains affiliate links. This means that if you follow a link and then purchase or book something, I will earn a small commission at no extra charge to you. This helps me with the costs incurred from running this site and means I can keep bringing you travel content like this. You can read more about this on my privacy page. Thanks for your support!
About Spring Beach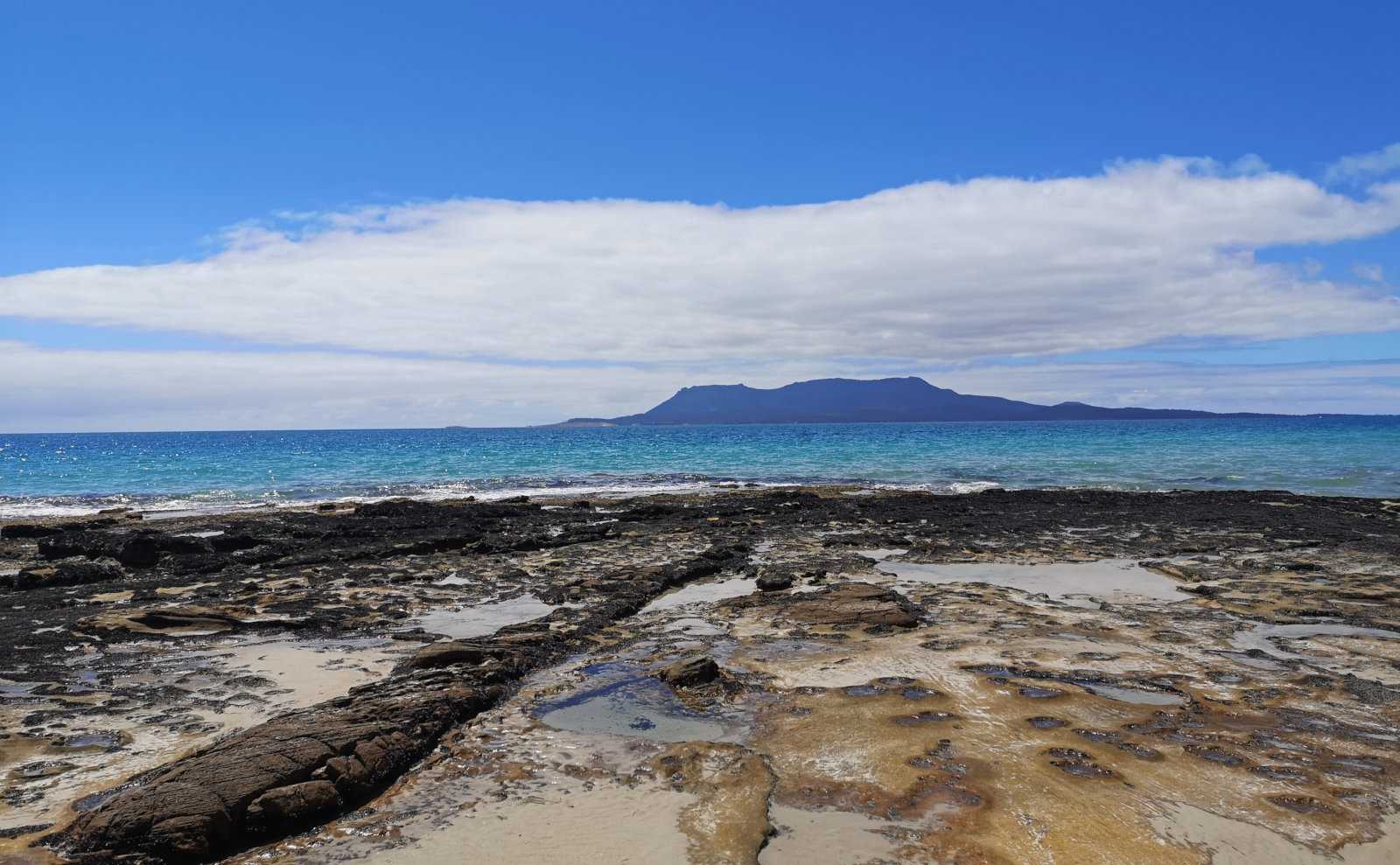 Spring Beach is located about a five-minute drive from Orford, on the East Coast of Tasmania. Most people travelling through Tasmania might stop in Orford for lunch on their way to the more well-known areas of Bicheno, Freycinet National Park, Friendly Beaches and the Bay of Fires. But since Spring Beach is only about an hour's drive from Hobart, it's perfect for a day trip!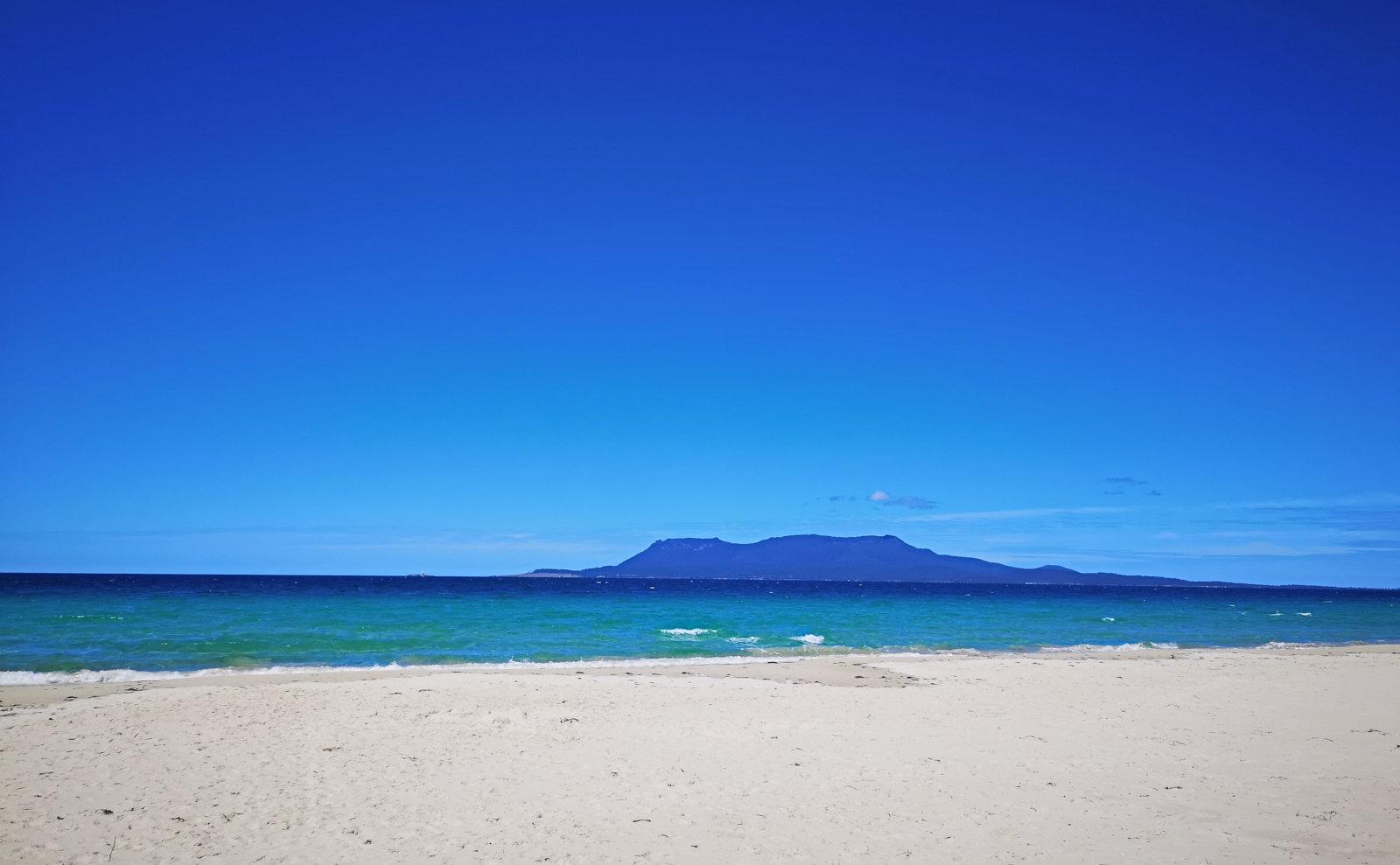 I mean, yes, of course, I'm totally biased, but Spring Beach is my favourite beach ever partly because of all the memories and partly because it's so pretty! It's not very big and you can enjoy lovely views across the bay to Maria Island. The rock pools at either end are fun for exploring or fishing and you might even spot dolphins swimming off-shore. There's also a really cool lookout point from the left of the beach (if you're facing the water) and a walking or cycling path that leads all the way back to Orford along the clifftops (it takes about an hour to walk).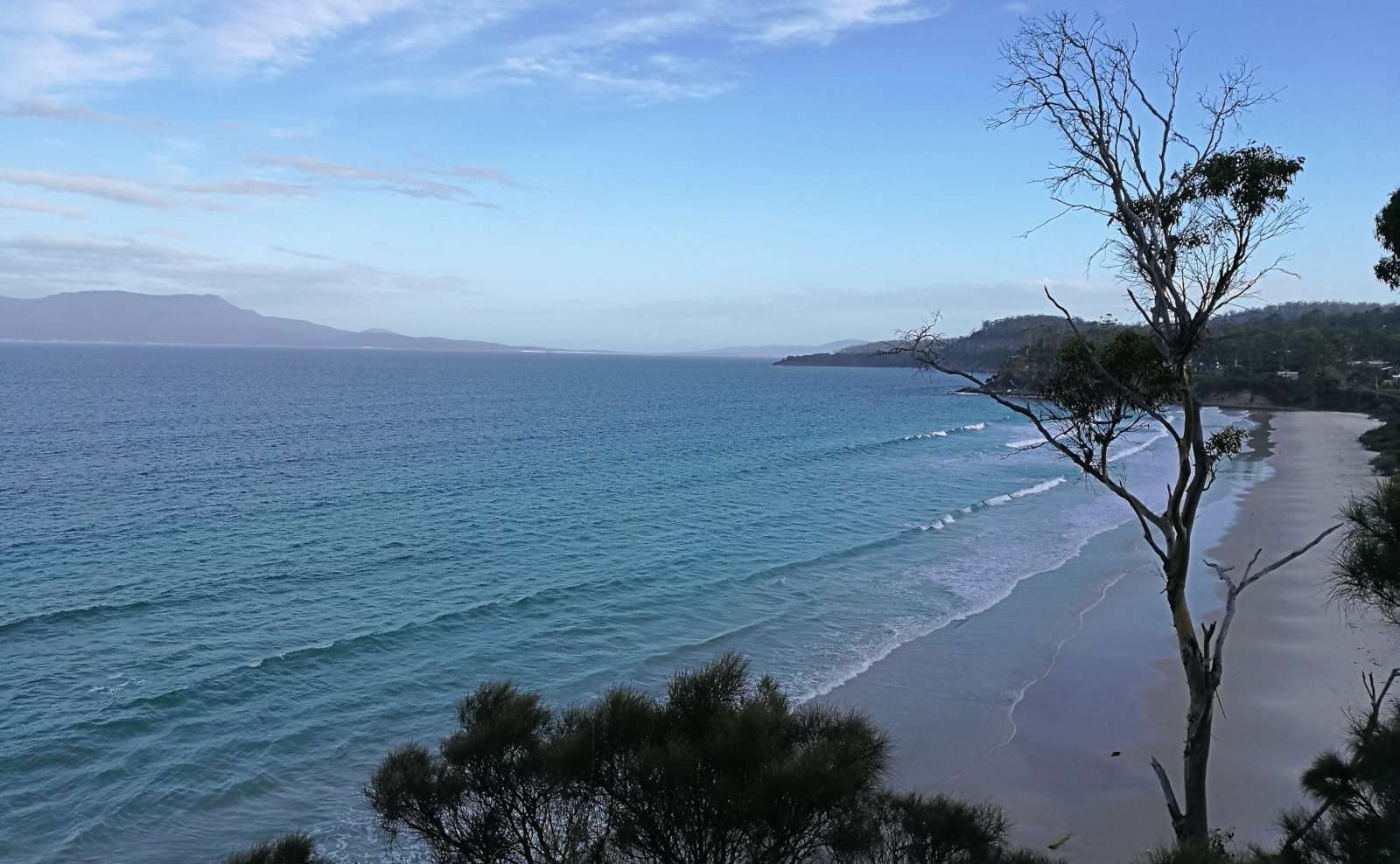 There are some basic toilets and barbecue facilities at Spring Beach, as well as parking. Mostly it's not a very built-up or busy beach, which I love. If you do go for the day in summer it won't be packed, although there will be locals swimming or sunbathing. The waves can get large after a storm but are very rarely big enough for surfing here. Spring Beach is perfect for body-boarding, swimming, kayaking or for small children to splash around and build sandcastles.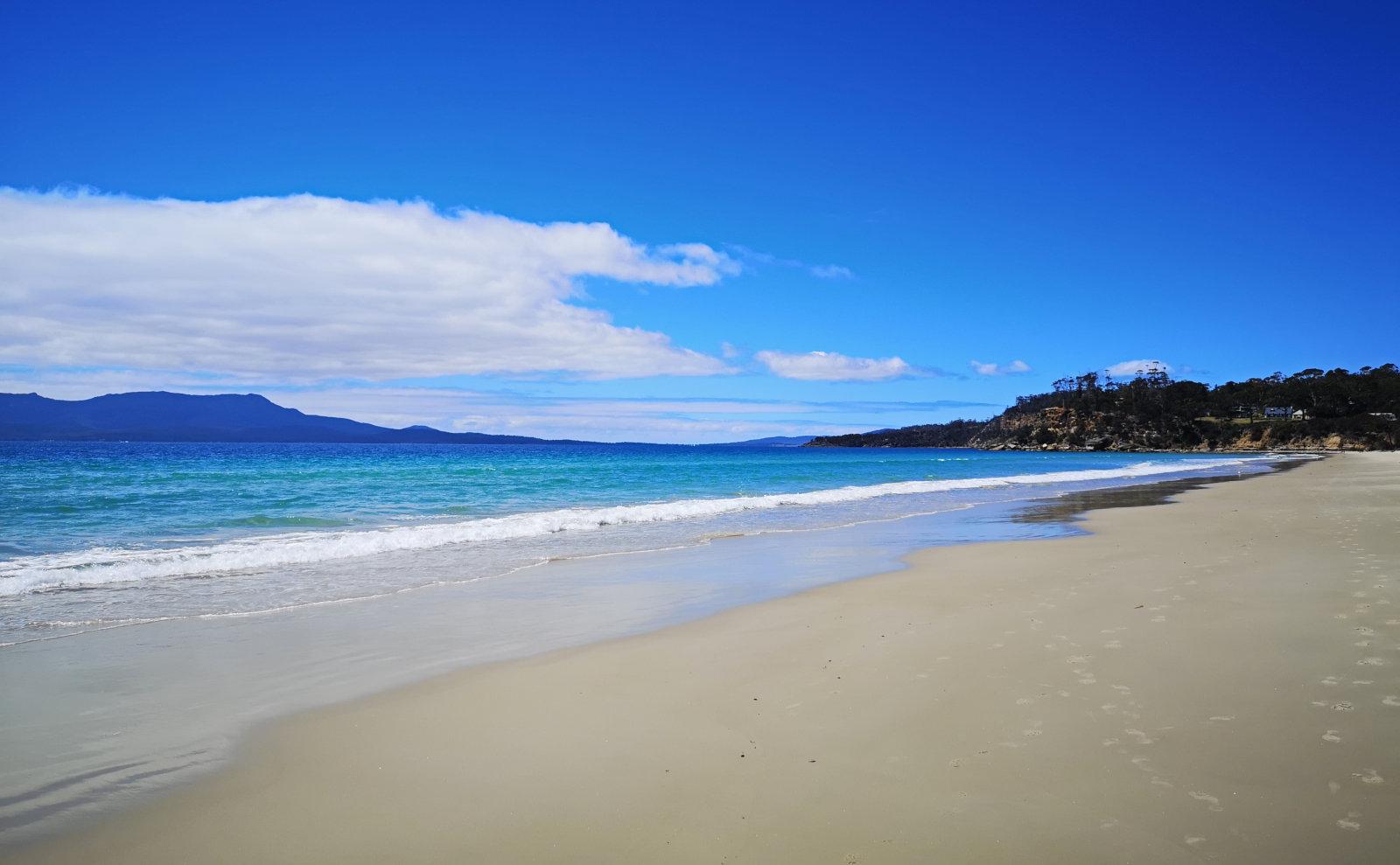 If you visit Spring Beach do be careful when swimming as there's sometimes a strong undertow and no lifeguards. Fun fact, when I was in college I did a surf lifesaving course here, so if you ever do find yourself caught in a rip or undertow that's dragging you out to sea, just stay calm and swim diagonally for a while until you are out of it and able to swim back to shore. Trying to fight a rip will only tire you out.
Getting to Spring Beach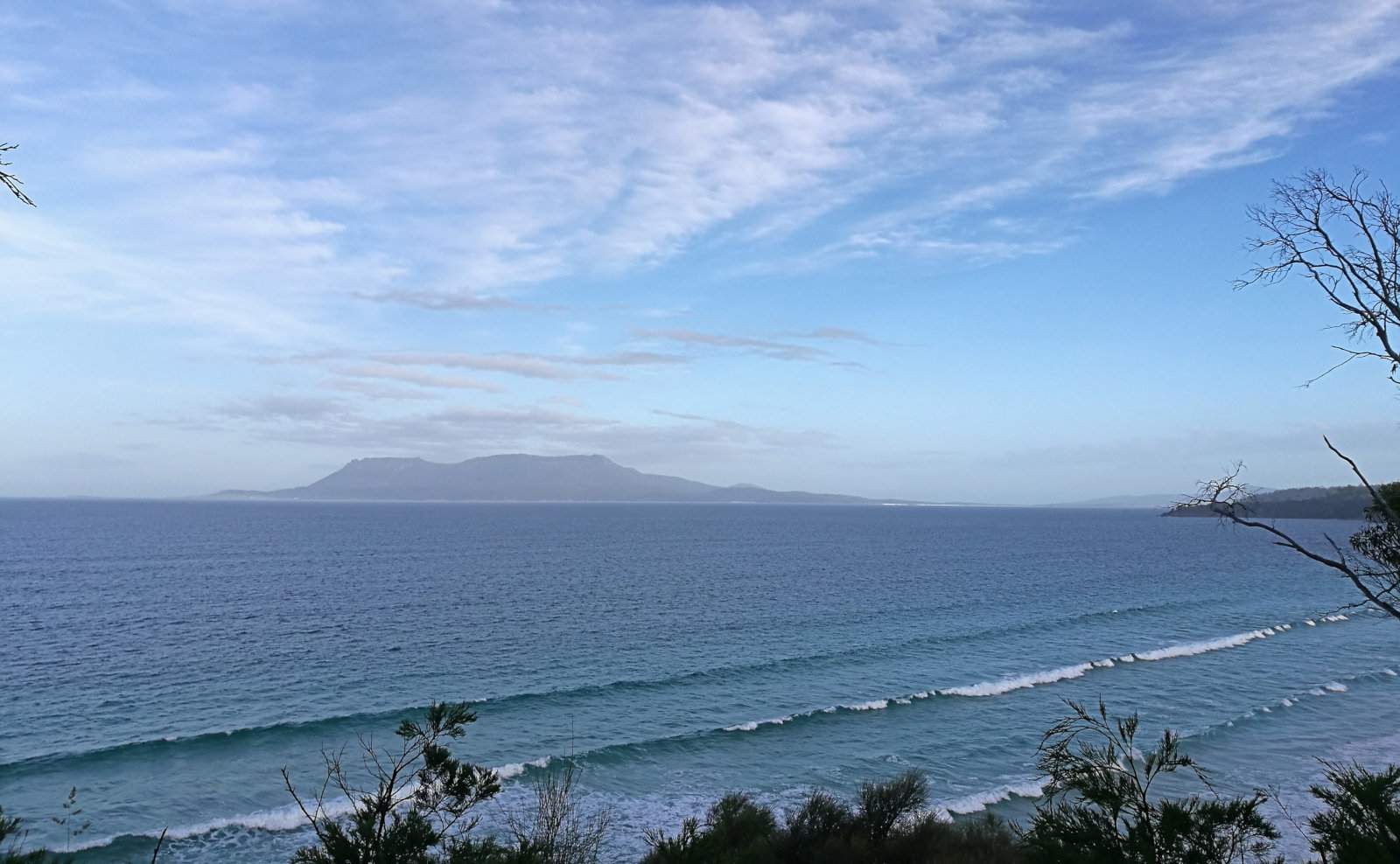 As I've mentioned, Spring Beach is about five minute's drive from Orford, which is about an hour's drive from Hobart. You won't really be able to visit Spring Beach unless you have a car, but road tripping around Tasmania is the best way to see the sights anyway. When you drive into Orford from Hobart, the first thing you will see is a big white bridge going over the Prosser River. To get to Spring Beach, simply turn right just before the bridge and follow that one road (it's called Rheban Road) without detouring until you hit Spring Beach. Simple! I've also added a map below to help you navigate.
Things to do around Spring Beach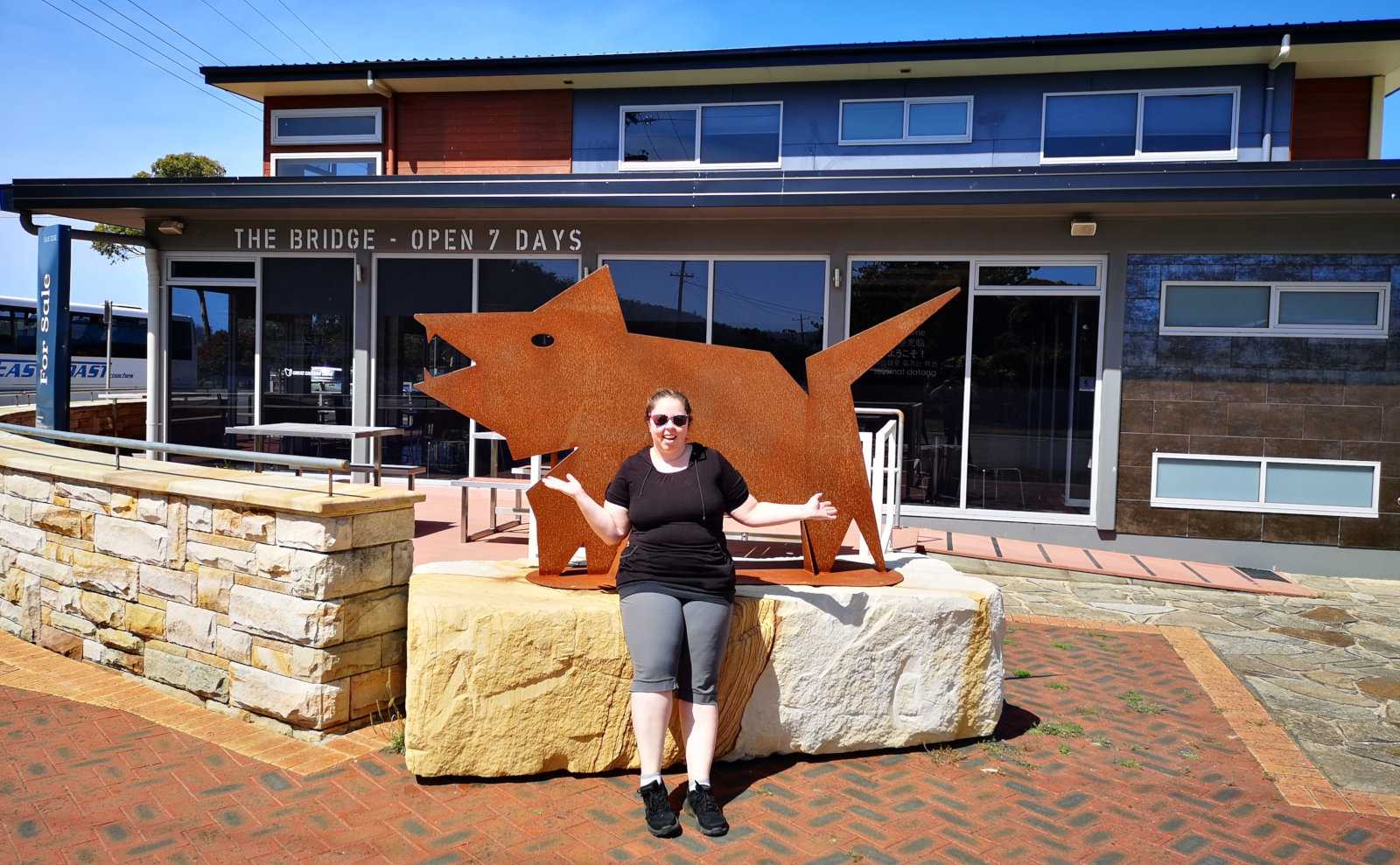 If you're coming to Spring Beach/Orford I definitely recommend staying at least overnight. Orford and Spring Beach are both very popular holiday destinations for Tasmanians, with many people from Hobart having a 'shack' or beach house in the area. There are a few more lovely beaches around Orford, as well as the river, which makes it ideal for people who love swimming, boating, fishing, kayaking or any other water-based activity really. It's a peaceful and quiet town, perfect for families. Be aware that it is quite seasonal though, so some places may not be open or with more limited hours during the winter. Visiting between September and April is definitely the best time.
Other beaches and the river: Spring Beach is located just outside of Orford, but there are some nice beaches within Orford proper that are usually calmer and therefore more suited to young children or people who want to launch a canoe or kayak. Millington's Beach is the most central one, and if you continue walking right (as you're facing the water) you will come to East and West Shelley Beaches. If you cross the bridge when driving and continue on the highway you will also hit Raspins Beach on your right, just before leaving Orford. All of these beaches have lovely views of Maria Island and the waves are rarely large. The Prosser River also has boat ramps and is lovely for canoeing or kayaking. If you continue up the river towards the dam you might even spot sea eagles that nest in the cliffs there!
Our Park: If you continue straight ahead when you come to the bridge (instead of turning hard right or left across the bridge) you will come to Millington's Beach which is quiet and lovely. The park attached to the beach, called 'Our Park', is great for kids as there's lots of play equipment, barbecue facilities and toilets. There's even a really cool skate and bike-park area, with working traffic lights, lanes and roundabouts!
Darlington Vineyard: Check the map below to get directions for Darlington, a vineyard in Orford that was opened by one of my high-school teachers after he retired! I'm not much of a wine drinker but I'm assured that they make lovely Pinot Noir, Riesling, Chardonnay and Sauvignon Blanc. So if you do like wine, make sure you stop in to sample and maybe buy some.
The Three Thumbs and Wielangta: If you like bushwalking then you should definitely drive through the Wielangta Forest near Orford. There's a couple of spots within the forest with walkways for exploring, and if you drive all the way up to The Thumbs lookout you'll be rewarded with stunning views all the way to Maria Island. Do be aware that it's a very bumpy dirt road to get there though!
Maria Island: From all the beaches around Orford you will be looking out towards the beautiful Maria Island. This National Park and ex-convict settlement is definitely worth a visit, which you can do via ferry from the nearby town of Triabunna. Triabunna is about fifteen minutes from Orford, continuing up the highway. You can stay overnight on the island or simply visit as a day-trip. Make sure you check the ferry timetable though, as it varies during the year.
Kate's Berry Farm: Continue driving up the east coast from Triabunna towards Swansea and not only will you be treated to some spectacular views but just before the town of Swansea you'll come to Kate's Berry Farm. The drawcard is the gift shop/cafe where you can taste and buy all manner of delicious berry jams, wines, chocolates, ice-cream, smoothies, crepes and more. It takes about 45 minutes to get to Swansea from Orford, while you're there make sure you check out the pretty town itself and you might also like to stop and check out the convict-built Spiky Bridge or one of the stunning beaches along the way.
Where to eat near Spring Beach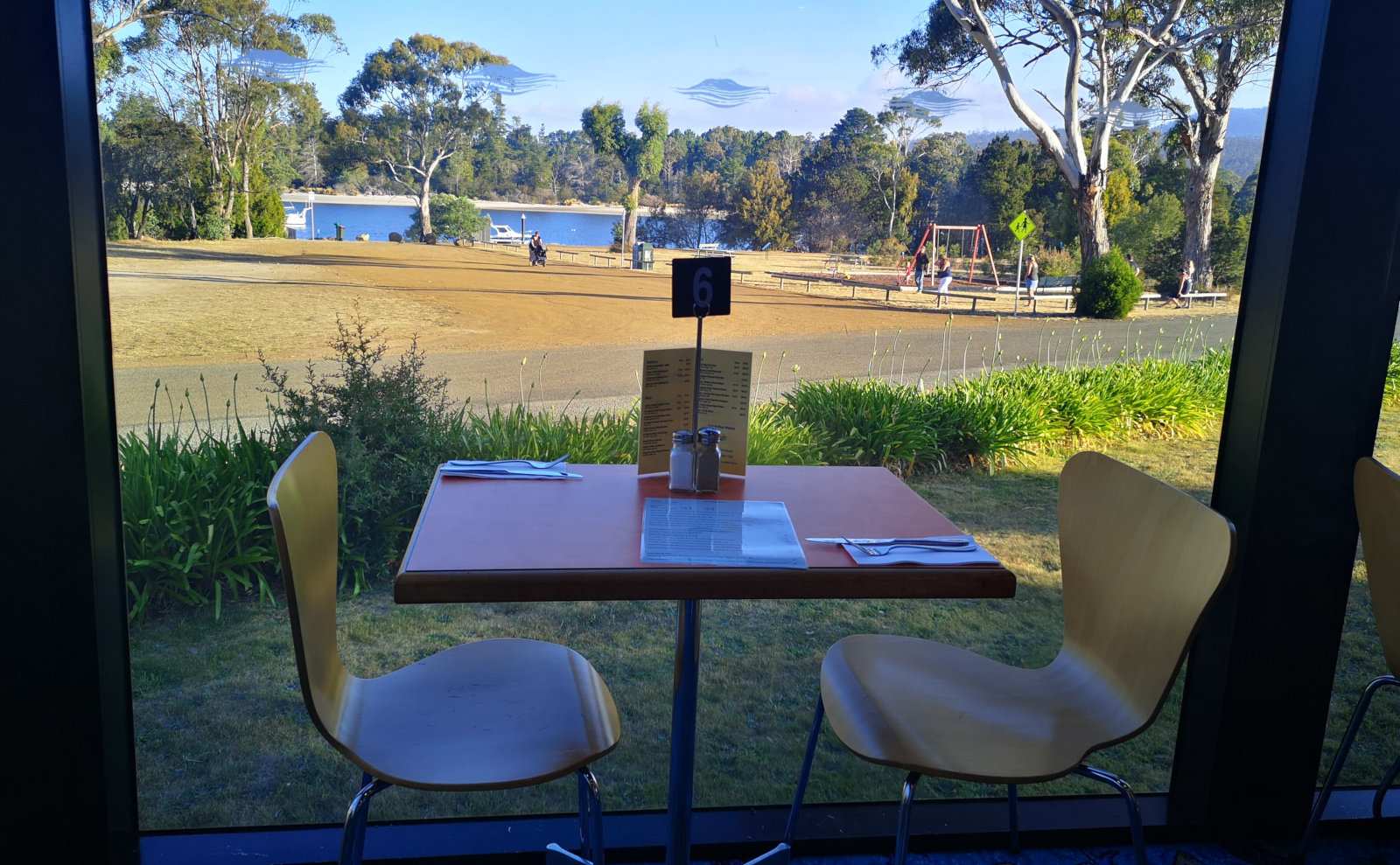 Alright, I'll be honest, Orford isn't exactly a foodie getaway. Most of the time this is where you come for a rustic vacation where you'll be eating barbecue or simple home-cooked meals. There's a small IGA supermarket near the bridge and a slightly larger one in Triabunna for stocking up on groceries. If you do want to eat out, these are the best places for good food. Just be aware that you won't be getting any Michelin-stars or super fancy fine dining. Most places have limited hours during the winter months as well so check the websites.
Scorchers by the River: Next to the Prosser River is Scorchers by the River. Scorchers is a cafe/restaurant that does wood-fired pizzas and pasta dishes. They have local artists' work for sale and they also stock Valhalla ice cream from the Huon Valley. They don't have a website but are open for lunch and dinner. They usually close for a couple of months in winter.
Orford Blue Waters: The local pub is actually where I used to work during the summer holidays while I was at uni. They do good pub food like surf n' turf steaks and seafood platters, with a lovely view of the river from the dining room. There's also outdoor seating on a small patio and a bottle shop if you want to buy alcohol to take back to your accommodation.
Orford Cafe Diner: Located in what used to be a roadhouse, but they don't sell fuel anymore, is this cafe that's open from 6.30am to 5pm on weekdays. They're open later on weekends so this is a popular spot to order some takeaway fish and chips, although it's also nice to eat in. They also serve the local Darlington Wines and the food is simple but yummy.
Orford Bowling Club: I only mention the local bowls club because my grandparents are members and so I know that they do dinners on Friday nights during the summer holidays. These dinners can be attended by anyone (even if you're not a member) so long as you let them know ahead of time how many people are coming. The food is prepared by the members of the club and rotates, check the board outside to see what's on each week. Sometimes you might get seafood, sometimes a roast meal and always dessert! The prices are cheap, there's a full bar and I can attest that the locals are lovely 🙂
Spring Bay Restaurant at the Eastcoaster: The Eastcoaster is a resort that includes a waterfront restaurant. We recently had lunch here while visiting in 2020, and the food was really good. The Eastcoaster is about halfway between Orford and Triabunna.
The Colonial Food & Wine: Probably the most gourmet experience you're going to get in the area is the recently opened The Colonial, in nearby Triabunna. They're only open for dinner on Friday nights, but do pretty yummy looking breakfasts and lunches. They'll also make fresh, gourmet lunch packs for you to take with you to Maria Island.
The Fish Van: If you want the freshest local fish and chips, head over to Triabunna to the Fish Van. They're open 11am – 8pm every day during summer and have lots of delicious fresh seafood as well as burgers etc. You can also buy raw fish or crayfish to cook for yourself.
Spring Bay Hotel: The other local pub in the area is this one, literally right next to the Fish Van. Whenever my grandparents go out for dinner they nearly always come here for their simple, but delicious pub food. Just be aware that their opening hours are limited in winter, while bookings are recommended during summer as they get quite busy.
Where to stay near Spring Beach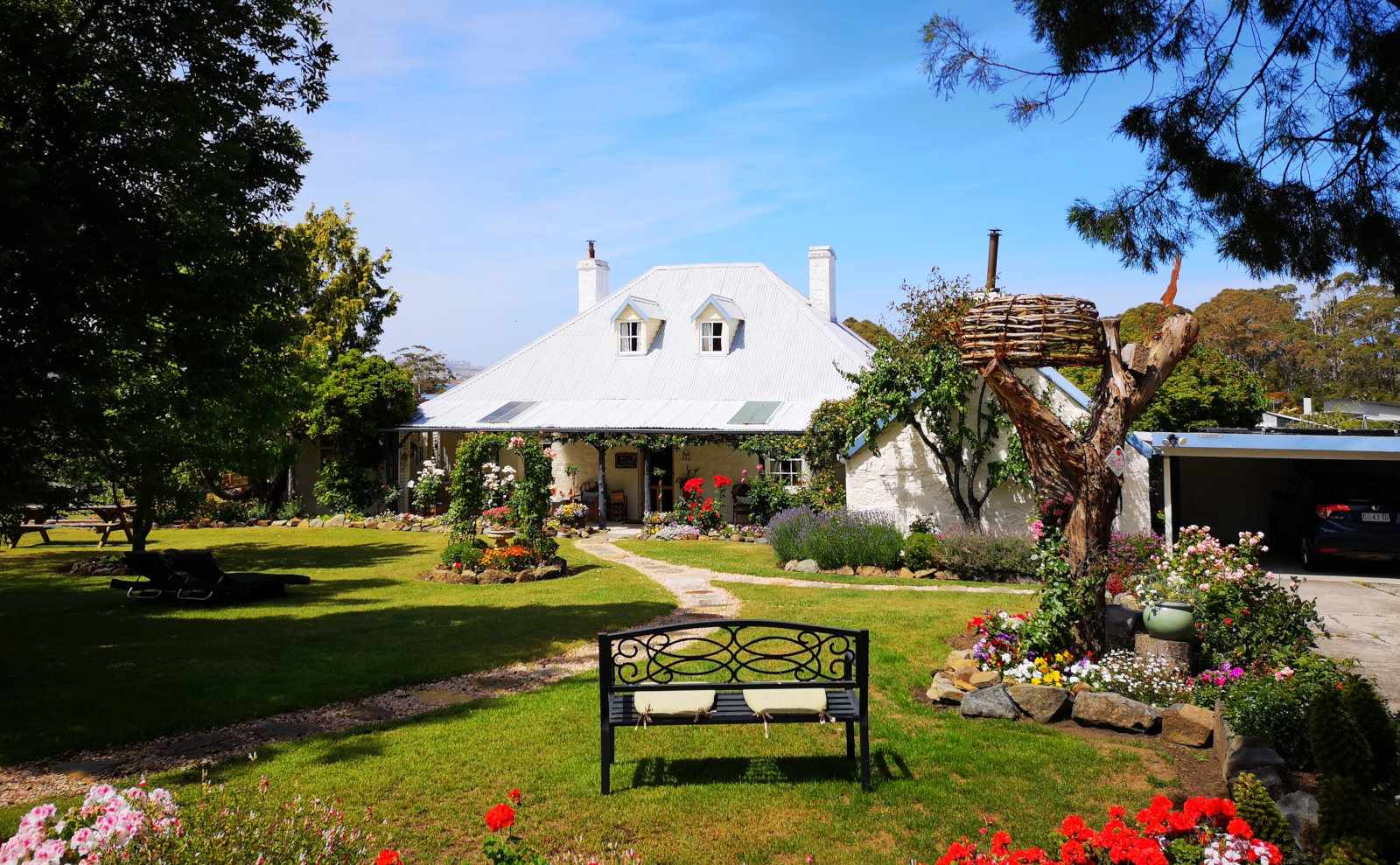 You can totally visit Orford as a day trip from Hobart, but if you'd like to spend a couple of days or more lounging around, relaxing and exploring the area nearby then there are quite a few nice places to stay. There are a variety of bed and breakfast or home rentals available on websites like Airbnb or HomeAway. A private rental is the only way you could stay right by Spring Beach itself but the best options for accommodation nearby are as follows:
Sanda House: I knew the family who owned this gorgeous old house before it became a bed and breakfast, so I can assure you that it really is as beautiful as the photos make it out to be. Apparently, it's the oldest building in Orford, a charming colonial cottage built from sandstone where you can relax. It looks stunning as a guesthouse with lots of lovely details.
Prosser Holiday Units: These units are directly opposite the IGA and are a good, basic accommodation option. There's a patio or balcony and a small kitchen so you can do your own cooking. They also look directly out over the river.
Orford Beachside Holiday Park: If you want to be as close to the beach as possible then this holiday park is just across the road from Raspins Beach. The units are very new and modern, and can sleep up to six guests.
Orford Sea Breeze Holiday Cabins: I've included these self-contained holiday cabins because I know they are pet-friendly! My uncle and aunt always stay here when they're visiting us so that they can bring their dogs with them. They're pretty basic but very close to Millington's Beach.
Blue Waters Hotel: I mentioned Blue Waters above for the restaurant, but you can also stay here and be ideally situated. It's walking distance to the beaches and supermarket in Orford, while the rooms are clean and cosy.
The Eastcoaster: As well as the restaurant I mentioned above, you can stay at the Eastcoaster resort, which has the most stars of any accommodation in the area along with an outdoor swimming pool, tennis courts, a basketball court, an indoor swimming pool and a hot tub!
Map to Spring Beach and surrounds
I've put together a little map so you can easily see where Spring Beach and all the other places I've mentioned are located. For some reason, Google maps shows two Spring Beaches, but the one next to Luther Point Coastal Reserve is actually East Shelley Beach, NOT Spring Beach!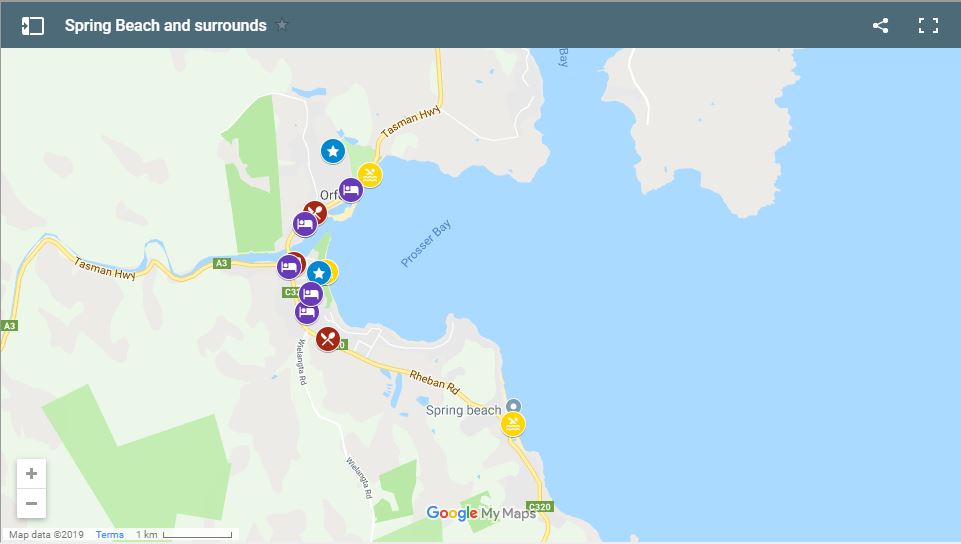 Pin Me!
Have you visited Tasmania's East Coast and Orford or Spring Beach? Let me know about it in the comments or pin one of these if you'd like to visit my favourite Tassie beach in the future!