It's cold and drizzly in the Netherlands at the moment so I am reminiscing about summers spent in Australia, particularly the last time we visited Hobart in January. I spent part of my childhood plus all my college and university years living in the Tasmanian state capital, which many people call a city that feels like a small town. Of course, I'm biased, but Hobart really is a beautiful city and well worth a visit if you're in Australia. Flights from Melbourne to Tasmania only take about an hour and there are also direct flights from most of the other capital cities. If you are planning on visiting Hobart for the first time, here are my favourite local things to see and do, which I would definitely show off to any friends I was playing tour guide for!
This post contains affiliate links. This means that if you follow a link and then purchase or book something, I will earn a small commission at no extra charge to you. This helps me with the costs incurred from running this site and means I can keep bringing you travel content like this. You can read more about this on my privacy page. Thanks for your support!
About Hobart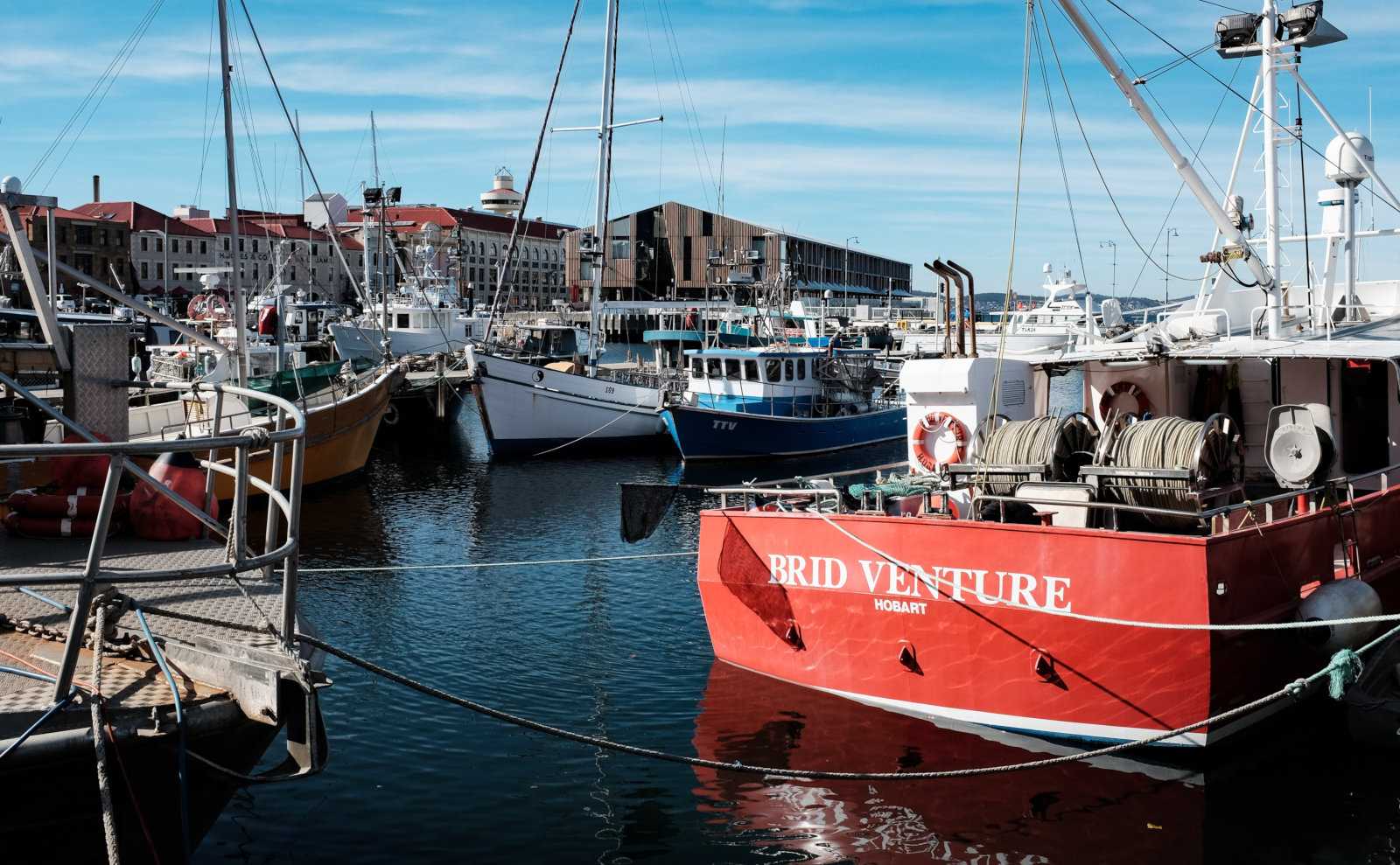 Note: Nipaluna is the name of the Tasmanian Aboriginal country on which Hobart sits, so you may often see the city also written as Hobart/nipaluna. The muwinina and palawa peoples are the traditional owners and custodians of the land upon which Hobart was built.
Hobart is actually the second-oldest city in Australia, as it was founded as part of a penal colony in 1804. It's also the least-populated state capital in Australia, although half of all Tasmanians apparently live there! Tasmania is not very populous, which just adds to its charm if you ask me. Hobart is situated on the estuary of the River Derwent, under the shadow of Kunanyi/Mount Wellington and was a centre for whaling back in the day, as well as having strong links with Antarctica since many of the ice-breakers sailing from Australia depart from the Hobart port.
The city is spread out on both sides of the riverbanks, although the city centre and most of the attractions are located on the western side. I've previously talked about my favourite places in historic Battery Point and Salamanca here, where many of the main tourist sites can be found. Hobart is also a great base for day trips to other Tasmanian places nearby, since the island is small you can see quite a lot in a short time. However, don't think you can see everything in a week!
The Best Things to do in Hobart
If you're only spending a few days in Hobart then these are the top ten things you should definitely check out, especially if it's your first time visiting! Most of these places are close enough together that you can walk them, hop on a local bus or grab a taxi. If you are planning to explore more of Tassie then you will need to hire a car or join a tour but it is not essential if you're only spending time in Hobart.
Head to MONA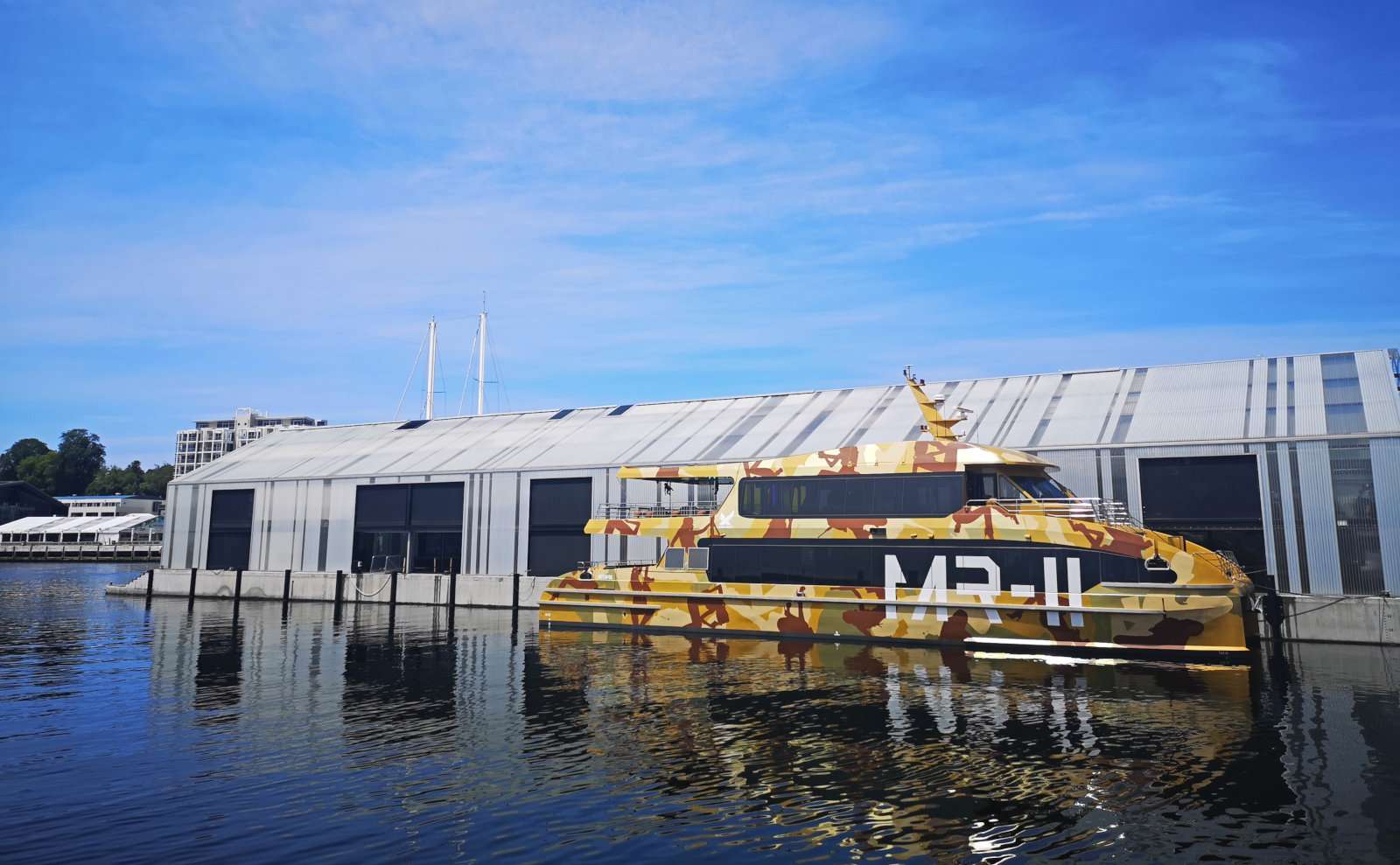 MONA is the Museum of Old and New Art and is one of the most famous attractions in Tasmania, let alone Hobart! It's actually located in a suburb of Hobart up the river, but catching one of the catamaran ferries (the MR stands for MONA Roma) is half the fun of visiting. It takes about 25 minutes to sail up the river, which is a lovely way to see the city from the water. The ferry ride itself is already an interesting experience.
Then you arrive at the incredible entrance of the largest privately funded museum in the Southern Hemisphere – MONA. MONA was created by the Tasmanian millionaire David Walsh and showcases more than 1,900 artistic works from his private collection. If you are at all interested in art then this is a must-visit, with many subversive and modern pieces as well as a stunning building housing it all. Honestly, just go see it for yourself because I can't even describe it properly!
MONA is free for Tasmanian residents (you do need to book online and pay a deposit which you will get back) but there is a $35 AUD fee for everyone else. Find out more on the official website. You could also combine your ticket with this sightseeing tour, which is a good way to get oriented when you first arrive in Hobart.
Climb Kunanyi/Mount Wellington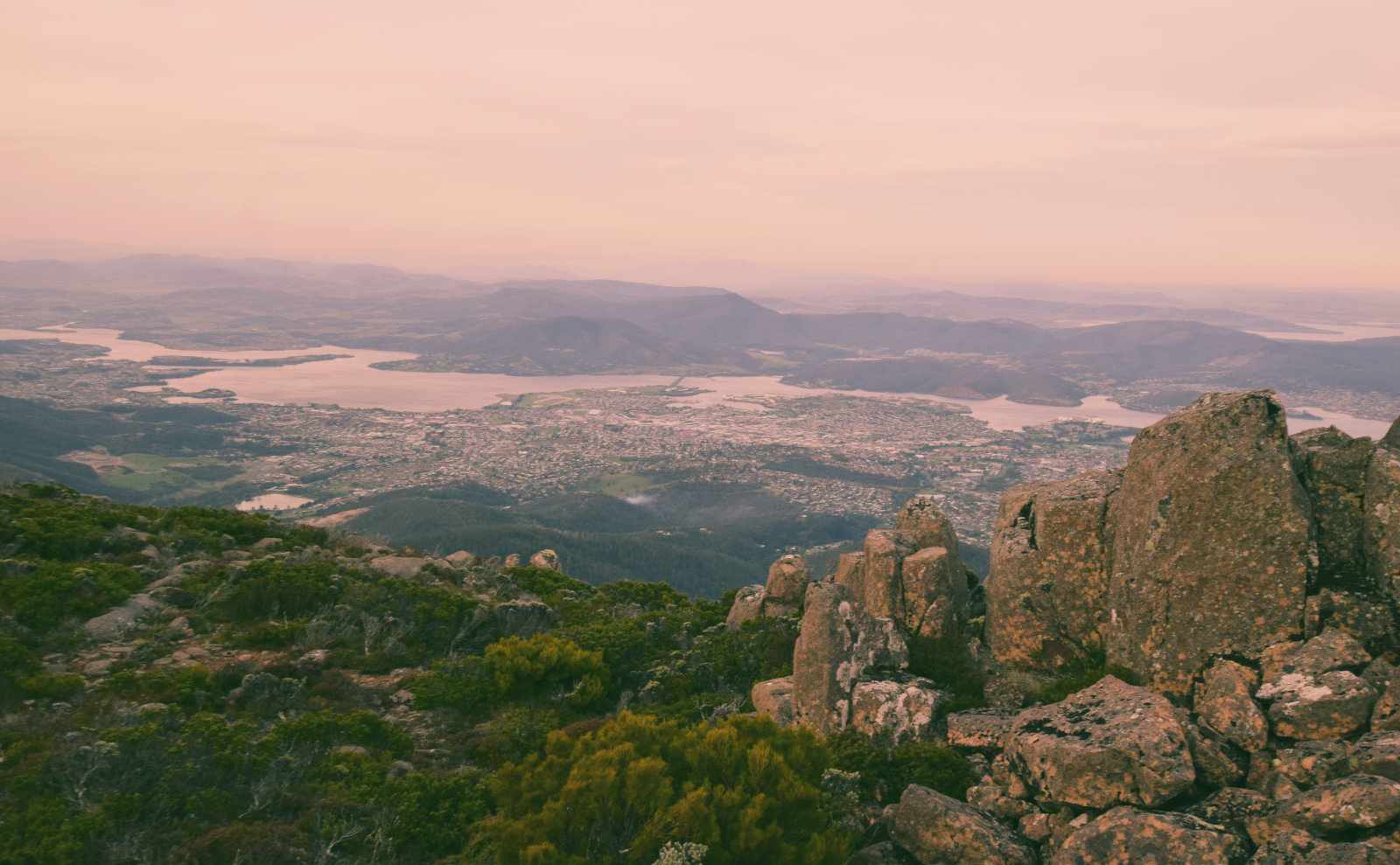 Hobart is located on the banks of the Derwent River and the foot of a mountain, which was called Mount Wellington by the white settlers but its original name by the local Aboriginal people is Kunanyi. Nowadays you will usually see it written as both Kunanyi/Mount Wellington although locals usually just call it The Mountain!
You can drive all the way to the summit for gorgeous views over the city and river, plus there are a number of great hiking trails at different points along the mountain. The sharp rock 'Organ Pipes' that you can see near the top are also popular with rock climbers. In winter the roads are sometimes closed when it snows, but if the snow is not too bad then you can also drive up to play in the snow! In winter it's a common sight to see cars in Hobart with piles of snow (even though it hasn't snowed down at sea/city level) so you know they've just been up the mountain.
There are boardwalks and lookout platforms on top of the mountain, along with a café at The Springs. The Fern Tree Tavern, which is near the beginning of the road up is also a lovely spot for a meal or drink. Check out this website for more info about things to do on and around the mountain. If you are hiring a car then you can drive up the mountain, or there's a hop-on hop-off bus instead. You could also join this guided excursion to the top, with a local tour guide to tell you all about the history and interesting facts about the mountain as you go.
Get tipsy at the Cascade Brewery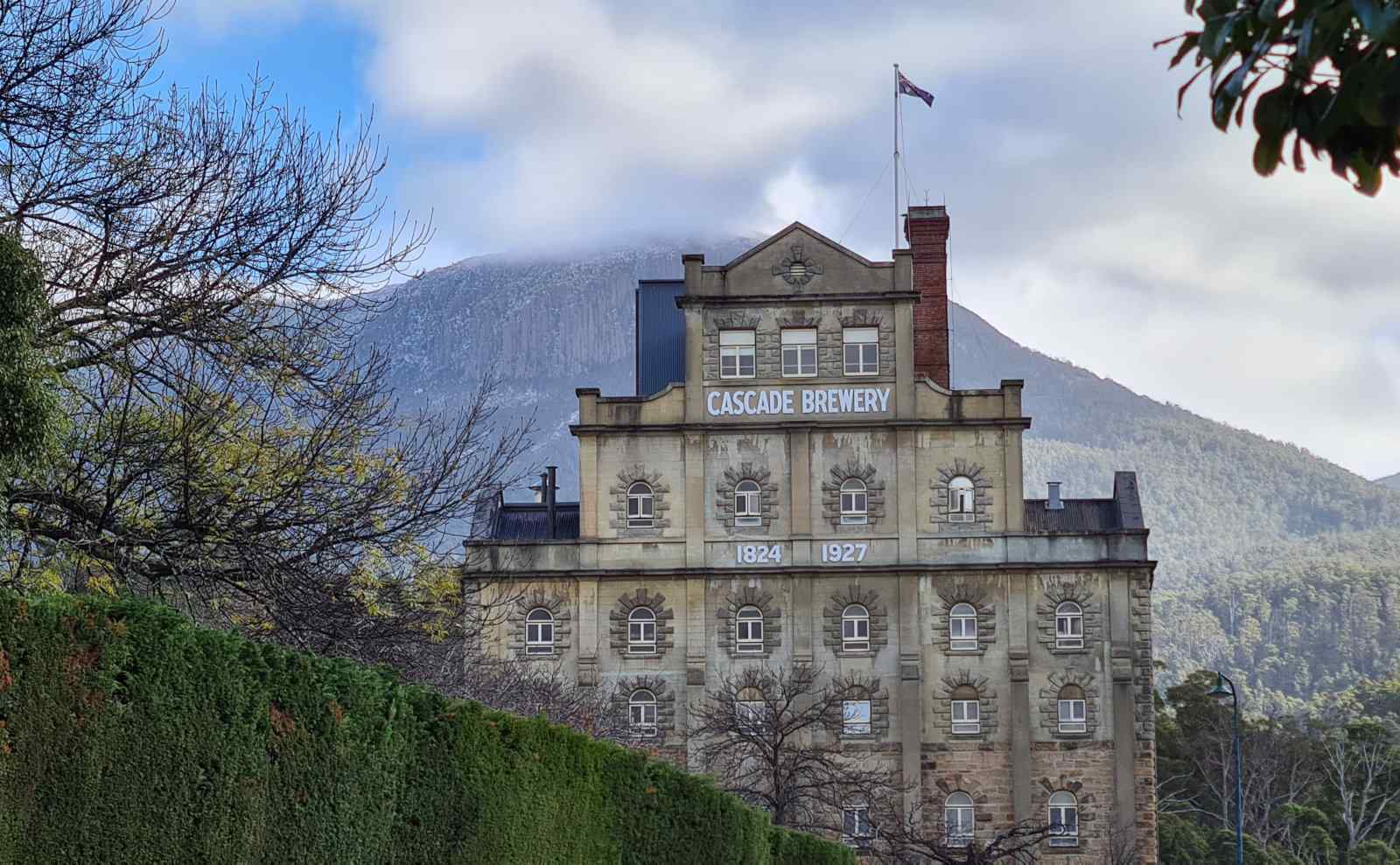 The Cascade Brewery is the oldest continually operating brewery in all of Australia! It was established in 1824 and features a beautiful backdrop of the mountain, with lovely gardens around it as well. Cascade makes a number of different beers, apple cider and non-alcoholic drinks that are popular throughout Tasmania and the rest of Australia. If you like beer then you will probably enjoy doing a tour of the brewery, although you can also just have a meal (and drinks, of course) in the bar, dining room or beer garden. There are also two different tours available, one that's only for over 18s since it goes into the brewery itself and includes tastings or a history tour for anyone that doesn't go into the brewery proper. You can book tours or reserve a table here. If you are planning to do a tour of the actual brewery, make sure you are wearing closed-toe shoes!
Visit Salamanca and the Hobart Docks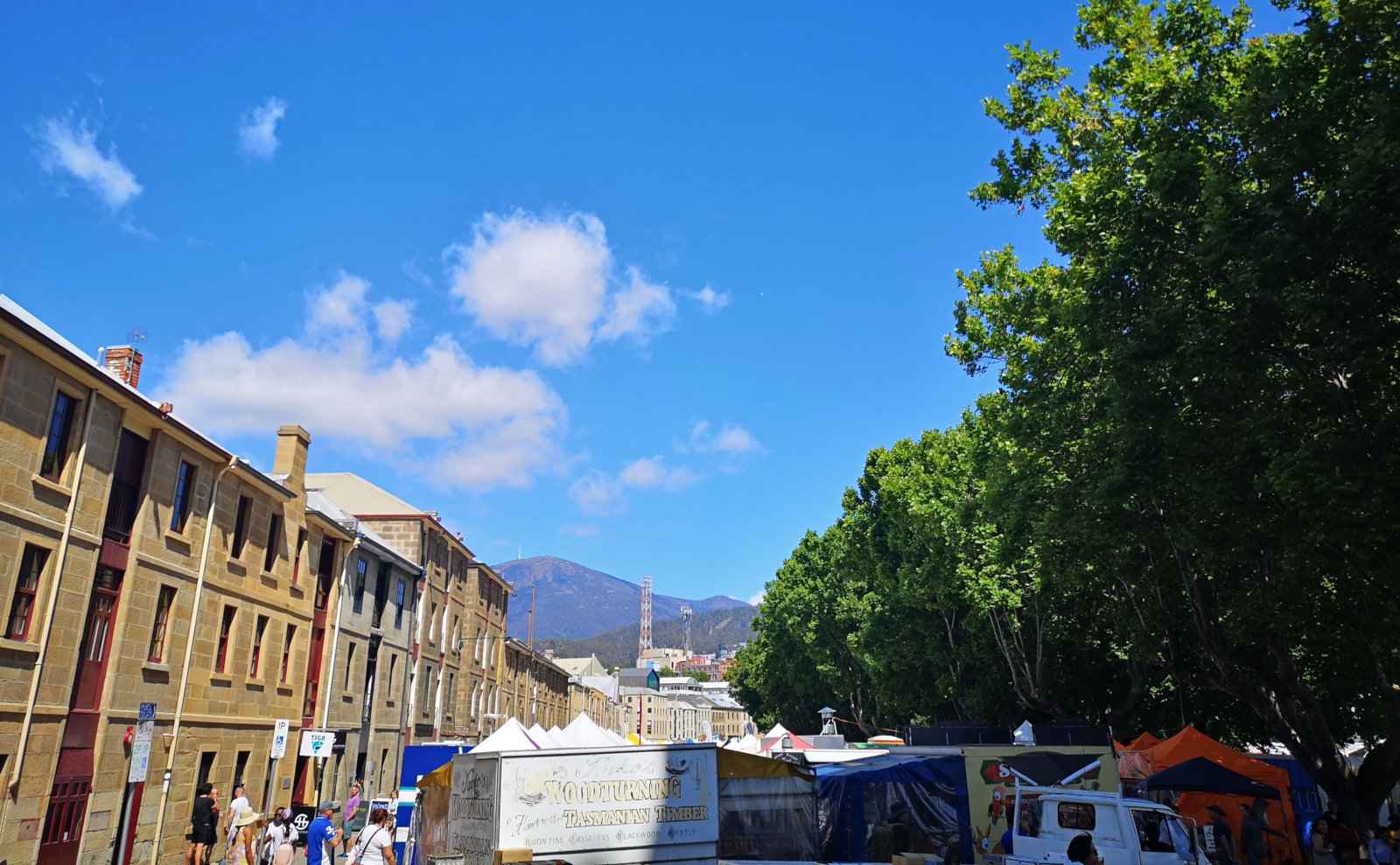 Salamanca Place is the name of the main street located in front of Hobart's docks, which is backed by old sandstone warehouses that now house art galleries, restaurants, shops, theatres and cafés. During the week there is paid parking on this road, but every Saturday the whole place is closed to traffic as the famous Salamanca Markets are held here! If you are in Hobart on a Saturday then a visit to the markets is a must-do, as there are so many wonderful goods on sale, as well as delicious food and live music. Even if you visit on another day there's still plenty to see and explore in this area though, including museums, fish punts, pubs and buskers. I previously wrote a self-guided walking tour of the area, which contains more details of things to see and do in and around Salamanca!
Explore Battery Point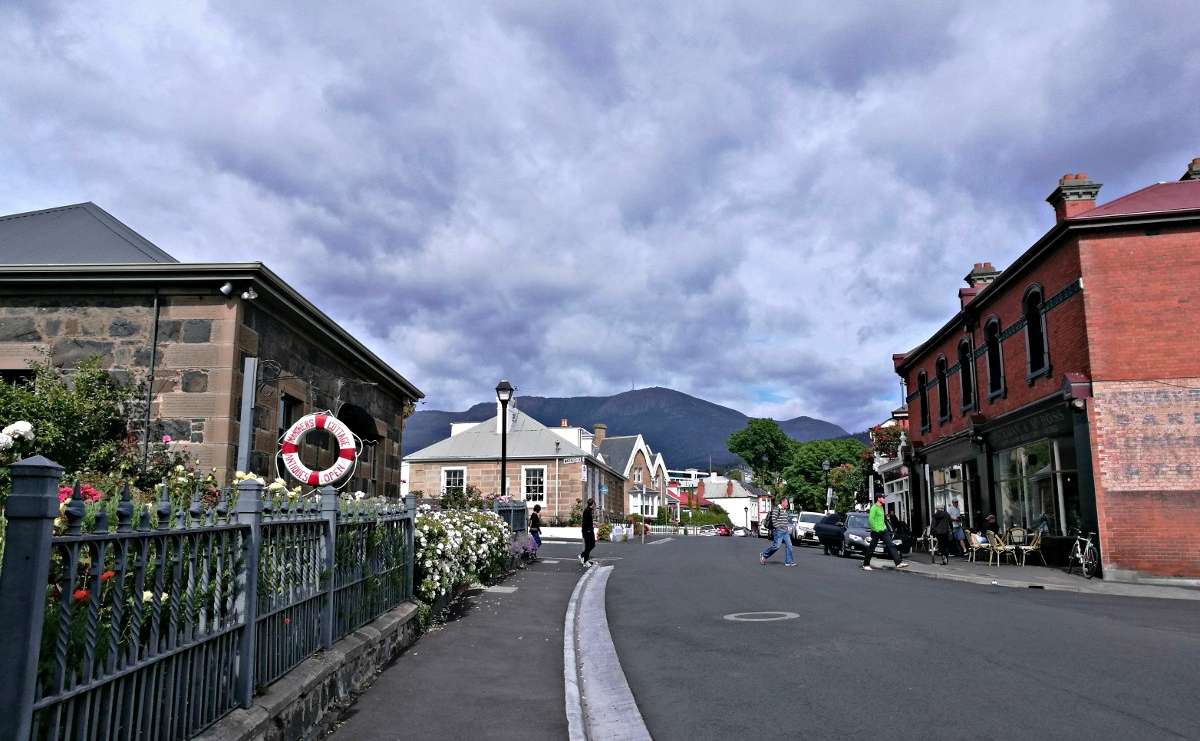 Battery Point is one of my favourite Hobart neighbourhoods as it's filled with beautiful old architecture, cute cafés, antique shops, parks and more. I even lived here for a while when I was at uni! It's located just behind the Salamanca and like most places that are now very trendy (and expensive) was once the slums area of Hobart. I mostly enjoy wandering the winding streets to look at the many beautiful little cottages. See the previous post I already mentioned for more but make sure you stop off at Jackman and McRoss for some tasty baked goods, have a beer or a meal at the Shipwright's Arms and visit the Narryna Heritage Museum if you want to learn more about the history of the area.
Discover Hobart's history at the TMAG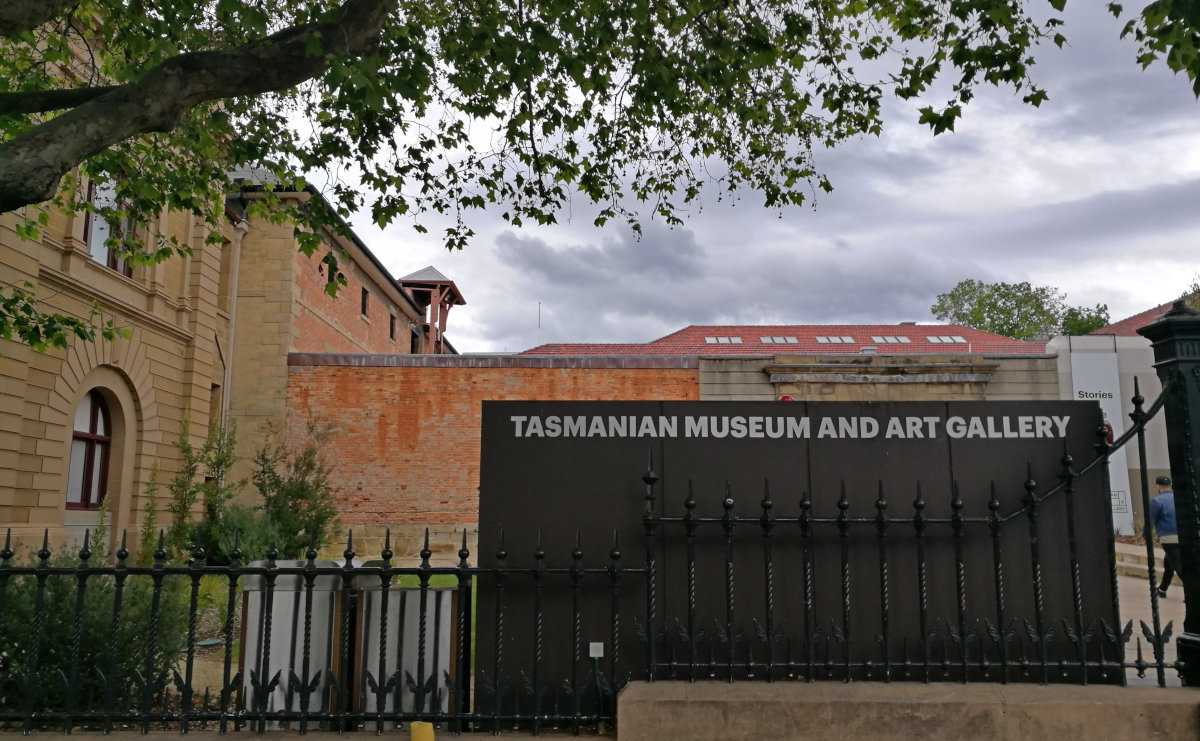 The Tasmanian Museum and Art Gallery (TMAG for short) is one of the places mentioned in that other post, but it still deserves its own entry here! This is an excellent museum for learning all about the history of Hobart and Tasmania, plus it contains interesting exhibits about Antarctic exploration and plenty of art since it's a gallery as well as a museum. Best of all, it's totally free to explore! I used to love coming here as a child to see the exhibits about Tasmanian animals (you can see Tassie Devils as well as the now-extinct Tasmanian Tiger) and when I was in uni I often came to draw or see the latest current art exhibits. They also run excellent activities for kids and other events throughout the year, see what will be on when you visit here.
Eat delicious food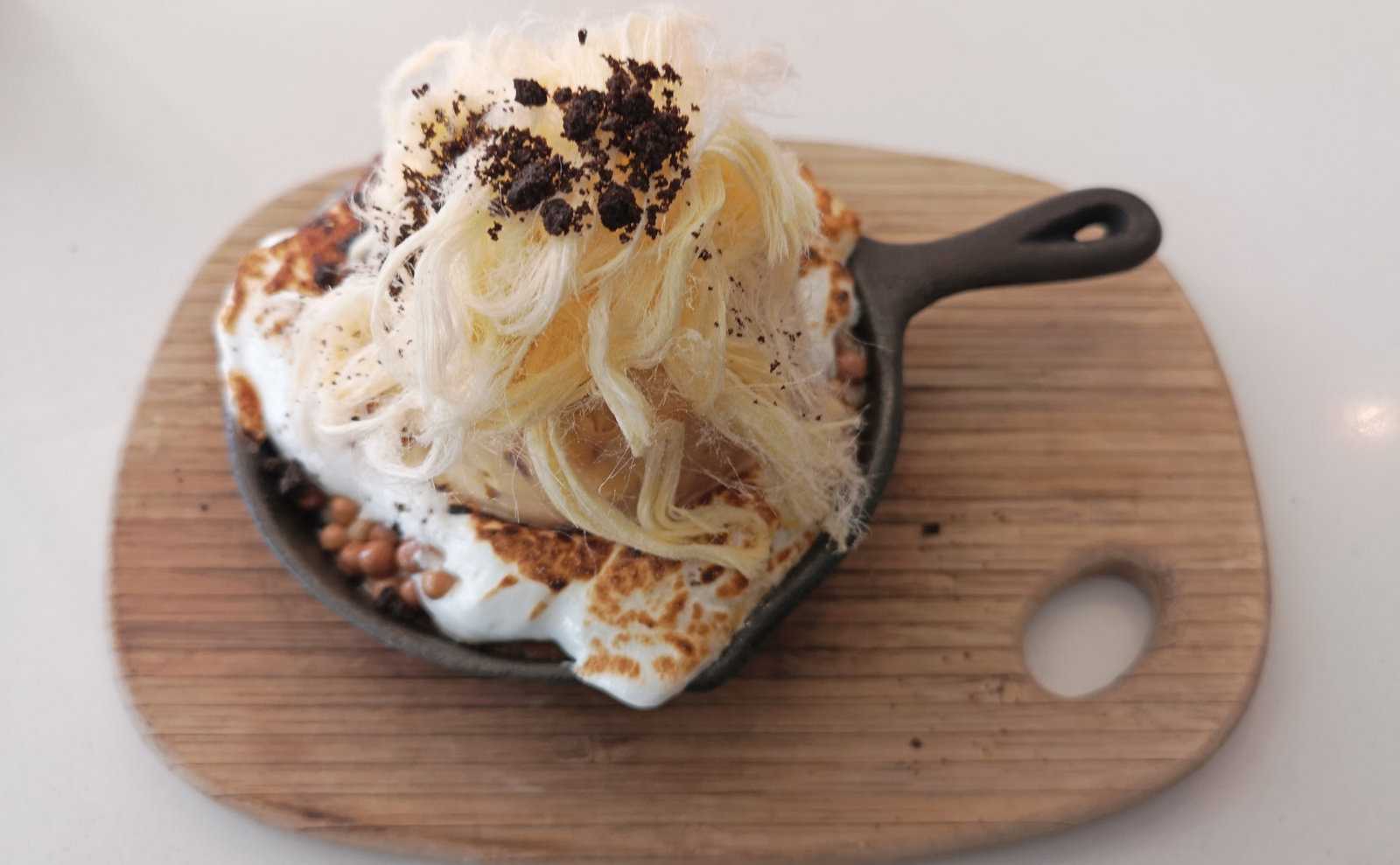 There are plenty of excellent restaurants and cafés in Hobart, many situated around Salamanca and the waterfront, although the North Hobart neighbourhood is also known as a bit of a foodie's mecca. While some of the places I used to love eating at have now closed and there are always new places popping up that I might not have tried yet, these are my current favourite places to eat in Hobart, which I may add to next time I visit!
The Drunken Admiral Seafarer's Restaurant – I'm a kid at heart, so I love eating anywhere with a theme and cool decor! The Drunken Admiral feels like you are inside a ship, with lots of wood and nautical decorations everywhere and they serve mostly seafood, but there are a few other options as well. The food is amazing and I always try to eat here at least once when I'm back home!
Mures – Mures is one of the most famous seafood places in Hobart, they sell fresh fish to take home and have a posh Upper Deck restaurant as well as the more bistro-like Lower Deck one downstairs AND an oyster bar/restaurant. I usually just go to the Lower Deck for a nice seafood lunch and they also sell delicious ice creams for dessert.
Fish Frenzy – Yes, it's another seafood place but Hobart is known for its excellent fresh seafood and this restaurant is also really really good! Fish Frenzy is located on Elizabeth Street Pier and they are known for serving their yummy meals in cone-shaped brown paper. It's also pretty relaxed, you don't need a reservation. I nearly always get the fish burger when I come here, it's so good.
Jack Greene Bar – This is a bar but they also do some great burgers including tiny little burgers! I also really love the decor here, with lots of old books lining the walls. It's right on Salamanca Place looking towards the water.
Ichimei – This is a great little Japanese restaurant in Mawson Place, which is tucked away behind Salamanca Place and lined with cafés, bars, restaurants and shops. If you sit outside you can people-watch and enjoy the fountain in the middle of the square.
Ball & Chain Grill – The Ball & Chain has been around for decades and they have run with the convict theme. If you're tired of seafood this is a great choice as they are known for their steak which is cooked on a charcoal grill. There are also seafood dishes as well, and dry-aged steaks. They're located inside one of the historic sandstone warehouses on Salamanca Place.
Annapurna – Just a bit further up from the Ball & Chain is Annapurna, my favourite place for Indian cuisine in Hobart. They also have a restaurant in North Hobart.
Shippie's – The Shipwright's Arms Hotel in Battery Point is a restaurant as well as a pub and they do really good pub food. I used to often have meals here with my grandparents on special occasions.
Raincheck Lounge – Located in North Hobart, Raincheck Lounge is one of the best spots in Hobart for yummy brunch – and their brunch menu is available until 3pm!
Honey Badger Dessert Café – While they also have savoury breakfast dishes Honey Badger is most known as a dessert café as their sweet treats are incredible! The waffles and pancakes are great, but I usually get a 'panookie' (pictured above) which is a delicious cookie served in a tiny pan with lots of mouth-watering toppings.
Enjoy Sandy Bay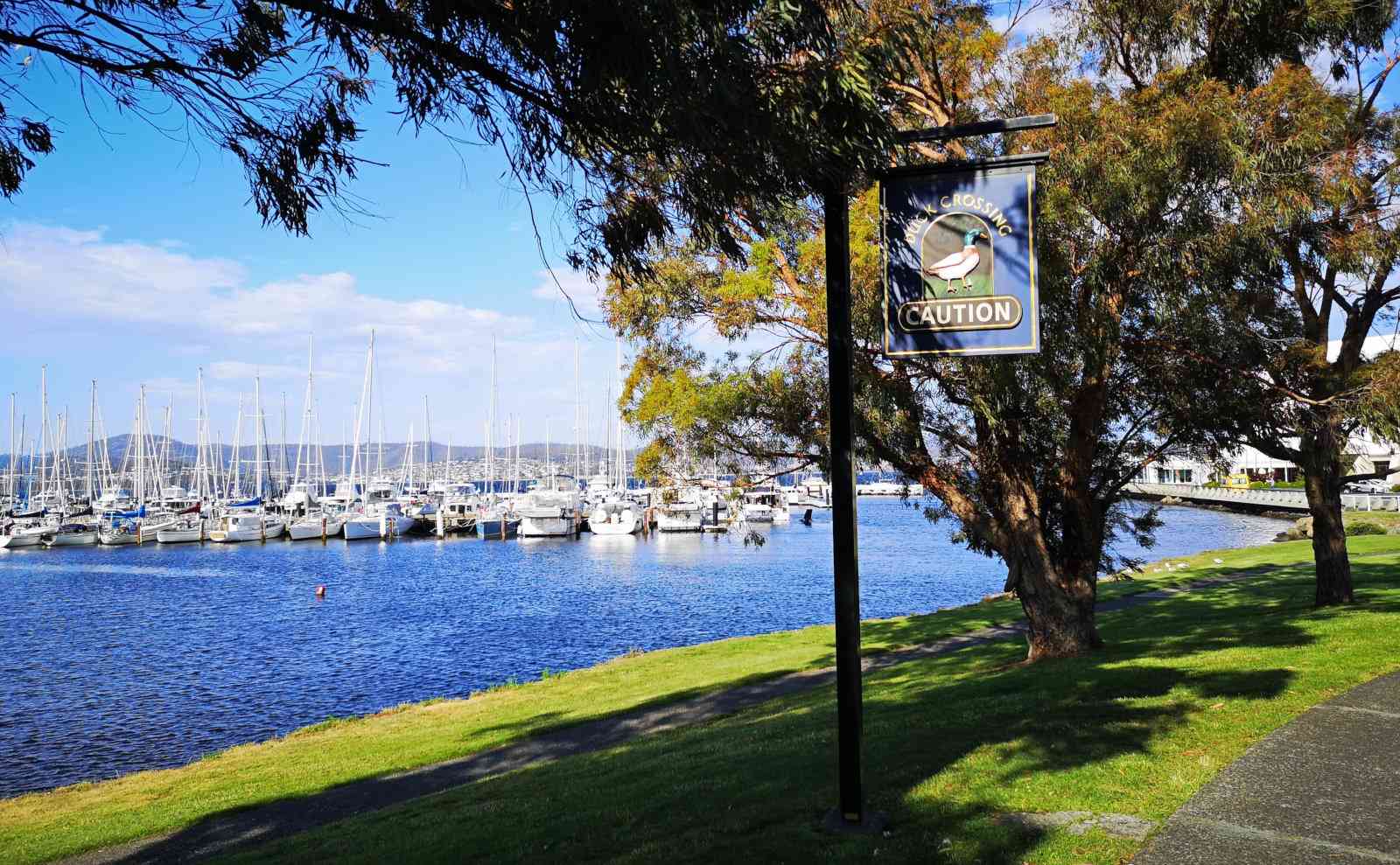 Sandy Bay is a suburb further down the Derwent River, on the opposite side of Battery Point from Salamanca. If you stay at the Wrest Point Casino you'll get to enjoy views of the Royal Yacht Club of Tasmania and plenty of boats out on the water. The main University of Tasmania campus is in Sandy Bay so I lived in a couple of different houses in the area over the years. The Fitzroy Gardens are one of my favourite spots in Sandy Bay and if you follow the main road there are also a number of great beaches worth visiting, like Long Beach and Nutgrove Beach. Long Beach, in particular, has some lovely cafés and restaurants on the waterfront, as well as a playground for children.
Wander around the Royal Tasmanian Botanical Gardens
The Royal Tasmanian Botanical Gardens are stunning and, in my biased opinion, some of the best botanical gardens I've ever visited! As a child, we often had picnics here or brought out-of-state visitors to see and there are many beautiful sections to explore. The Lily Pond is probably my favourite part, complete with friendly ducks and a bridge that looks like Monet's garden. The Japanese Garden and Fuchsia House greenhouse are also not to be missed. There's a nice visitor centre, gift shop and restaurant within the gardens, plus it's free to visit. You can also book guided tours if you're interested, find out more on the official website.
Visit Kingston via Taroona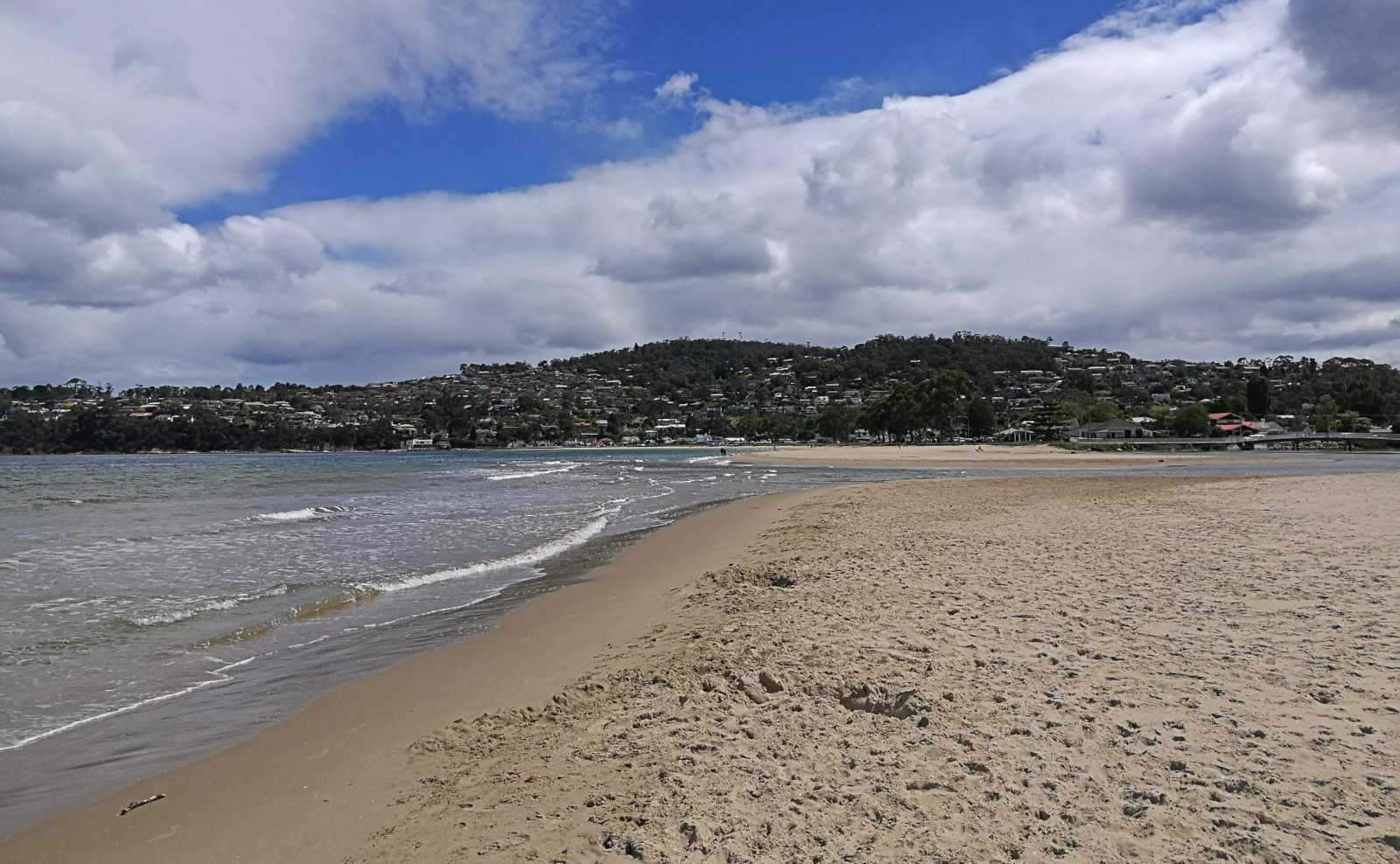 I'm very fond of the Hobart suburb of Kingston as this is where I lived for years as a child before we moved up the coast of Tassie. Kingston Beach, in particular, is one spot I always come back to, with some great cafés looking out over the water. There's a smaller river which cuts the beach in two here, and on the left-hand side (as you look out to the water) is a dog beach while dogs are not permitted on the right-hand side. We used to always bring our dogs here and I usually talk one of my friends into visiting with their dog when we come back to visit. The Salty Dog pub is an excellent spot for a drink and a meal, they even have a dog-friendly beer garden!
If you have a car, I recommend driving to Kingston down through Sandy Bay and Taroona to get to Kingston, rather than using the Southern Outlet highway. While the highway is faster, the Sandy Bay/Taroona route is much more scenic and quite fun to drive as there are a lot of bends (do be careful!). About halfway from Sandy Bay to Kingston is the Shot Tower, a historic tower that's the world's tallest circular sandstone tower. It costs a few dollars if you want to climb to the top for stunning views across the Derwent River and there's also a tea room if you want a lovely high tea.
Experience some seasonal events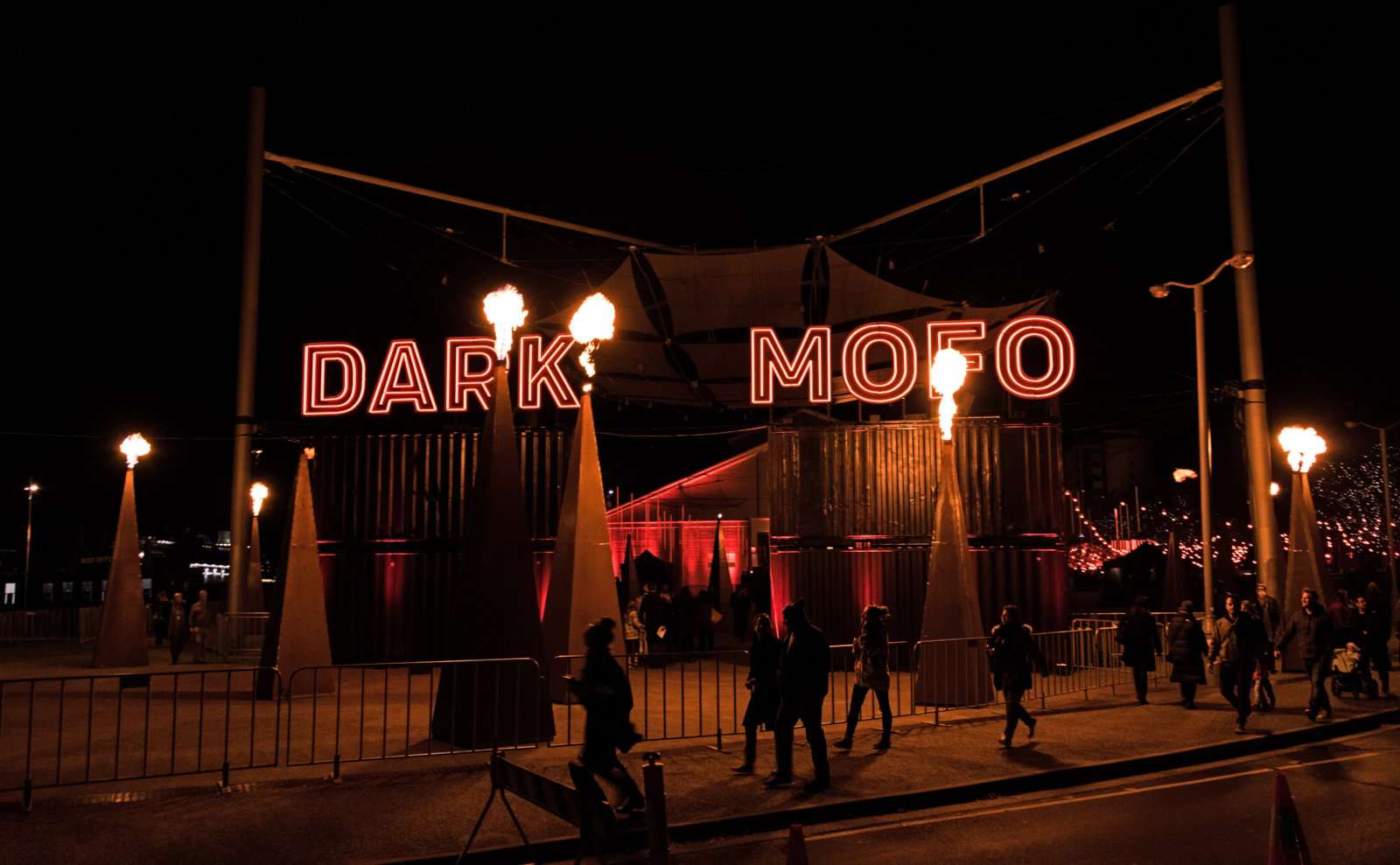 There are some excellent seasonal events which take place in Hobart each year. If you happen to be visiting Hobart during the right time (or perhaps if you want to travel specifically for that event) these are the events to watch out for.
Sydney to Hobart Yacht Race: The Sydney to Hobart yacht race takes place every year beginning on December 26th, which is called Boxing Day in Australia and is a public holiday along with Christmas Day. As you might have guessed from the name, the race starts in Sydney and competitors sail the roughly 630 nautical miles (1,170 km) down to Hobart over a couple of days (the current record is 1 day, 9 hours, 15 minutes and 24 seconds). It's apparently considered one of the most challenging yacht races in the world and I do remember years when some yachts sank and the crews had to be rescued due to the rough conditions on Bass Strait (the water between Tasmania and mainland Australia). There's always a great atmosphere on the waterfront of Hobart around Christmas and New Year, with many people coming to see the yachts moored in Hobart after finishing the race, as well as enjoy the Taste.
Tasmania's Taste of Summer – This festival used to be called the Taste of Tasmania, and while the name has changed the festival has mostly stayed the same. It runs from the 27th of December until the 2nd of January and is held in Princes Wharf No. 1 which is right on the waterfront opposite Salamanca Place. Mostly this is a food and drink festival, with stalls from different Tasmanian restaurants, distilleries, breweries, wineries, cafés, and other foodie businesses. There are also live music performances and buskers from around the world. Since this is the middle of summer, the whole waterfront area is always really buzzy at this time of year, with people enjoying the taste, heading to the pubs in Salamanca or just checking out the yachts. On New Year's Eve, there's a special party held at the Taste, which guarantees great views of the fireworks displays.
MONA FOMA – MONA FOMA is a music and arts festival that's affiliated with MONA (and often just called MOFO). It features a range of events focusing on sound, noise, dance, theatre, visual art, performance, and new media in Hobart and Launceston during the last two weekends of February each year.
Dark Mofo – Winter is usually a bit gloomy in Hobart, sometimes there's snow on top of the mountain but often it's just cold, wet and miserable. Dark Mofo is the winter answer to MONA FOMA, with more art, music and performances to enjoy during the southern winter solstice, although this time they are often quite controversial and deal with darker themes. The Midwinter Feast is one of the highlights, which seems to be a darker version of the Taste of Summer since it's held in winter!
Map of the Best Things to do in Hobart
I've marked all the major places I've mentioned in this post on a map to make it easier for you to see where everything is and organise your own trip!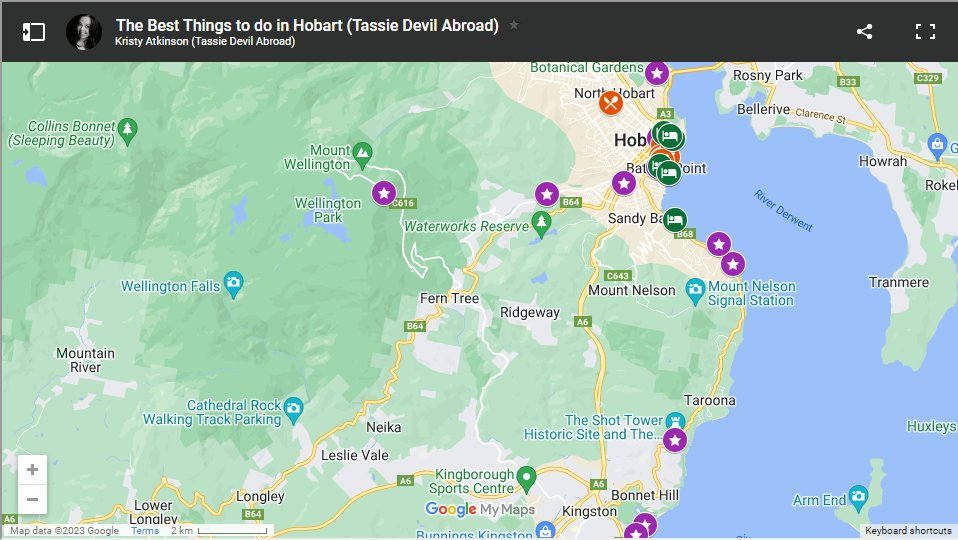 The Best Day Trips from Hobart
If you're only spending a short time in Tasmania, there are still a number of nice places that can be visited as a day trip from Hobart. Having your own car (or hiring one) is the most convenient way to visit these places, but not essential!
Richmond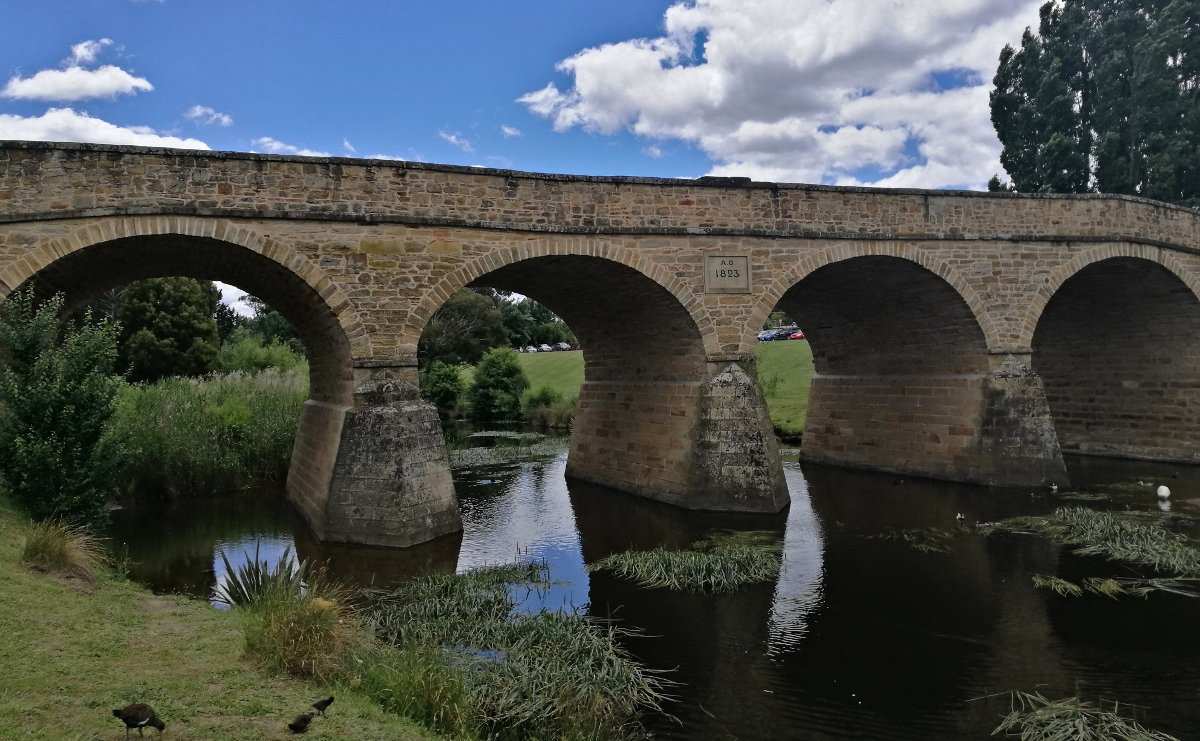 Richmond is only about a half-hour drive from Hobart, but it feels like you've stepped back in time when visiting this sleepy little village. Richmond is very historic, home to Australia's oldest bridge, Australia's oldest intact gaol and Australia's oldest Roman Catholic Church. There are also some great antique shops, art galleries, cafés and restaurants in the town, while the area surrounding it is a well-known winery region. It's definitely worth spending a day exploring all the things you can do in Richmond, which you can also read about in my guide to the best things to do in Richmond!
If you won't have access to a car while you're in Hobart, you could join this full-day tour to Richmond which also goes to Bonorong Wildlife Park (which I've also written about here). If you're short on time, there's also a half-day tour to Richmond.
Tasman Peninsula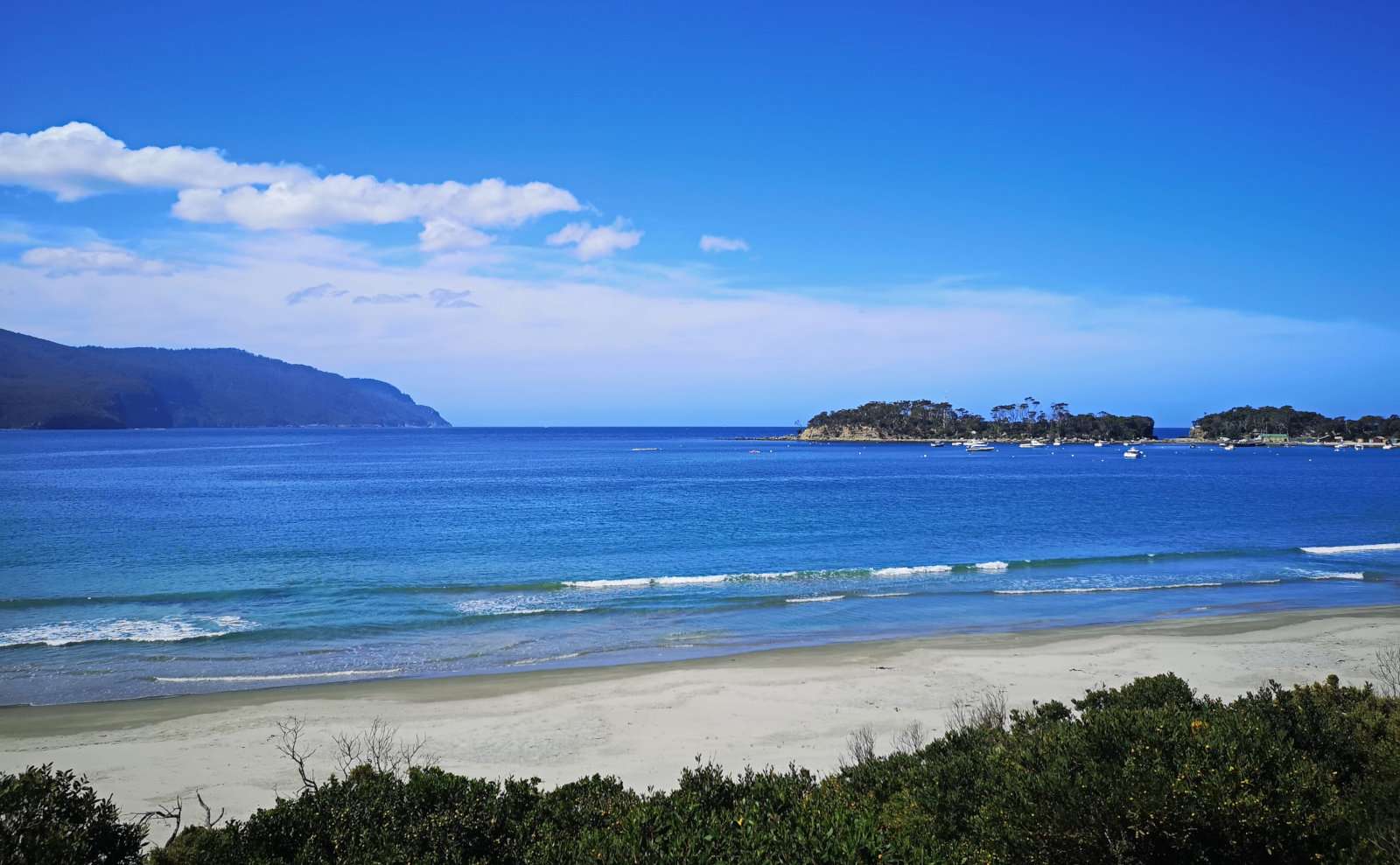 The Tasman Peninsula is about an hour from Hobart and boasts some stunning scenery as well as plenty of convict history. The Port Arthur Historic Site might be the most famous attraction on the peninsula, but there are actually quite a few places worth exploring – like the Tasmanian Devil Unzoo if you want to get up close to Tassie Devils! The best way to explore the Tasman Peninsula is if you have hired a car, but if that's not possible (or you don't want to) then this day trip will take you to the major sites. This day trip will only take you to Port Arthur, but it also includes a wildlife cruise off the coast of the peninsula, where you are likely to see seals, dolphins, and maybe even whales!
Bruny Island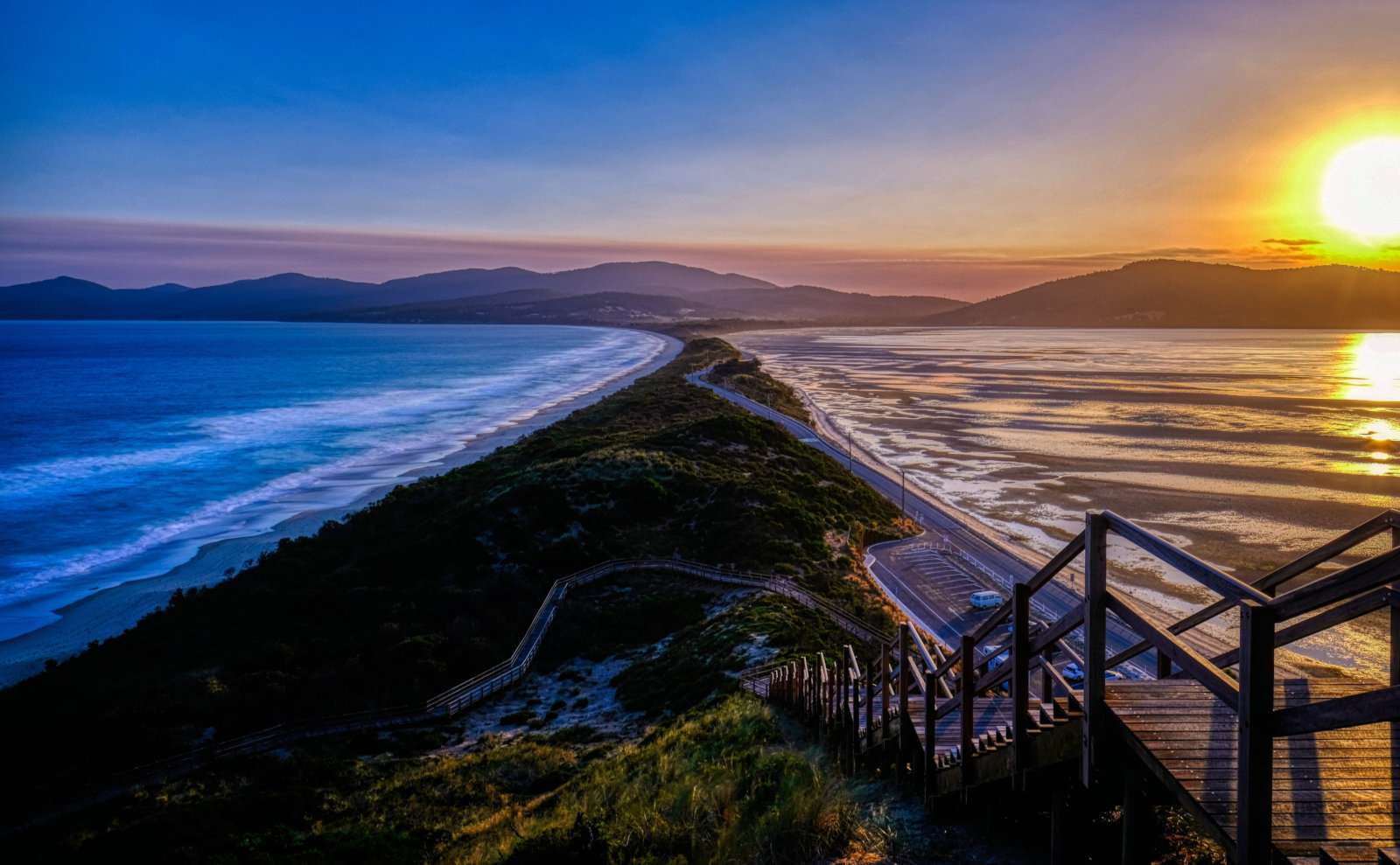 Bruny Island is located within the Derwent River and you can only reach it by ferry from the town of Kettering. It only takes half an hour to drive to Kettering and then 20 minutes to cross over on the ferry (and there are ferries every ten minutes in summer). Bruny Island is another beautiful part of Tasmania, with some excellent foodie places to enjoy, stunning beaches and cute wildlife. It's also quite big so the best way to explore it would be to stay overnight or for a couple of days, but if you don't have much time you could join a day tour. This one heads all the way down to the historic Bruny Lighthouse and also stops off at some gourmet locations for food, while this one is a truly gourmet tour, with more foodie stops and also includes a stop at the Bligh Museum of Pacific Exploration in Adventure Bay.
Accommodation in Hobart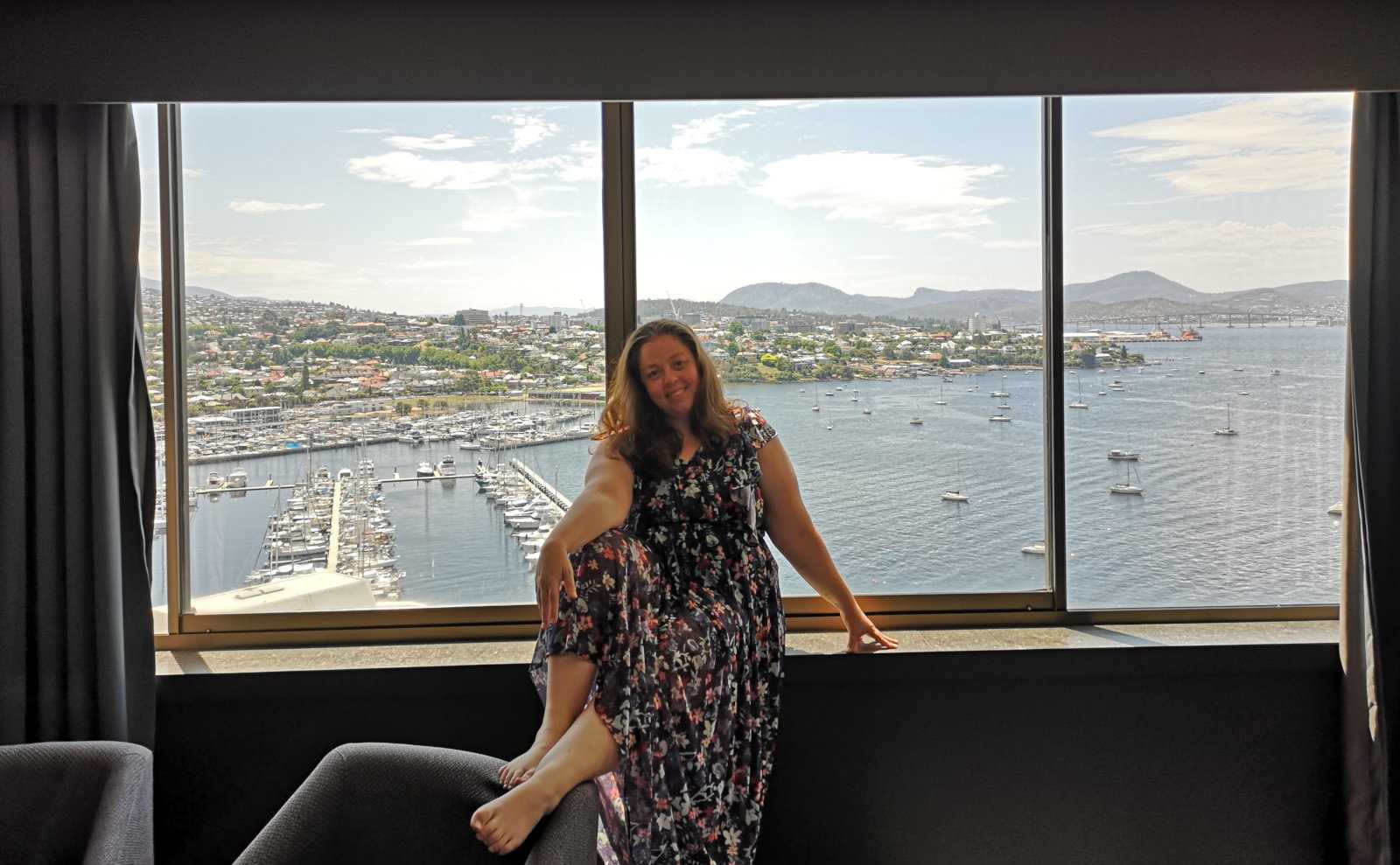 There are some lovely accommodation options in Hobart no matter your budget or travel style! All of these options are also close to the action near the waterfront, which is also one of the most scenic places to base yourself in Hobart.
Budget: If you just want somewhere to lay your head then you could stay in a basic room at the Shipwrights Arms Hotel and be able to eat there whenever you want!
Mid-range: I usually stay at Wrest Point Hotel and Casino (read my review of our last stay here!) because they provide free parking and a free shuttle to the markets for guests! The Hotel Grand Chancellor is also known for being very good and it's located right on the waterfront.
Luxury: MACq 01 Hotel is very luxurious, right on the waterfront and if you get a terrace room you'll have incredible rooftop views of the waterfront, city and mountain! The Henry Jones Art Hotel is also one of the most incredible places to stay in Hobart if you can afford it! I once had dinner here and it was amaaaazing so the accommodation is sure to be just as good.
Pin Me!
Have you ever visited Hobart? Let me know about your favourite things to see and do in the comments or pin one of these if you'd like to go in the future!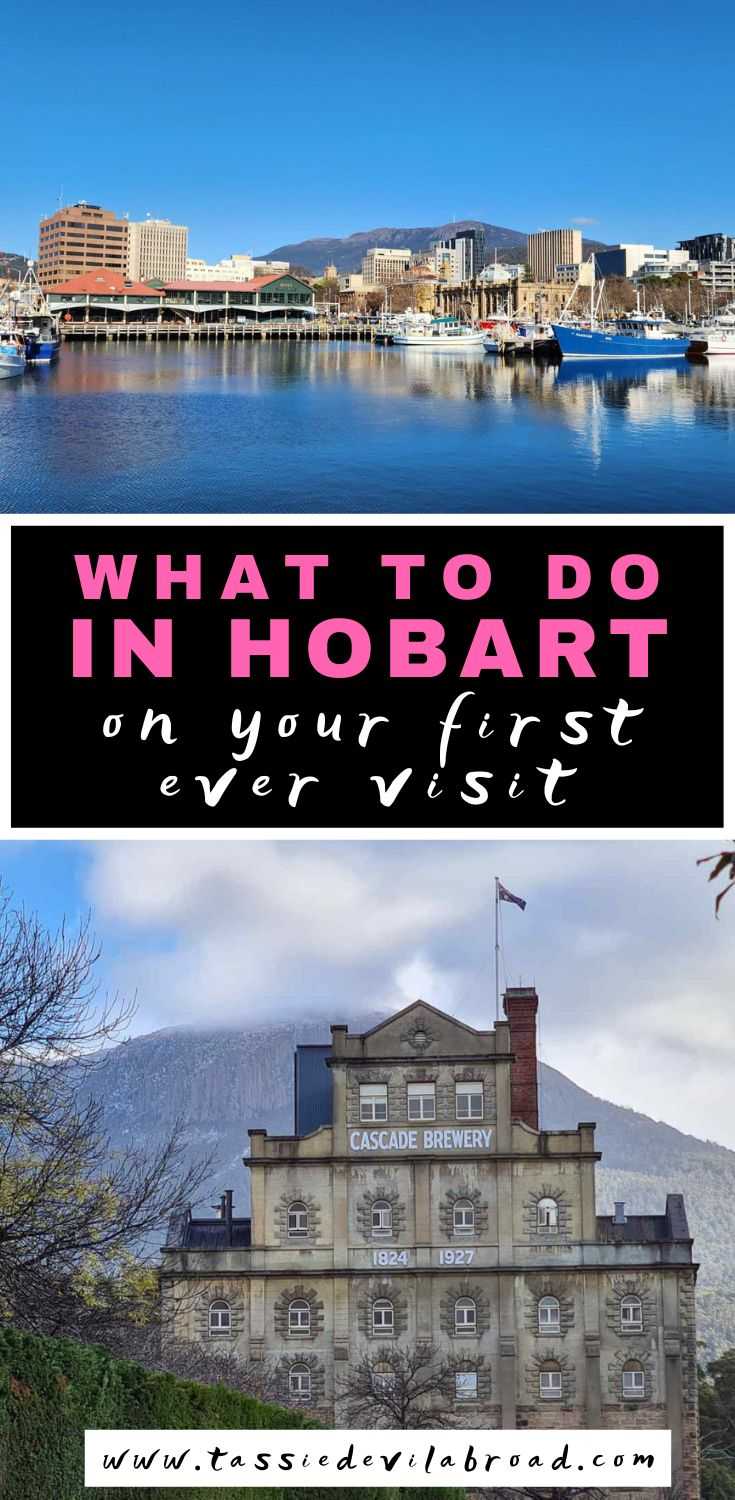 All information is true and correct at the time of publishing but I cannot be held responsible for changes in opening times and prices or businesses closing in the meantime. I always endeavour to keep my posts up to date but also encourage you to double-check the official website of an attraction for information on when it is open, how much it costs etc.