One of the 'problems' when it comes to writing about a place you have lived is that you're not always that experienced with the accommodation on offer, since you already live there it's unlikely you need a hotel very often! However, I have actually stayed at some of Hobart's hotels over the years, and always thought that Wrest Point was probably my top pick. When I finally got to take Dennis to Australia to meet my family and friends, and see some of the sights, we took advantage of no longer living there to stay a couple of nights at the Wrest Point Hotel. While there are a few more expensive accommodation options in Tasmania's capital city, Wrest Point remains my fave and in this review I'm going to tell you why!
This post contains affiliate links. This means that if you follow a link and then purchase or book something, I will earn a small commission at no extra charge to you. This helps me with the costs incurred from running this site and means I can keep bringing you travel content like this. You can read more about this on my privacy page. Thanks for your support!
About the Wrest Point Hotel and Casino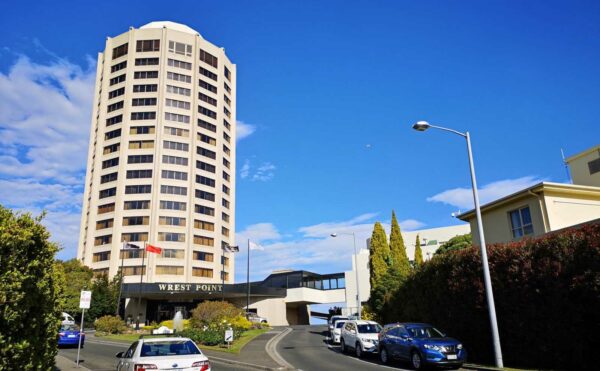 While most locals just call it "Wrest Point" the full name of the establishment is the Wrest Point Hotel and Casino. As you might imagine, there's a casino in the premises, along with multiple restaurants, bars and cafés, a motel AND a hotel! There used to be a nightclub as well, and there are regular live music or comedy nights held in their convention areas.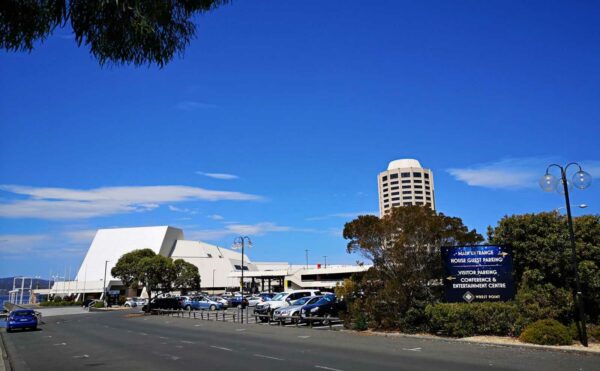 Interestingly, Wrest Point was actually the first legal casino to open in Australia (in 1973), although there was a hotel on the location since the 1930s. The tower is one of the most iconic images of Hobart (alongside the Tasman Bridge and Kunanyi/Mount Wellington) as it stands 17 storeys tall next to the River Derwent and can be easily spotted from most places. It's technically located in the suburb of Sandy Bay, but is still close enough to walk to the city centre, or you can catch a bus or taxi to get to the main hub of Hobart.
Staying at Wrest Point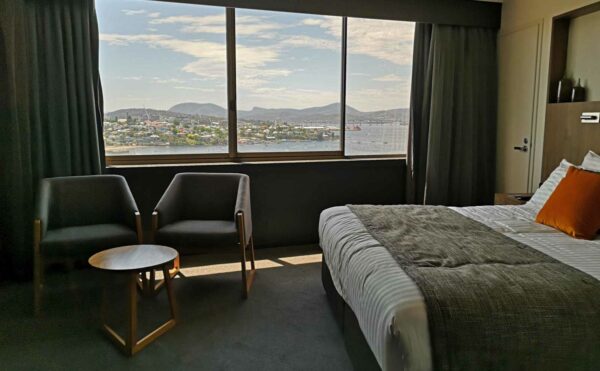 Wrest Point is quite unique in that it actually has three different accommodation options; the 3.5 star Wrest Point Motor Inn, the 4 star Wrest Point Water Edge Hotel and the 4.5 star Wrest Point Tower Hotel. This means you can take advantage of the location and facilities even if you're travelling on a budget, or splurge for the upgraded rooms in the tower. I have actually stayed in the motel years ago, and the rooms are just as comfortable as in the tower, they're just lower and don't feature quite the same views.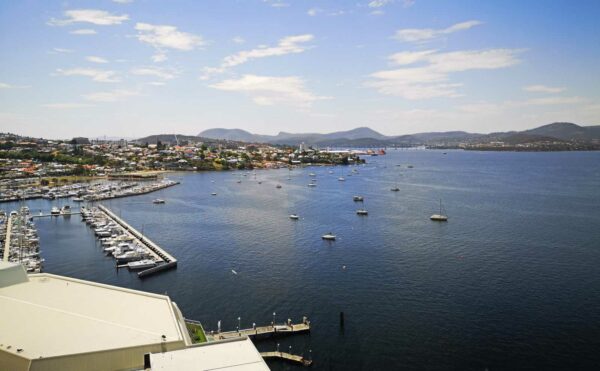 When Dennis and I visited we decided to spend a little more (although it's still not as expensive as other options in Hobart) and stay in the tower with a view. We ended up being quite high up and enjoyed stunning views over the river, as well as the mountain if we turned to the other side! Since we stayed two nights we also got to enjoy looking out on both a gorgeous sunny day and then on a very misty grey day.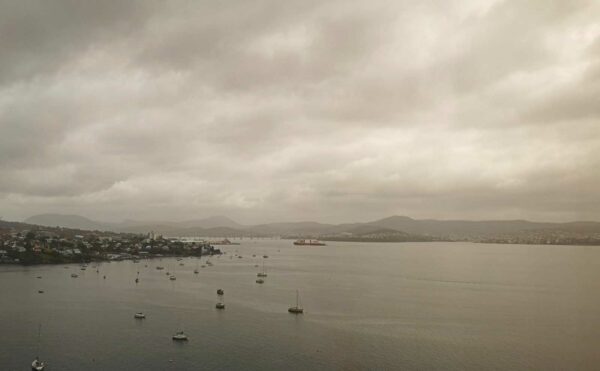 We loved our stay at Wrest Point, especially the huge, comfy bed. Seriously, I swear that bed was one of the most comfortable I've ever slept on in my life! Being up high in the tower does mean there can be a little bit of noise if it's windy, from the window rattling a bit, but it wasn't bad enough to keep us awake. This was not a sponsored stay at all but I wholeheartedly recommend staying at Wrest Point if you're visiting Hobart and definitely plant to do so again next time we're visiting!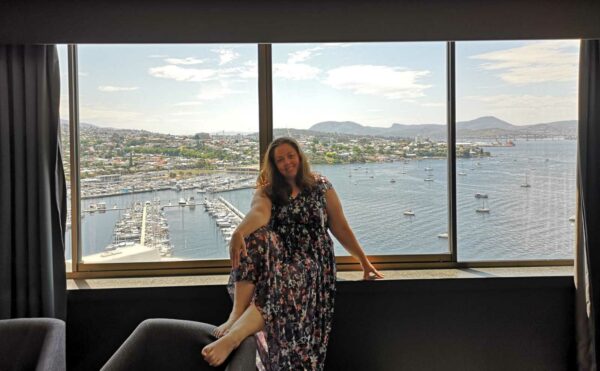 Must-Dos in Hobart while Staying at Wrest Point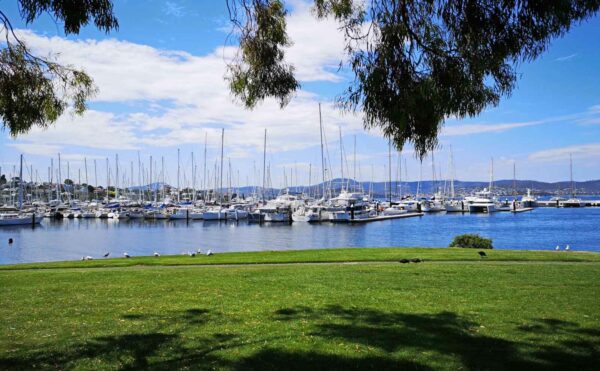 All right, so if I've convinced you to stay at Wrest Point when you're in Hobart, here are some of the other things you definitely need to enjoy while you're there.
Sandy Bay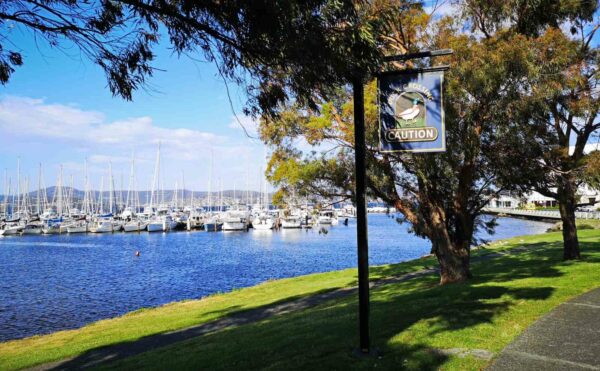 The suburb where Wrest Point is located is called Sandy Bay and it's home to quite a few interesting things including a massive marina with lots of yachts. It's also home to the main campus of the University of Tasmania (where I studied) and is just a really pretty area by the Derwent River with lots of stately (often old) houses, parks and beaches. There's also a shopping strip on the main road with restaurants, cafés, supermarkets etc. As I said, you can walk from Sandy Bay to Hobart, or just down to Salamanca which I often did when I lived in Sandy Bay during my uni years.
Battery Point and Salamanca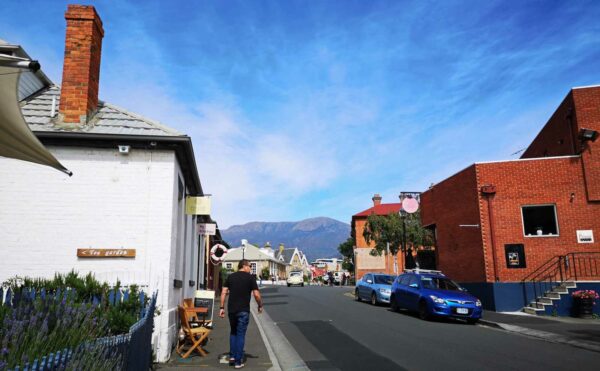 Battery Point is the neighbourhood directly next door to Sandy Bay on your way to the waterfront and city centre. It's also the oldest part of Hobart with many gorgeous old houses – read more about them in my self-guided walking tour of Battery Point and Salamanca here! Salamanca is, of course, where the famous Salamanca Markets are held every Saturday, but the area is still packed with gift shops, art galleries, theatres, cafés, restaurants and more every day of the week. One of the best things about staying at Wrest Point is, if you don't want to walk then there's a free shuttle bus service for guests to the markets on Saturdays!
MONA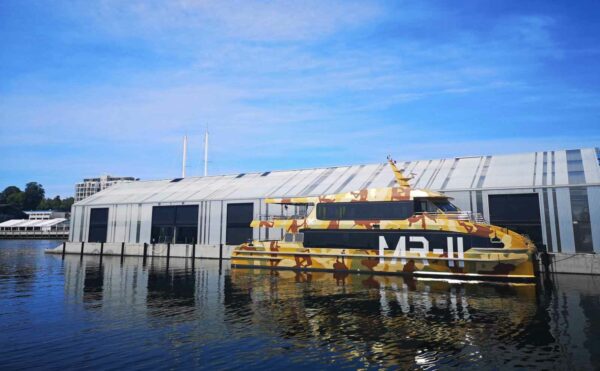 Hobart's other most famous attraction is MONA, the Museum of Old and New Art. The museum is actually located a bit out of the city in Berriedale, but it's still on the river so you can reach it via a ferry (called the Mona Roma!) from the Hobart waterfront. You can also drive but getting the catamaran ferry (one of them pictured above) is an experience in and of itself, so you can enjoy the river views on the way, sit on a sheep chair or splurge for the "Posh Pit" section which includes free drinks and tiny food! Mona is definitely worth spending a few hours (or all day) exploring the art and enjoying food at the restaurants and cafés on site. Do note that Mona is cashless (so you will need a card to pay for anything) and the ferry arrival area is not yet accessible, so if you are less mobile you will need to visit by car.
Kunanyi/Mount Wellington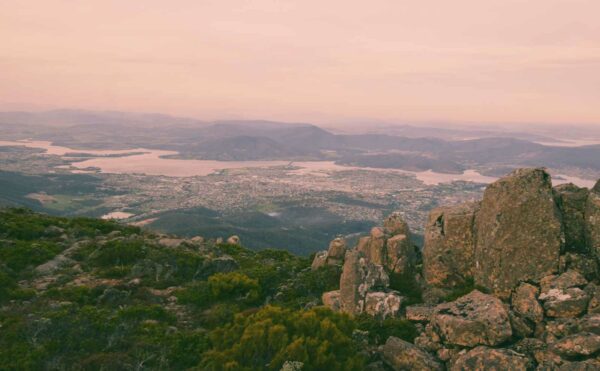 'The Mountain' as we locals usually just call it, is impossible to miss (unless it's really cloudy) as it towers over Hobart similarly to Table Mountain towering over Cape Town in South Africa. Funnily enough, it was first called Table Mountain for that similarity, before being re-named Mount Wellington. In the language of the Indigenous Tasmanians it's called Kunanyi. Heading to the top of the mountain is a great thing to do on a clear day to enjoy stunning views over the city and river. It's easiest to do this if you have access to a car, although there are also tours you can join as well as the explorer bus. In winter if it snows locals love to go up and play in the snow, then bring some home on the bonnets of their cars!
Where to Eat and Drink in Hobart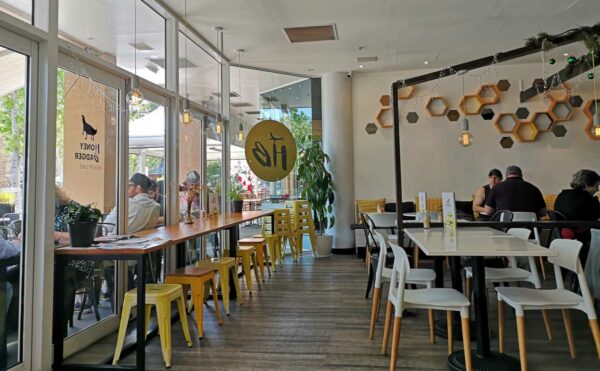 Hobart might not be on your radar as a foodie destination, but it should be. What with all the fresh seafood and locally grown ingredients, every year more excellent restaurants and cafés open up. Obviously this is always changing, but there are some staples that have not changed as well as some new places we discovered on our last trip. Here is where ate and/or I would recommend visitors to Hobart go for delicious food and drinks.
At Wrest Point
We didn't end up actually eating in any of the restaurants on our most recent trip, as we ordered room service the first night (it was yummy though!) and went out in Hobart with friends on the second night. I have however, been to the Birdcage Bar in the past and definitely recommend having a cocktail there before heading into the city. I've eaten in The Boardwalk Café and Bistro which is right next to the water and serves yummy food with lovely views. There's also a revolving restaurant on the top of the tower, which I have been to for a couple of special occasions in the past, which is definitely worth visiting. Even if you're not staying at Wrest Point, coming here for a meal with a view that slowly changes to show the river, mountain and city, is very romantic. We were planning to try out Kwan Ho, for Chinese cuisine, as this is a relatively newer option that I haven't been to, but unfortunately ran out of time.
Salamanca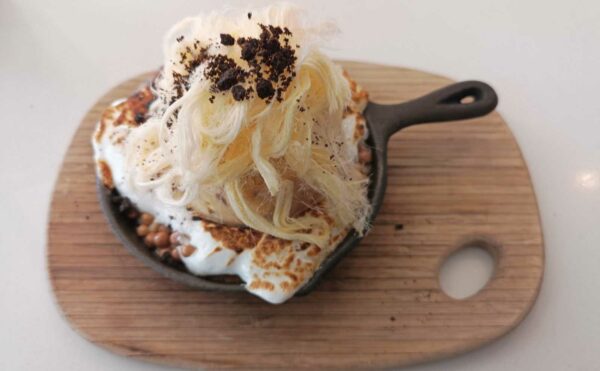 Salamanca is one of my favourite places in Hobart for good food. When the markets are on there are many food stalls serving delicious treats. Additionally, there are some great cafés and restaurants in the area. Honey Badger Dessert Café is one of my faves, with amazing desserts like pancakes, panookies (little cookies baked in a pan), cheesecakes and more. Machine Laundry Café (just a couple of doors down from Honey Badger) is a laundromat with café that has excellent breakfasts. If you head closer to the water there are some fish punts for fresh seafood, as well as Fish Frenzy and Mures, both excellent restaurants for seafood. My favourite restaurant is located further along on Hunter Street and is called The Drunken Admiral Seafarers Restaurant! This also serves excellent seafood, plus the interior feels like you are on a pirate ship. For more, remember to see my self-guided walking tour post.
Street Eats Franko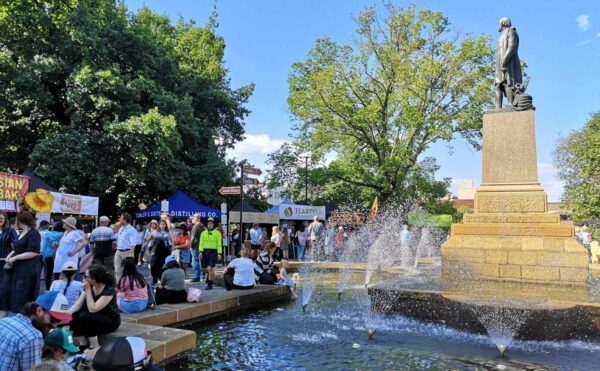 This is a new thing that's started since I moved to Europe, but on Friday afternoon/evenings (I think maybe only during summer) there is a cool street-food market held at Franklin Square called Street Eats Franko. We stumbled into it while heading out to dinner with friends so we couldn't actually stop and try any of the food stalls, but it looks awesome! Franklin Square is beside the Hobart bus mall and features a lovely water fountain as well as green spaces to sit and giant chess. During Street Eats Franko there's live music as well as a variety of food stalls serving cuisine from around the world but made with Tasmanian produce. I can't wait to come back and try some next time!
Have you ever visited Hobart? Let me know in the comments where you stayed, ate, drank and if I've missed any of your favourite spots, otherwise pin one of these for your own travels in the future!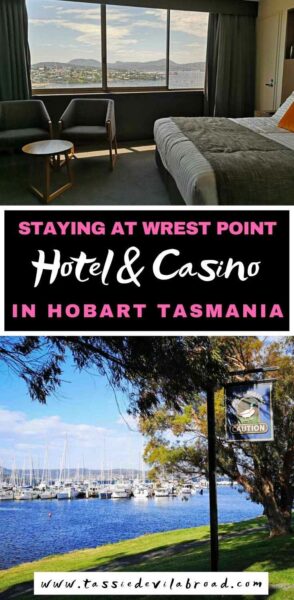 All information is true and correct at the time of publishing but I cannot be held responsible for changes in opening times and prices or businesses closing in the meantime. I always endeavour to keep my posts up to date but also encourage you to double-check the official website of an attraction for information on when it is open, how much it costs etc.