When I got to take Dennis back to Australia to meet my family and friends, I didn't only want him to see Tasmania. We didn't have a huge amount of time (or money) to show him as much of the country as I would like, but I did really want him to see Sydney, where I was born and have visited many times. By spending about a week in Sydney he also got to meet some more of my family and, of course, see some of the most famous sights in Sydney. I already wrote a whole guide on what I think first-time visitors to Sydney should see and do, but today I am going to do an in-depth review of our stay at Rydges Sydney Harbour, one of three places we stayed in during our trip, as well as the cool things to see in the area.
This post contains affiliate links. This means that if you follow a link and then purchase or book something, I will earn a small commission at no extra charge to you. This helps me with the costs incurred from running this site and means I can keep bringing you travel content like this. You can read more about this on my privacy page. Thanks for your support!
About Rydges Sydney Harbour
As you might have guessed, the main drawcard for Rydges Sydney Harbour is that it's located right in Sydney Harbour, specifically in a very historic neighbourhood called The Rocks. We stayed just the one night here, as a little splurge on our last night in Sydney. Rydges Sydney Harbour is a four-star hotel, so it's not as pricey or indulgent as some of the insane hotels in Sydney, but the main reason I wanted to stay here was for the incredible rooftop pool and spa, which looks straight out over the harbour to the Opera House!
Our Stay At Rydges Sydney Harbour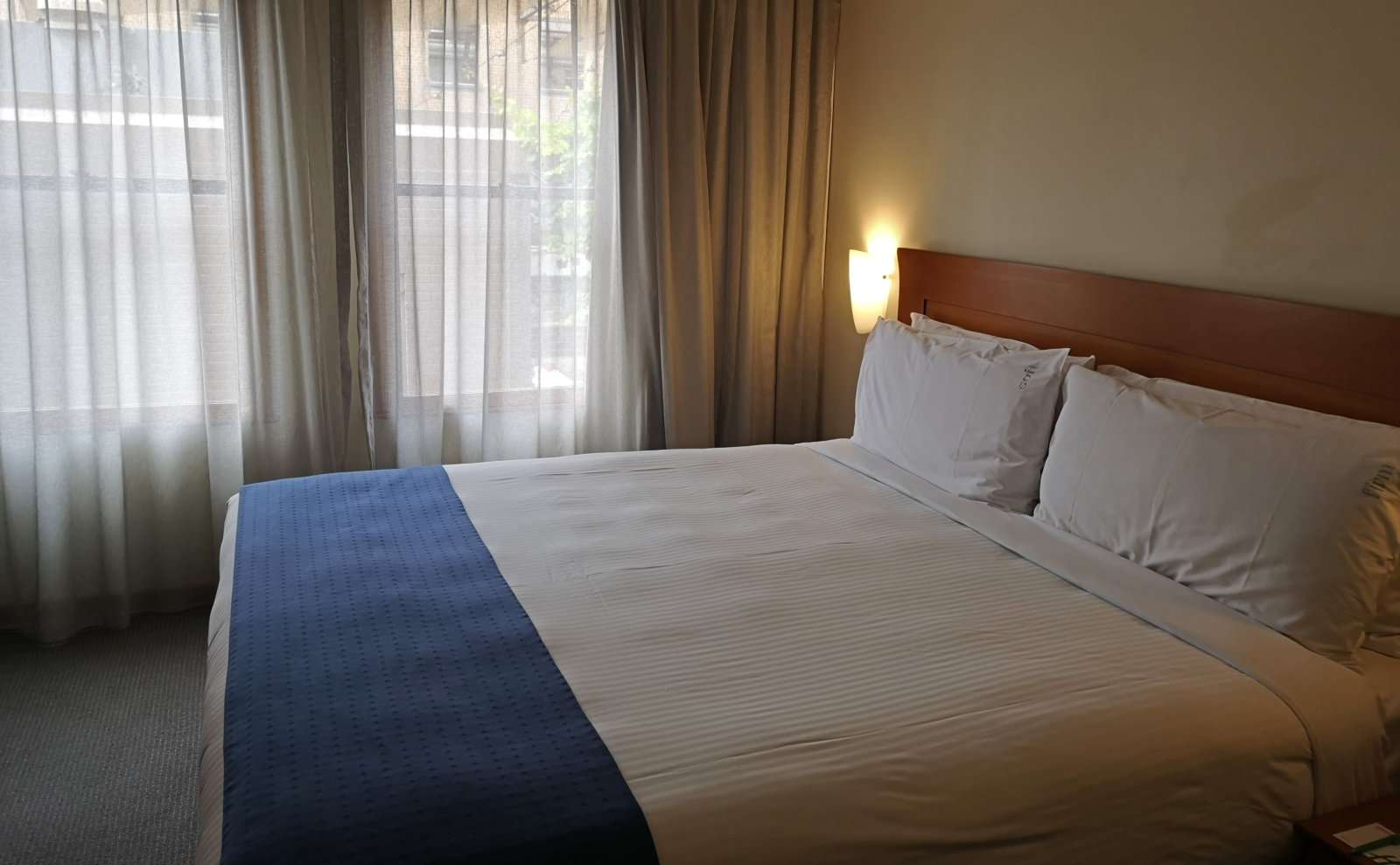 When we first checked in, the incredible view was slightly blocked by a cruise ship that was docked, as the hotel is one street back from the cruise pier in Sydney Harbour. The ship left in the evening though, so we could then see the Opera House and CBD from the roof. There is definitely nothing nicer than a hot tub looking out over an amazing view!
Rydges Sydney Harbour has a very interesting design, with these interior balconies all looking down over the reception and restaurant area. Parts of it do look a little 'tired', as though it might be due for a bit of a modern refresh, but it was completely clean, comfortable and cosy during our stay. The staff were also all lovely.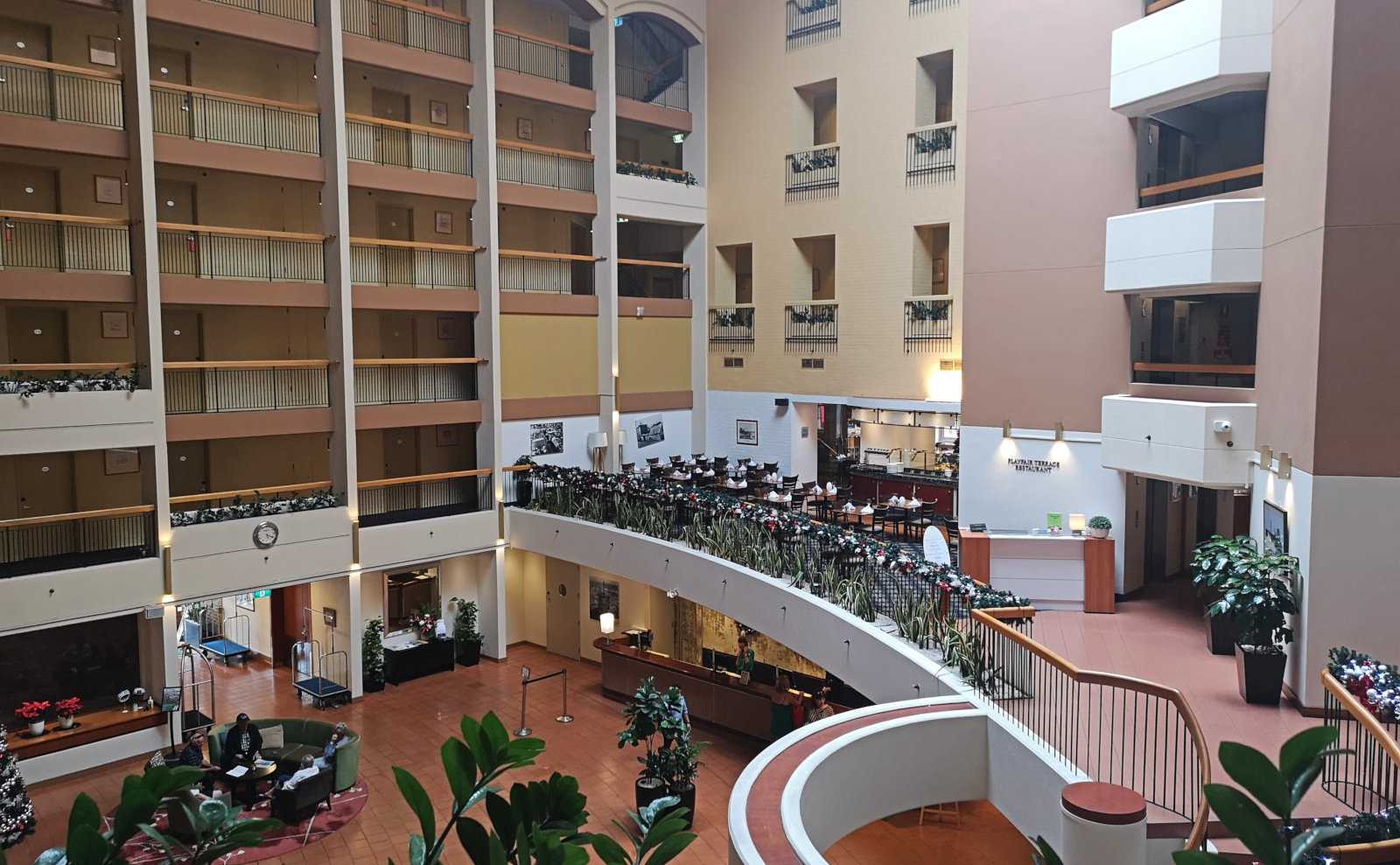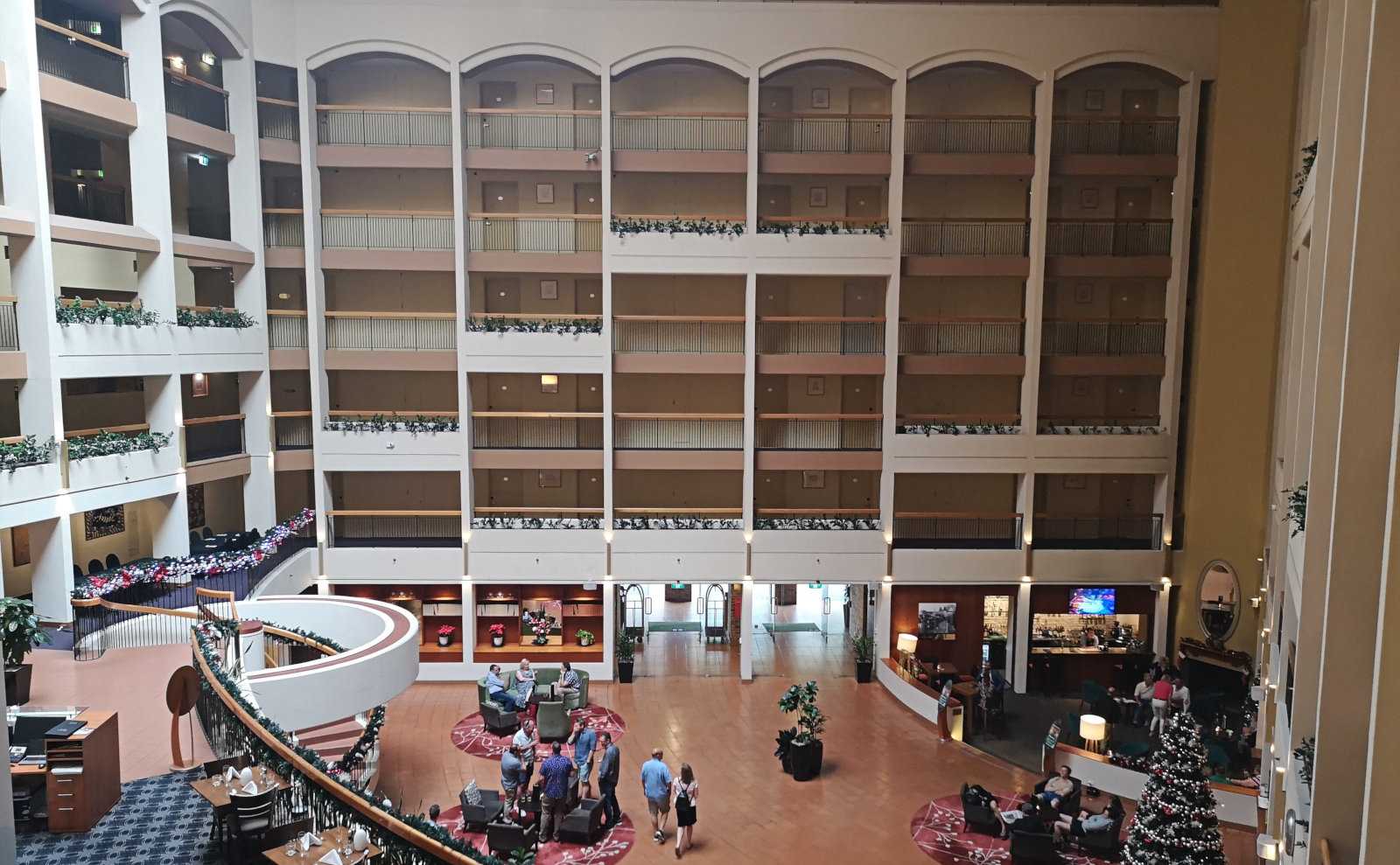 After five nights on a very uncomfortable mattress in a hostel, the bed at Rydges was divine. And since there was a bathtub, I also (of course) had a bath! We had dinner in the hotel restaurant, which was decent, although nothing to particularly rave about. Breakfast, on the other hand, was very good! Maybe I'm just more into hotel breakfasts than dinner…
We also spent plenty of time wandering around The Rocks, and taking lots of last-day photos in Sydney with the iconic bridge, harbour and Opera House. It's an easy walk from Circular Quay Station to the hotel, although it does go up a small hill behind the cruise pier. I would definitely recommend staying at Rydges if you want to be right on the harbour and very comfortable, without having to spend a fortune.
If you want to stay at Rydges Sydney Harbour next time you're in Sydney, book here!
Exploring The Rocks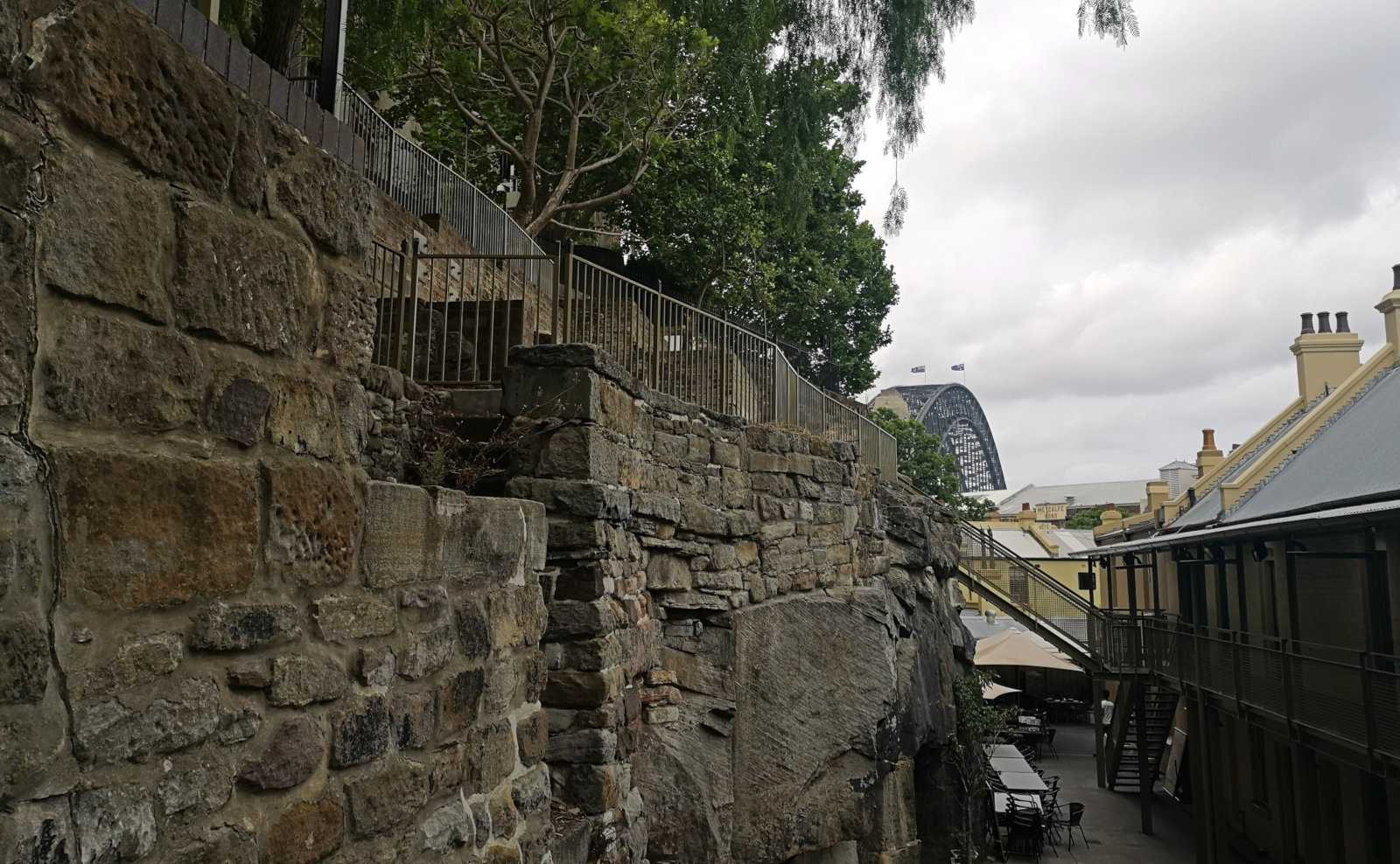 Aside from the rooftop pool/spa and harbour views, I also really wanted to stay at Rydges because I love The Rocks area of Sydney, and wanted to explore it a little more than in the past, while also showing Dennis around. The Rocks are some of the oldest part of Sydney, with many surviving buildings that are heritage listed. As with many cities on the water, the area was once basically the slums of Sydney, but is now filled with fancy art galleries, shops, restaurants and museums. There's quite a well-known Australian novel (and movie adaptation) called Playing Beatie Bow, in which a girl travels back in time to The Rocks during 1873, which also made me want to explore the area after reading it as a child.
Things to do in The Rocks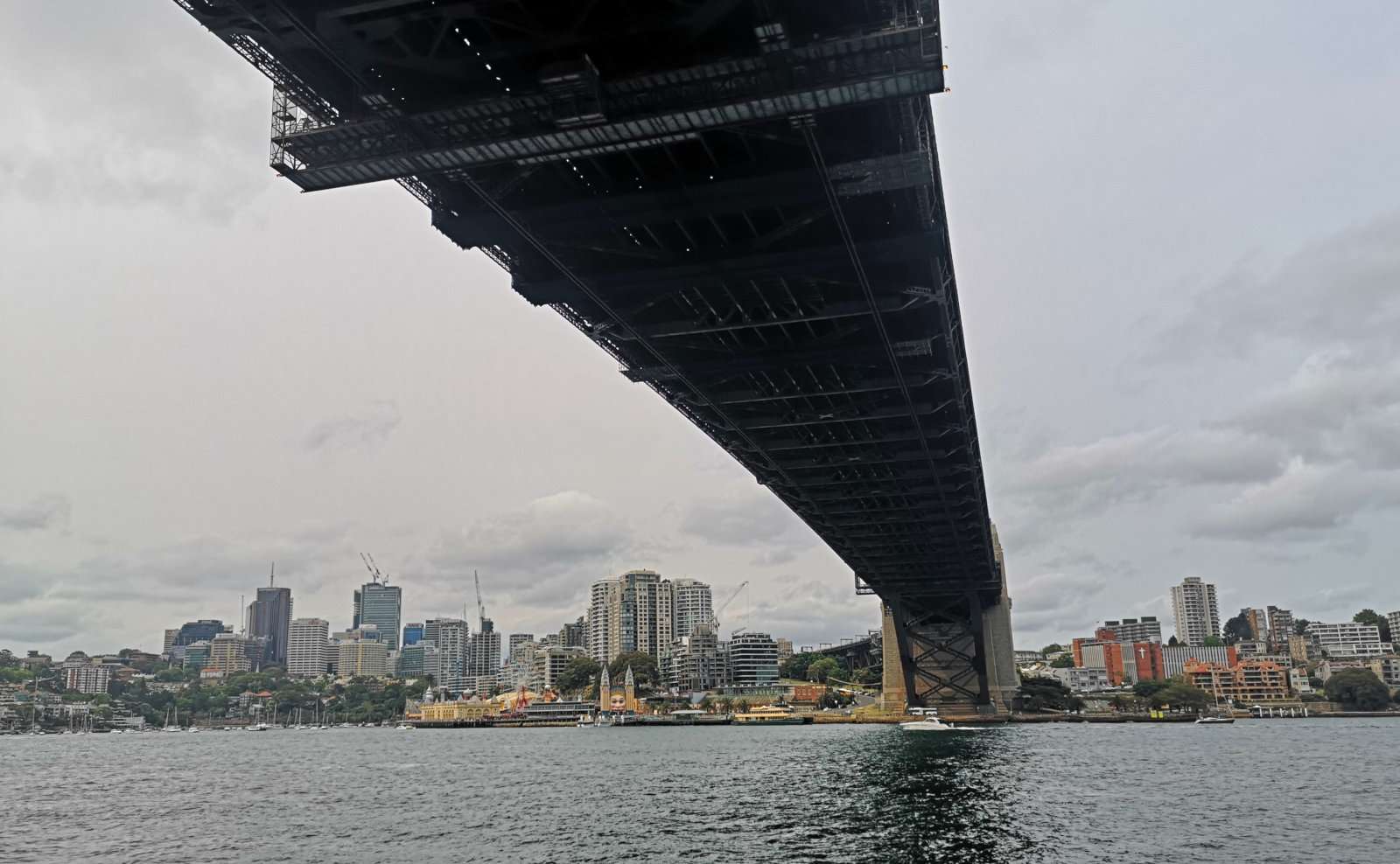 There's plenty to do in The Rocks, from just sightseeing, to shopping or even drinking in the oldest pubs in Sydney. Both the Fortune of War and the Lord Nelson bars claim to be the city's oldest, so why not visit both?! I've listed my personal favourite must-dos while you're exploring The Rocks, but for events, bars, restaurants and cafés, check out this page.
Sydney Harbour Bridge and Pylon Lookout
One of the best parts about The Rocks is that this is where one half of the Sydney Harbour Bridge starts, leading to the North Shore. You can actually walk underneath the bridge for your own DUMBO moment! While many people do the famous Bridge Climb, I am not a fan of heights so I would never do that. You can still get pretty amazing views from the Pylon Lookout, which is also on The Rocks side, or just walk across the bridge for free!

The Rocks Discovery Museum
We didn't have time to hit the museums this time around, but I have been to them before and do recommend The Rocks Discovery Museum for a free look at the history of the area. This particular museum is very family friendly with lots of interactive exhibits and things for kids to touch, plus it also looks at the Aboriginal history pre-colonisation, which is definitely important for all visitors to know about.
Susannah Place
Susannah Place is another museum that looks in-depth at the time period when The Rocks was very much the poorer part of Sydney, and it's housed in a terrace of four houses that were built by Irish immigrants in 1844. Many rooms have been recreated to show what they would have looked like when they were home to the city's urban working class, and how they evolved during 150 years of occupation.
The Rocks Market
Every Saturday and Sunday there's a market held in The Rocks along Playfair Street (right behind Rydges Sydney Harbour!) with local stallholders selling all manner of cool stuff. Stalls at The Rocks Market are very much focused on local, handmade products, like clothing, jewellery, art, toys, along with plenty of delicious food stalls and buskers for some live music. There's also often live workshops and events on that you can take part in, like yoga in the park!
Museum of Contemporary Art
As you walk along the harbour from Circular Quay to The Rocks, the first thing you see is the massive art deco building that houses the Museum of Contemporary Art Australia. If you like art at all then you should definitely visit this one, as it's free entry (apart from sometimes a special temporary exhibit) and there's always something cool to see, with many pieces by Australian (and often Indigenous) artists. I once bought a set of prints from the gift shop that I had on my wall for years as I loved them so much.
Dawes Point Reserve
If you want to recreate some of the photos I took of the harbour with the bridge and Opera House behind, the best place to get these shots is along the waterfront, up to the Hickson Road Reserve and the Dawes Point Reserve. There are lovely walkways and plants making this the ideal area to take photos!
Fun Tours of The Rocks
While I showed Dennis around this area based on my knowledge, you may like to have your own local guide to help you explore The Rocks! I haven't done any of these tours myself, but after a LOT of research these are the three that look like they'd be the most fun and interesting.
If you've never been to Australia before, or don't know much about the original inhabitants, then I definitely suggest The Rocks Aboriginal Dreaming Tour. You'll be welcomed onto the land by an Aboriginal tour guide who will explain all about the people who lived in the area before the settlers arrived, as well as how the First Australians retain their culture in modern Sydney. I wanted to do this tour when we were there but didn't have enough time, so it's top of my list for the next time I'm in Sydney.
If you want a more in-depth historic tour of The Rocks, with a proper guide who'll go into much more detail about the history than I have, then I would suggest this historic walking tour. It takes 90 minutes so it should be a nice introduction to the area's convict past.
This historic walking tour looks similar to the first, but takes two and a half hours and is a tiny bit more expensive. It has a higher star rating but this might also be because fewer people have reviewed it. However, if you want a bit more bang (history) for your buck (dollar) then you might prefer it! This tour also focuses more on Sydney's convict history.
If you're more interested in the history of the pubs then you might prefer this pub walk instead! You'll still get to learn fascinating stories about the history of the neighbourhood, but will also visit four different historic pubs along the way for some refreshment. It takes two and a half hours, so you won't get sloshed, and you can also enjoy a nice pub meal beforehand or afterwards.
Map of Rydges Sydney Harbour and The Rocks
I've put together this map so you can more easily visualise where all the places I've talked about are located!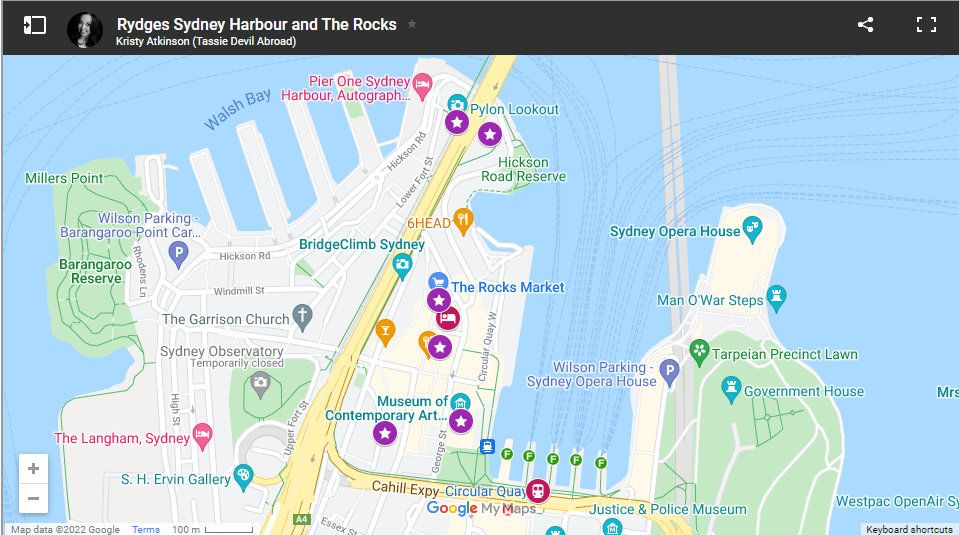 Pin Me!
Have you ever visited The Rocks in Sydney? Let me know about it in the comments or pin one of these if you'd like to visit it yourself in the future!