I randomly stumbled upon a unique Dutch attraction whole browsing Instagram this year; a steam train that travels past some pretty tulip fields. Obviously, it makes for very pretty photos so, in my quest to discover where I could perhaps see this sight for myself, I found out that the train is a sort of moving museum that, combined with a historic boat trip, makes for a very interesting experience in the Netherlands! Of course, I made the pilgrimage to ride on this historic steam train and boat, so now I can also tell you all the details on how to do this yourself…
Riding the museum steam train from Hoorn to Medemblik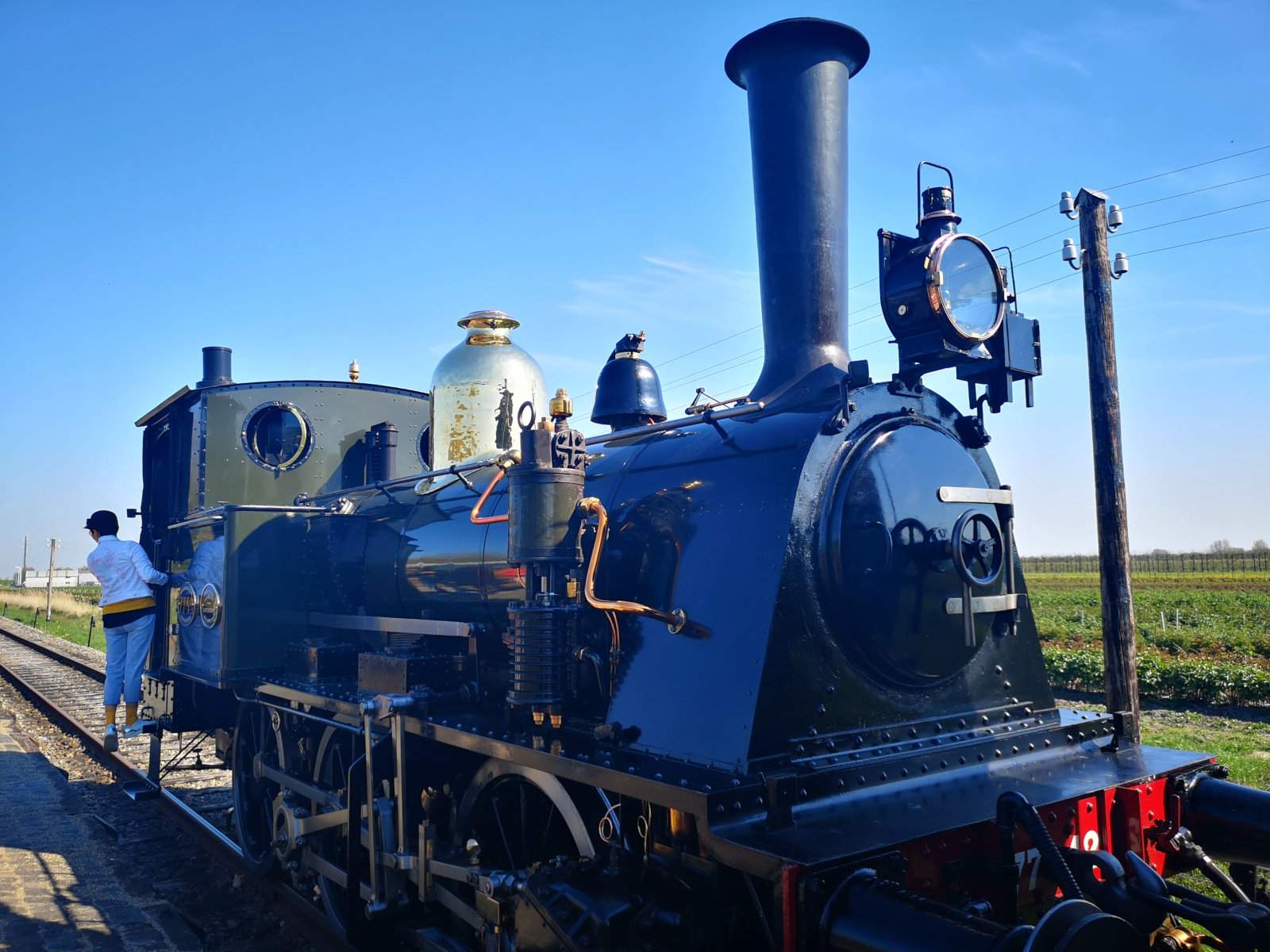 The Museum Steamtram Hoorn-Medemblik is a museum site and scenic railway where you can ride on a heritage Dutch tramway coach. Now, I was a bit confused at first how these steam-trams differ from a steam-train because they basically look like normal steam trains to me. But it explains it in the museum at Hoorn, that railway lines are given a status of main line, branch or trainway according to how long or important it is, and the shorter, less important lines are called tram-ways, therefore, the coaches on this route are called trams because it was a small-ish line.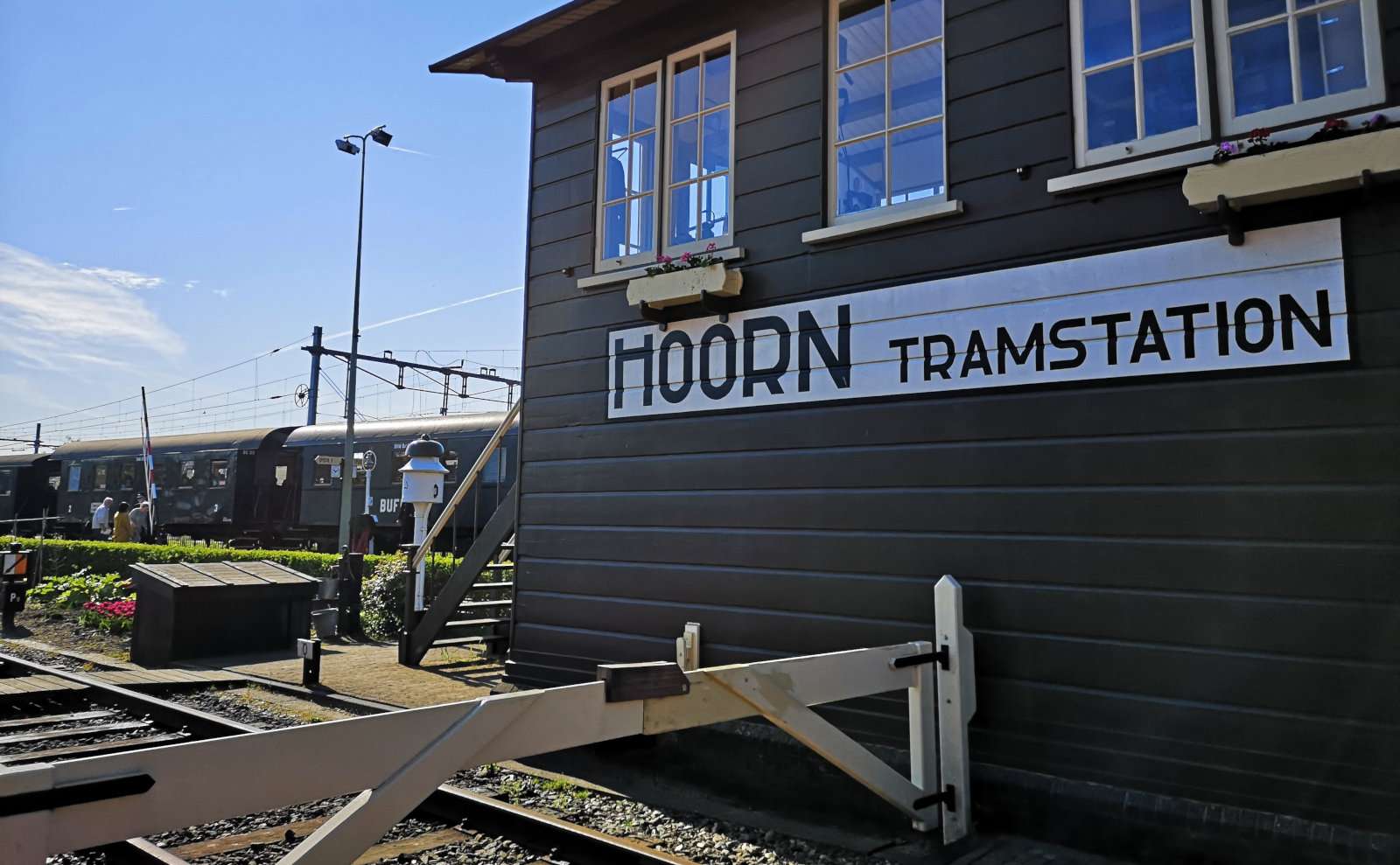 Basically, there's a small museum in the Dutch town of Hoorn where you can catch a historic steam tram/train which then takes the slow and winding traditional route through Noord-Holland (North Holland) to the town of Medemblik. Along the way, you get to see the old stations that have been made to look as they would have in their heyday, one of which you get to stop at for some photos.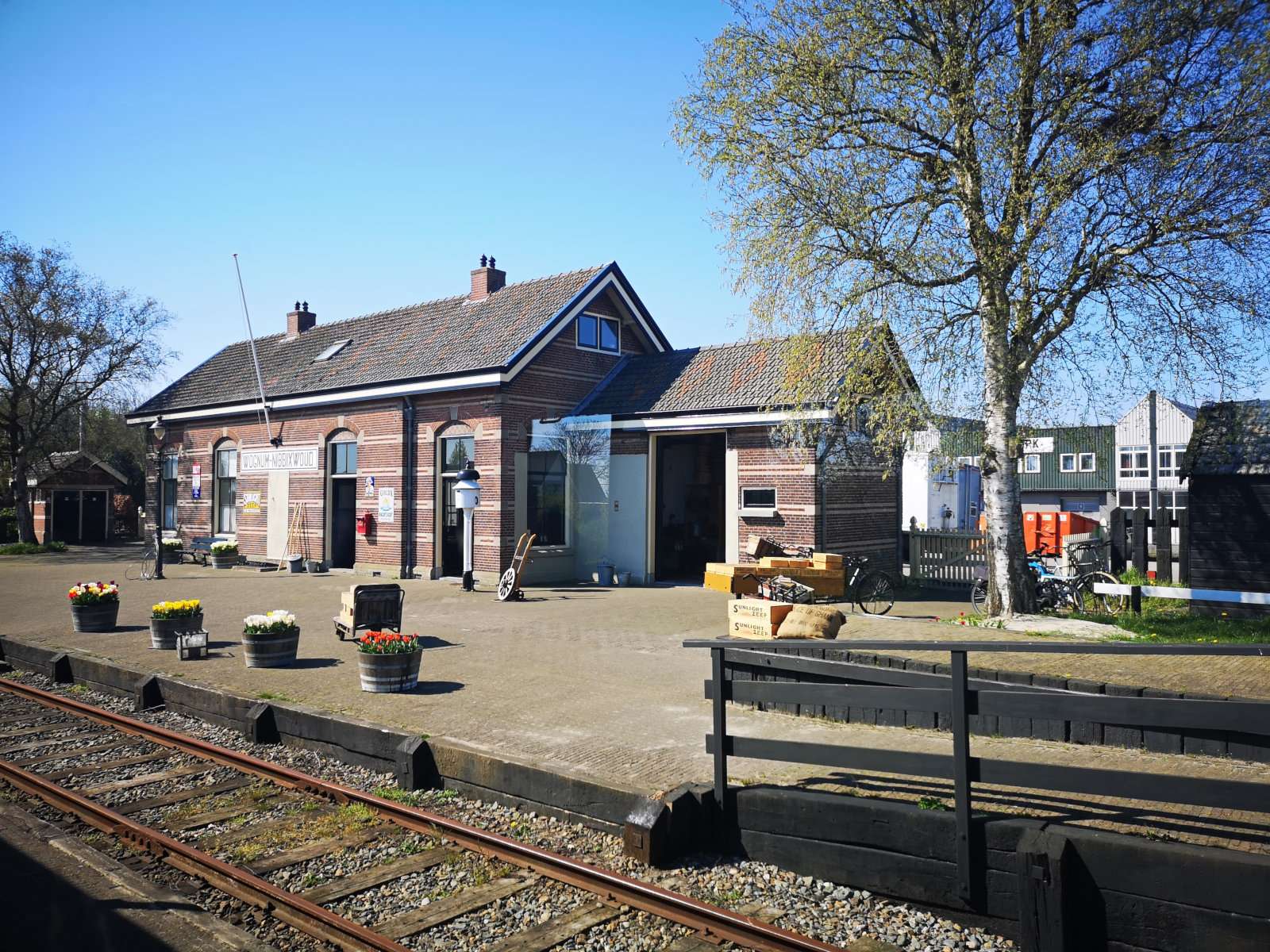 Riding the tram/train is really fun! It goes slow enough that you can walk out between the carriages without too much wind or danger, which is perfect for taking photos of the fields. I went at the height of tulip season, which meant there were extra pops of colour as we passed some big fields of tulips. It's also cool to see into the backyards of lots of Dutch houses.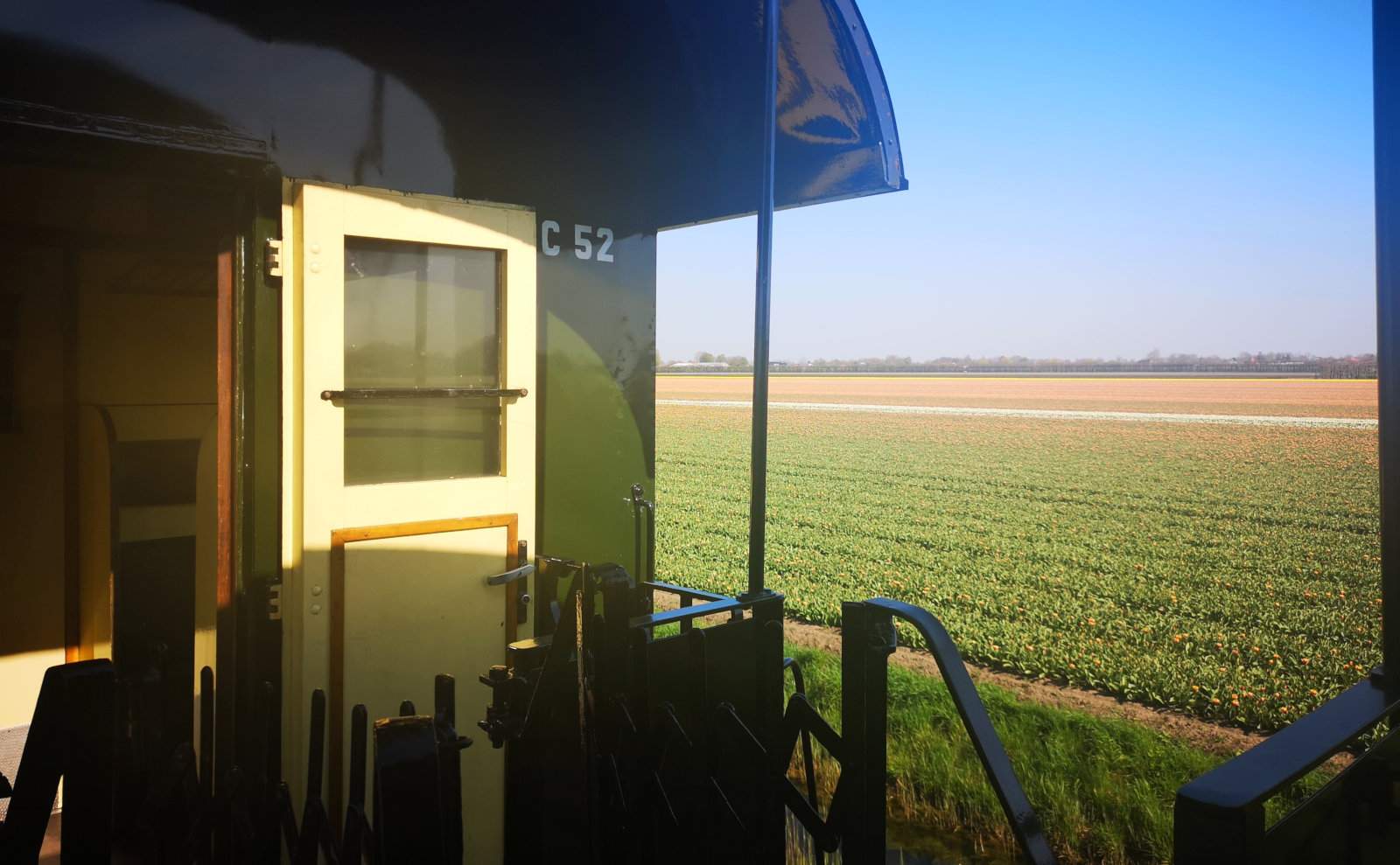 It takes about an hour and a half to get from Hoorn to Medemblik, with a short stop at the station of Wognum. You can purchase some food and drink on the train (like fresh poffertjes – Dutch mini pancakes!) and they have a special safari box thing to keep children entertained. After an hour and 20 minutes in Medemblik, you can then either get the train back the other way or catch a historic steamboat to Enkhuizen. I took a lot of photos, you can look at them in this gallery below!
Inside the small museum at Hoorn

The train ready to leave from Hoorn

All aboard!

I felt a little bit like I was getting on the Hogwarts Express!

Peeking into Dutch backyards…

Pretty views on the journey.

The Wognum Station

They even had tulips at the Wognum station

Tulip fields from the train!

More tulip fields.

Thirsty tulip fields.

Tulip fields and a lone bike.

Another train!

The Twisk Station.

Part of the historic display at the Opperdoes Station.

The Opperdoes Station.
Exploring Medemblik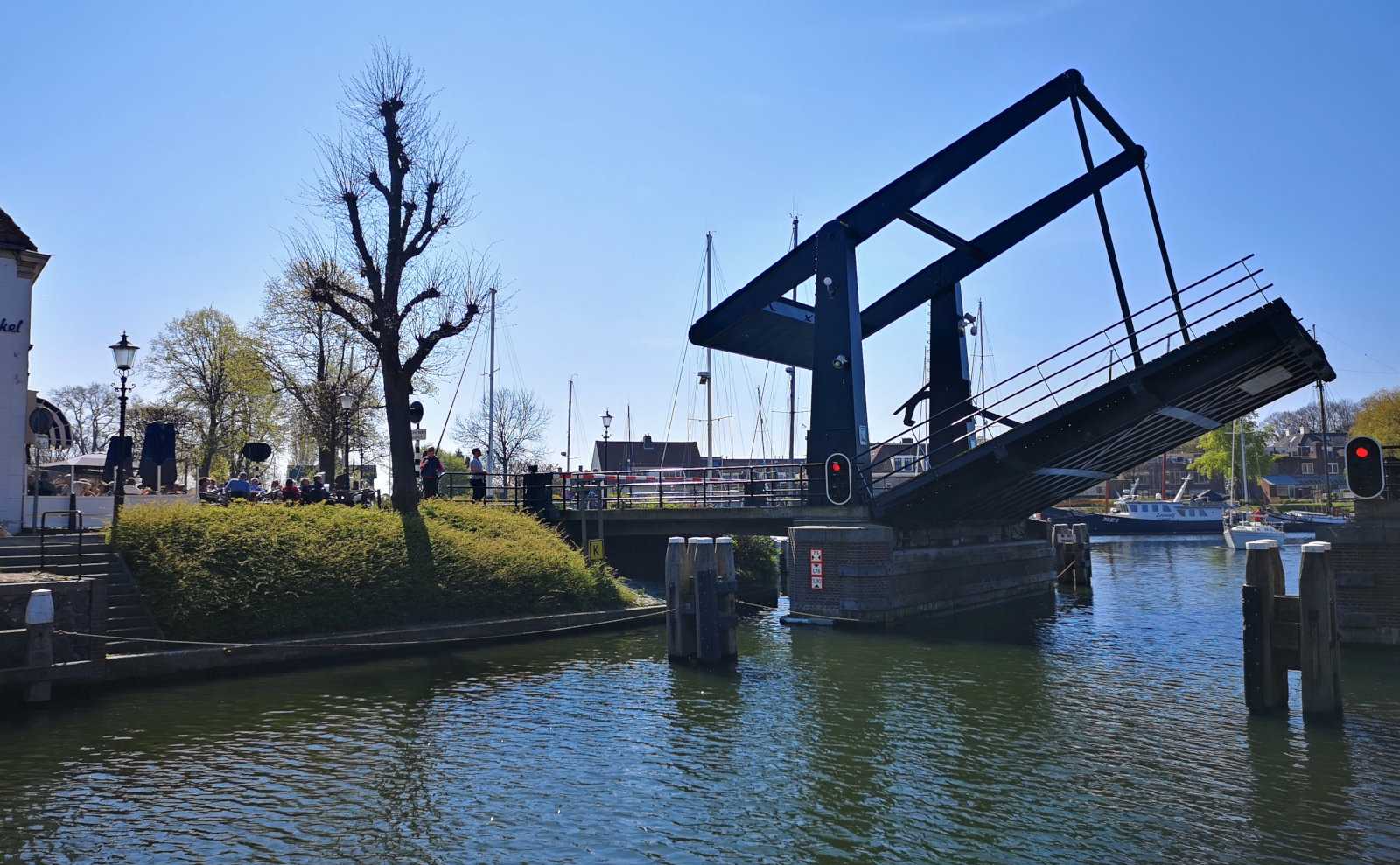 Once you get to Medemblik you have about an hour and a half to wander around exploring/get some lunch before your return journey. Of course, you don't have to go back on either the train or a boat, but Medemblik doesn't have an NS train station so you'd have to catch a bus to either Hoorn or Enkhuizen to then get a train back to Amsterdam (or wherever you're coming from). Medemblik is home to Radboud Castle, which is on my big list of castles I want to visit but I didn't think I'd have enough time in between the train and the boat. So instead I just wandered around the pretty town of Medemblik and had some kibbeling met frites (fish and chips) for lunch! Check out the gallery below for more photos of Medemblik.
Sailing from Medemblik to Enkhuizen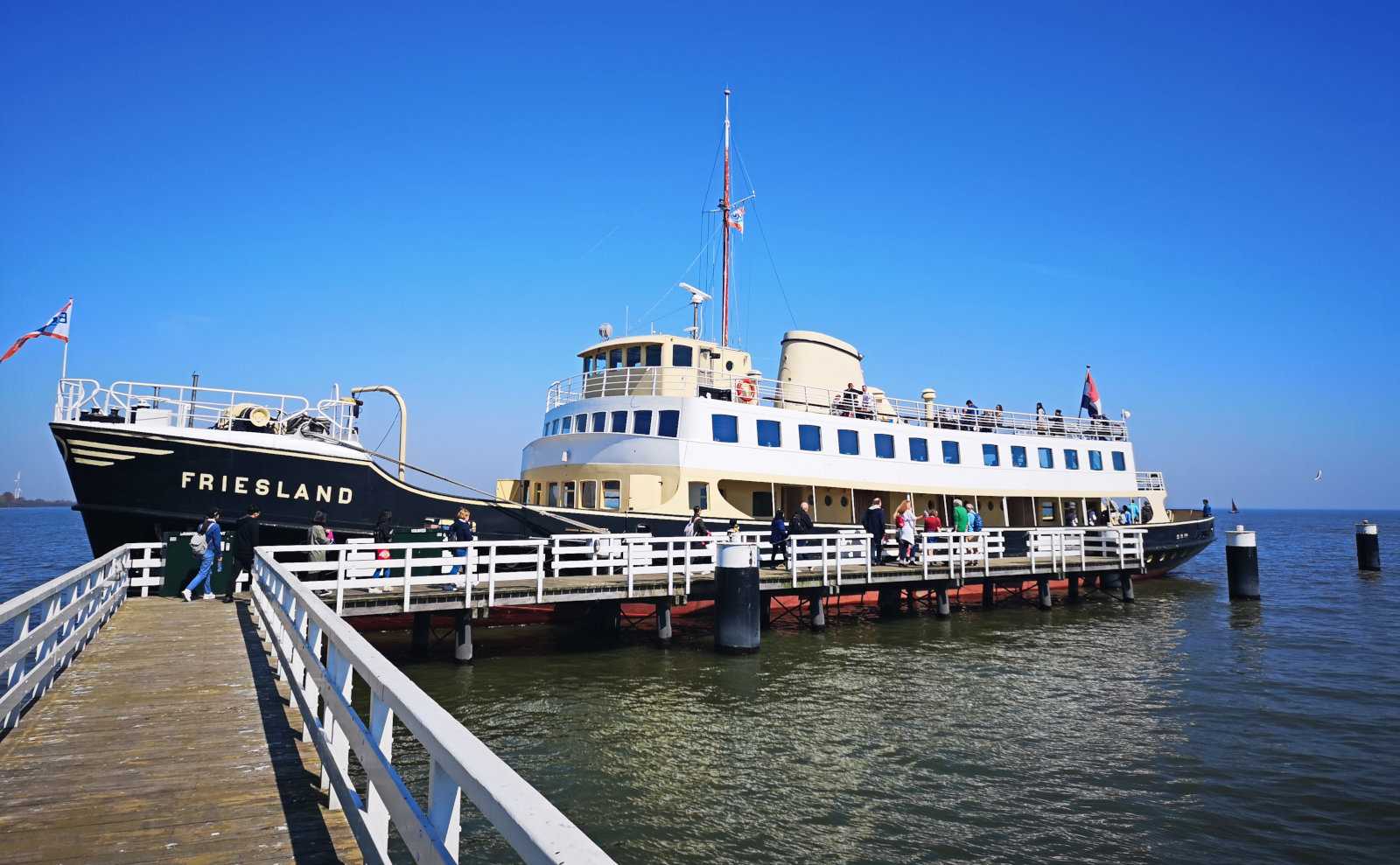 I had opted to do the full trip that includes riding the steam train as well as the historic steam boat. After lunch I boarded the Friesland and enjoyed a leisurely 'sail' (there were no sails, obviously) from Medemblik to Enkhuizen. You can buy snacks and drinks on the boat, as well as choosing to sit inside or outside. Luckily it was a gorgeous day, so it was lovely outside in the sun watching yachts sail by. Here's a gallery of all the photos I took on the boat.
You can catch this boat to the Zuiderzee museum, which is an open-air museum that shows what life was like in a traditional Dutch fishing village in the Zuiderzee region. I haven't actually been here yet, but it does look quite interesting. After stopping at the Zuiderzee Museum pier, some people got off and then we sailed the last little bit to nearby Enkhuizen, the final stop of the historic journey. I then caught a normal NS train from Enkhuizen back home, but Enkhuizen is also a lovely town to explore if you have time. Have another little gallery!
The nitty-gritty details of catching the Museum Steamtram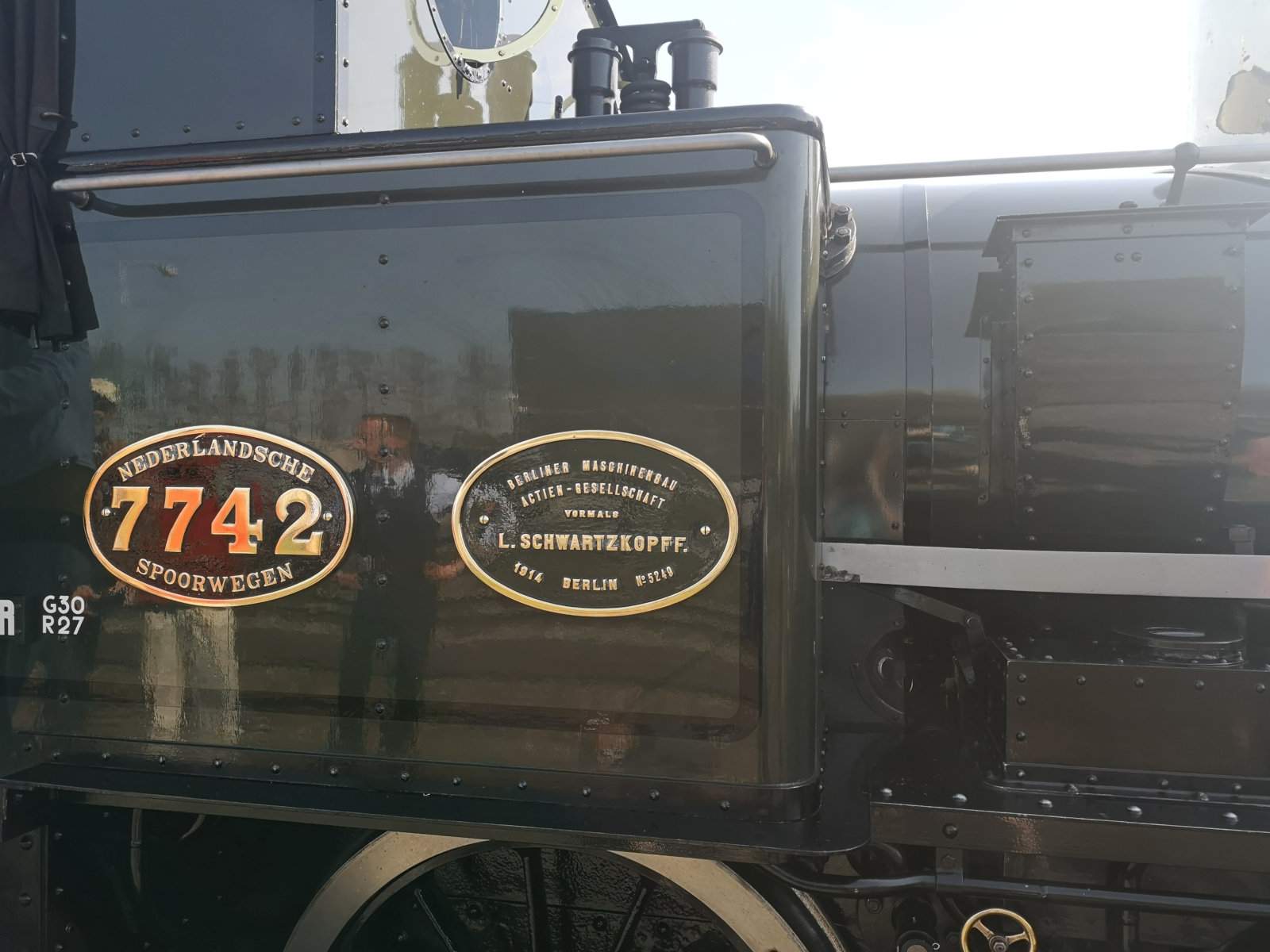 You can catch the museum steam train (and see the little museum) at Hoorn in North Holland. It takes about half an hour on an NS train to get from Amsterdam to Hoorn and will cost you around €8.70 each way.
After riding the train to Medemblik you can choose to ride the train back to Hoorn (after an hour break) or catch the Friesland boat to the Zuiderzee Museum and/or Enkhuizen. Then you can catch an NS train from Enkhuizen back to Amsterdam for €11.07. This takes about an hour.
It's also possible to go to Enkhuizen, get the boat to Medemblik and then the steam train to Hoorn. Check the official steam train website to see their timetable as there are also more departures during spring/summer. The English version can be a bit weird, so look at it in Dutch and use the translate option if that link isn't working right.
The website also has some interesting information if you want to know more about the history of steam train/tram use in the Netherlands.
How to photograph the museum steam train with tulip fields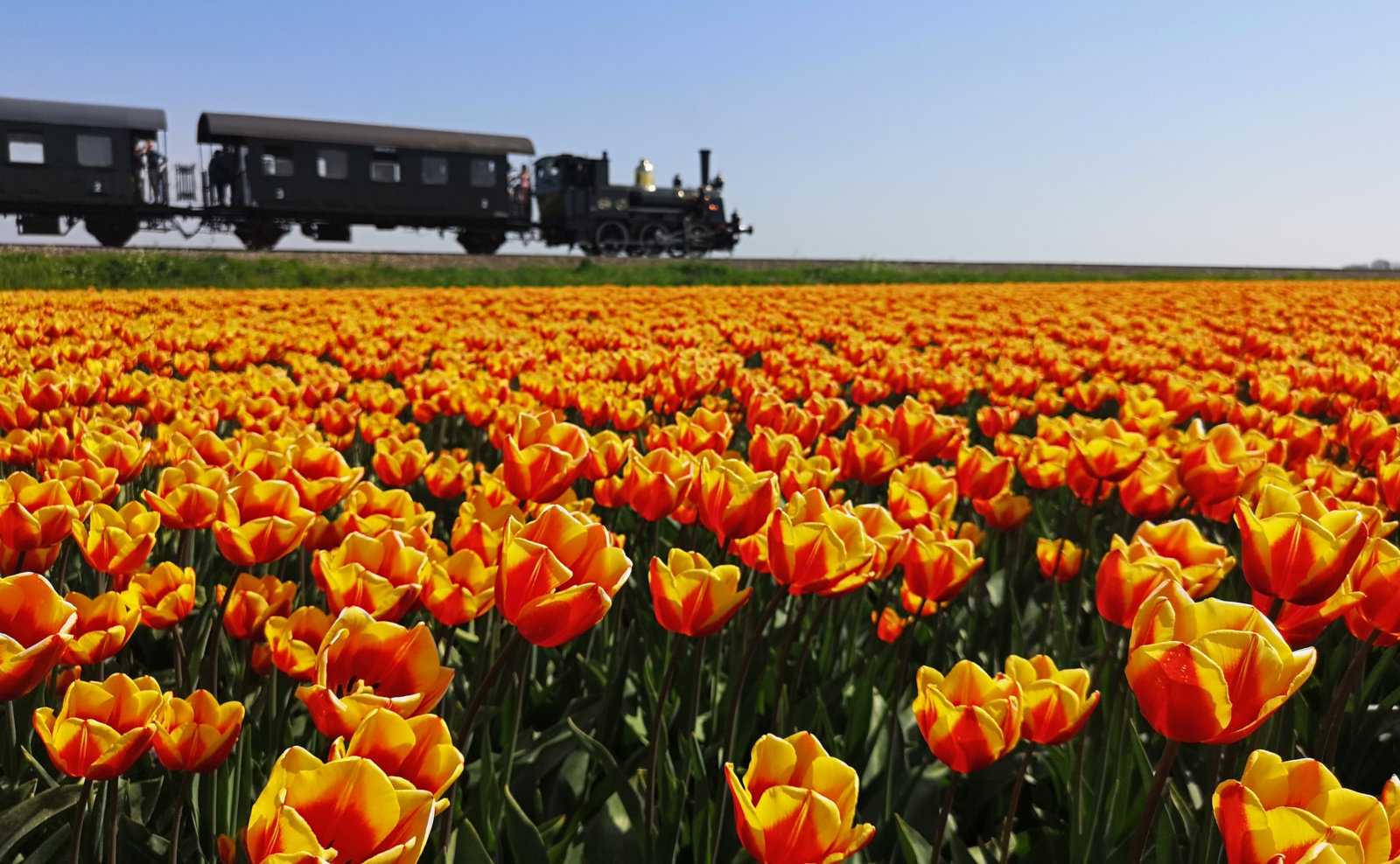 The reason I even found out about the steam train and boat and whole historic line was because I had seen photos on Instagram of the pretty train chugging along behind a beautiful field of tulips. However, nobody who shared the photo on insta ever said where it was taken. There was basically no information available. I don't believe in gatekeeping this way (unless it's for safety or something, in which case I don't think people should be taking photos there at all) so I AM going to share with you exactly where you can get the coveted tulip-and-steam-train shot, if you are in the Netherlands. Obviously, you will only be able to see this at the right time of year for tulips, which is usually between March and May.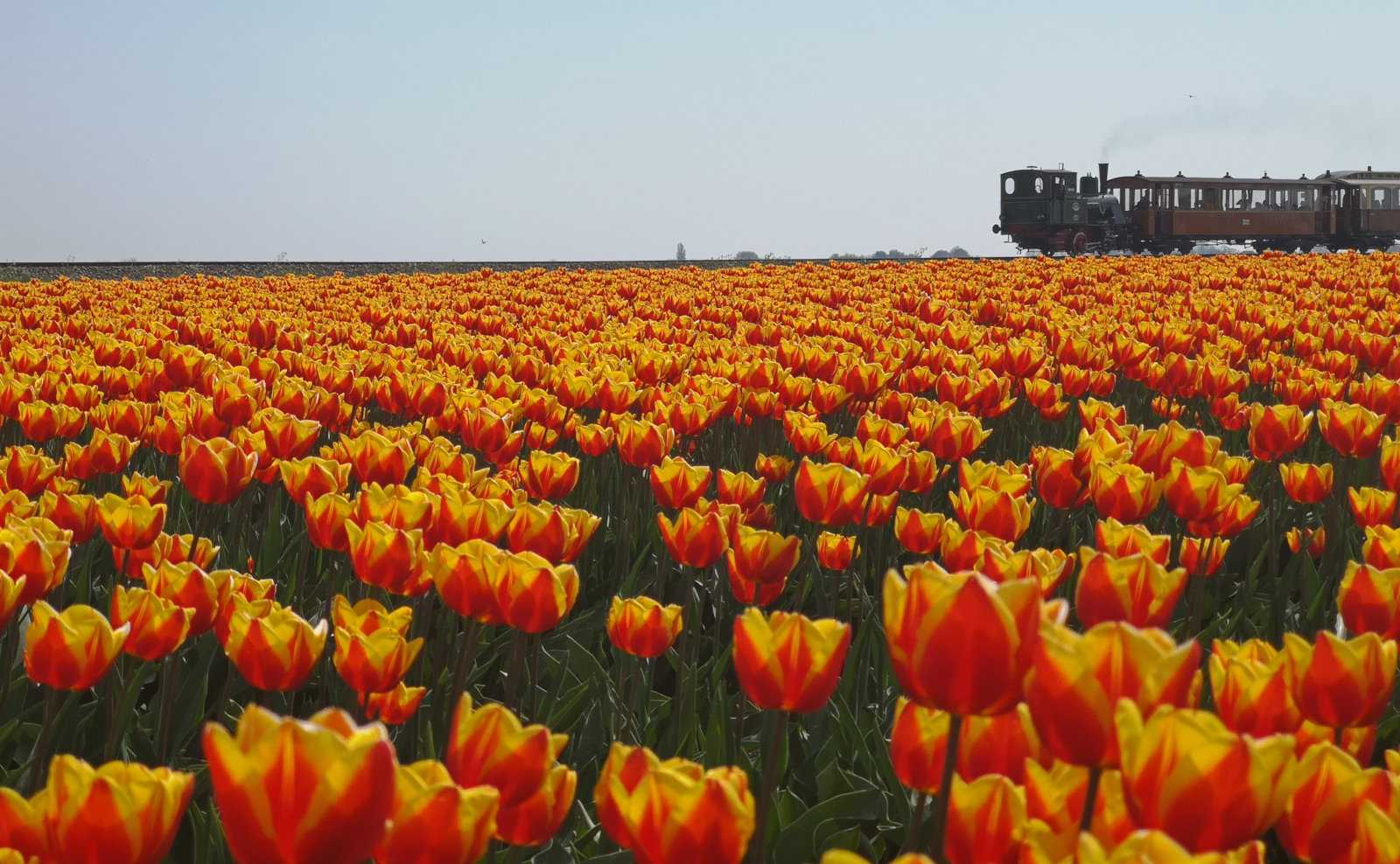 When I was riding the train I saw a few different tulip fields, but none of them seemed to be positioned in such a way that you could get a good shot of both them and the train. But then we came along a bend and I saw it. There were a couple of people positioned next to a tulip field with their cameras, waiting to photograph the train at the right moment. I immediately opened Google maps on my phone and wrote down where we were! It's kind of a random spot in the middle of nowhere so I'll put it on a map for you. You will need to have a car to get here though, as it's on a side road near the town of Twisk. You also have to time your arrival roughly for when the train will be coming through. I thought we had plenty of time but we only just got there as it came past the first time, with the engine running backwards!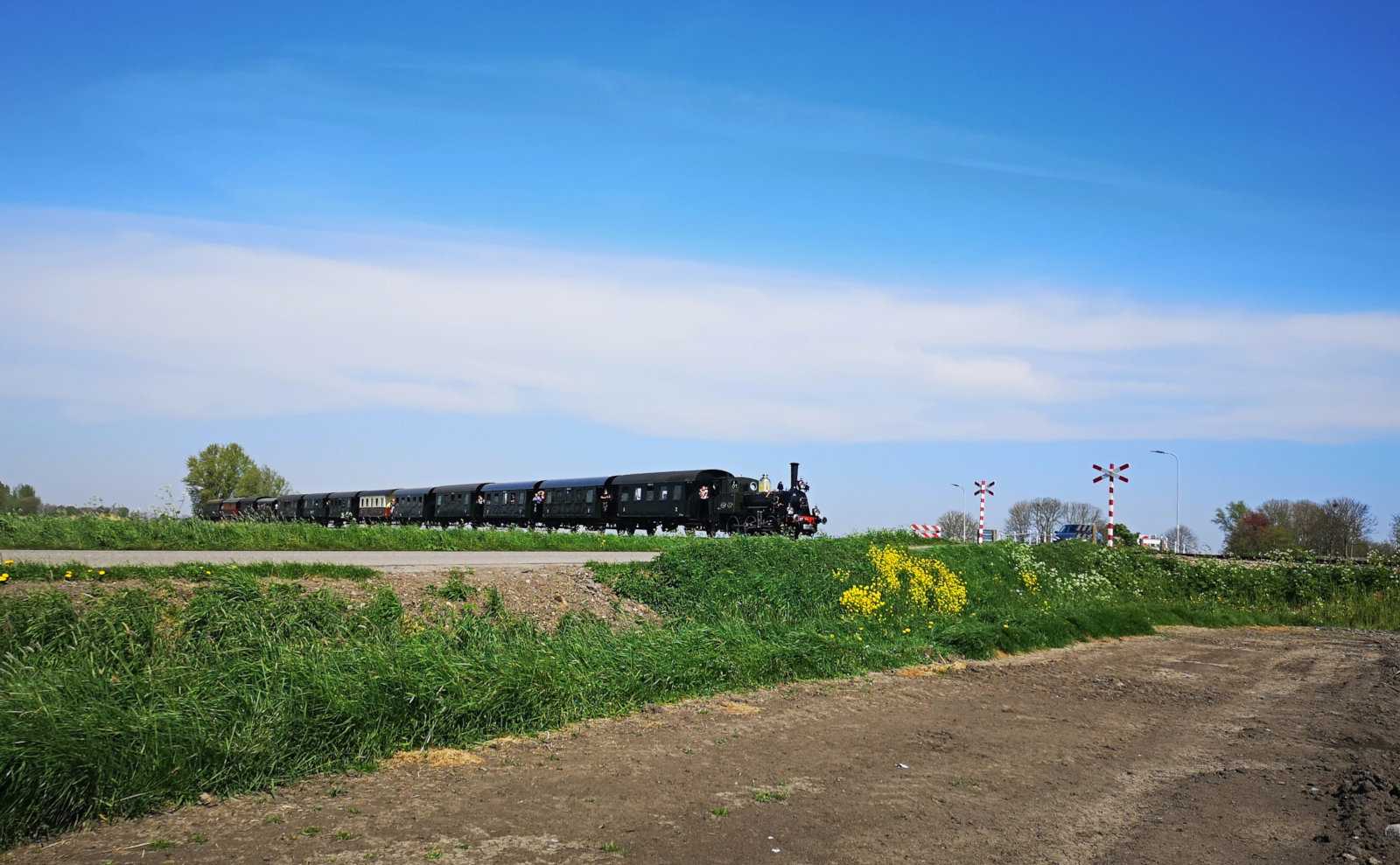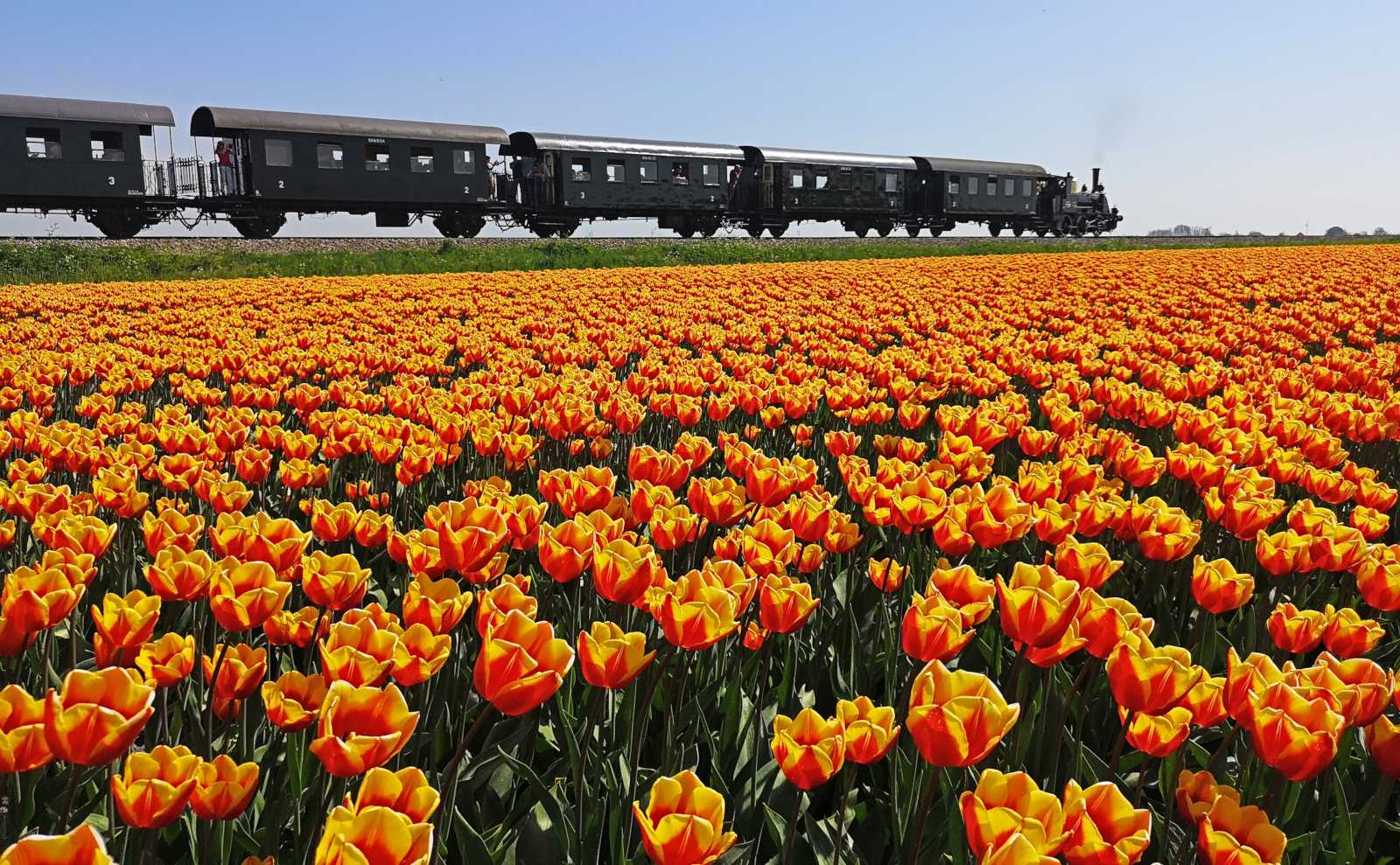 We also waited for it to come back again, so we got some more nice shots of it going the right way. Now, I can't guarantee that this field will be filled with tulips every year, as they are usually rotated, but it is your best bet if you really want to get some of the photos for yourself!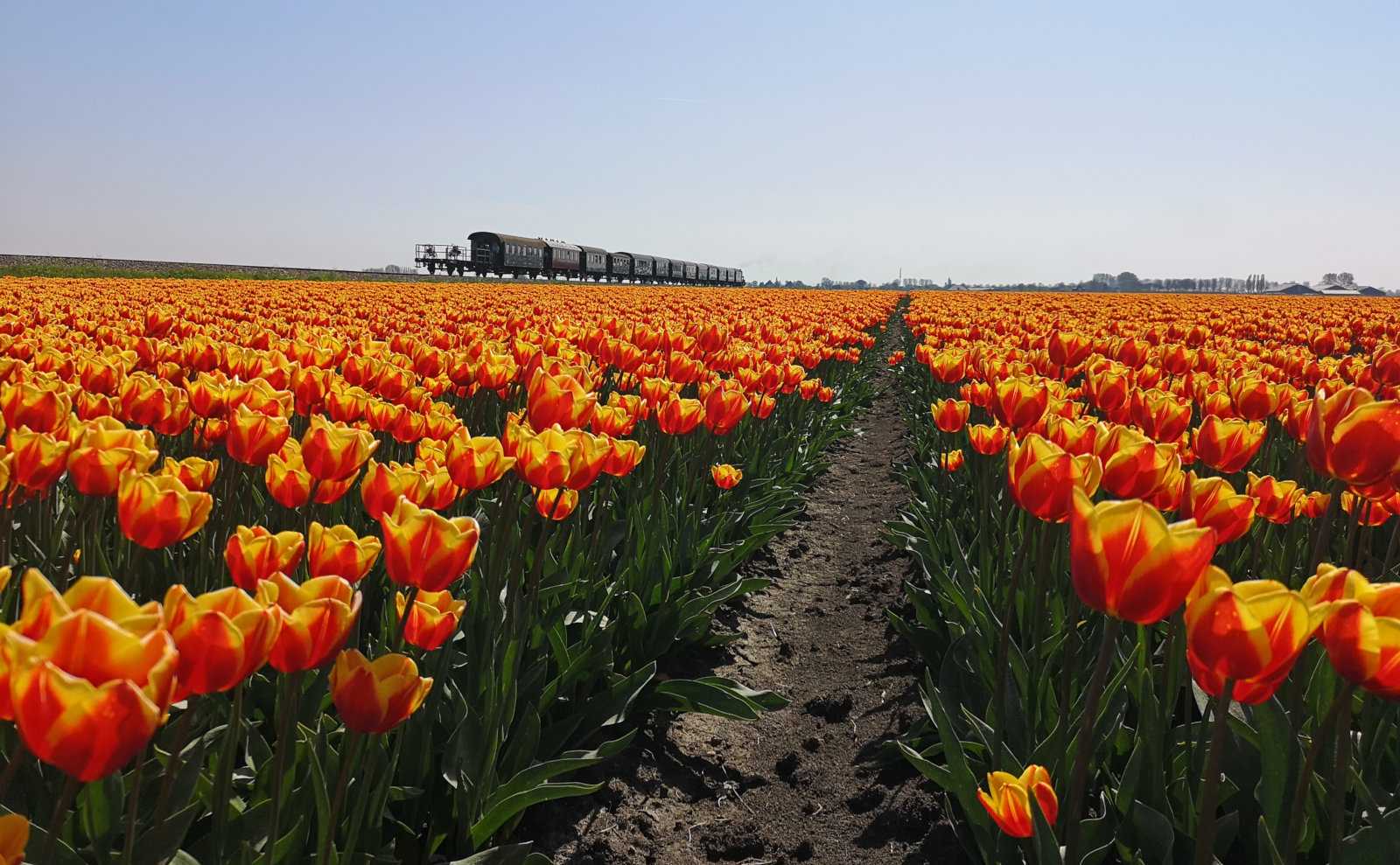 Here is the exact location of where you can see the steam train pass by the field, as well as the main places I've mentioned in this post: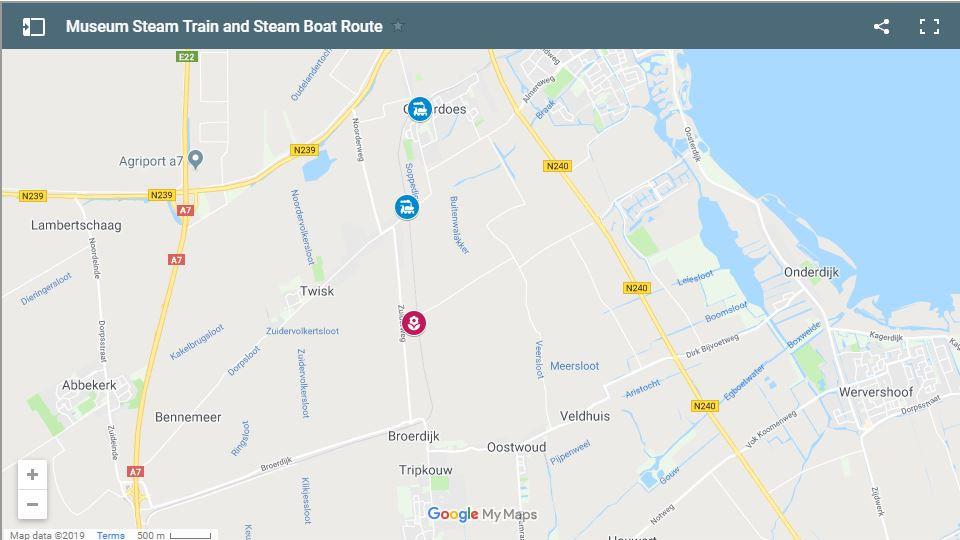 Pin Me!
Have you ever ridden on a historic steam train? Let me know about it in the comments or pin one of these if you'd like to catch the Dutch museum steam train and boat yourself!