If you use Pinterest (or possibly even on Facebook) then you've probably seen photos of the Dutch town of Giethoorn. Touted as being idyllic and serene, with no roads and hardly any people (maybe just some cows on a boat) it certainly looks like the perfect place for a peaceful getaway. I'd been hoping to visit for a while now, and during the holidays a few weeks back Dennis and I finally went for a road-trip to Giethoorn! Here's what we discovered…
About Giethoorn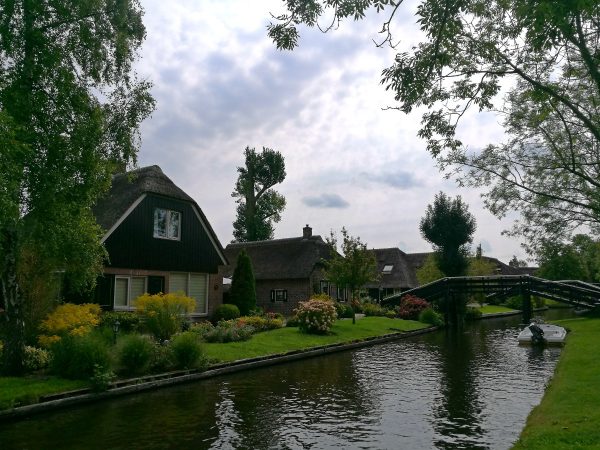 Giethoorn is a village in the Dutch province of Overijssel. It's about an hour and a half drive from Amsterdam, and is known for being very pretty as it contains very few roads and much of the village can only be reached by foot or boat. There are many canals and bridges (more than 180 bridges) which only adds to its picturesque charm. Most of the houses and cottages have thatched roofs so it feels a little as if you have stepped back in time as you walk along the footpath by the canal admiring the pretty homes and perhaps stopping for lunch at one of the canal-side cafes or restaurants.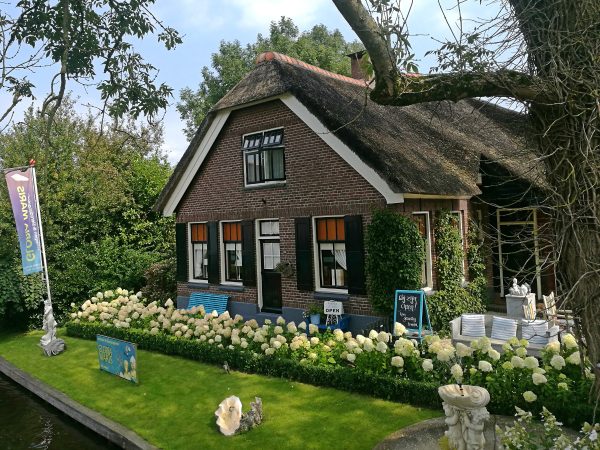 One fun fact that locals are apparently very proud of, is that Giethoorn beat out around 182 contenders across the world to become a destination on the 80th anniversary international edition of Monopoly (in 2015)! You can also find out a little more about just how they managed this here.
Getting to Giethoorn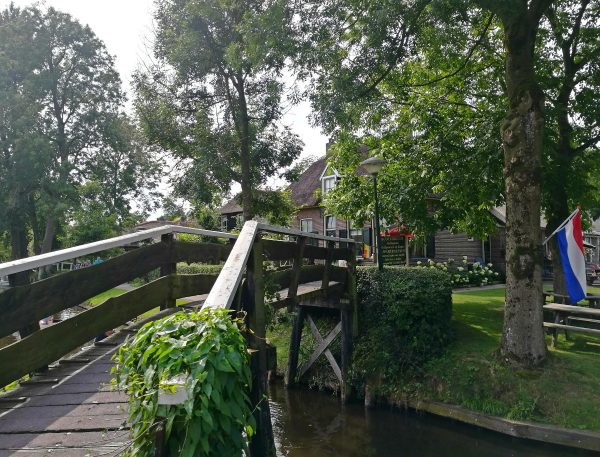 As I noted, it will take about an hour and half by car to get to Giethoorn from Amsterdam. Either driving yourself or going with a tour-bus is probably the easiest way to get to Giethoorn, as it's not as easy to get to by public transport. It is possible though, if you catch a train from Amsterdam to Steenwijk (probably with a train change halfway) and then a bus from Steenwijk into Giethoorn. The whole trip will take you around 2 hours. I would only recommend doing this if you are thinking of staying overnight (or longer) in Giethoorn as it's a lot of time and effort (and money!) for just a day-trip, but it's possible if you really want to see Giethoorn and only have a day. I would recommend hiring a car if you don't own one and maybe combining your visit to Giethoorn with a trip to De Orchideeën Hoeve as well. The two destinations combined make a lovely day-trip from Amsterdam or Lelystad! You can read more about De Orchideeën Hoeve in my post here, and if you are thinking about perhaps staying in Lelystad (much closer to the two places) I've also written a whole guide on fun and free things to do in my current hometown here!
The Truth About Visiting Giethoorn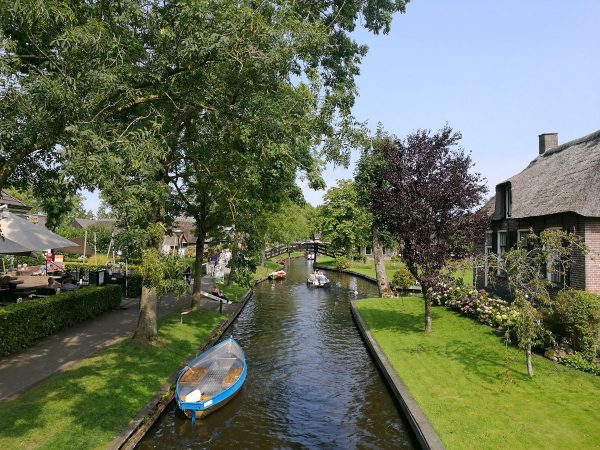 Now that you know the nitty gritty details about Giethoorn and how to get here, I'm going to let you in on a few little secrets that I discovered when visiting this well-known destination for myself! Just think of me as your travel Mythbuster as I sort the facts from fiction so you can make an informed decision for yourself before you go to Giethoorn.
Fact or Fiction: Giethoorn is a town with no roads?
Well, yes and no. Technically, no; the village of Giethoorn does have roads and even car-parks, but there is a large section in the middle that is only accessible by footpath or canal. Most likely, if you've seen a photo of Giethoorn, it's been taken along one main walking strip where there are a lot of canal-side cafes, shops and restaurants; as well as places you can hire whisper boats to explore the canals. Some of Giethoorn's residents would definitely only be able to access their house by canal, which must make grocery shopping and moving house interesting events! But there are roads, so you can arrive by car and even park for free and then walk alongside the canals to see all the famous and most picturesque spots without renting a boat.
Fact or Fiction: Giethoorn is an idyllic, untouched destination?
Well, sorry but I'm going to have to say that this is fiction. You might have heard of Giethoorn being called "The Venice of the Netherlands," or 'Little Venice', and if by Venice you mean 'pretty canals but packed with tourists' then yes, Giethoorn is just like Venice. Giethoorn has become quite a popular destination lately, so you might be rudely surprised when you visit to find it very busy with tour-groups and other visitors, wandering around the paths in packs or clogging up the canals in their rented whisper-boats. I actually found it quite amusing how full of tourists in boats the canals were, many of whom didn't seem to actually know how to steer their little boats, so they were constantly bumping into the edges of the canals and other boats like some sort of slow-motion dodgem' boats. Those peaceful-looking photos of cottages by the water with not a soul in sight? You have to wait quite a while and time your photography skills by the split-second in order to avoid scenes like these two: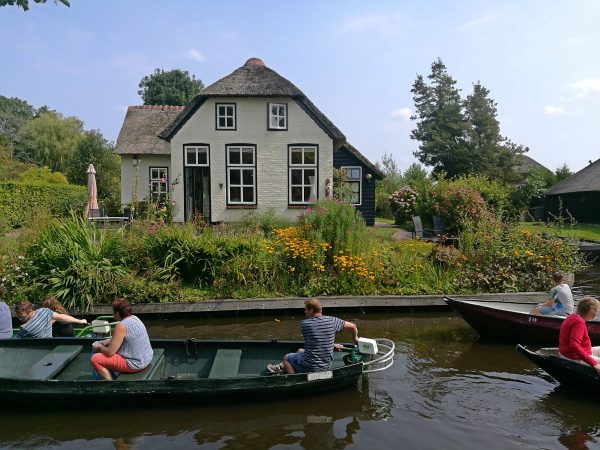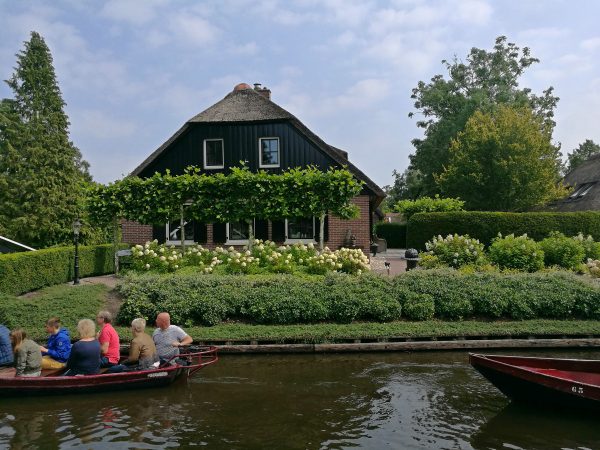 The footpaths beside the canals are quite small, and so many visitors would just randomly stop to take photos, or mill around in packs talking and not moving out of the way of other pedestrians, that it also got a bit frustrating at times. Along with the 'whisper-boats' you can see in the above photo (they thankfully make very little engine sound) there were also much larger tour boats chugging along at times, with tour-guides' amplified voices added to the noise. The boats full of vacationers were often moving along bumper to bumper (when they weren't bumping into each other). Here are some photos of the main part of Giethoorn, complete with hordes of visitors: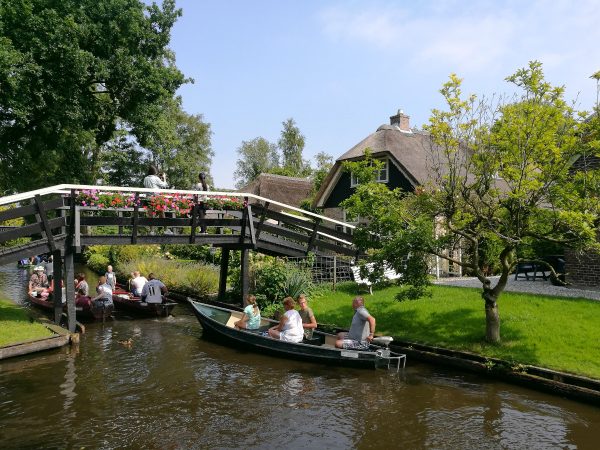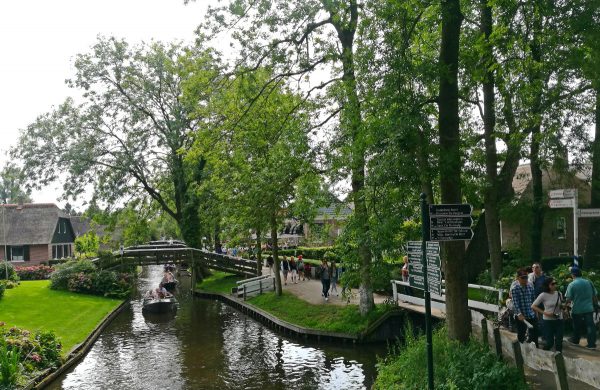 Admittedly we did visit during the August Summer holidays, but we went during a weekday, so I'd hate to see how busy it gets on the weekends! Perhaps it is quieter during the shoulder and off-seasons, although I suspect that it would still be busy unless you were there very early in the morning. However, my moaning aside, let's tackle the last question:
Fact or fiction: Giethoorn is a beautiful destination?
I would have to say, YES! I mean, yeah there's a lot of other tourists, but they don't change the fact that the town itself IS actually very pretty; it wouldn't be so popular if it wasn't. There are boxes of flowers on a lot of the bridges, the houses are all immaculately cared for with beautiful painted shutters and gorgeous gardens. It's also very nice to sit beside the canals and watch the boats and ducks and swans go by, whether you sit on the ground or a bench with a picnic, or in one of the canal-side restaurants.
Some of my favourite photos actually included the people in their boats (like the one above which I think is funny – the teenage girl ignoring the beauty around her to look at her phone) or this lovely one below which was very popular as well when I posted it to my Instagram account: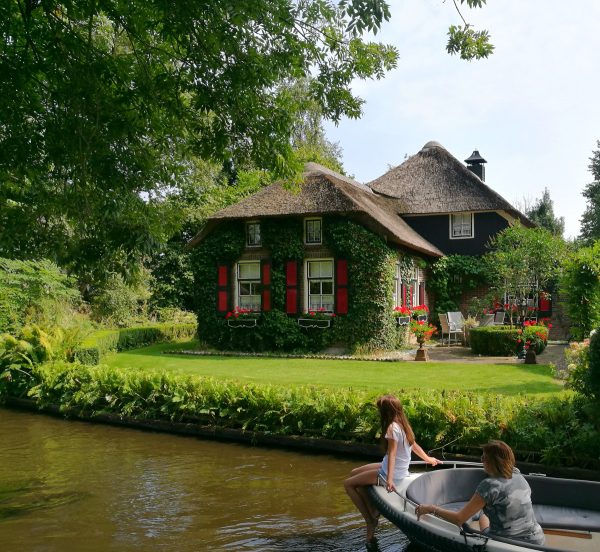 Personally I am not sure I would bother visiting Giethoorn for more than a day, or possibly an overnight trip. Apart from walking along and taking photos, boating along and taking photos, or stopping to eat somewhere; it's not a place with a lot to actually do. There are one or two souvenir shops and two museums, but perhaps that feeling of idle relaxation is what you are looking for on your next vacation. At least now you know the real details about visiting Giethoorn and can decide for yourself how (or if) to do it. Before I sign off, I'll leave you with some more of my favourite pretty photos of the houses you can see in Giethoorn.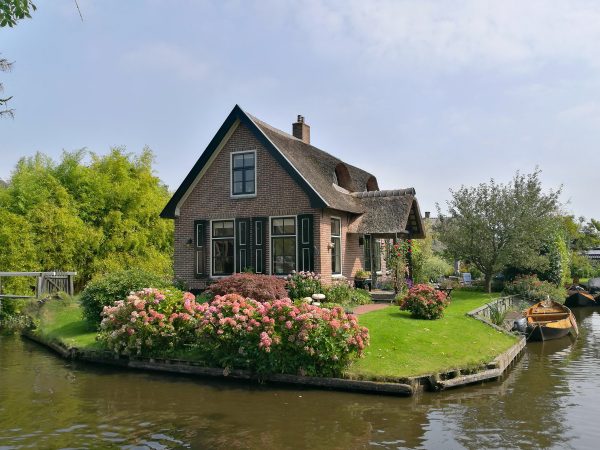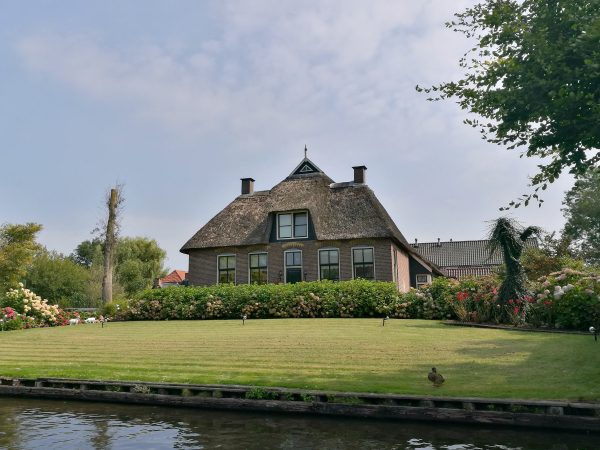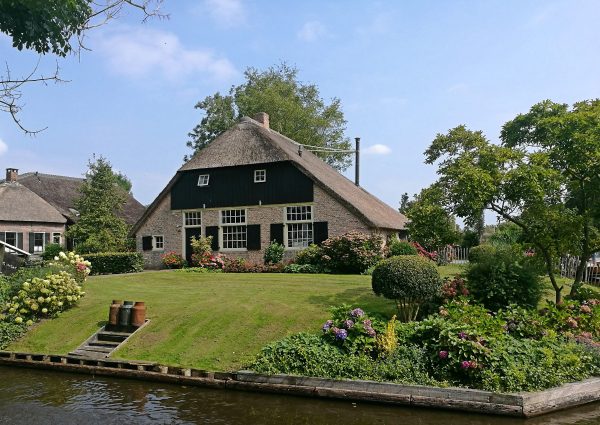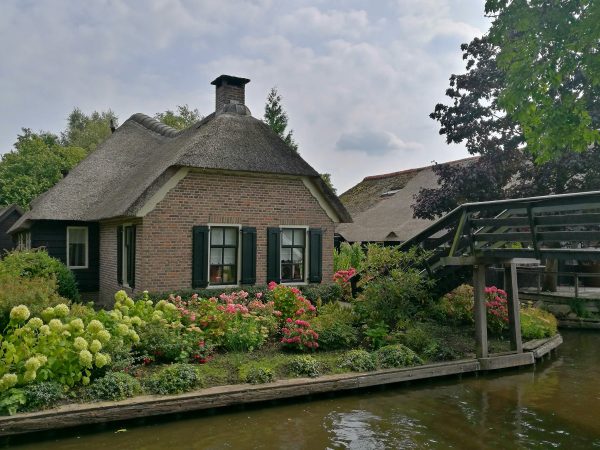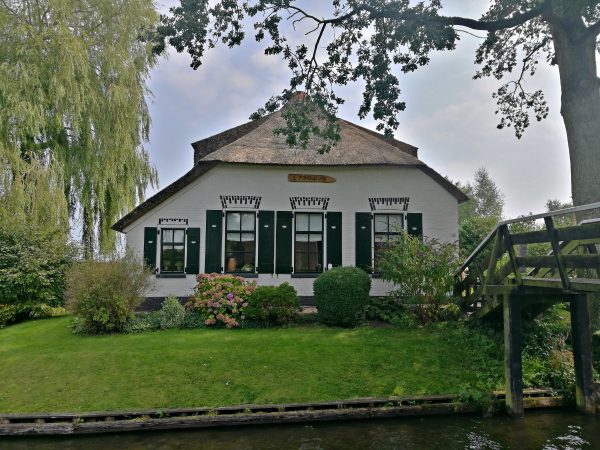 Want to know the best time of year to visit the Netherlands and what events are on at that time?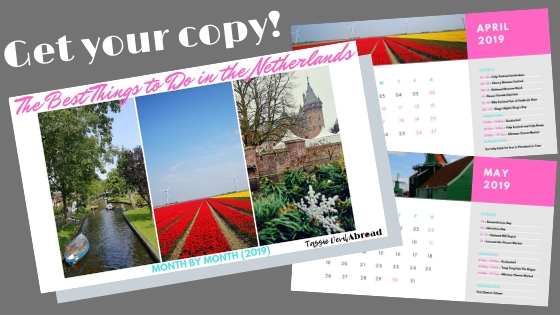 Would you like a calendar with the best events in the Netherlands marked to make it easy for you to remember them all and plan your own travels? Sign up for my mailing list and you'll get this free downloadable calendar as well as regular updates about fun things happening in the Netherlands!
Have you ever dreamed of exploring Giethoorn, or have you been? Let me know in the comments what you think about this famous Dutch town! And don't forget to pin one of these for later if you are planning to ever visit Giethoorn for yourself.