I lived in London for over a year, but I had been dreaming about it and planning to live there for many, many more than that! London is one of those places that seem familiar even if you've never been. Thanks to movies, television, books and popular culture, you're probably already familiar with a LOT of London, but is it any different in reality to how you imagine it? Well, read on for my personal experiences of how reality stacks up to the dream!
This post contains affiliate links. This means that if you follow a link and then purchase or book something, I will earn a small commission at no extra charge to you. This helps me with the costs incurred from running this site and means I can keep bringing you travel content like this. You can read more about this on my privacy page. Thanks for your support!
Food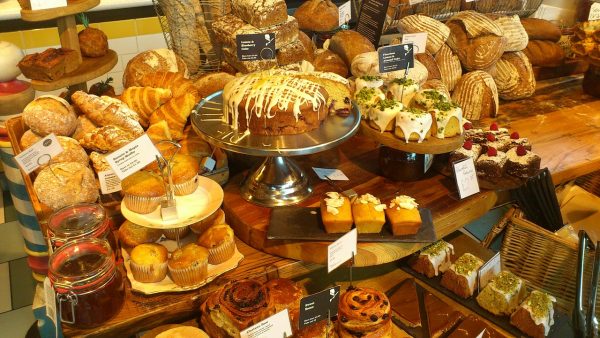 Eating in London is a gourmet's dream. Thanks to the ethnically diverse background of the city, almost any type of food is on offer. From high tea and scones at a fancy restaurant, to the curry shops of Brick Lane, to the smorgasbord of different cuisines at Borough Market, London really does have it all. Most pubs do cheap (and delicious) Sunday roasts and even the school canteens have pretty amazing and cheap food (at least compared to what I was used to in Australia).
The supermarkets are pretty much the same as back home, although there are a lot more pre-packaged meals and not necessarily ones that are bad for you. I lived right near a Sainsbury's so I did practically all my grocery shopping there and the bags of already chopped-up stir-fry veggies and things like that were very convenient and not too expensive. Most of the food in the supermarkets is what you can expect to see back home in Australia, although sometimes things have very odd names. I remember reading about a satsuma a couple of times in the "Harry Potter" books and having no idea what it was. Turns out, it's a mandarin!
Australians often seem to crave a lot of foods back home when travelling, but in London, you can get things like vegemite, milo and Cadbury's chocolate very easily. The only problem is, the Cadbury's chocolate doesn't taste right!! I had to get friends and family to bring or send me chocolate from Australia because I didn't really like the British version! One of my Australian roommates at the time said she thinks there is an extra ingredient in Australian chocolate to keep it from melting which might be why it tastes different in the UK. I'm not sure if that's true, but I definitely missed the taste of chocolate back home!
Another thing that is weird is the chips (crisps) in the UK. While most of the flavours are the same, with a few new ones like prawn thrown in, the thing that confused me was the packaging. In Australia, you know which flavour chips you are getting by the colour of the packet. Usually no matter the brand plain chips are blue, chicken are green, salt and vinegar are pink, barbecue are orange, etc. But in the UK salt and vinegar are green, prawn are pink and all the other colour/flavour combinations are mixed up as well! Even though I know I have bought a packet of salt and vinegar because the packet is green my mouth seems to expect chicken. It's very disconcerting that your mind is programmed to expect a certain flavour with a certain colour and then get confused when it's not!
If you're interested in reading a bit more about the yummy foods in London have a look at some of my other posts such as this one about Borough Market or this one about a cafe in Clapham and this one about Jamie Oliver's hot dog shop!
Weather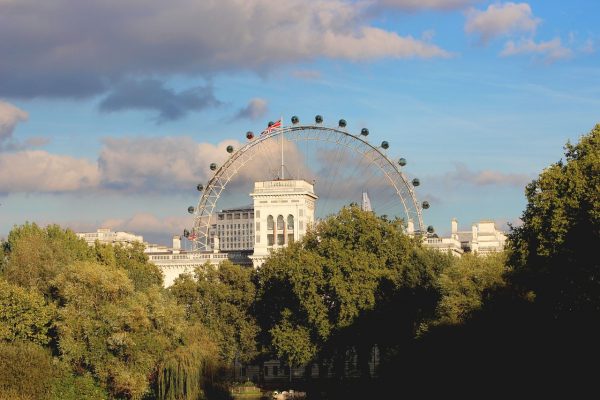 Be honest, when you think of London and the weather, you think rain, don't you? Well you're not the only one. I remember watching the movie "Skyfall" and there's a scene where M gets out of a car in the middle of London and it is absolutely POURING with rain and I was fully resigned to having to put up with rain like that all the time. The reality is it doesn't rain anywhere near as much as you think it does and summer in London is absolutely gorgeous. Maybe I was very lucky with the weather when I lived there, but there were only a few times when it was pouring so much it was ridiculous, but during winter it is usually just grey and cold. Snow is enough of a novelty for me that the first few times I had to go to work in the snow I thought it was awesome, although after a while it does just get to be a nuisance, constantly trying not to slip over. But even when I arrived in London in the middle of January when it was freezing, there was snow on the ground and everything was grey, it was still nice enough that you could walk around outside and see the sights, just not for very long.
As I said, summer is fantastic. It gets lovely and warm; I'm from Tasmania though, so it's not always as hot as other parts of Australia get in Summer. But I happen to think 40 degrees celsius is a bit too hot. The daylight savings in the UK is especially awesome, with it being still broad daylight and warm at nine or ten pm (even 11pm in Scotland!) and there are so many lovely parks in London where you can get out and enjoy the sun. Mind you, everyone else in the city will be doing the same!
Transport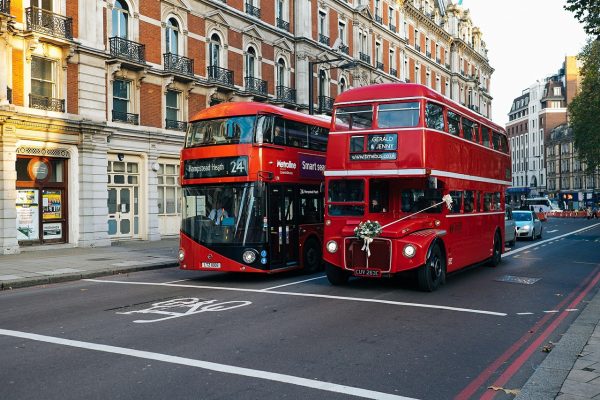 Getting around in London is usually pretty easy once you figure it out. The tube (what everyone calls the Underground train system) in particular is very easy to figure out and pretty convenient to get around with (when it's working of course). I found the ubiquitous red buses a bit more intimidating because there are SO MANY different bus routes, but once you get the hang of the routes near you they are pretty useful as well. The Oyster card is very handy because you can top it up online or at a machine and then just swipe whenever you get on or off the tube or onto a bus. I always quite liked getting the tube, even though it can take quite a while to get from one side of London to another (anywhere around an hour or more) for sightseeing in the main parts of the city it is very fast.
However, getting the tube for work at rush hour is basically one of the levels of Hell. The tube in rush hour is absolutely packed full of other rude, rushing commuters who don't care about squashing you with their bags or shoving you out of the way to get on or off the train first and when this is combined with the sweltering heat down there during Summer it can be an absolute nightmare. If there is any rain, or god forbid, snow, trains will be delayed or cancelled causing you to frantically figure out an alternative route while you call in to work to try and explain why you're probably going to be late. Also, on the weekend huge sections of the tube are usually closed for maintenance (hello Northern Line) meaning you have to catch replacement buses which then take about two hours to travel what would normally take you ten minutes.
Another problem with transport in London (which is hopefully going to be fixed soon) is how late the tube stops running. Even on Friday and Saturday nights, the last train you can catch is usually around midnight. If you want to stay out later then you will either have to catch the night bus (which takes a loooong time to get anywhere) or a taxi (which is incredibly expensive if you need to get all the way from the city centre to, say, Wimbledon). I mean, this is London! One of the busiest cities in the world and yet if you don't want to get home via bus or taxi then you need to leave any event at midnight like some modern-day Cinderella! Even in Melbourne which is nowhere near as big or as busy as London the trains run later than that! Luckily they are introducing a night service on the tube for Friday and Saturday nights, meant to be rolling out in September this year. London transport is finally catching up to the rest of the world as far as night-time transport goes!
People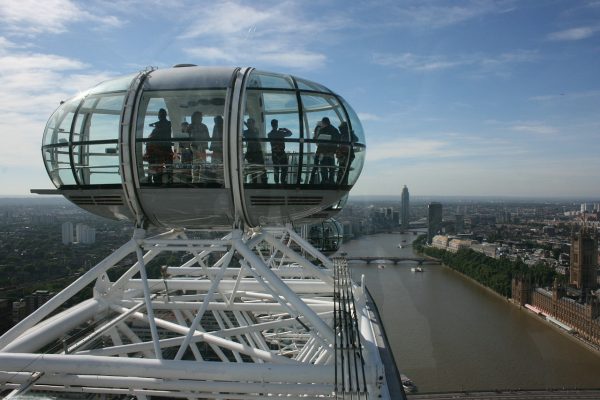 When it comes to the people you'll meet in London, well, be prepared to meet a lot of Aussies! Obviously, this is one of the most culturally diverse cities in the world, but the fact is if you are from another country you will inevitably find yourself meeting a lot of people from back home. Especially if you are a teacher! When I moved to London I moved into a share-house and I knew none of the other tenants before I arrived but lo and behold, two of the three were also Australian teachers! After they had moved out we got two Canadian teachers and when one of them moved out we got…another Aussie! The teaching company I worked for also had a lot of Australians (and Canadians). A student I was doing supply for once said "Why are all our supply teachers Australian"? I mean obviously, a lot of Australians and Australian teachers do the two-year thing in London, some neighbourhoods in London are full of Aussies, but if you don't make the effort to socialise outside these circles you could end up spending your entire time still in the company of other Australians. This is also a problem when on European tours.
I got a bit annoyed with all of the Aussies to be honest, on tours they're usually very young and only interested in partying, and I thought that if I wanted to just hang out with other Australians then I would have just stayed in Australia! But if you want to make the effort you can meet and make friends with 'real' Londoners (although admittedly not many people who live in London are actually from London) and people from places other than Australia. I used a social meetup website called Citysocializer and went to a few events like comedy clubs where I met other British people who I often hung out with and if you work anywhere long enough to make friends with your co-workers this can also make a big difference. In the city centre however, all you will ever find are tourists and after only a couple of weeks of living there you will start getting annoyed with the 'bloody tourists' walking really slowly everywhere while they look at their maps and take photos!
Attractions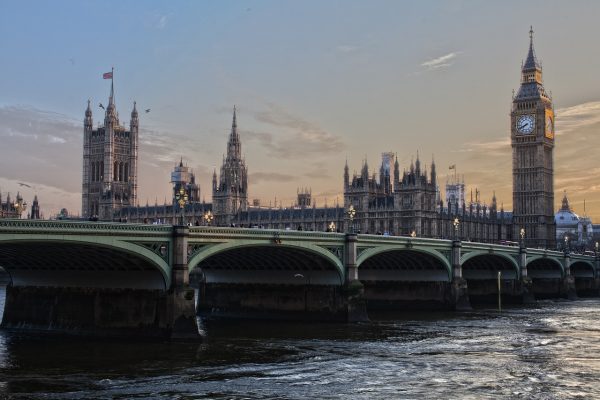 London's attractions are of course the big draw-card for tourists everywhere, and no matter how many films or television shows you have seen you will still get excited when you see Big Ben and the Houses of Parliament in real life. This is one part where the reality has not been exaggerated. There are so many amazing historically important places in London as well as amazing museums and beautiful places like Greenwich Park and Hyde Park. If you just want to walk around and take photos then remember that most of the attractions in the city centre are actually really close together, you don't actually need to get the Tube two stops from one to the other because it's literally two blocks away. If you want to get inside all the big attractions like Westminster, the Tower of London, Tower Bridge or St. Paul's Cathedral then be prepared to shell out the big bucks. A good idea is to get a London Pass – you pay one price and it covers the cost of a lot of these transactions for a discount.
There are also plenty of free things to do and see in London without paying money. Nearly all of the museums and art galleries are free, there are markets everywhere, beautiful parks and places to just wander around and savour life in London, for example along the South Bank of the Thames. Make sure you time your visit to the front gates of Buckingham Palace with the daily 'changing of the guard' ceremony (at 11am) for as much free pomp and circumstance as you could wish to see. As Samuel Johnson said "When a man is tired of London he is tired of life; for there is in London all that life can afford" he really wasn't exaggerating. I don't think I would ever get tired of the thrill of crossing the Thames on the Millenium Bridge or wandering around Covent Garden.
Culture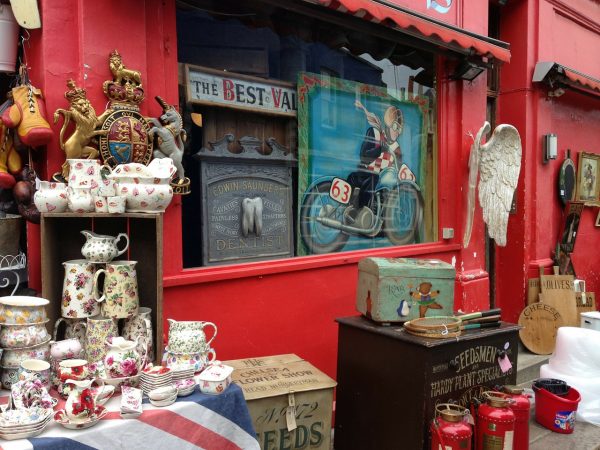 As I mentioned above, London is packed to the brim with art galleries, theatres and museums for you to get as much culture as you could possibly wish. Best of all most of the museums and art galleries are completely free and some even have special Friday night 'lates' during the Summer months. I would definitely recommend making sure you see at least one musical in London as they are fantastic. If you go to the theatre in the morning of the day you want to see it you can get special deals; my friend and I got almost half-price tickets and were in the front row to see 'Wicked' when we did this! Of course there are amazing festivals throughout the year in London, such as the well-known Notting Hill Carnival, Pride Festival and as many live music festivals as you can poke a stick at; as well as quirkier events such as the International Pillow Fight Day which is held in Trafalgar Square in London (April 4th in case you were wondering).
Some of the 'must-do' British cultural events/sites include a traditional pub meal, a visit to Shakespeare's Globe Theatre and attendance at a sporting event such as the Wimbledon Tennis Championships, the Ashes, Royal Ascot or a soccer match! Then of course there's the shopping for antiques on Notting Hill Road, picnicking in one of the many parks, having High Tea at a fancy restaurant or tea house and getting lost in Harrod's at least once. And of course, as I've mentioned, with so many different nationalities within this city there are so many different cultures that you can experience, with more festivals, foods and whole neighbourhoods where you can get a taste of cultures different from your own.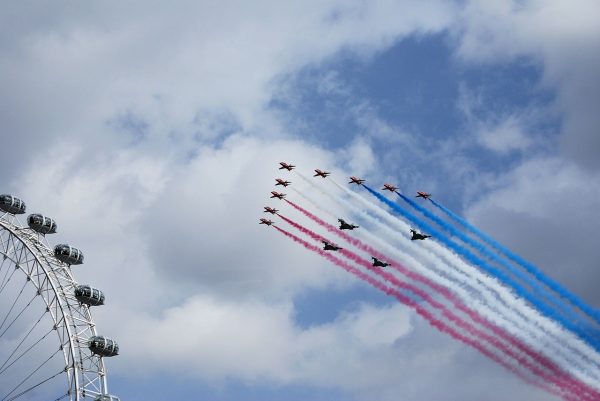 I could go on and on for a very long time about London and living there, but hopefully, this post has given you a bit of a taste of how awesome (and occasionally annoying) it really is! What is your favourite thing about living in London, or what would you most want to see if you had the chance to visit? Let me know! And here's another post on what it's like to live in the Netherlands, if you're interested!