Well, as I told you last week, the next stop on our little holiday road trip around the Netherlands was the town of Franeker, in Friesland, to visit the Eise Eisinga Planetarium. I had read an article about quirky things to do in the North of the Netherlands and this one sounded the most interesting. Friesland is a province of the Netherlands (where Friesian horses come from!) and the town of Franeker is a lovely little canal town not far from Leeuwarden, the capital of Friesland.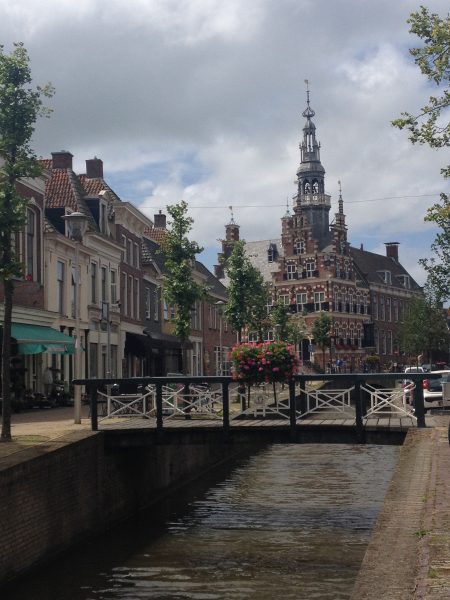 We parked the car and headed for the planetarium, although I became a bit distracted by this quirky little crooked building along the way: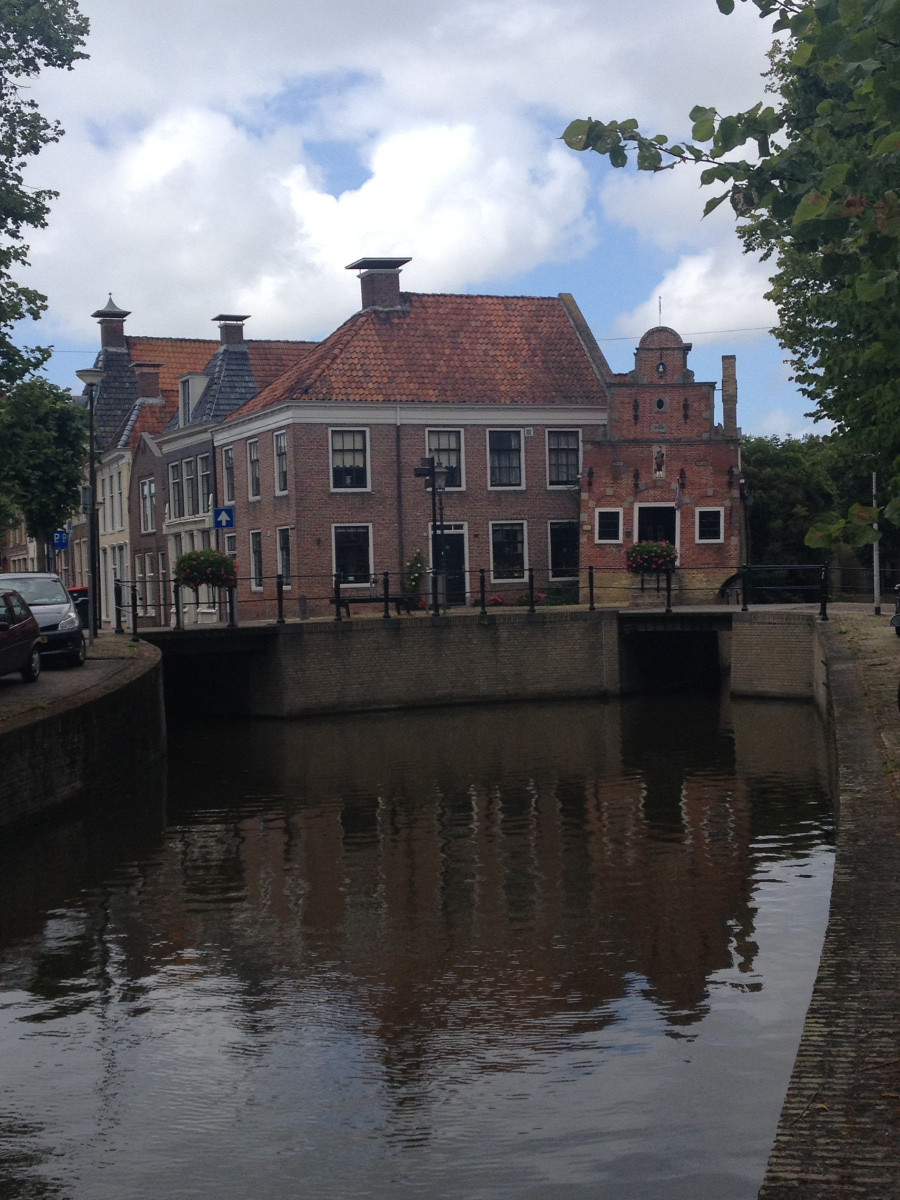 Notice the Friesian flag there, with little hearts on it? So cute! Although I think they might be supposed to be tulips rather than hearts, still, it's a cute flag. ~UPDATE~ A friendly (Frisian, I think) person on Twitter let me know that these are actually Pompeblêden – meant to represent the leaves of a water lily and a heraldic device. Fancy that! Read more about them here. It's always nice to know people are reading the blog and I don't mind being corrected because I like to get my facts straight. Thanks to @Kalti on Twitter!
This little canalside building turned out to be another (tiny) little museum piece called the Korendragerhuisje. It's only one little room but has some displays about grain harvesting in the area. Oh, and it's free!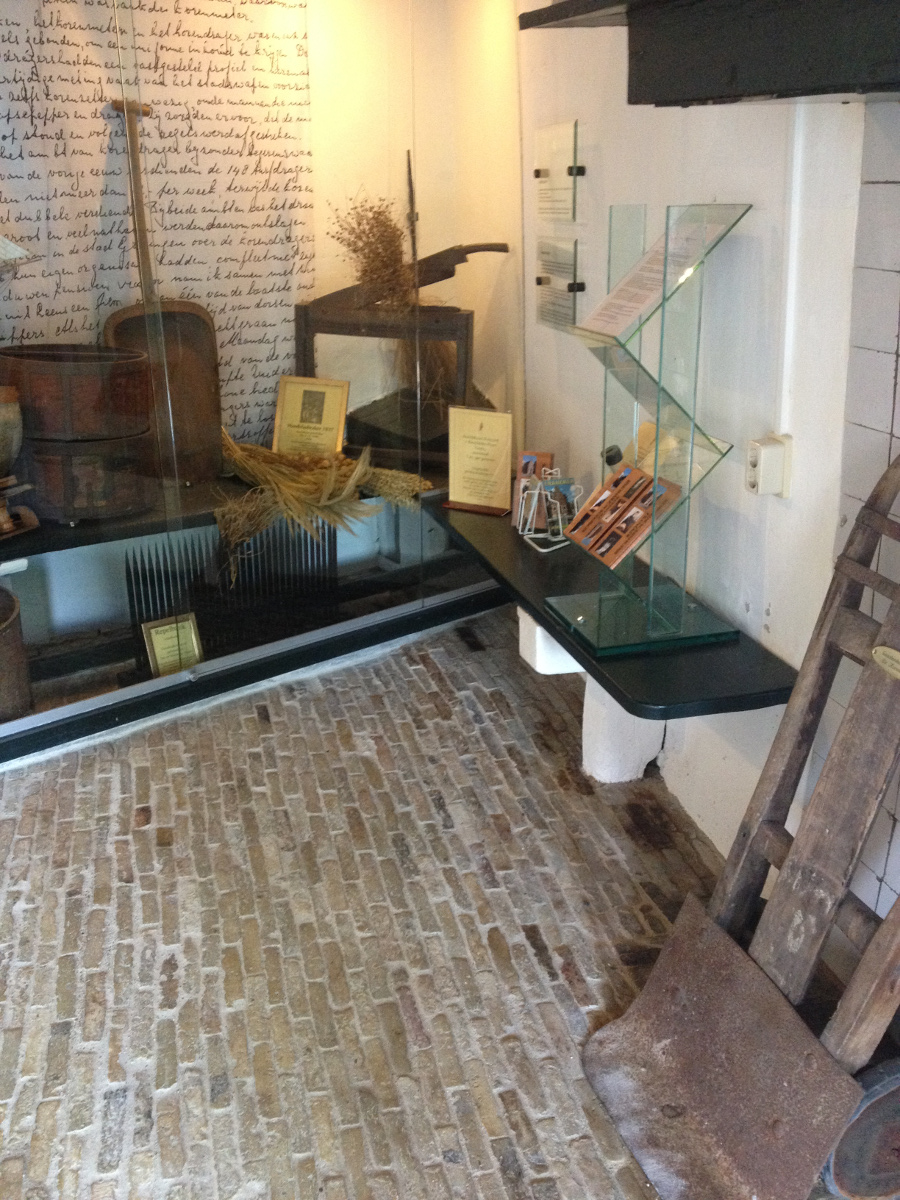 I loved the building itself, which was built in 1634, and the lovely old house it stood next to.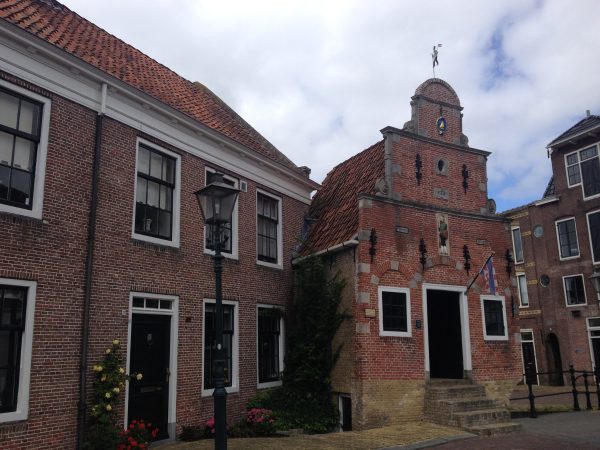 We continued up the street a little way, and came to the main attraction – the planetarium!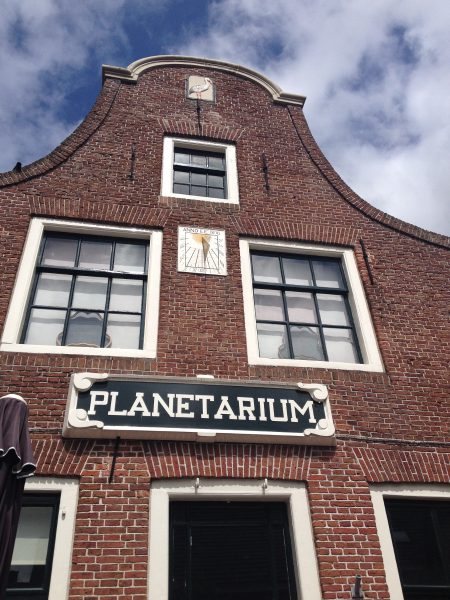 Basically, this planetarium and museum is in a canal-house, where wool-carder Eise Eisinga decided to build a working model of the solar system on his living room ceiling (as you do)! What's especially interesting is that he didn't have any formal education in astronomy and was a completely self-taught amateur who managed to create an accurate moving model of the solar system (that still works to this day) in his living room.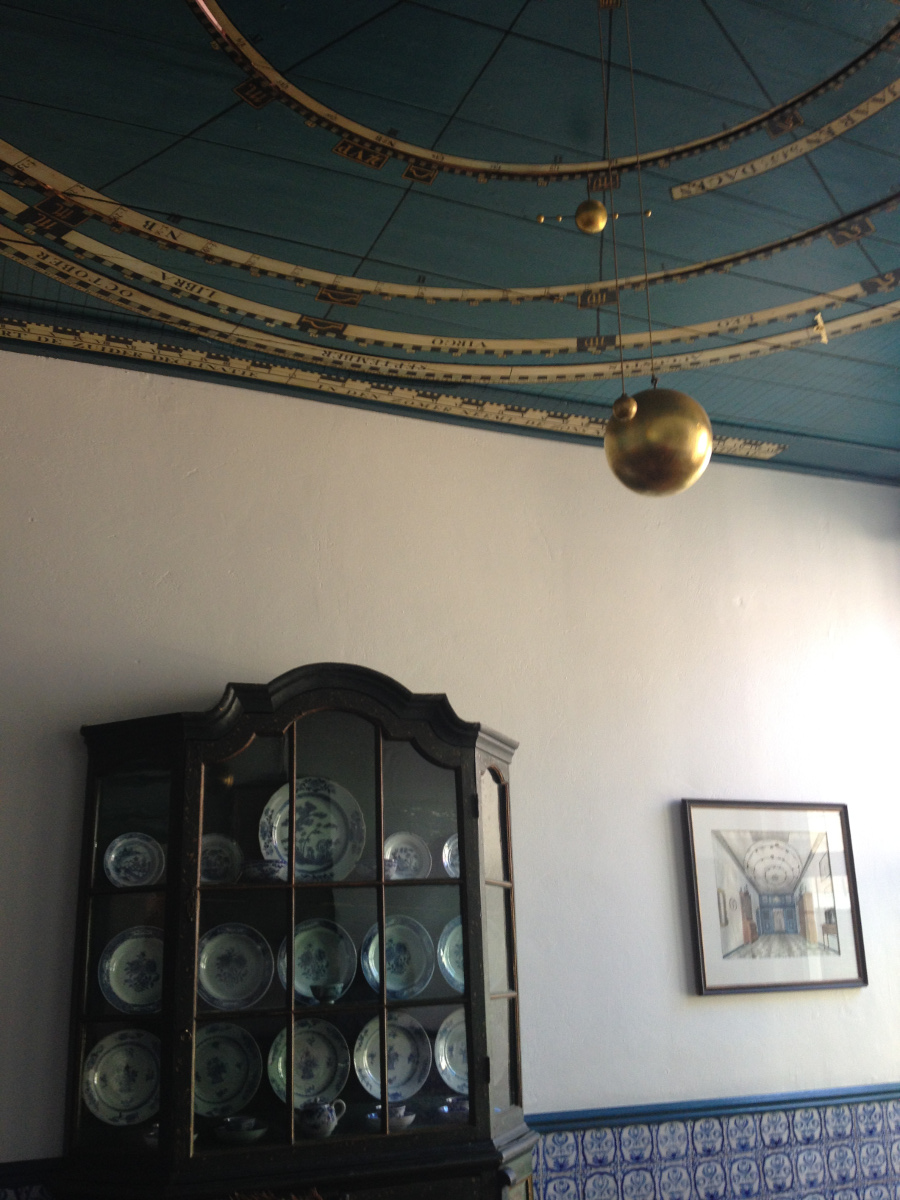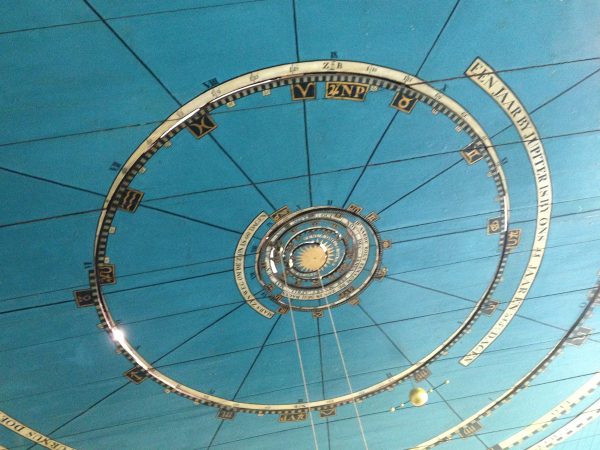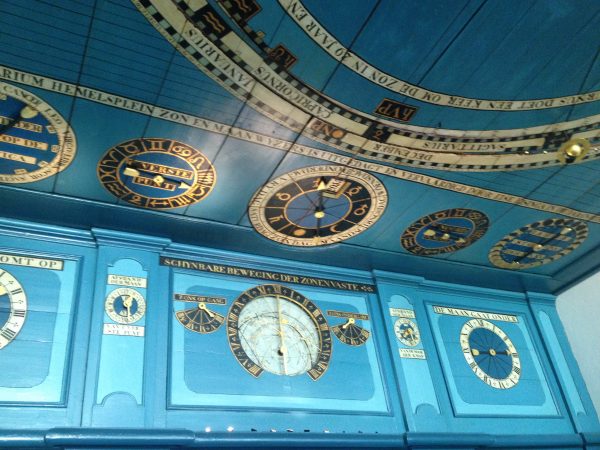 He built it between the years 1774 and 1781 to show people that there would be no reason to panic when a conjunction of planets was due to occur on the 8th of May 1774. Apparently, people believed that the planets were going to collide with each other and cause the Earth to be pulled from its orbit and then incinerated by the sun!
As you go up some (VERY steep) stairs to the next level you can see the mechanism he used to keep the planets in motion.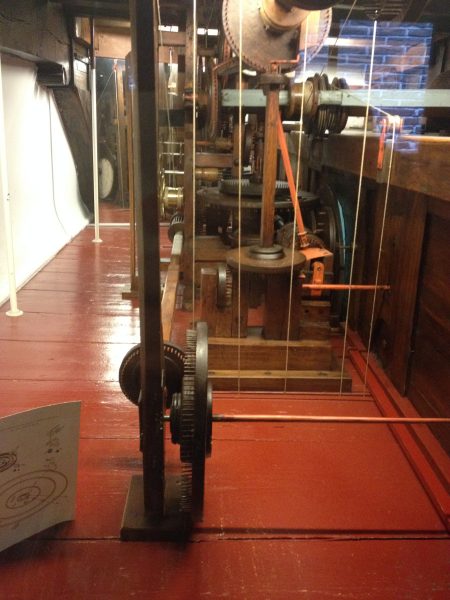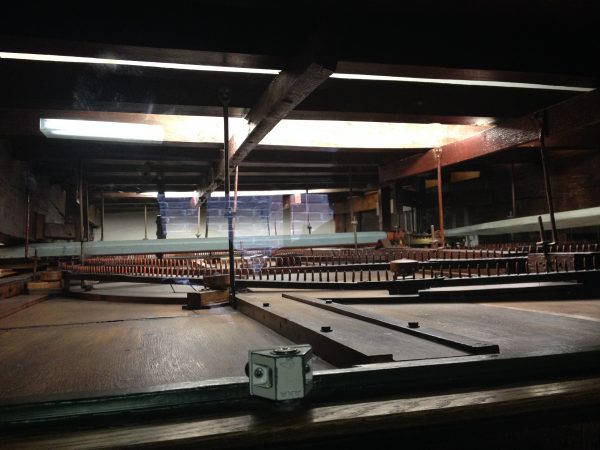 Mind your head!
The house itself is interesting, Dutch people must have been a lot shorter back then, as the ceiling upstairs was very low – even I had to duck! There were also lots of interesting displays of astronomical equipment such as telescopes, globes and sundials as well as a room dedicated to Eisinga's occupation as a wool-comber.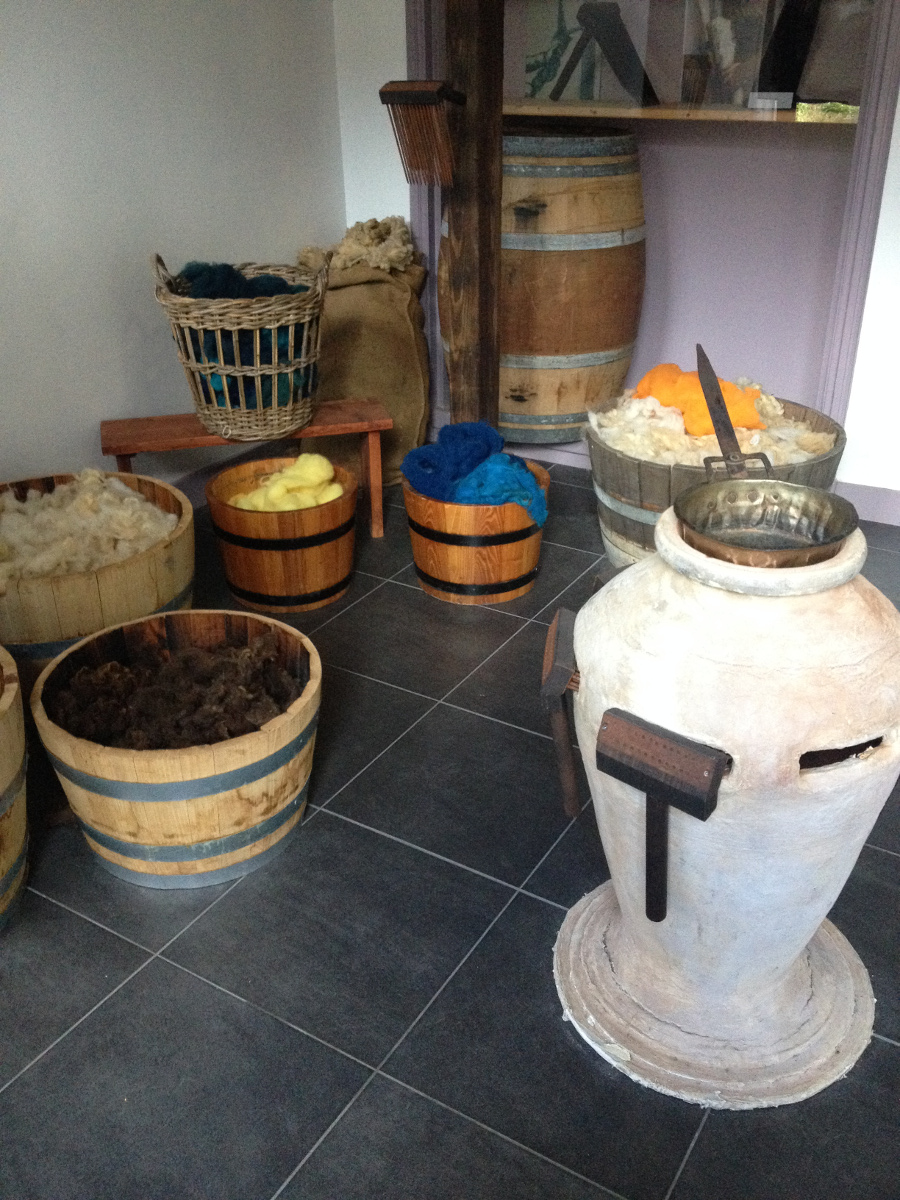 You couldn't go outside but I also thought the garden outside looked lovely, complete with more sundials and astronomy-based decorations!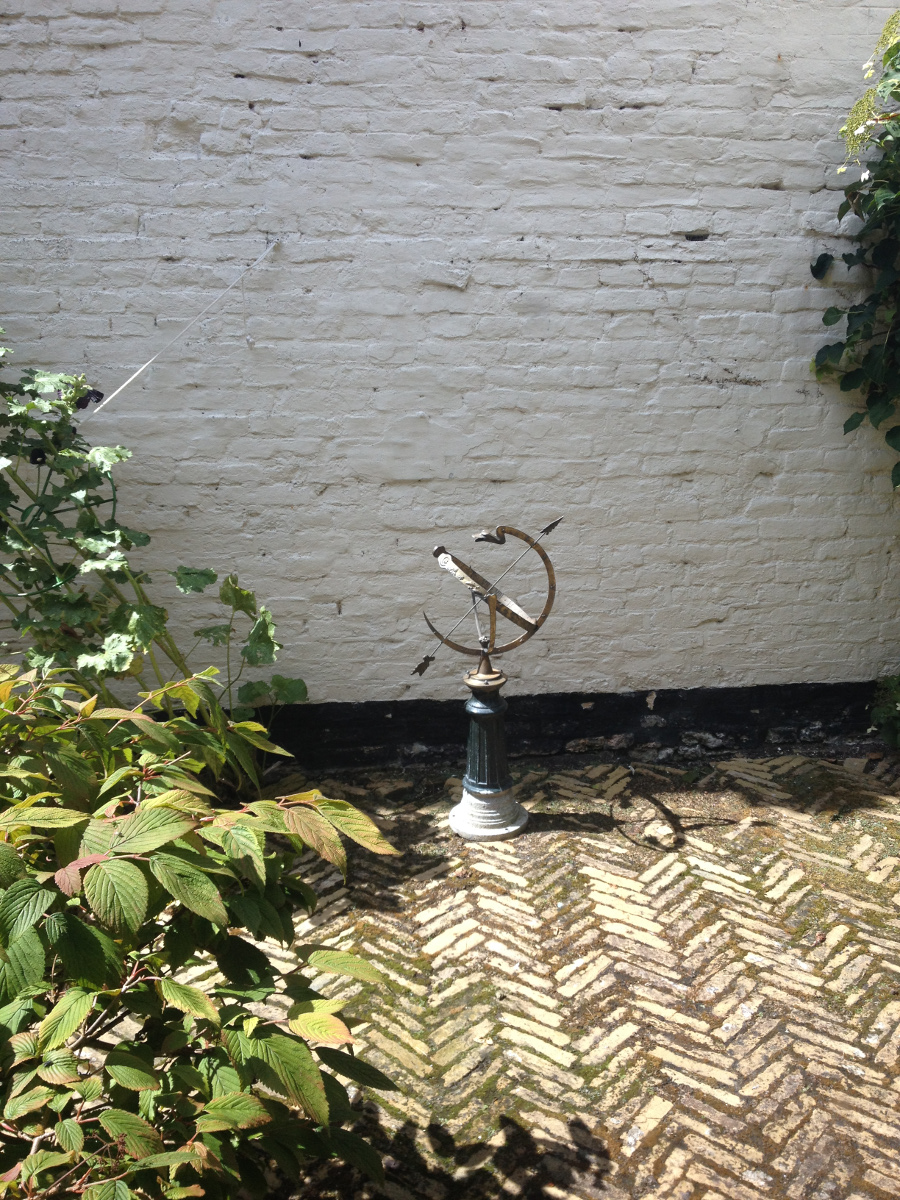 The rooms were lovely too – just look at those windows, the ceiling in the photo below and the old grandfather clock!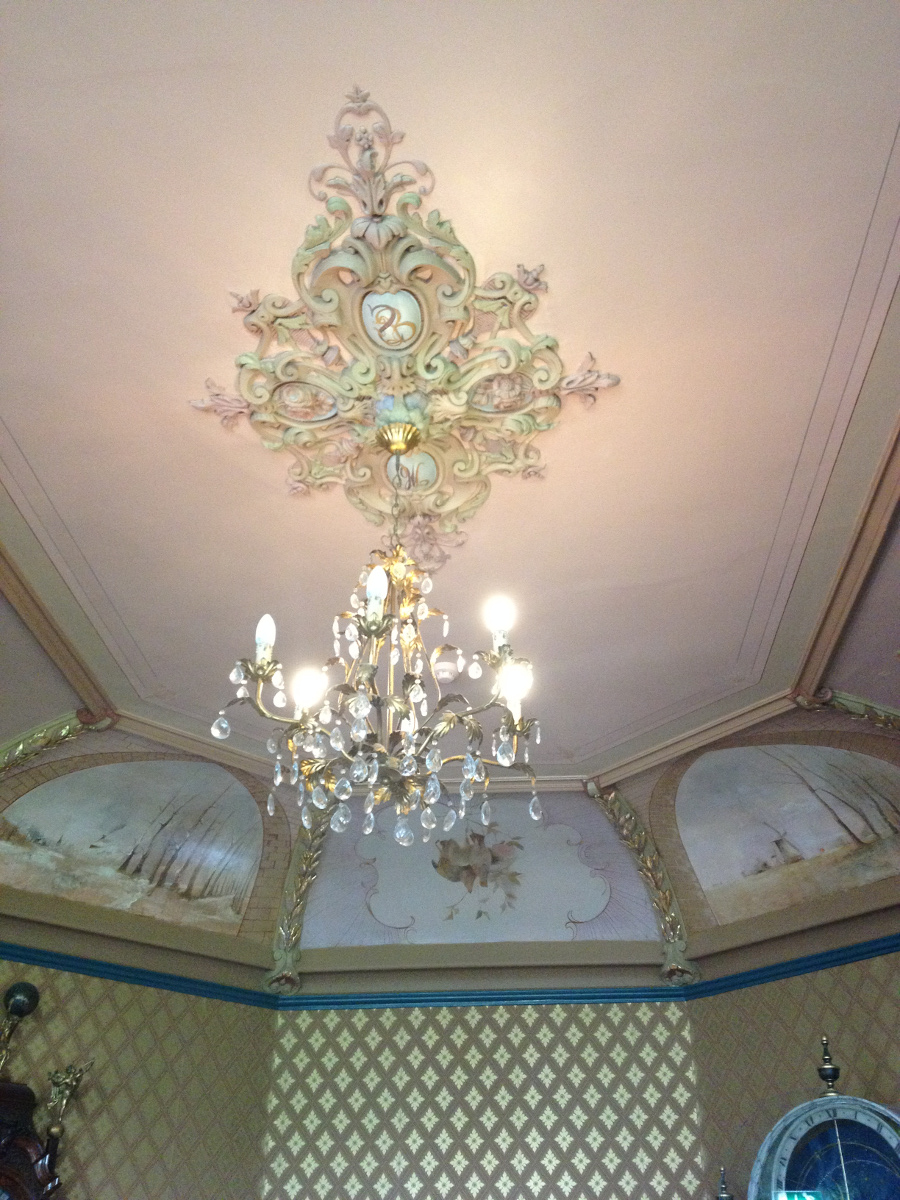 After we had visited the planetarium we had a little wander around the town of Franeker. There was a lovely old church which was hosting an art exhibition so we popped in for a look at that.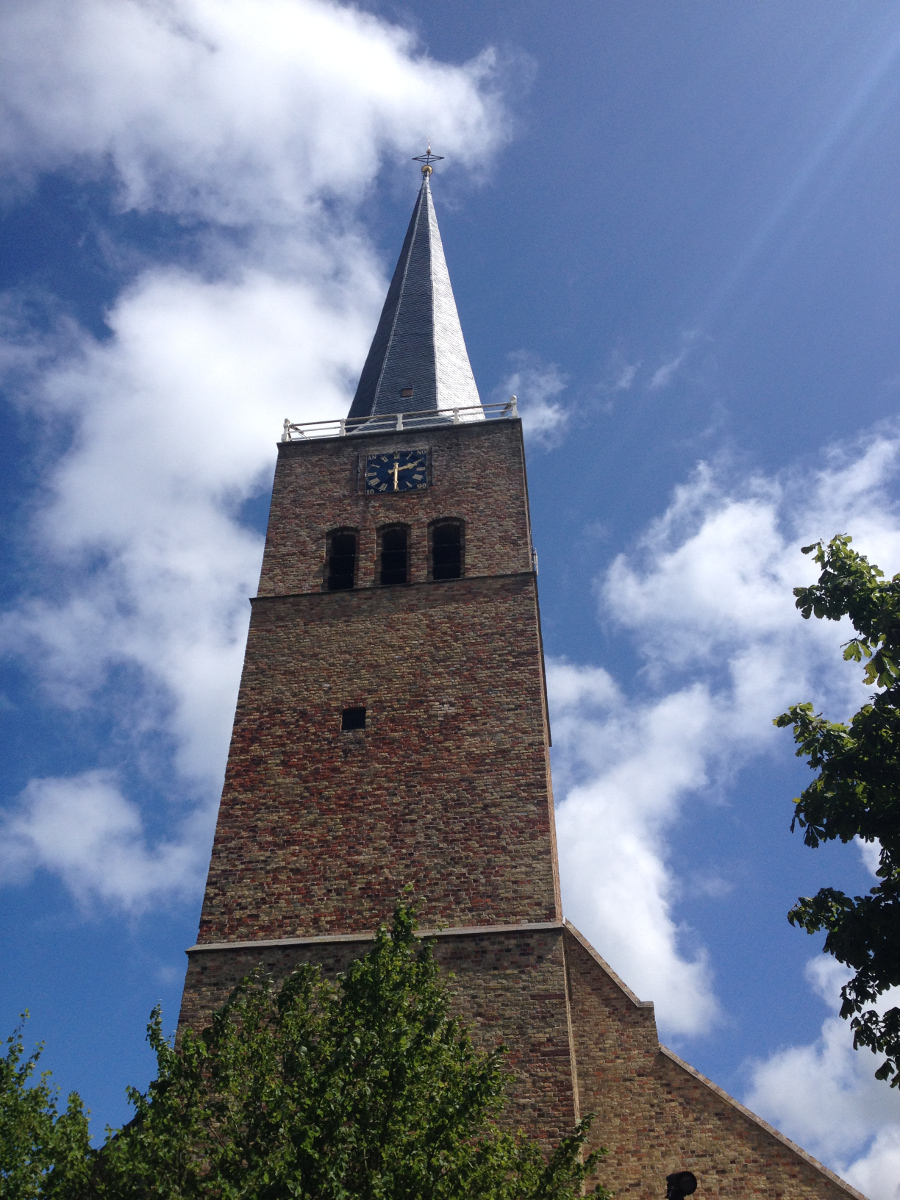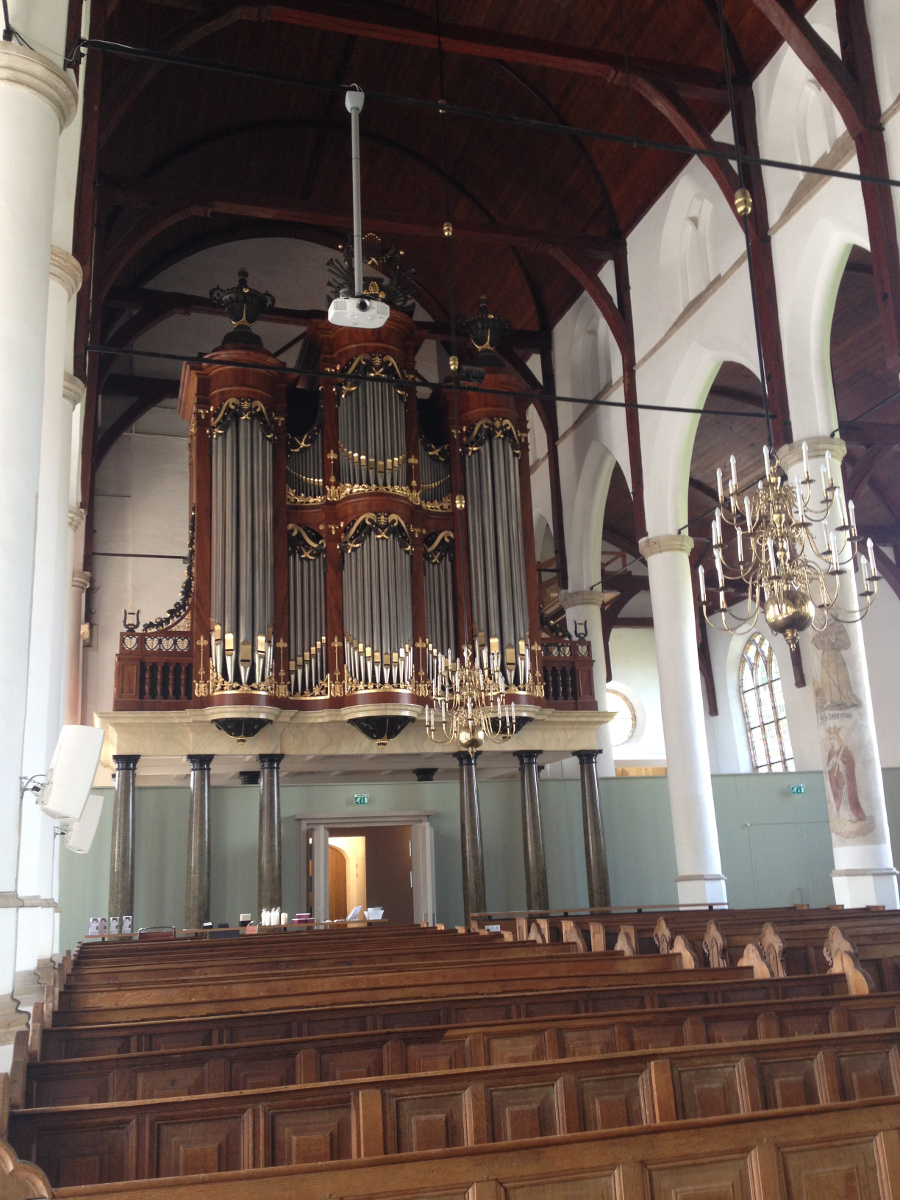 I loved the paintings on the columns, I'm not sure if they were part of the exhibition or always there though.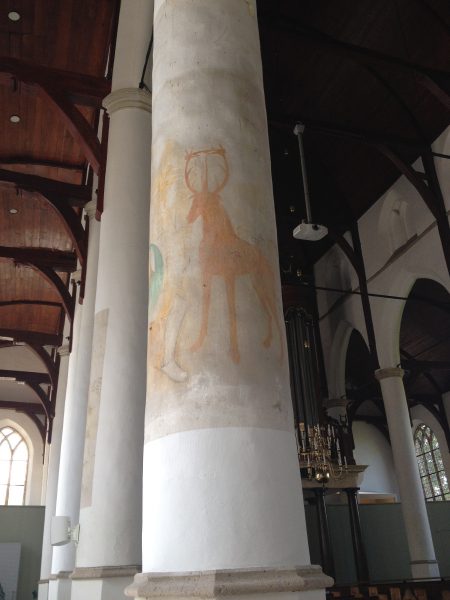 Light coming through a stained-glass window made this lovely dappled effect on the stones.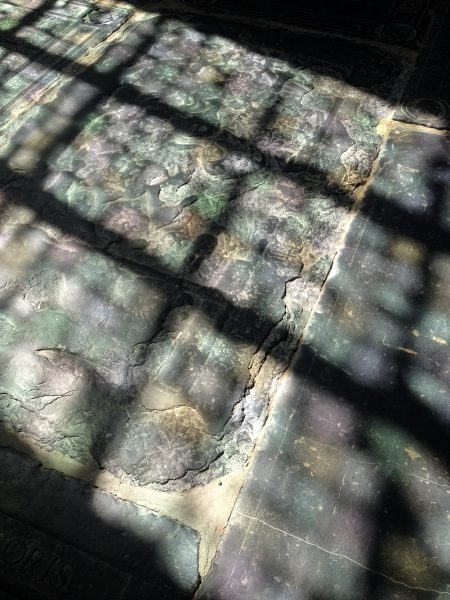 I just had to include this photo of the local bakery – how Dutch can you get?!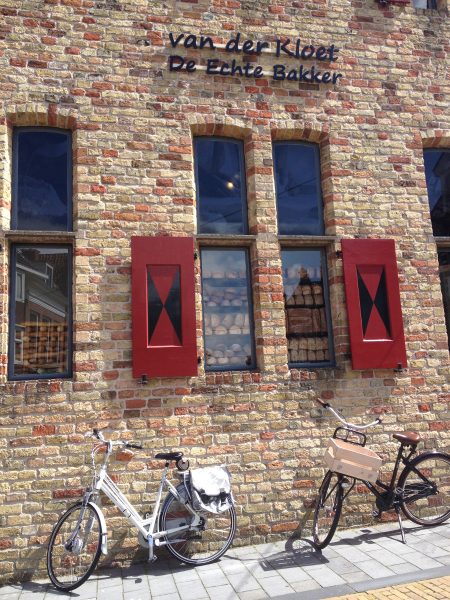 All in all the town of Franeker and the Eise Eisinga Planetarium are definitely worth a visit if you are in the neighbourhood. If you'd like more information about the planetarium there is a website here. It costs around six euros for adults and five for children, but make sure you wander around the town to enjoy the atmosphere and architecture as well!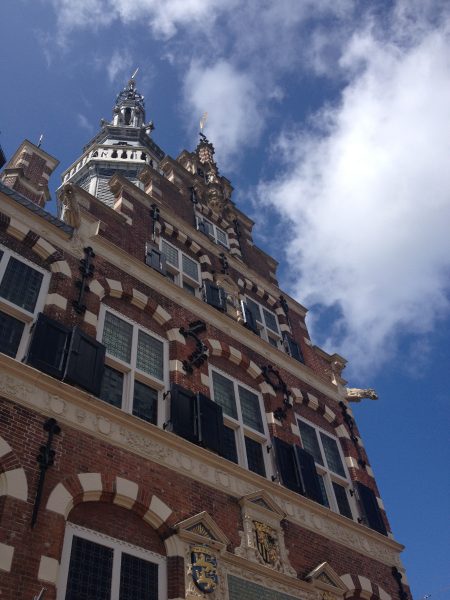 Are you into astronomy? Where is the coolest planetarium you've ever visited? Let me know in the comments and stay tuned for next week's post about an old lolly shop museum in Leeuwarden!