If you follow me on Instagram or Facebook then you will already know that this last weekend I visited Efteling! Efteling is a Dutch theme park (sometimes called the Dutch answer to Disneyland) and I have wanted to visit it for quite some time. Well, luckily Dennis's dad decided that he wanted to go with the family for his 60th birthday, so I got to experience Efteling for the first time during their special 'Winter Efteling'! I had an amazing time and we are already planning to go back again next year, (when it's a bit warmer) to see the parts we didn't manage to see in one day. Read on to find out more about this magical Dutch attraction and why you should visit!
About Efteling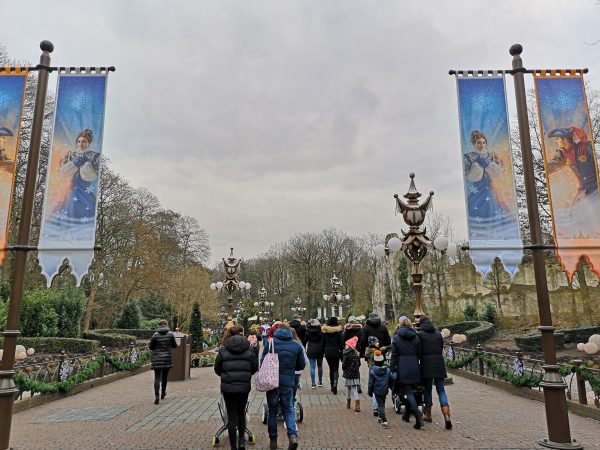 Efteling is located in a town called Kaatsheuvel, near to Breda and Tilburg. It's about an hour and twenty minutes from Amsterdam by car, around two hours by public transport. It is the largest theme park in the Netherlands and one of the oldest in the world, in fact, it was actually opened three years before the original Disneyland in California (in 1952) and is twice as large! It is fantasy and fairytale themed; the first attraction was the Fairytale Forest which was designed by Dutch illustrator Anton Pieck. Everything that has been added to the park over the years has kept to the same whimsical style of Anton Pieck, which I really liked. The park is divided into five realms; Reizenrijk (Travel Realm), Marerijk (Fairy Realm), Ruigrijk (Adventure Realm), Fantasierijk (Fantasy Realm) and Anderrijk (Other Realm). There are roller-coasters and 'experience rides', performances, a steam train, lots of different places to eat and drink and a pretty spectacular sound and light show!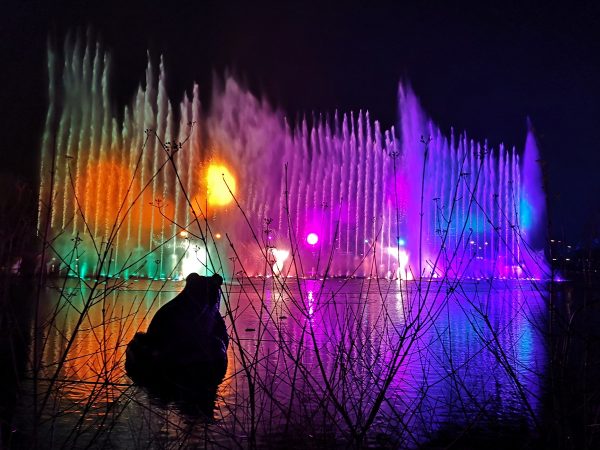 It used to be closed during the winter period, but now it has a special winter event where everything is decorated for Christmas and there's also a lot of seasonal food and drinks on offer. During winter some of the rides are closed for maintenance (or because it's too cold) but there's still plenty to do, as evidenced by us not getting to everything even though we were there for the entire day! While a lot of it is designed for children there's certainly also a lot of rides that are not suitable for young children, so it's just as fun for teens and adults. As well as the theme park there are also two hotels, a golf course, a theatre and two holiday villages attached to the resort. Prices are pretty steep, but once you are in the park you don't need to pay for rides once inside, only for any food, drinks or souvenirs you might want. Make sure you check out the official website for all the details about visiting!
What to do at Efteling!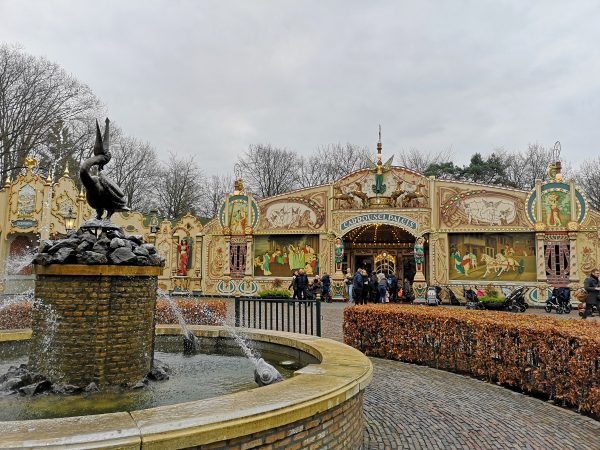 There is SO much to do at Efteling that you will definitely want to plan at least an entire day, and possibly two, to try and see everything. Bear in mind that some of the rides can have very long queuing times, so make sure you download the app on your phone before you go, as it will show you estimated waiting times for all the rides/attractions. Just search for Efteling on Google play or the Apple store. It's also handy to be able to see where you are on the map when you're trying to figure out how to get to certain parts!
The Rides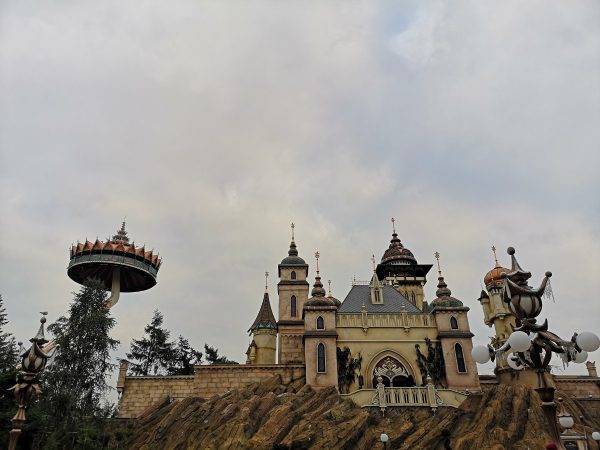 There are two kinds of rides at Efteling. You have your 'normal' theme park rides such as the roller-coasters and Ferris-wheel types of things, and then they also have these rides they call experiences where you are riding in something but it's more to look at cool stuff rather than flying through the air at super high speeds. These are usually the family rides, so they won't be too scary for children but I still found them amazing, especially as I don't really like rides that are scary. I told Dennis I wouldn't go on anything that goes upside down because I hate those sorts of rides! The experience rides kind of take you through a journey through a magical realm and the decorations, music and moving models were absolutely enchanting. Some of them even pump certain smells into the ride at different times to just add to the experience! I really loved the Droomvlucht (Dreamflight) ride which was exploring a magical forest with fairies and unicorns. I've shared a video a bit further down which has a couple of clips from this one.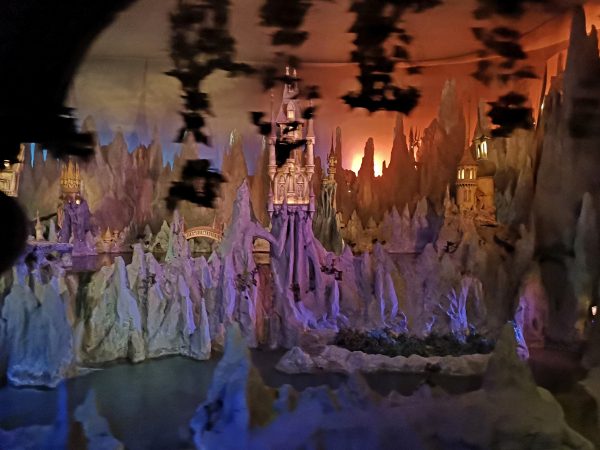 They did have quite long queing times, but to be honest I think they were worth it. Admittedly I've never actually been to a theme park before but I was pretty impressed with how cool and fun the rides were! I would have liked to have gone on the Joris en de Draak (Joris and the Dragon) rollercoaster but we ran out of time. I also think I will try the Flying Dutchman next time (it was closed for winter) although I don't think I'm brave enough for the Python or Baron 1898!
The Fairytale Forest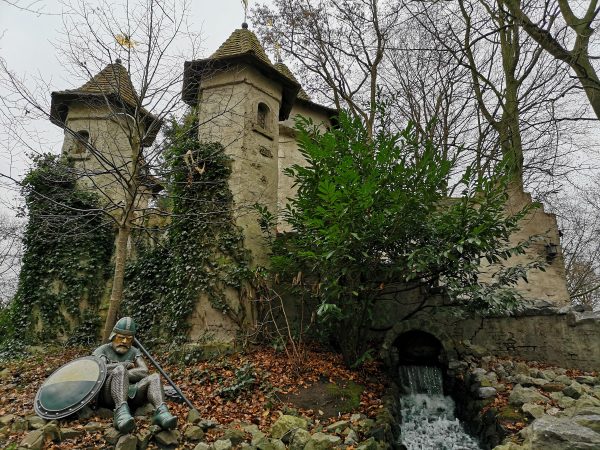 I absolutely loved the fairytale forest! It's literally a wooded area where you walk along and see models (often moving) showing famous fairy tales such as Sleeping Beauty, Little Red Riding Hood and Rapunzel. These are the traditional versions of the fairytales, some of them are narrated (in Dutch) and all of them have a little display explaining the story in Dutch, English, French and German. Dennis actually commented after listening to the story of Rapunzel that it was very different from the Disney version (Tangled) and he hadn't known the original before. I like that here you get the original stories from the Brothers Grimm, Hans Christian Anderson, Charles Perrault and so on.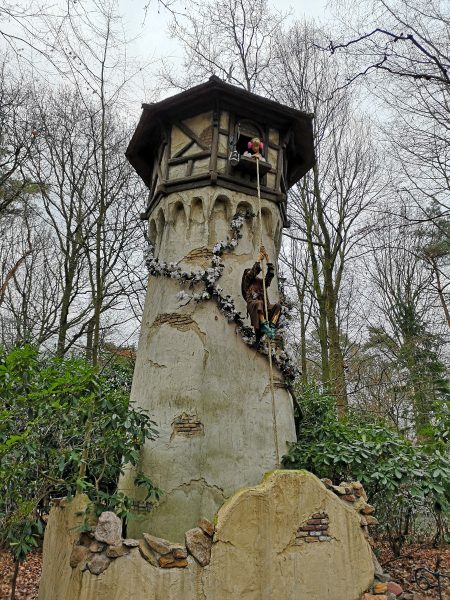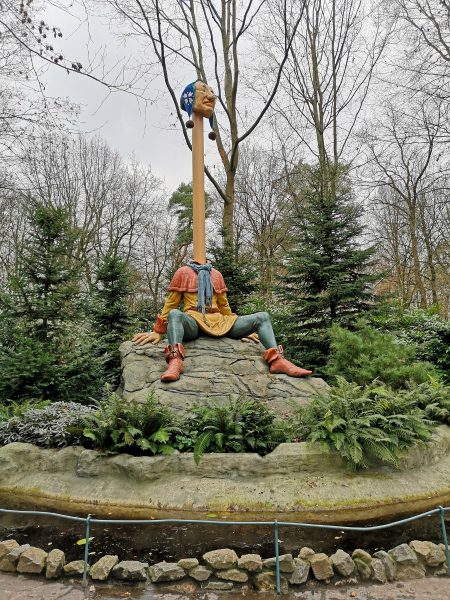 Most of these have cute little additions for winter; for example, Rapunzel was wearing some bright pink earmuffs and the long-neck guy from The Six Servants had a winter hat, scarf and snow dripping from his nose! Inside the houses that you could see into there were also Christmas decorations and sometimes presents as well. As usual, I took way too many photos so here's a little gallery and you can look at them all if you want or just keep scrolling to the next part!
The Performances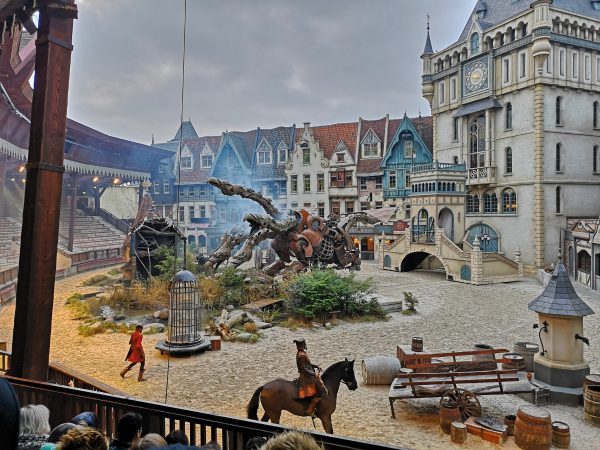 There are a few performances throughout the park meant for small children, but the one I wanted to see was called Raveleijn and featured stunt-riders on horseback and a fantasy story! They have five performances a day and I loved it! It's all in Dutch so I didn't understand everything they were saying but I could mostly follow the story which was a pretty standard fantasy one, but I loved the special effects and tricks. As well as the beautiful horses they had trained ravens and (as you can see in the picture above) a pretty awesome steampunk dragon with multiple heads that all spat fire! Make sure you watch the video down below to see some clips of this awesome show.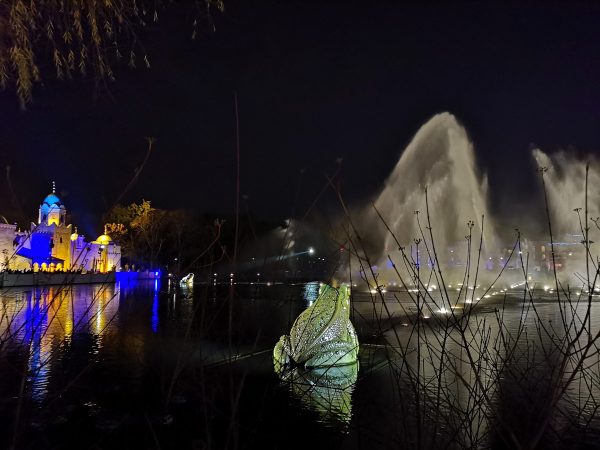 My other favourite show was the simply stunning Aquanura; a sound, light, water and fire show! If you read my post about the Country and Christmas Fair at Castle de Haar you will know I was pretty impressed by the one they had, but the Efteling one was massive! Of course, this one is permanent whereas the one at De Haar is only set up for a week, and Aquanura is actually the largest water show in Europe. Aquanura has four giant frogs that start the story off – sort of telling the tale of the Frog Prince. The Bazaar where the Fata Morgana ride is located overlooks the pond and as you can see in the picture above, also looks very beautiful at night! The show goes for about 11 minutes and was breathtaking. Make sure you check out some of the video of it down below… 😉
Other Attractions/Sights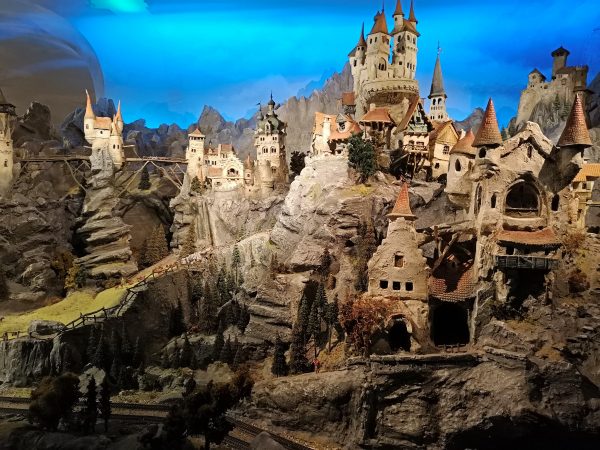 There is seriously so much to see and do at Efteling. As well as the rides and performances there is this really cool massive diorama with moving trains, cars and stagecoaches and lots of cool little figures and scenes throughout. This was also designed by Anton Pieck which we learned more about in the little Efteling Museum. I enjoyed seeing a lot of his original artwork (and then later seeing it brought to life in the park), as well as seeing lots of extra/old props from the park on display!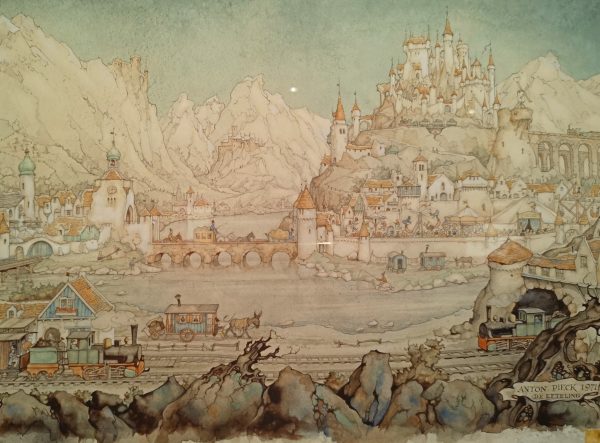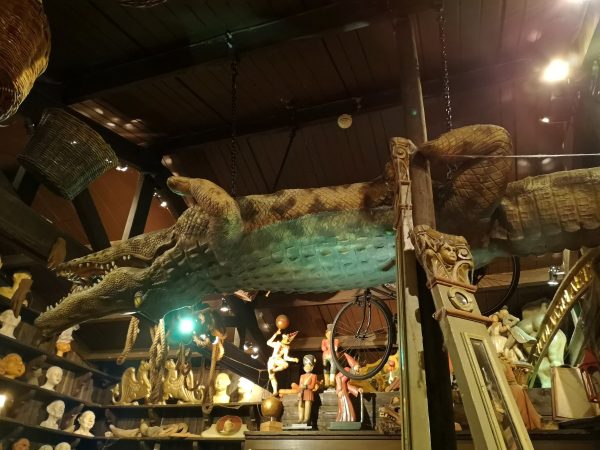 There are lots of rides just for small children, and a pretty awesome looking playground area too. There are some lovely traditional carousels, a gondoletta ride through the lake in the middle of the park, the massive Thai Pagoda which takes you up over the entire theme park and even a haunted house! There's also a games alley and there are multiple restaurants, cafés and food stalls throughout the park, although you can bring your own food and drink and have a picnic at different places if you want as well. Seriously, just look at the website to see all the fun stuff on offer and, if you can, you should definitely visit Efteling when you're in the Netherlands!
Winter Efteling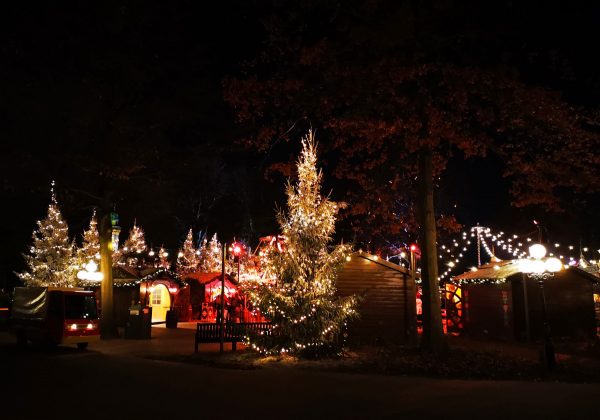 I mentioned that because it was the winter season some of the rides were closed for maintenance (or because it's way too cold to be splashed by water), but there are also additional things added to make up for this. The park had lots of lovely Christmas lights, trees and decorations throughout, which looked especially enchanting at night (see above). During Winter Efteling there is also a large indoor ice-skating rink added, as well as a 'cross-country skiing track' for children. There were big fires in the middle of most areas where you could warm up while having hot chocolate and a waffle and listen to carolers. Efteling is open 365 days a year, so you could even visit it on Christmas Day if you wanted to. I loved all the pretty lights and lanterns, and especially enjoyed my winter fairy-floss with a neon flashing light stick!
I made a video below of all the little clips I took during the day. You can see a bit of the Droomvlucht ride (although it's slightly blurry in places, sorry!) and some of the amazing Raveleijn show. There's also quite a bit of the Aquanura water show because it was just so cool! We even discovered upon coming home that you can listen to the Efteling soundtrack on Spotify and enjoy the music from nearly all the rides and performances in the comfort of your home. Check it out here.
Getting to Efteling and Other Information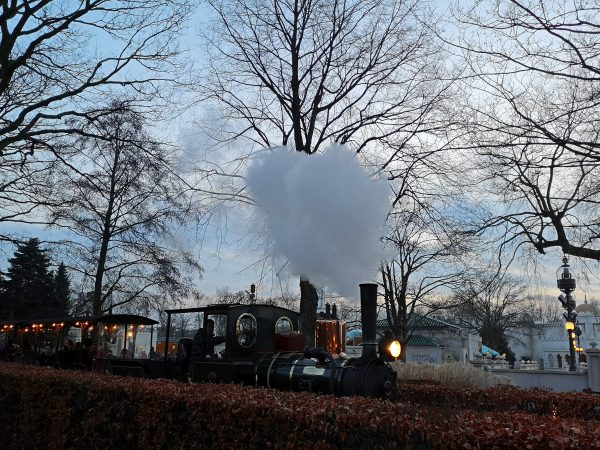 As I mentioned earlier, Efteling is a bit of a way from Amsterdam, especially if you are using public transport. If you were staying in Rotterdam it would be easier and faster for a day trip via public transport. You can always stay overnight at the resort, the accommodation is rather pricey but also includes breakfast, free parking, entrance into the park for two days and you can enter half an hour before the general public. The Efteling website also has a handy little guide for visiting via public transport – including which number bus to get from various towns close by. Check it out here and enjoy your time at Efteling!
Have you ever been to Efteling, or another magical theme park? Tell me about it in the comments or make sure you pin one of these if you'd like to visit Efteling yourself!