Switzerland. The land of cows, Heidi, Toblerone and mountains. Especially mountains!
If you're visiting Switzerland and want a mountain experience out of the ordinary then you can catch the train up to Jungfraujoch – the highest train station in Europe! Leaving from Interlaken, Lauterbrunnen or Grindelwald, and travelling through the small ski town of Kleine Scheidegg the trip is both relaxed and exciting.
The station of Jungfraujoch is located 3, 454 metres above sea level after a leisurely ride up the mountains past quaint Swiss cottages, cows wearing bells and greenery into the rocks and snow of the peak. We travelled from Lauterbrunnen on our journey to the peaks.
It was very fun to see Lauterbrunnen dropping away below us as the train climbed steadily higher into the peaks. Soon we were travelling into the rock itself when the train tracks go into the underground tunnel, with stops along the way where you can get out and walk to little viewing windows and look down into the valley below.
Finally, we reached the summit! The pressure of the altitude made my Coke fizz up and spill everywhere at lunch, and I could feel it pressing on me the entire time, making me feel very sick and dizzy. However, none of the friends I was with were affected at all. We went through the station and up to the Sphinx Observatory (one of the highest astronomical observatories in the world) to take in the views of the glacier from the outside viewing platform. It was surprisingly not as cold as we expected, since it was summer, I wore a few layers but didn't need any special ski jackets or anything.
As well as panoramic restaurants and the highest post office in Europe there is an interesting "Alpine Sensation" walk-through display about the history of the Jungfaujoch and the Jungfraubahn (train-line).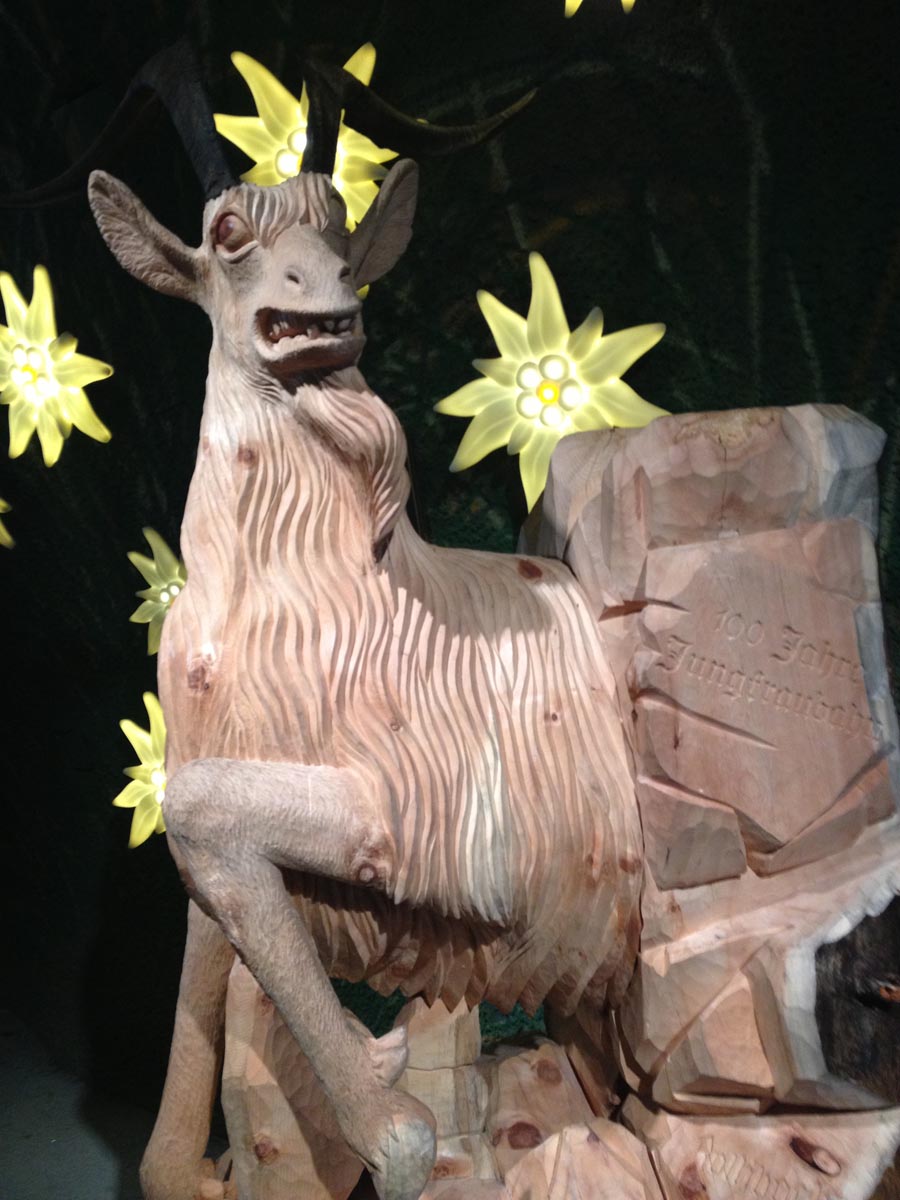 There is also a pretty amazing Ice Palace, where you walk through tunnels of ice, walking on ice, to look at amazing ice sculptures! This part was actually far colder than being outside in the snow, and very slippery!
We even saw Scrat from the Ice Age films!
After seeing the ice palace and buying postcards etc. we ventured out onto the snow and even saw some crazy para-gliders!
Even though I didn't feel completely well again until the next day, it was an experience I will never forget. There are even accommodation options up there! For more information and details about the train and the different starting points, have a look at the website here. Happy travelling!