*WARNING* – this blog post contains images of real human remains (skulls and bones), do not continue reading if you will be offended or uncomfortable viewing such imagery!
If you're getting sick of the tourist trail and looking for something a little off-beat to do in Paris then a visit to the Paris Catacombs might be in order. However, you do need to be a little prepared, not only because you will be looking at human remains, but because you will need to walk 2km underground, going down 130 spiralling steps at the entrance, and 83 steps back up to the street level. The Catacombs are usually 14 degrees, so you will need to dress appropriately, and sensible footwear is needed for not only all the stairs and walking but because in many places, the ground is rather slippery. There are no toilets or cloakrooms within the area and the tour is not recommended for people with heart or respiratory problems, children or those 'of a nervous disposition'.
But if you have followed all necessary precautions then this is a fascinating place to visit!
The Catacombs were created at the end of the 18th century when the cemeteries of Paris (most notably the Cimetiére des-Saints Innocents) became too full of human remains and needed to be closed so that dead bodies weren't overflowing into people's homes! The state decided to remove many of the remains from the cemeteries and inter them into disused limestone quarries in the Tombe-Issoire district.
This continued until 1860 and then at the beginning of the 19th century the Catacombs were opened to the public; some famous visitors included Napoleon III and Francis I of Austria.
Set twenty metres below ground level it is an eerie experience wandering the poorly lit maze-like corridors, but it's not only full of bones, there are also interesting displays concerning the history of the limestone quarries.
These sculptures in the Port-Mahon corridor were created by a quarryman named Décure who fought in the armies of Louis XIV. In the quarry, he sculpted the fortress of Port-Mahon on the island of Minorca, where it is believed he was held prisoner by the English.
Below is the "Quarrymen's Footbath", crystal-clear groundwater uncovered by the quarry workers and then also used by workers to mix cement when transforming the quarries into the Catacombs.
The entrance to the Ossuary (final resting place for human remains) is framed by black and white stone pillars and signs including one (not pictured) that translates to "Stop! This is the empire of death!"
Then you enter the final resting place of around SIX MILLION Parisians, with the bones stacked as high as a person and arranged into artful patterns. You are not allowed to touch the remains (who would want to?!) but there are no fences or really anything stopping someone from even stealing a skull if they really wanted. Flash photography is also not permitted.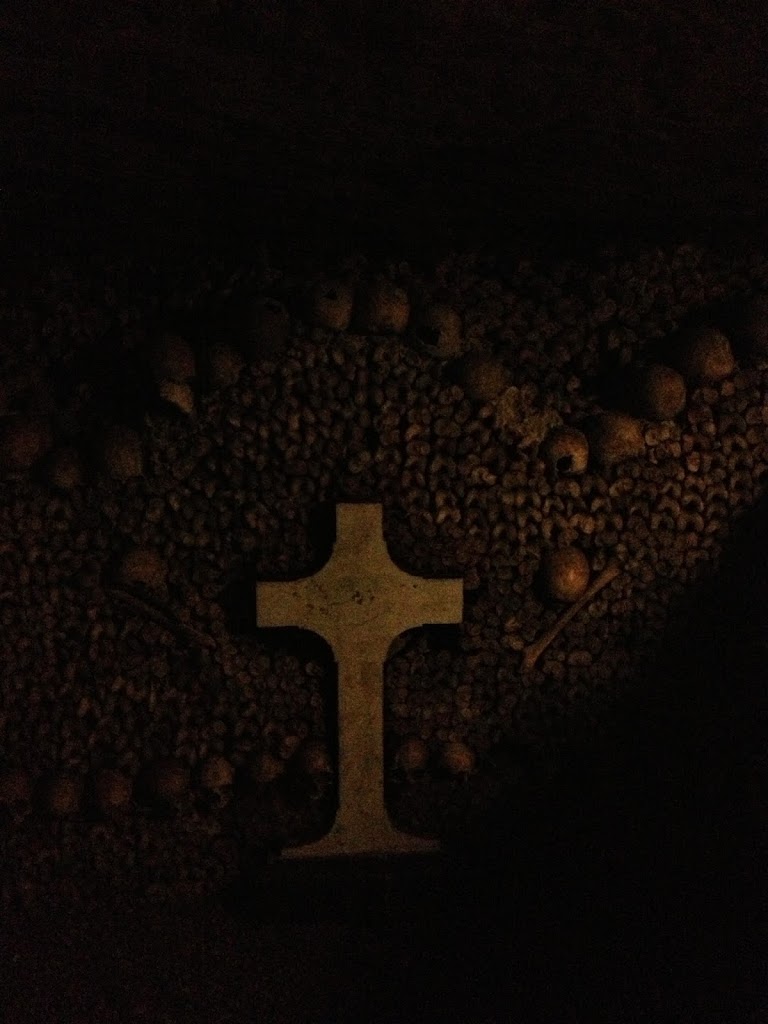 It was quite unlike any place I have ever visited. Graveyards are often interesting, peaceful and beautiful, but to see so many actual human remains just piled up like that was a little creepy, particularly imagining who went to the trouble of stacking all the leg bones just so and then balancing skulls within them to make patterns.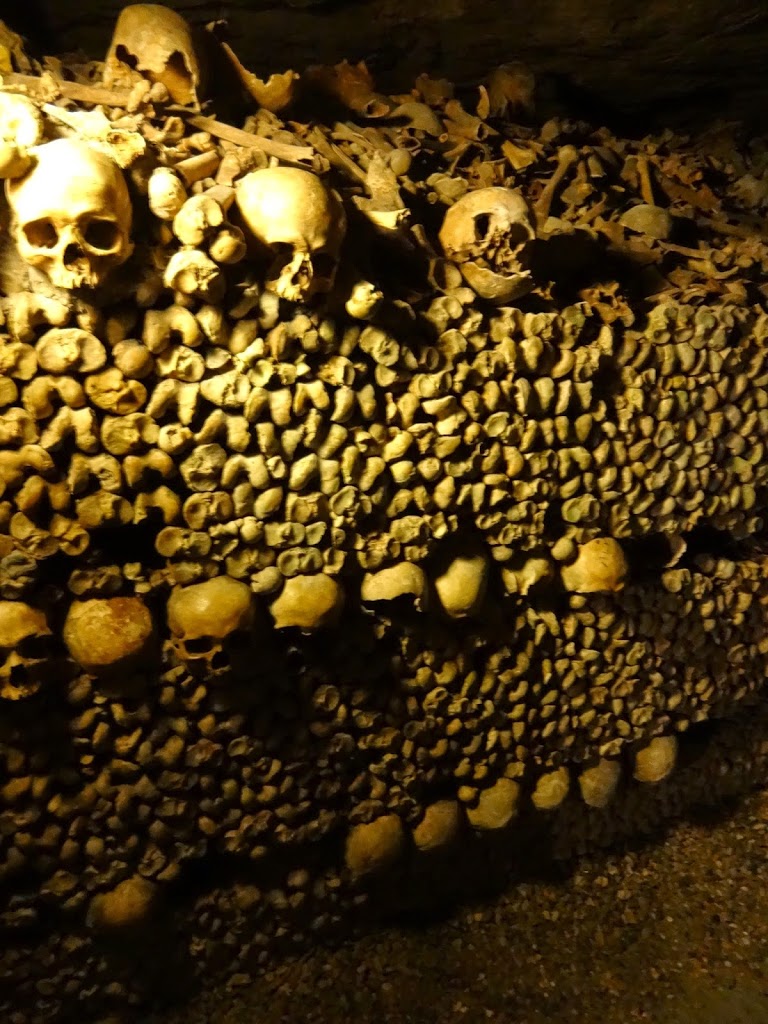 All in all, this is a very interesting place to explore, although it is probably not a destination that everyone would want to visit! Some of it is quite beautiful, although it was a shame to see all the graffiti as we were leaving the Ossuary.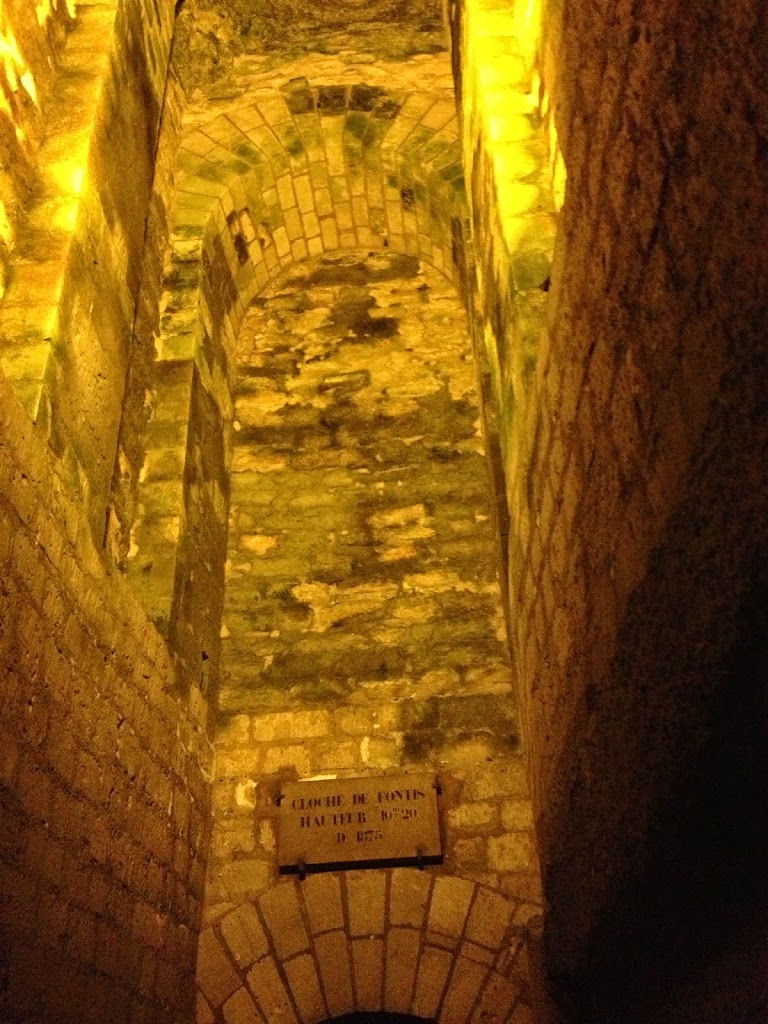 If you are interested in visiting the Catacombs while in Paris, you can read more about them here and purchase your tickets on the official website as it's only 10 euros as opposed to the much steeper prices if you book through a third-party website!