As promised, here is the second instalment of the post I began last week, in which I travel to the town of Bath and the Heritage site of Stonehenge! Read about the first part of my day trip to Windsor Castle here.
After lunch, we got back on the coach and drove to Bath. We only managed to see the famous Royal Crescent through the bus window, unfortunately, as we had a lot to see and only one day to see it in!
The town of Bath is, of course, most famous for the Roman Baths from which it takes its name. Originally called Aquae Sulis (the waters of Sulis), the Romans built the town in A.D 60 and it became very popular as a spa town during the Georgian era. The Georgians were responsible for the beautiful architecture seen in the Royal Circle and the town was made a World Heritage Site in 1987.
As you can see, on a lovely summer's day it is a very popular tourist attraction! Our tour included entrance into the famous Roman Baths themselves, which were very interesting, with displays about the history and culture that grew up around the hot springs.
The waters were said to have amazing healing properties and you can even have a cup of it to try yourself. I had fallen down the stairs the night before and had a very sore foot so I thought I'd give it a try. Apparently, it contains 42 minerals but I don't recommend it, the water is warm and tastes really gross! I didn't notice any miraculous healing on my foot either.
After our visit, we had some free time so Robyn and I got an ice cream each and wandered around the town for a while.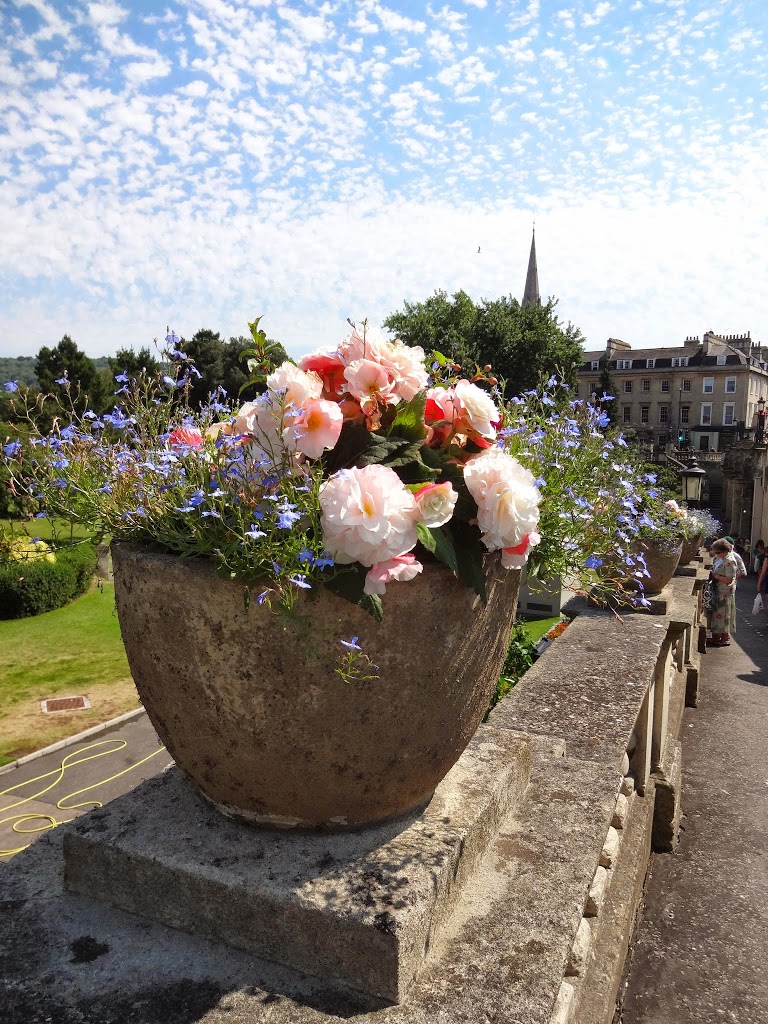 The gardens and parks are beautiful and with the gorgeous sun and the flowers blooming it was just lovely to sit in the park next to the river and relax for a bit.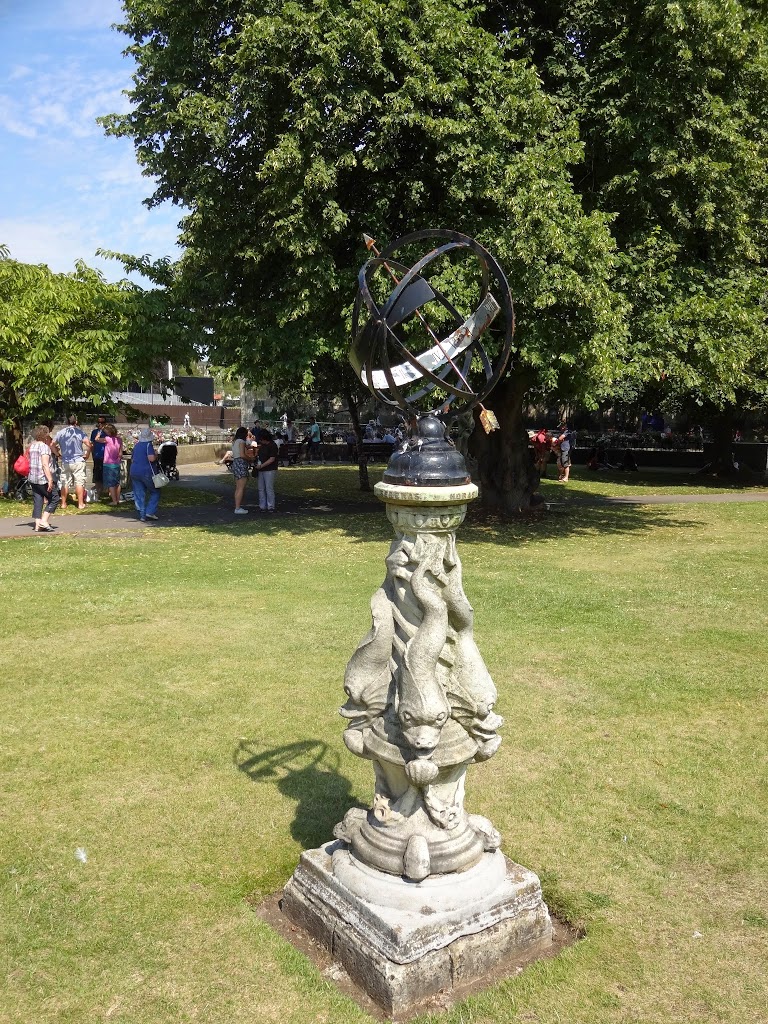 Does anyone else recognize this garden display featuring characters from a cartoon strip called "The Herbs"? I remember having a book when I was a child with some of the comics in it, so was surprised and pleased to see the characters created in foliage here!
Then it was back to the bus for our final destination! We had a lovely view from a hill overlooking the town of Bath as we said our farewells:
But then it was on to that most famous and most mysterious landmark: Stonehenge!
One of the wonders of the world and the best-known prehistoric monument in Europe, I have always wanted to visit these standing stones that I have read about in so many different works of fiction and fact: and I finally did!
You can't go in amongst the stones as they are roped off to protect them, but it was still pretty amazing to actually see them up close and in real life! There are many different theories about who built them and why, but nobody knows for sure yet.
I thought it was kind of cool that a big army helicopter flew by while we were there too! As we were leaving the site there was some of the type of rock that Stonehenge is made from that you can touch, to make up for not being able to touch the actual site I guess. I wonder what it is about humans and having to touch stuff?
And that was the end of our day of touring! By the time we got back to London we were very tired. The company we went with was Evans Evans Sightseeing Tours and they were very good. It was a very large bus-load of people so if you want a more intimate group you might wish to use another operator. However, the price was good compared to some other companies and our guide was very knowledgeable and entertaining and treated everyone as if we were his special friend.
The only thing I regret was not having enough time to visit the Jane Austen Centre in Bath, but perhaps another time I'll be able to return.
For more information on the town of Bath, you can look at the tourism website here and the Stonehenge English Heritage site can also be found here.