If you're visiting Amsterdam and perhaps want to get out of the city, but not too far, then Amsterdamse Bos is the perfect spot! Located just on the outskirts of Amsterdam (and mostly in Amstelveen) this forest (Amsterdamse Bos literally means Amsterdam forest) is a great place to relax and have fun in nature. Especially in summer, if you want to escape the heat then you can enjoy picnics in the shady trees or perhaps go swimming or kayaking. There are also lots of fun and exciting things for children, so visiting Amsterdamse Bos makes a great day out for families. The best thing is, it's not really so well-known or often visited by tourists, you'll mostly see Dutch families or teens enjoying the sun, and get to experience what so many Dutch people do in the summer! I've also included a map at the end of this post so that you can easily find all the places I'm going to talk about.
About Amsterdamse Bos
While most of the park is located in Amstelveen (which is kind of the suburban outskirts of Amsterdam), it belongs to the City of Amsterdam. It was mostly built (so it's not a completely natural forest) in the 1930s as a way to give work to many unemployed people in Amsterdam at the time. It is approximately THREE TIMES the size of Central Park in New York City, which kind of blows my mind! There are so many things to see and do here, and it is a staple for Dutch families; my boyfriend's family brought him and his siblings here a lot when they were growing up, and the first time I visited was with them for a family picnic.
Things to See and Do in Amsterdamse Bos
As you can imagine, with a recreational forest this big, there are a LOT of things to see and do! You probably won't be able to do them all in one day (it has taken me multiple visits to see all the parts I'm writing about today) but you can easily use this guide to decide what you most want to do and plan accordingly. Obviously, spring and summer are the nicest times to visit, but there are things to do year-round. I've sacrificed myself to visit Amsterdamse Bos quite a lot over the last few years, so that I can write you the most detailed, ultimate, local's guide to visiting Amsterdamse Bos for your own planning!
De Boswinkel
There are multiple ways you can get into the forest but the main entrance is where you'll arrive if coming by public transport, and it's a good place to start! Here is where you will find De Boswinkel (literally, forest shop) which is an information centre as well as a gift shop. You can ask questions of the staff and also look at the exhibits to learn about the forest, and especially they wildlife that lives in it. The upstairs interactive exhibit part would be great for kids to learn a bit about the forest before going off to explore! The building itself is pretty cool to look at too.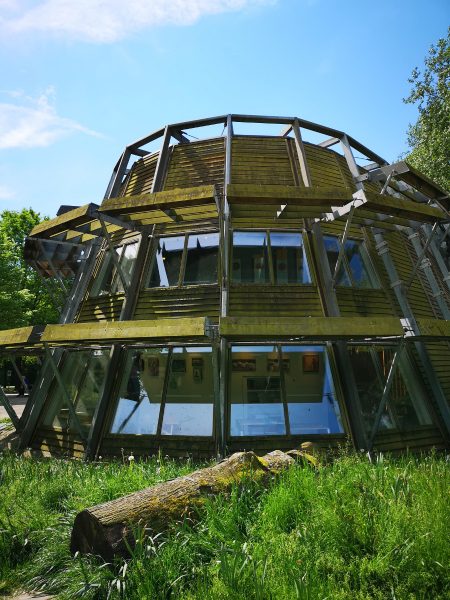 There are toilets in here that are free to use, and picnic benches outside; as well as this 'horse of Troy' type sculpture (below). We also saw people having a morning workout directly outside and it's right by the Bosbaan.
Bosbaan
De Bosbaan (which means forest way/road/track) is a rowing course 2,200 metres long. International rowing competitions take place here, the Olympic training centre is nearby and lots of rowing clubs use it for training and competitions. If you are interested in seeing rowing you might be able to visit during a competition, or you can simply do what we did and have a look at all the rowers training on a sunny Saturday! This calendar shows all the upcoming events on the Bosbaan for the year.
There's also a large café overlooking the Bosbaan if you'd like to sit and relax with a coffee and some food while watching the rowers exerting themselves! Here's the link for the Grand Café De Bosbaan. It's definitely a room with a view!
Amsterdam Bostheater
During summer the Amsterdam Bostheater (forest theater) has regular open-air theatre performances. So far we've only visited during the day (and it looks like a nice spot to sit and read) and not attended a performance, but it's high on my list! Performances are usually in the evening and the stands can hold more than 1500 people. There's also a bar at the back and there are free public toilets just outside. For the main theatre performance each season you can also eat at the 'open-air restaurant' beforehand, or order a gourmet picnic basket to enjoy in the stands!
As well as plays they often have live music performances here and "The Little Theater" some afternoons which feature fairytales or children's stories for the kids! For more information about performances, tickets and food, make sure you check out the website here.
Walking/Cycling/Kayaking/Swimming
Visiting Amsterdamse Bos is a must for anyone who enjoys outdoor activities like cycling, kayaking, swimming or even stand-up paddle-boarding! You can do all of these and more here, whether you bring your own equipment or hire some when you get there. The forest has many waterways which connect so you can easily spend hours paddling along under the shade and seeing lots of birds up close. You can rent normal canoes and kayaks as well as the paddle-boats that you can see below. There's two types of paddle-boats on offer, the ones below for two people where you're basically on a raft and the bright yellow ones you can see in the photo above which are more enclosed and meant for four people.
If you don't own your own bike you can hire them near the main entrance to the park (across the road from de Boswinkel) and there are also packages to hire both a bike and then a paddle-boat once you ride in to the main canoe rental. Don't forget I've included a map at the bottom of this post so you can easily find your way to all the spots I'm mentioning! You can also check out this page on the Amsterdamse Bos website for more information.
Miniport Amsterdam
I've mentioned there's lots of fun things for children when visiting Amsterdamse Bos and the Miniport Amsterdam is one of them! Here you can rent these cute little electric boats and children from the age of four get to learn how to captain them. They can choose from fire-department, police and other types of boats and also learn about making knots. They also offer children's parties! We saw a little family in one of the boats last time we were in the forest and they definitely look cute and fun.
Speel Eiland (Play Island)
Just past the Miniport you will start seeing all the equipment that form part of the Speel Eiland. There are logs and rope ladders across the water so that kids can balance and climb to get across to the island. It looks so much fun! There's even self-powered ferries (where you pull yourself across by a rope) and a flying fox that goes over the water. This area is all totally free, so you often see families having a picnic nearby while the kids get to run off, explore and splash around on the play island!
Of course, adults can go across as well, or simply watch from the shore as the kids have fun. It kind of makes me want to hurry up and have children so I can bring them here! 😉
Geitenboerderij Ridammerhoeve (Goat Farm)
Located a bit further into the park is the goat farm Ridammerhoeve. This is an interactive farm where you can pet and feed lots of goats (including baby goats) as well as see pigs, chickens and cows. You can walk among the young goats outside and there is a shop and a restaurant where you can eat fresh produce produced by the goats! There's also a small vegetable garden so you know everything on your plate is organic and sourced right there at the farm. There's goats cheese, yogurt, buttermilk, butter and even ice-cream! You can buy small bottles of milk or pellets to feed the animals for about a euro each. The terrace and garden area also looks like a gorgeous spot to sit and relax with a meal.
We've been here a few times to see the goats and other animals, and you'll be amazed by how many goats and kids there are to see and to pat! It's also another great place to bring children, as well as patting and feeding goats there's a playground and a maze nearby.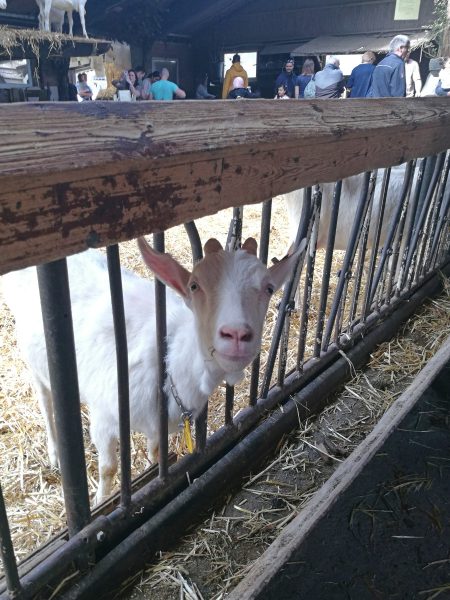 It does get fairly busy on nice days, and also very warm inside if it's a warm day outside. So you might prefer to come when it's cooler, or make sure to bring plenty of water or stop for a drink and to sit in the shade of the garden. If you've always wanted to learn how to make cheese you could even sign up for one of their cheese-making workshops! Have a look at their website for more information about the goat farm.
Doolhof (Maze)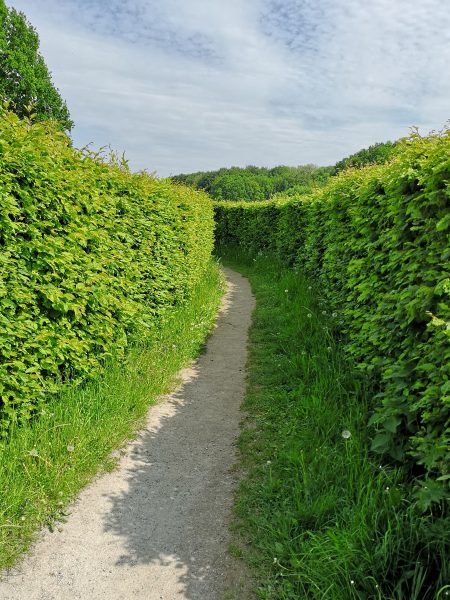 Just behind the goat farm is a little doolhof or maze. It's a cute little addition if you've got children, they can run among the hedges to find the tower in the middle. Although there's also an easy access route if you don't feel like walking around in circles! We saw a family having a drink and a picnic at the picnic tables just outside while their children were all entertained running ragged through the maze – it seemed like a very good idea!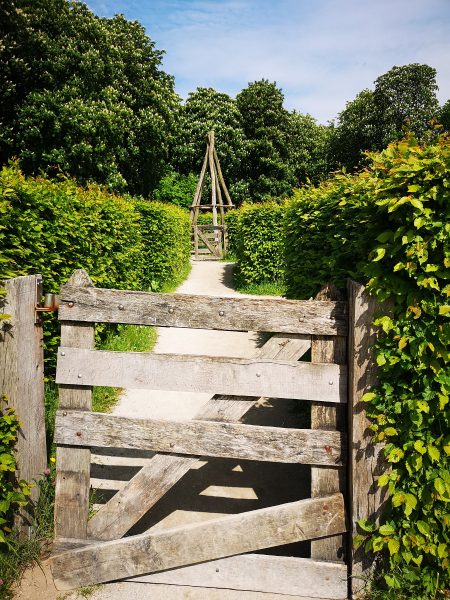 Kersenbloesempark (Cherry Blossom Park)
Quite a distance away from the main part of the forest (and in Amstelveen not Amsterdam) is the cherry blossom park. Here you can find 400 cherry blossom trees which were gifted to the park by the Japan Women's club. The trees are all named, with 200 having Dutch women's names and the other 200 Japanese women's names. Every year when the cherry trees are in bloom there's a cherry blossom festival to celebrate. There's food stalls selling Japanese cuisine, Taiko drumming and Aikido performances, and we also saw some women dressed in beautiful kimonos. And, of course, when the trees are in full bloom they're stunning as well!
Of course, on the official day of the cherry blossom festival the little park gets very crowded. Lots of Dutch residents and tourists come to eat at the stalls or have a picnic (which you could see in the top photo) and enjoy the performances. I've marked on the map below the closest (free!) parking area to the cherry blossom park, but this can also fill up fast. You can visit at any time of course, but when the trees are in bloom will be the nicest. Try to get there early in the morning or late afternoon if you want to try and have the place to yourself! Keep an eye on the calendar to find out when the next festival date will be, as well as all the other events held in Amsterdamse Bos.
Schinkelbos
The whole of Amsterdamse Bos is close by to Schiphol airport which means you'll often see and hear air planes coming in low overheard. The part of the park closest to the airport is the Schinkelbos. This is a large area of forest, grassland, reeds and open water. What's also surprising is there is a herd of Highland Cows wandering free in this area! They're used for keeping the grass down and are cautious but calm around humans. When we arrived we crossed a cattle grid and could see one cow straight ahead by the path. I was so focused on that one that I got a bit of a shock when one moved in the bushes almost right next to me! They're not aggressive at all though, and were far more wary of us than we of them; for example when I tried to offer one some grass it just backed off.
But if you feel like getting up close and personal (or even getting some selfies) with these beautiful beasties then this area is a great place to do it. It's also a good place for spotting other wildlife such as native birds. This part of the forest is also close by to some stables and riding centres, so you're also likely to see people riding horses through the park here (and nearby).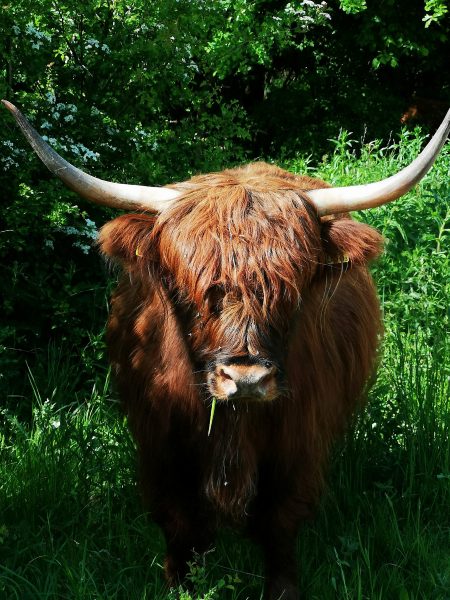 Other Things to Do When Visiting Amsterdamse Bos
As well as ALL the things I've mentioned here there are still even more things to see and do in the forest. For horse-lovers there's more than 21km of riding trails through the forest but you'll want to check out this page to find out about joining a stable since that's one thing I haven't done myself. But you will also see people riding horses through the forest, like in the above photo, or this one below where we saw some Friesian horses waiting near the goat farm while one of their riders got an ice-cream!
As well as the other places for children that I've mentioned there's also two children's pools within the park, for toddlers and pre-schoolers. Both of these also have playground equipment, picnic benches, public toilets and a kiosk for refreshments.
Opposite de Boswinkel at the entrance to the park is the Fun Forest. This smallish area has been set up with ziplines, rope ladders and bridges for children to play on (with safety equipment of course). They also do children's parties and you can find out more ticket and opening time details here.
Next to the place where you can hire canoes etc. is a roped off swimming area within the lake. This natural pool is right next to a massive park and is one of the spots that fills with people sunbathing, playing ball-games, swimming, picnicking and relaxing when it's warm. The boat rental service also has a small café, perfect if you need an ice-cream!
There's even, if you are game, a naturist area in the forest – in case you feel like doing some sunbathing in the nude! I only took a photo of the sign showing the way in, but I've marked the area on the map as well for any naturists out there who might be thinking of visiting Amsterdamse Bos.
Of course, as well as all the other things I've listed here, there are plenty of walking and cycling trails throughout the forest if you just want to go for a walk in the fresh air and enjoy seeing all the plants, trees and flowers during different seasons. You will see lots of dogs being walked (sometimes from horseback), joggers, families and, of course, many birds and possibly other animals. It really depends on how much time you have to explore!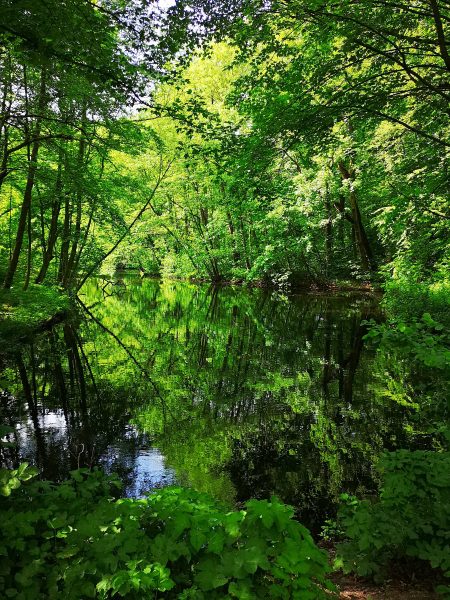 Getting There/Around and Other Details
If you have your own bike you can cycle from the Museumplein to the entrance of Amsterdamse Bos in around 20 minutes. You can also catch a bus to just near the entrance within 12 minutes. Remember you can always use the website 9292 to figure out the best way to get to places in the Netherlands (including travel times and prices). Once there you can choose to walk or cycle wherever you want, although of course cycling will always be faster. There are also lots of different sections to explore, so you'd be hard-pressed to see it all in a day. However, if you're visiting Amsterdam for an extended period or living there, you can easily see different parts at different times, and if you have a car you can also get to a lot of it in one day if you want to. If you are coming by car there are multiple areas with parking (I've marked some on the map). All of the ones I've marked are free except the one right at the entrance to the forest next to de Boswinkel. This one is free for the first three hours on weekdays and free on weekends. You can also see a list of all the parking areas in the forest at this website.
There is also a historic tram service to the forest on Sundays, which runs all the way from Haarlemmermeerstation (near the Vondelpark) to a couple of different entrances within the park. Check out the website to find out more. There is even a camping ground within the forest if you want to be close to the city but far enough away to enjoy some peace and quiet among the trees. There's a lot of different accommodation options here; from a tent to a cabin to a lodge. Make sure you check out the website if you are thinking of staying there yourself!
Map of Amsterdamse Bos
I've made a personalised map of Amsterdamse Bos for you, with every activity I've mentioned marked on it, as well as parking areas that aren't as obvious. Parking areas are marked in blue, the campsite is yellow, the main café I mentioned is red and all other sites are purple. I hope it's useful for you, do let me know if you use any of my tips for planning your own trip to Amsterdamse Bos, and if you enjoy it!
Do you want to go to Amsterdamse Bos now? Let me know what you most want to do there, and don't forget to pin one of these for later!