Something I have discovered since living in the Netherlands: the Dutch are very innovative and very good at creating something out of nothing! Case in point: Blijburg Beach.
IJburg is an island neighbourhood in Amsterdam but what's interesting about it is that it is completely man-made! IJburg was built on artificial islands in the IJ lake. Mostly a residential area IJburg also features a man-made beach: "Fabulous Blijburg"!
A lot of buildings are still under construction, a pavilion is being built which will have two different restaurants, a terrace and space for events; as well as a chapel for weddings! At the moment there is a small cafe and shop, plus toilets, but it will be interesting to see what it looks like when the new buildings are finished.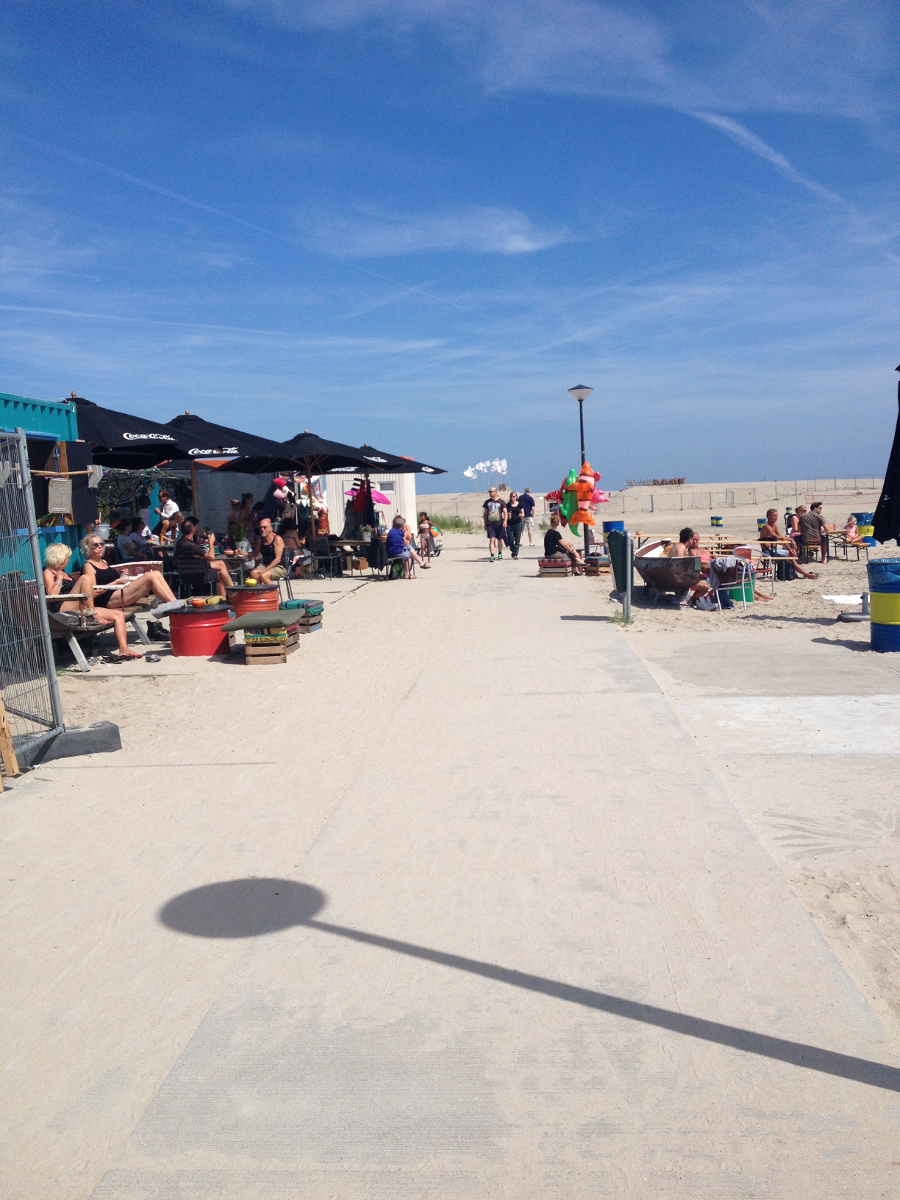 The cafe features snacks such as burgers and nachos as well as drinks and ice creams. I love the seats made out of dinghies cut in half!
Already the beach is very popular with Amsterdammers, being one of only three city beaches that don't require a trek to the North Sea coastline to get some sand, sun and water. Of course, it's not quite the same as an Australian beach (I'm a little biased!), there are no waves but it's definitely a great place for families and especially small children.
Who's up for a game of beach volleyball?!
Not only are there regular events at the beach site (such as a regular car-boot sale, live music and parties), but there has also just been (it finishes today) a very interesting accommodation/art installation event (an Art-Sleep-Experience) called the 'Urban Campsite'.
In what looks like a sand crater was a series of art installations that also doubled as accommodation – you could book through AirBnB to sleep overnight in your choice of a variety of strange installation sleeping 'pods'.
It was a very surreal-looking place! With all the amenities of a normal campsite such as toilets, showers, a cooking space as well as a cafe; this would definitely be an interesting and unique place to spend the night! So many of the sleeping installations looked like some sort of spaceship, especially in the landscape of bright sand.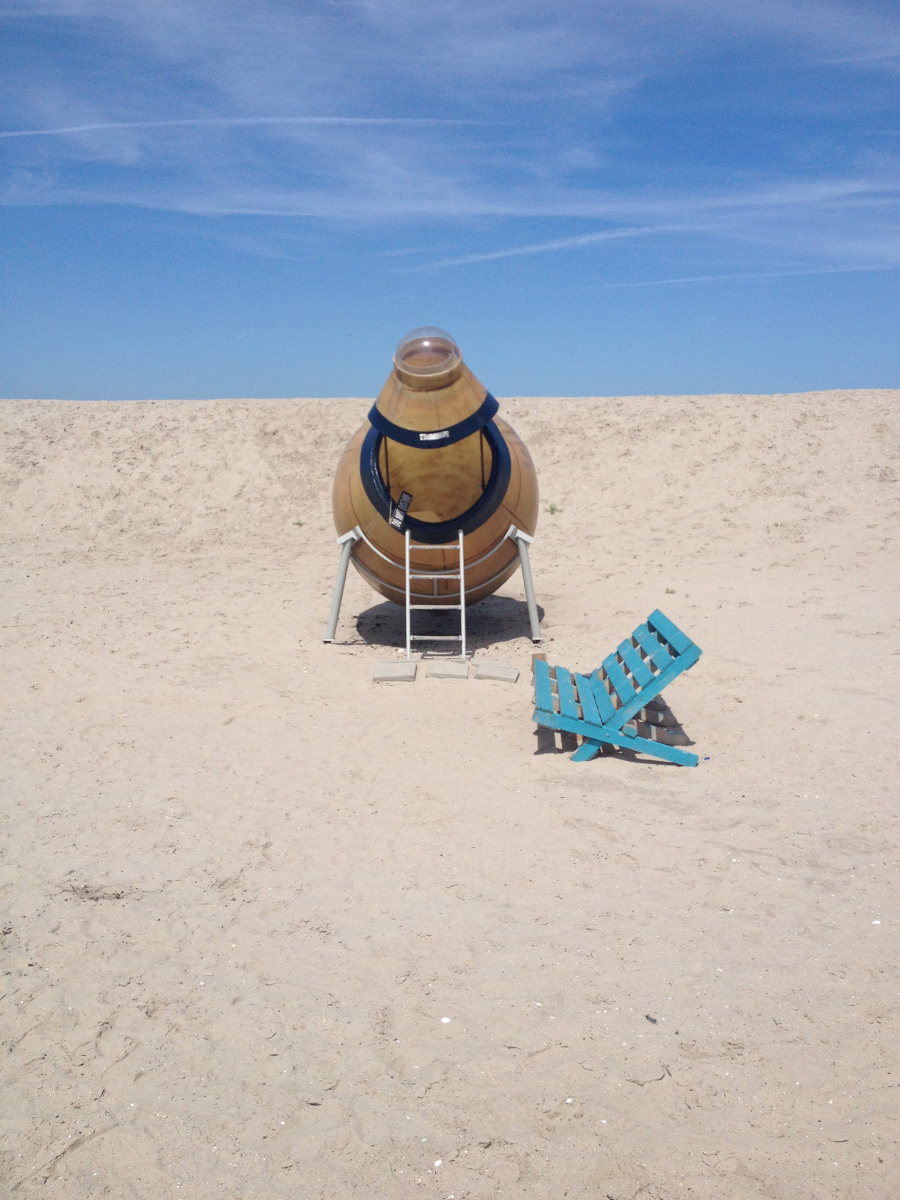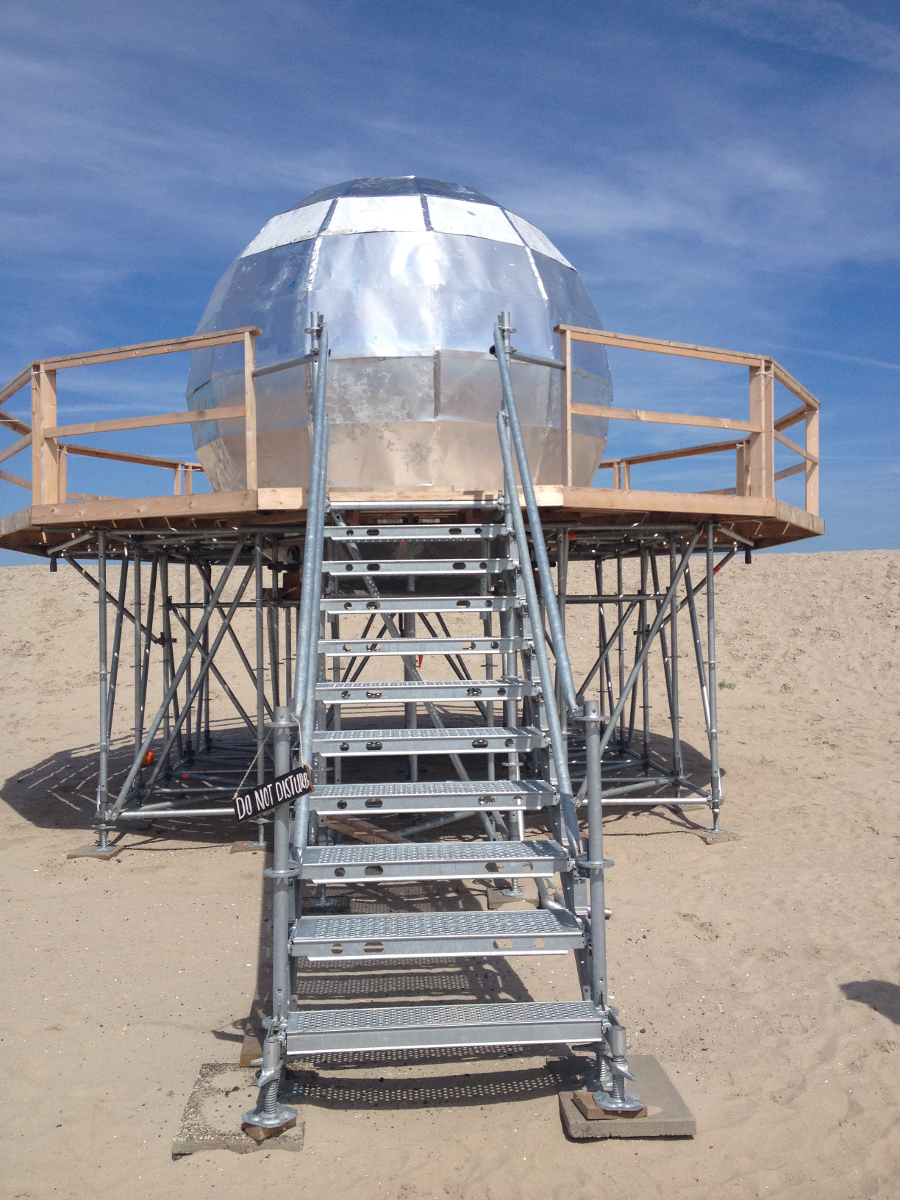 How cool is it?! Most of the pods sleep only two adults, while others (such as the strange-shaped one below) can sleep up to four adults, or two adults and two children.
If you walked up the steps on the side of the crater behind the white 'pod' (below) you were also treated to a nice view of the surrounding lake and a hammock (sort of).
The view looking back into the campsite crater.
How about that sculpture in the middle? It reminds me of something out of 'Mad Max,' and is a functioning sculpture of toilets, showers, composting tanks and septic tanks. Pipes from the showers take the run-off to the little garden behind the showers as well. As I said, pretty ingenious.
If you are in Amsterdam and want to visit Blijburg you can catch a tram, bike or drive, although parking for cars does cost a bit (motorbikes, scooters and bicycles are free). Tram 26 from Centraal Station departs for the beach every ten minutes and it is a ten-minute walk from the station at IJburg. Incidentally, tram 26 allows non-foldup bikes too. Until next time, here's a sneak peek of something else you might even see there; amphibious vehicles!