So my British friend Amy and I have started a tradition where we hang out and have lunch and do something fun together on a Sunday afternoon.  Last weekend the northern line was closed for engineering works so we decided to meet at Clapham Common since it's quite easy for both of us to get a bus there.
Winter is definitely well on its way over here.  The weather has been cold and wet and grey lately, but Sunday it put on a burst of Autumn sunshine.  Still cold, but also very pretty.
The first thing I saw after getting off the bus were these little remote-controlled yachts on the pond in the common.  So pretty!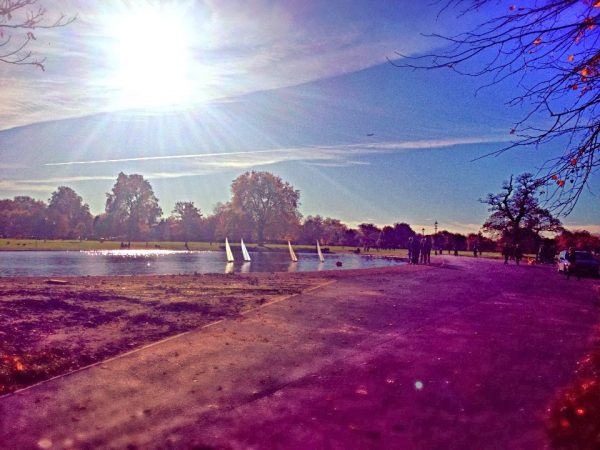 I met up with Amy and we decided to go to this cool little place called Honky Tonk!  I mostly wanted to go there because of it's awesome name, but the menu also looked quite delicious.
While I was VERY tempted by the nutella waffles I felt like something savoury, so had "The Big Nasty" full English breakfast with a twist, and it was yummy! The potato hash had a Mediterranean flair and the home made baked beans were also kind of spicy, but tasty not hot.  Oh and did I mention my vanilla milkshake came in an actual milk-bottle? So cute! We are planning to go back again (at least once) so that we can try some of the other yummy looking dishes as well!
I also loved the quirky little details like these mirrors on the way to the bathroom and the fact that our bill was delivered inside a book!
After lunch Amy and I wandered around the Common for a while, before it got too cold! The sun sets around 4pm now, and is fully dark by 4.30pm! So I took some last photos in the (probably last of the year) sun, before dashing home to put on my pyjamas and sit by the heater 🙂