With Christmas fast approaching you may be at a loss for what to get for your travel-loving friends and family as gifts. How do you buy for someone who lives out of a suitcase and doesn't have room for lots of items? Well, luckily I have rounded up some of the cutest travel accessories that are both lovely to look at AND useful. Your travel-loving friends and family will be very appreciative of any of these gifts, or you could simply "treat yo'self" if you are the travel-loving one! Check out these 10 fantastically useful and adorable travel accessories!
1 – These adorable macarons that actually hold jewellery!
You won't lose your earrings with these colourful holders in your bags!
2 – This sexy bra bag to keep your bras protected in your luggage.
3 – These cute owl-shaped bottles to hold any liquids you need.
Bonus: they are TSA approved and the perfect size if you are only using carry-on luggage!
4 – A bright and eco-friendly travel mug!
   For the eco-conscious and colour-loving coffee drinkers out there.

5 – This adorable toiletry bag with fox print.
Comes in different colours – my fave is the red!

6 – These gorgeous luggage slip-overs.
An easy way to make your luggage stand out at the carousel, choose from a lot of different, bright colourful designs!
7 – This cute piggy contact-lens case.
Perfect for travellers who wear contacts, they won't lose them and they get to look at this adorable little piggy case!
8 – Instead of luggage covers – flip flop luggage tags!
For something smaller, but still bright enough to find luggage easily.
9 – A minimalist but cute passport-case.
To keep passports safe and still look stylish.
10 – A cotton swabs box in the shape of a lotus!
Those cotton swabs always come in handy, but now you won't lose them all through your luggage AND they look lovely in this box!
I hope this has given you some good ideas for presents. If you're still thinking what to buy your travel-loving friends then why not check out my guide to books that will give you wanderlust as well? And don't forget to pin this for later!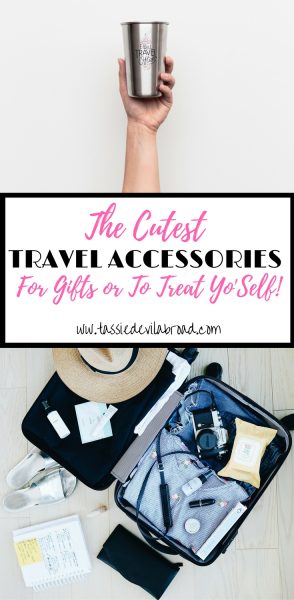 *This post contains affiliate links. This means that if you follow a link and then purchase something, I will earn a small commission at no extra charge to you. I only promote products that I would buy myself (or have bought) and your purchase will help me to pay my internet bills so I can keep running this site and bringing you more fun content! Click on the images of the items to get to the link to purchase them.